19 Best Birthday Party Places for Adults
This post contains affiliate links. As an Amazon Associate, I earn from qualifying purchases. I also earn from qualifying purchases made with other brands and programs. See my
privacy policy.
Something that I've noticed lately is that most of my friends are opting for really simple, yet fun experiential birthday party celebrations.  This is right up my alley as I love exploring and trying new things and experiences.  I've made some really outstanding memories in the past few years!  Based on some of the best parties of been to in the last few years for adults, here are some Adult Birthday Party Places you can consider!
I also have a list of kid birthday party places and teen/tween birthday party places that you can pin to Pinterest for later if you have any of those coming up with year too.
Anytime you decide on a place to spend our money, I'd recommend reading the reviews from Google or YELP.  Especially the more recent reveiws to help you decide if people are loving or hating the place, the service and the experiencs.
20 Adult Birthday Party Places
1.Escape Room
Not going to lie, I'm kind of obsessed with Escape Rooms.
To put it simply, you and a maximum of 7 other people walk into a room and 60 minutes to figure out how to get out following clues.
It usually requires players to find clues, find keys and find codes which all unlock locks which helps you get of the room.
In truth, there is always an emergency exit for people who need it but it's a thrilling and fun experience to do with friends.
Escape rooms usually cost around $20-$30 per person.  Usually the more people you have the cheaper the ticket price gets and maxes out at 8 people.
How to Find One Near You: Google "Escape Room Near Me".
2. Pro or College Sporting Event
Depending on what sport or team you are into, taking a crew of close friends to see a team that you love or hate can be a great social outing!
Sporting tickets vary significantly depending on the type of seats, game, and venue.
Consider getting dinner before, at or after the game!
2. Concert or Show
Last year we went to dinner followed by a Bon Jovi concert and even though I'm not a super fan — it was super fun especially when you get to belt out the lyrics of your favorite old school songs.
Think of the birthday person's favorite artist and see if they will be around your town this year.
Ticket prices vary GREATLY.  I've seen anywhere from $50-$100+ for a ticket depending who it is and how close you want to be.
Consider seeing how many are interested, have them send you the cash for their ticket and then get all the seats together.
3. Hi-Speed Indoor Go Cart Racing
Go carts have a come a long, long way in the last decade.
You can now drive really powerful, really fast go-carts safely inside of go-cart facilities.
I drove one as an adult at my husbands holiday work party a few years ago and it was very intense but thrilling.
The carts that go excessively fast will usually require that the rider be at least 15 years old with a valid drivers license.
How To Book a Party: Google Indoor Go Cart Racing near me or check out some the locations for these well-known carting companies below.
4. Indoor Trampoline Center Party
Not going to lie, even as an adult I love these places.  Imagine a building with wall to wall and floor to floor trampolines?
My husband and I even used to go one of these in Atlanta on date night because it was exercise and fun!
These are amazing party places because it doesn't really matter the weather outside you can still have the party.
Some of the places I have been to also have trampoline dodge ball arenas which makes this perfect as an adult birthday party place.
How to Book a Party: Google Indoor Trampoline Center or the most popular national chain of these is Sky Zone. 
5. Sky Diving
Not this is not for the faint of heart or budget but you might just be able to get our close, adrenaline junkie friends to also check this off their own bucket list with you.
Expect to pay $200+ per person.
Make sure you've got that life insurance policy locked down too.
I've had friends do this as their birthday party and they loved every second!
6. Pub Bike or Brewery Crawl
If you've been to any fun touristy towns these days you may have noticed a silly looking trolley car going down the road with a bunch of bar stools containing people drinking and pedaling away.
Bikes usually cost around $20 per person.
These can be perfect for a fun group party event.  It's unique, memorable, active and there is beer!
If the active part is a little much for you and your friends, then consider going to a town with several breweries and Lyft your way from place to place!  It might also be a good idea to book a hotel in town for the night too.
PS— Here's my Lyft referral code that will hook you up with $10 in free rides (terms apply).
7. Vineyard Tour and Tasting
I can't tell you how many fun outings I've had with friends at local Vineyards.  If you call ahead they can usually set up a nice spread of cheeses, fruits, and crackers and take you and your guests on a tasting experience!   Most tastings are pretty thrifty at around $8-$10 per person.
Consider renting a van or seeing if the town has a guided bus tour.  You might find this information on the chamber of commerce website.
How to Book: Google "Vineyards near me".  Give them a call and see what kind of group things they will do for you.
8. Zip Lines or Ropes Course
If you are looking to get out and do something unique, consider a day trip to a local zip line in your state.
Zip lines usually take one person at a time down a long wire hanging above a wilderness canopy.
Ropes courses are usually very "team" oriented and allow attendees to walk across ropes high above the ground.
Expect to pay around $50-$60 per person.
How to Find One: Google "Zip Lines Near Me".
9. Entertainment Complex Party
This is sort of a modern-day step up from Chuck E Cheese geared toward teens and adults.
Inside these complexes, you'll usually find lots of game options from billiards, to arcade games to bowling.
It's usually free to get in, but you'll want to buy game or party packs when you arrive.
Examples of Entertainment Complex where you live might be:
10. Spa Day Party
If you've got a group that loves to be pampered, consider hosting your party at the local spa where you and your besties can get mani's or pedi's as a group.
If doing this at a spa, isn't in your budget, consider doing it in with my post on How to Throw a Thrifty Spa Party.
How to Book a Party: Call and ask if they have group rates or party options for their spa location.
11. Weekend Getaway
Whether it's camping, the lake, the beach or the mountains, consider getting a group together and renting a house via HomeAway or hotel/resort via Groupon.
Then everyone can stay together in a comfy house, in a comfy place and explore the adventures around you in that place (which might include one or more of the suggestions in this list!).
Check out what kind of offers Groupon has below.
12. Paint and Sip
You may have noticed some fun little shops popping up all over the US where you can come in the evening and paint something like pottery or canvas and sip wine.
You don't usually have to be a master artist to attend these events.
Most art classes walk you step by step, Bob Ross style, through creating a painting.
Pottery places usually let you select a ceramic piece of your liking and deck it out.
It's usually anywhere from $25-$35 to do this kind of activity.
This is a simple, fun and straightforward way to bring some friends together for a unique activity to celebrate a birthday!
13. Hot Air Balloon Rides
Not exactly my cup of tea but this is a great "bucket list" kind of birthday celebration idea.
Depending on the weight of you and your guests you can probably get 2-4 people in a balloon.
The average cost is around $250 per person.
How to Find: Google "Hot Air Baloon Rides Near Me."
I'd be sure to read the reviews on this one.
14. Theme Park or Water Park Party
If you live in a town with a big or small theme park, consider hosting a party there for the day.
It can even be a family affair where everyone brings their kids.
The average cost is around $50 per person.
How to Book a Party: Call and ask about group rate discounts or party options.
15 & 16. Take Advantage of Seasonal Events & Festivals
Depending on when your child has a birthday, there may be some super unique seasonal festivities that you could take your group to that would be fun, special or outside the box because they are seasonal.  Check your local town's calendar of events.
Consider calling and asking about group rates or party pricing.
Check out Groupon for more ways to save.
Here are some examples of seasonal style events:

Festivals
Carnivals
Movies on the Green
Temporary Ice Skating Rinks
Haunted Houses
Corn Maze
17. Trivia or Karaoke Night
Lots of pizza joints, bars, and restaurants have Karaoke and trivia night to draw in crowds.
It's probably a good idea to bring along your friends who love pop culture, weird facts,  sports, and maybe some history to give you a competitive edge.
How to Find: Google "Karoke near me" or "Trivia Night near me".
18. Strategic Board Game Cafe
Last week I was in Asheville, NC and ran across a business called Well Played Board Game Cafe where you can come and play your favorite games and eat!  We also had one of these back in Georgia so I think they are becoming more and more popular.
How to Find One Near You:  Google "Board Game Cafe".
19. White Water Rafting
White water rafting is another adventurous group activity for you and your friends.
Do a little research on the river and the intensity you are looking for with your particular group of friends.
Maybe call the rafting company and ask what the various options are and what participants need to bring.
I hope this post, the videos and the ideas come in handy for you when planning an AWESOME party for you or an adult friend!  These adult birthday party places should have a little something for everyone from the thrill seekers, to the athletes, to the geeks or craft beer or wine buddies.
Be sure you pin this for later and feel free to share in the comments where you've had a great birthday party!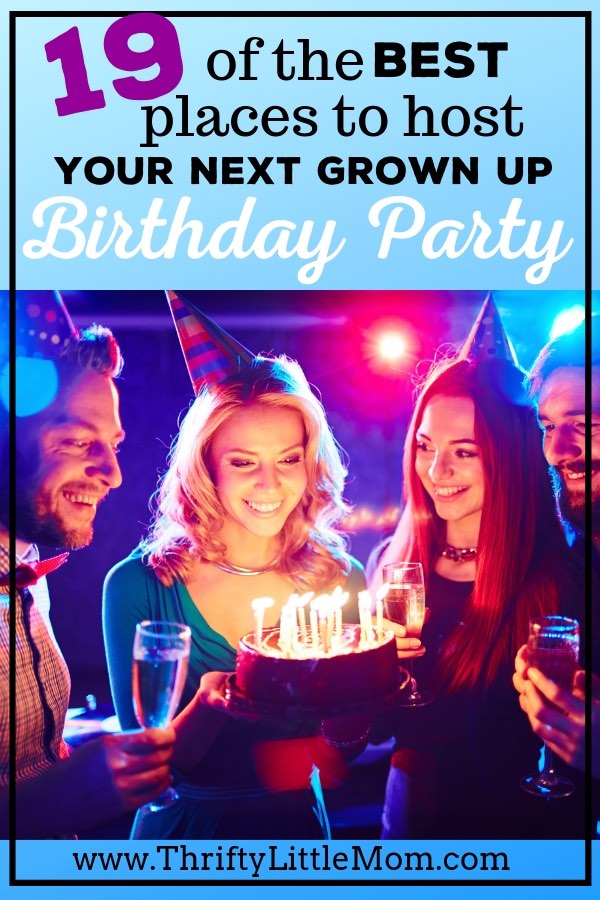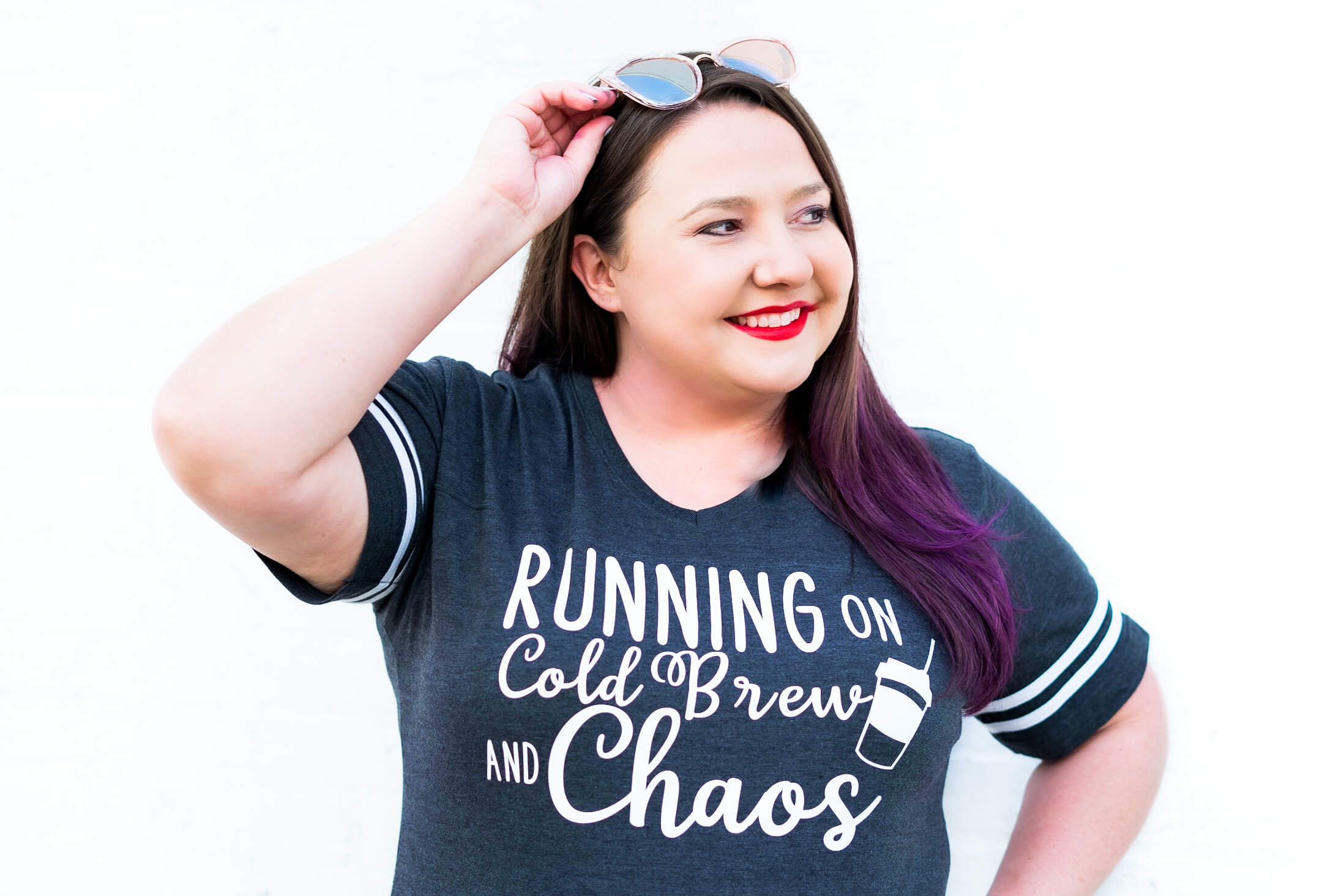 Kim Anderson is the organized chaos loving author behind the Thrifty Little Mom Blog.  She helps other people who thrive in organized chaos to stress less, remember more and feel in control of their time, money, and home. Kim is the author of: Live, Save, Spend, Repeat: The Life You Want with the Money You Have. She's been featured on Time.com, Money.com, Good Housekeeping, Women's Day, and more!
Summary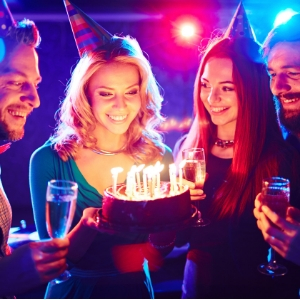 Description
If you are looking for ideas on how to celebrate a birthday with your grown-up friends, check out these 19 ideas!
Author