20 Best Birthday Party Places for Teens & Tweens
This post contains affiliate links. As an Amazon Associate, I earn from qualifying purchases. I also earn from qualifying purchases made with other brands and programs. See my
privacy policy.
So you've got a tween or teen in your house and you're trying to pull off a birthday party that they will secretly (because they are never going to tell you) like. As well as one that all their friends will like and talk about afterward. That may seem like a lot of pressure but I'm hoping this article will give you some great ideas for teen birthday party places!
In this article, I want to give you my 20 best tween/teen birthday party places ideas so you can check out the options where you live. I also have a list of kid birthday party places and adult birthday party places depending on what you are looking for.
20 Teen/Tween Birthday Party Places
1. Pro or College Sporting Event
Depending on what sport or team your teen is into, taking his/her crew of close friends to see a team that they love can be a great social outing around something that interests them.
Consider adding money to your budget for kids to get food and snacks while at the game.
2. Concert or Show
At this age tweens and teens have favorite musicians, artists, and celebrities that they love and are super fans of.
Hooking your teen and a few close friends up with tickets can be just the ticket to the perfect birthday party place.
Consider checking out local radio station websites for ways to win tickets.
3. Hi-Speed Indoor Go Cart Racing
Go carts have a come a long, long way in the last decade.
You can now drive really powerful, really fast go-carts safely inside of go-cart facilities.
I drove one as an adult at my husbands holiday work party a few years ago and it was very intense but thrilling.
Usually, they have carts for a variety of ages/heights, so check the website to ensure your guests can participate. The carts that go excessively fast will usually require that the rider be at least 15 years old with a valid drivers license.
How To Book a Party: Google Indoor Go Cart Racing near me or check out some the locations for these well-known carting companies below.
4. Indoor Trampoline Center Party
Not going to lie, even as an adult I love these places. Imagine a building with wall to wall and floor to floor trampolines?
My husband and I even used to go one of these in Atlanta on date night because it was exercise and fun!
These are amazing party places because it doesn't really matter the weather outside you can still have the party.
Teens get to run, jump, yell and play for several hours.
Some of the places I have been to also have trampoline dodge ball arenas which makes this perfect as a Teen birthday party place. Plus foam square pools where you jump on the trampoline and hurl yourself in a giant pit of foam squares (think old school Double Dare).
How to Book a Party: Google Indoor Trampoline Center or the most popular national chain of these is Sky Zone.
5. Imax Theatre Party
IMAX is a huge screen and can offer a very unique movie experience.
Some movies are more educational and others are pure entertainment.
How to Book a Party: To learn more about throwing a party, search for your local Imax location and find out if the one nearest you host parties.
6. Movie Theatre Party
Keeping it simple, you might just want to take a group of kids to your local movie theatre to see the lastest kids flix.
Each theatre has different options but it is one out of the box way to keep a bunch of kids occupied for two hours.
How to Book a Party: Here is a list of party hosting pages for most of the major US movie theatres.
7. YMCA Basketball Party
When walking to my YMCA group fitness class the other day I saw a flyer for hosting birthday parties.
Every YMCA usually offers most activities, classes, camps or parties at a member price and a non-member price.
Our YMCA has an indoor pool and basketball courts so that would work for any weather situation. Our old YMCA in Atlanta had an outdoor waterpark which would have been a ton of fun as well.
How to Book a Party: Check with one of your local YMCA locations to see what kind of party options they have that might appeal to, the season of the year and your child the most.
8. Skating Rink Party
This is one of the teen birthday party places you'll want to run by your kid but many teens still love the skating rink because it's very social.
I'm not going to lie, the last time I went to a skating party I realized how things had changed from when I was 10-year-old sailing my way around the skating rink (which was a million times better than skating in my driveway).
As the party started, I noticed kids as old as middle school going around the rink in what looked like tiny PVC walkers. Like walkers that people use for mobility support. That's what these were, walkers for kids and adults to use while the skated so they could keep from falling.
I remember the days when you had to learn to skate by clinging to the walk and busting your rear end a few times before you got the hang of it.
Okay, middle age rant over— skating parties are still around and are still fun, walker and all.
How to Book a Party: Call your local skate rink and ask about party options.
9. Ice Skating Party
If you've got a local rink, consider taking your kids to ice skate.
It's a little twist on the traditional skating rink and can be fun for everyone as they learn the ropes of skating on ice.
10. Entertainment Complex Party
This is sort of a modern-day step up from Chuck E Cheese geared toward teens and adults.
Examples of Entertainment Complex where you live might be:
11. Spa Day Party
If you've got a group that loves to be pampered, consider hosting your party at the local spa where the kids can get mani's or pedi's as a group.
If doing this out isn't in your budget, consider doing it in with my post on How to Throw a Thrifty Spa Party.
How to Book a Party: Call and ask if they have group rates or party options for their spa location.
12. Aquatic Center Party
When I lived in the burbs of Atlanta, they built a county-owned Aquatic Center down the street from the house.
It was AMAZING!! Slides, lazy rivers, pool playground!!
After that location opened I discovered that we actually had several other aquatic centers in town that I didn't even know existed.
On the flip side, these can be a bummer if there is rain or thunder that shows up the day of the party.
How to Book a Party: These parties can also be super thrifty compared to a privately owned theme park style water park.
13. Craft Store Birthday Party
This is one of my favorite birthday party place because I'm a crafty gal.
Many local craft stores have classrooms for craft classes but you can also often rent these rooms for parties.
In fact, Michaels craft stores offer some really fun party packs at their store locations.
How to Book a Party: You can read more here about Birthday Parties at Micheals.
14. Pottery Paint Store Party
Another trend that is popping up in big and small towns around the US are pottery painting places.
These little shops have been around for over 10 years now but provide a great environment for crafty fun that someone else gets to clean up.
How to Book a Party: Google "Pottery Painting Studio" in your area and reach out to them for more information.
15. Theme Park or Water Park Party
If you live in a town with a big or small theme park, consider hosting a party there for the day. Due to ticket prices, you may not be able to take your kids whole baseball team, but you may be able to make a special day with a few good friends.
How to Book a Party: Call and ask about group rate discounts or party options.
16 & 17. Take Advantage of Seasonal Events & Festivals
Depending on when your child has a birthday, there may be some super unique seasonal festivities that you could take your group to that would be fun, special or outside the box because they are seasonal. Check your local town's calendar of events.
Consider calling and asking about group rates or party pricing.
Here are some examples of seasonal style events:

Festivals
Carnivals
Movies on the Green
Ice Skating Rinks
Haunted Houses
Corn Maze
18. Escape Room
Not going to lie, I'm kind of obsessed with Escape Rooms.
To put it simply, you and a maximum of 7 other people walk into a room and 60 minutes to figure out how to get out following clues.
It usually requires players to find clues, find keys and find codes which all unlock locks which helps you get of the room.
In truth, there is always an emergency exit for people who need it but it's a thrilling and fun experience to do with friends.
How to Find One Near You: Google "Escape Room Near Me".
19. Strategic Board Game Cafe
Last week I was in Asheville, NC and ran across a business called Well Played Board Game Cafe where you can come and play your favorite games and eat! We also had one of these back in Georgia so I think they are becoming more and more popular.
How to Find One Near You: Google "Board Game Cafe".
20. Neighborhood Pool Party
Hosting a party at your local neighborhood pool can be great because if you live in the neighborhood you most likely use it for free or for a nominal fee.
We have attended several parties at community pools and I enjoy them because the pool is on the small side making it easy to keep up with the kids. There are lots of adults around to help keep an eye on swimmers and it can make for a nice, warm, fun environment where the kids can entertain themselves for several hours.
How to Book a Party: Contact the HOA or community contact person.
I hope that you have found some inspiration or a solution to your next teen birthday party places search. In fact, you can plan the next several years or teens from this one post!
Be sure to pin this post for later! I'd also love for you to subscribe to my weekly email where I send out awesome party and celebration ideas and tips each week!
---
Ready to get your teen party organized?
I'm here to help you plan everything and forget nothing! Get the Thrifty Little Mom Stress-Free Teen Birthday Bash Printable Planner. You can snag it for just $5 and as a bonus, I'll include my PDF Party Budget Guide & Printables for FREE!!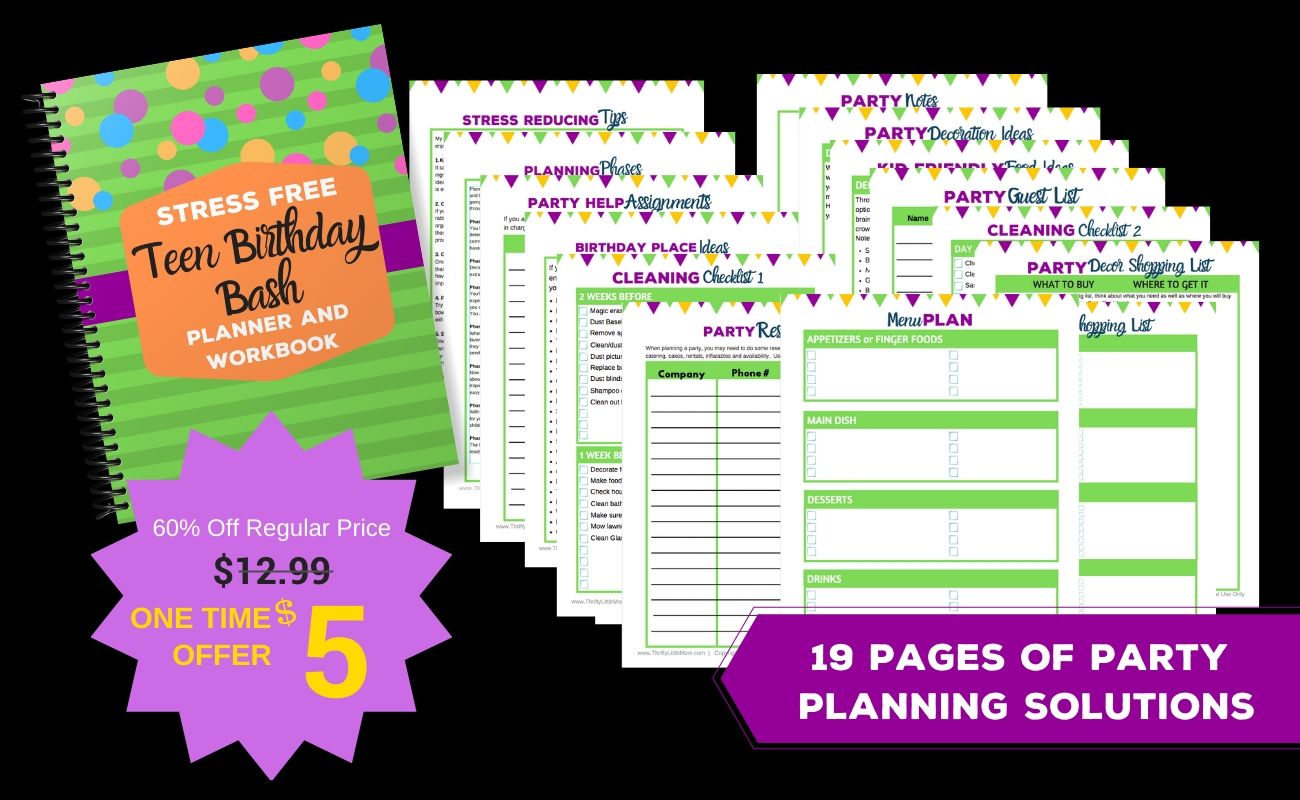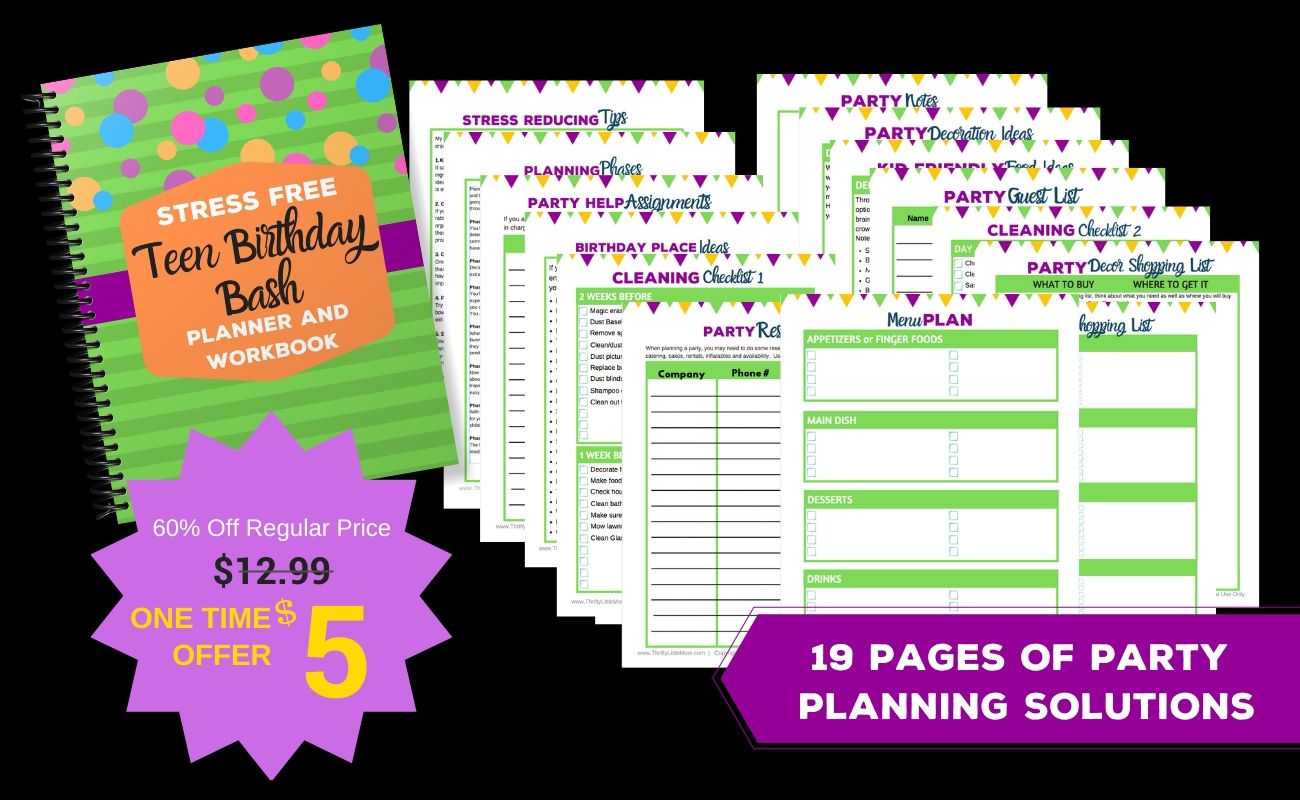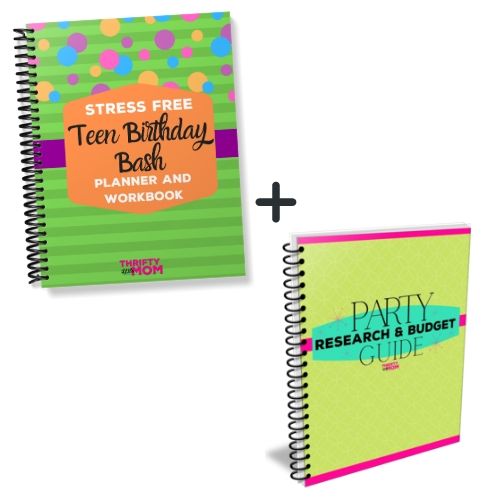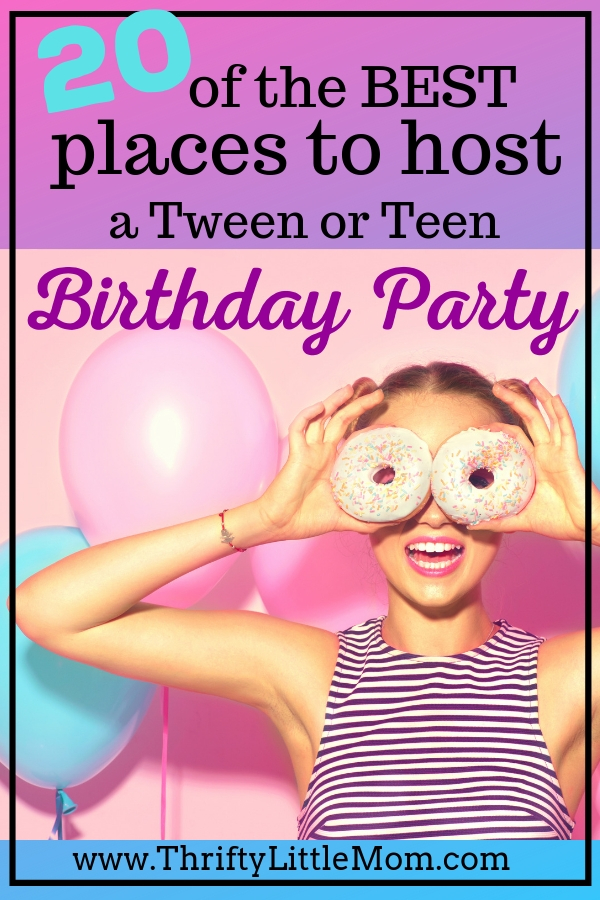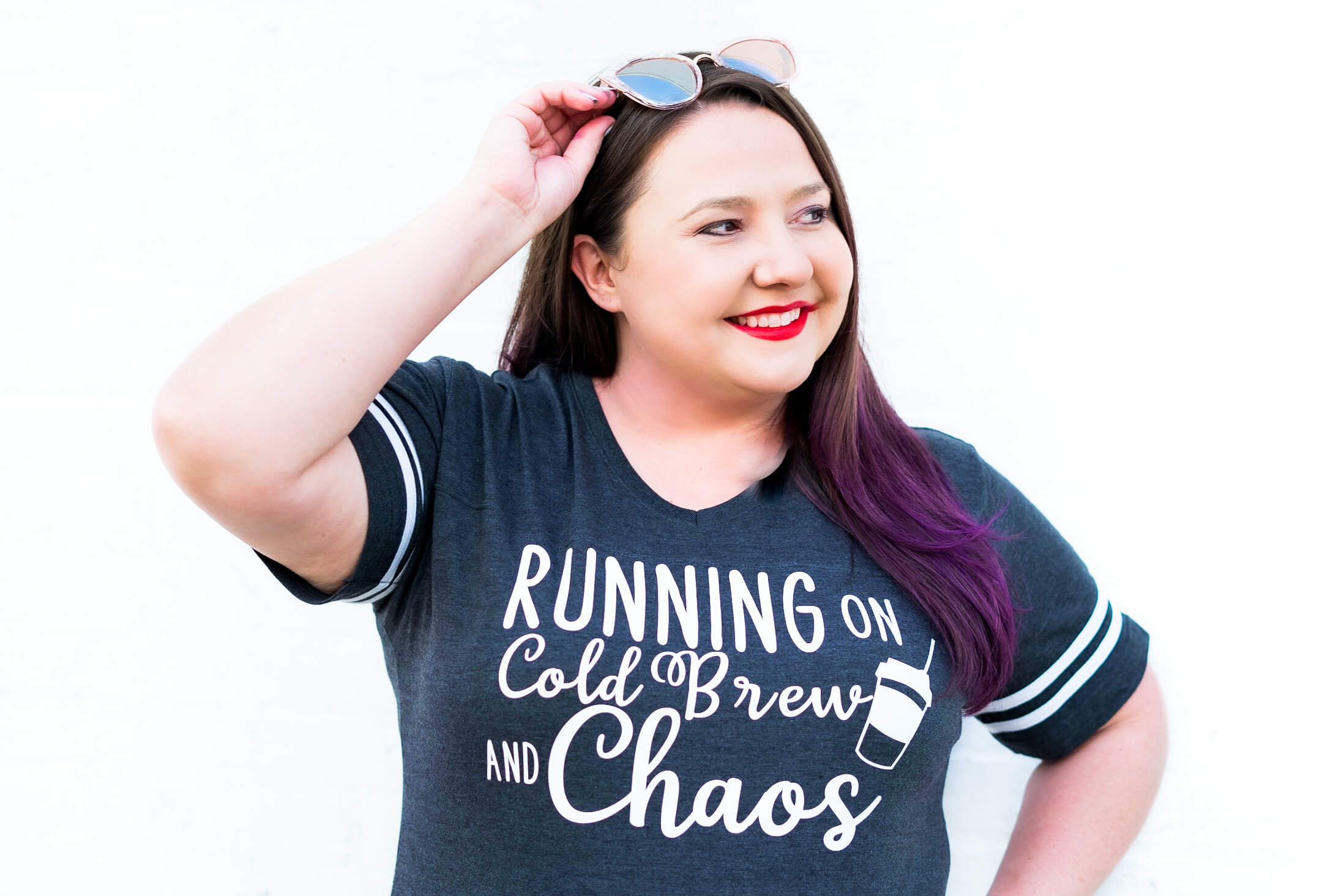 Kim Anderson is the organized chaos loving author behind the Thrifty Little Mom Blog.  She helps other people who thrive in organized chaos to stress less, remember more and feel in control of their time, money, and home. Kim is the author of: Live, Save, Spend, Repeat: The Life You Want with the Money You Have. She's been featured on Time.com, Money.com, Good Housekeeping, Women's Day, and more!