Best 40th Birthday Party Ideas
This post contains affiliate links. As an Amazon Associate, I earn from qualifying purchases. I also earn from qualifying purchases made with other brands and programs. See my
privacy policy.
My BFF recently celebrated her 40th and we made it kind of epic!   Because 40 is one of those BIG birthday celebrations I wanted to write a post about the best 40th birthday party ideas to give you a little inspiration whether planning for yourself or a friend.
For my best friend's birthday, we road the train to the Bon Jovi concert in downtown Charlotte and ate dinner at a fab downtown restaurant!  We had a pretty big group and jammed out at the concert (even though we were a pretty generationally diverse group).
40th birthdays are also a great time to check off those "bucket list" kind of experiences.  So think about what kinds of things you'd really like to do and experience before you…. well… you know….
I hope this post gives you the inspiration you need to celebrate in a big way!  Cause life is short and it's worth enjoying!
Best 40th Birthday Party Ideas
1) Over the Hill- Literally.
Hiking party/ picnic- Going outside and enjoying a beautiful day with friends is a wonderful way to connect offline and breathe in the beauty of nature. Plan your day to have a successful walk to the heights of a breath taking vista near you.
Check out your local state parks.
Picnic areas for post hiking celebrations which makes this adventure budget friendly. This requires minimal decorating as you are set in the best decorations nature can provide.
2) Paint and Sip party
Wine and painting go together like Abbott and Costello- wait a minute, you're not THAT old. Wine and painting go together like Will and Grace.
You may have noticed some fun little shops popping up all over the US where you can come in the evening and paint something like pottery or canvas and sip wine.  Even some Breweries are starting to get in on the action.
You don't usually have to be a master artist to attend these events.
Most art classes walk you step by step, Bob Ross style, through creating a painting.
Pottery places usually let you select a ceramic piece of your liking and deck it out.
It's usually anywhere from $25-$35 to do this kind of activity.
This is a simple, fun and straightforward way to bring some friends together for a unique activity to celebrate a birthday!
You can look for many of these events when on the Facebook app under— find events.
3) Concert
Last year we went to dinner followed by a Bon Jovi concert and even though I'm not a super fan — it was super fun especially when you get to belt out the lyrics of your favorite old school songs.
Think of the birthday person's favorite artist and see if they will be around your town this year.

Ticket prices vary GREATLY.  I've seen anywhere from $50-$100+ for a ticket depending who it is and how close you want to be.

Consider seeing how many are interested, have them send you the cash for their ticket and then get all the seats together.
4) Rent a VBRO or Home Away Vacation Rental
You don't have to go far to get away. Instead of traveling to some distant vista, you can get a fun rental in the heart of all the action in a city near you!
Pick an area that has multiple things within walking or short cab rides.
If going out on the town isn't your thing, pick one that has an option you can enjoy there- a pool, putting green, fire pit and bbq area.
Throw a theme party and enjoy time with friends without the stress of it being your house.
Consider the mountains, beach or even lake house.
5) Zip-lining
If you are looking to get out and do something unique, consider a day trip to a local zip line in your state.
Zip lines usually take one person at a time down a long wire hanging above a wilderness canopy.
Ropes courses are usually very "team" oriented and allow attendees to walk across ropes high above the ground.
Expect to pay around $50-$60 per person.
How to Find One: Google "Zip Lines Near Me".
6) Quick Plane Trips
Here's a real easy 40th birthday party idea, travel! These days booking a one day trip is easy. Have you considered that places like New York City and Orlando are reliant on tourism? These places make it easy to book flights for super cheap. Plus, areas like Disney are always giving away discounted tickets.
Search for flights on Google, BUT make sure to put on your "incognito" or "private" view for your browser. This guarantees that you don't get ticket hikes for multiple views of the same ticket.
Consider signing up for AirFareWatchDog where they will keep you in the loop about price changes and deals to places you want to visit!  You can use my Airfarewatchdog finder below to search for deals.
One day flights mean you don't need a full carry-on bag, or if doing it as a couple, only one shared carry-on
Both locations are great for memories and exploration
Ride-sourcing such as Lyft have great rates in these areas since they are high tourist areas
Always Groupon "things to do" in the area. Especially in these towns the possibilities are endless and the discounts cannot be beat!
Its your 40th birthday party. Treat yourself!
7) Axe-throwing
Yep. Axe throwing. This is a recent thing popping up around different towns and it is said to be "Better than darts!"
Make it a costume party- flannels and fake beards will always make for fun photo ops
This can be played with a minimum of 6 people up to 20 people
Usually cost around $40 per person for about 2.5 hours of throwing
The only requirement to participate is closed-toe shoes
8) Escape Room
Not going to lie, I'm kind of obsessed with Escape Rooms.
To put it simply, you and a maximum of 7 other people walk into a room and 60 minutes to figure out how to get out following clues.
It usually requires players to find clues, find keys and find codes which all unlock locks which helps you get of the room.
In truth, there is always an emergency exit for people who need it but it's a thrilling and fun experience to do with friends.
Escape rooms usually cost around $20-$30 per person.  Usually the more people you have the cheaper the ticket price gets and maxes out at 8 people.
How to Find One Near You: Google "Escape Room Near Me".
9) Comedy Show/Comedy bus
Going to laugh at a comedy show is already a good time, but when its your 40th birthday party, you can make it into an event.
Let the venue know that you are having a birthday party there before hand
That way they'll be sure to get the host and comedians involved
You will get good seating and more specifically, seating where the whole group is together and not spread out amongst the 4-top tables.
Comedy Tour Bus is a great way to explore the city, find out interesting facts and not have to worry about everyone riding somewhere together.
Comedy bus adventure will lat around 1.5 hours and cost you about $25 per person
The comedy buses usually have different ratings for the level of maturity PG-R (like your typical movie ratings) making this event tailored to your group's need.
10) Pub Crawl/ Party Bike 
If you've been to any fun touristy towns these days you may have noticed a silly looking trolley car (party bike) going down the road with a bunch of bar stools containing people drinking and pedaling away.
Bikes usually cost around $20 per person.

These can be perfect for a fun group party event.  It's unique, memorable, active and there is beer!
If the active part is a little much for you and your friends, then consider going to a town with several breweries and Lyft your way from place to place!  It might also be a good idea to book a hotel in town for the night too.
For other events in your area, don't forget to look at FaceBook for local happenings. There is always so much to do that we don't realize is happening in our own backyards! Support your local arts and entertainment!
11) Speakeasy
Most major cities have what are known as "secret" prohibition style speakeasy bars.  One birthday I'll never forget was when we were in Asheville, NC going to dinner and a bit of icy weather came through and threatened to close down all the fun spots in town.
My sister-in-law saved the day when she grabbed us an Uber that dropped us off in front of a green door with no sign.  When we walked inside it was was like stepping into a time machine… or a harry potter movie… of some weird, wonderfully different combination of both.
In Atlanta, we went hunting for a fun evening outing and discovered the Red Phone both.  We had to enter a special phone number inside the booth that we got from the hotel concierge and the phone booth opened and let us inside.  It was a great memory and might just be worth exploring for your next party! 
40th Birthday Party Ideas- Bucket List Kind of Ideas
The best place to start with these ideas to hit up Google and see if you have any close you.  These will be a bit more pricey but would be pretty darn EPIC.
Skydiving
Indoor Skydiving
Bungee Jumping
Group Travel to somewhere outside the US
Cruise
Safari
Alaska Fishing Trip
Ski Trip
Train Trip
Hike the Grand Canyon
White Water Rafting
Spa Retreat Weekend
Broadway Play
Vegas Weekend
Surfing Lessons
Photography Lessons
Flight Lessons
Hot Air Balloon Ride
Box Seats for your Favorite Sports Team
40th Birthday Party Themes
So maybe you know where you want to throw the party, but you don't know what to do past that. Here are a few fun party ideas to make the event fun and memorable!
Classic Over the Hill
While 40 isn't ancient by any means, it still is representative of crossing an age threshold and it doesn't mean you don't still like ribbing your friends about the silver hairs, weird pains and overall feeling of years adding up. There are lots of party stores you may have forgotten that sell the classic "Over the Hill" kitsch that we have grown to expect for this event. This theme is fairly classic to the story, but it doesn't have to be morbid. So, get a used walker at the thrift store and put racing stripes on it!
Hollywood Theme Party
We love an excuse to wear black-tie affair clothing.  This is classy and fun!
Roll out the red carpet
Make sure it sparkles! The more glitz and glam the better!
"Knock- O[ff]scars" party favors and awards
Specific movie/tv show theme
Let's get into character. Whether it is fantasy/fiction or your favorite reality TV show, costumes make for easy light hearted entertainment.
Pick your favorite show- The Simpson, Jersey Shore, Game of Thrones etc.
The more characters to choose from the better
If you want to reserve specific characters for you to be, make sure guests know. For example, my friends did a King of the Hill party and Hank and Peggy were reserved for them, but seeing all the other characters show up made for a very funny party and great pictures (3 Dales?! Now that is a group)!
At home Spa-day
Pampering and relaxing doesn't have to break the bank. There are easy and affordable options to TREAT YOURSELF. How to throw a fabulous spa party is just a click away!
Candles for ambiance
Homemade sugar scrubs
Aroma therapy oils for relaxation
Delicious fresh foods
Tiki/Luau theme
Everyone wants a little piece of the tropics no matter what time of year it is. This theme is great because it can add to summer fun or relieve the cooped-up winter blues. With the widest varieties of party accessories, you can go full island oasis or campy-cute tiki.
Flowers, flowers and more flowers. Beautiful tropical flowers will make any room a paradise.
Bright island clothing and grassy natural fabrics are a welcomed break from the business casual bore.
The flavors of the islands are the best- mango, pineapple, coconut are just a few of the tasty treats this theme has to offer!
South of the Border
Latin America is known for its bright colors, lively music and endless celebrations, so why should your 40th birthday be any different? Take a trip down south without leaving the states!
Get that Mariachi music going! There is a certain fun that is found in the rhythmic guitars and upbeat vocal melodies that are guaranteed to make you smile
Piñata? Let's up the fun! Instead of filling your's with a load of candy and plastic trinkets, take the celebration to a new level with mini airplane bottles of your favorite alcohol. Everyone will be excited to get in on the fun of a SIÑ-ata.
Mustaches! Grab a pack of mustaches and let the selfies begin. This doesn't have to be reserved to this party alone. Add a mustache bash to any theme!
Rock 'N Roll
Every era has had fantastic music in some form, but there is not denying the impact that Rock 'N Roll has had on our lives. From the hollow-body wailing of the 50's to the shredding metal of the 80's and on, there are fun costumes to be had from every decade!
Every decade can be used! This way people aren't required to pick a decade they don't jive with.
If enough decades are represented you can provide a prize for every decade's best dressed
Where else will you see Gene Simmons from K.I.S.S. and Buddy Holly hanging out by the punch bowl?
Crazy Hat Party
Coming up with a full costume can be a bit daunting for party goers, especially mid-season. A crazy hat party is easier because anyone can find a hat they love and are comfortable in.
No costume malfunctions, face paint
Create a hat box for those who showed up unprepared
Wigs, glasses and other accessories will add to the fun photos later!
Make a spinner board so that the hat selections are random, this could lead to your I.T. department co-worker in a sparkling tiara or the quiet friend in a viking helmet! You never know what the donning of a new hat will spark in someone's personality.
Great Gatsby Party
Who doesn't love the fringe of a 20's dress and the dapper look of a man with slicked back hair? You can even tie this theme in to the Hollywood themed party. Your 40th birthday party should be a huge celebration and should be as glamorous as you want! Go all out!
Bring in the band! This is the perfect party to splurge on an era inspired band.
Local dance troupes are always available to provide entertainment in classic cabaret style.
Confetti, streamer and balloons up the wazoo!
Versus Party
You are either one, or you're the other. But let's see who is who! Have a blast with this theme and tailor it to you. Let the best theme win!
Robot vs. Dinosaurs
Cats vs. Dogs
Ninja vs. Pirates
Great time for a fashion show-down and photo extravaganza!
This is your 40th birthday party, make it the best one yet and remember that the best part of any party is the people you love, being around you. Have fun!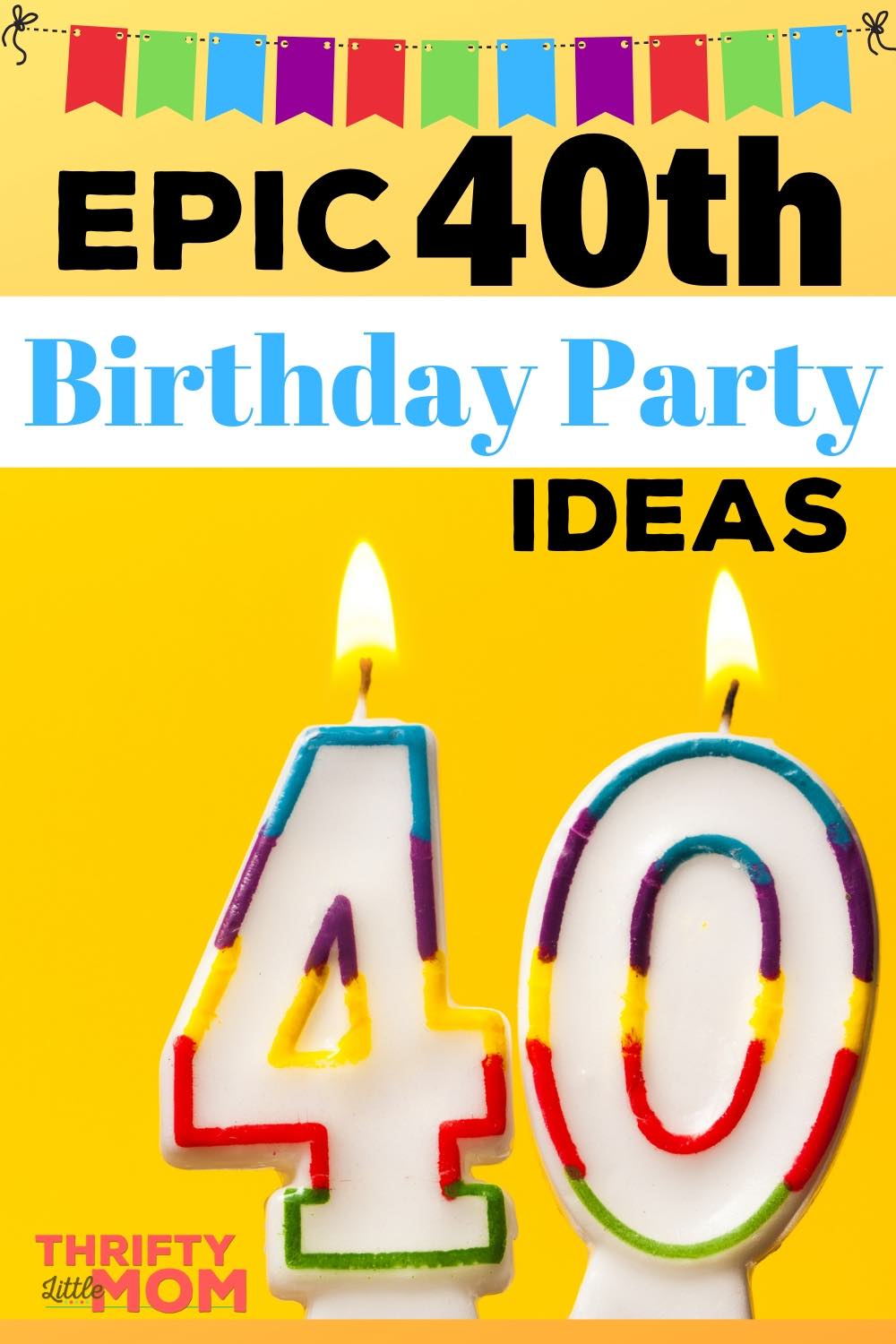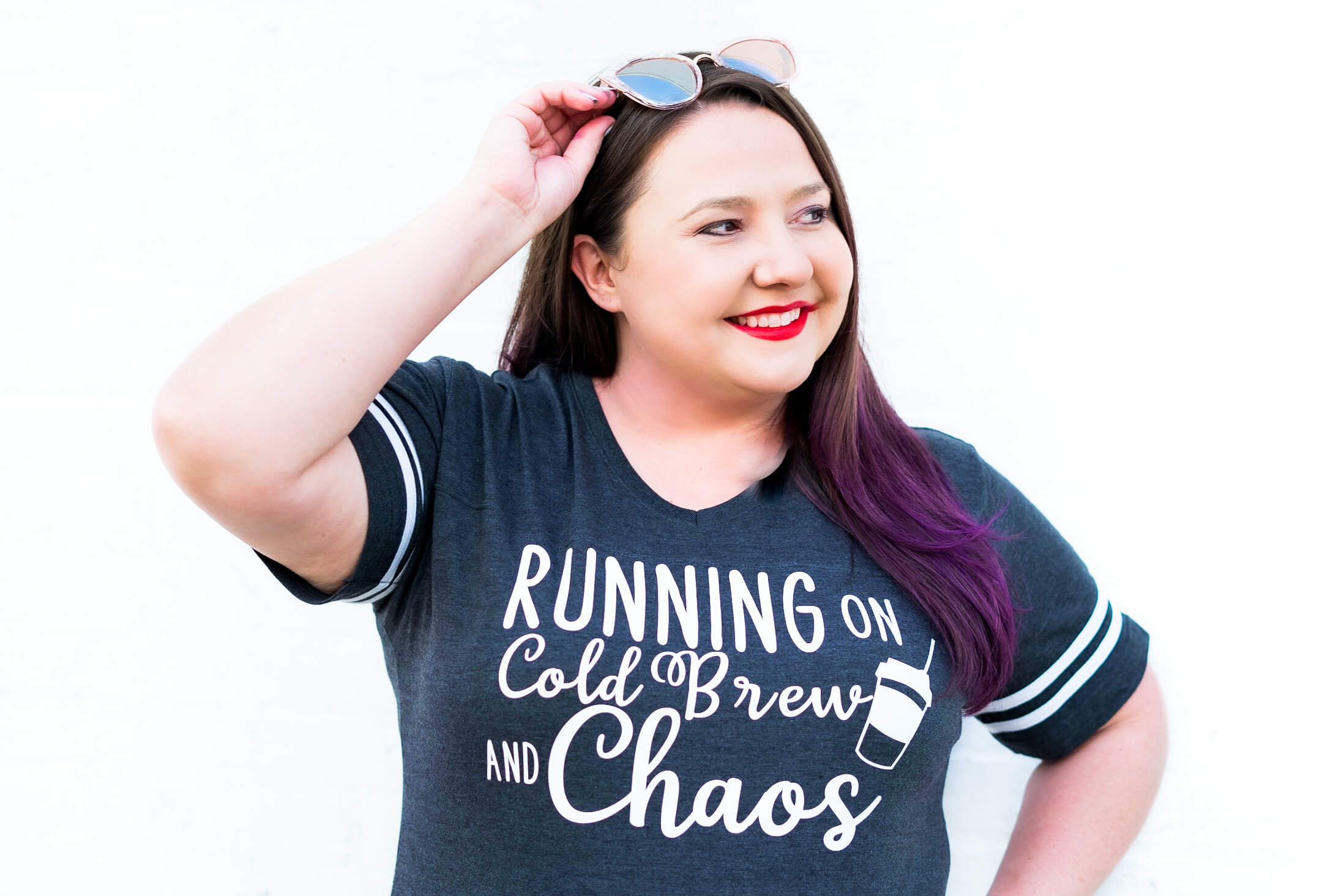 Kim Anderson is the organized chaos loving author behind the Thrifty Little Mom Blog.  She helps other people who thrive in organized chaos to stress less, remember more and feel in control of their time, money, and home. Kim is the author of: Live, Save, Spend, Repeat: The Life You Want with the Money You Have. She's been featured on Time.com, Money.com, Good Housekeeping, Women's Day, and more!
Summary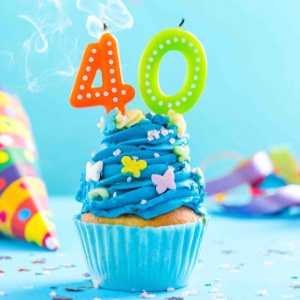 Article Name
Best 40th Birthday Party Ideas
Description
Need 40th Birthday Party Ideas? This article has ideas, places and even themes for planning an epic 40th Birthday party for you or a friend!
Author