Easy Mermaid Party Ideas, Supplies, Food & Decor!
This post contains affiliate links. As an Amazon Associate, I earn from qualifying purchases. I also earn from qualifying purchases made with other brands and programs. See my
privacy policy.
My twins turned 2 and after having boy parties for 5 years, I couldn't wait to do a girly mermaid themed party for them.  As a kid, me and my cousin used to make believe we were mermaids at my grandmas retirement community pool.
So, being a Little Mermaid fan myself and seeing all the cute party possibilities, I went for it.  I was extremely happy with the results and I hope this post inspires you with lots of easy mermaid party ideas, supplies, food and decor.
Flippin' Fabulous Mermaid Party Ideas
Let's not deny why we love mermaids, the colors associated with the theme make you happy, make you feel like an underwater princess. Celebrate this feeling at your next birthday party or celebration! You don't even have to wait for a pool party, these colors work year round.
Create your Mermaid Party Color Palette:
My party color palette was based heavily on my mermaid cupcakes from Ingles grocery store.  I'm not exactly sure how they get the color swirls so perfect but it works!  Later in the post, I share a link to these adorable mermaid tail rings that also make amazing cupcake toppers for a super thrifty price!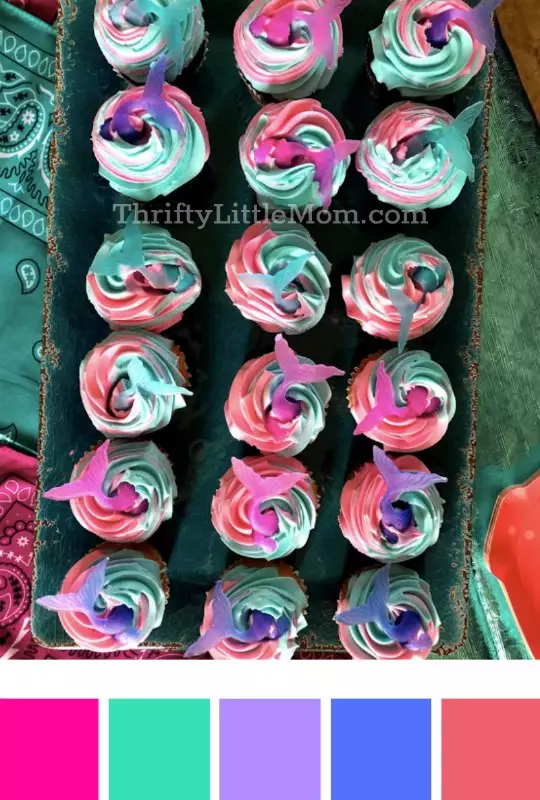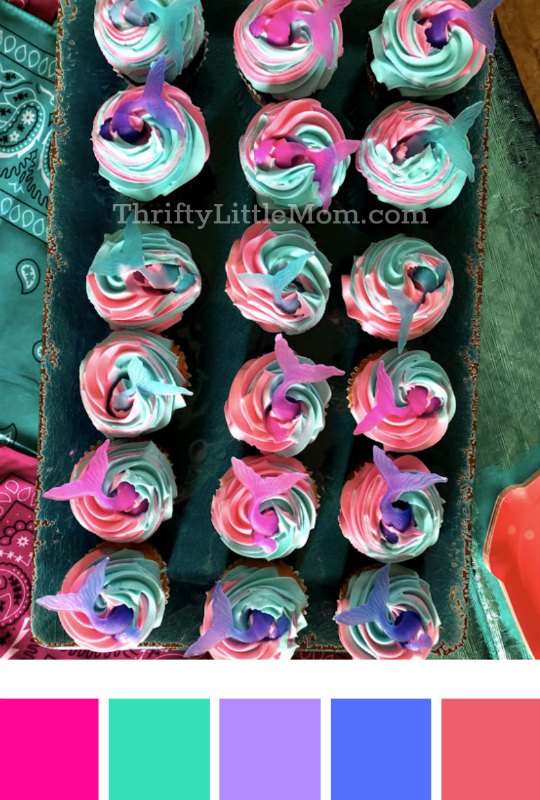 Come hang with me, under the sea!
Mermaid Party Invitation Ideas:
Start the event off right, great invitations get people excited before the party even starts. The friends of my twins were in love with the adorable cards and couldn't wait to attend. There are so many cute options for invitations, the possibilities are as wide as the ocean!
I like the invites that have the fun shimmery envelopes like these from Amazon.
Mermaid Party Ideas: Plates & Napkins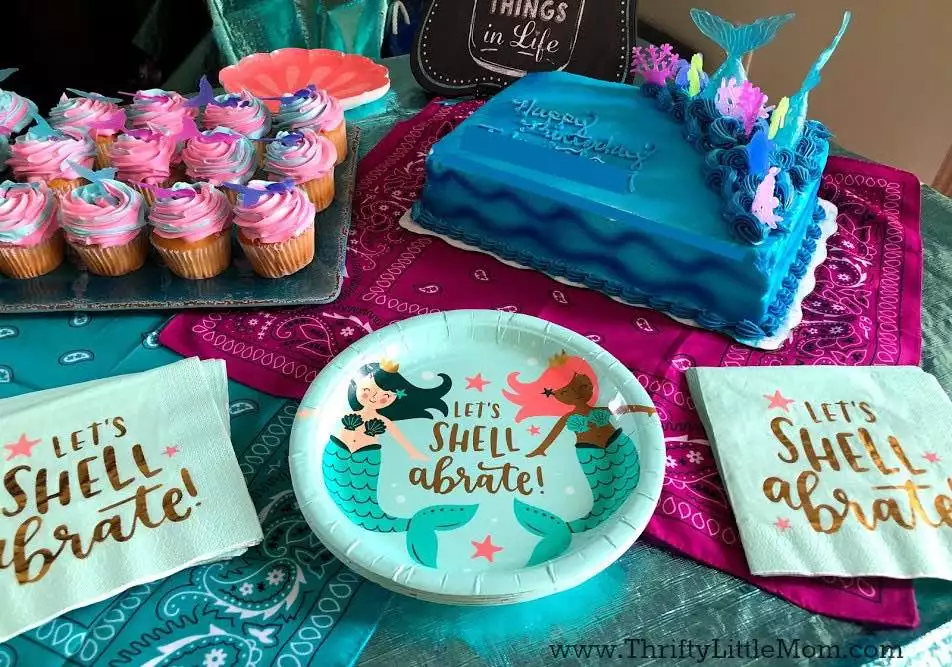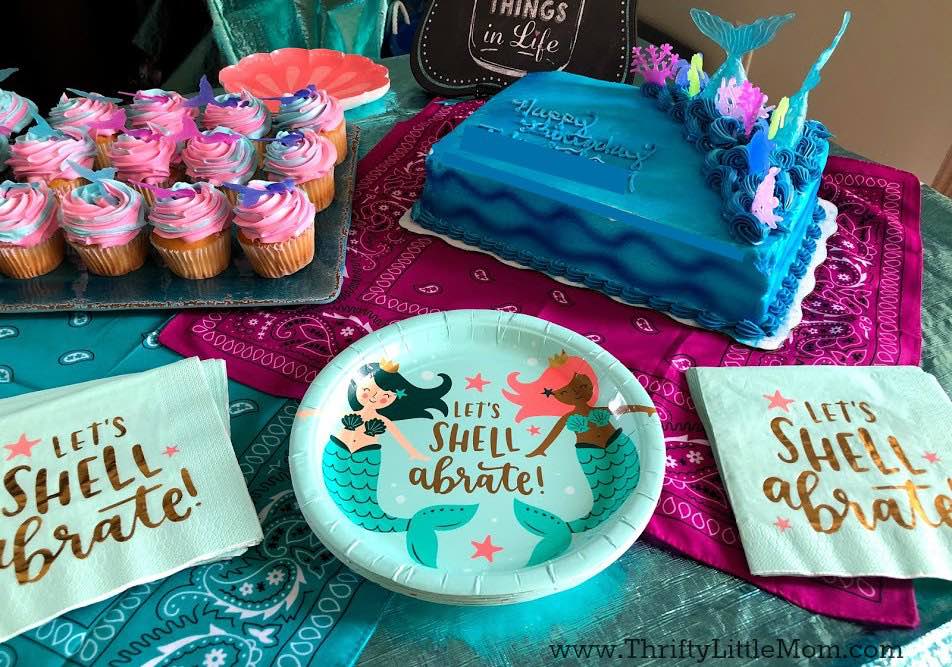 Shop this Look On Amazon:
Mermaid Party Supplies – Dinner and Dessert Plates with Napkins for 20 People- Perfect for Birthday Party, Baby Shower, Beach Party, Bridal Shower and all Lavish Affairs!
Shop the whole set on Amazon:
Mermaid Happy Birthday Party Supplies – Dinner Plates, Dessert Plates, Napkins, Table Cover, Straws, Banner (Serves 20)
Deep Sea Decorations
Especially with a mermaid party theme, the decorations and colors bring people into the celebration mood. However, this doesn't mean you have to find buried treasure to afford this theme. There are several ways to add pops of color on a budget. We found these handkerchiefs for less than $1 a piece and they added all mermaid colors we wanted!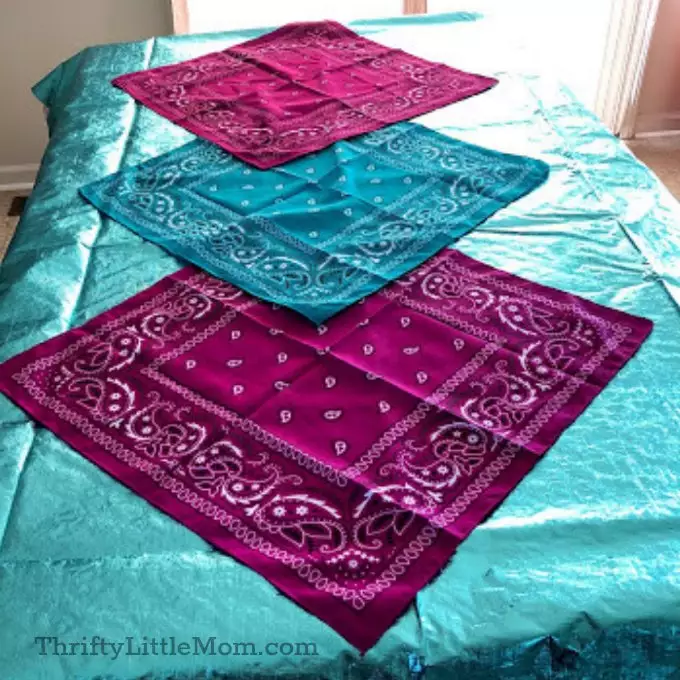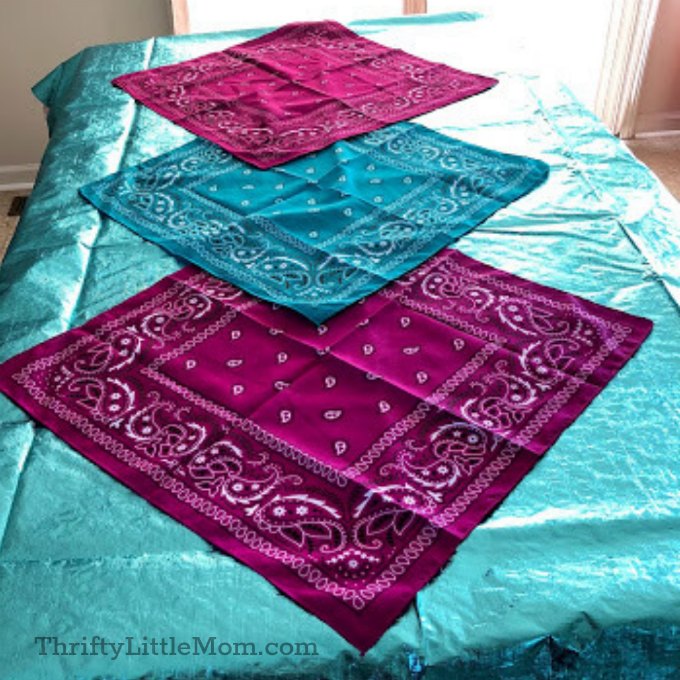 Little paper decorations can add whimsy and charm as well. This is an easy and cheap way to make a statement from the floor to the ceiling. Also keep an eye out for streamers and balloons to complete the look.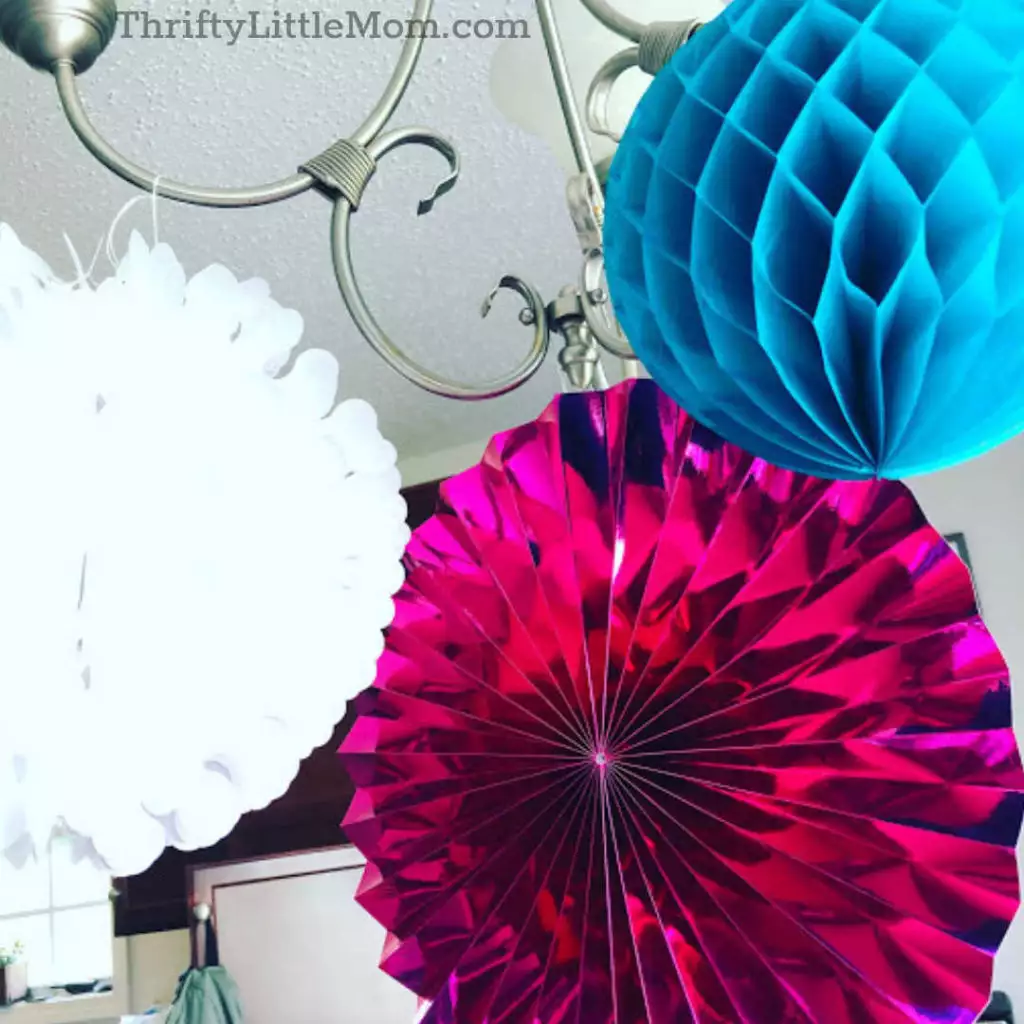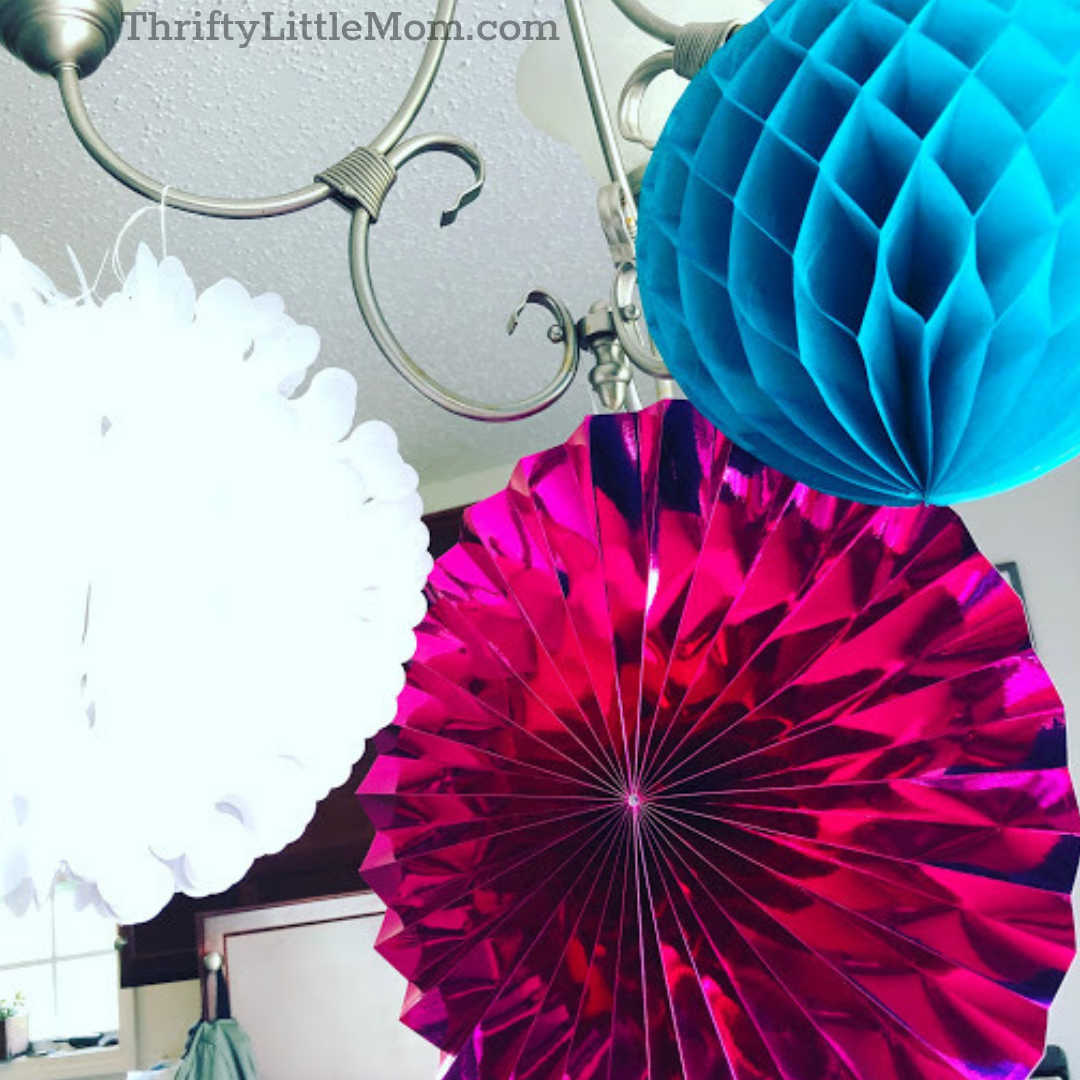 There is an endless selection of plates and napkin sets to satisfy the cute theme of this party. This combination was super fun in my opinion, but you can see how it doesn't have to be reserved for birthday parties, you can use them for any celebration!
THAWAY Mermaid Party Supplies Birthday Decorations, Happy Birthday Banners, Pom Poms Flowers, Hanging Swirl, Balloons for Girl's Birthday Party and Baby Shower Party Decorations
Mermaid Party Eats and Drinks
No party would be complete without some great snacks for everyone to enjoy. There are many different options but here are a few of my favorite things. Antipasti platters are a crowd favorite. These offer all kinds of flavor in an easy finger food service style. When making a cheese tray take these simple steps into consideration for how much to buy IF THIS IS THE MAIN SPREAD.
Three (3) ounces of cheese per person
Four (4) ounces of meat per person
A pound of food is sixteen (16) ounces
If you have 10 people you will want to purchase: 30 oz (basically 2 lbs) of cheeses and 40 oz of meats (basically 3lbs) of meat
3 types of cheese- you can get fancy aged sharp cheddars, creamy goat logs or even a chunk of gouda, but for the kiddos, mild cheddar, colby and pepper jack may be as funky as you want to get
Meats types- Calabrese, Pepperoni, Soprassata and Proscuitto are amongst my favorites
Don't forget the crackers
Mix and match flavors to the party-goers tastes.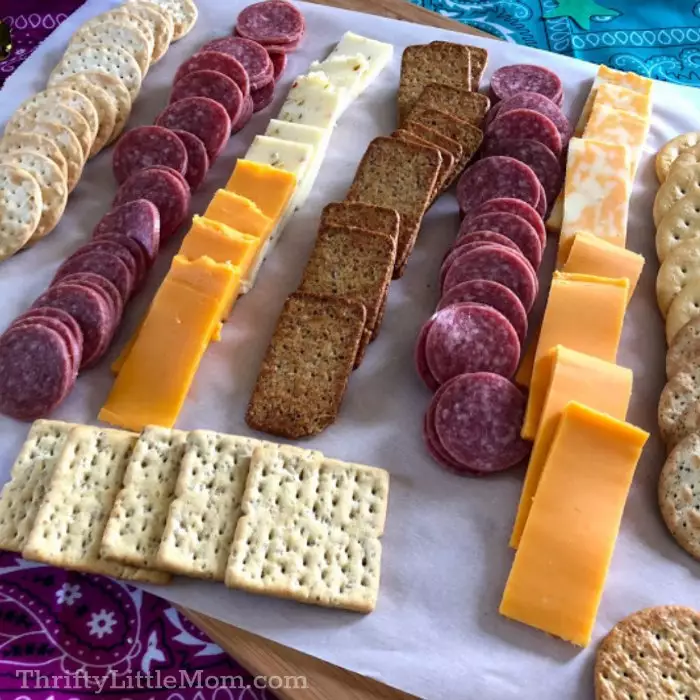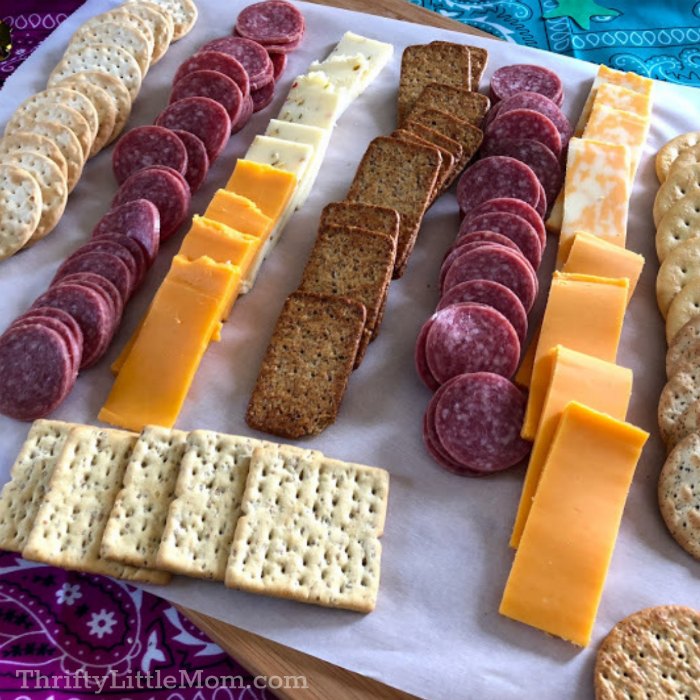 No mermaid birthday party is complete without a fantastic birthday cake! While your local grocer may not carry all the supplies to make your cake 100% mermaid themed, you can always add your own touch to the dessert to expand what they can provide. Think of that beautiful deep blue sea and the waves billowing on top.
We were very pleased with the cake and cupcake combinations. They definitely added a cutesy flair to the party ambiance.  You can also find these cute cake toppers on Amazon.
Shop this cake look on Amazon:
Mystical Mermaid Cake Decorating Set (1)

Mermaid Party Cupcake Toppers!
Don't these mermaid theme cupcakes just make you smile immediately?!  You can snag your very own mermaid tails for cupcakes on Amazon plus they serve also as adorable mermaid tail rings!
If you decide you want to try to make these cupcakes at home I found an awesome tutorial video that shows you how to get a perfect color swirl without cake decorating traning haha!  Check out the video below!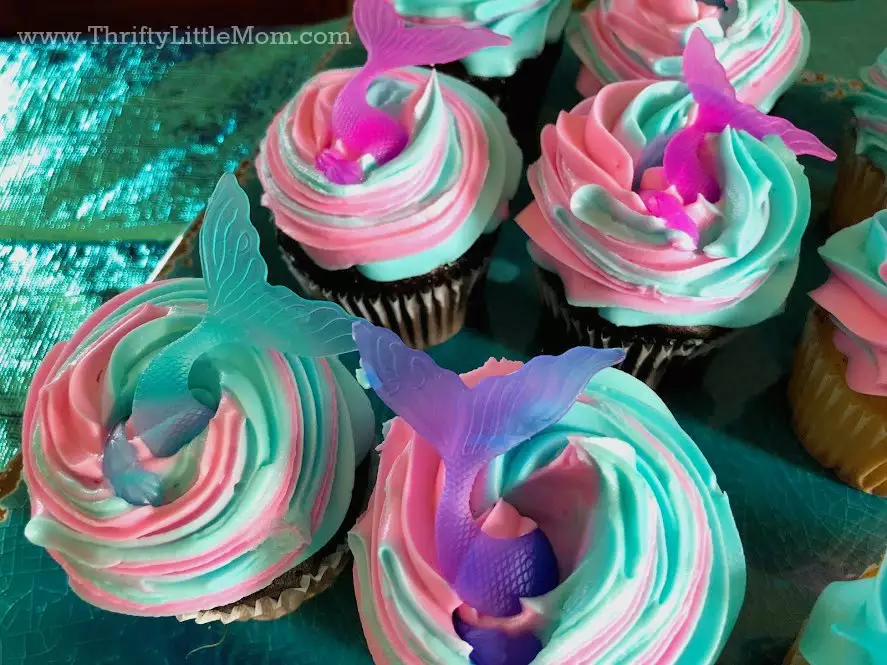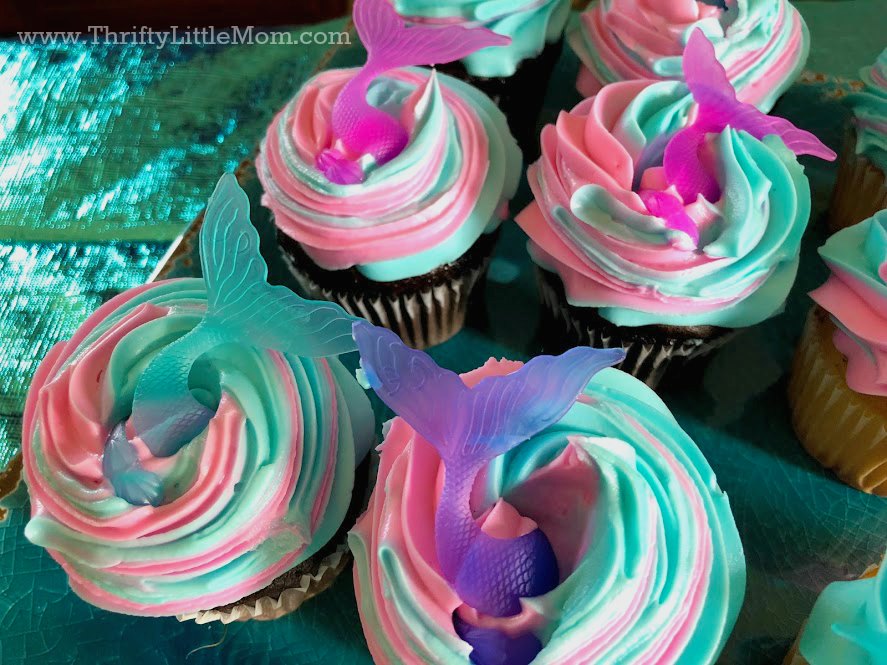 Shop this Mermaid Party cupcake look on Amazon:
Mermaid Tail Wrap Cupcake Rings – 24 pc
Mermaid Party Cupcake Swirled Icing Tutorial:
Doesn't matter if its a pool party or a birthday party, the beautiful blue waters are eye catching, make sure there is at least one drink that reflects the deliciousness of the ocean. Hey! How about this Ocean Water Recipe?
If you are short on time, you can also just snag a gallon of Hawaiian Punch- Polar Blast from your local grocery store!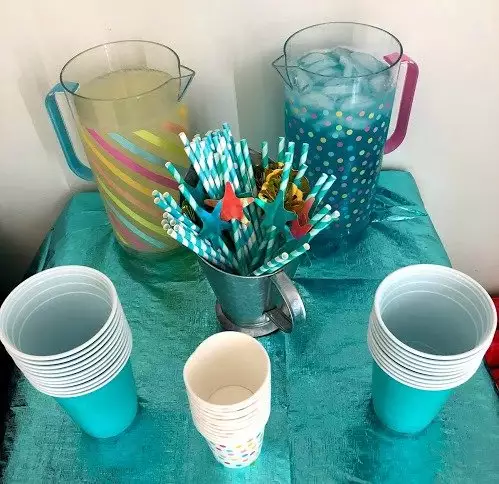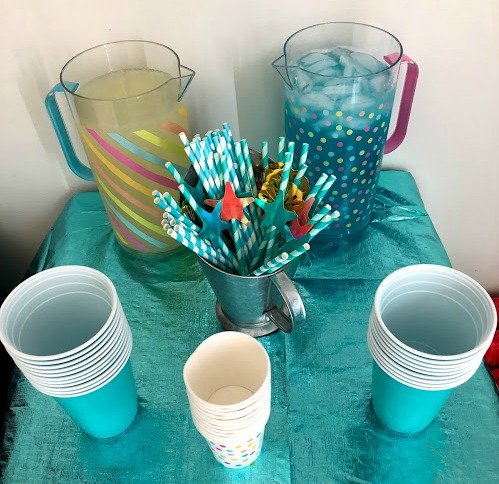 These adorable straws add so much flair and fun. Everyone will get a kick out of the small details you bring to the (literal) table.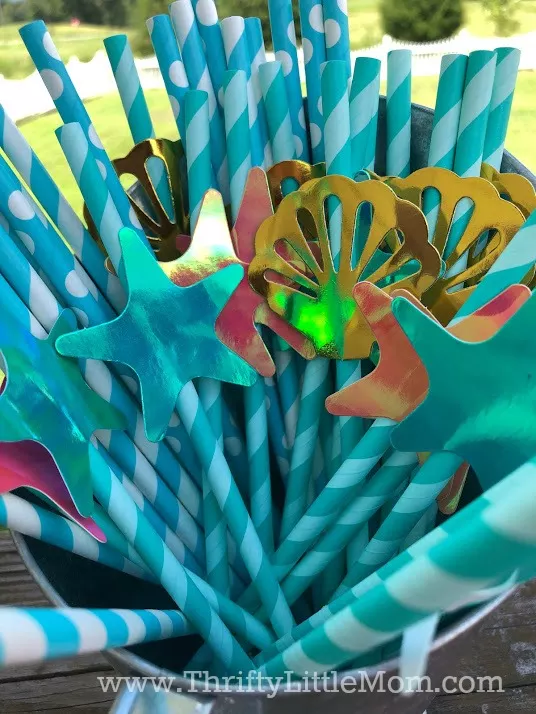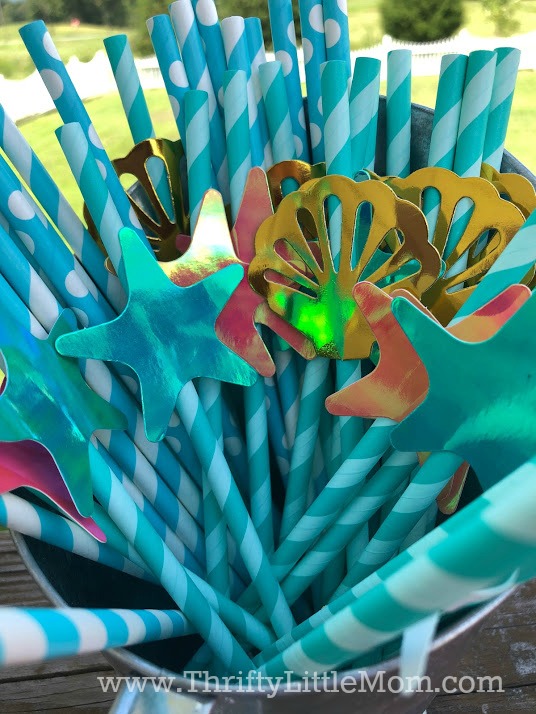 Sounds of the Seaside
Steal drums are the sound that a rainbow makes, at least that is how I feel. There is such brightness and fun that happens to the rhythmic tings that you can't help but dance a little. There are several forms of music that make you feel this way. Ukulele is another that brings in that "fun in the sun" feeling.
Make sure to add some fun sound tracks to the party to give it that enchanting sea life fun. I also like the Disney sound tracks to Little Mermaid and Moana. These streamable song compilations provide cute tunes to bop around to and the kids will love singing them.
Mermaid Party Ideas for Fun and Games
We're having a party! There are so many activities to add to this Mermaid Party theme. If you ever wanted an excuse to purchase a bubble machine, this is your golden opportunity. Bubbles bring the "under the sea" fun topside and create a ton of fun for kids.
Watch the Little Mermaid Movie.

Make a GIANT bubble machine!

A bubble machine is way less worry and hassle than the liquid bubble and wand combination (which is still pretty fun in spite of the mess it can create). However, if you have the space outside, try making a bubble rope ring and impress everyone with bubbles the size of cars! There are easy tutorials out there but basically all you need is a minimum 6ft of thin rope, a soapy solution in a bucket and two rods.
The first time I saw this in real life my heart almost exploded with joy. I was 26 and I was immediately transported to a place of childhood wonder and excitement. It was AWESOME! I can't even imagine how cool it would be as a small child to experience bubbles 3 times your size. Ok, enough about bubbles! What else can you do for fun?
Two words.
3. BOUNCY. CASTLE.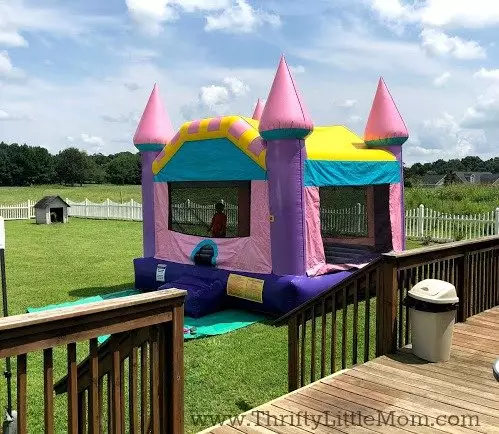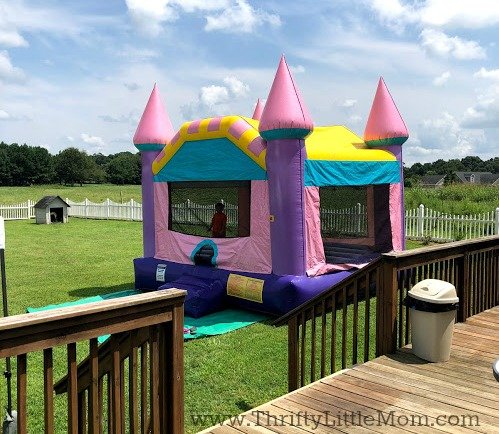 These are the best party accessory for all ages and themes.
They can be 1 single room jump area or a crazy obstacle course of slides and tunnels. There are all shapes and styles that can fit most budgets and provide hours of kids approved entertainment.
The best part? As parents, we need to always test things before we allow our children to jump in. Get those shoes off and make sure this bouncy house is in proper working order for the party goers! Sorry, Kids, Mom needs to make sure this is safe first *wink wink*.
Also having a very physical activity like this gives the kids something to occupy their time (without destroying the inside of the house) and gives the parents a short time to chat and hang out too.
4. Water Activities
If it's the summer, you can add a water with sprinkler games, slip and slides and so forth or make it an all out pool party and host it at your neighborhood pool or the YMCA.
5. Mermaid Crafts
However, if you don't have the space or the weather for outdoor experiences, crafting is also a fun indoor activity.  A take home souvenir craft is always a memorable and inexpensive way to celebrate the day.
In keeping with this mermaid party theme, sand dollar necklaces are easy, fun and nautical.
You can pick up a bulk bag of sand dollars, some pretty water color or glitter paints and different ribbons for an all ages craft party.
Tumbler Home Certified Small Natural White Sand Dollars 50 Pcs – Wedding – Sea Shell Craft Up to 1″ – Hand Picked and Professionally Packed
Paxcoo 100 Pcs 18 Inches Waxed Cotton Necklace Cord for Jewelry Making Mix Color
Sand & Sequin Glitter Mermaids Picture Art & Hobby Craft Kit Girls Gift Ideas
Sand layering is for those a little older, but can make for a beautiful bedroom decor piece.

Pick out a few sand colors at your local craft store along with some cork-style bottles.
Sands can have glitter or bright colored rocks added in as well to bring texture and sparkle to the mix.
You can have each child make their own to take, or have them all help to make one big one for your mermaid to remember the special day.
Each layer of sand can represent a different friend at the party.
Sea-Ya Later!  Mermaid Party Goodie Bags & Party Favors
When it comes to party favors I would much rather have one really unique and usable item for each of the kids to take home than a good bag of junkie toys that are going to break on the card ride home.
With this is mind, I find one item that I think each person will love and most of the time the price evens out to what I would have been spent trying to stuff favor bags.
Here are some mermaid party favor ideas from Amazon that I compiled for you that would work for a smaller party.
Draw String Bags >> Click the image:
Plush Mermaid Dolls>>> Click the images:
If you've got a big group and want to go with the thriftier party favor bags consider keeping them simple and adding something fun like saltwater taffy!  Just click the images below to price them on Amazon.
SWACC 22 Pcs Colored Party Highlights Clip on in Hair Extensions Multi-Colors Hair Streak Synthetic Hairpieces (11 Colors 22 Pcs in Set -Curly Wavy)
The most enjoyable part is seeing the excitement on your own mermaid's face at the best birthday party ever!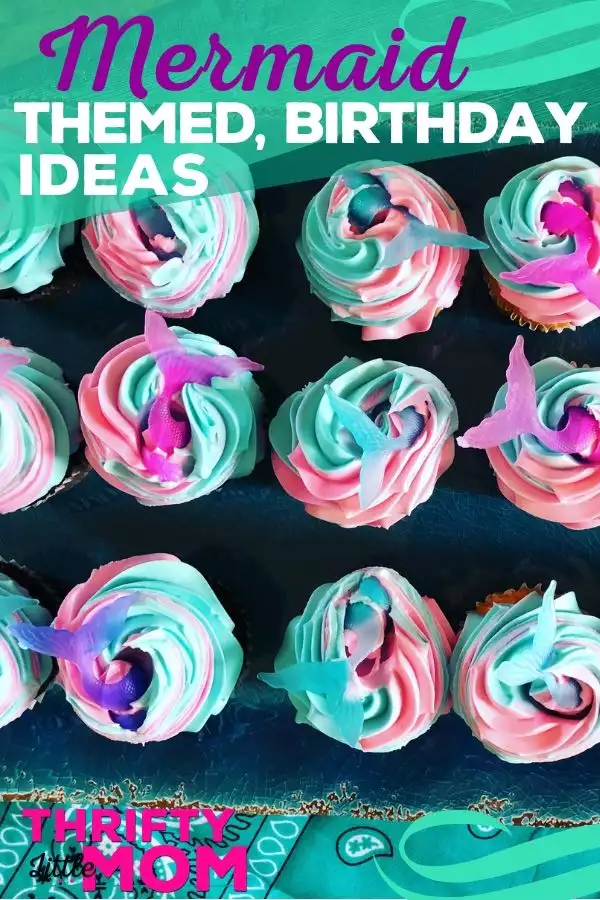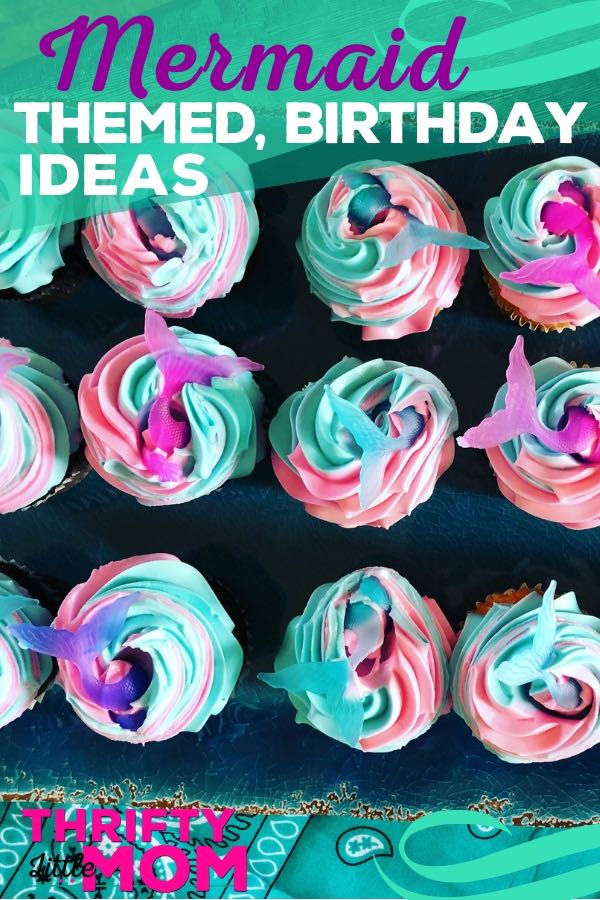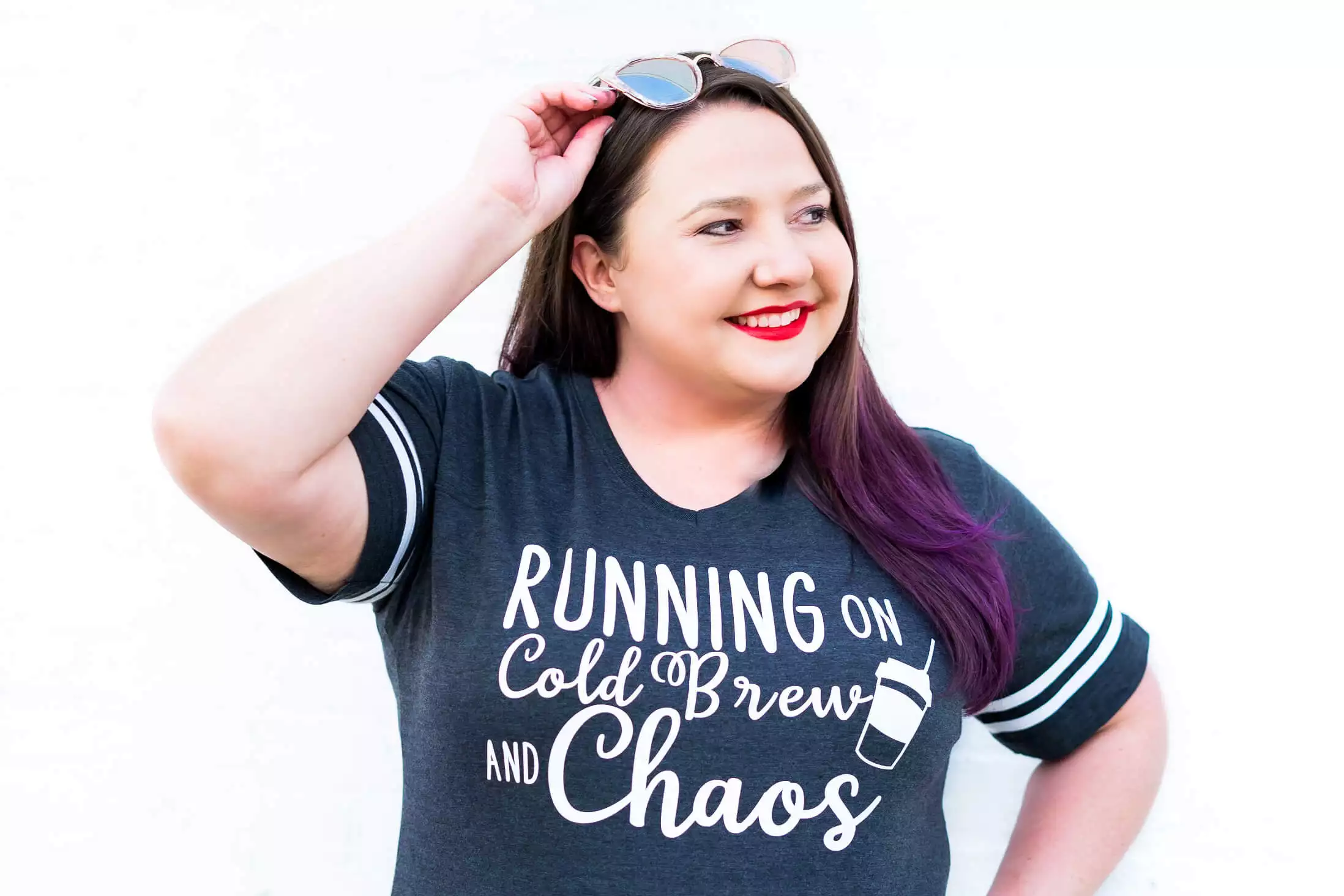 Kim Anderson is the organized chaos loving author behind the Thrifty Little Mom Blog.  She helps other people who thrive in organized chaos to stress less, remember more and feel in control of their time, money, and home. Kim is the author of: Live, Save, Spend, Repeat: The Life You Want with the Money You Have. She's been featured on Time.com, Money.com, Good Housekeeping, Women's Day, and more!
Summary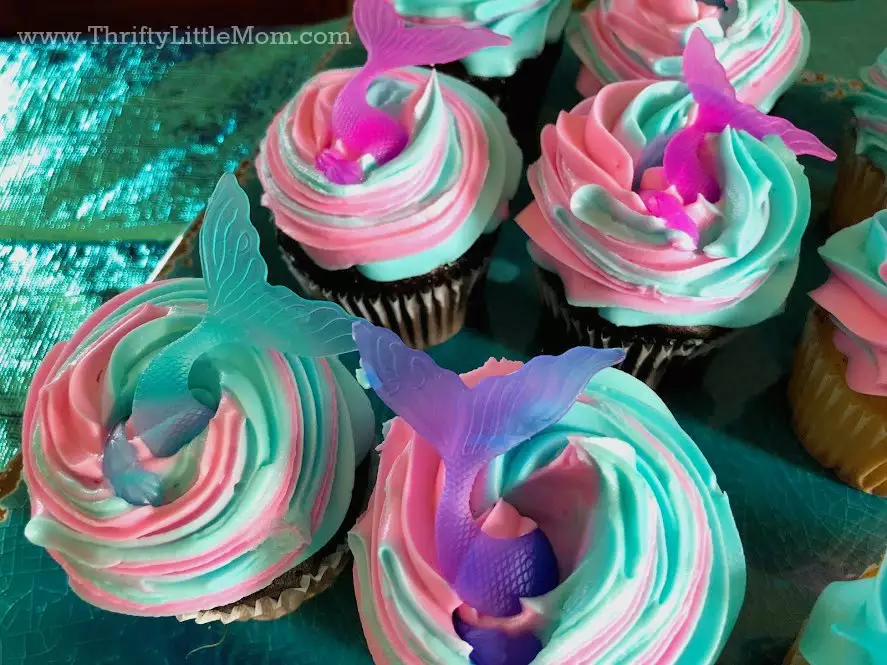 Article Name
Easy Mermaid Party Ideas, Supplies, Food & Decor!
Description
This posts gives you Mermaid Party ideas, supplies, food and decor to make your party magical!
Author