10 Easy Hollywood Theme Party Ideas
This post contains affiliate links. As an Amazon Associate, I earn from qualifying purchases. I also earn from qualifying purchases made with other brands and programs. See my
privacy policy.
Whether you are having a fabulous Hollywood theme party or getting a group together to watch the Oscars or the Emmy's this post has a whole host of ideas to help you make your party great!
Hollywood Theme Party Invitations:
I know we are living in the digital age but by golly, I still love a physical invitation!  Personally, as a guest, I love to post them on my fridge as a visual reminder of some upcoming excitement in my life!
Here are two of my favorite hollywood theme party invitation options from Amazon.
If you aren't digging the physical invite idea, creating an event on Facebook can be a fast and easy way to invite your friends and help them remember the event is coming up!
Hollywood Theme Party Menu:
A glamorous party calls for a glamorous menu.  Sometimes though I don't have time to scour Pinterest for hours trying to formulate my own menu.  If you are like me and coming up with a menu for your annual special occasions and parties, feels a little overwhelming, I'm in love with the Special Occasions Menu Plan from eMeals!
This subscription gives you menus for ALL your special occasions throughout the year as well as fun event menu's sprinkled in!  They just so happen to have an Awards Night Celebration Menu with that subscription that sounds AMAZING.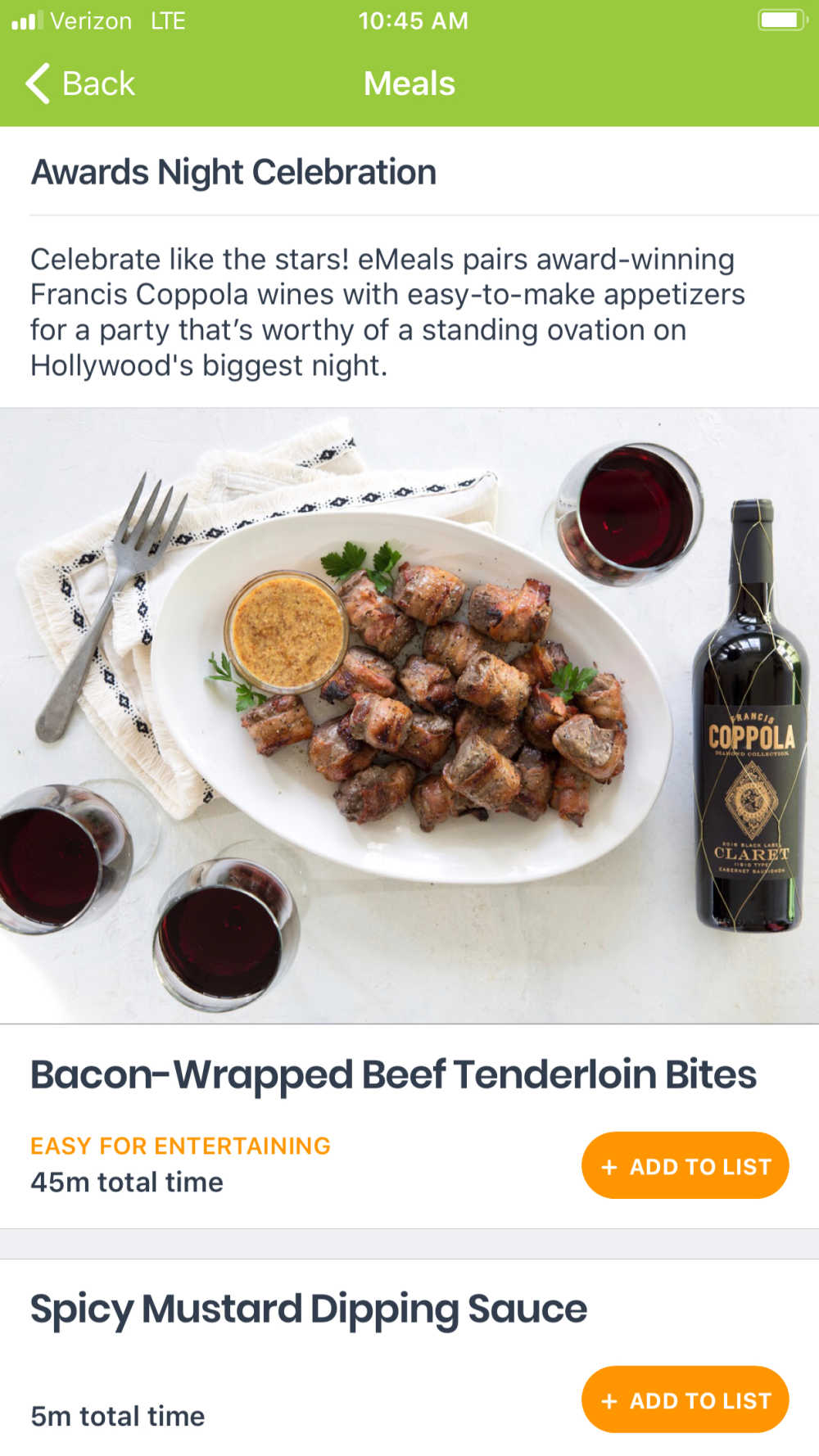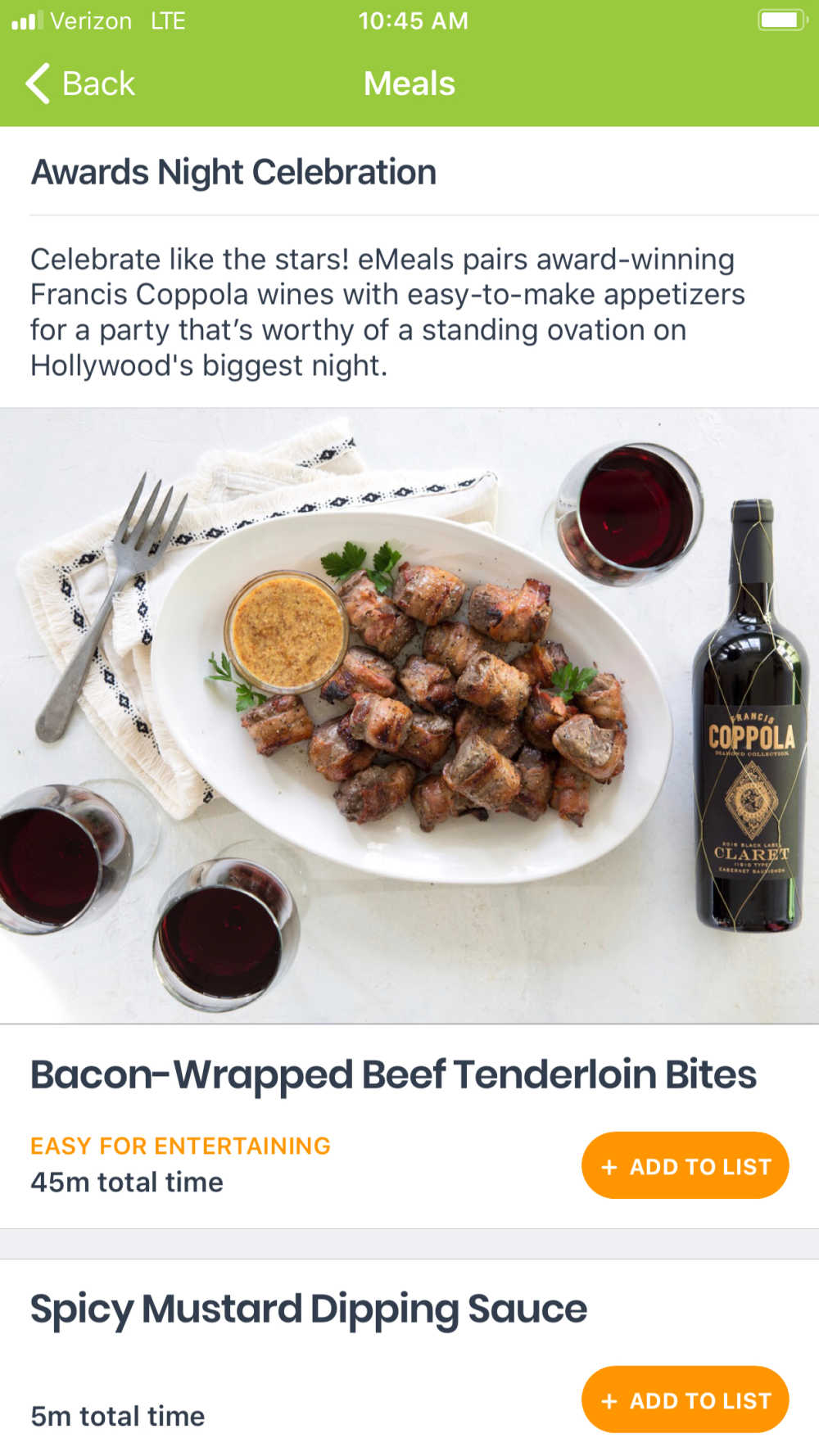 Check out this Menu!!
Bacon-Wrapped Beef Tenderloin Bites
Flank Steak "Nannwiches"
Mushroom Union Flatbread
Quick and Easy Bang Bang Shrimp
Caramelized Pear-and Brie- Stuffed Pastries
Miniature Dark Chocolate Cheesecakes with Blackberry Sauce!
They also have wine suggestions for each menu item!
How this eMeals Menu Plan Works:
Simply grab the special occasions menu plan, download the app and pick the special occasion.
You pick the appetizers, dishes and desserts that you like from the options and send it to your "shopping list" and wham bam thank you ma'am you are ready to shop or send it to your online grocery shopping service!
---
Not sure if it's for you?  Try the eMeals Special Occasion Menu Plan free for 14 days!   
Here's what you can expect from this plan:
Holiday: From Easter to Mother's Day to Thanksgiving, finding just the right menu to wow friends and family at those special gatherings has never been easier.
Party: Whether you're tailgating, hosting a laid-back crawfish broil, or organizing a kid-friendly ice-cream social, our menus have you covered for any season.
Themed: Is it your turn to host a supper club or other social gathering? You'll look like a pro with menus such as Tex-Mex Fiesta and Tuscan Grill Night.
I have a full emails review as well!
---
Hollywood Theme Party Costumes-
Whether you hit up the thrift store or costume store or even your old bridesmaid section of your closet you've got costumes galore!  Guests can dress in their most favorite hollywood looks which doesn't always have to be tuxedos and formal gowns!
In fact you could have guests dress as their favorite celebrities!   Maybe host a contest for best male celeb costume, best female celeb costume and best couples celeb costume.
Hollywood Theme Party Drinks- Cocktails and Mocktails
Bubbles and Brews, we love fun party drinks! Here's a list of must have party drinks:
Bubbles- whether you want legitimate champagne/sparkling wine or faux-fizzy fun, bubbles make the party, and sipping out of a fancy glass will jazz up the party.
Martini style drinks- even if you don't drink alcohol, drinking a bubbly soda or juice out of a martini glass is fun, include berries/fruit or cucumber slices to float in the drink of choice.
Cocktails/Mocktails- create an easy punch for everyone to enjoy. One of my favorites is this recipe:

2 liter Ginger Ale Soda
1 cup frozen limeade juice concentrate
1 cup thawed limeade juice concentrate
1 lime sliced in wheels for floaters
1 small bunch of fresh mint for floaters (optional
500ml vodka (optional)
Mix in a punch bowl, add floaters- frozen concentrate, lime wheels, mint leaves
I want to make the drinking experience pleasurable and nobody wants to spend their evening washing stemware or worrying if it will meet its demise on the travertine tile. Please check out this easy plastic stemware that will make for a worry-free, budget friendly evening of fun.

Hollywood Theme Party Decorations
I'm going to list some of my favorite Hollywood Theme Party Decoration here from Amazon but you can also snag some really fun options from Party City!  Check out Party City's current Coupons & Promotions!
Hollywood Theme Party Decoration Sets
Glitz and glam make the theme and making sure your decorations are cohesive is important. Here are some of my favorite thrifty kits to make your Hollywood Theme Party shine!
(12 Pack) Personalized Hollywood Stars of Fame Decor Kit
Hollywood Theme Party Cupcake Toppers
Add gold accents to desserts and hors d'oeuvres to make things sparkle a little more! Did you know there is also edible glitter now? That is an easy way to add flair and fun to a dessert tray.
Don't Forget to Roll Out the Red Carpet
Speaking of which, having a red carpet in the entry way with a photo op area is a way to make sure the night gets captured in all its glitz and glam. You can pick up a roll-out red carpet here.
Paparazzi!
When you think about those celebrity photo ops for events, you also think about the background- is it the Grammy's, the Academy Awards (Oscars), or some type of fundraising event or movie premier?
Check out this wall decorating kit from Amazon.
You could use the traditional silver and gold streamers or something fun like this easy kit , but to make it convincing, have a promo banner for the photo op area. These banners from Amazon are amazing.
Hollywood Theme Party Music:
You know that feeling when a song you love comes on the radio? Movie theme songs will take you back to that night, to that excitement, to an embarrassing karaoke moment you may want to forget. Whatever the emotion, Hollywood themed music is undeniable and recognizable to all. Check out this easy and streamable playlist of the block buster hits!
Don't spend your evening trying to come up with music that people will all enjoy. We all love movies and every one of these songs connects the feeling of this Hollywood themed party throughout the night. The best party is both adult party go-ers and children will enjoy these theme songs. There may even be an impromptu group sing along when "let it go" comes on (we can't resist, no matter how hard we try).  Here are some suggestions to make the playlist easy!
or
Of course, old Hollywood is filled with the Rat Pack and beautiful Jazz. Don't forget to ad some big band inspired music to round out the evening. I'm personally a big fan of old Blue Eyes himself, Frank Sinatra and the Soulful sounds of her ladyship Etta James.
Budget friendly playlist are always around on different streaming platforms.  I personally use Amazon Prime Music now almost everyday and at every party!  You can get a free trial with my link! >>> Try Amazon Music Unlimited Free Trial
.
Hollywood Theme Party Games
Games can bring a party together and make a memorable time. This will also give you an opportunity to give out "Knock-O[ff]scars". These are fun "oscars" style trophies that you can custom make for the winners. This DIY and inexpensive token will give your guests something to smile about when they see it later.
For your music enthusiast, have a "most recognized theme songs" award. Have your guests write down as many of the movies as they can for the theme songs playing throughout the night. This "Knock-O[ff]scar" could be your "Best Original Song Score-er".
I love writing, so "mad-libs" are always a fun past time. Nothing would make the evening more verbally hilarious, with opportunity for great inside jokes later, consider looking up acceptance speeches and making your own mad-lib games!
The Match Game was hilarious, Hollywood squares delighted us, Millennials love memes. Combine the fun of these past times and you have a game changer. Select photos of celebrities caught in mid-act. Have your group write down a caption for each and vote on the funniest. Whoever gets the most votes wins.
Purchasing "Knock-O[ff]scars" can also be turned into a fun game of creating your own awards for your friends. Have a list and vote, or DIY and award your friends with something with your own memory attached. For my sister-in-law, "Best Mock-U-mentary". Buy them in bulk and let the fun begin!
Giving your guests a fun gift to take with makes sure that the night stays in their memories and hearts. When the glitz and glamour of the evening is over, your Hollywood themed party will be a night they never forget!
Whether you are looking for a quick DIY Hollywood theme party or a full-blown Hollywood red-carpet event, these are some easy ideas to take your party to the place you want it to go!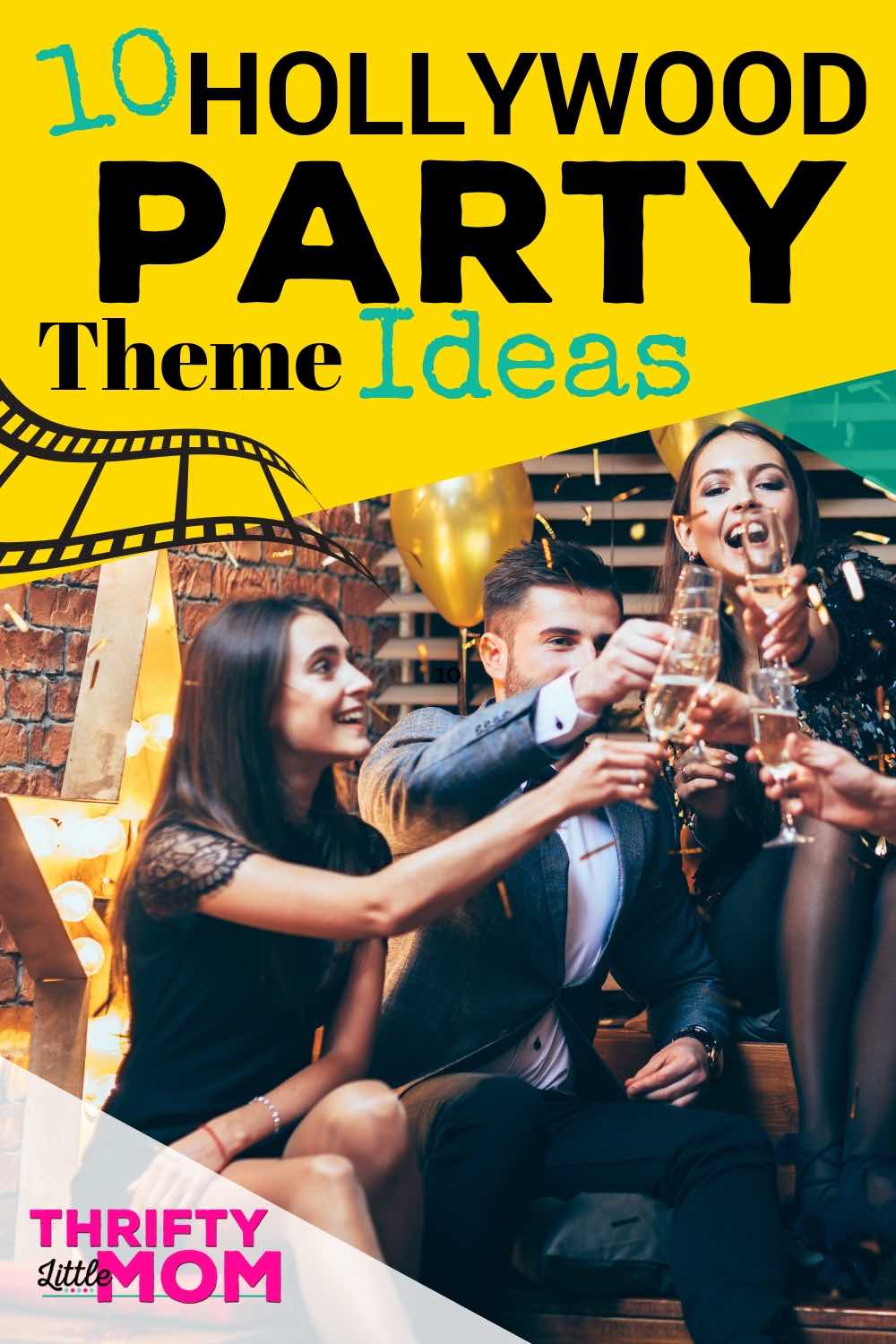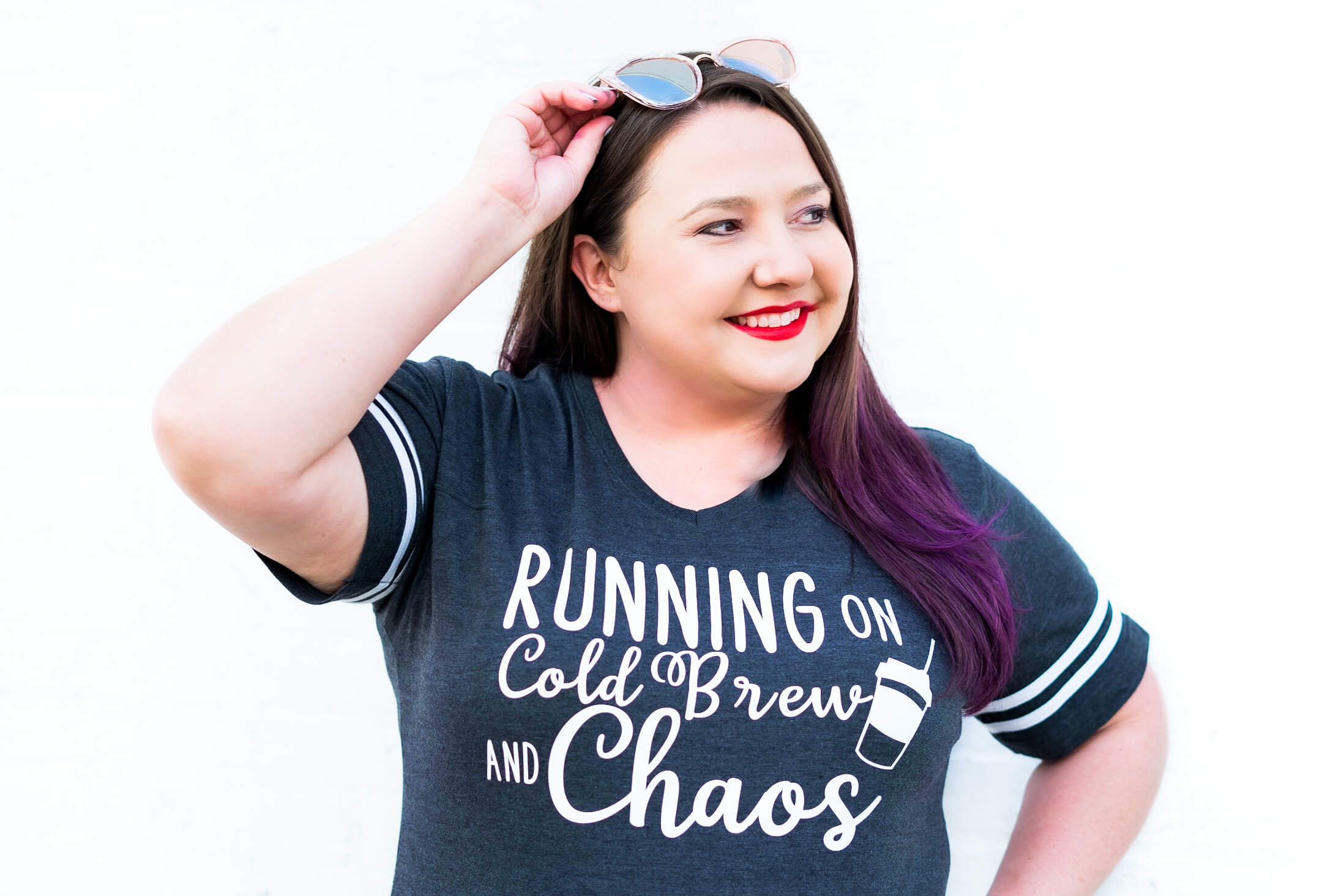 Kim Anderson is the organized chaos loving author behind the Thrifty Little Mom Blog.  She helps other people who thrive in organized chaos to stress less, remember more and feel in control of their time, money, and home. Kim is the author of: Live, Save, Spend, Repeat: The Life You Want with the Money You Have. She's been featured on Time.com, Money.com, Good Housekeeping, Women's Day, and more!