5 New Twists for a Classic Picnic Party
This post contains affiliate links. As an Amazon Associate, I earn from qualifying purchases. I also earn from qualifying purchases made with other brands and programs. See my
privacy policy.
This is a sponsored post written by me on behalf of Food Lion. All opinions are 100% mine.
Spring has sprung and summer is near. Its the best time of the year to enjoy the sunshine and breezes that the outdoors has to offer. One of my favorite memories is grabbing a blanket and driving to a sunny location by the river and spreading out with friends to eat and talk.
These days I like to head to a local vineyard to enjoy the rolling hills and lush flora. Wherever you end up, picnics have the same constants- a thick blanket, fresh foods, tasty beverages and good friends.
Food Lion is one place you can shop for all your picnic party needs!  They have always been budget friendly but still provide quality and a great experience (which is what we are all about here at Thrifty Little Mom)! Here are 5 new twists on the classic picnic party for your next gathering.
Roll out the picnic party gingham
I will go on record saying that there is nothing worse than sitting on a sunny hill only to realize a few minutes later that your bum is wet. With all the spring showers, the ground is holding onto all that water and if you don't prepare for this, even the sunniest ground will become a derrière nightmare.
I recommend looking for a waterproof outdoor blanket. These are worth their weight in gold when it comes to any outdoor event.
Shows at the park, festival season, amphitheaters, all these nature activities, you will thank yourself that you invested in this piece of high quality fabric. The items I have chosen for this picnic do not require a large cooler. You should be able to prepare them ahead of time and use a simple cooler bag for transportation.
Picnic twists you can't resist
You have your blanket in tow. But, what are we gonna eat and drink when we get there?  Here are 5 ideas to help you create a memorable and fun picnic party for your friends or family.
#1- Picnic Party Food: Zesty Cucumber Crisps
My grandmother is the inspiration for my first and favorite summertime delight- the cucumber sandwich. This vegetable is at it's ripest this time of year and therefore, a light and refreshing food for a sunshiny day.
A crisp cucumber, a light spread, in between two pieces of bread- the flavors have always pleased the palate. Here is a fun take on the classic.
I usually use a mandolin slicer to make thin ribbon cuts for the cucumbers. However, if you do not have one of these machines, you can use a vegetable peeler or make thin slices with a knife.
The base of these small open faced sandwiches are on the party size rye or pumpernickel bread.
This size makes for easy eating. And who doesn't love anything miniature?! Typically you would use mayonnaise or cream cheese, but my personal twist on this is an herbed cheese spread like Boursin. Due to the garlic and herb flavors found in this cheese, it compliments the freshness of the cucumber and are an easy way to season without breaking open the spice cabinet. I love to bring in the summertime spice and crunch of a radish. Maybe garnish this with some local micro greens and enjoy!

Ingredients:
1 fresh cucumber cut into thin slices
1 loaf of party-size rye or pumpernickel bread
5.2 oz Boursin herb cheese
2-3 small radishes sliced thinly (optional)
Micro greens to garnish (optional)
#2- Sweet Sunny Picnic Party Skewers
Certainly fruit is a wonderful appetizer on a day full of sunlight and light breezes. Biting into a fresh strawberry or ripe banana chunk can be a spiritual experience in my opinion.
These skewers make it easy to leave the utensils behind and have an easy finger food for everyone to enjoy.
I love to layer my skewers by flavor profile. Creamy, sweet, zesty, crisp and funky provide a full palate excursion. However, make sure when choosing your fruits, you keep these cold for as long as possible.
When shopping for your fruit, don't forget to stop at Food Lion!  They carry locally sourced produce which is good for local growers and the planet!
My personal picnic travel tip- use apples on both ends will guarantee the skewers make the transit with little chance of casualties.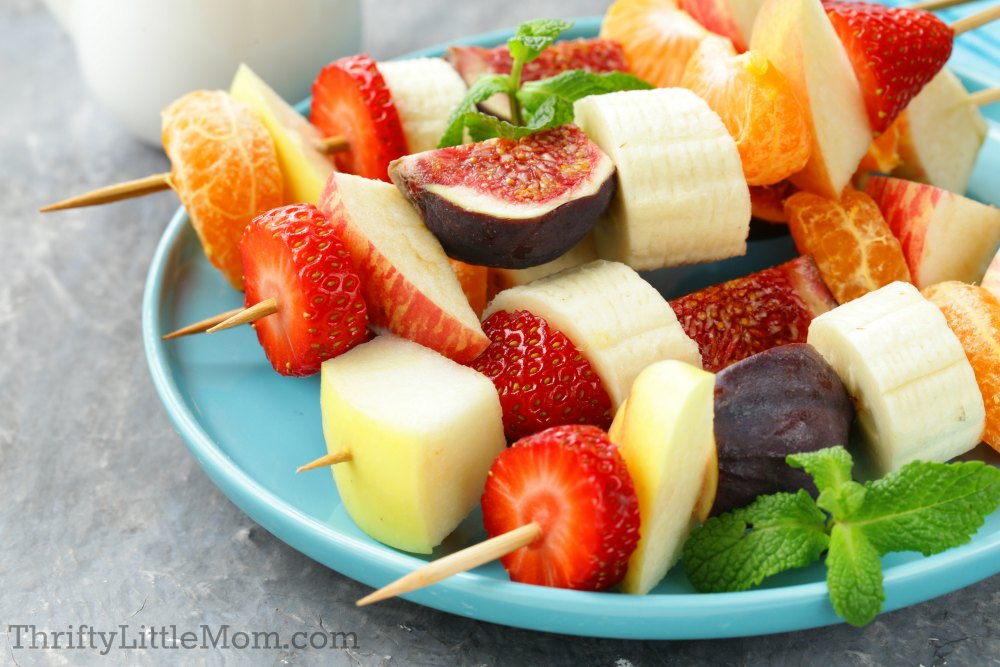 Fruit Options:
Creamy- (Cavendish) yellow bananas, baby bananas, or roasted plantains
Sweet- strawberries, raspberries, pitted cherries
Zesty- Mandarin orange, tangerine or clementine (small enough to fit a full wedge)
Crisp- Granny Smith apple, Golden Delicious apple or Honey crisp apple
Funky- Fig, passionfruit, kiwi, or mango
#3- Caprese Kabobs
Ripe tomatoes are bursting with summertime flavor. Couple that with the fresh leaves of basil and the creamy richness of fresh mozzarella and this dish comes alive.
First, you need to choose a small one like that of a cherry or grape tomato.

There are beautiful heirloom versions of these tomatoes that can add a colorful twist to this classic dish.

Probably the smallest but most crucial part of this dish, squeezed in the layers, is the fresh basil.
Look for this unrefrigerated at the store- the cold will cause the leaves to blacken prematurely.
I don't want this beautiful dish to be compromised on this small step. The mozzarella needs to be fresh and in brine. You are looking for "perlini" (meaning: the size of a pearl) or "ciligini" (the size of a cherry).
On the side, add a balsamic glaze dipping sauce to complete the taste profile.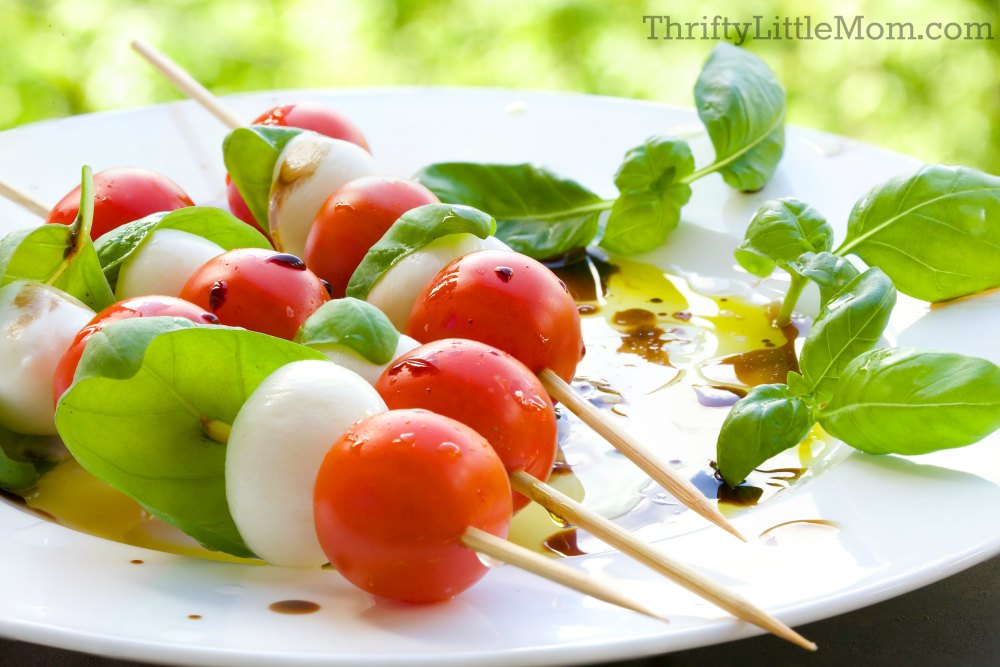 Caprese Ingredients:
Tomatos- cherry or grape
Fresh mozzarella- perlini or ciligini
Fresh Basil
Balsamic glaze for dipping (optional)
#4- Cheese and Meat board
The meat and cheese tray is classic and timeless. But these days we like a little more pizzazz than just some cold cuts and deli cheeses on a plastic plate. Cheese boards provide culinary adventures that are as numerous as the grasses dancing in the breeze.
You can make these as simple or elegant as you would like for your gathering. Keeping with this picnic with a twist, I am highlighting this food selection as the main feature. Head into Food Lion and look for these tasty items.
Cured meats and hard aged cheeses will hold up better in direct or partial sunlight which is an important consideration to make. I love brie, but within a few minutes this would be melted on everything. Keep your board from disaster with these selections.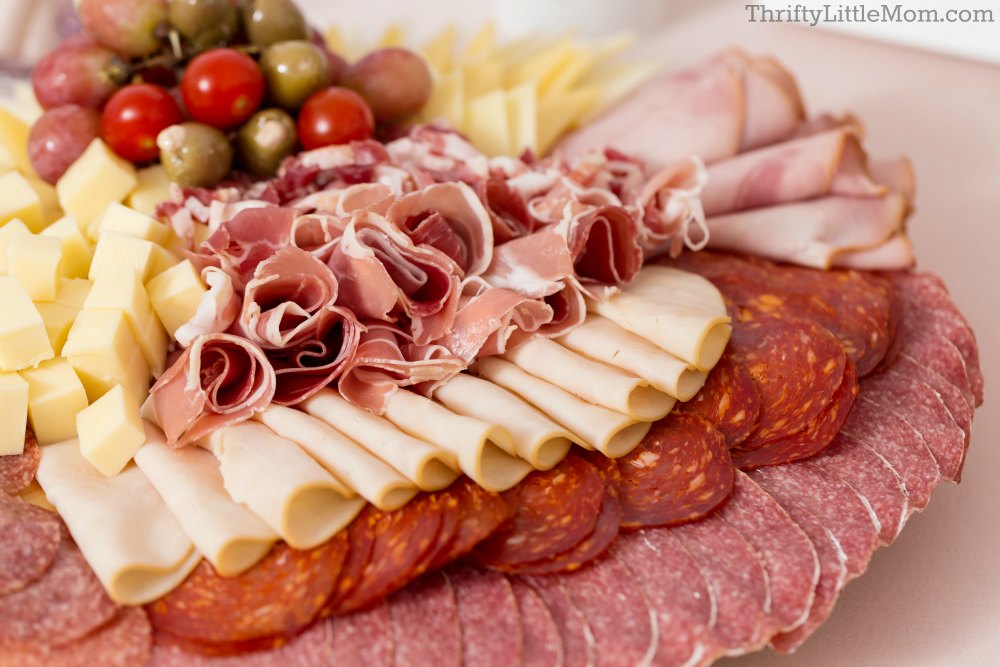 Meats:
Prosciutto
Calabrese (pepperoni is a close second in flavor)
Soppressata
Bresaola
Cheeses:
8-12 month aged cheddar
3 month manchego
12-24 month parmigiano reggiano
6+ month gouda
Extras:
Olives- stuffed or pitted
Nuts- pistachios, almonds and walnuts
Peppers- Peruvian sweet drops or peppadews
Honey or Fruit jam
French baguette sliced thinly on a bias
#5- Drinks for days
Libations make everybody excited, especially those that are a little out of the ordinary. Depending on what you like to drink and how you want it transported, there are several fun options to keep the twist on this picnic going. Remember that you will be spending lots of time in the sunshine, so don't forget your hydro-flask of water: 32 ounces for each person for a 4 hour period. This will guarantee hydration the whole time.
Wine:
I love a little sparkle and fizz on a hot day, this gathering should be no exception. Easy to transport, they now make wine on the go. Check out the different selections that are now available in a can or the cup-on-the-go style with peel off top. Even more than the transportation aspect, you no longer have to worry about broken glass. For a sunny day like this, I recommend a sparkling rosé or naturally effervescent vinho verde. These are both delicious choices for the picnic. Check out this Food Lion article on 7 Budget Friendly Alternatives to Champagne for more bubbly inspiration!
Beer:
My suggestion, if you are into delicious summertime beers, would be to keep it light and crisp. If you are an IPA (Indian pale ale) drinker, look for a session IPA. These will still provide the bright hoppy bite, but come at a lower alcohol percentage by volume so you can enjoy more of these throughout the day. If you prefer something with less hops and more zest, a shandy is the way to go! These beers usually provide the palate with the citrus burst of lemon. I can't get enough of these outside in the rays.
Non-alchoholic:
Almost everyone has a specific drink they love, but these two non-alcoholic drinks have become my personal favorite go-to's.
Ginger beer is non-alcoholic despite its name.  If you can scoop up a six pack of this bubbly refreshment you will be thrilled with the way the spice of the ginger tantalizes your tongue. Get out of here ginger ale, ginger beer is here to stay!
The second beverage of choice is a compilation of botanicals. My current favorite is the elderflower and rose lemonade sparkling soda I've found. The floral notes are exciting and bring the beauty of nature to the picnic in taste form. These are also available in cucumber mint which would also compliment the spread.
Also consider giving my friend Rhonda's cucumber water recipe a try!  Light, refreshing and super easy to make!
Blossoms and beats
Remember the music! Grab your speaker and get a great playlist for the day. Even more enjoyment can be had with mo-town and doo-wop music in the sunshine. Look for bands like the Drifters or the Chords to make a fun outdoor playlist.
If you're not familiar with these styles, check it out, you may find a new love for the sounds of the oldies.
However you decide to put a twist your picnic, there are options that are sure to make everyone happy.
So check out these Weekly deals, head to Food Lion or pick up all your picnic party needs using Online Shopping with pick up or delivery.  Get out into that gorgeous weather and take some time to appreciate another year of sunshine.
Check out these Food Lion Recipes while you plan your next summer celebration!