10 Fall Harvest Decor Must-Haves Under $10
This post contains affiliate links. As an Amazon Associate, I earn from qualifying purchases. I also earn from qualifying purchases made with other brands and programs. See my
privacy policy.
Fall is my absolute favorite season of the year. It's a time when I host backyard fire pit gatherings, outdoor movie parties, and pumpkin homebrew days. To prep my home for not only my enjoyment but as a warm welcome to guests, I make an extra effort this time of year to decorate. The beauty of this season is that most fall harvest decor is extremely thrifty. Many of them are free, and other's you can snag from your local Food Lion grocery store! Be sure to keep an eye on their Weekly deals.   Let's talk about some of the best fall harvest decor that you can get for free or at a great price!
1. Leaves
Bright, colorful, and warm fall leaves are all around in abundance, and the best part? They are free! Whether you go on a search for some of the best nature has to offer or head to your craft store for the silk variety, leaves are an iconic fall decor that works on lots of centerpiece, mantel and fall projects.
2. Acorns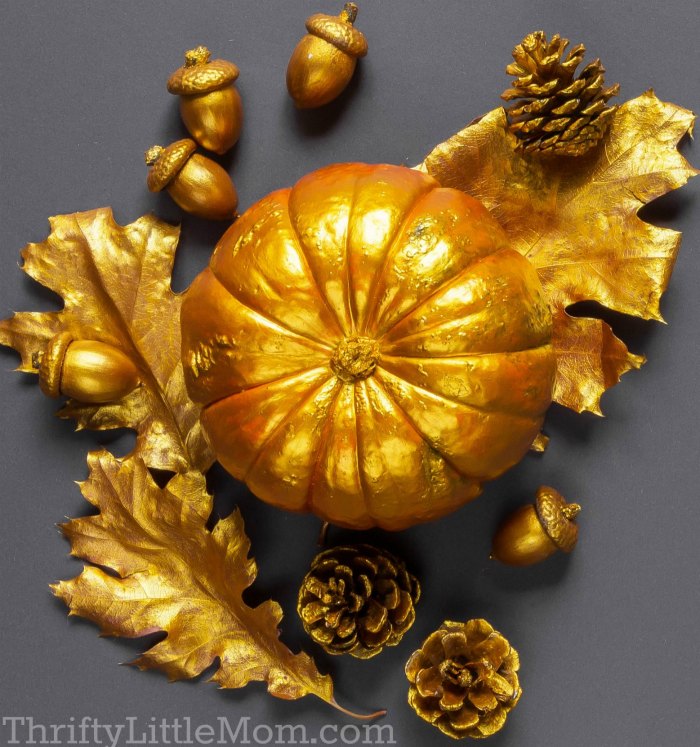 Acorns are some of the most flexible decor because you can leave them natural, spray paint them with metallic paint or even dip them in glitter! Once you decide whether you want to do the natural or the festive acorn look you can use them to scatter on a centerpiece charger plate or layer in a simple a glass jar on the mantel.
3. Pinecones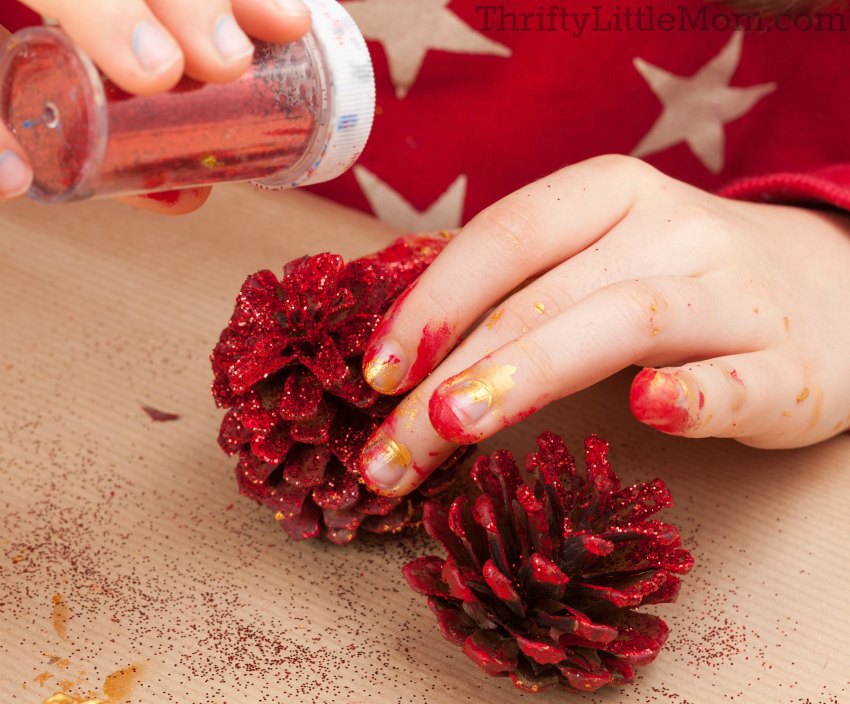 Pinecones are similar to acorns in that you can leave them natural or jazz them up with spray paint and glitter. These also look great in hurricane vases and glass bowls around the house.
4. Mums

One of the first times I decorated my home, I decided to use a little of what I already had plus some thrifty store-bought options. As you can see in the image below, I took an old antique tractor that my parents gave my son to play on and put it on display in the front yard with a gorgeously warm array of mums. You should be able to purchase a variety of mums from your local Food Lion store!
5. Pumpkins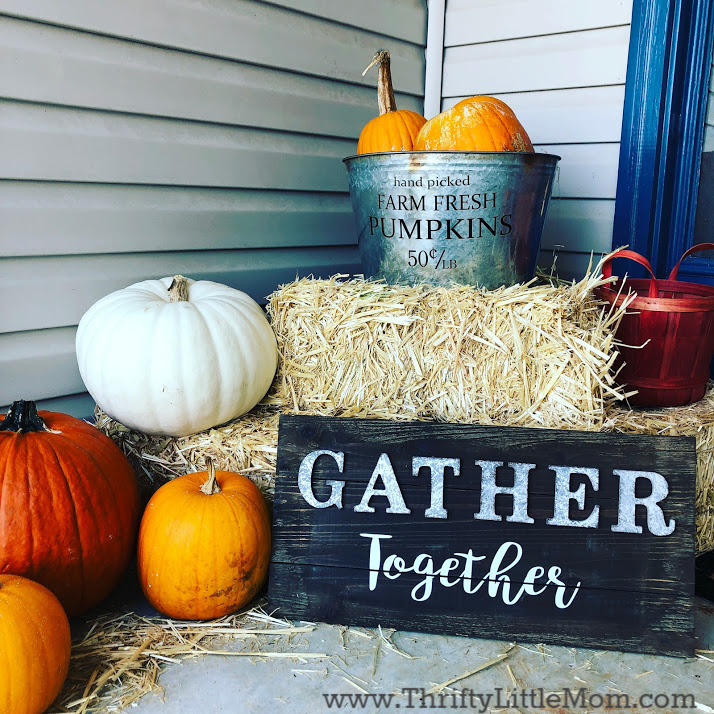 Flash forward, now that I've had some more practice, I bought some key decor pieces such as my little orange baskets and my metal pumpkin bucket and reuse them every year with an assortment of pumpkins. Pumpkins are an extremely thrifty fall decor option that is both natural and long-lasting. The image below displays is my latest front porch fall decor! You can find a variety of pumpkins at great low prices at Food Lion.
6. Cinnamon Brooms
The cinnamon broom is a classic farmhouse fall staple. Along with its rustic look, it also brings the warm, comforting scent of cinnamon that ushers fall into the home. Find these at your Food Lion for the fall season. I like to have one posted by the front door to greet me with its fragrance as soon as I walk in.
7. Fall Scented Candles
The warm scents of the season don't have to be pumpkin spice. While I do enjoy this aroma, other delightful scents can enhance the fall ambiance. I like cinnamon apple pie, vanilla pear, and sage, or even the more rustic scents like tobacco and leather will warm a house. Look for the more nuanced scents to add to your fall candle collection.
8. Mini-Pumpkins and Gourds
I don't know about you, but I love all things tiny! When I see something is a quarter the size it "should" be, I can't help but want to take it home. This is especially true with the miniature fall icon of the pumpkin. Look for tiny pumpkins and gourds to arrange in displays around your house and yard. These can be layered with the before mentioned items to create a beautiful fall-themed centerpiece.
Here's a video to show you how to use Mini-pumpkins for a 60 second centerpiece.
9. Dried Fruit & Cinnamon Sticks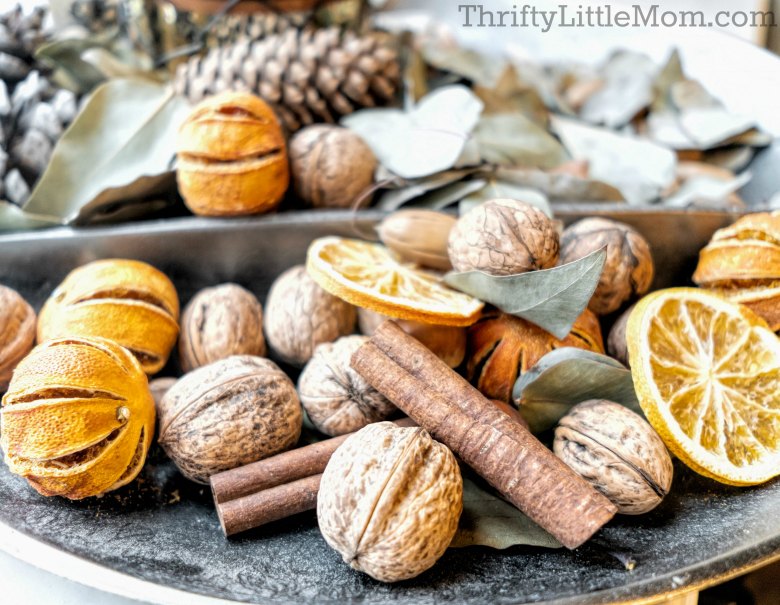 Growing up, my mother would keep a pot of simmering water on the stovetop with various dried fruits and cinnamon sticks to release the aromatic fragrances throughout the day. My love of this has not waned in my age. They now make a hot plate for this same thing. Choose some of the classic fall fruits including:
apples

oranges

pears

ginger

cranberry

pomegranates

figs

persimmon
These don't have to be used solely for their fragrance. They can also be dried and used to decorate a table or wreath for a beautiful homage to fall.
10. Corn and Corn Stalks
This rustic vegetable comes in many different colors to enhance your fall harvest decorations. Indian corn boasts gorgeous hues of burgundy, purples, gold, and warm browns. In addition to the corn, the stalks are a fantastic item to add to a display for height. Their sun-dried ecru color complements the fall aesthetic and will add to the harvest feel of your decor. I hope these ideas help you celebrate the season with these easy and inexpensive fall harvest decorations.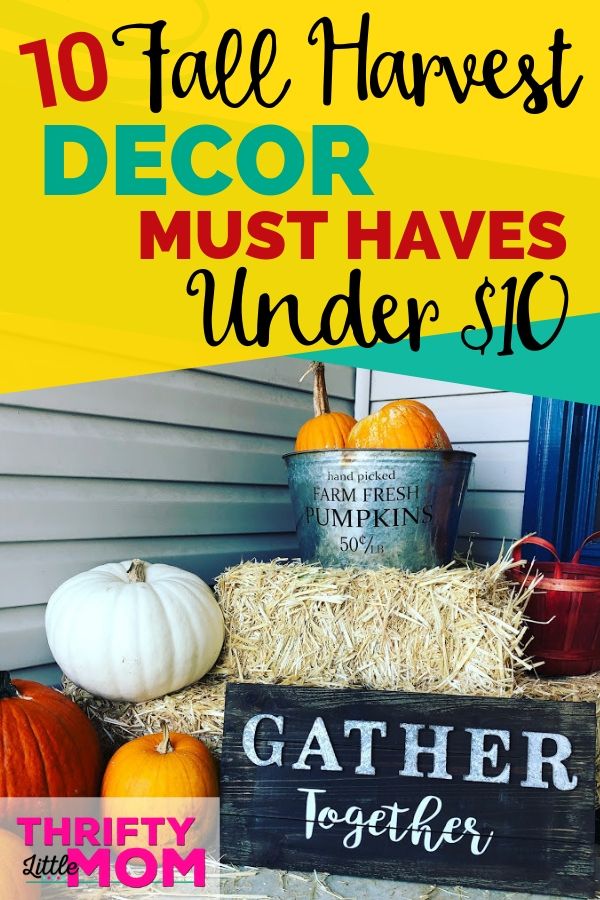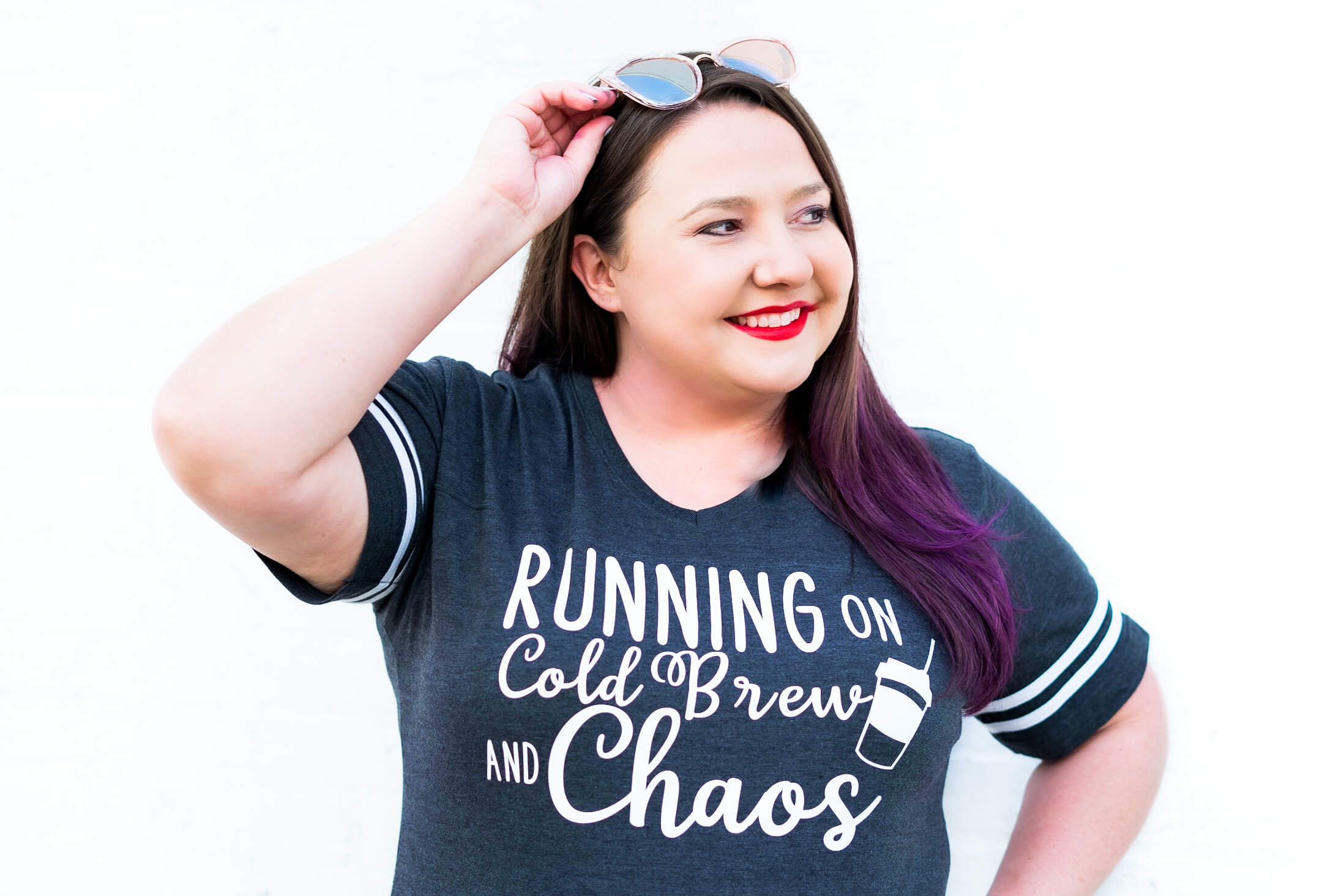 Kim Anderson is the organized chaos loving author behind the Thrifty Little Mom Blog.  She helps other people who thrive in organized chaos to stress less, remember more and feel in control of their time, money, and home. Kim is the author of: Live, Save, Spend, Repeat: The Life You Want with the Money You Have. She's been featured on Time.com, Money.com, Good Housekeeping, Women's Day, and more!
Summary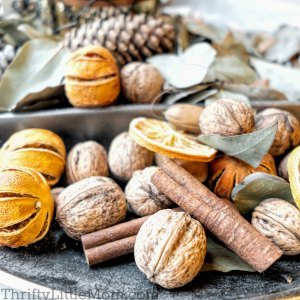 Article Name
10 Fall Harvest Decor Items Under $10
Description
The beautiful elements of the autumn season are easy to find and incorporate into your home design. These are my favorite fall harvest decor items under $10.
Author