21 Unique Halloween Party Themes
This post contains affiliate links. As an Amazon Associate, I earn from qualifying purchases. I also earn from qualifying purchases made with other brands and programs. See my
privacy policy.
I love to have a great party for the Halloween season. Every year we get together and plan out what type of ridiculous theme we'd like to have. Even if you are on a budget or want to refrain from decorating the whole house, you can still choose from a variety of unique Halloween party themes.
---
Some of these Halloween party themes are featured around a classic movie so consider screening the movie with a projector in the game room, back yard, garage or living room!
---
Decorate one (or more) of these areas to make your themed Halloween party a hit!
Front Porch
Entry Way
Kitchen/Food area
Back Porch
Halloween Party Themes:
1. BeetleJuice
Beetlejuice is a fun theme because of the bold striping pattern and luminous greens. Incorporate fun characters from this movie- like sand worms and shrunken heads. This iconic movie will delight your guests.
2. Nightmare Before Christmas
Create a fantastic table scape or doorway entry using this great halloween theme. White balloons can easily be transformed into Jack Skellington and a Zero the dog can be made out of an old sheet or table cloth. There are a lot of fun elements from this movie to be utilized in this theme!
DePhoto 7X5FT(210X150CM) Halloween Backdrop Pumpkin Lantern Yellow Moon Ghost Bat Seamless Vinyl Photography Photo Background Studio Prop PGT274A
3. Harry Potter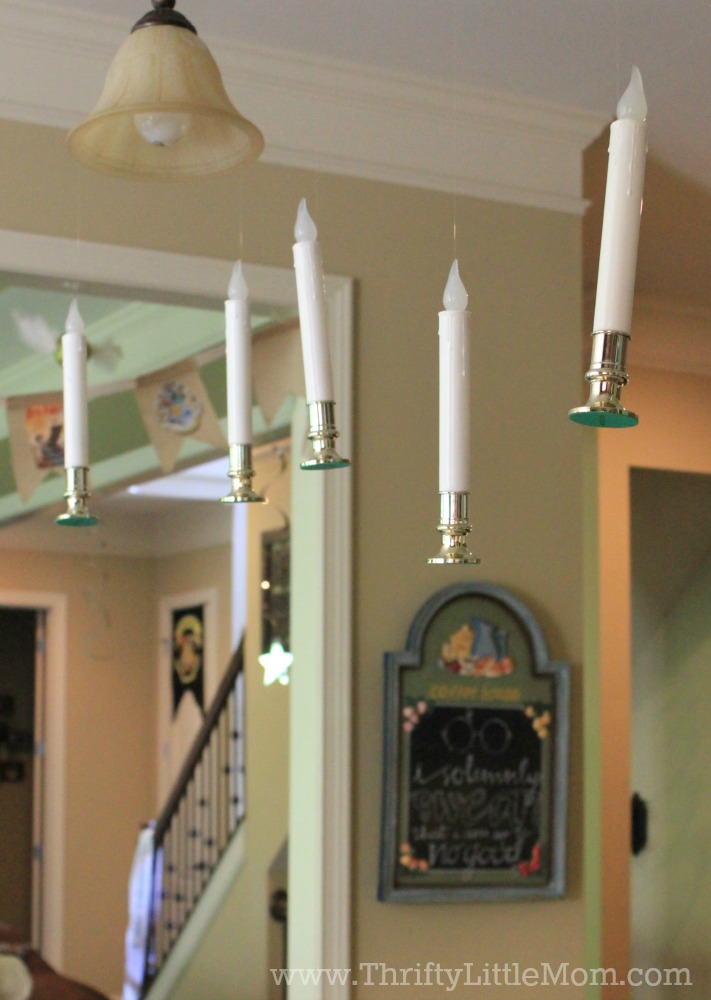 Probably the most recognizable of the witches and wizards, Harry Potter is a bastion of ideas for halloween decorations. From floating keys and candles, to the enchanted buildings, to the colors of the individual houses, there is no shortage of great props for this inspired Halloween party theme. Throw your very own Harry Potter themed party!
Raycare 12PCS LED Taper Candle Lights, Harry Potter Floating Candles, Battery Operated Tapered Candles for Themed Party, Church, Christmas Decorations
4. Charlie Brown's Great Pumpkin
"It's the Great Pumpkin, Charlie Brown" has been around since the 60's and was a classic childhood halloween movie. With simple to make decorations such as the "Welcome Great Pumpkin" sign and the endless list of characters to emulate, this could be your next fantastic halloween party theme!
Peanuts Gang in Costumes Halloween Decoration for Yard
5. Ernest Scared stupid
I used to watch the Ernest franchise movies religiously, but my favorite was definitely Ernest Scared Stupid. Create a fun Halloween theme around this kookie childhood movie.  Consider showing the movie outside with a projector!
6. Creature from the Black Lagoon
This classic film from the 50's gives you the opportunity to create a great jungle scene. I imagine a table scape of themed food and beverages- like a black lagoon spiked lemonade made with activated charcoal powder.
Auihiay 60 Pieces 6 Kinds Artificial Palm Leaves with Faux Monstera Leaves Stems Tropical Plant Simulation Safari Leaves for Hawaiian Luau Party Jungle Beach Theme Party Table Leave Decorations
7. Egyptian
An Egyptian theme gives you a chance to break out all kinds of fun elements like gold table cloths, cat statues, and palm leaves. Make your own hieroglyphics to decorate the walls using a roll of brown paper or pick up already made hieroglyphic sticker paper.
Window Films Privacy Glass Sticker Old Dated Hieroglyphics Ancient Language Hand Written Style Borders with Worn Look Decorative Static Decorative Heat Control Anti UV 22.8In by 35.4In,Tan Brown
8. Vampire
Vampires are quintessentially halloween. Our love of the undead creatures spans decades and genres. Wooden stakes, strings of garlic cloves would make a perfect centerpiece for you to ward off the blood-seeking beings. You can create a delightfully themed area with easily found items from 9 Thrifty Party Shop Places Most People Forget About.
You could also go with a classic pop culture theme with Vampires including:
Buffy the Vampire Slayer
Twilight
Castle Entrance Door Cover Party Accessory (1 count) (1/Pkg)
9. Werewolf
Who doesn't love a cute and cuddly puppy dog? Oh wait… not for this Halloween party theme. Maybe a werewolf kennel would be a funny twist on this scary monster. Create a spooky and spectacular party with werewolves of all shapes and sizes. Add in some cool full moon details and maybe some fun silver bullet cutouts.
Key Largo Traders Bloody Footprints – Set of 50 Floor Clings – Includes Zombie Skeleton Werewolf Human Boot and Blood Splatter Decals for Halloween Party Decorations Supplies Props & Decor
10. Frankenstein's Monster
"He's ALIVE!, ALIIIIIIIIIIVE!". Lightning bolts and thunderstorms effects are perfect for this Halloween theme. Create a table reminiscent of the operating laboratory. Wooden table with straps and some faux body parts would really excite your friends.
Frankenstein Head Spooky Birthday party Balloons Decorations Supplies Halloween
11. Mummy
Picture a mummy from any horror movie or show. The products needed to create a mummy are super inexpensive and if done correctly, you could even reuse all that toilet paper after the party! LOL
Jointed Mummy Party Accessory (1 count) (1/Pkg)
12. Edgar Allan Poe
Probably one of the best writers to create a chilling, melancholy disposition upon reading his words. The Raven, The Masque of the Red Death, The Pit and the Pendulum, any of these can be spring boards for a fantastic Edgar Allen Poe themed display. The literary genius makes it way into our own homes for a night of frightful delight.
Prextex Halloween Black Feathered Small Crows – 6 Pc Black Birds Ravens Props Décor Halloween Decorations Birds
13. Horror Movie
There are plenty of people who enjoy the gruesome nature of the Saw films or Texas Chainsaw Massacre style movies. You can utilize some classic horror movie elements from these in different ways around your themed area. The bloody plastic sheets that separate doorways or the endless amount of creepy dolls with send shivers up the spines of your party guests.
Sunstar Halloween Assorted Creepy Baby Dolls, 20 Inch, Pack of 2
14. Graveyard
Classic graveyard will of course be on our list. From food to decorations, this theme is used in thousands of halloween tutorials and recipes. You can create one that is perfectly reflective of your personality and style. Not to mention, with the accessibility of props, it is easy to decorate any area in your party location.
JOYIN 17" Halloween Foam RIP Graveyard Tombstones (5 Pack), Headstone Decorations and 12 Bonus Metal Stakes for Halloween Yard Decorations
15. Classic Pumpkin
Yes, classic pumpkin may not be the most revolutionary idea to hit the decorations list, but it definitely has its merit. There are great table-scapes and front porch ideas that include endless layers of pumpkins. The nice part of this theme is that it can be carried through 2 months (3 if you start decorating in September, like me!). This is the most "cost effective for the time used" decoration if you are trying to get the biggest bang for your buck!
Ehdching Pack of 16 Artificial Realistic Fall Harvest Mini Pumpkins for Halloween Home Decoration
16. Pun Costume Party
I think this is probably my favorite theme. Request your guests dress up for this to work even better. Create food and beverages themed around your favorite puns. Examples of this idea:
Walker Texas Ranger- A cowboy with a geriatric walker
Jäger bomb(er)- A person with Jägermeister and Red Bull strapped to their body
Cat's Pajamas- dress like a cat and also wear pajamas
17. Witch Theme
Break out the eye of newt and cauldrons for this cute theme. I like the idea of having a "Valet Parking" area for broomsticks, a cloak check, and a wand target range for this funny theme. I also enjoy the "watch for falling houses" signs and other with puns that have become so easily acquired over the years. Check your favorite halloween store for these funny decor options.
Forum Novelties Warning Sign Witch Parking Halloween Party Decorations
18. Mad Scientist
Beakers and burners with crazy tubing and fun liquids with create a great halloween theme. Utilize dry ice for the smoky effects coming from the liquids. Go to the thrift store to find weirdly shaped vases and glasses to make this look complete.
Glass Erlenmeyer Flask Set – 3 Sizes – 50, 150 and 250ml, Karter Scientific 214U2
19. Apothecary
The apothecary look is one of my favorites for regular decorations anyway. I love the old amber bottles with decrepit labels and spiderwebs. Dried flowers, jars of healing herbs and animal parts with a medicinal spell book can really look spectacular when done correctly. Add in a few skeletal remains and astrological pieces to inspire this theme.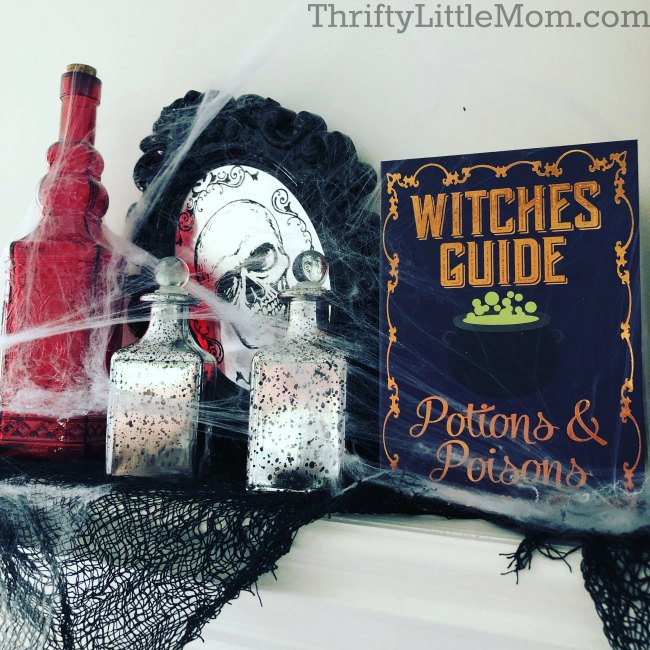 Two's Company Botany Apothecary Jars with Antiqued Labels, Set of 9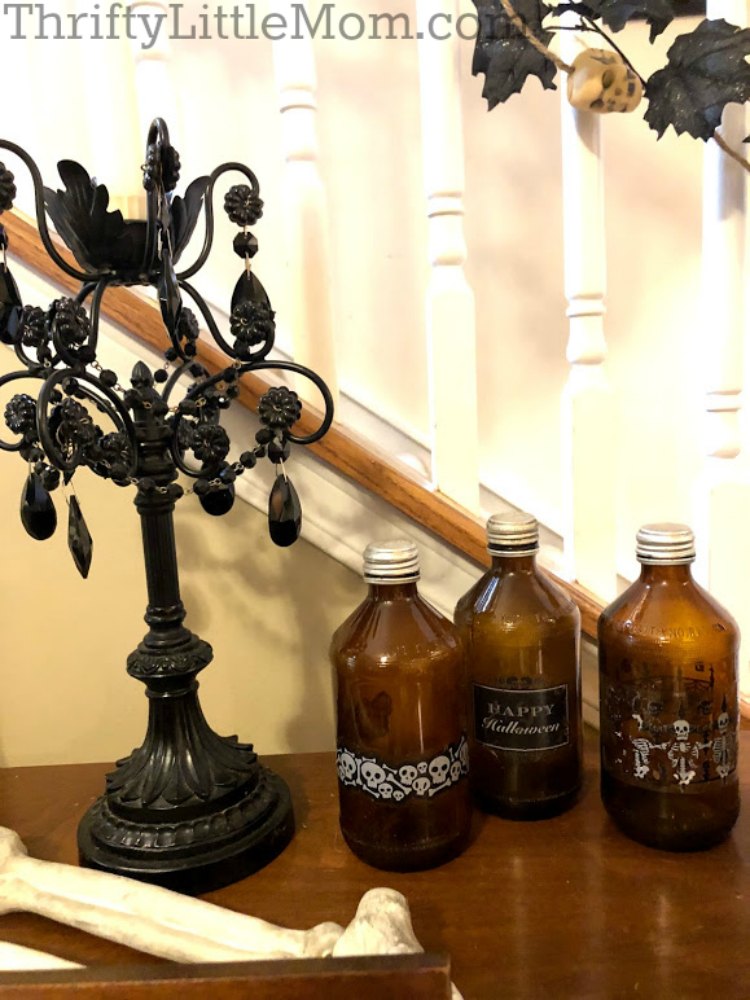 20. Fire Pit Party
Sometimes you just want nature to be your inspiration. My husband and I love our fire pit and we use it year round. The early evenings make for the perfect time of year to utilize this tool. You can even make dueling fire pits if you plan on having more than 10 guests around the fire. Check out my whole post on how to throw a fire pit party. 
21. Walking Dead or Zombie Halloween Party Themes
This would be a fun idea because guests can dress up like their favorite characters from the show!  In addition to zombie costumes, you can find lots of great party decorations for these.
Put chains on doors with static clings like in the image below.   Have lots of plastic weaponry around.  If you want to go all out, have a nerf gun war with people vs. zombie guests.
Halloween is a great time of year to throw a fantastic party. Pick a theme that you love and I guarantee your guests will as well! Happy Halloween!
22. Great Gatsby
Want to take it back to the 20's for a roaring good party?  Throw a Great Gatsby party with speakeasy feel.   From secret entrances to old school cocktails, this is sure to delight your guests!

Ultimate Costume Party Ideas Guide
Halloween Themed Dollar Store Tablescape
12 Fun Halloween Drinks for Kids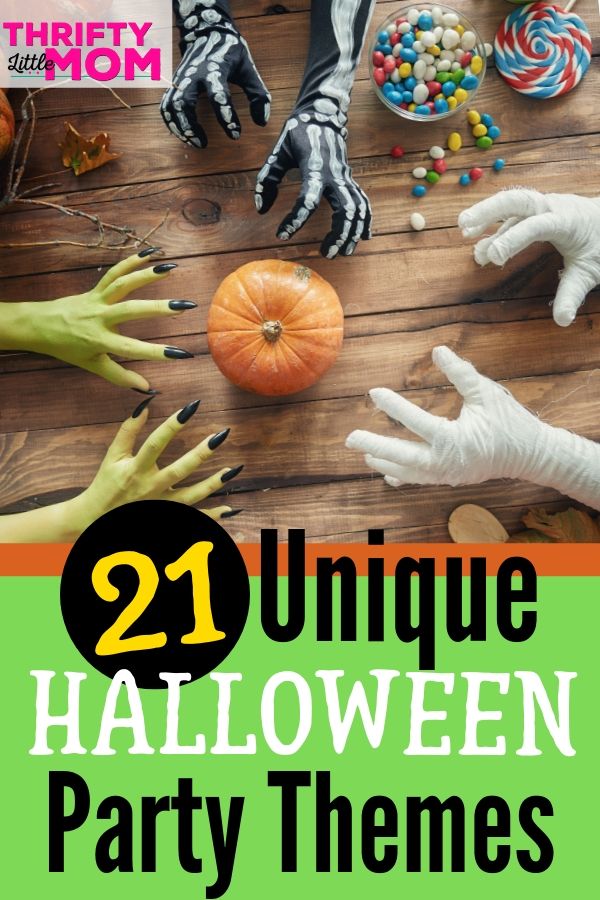 Access my FREE Party Printables Vault!
Subscribe to my weekly intentional living email magazine and I'll give you access to my life printables vault! Cleaning, planning, organizing and more!
Don't forget to check out what's in the resource library! https://thriftylittlemom.com/thrifty-little-mom-resource-library/ Password: Thriftyprints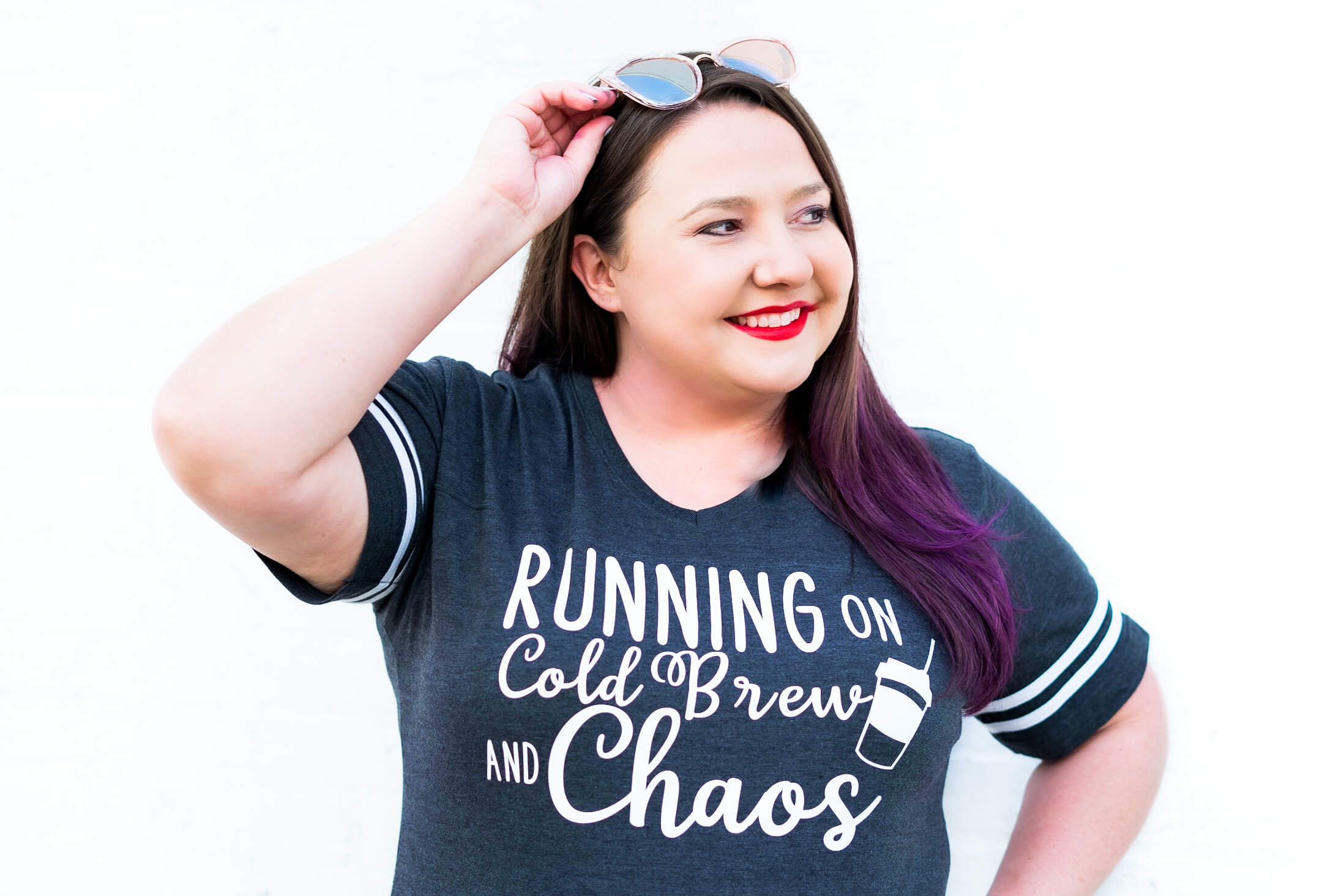 Kim Anderson is the organized chaos loving author behind the Thrifty Little Mom Blog.  She helps other people who thrive in organized chaos to stress less, remember more and feel in control of their time, money, and home. Kim is the author of: Live, Save, Spend, Repeat: The Life You Want with the Money You Have. She's been featured on Time.com, Money.com, Good Housekeeping, Women's Day, and more!
Summary
Article Name
21 Super Unique Halloween Party Themes
Description
Halloween is one of the most fun and creative seasons of the year. Here are 21 unique, fun and a little out of the box ideas for your next Halloween party theme.
Author