12 Fun Halloween Drinks for Kids
This post contains affiliate links. As an Amazon Associate, I earn from qualifying purchases. I also earn from qualifying purchases made with other brands and programs. See my
privacy policy.
If you are getting ready for a spectacularly spooky party or just want to have a fun night at home with kids, this is a list of fantastically fun Halloween drinks for kids!  Note that each one does offer an option to make the drink into a legit cocktail if you want to serve your adults a punched up version!
I personally headed down to my local dollar store and picked up some fun new glasses for the special drink on the special occasion.  Anything that mixes it up, makes it new, festive and interesting for my kids.  You can do the same thing for your next Halloween shindig!
In this post, I'm going to start by showing you how I make my newest Monster Mocktail.  It's super simple and if you want to make it an adult beverage, I'll also tell you what you can add to make it a super fantastic cocktail!
Kim's Monster Mocktail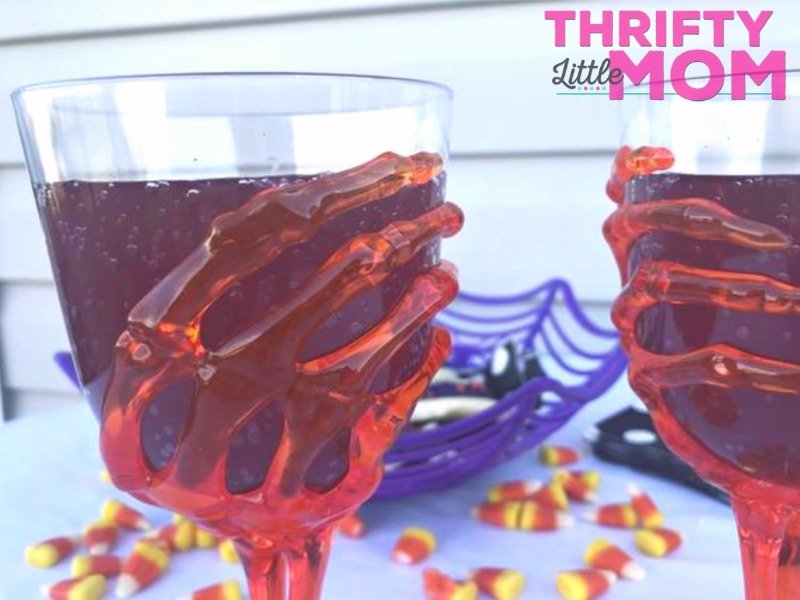 Monster Mocktail Ingredients:
I recommend that you make a punch out of this or make each glass individually.  If you make each glass individually then pour in a 1:1 ratio of Blackberry Ginger Ale to Simply Lemonade with Blueberry.
Each ingredient listed below make about 6, 12oz mocktails so plan for the number of guests you expect!
1- Two Liter of Canada Dry Blackberry Ginger Ale (Soda Aisle at the grocery store)
1- 52 oz bottle of Simply Lemonade with Blueberry (Refrigerated juice aisle at the grocery store)
PS- If you want to add an "adult" cocktail option for your ADULT guests you can also add a shot of Blueberry Bird Dog Whiskey!
Pin this Halloween drinks for kids article for later!!!!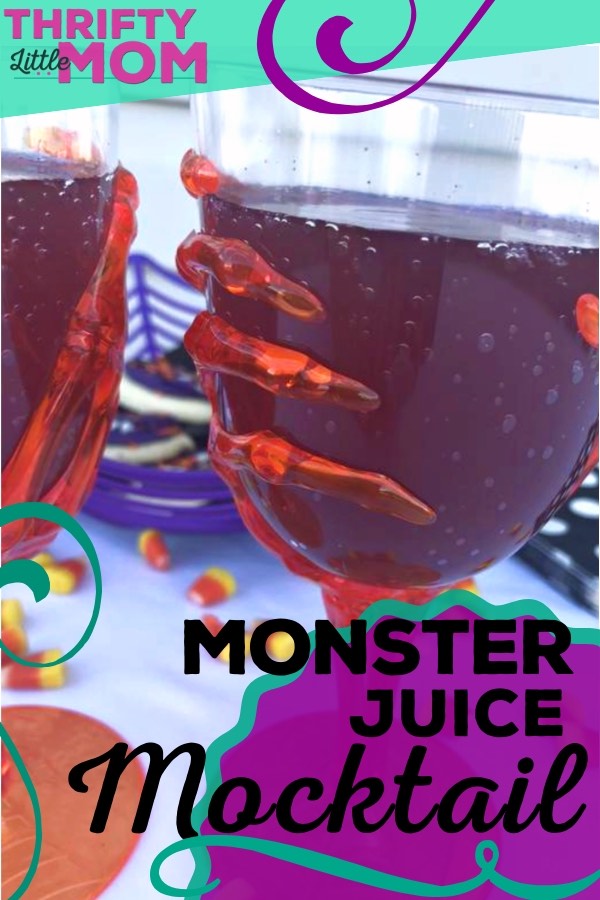 HP Butterbeer!
If you are a fan of Harry Potter, then check out this awesome Harry Potter Butterbeer Recipe on Thrifty Little Mom!  If you are planning a Harry Potter get some fun inspiration from my Ultimate Harry Potter Themed Party Tutorial.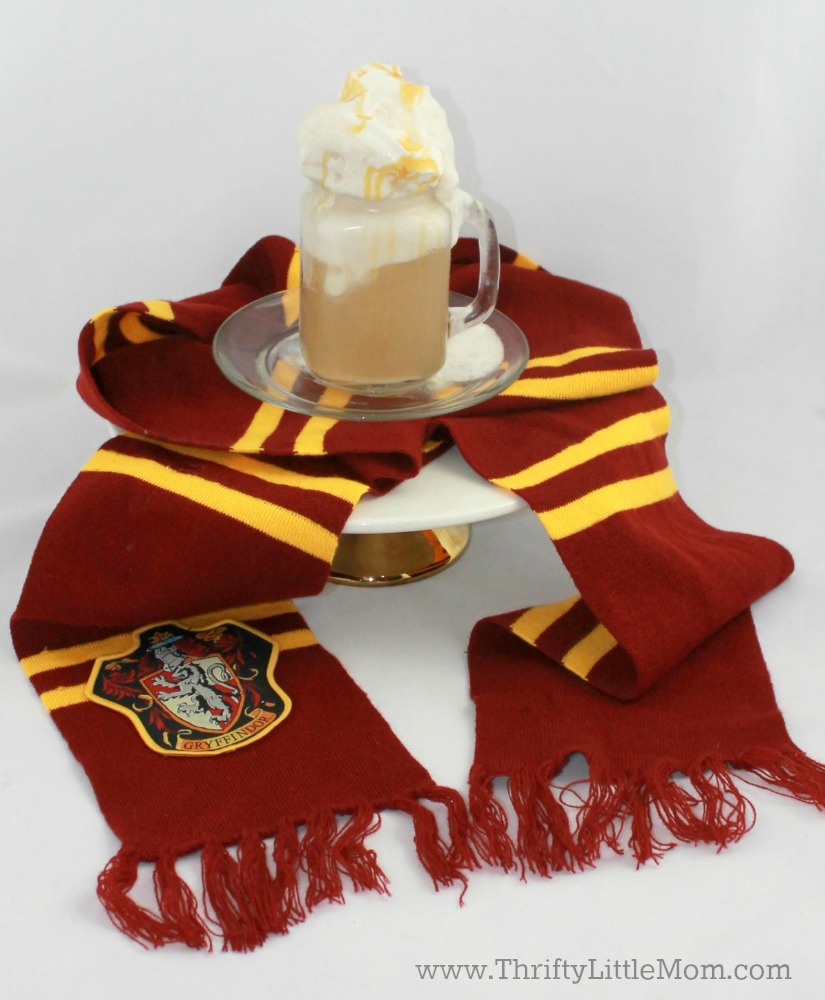 Blood Red Vampire Mocktail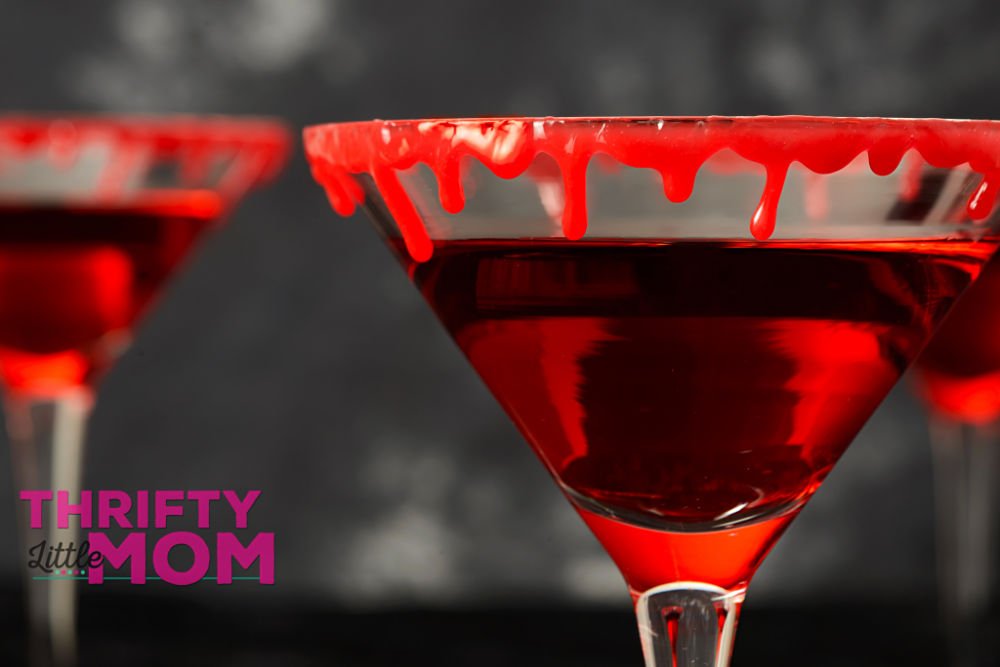 If you want to go with a more vampire feel to your drink lineup I love a pretty red beverage.  Again you can probably find some GREAT glasses for this sort of drink at the dollar store.
Ingredients for the mocktail:
For this mocktail you want the RED to be vibrant but I'm also a big fan of anything that tastes like a Shirley Temple so in this cast I would do a 1:3 ratio with a little sprite followed by double the Crush Cherry Soda!
How to turn this mocktail into a cocktail? Add a shot of Gin!
Want to get that bloody glass rim look?
It's a little extra work but your guests will be totally impressed.  Check out this Halloween Martini- Vampire Style recipe/tutorial.
Warm Apple Cider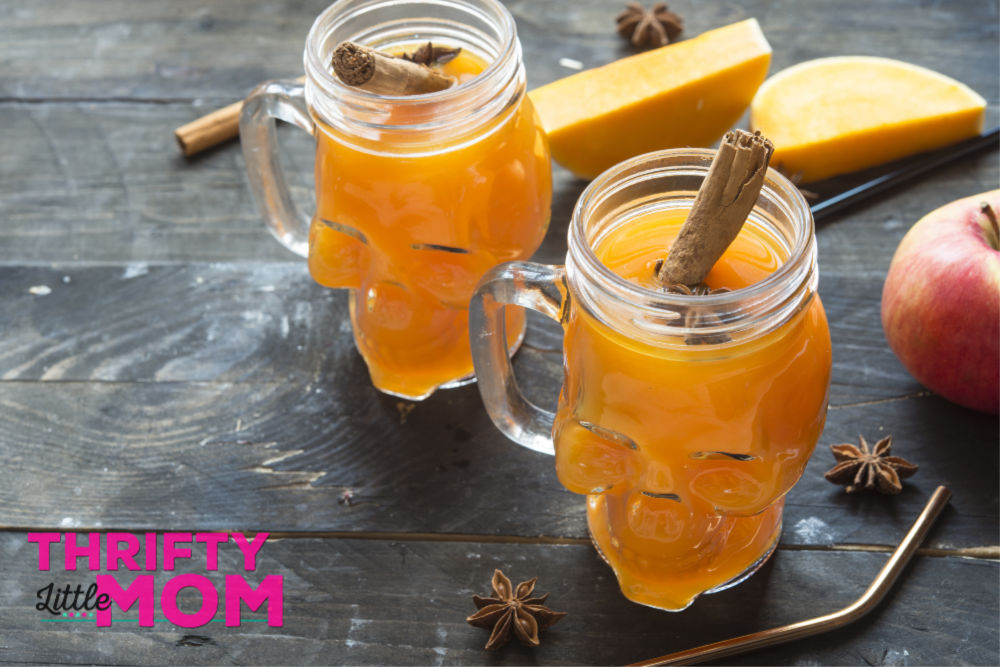 For a super simple drink that anyone can make, consider getting out your slow cooker a few hours before your party starts, pouring in a gallon of apple cider and heating it up!  I think these make super cute, easy and simple Halloween drinks for kids or adults.
I really like this Slow Cooker Hot Spiced Apple Cider recipe from Kitchen Treaty because they also give you a fun adult option at the end in addition to some simple ingredients that can take a plain jane cider into a warming mulled cider!
If you want to give it that Halloween feel, grab some of these super fun glass skull mugs on Amazon! >>>
Circleware Skull Face Glass Beer Mug Drinking Glasses with Handle, Set of 2, Heavy Base Funny Entertainment Glassware for Water Juice and Bar Liquor Dining Decor Beverage Gifts, 18 oz, 2pc-Skull
Polyjuice Potion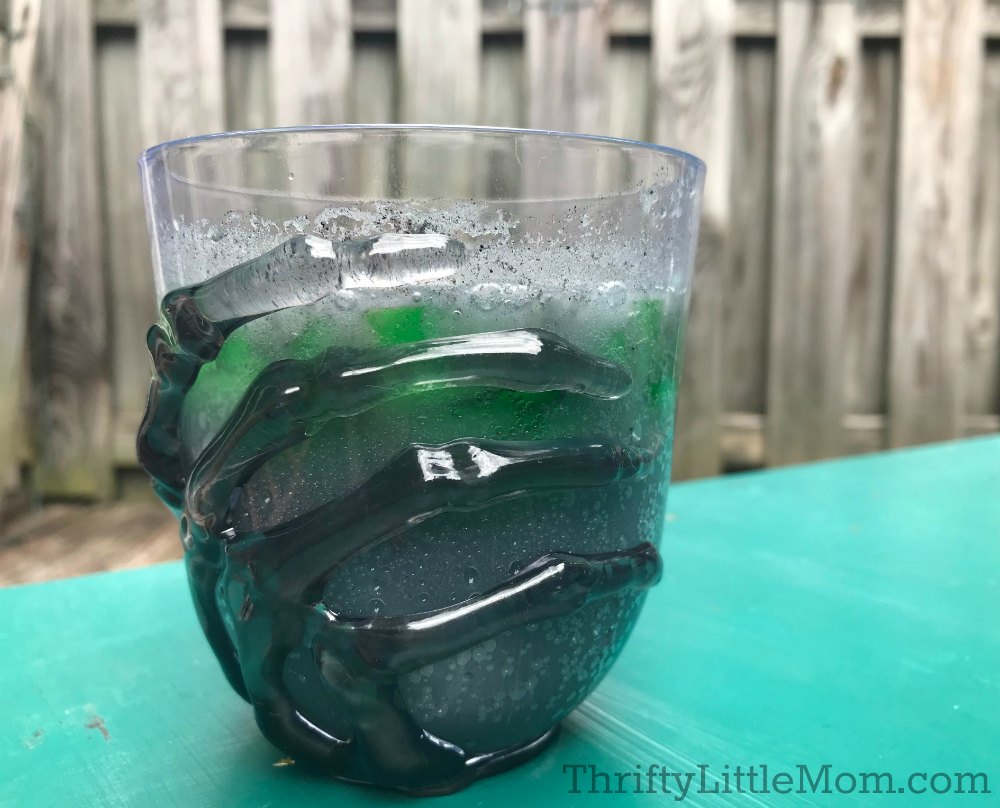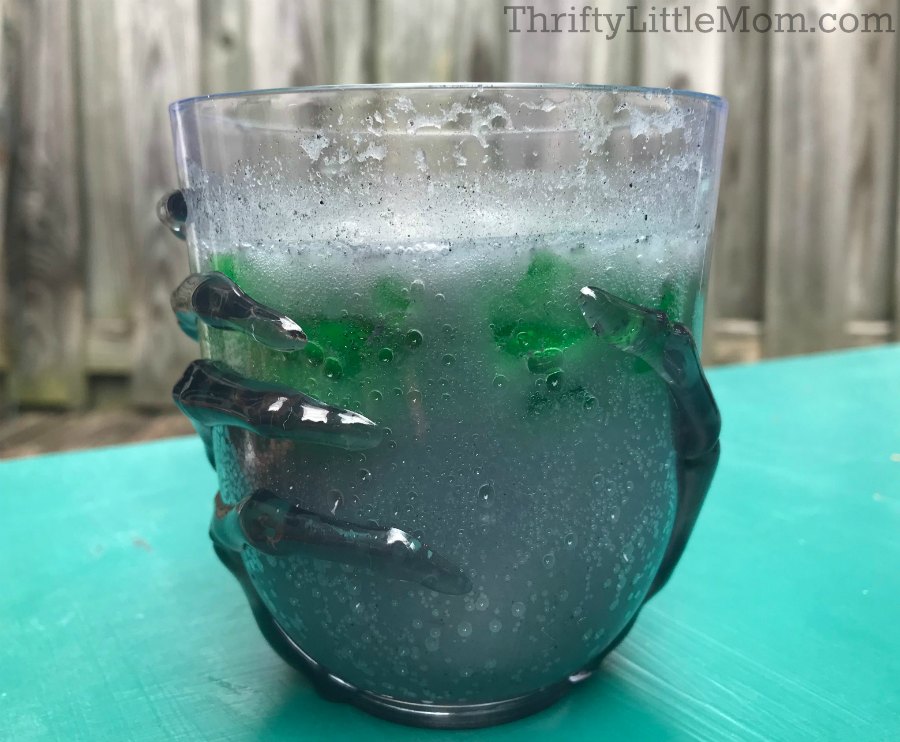 Polyjuice potion is from the Harry Potter franchise. It was used to turn a wizard into any other person so long as they had some piece of that person (i.e. a strand of hair). This drink "is a complex and time-consuming concoction, is best left to highly skilled witches and wizards". Though said to be quite horrid in flavor and murky, we decided to make it delicious and witchy.
Ingredients per glass:
2 tablespoons (already congealed) lime gelatin
lemon lime soda (to fill glass)
1 pinch activated charcoal powder (per drink)
1 tablespoon coconut milk (per drink)
ice
Directions:
In glass, add gelatin cubes to the bottom.
mix charcoal powder and coconut milk together separately in blender
pour over gelatin in glass
add ice
then pour lemon lime soda on top
This will make for a freaky, yet tasty concoction to emulate this spooky potion.
Viva Doria Virgin Activated Charcoal Powder – Food Grade (1.2 Oz Glass Jar)
Beetlejuice Milkshake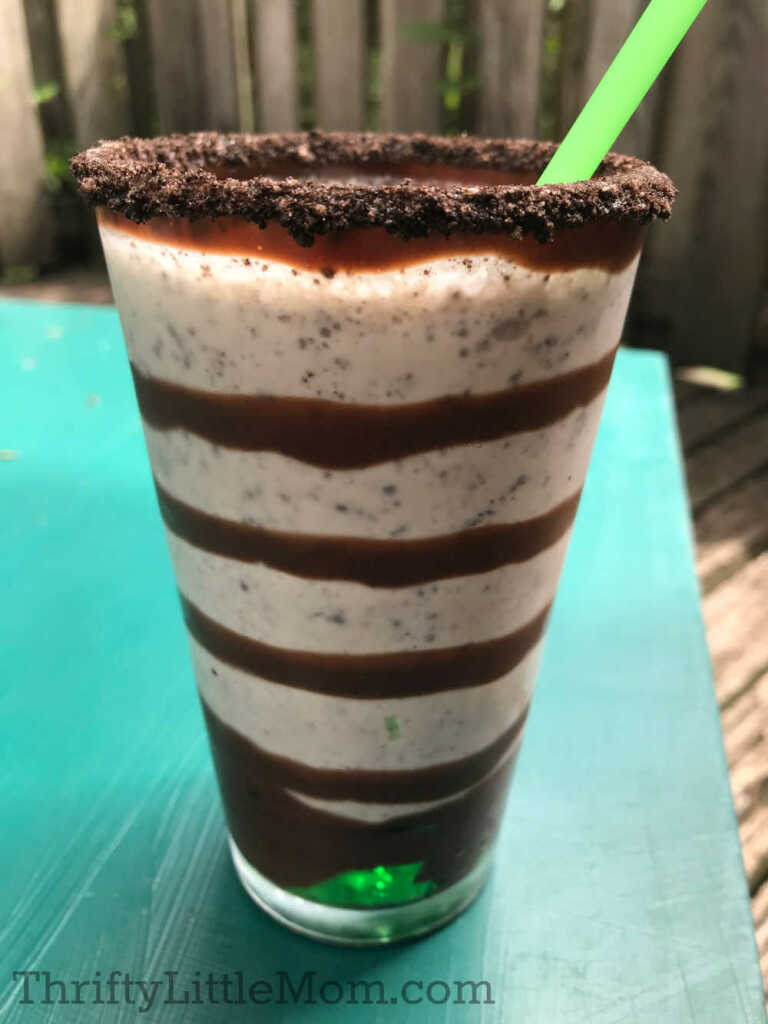 A classic frightening character, Beetlejuice was also playful. I wanted to bring the funny side of halloween to light with this milkshake. It is a cookies and cream vanilla shake, chocolate stripes, lime jello and crumbled cookies (all of these can remade with dairy free alternatives, but you may have to make your own vegan magic shell chocolate)
Ingredients:
Vanilla ice cream
Milk
Oreo (or the like) Cookies
Shell Chocolate syrup
Lime Jello
Directions for glass: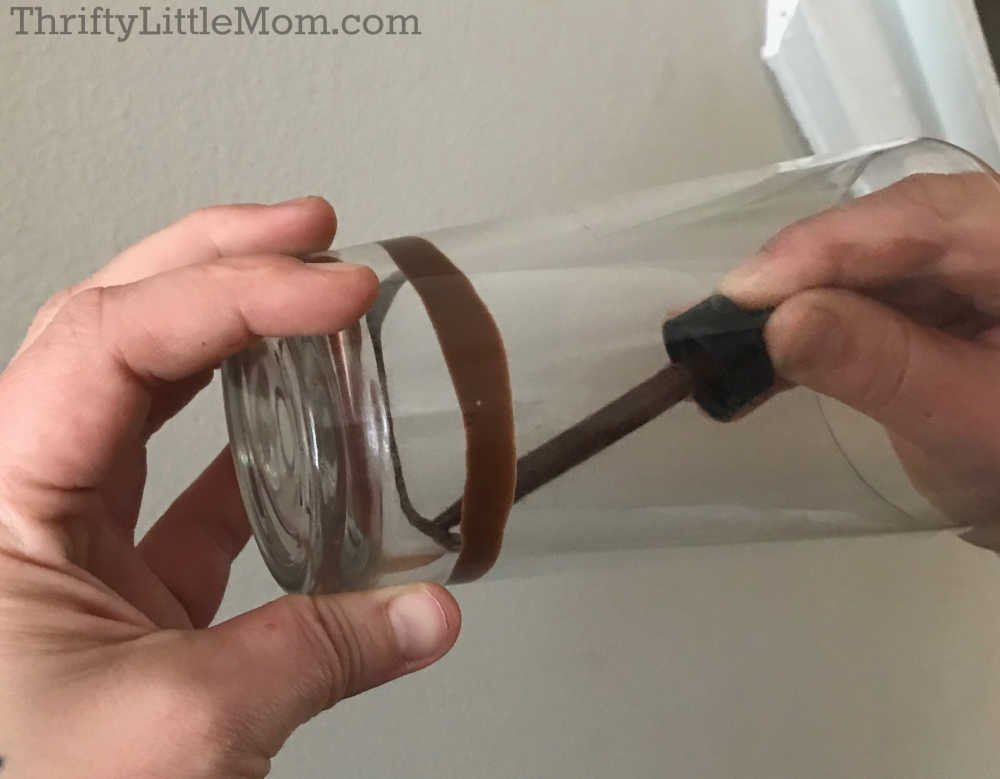 Use a small dropper and shot glass and pour small amount of shell chocolate in
Using dropper, tilt glass sideways and roll stripes onto side of glass
I prefer shell because it will harden and not drip down glass
Keep rolling and tilted until dry
You can keep these in the fridge until you are ready to use
Before adding milkshake mixture, add chocolate syrup to rim
Dip rim into crumbled cookie plate and let dry
Directions for milkshake:
Blend 1 cup ice cream with 1 cup milk (per glass)
Add cookies to blended mixture and blend to chunky (that's how I like it, but if you want smaller pieces, blend longer)
Place congealed jello in glass ( I like it on top, but on the bottom is cool too!)
Pour mixture into glass
Whether you place the jello in the bottom or on top, create barrier with shell chocolate.
Add gummy worms if you'd like!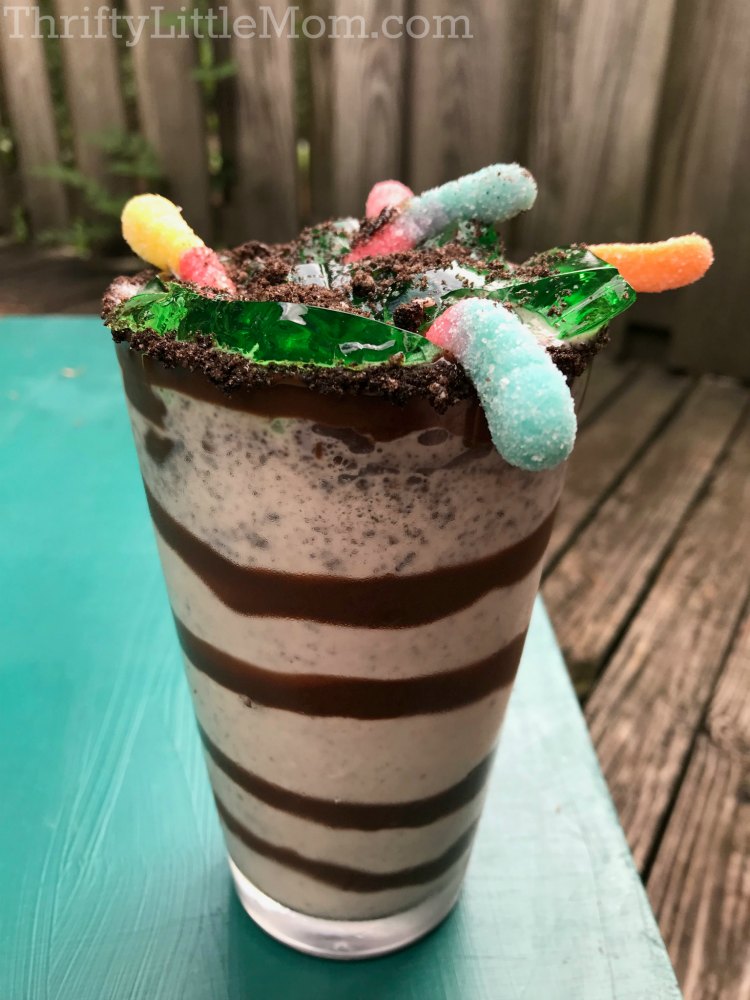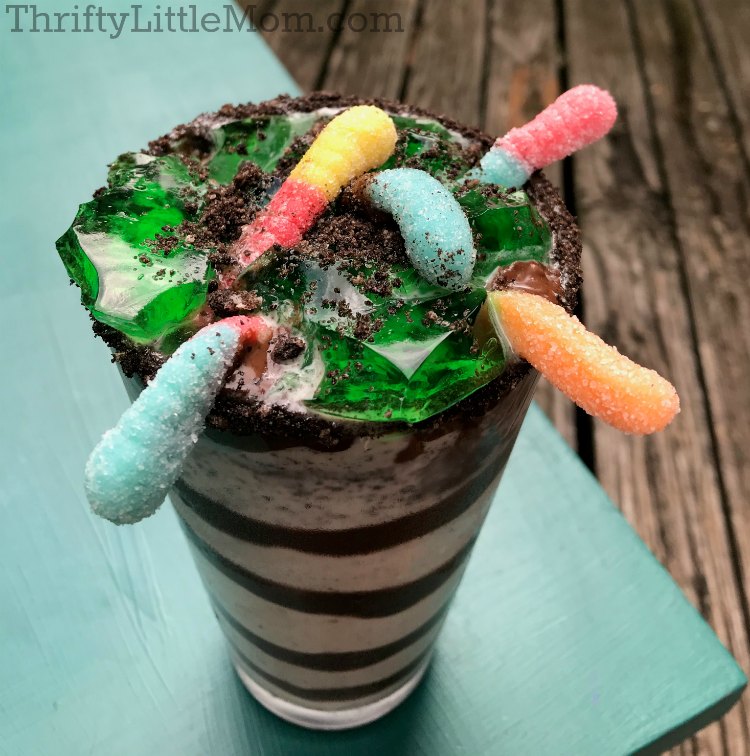 A fun and delicious halloween drink for kids! If you want to make it an adult drink, add vodka and/or creme de cacao in 1/2 ounce measurements.
Ezy Dose Straight Tip Glass Medicine Dropper │ Great for Essential Oils
Spooky Sky Drink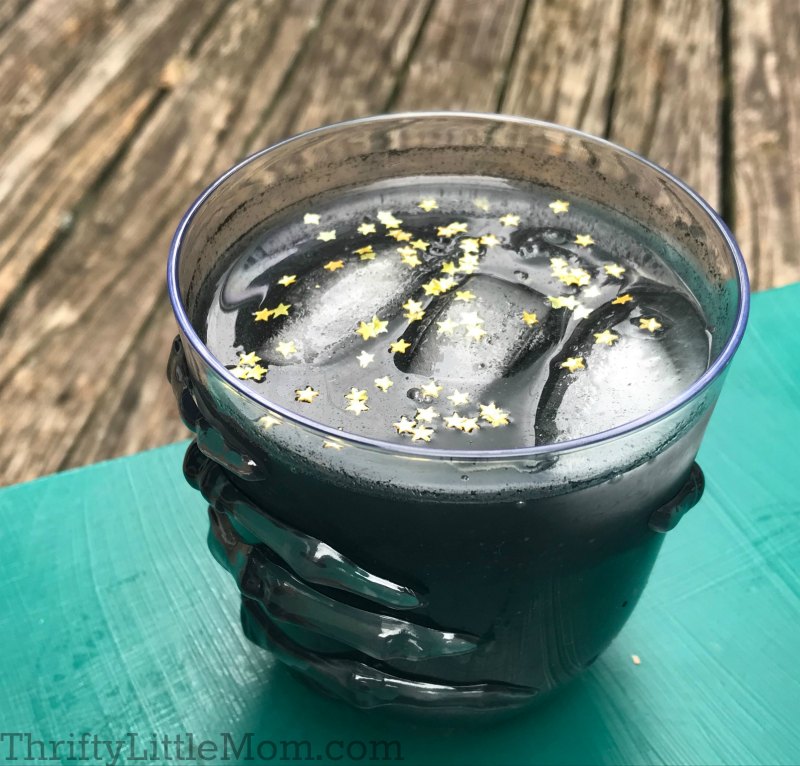 This drink is super easy to create and it is quite beautiful. Its simplicity makes it a wonderful drink for a party that will wow kids and adults alike.
Blend 1/4 teaspoon of activated charcoal powder to any quart of "still beverage" (I chose lemonade).
Add stars and enjoy!
Phew! That was hard!
Wilton Edible Glitter, Gold Stars, 0.04 Ounce
 The Enchanted Rose Drink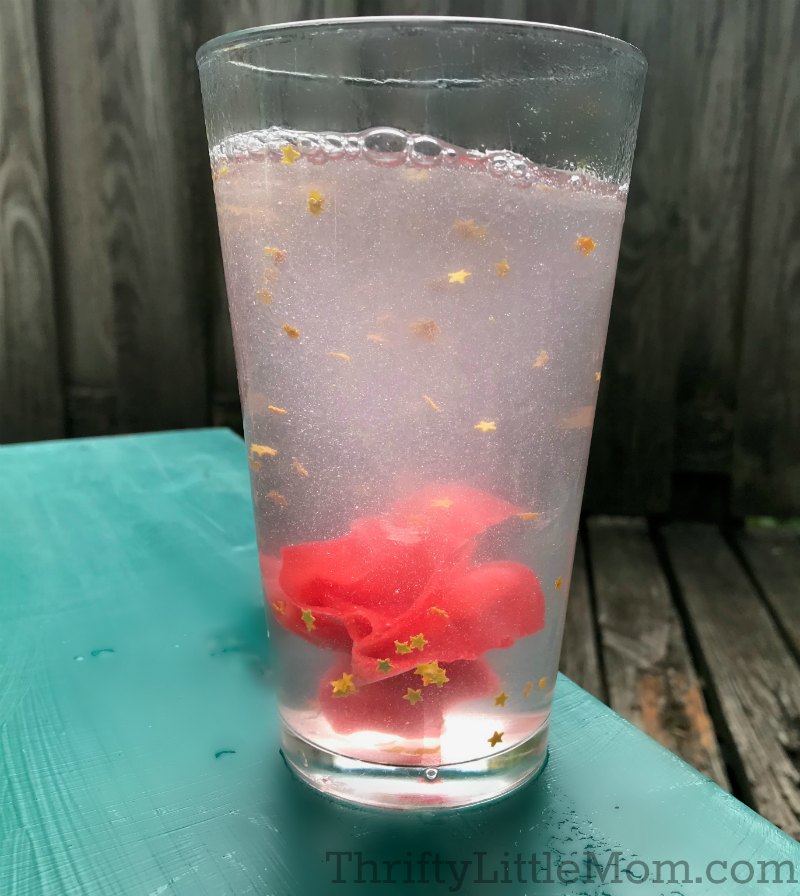 Growing up on Beauty and the Beast, I loved all the magic especially the enchanted rose. In the story, the rose wilts and when the last petal is gone, the curse will remain. The rose in this drink will slowly dissipate into the beverage as it soaks. The red fruit snack I got was strawberry so I knew it would taste great with the soda.
To make this drink you will need:
Sparkling beverage (light in color) of your choosing, I just used a lemon lime soda
Fruit snack paper
Star sprinkles
Directions: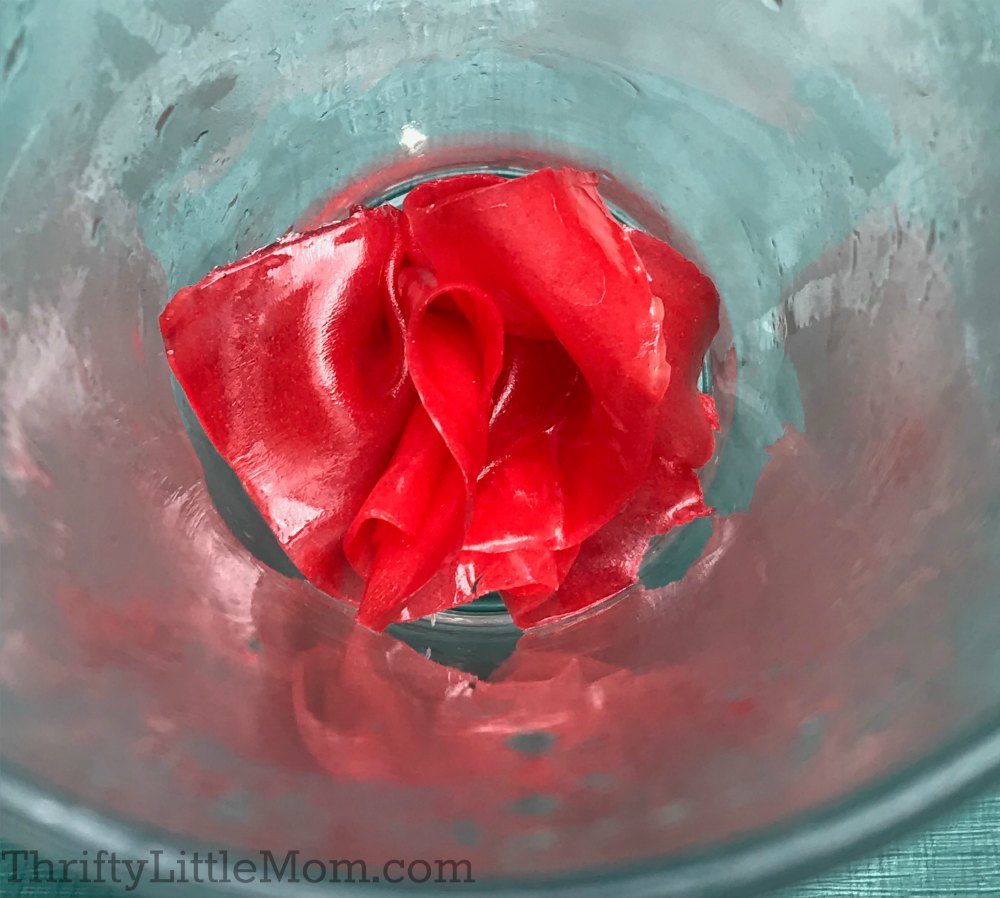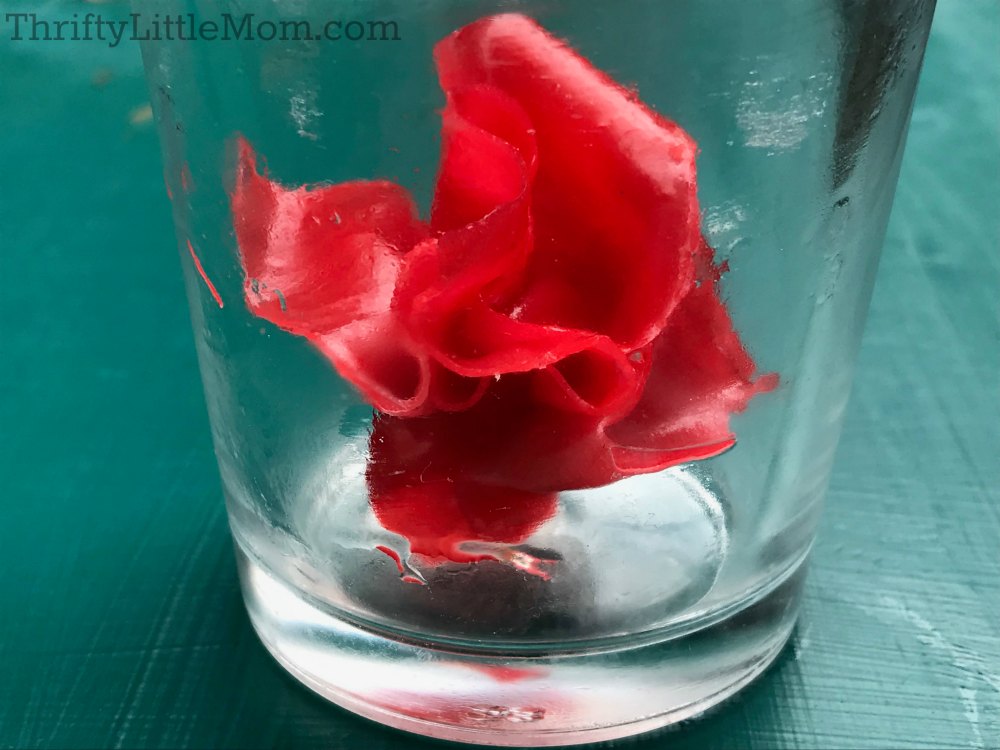 Unroll fruit snack paper
Twist into a rose shape (doesn't have to be perfect)
Place in bottom of glass (with a little pressure it should stick)
Add star sprinkles
Fill with soda
Magical and tasty!
Slimer Drink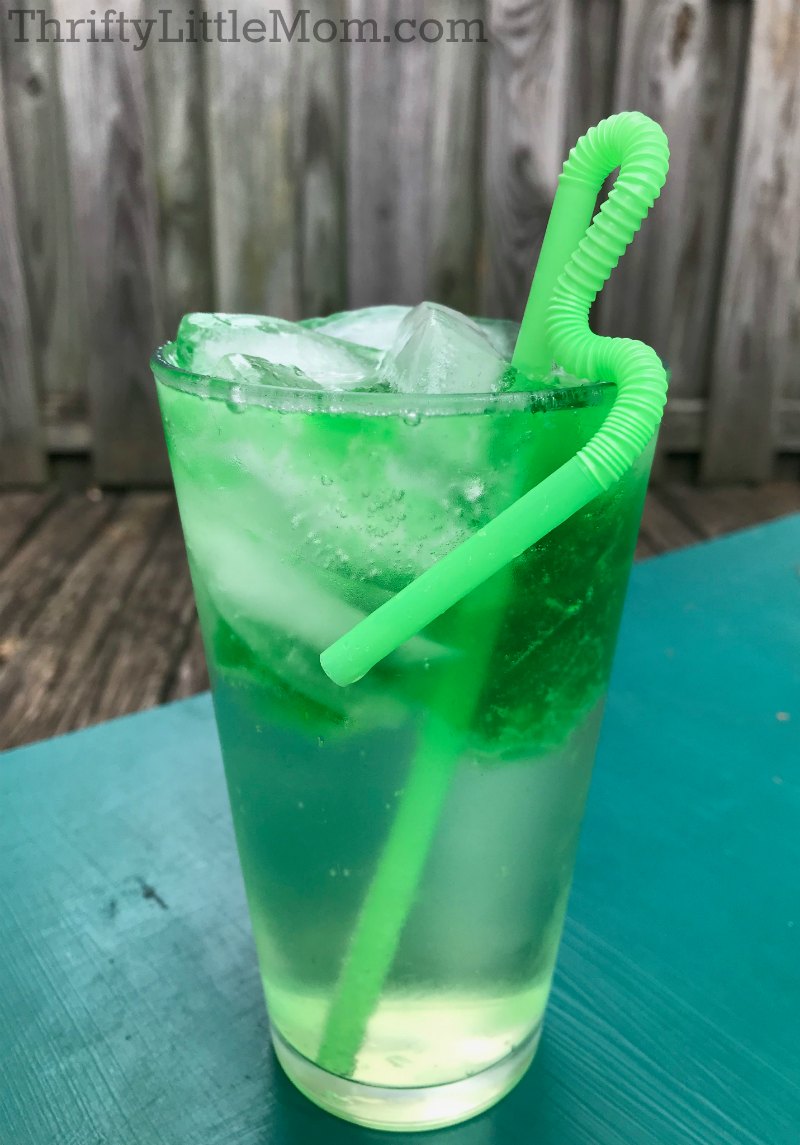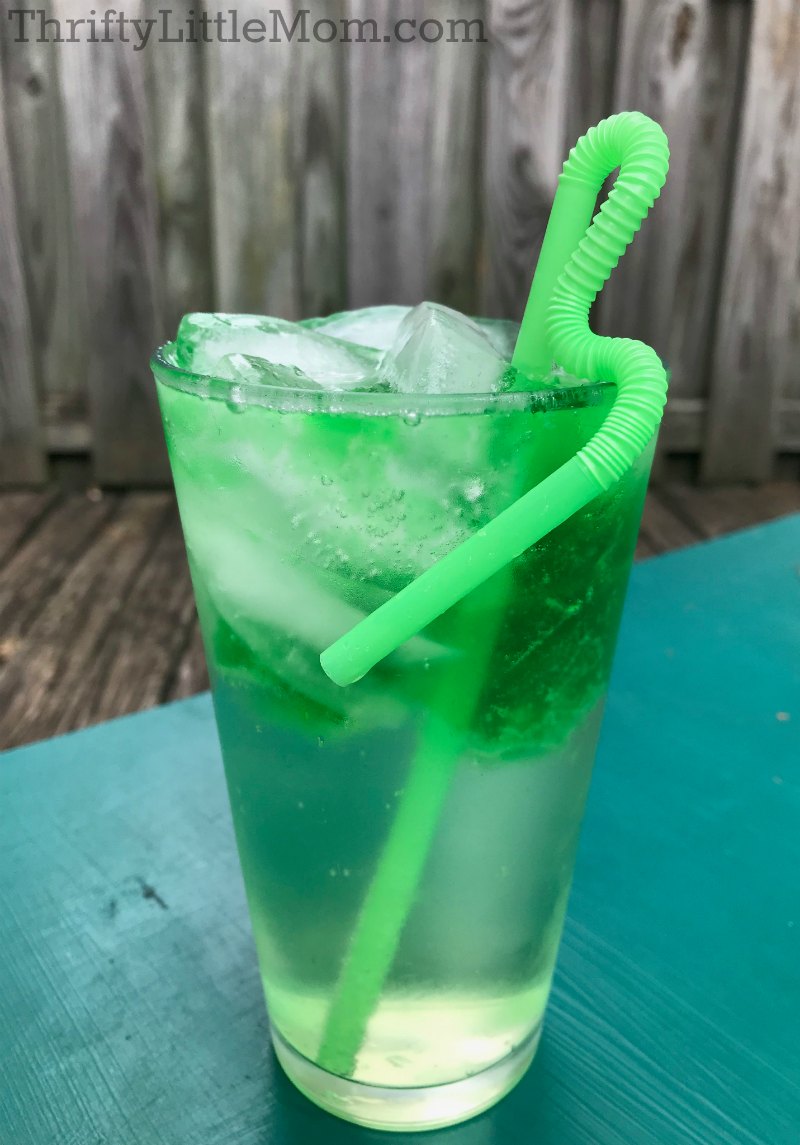 Being that I grew up in the 80's, Ghostbusters was everywhere! And so was our favorite mischievous character, Slimer. Even if your kids don't know who Slimer is, they will surely enjoy a slime drink. Any drink where I get to slurp Jell-O through a straw makes me smile!
Simple Recipe:
Add congealed lime gelatin to drink.
Ice cubes to desired level
Pour in a light colored fizzy beverage
Eyeball Drink
Making edible eyeballs for a drink can be very simple and tasty! Lychee is a small Chinese fruit that is lightly sweet. You can get a can of these from the international section of large grocery stores or an asian market. Rinse and add blueberries or raspberries to the pitted area. There are pictures and a tutorial available to make your own lychee eyeballs.
Canned lychee fruit
blue berries or raspberries
fruit jam
toothpicks (optional)
Pumpkin Caramel Milkshake
No Halloween post is complete with out some form of pumpkin spice recipe. Make this delicious and tantalizing milkshake for your halloween party and place into jack-o-lantern cups.
Ingredients:
Vanilla extract
Cream
Vanilla ice cream
Pumpkin puree
Pumpkin spice seasoning
Caramel sauce
Fun Express – Plastic JacK-O'-Lantern Cups for Halloween – Party Supplies – Drinkware – Re – Usable Cups – Halloween – 12 Pieces
Specimen Jar Drinks
This is just a fun idea for kids drinks. Make your own specimen jars for the kids to drink out of with fun labels.
Directions:
Pick up some mason jars with lids and straws
Grab some plastic bugs or animals
Get some antique labels to write the "specimen" on the jar
These can be refilled with any beverage of choice.
Mastertop 6 Pcs 16.9 Ounce Mason Drinking Jars with Lids Recycled Glass Bottles and Drinking Straws with 3 Extra Sealing Lid

Frog Toys,12 Pack Mini Rubber Frog sets,Food Grade Material TPR Super Stretches,With Gift Bag And Learning Study Card,ValeforToy Realistic Frog Figure Squishy Toys For Boy

Chalkboard Labels, 320 Kraft Paper Stickers for Jars, Support Any Type of Pen, Organize Your Home, Kitchen, Storage, Pantry & Office, Spice Jars, Refillable Spray Bottles

I hope you have found some of these Halloween  recipes ideas to be a hit at your next Halloween celebration.
Don't forget to pin this post of later or share it with your friends on Facebook!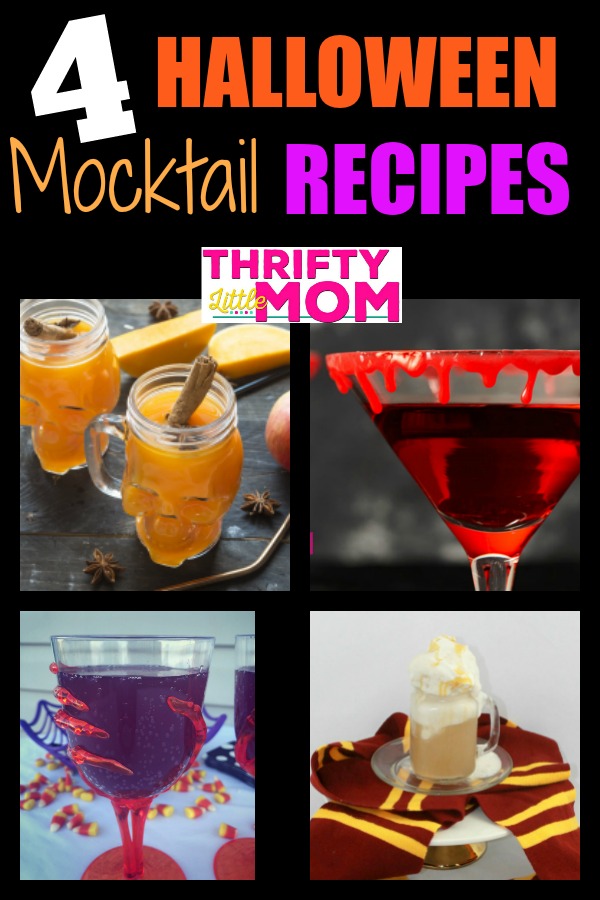 Check out these other fun Halloween Party Ideas!!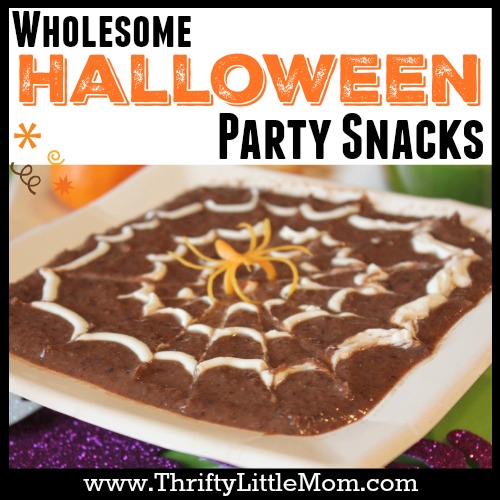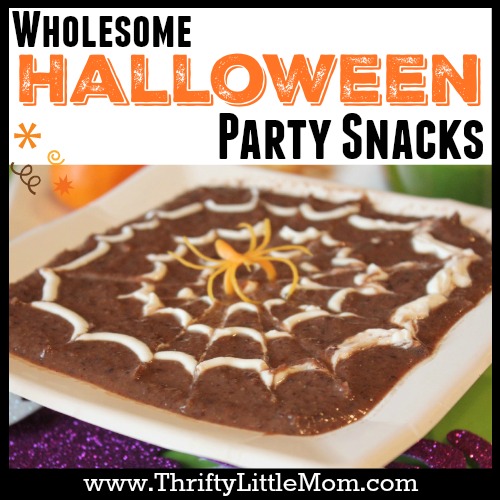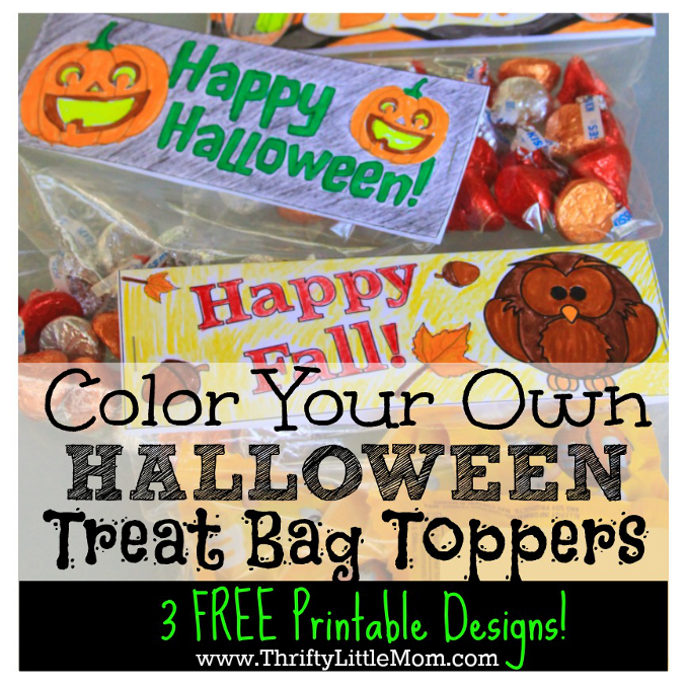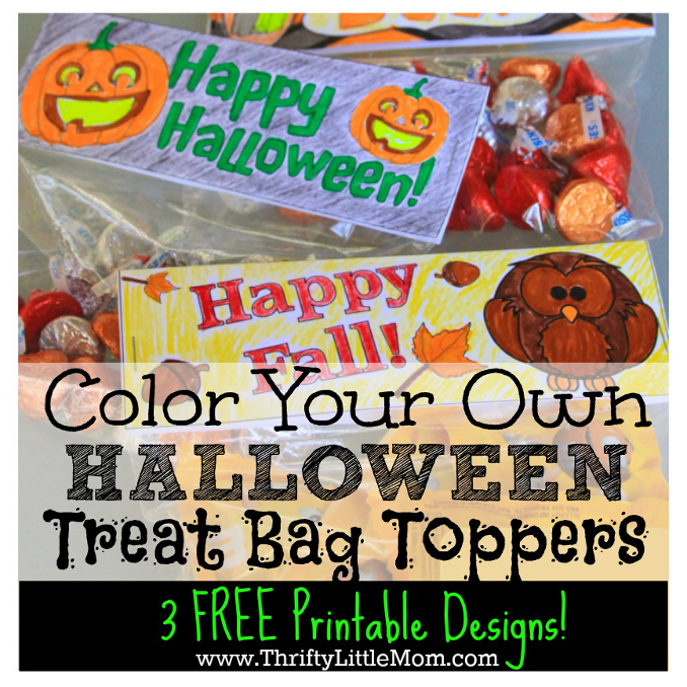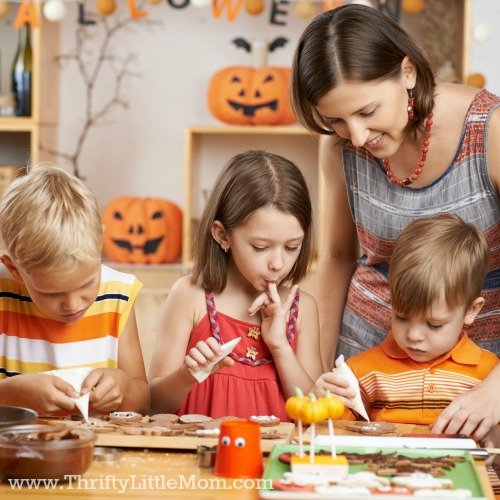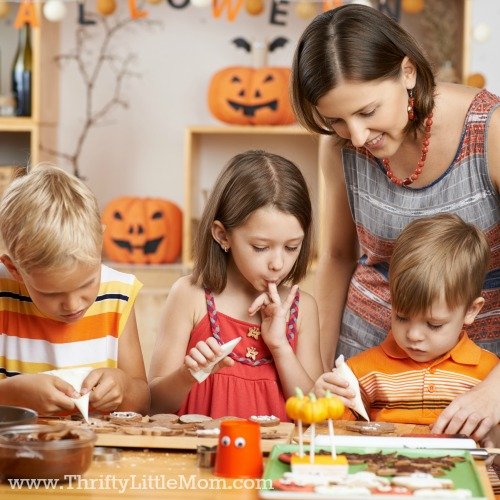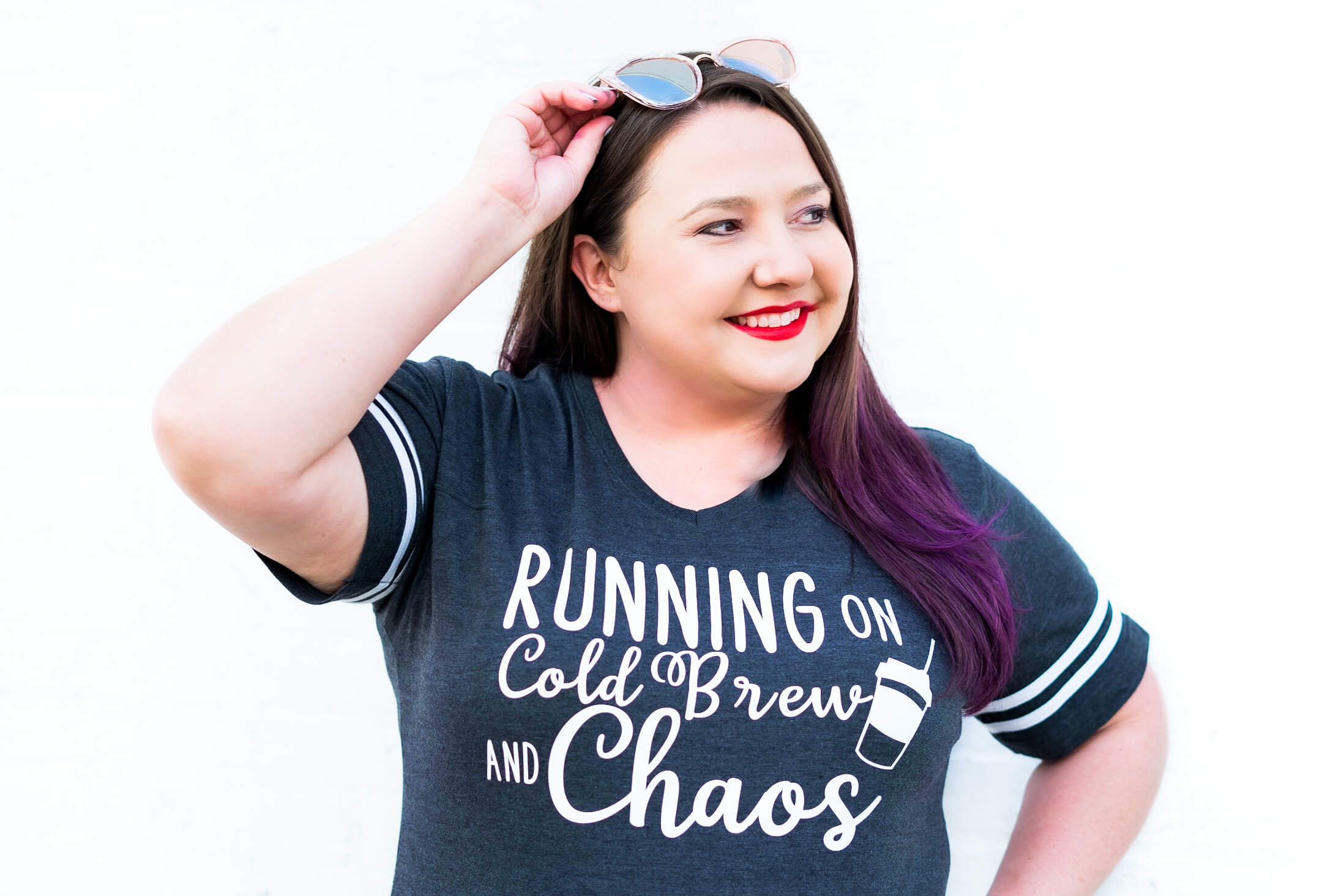 Kim Anderson is the organized chaos loving author behind the Thrifty Little Mom Blog.  She helps other people who thrive in organized chaos to stress less, remember more and feel in control of their time, money, and home. Kim is the author of: Live, Save, Spend, Repeat: The Life You Want with the Money You Have. She's been featured on Time.com, Money.com, Good Housekeeping, Women's Day, and more!