Ultimate List of 50 Family Costume Ideas
This post contains affiliate links. As an Amazon Associate, I earn from qualifying purchases. I also earn from qualifying purchases made with other brands and programs. See my
privacy policy.
The invite is on your fridge or in your Facebook account and now there's a Halloween, church or costume party in your near future. You're super excited of course, but then there is the stress of what to wear! But have no fear, the perfect costume is out there and it may be closer than you think.  It's not always easy to pull of couples & family costume ideas but I'm hoping this post gives you some great inspiration!  Here are some suggestions for getting that cute, creative costume that is perfectly you all while not (I hope) breaking the bank.  Plus a mega list of ideas!!!
Family Costume Ideas Inspiration  1- Can you use anything you already own?
Go into your closet thinking "Costume"   Does anything stand out?
Decade costumes are usually easy to do here.  Think…
Egyptian
Ancient Greek/Roman
Medieval/Renaissance
Western- Cowboy/Saloon girl/Annie Olkly
20's- Flapper/Gangster,
50's- "I love Lucy" ish
70's- Hippie or Disco days
80's- Big hair rockers/dancers
90's- Goth/Grunge
Family Costume Ideas Famous Actors, Artists, Movies Cartoons and Musicians
Some have very distinct styles that can be copied easily.  The links below will show you the costumes for those characters on Amazon!
Sonny and Cher
John Lennon and Uko
The Simpsons
The Jetsons
PJ Masks
Crayons
Minions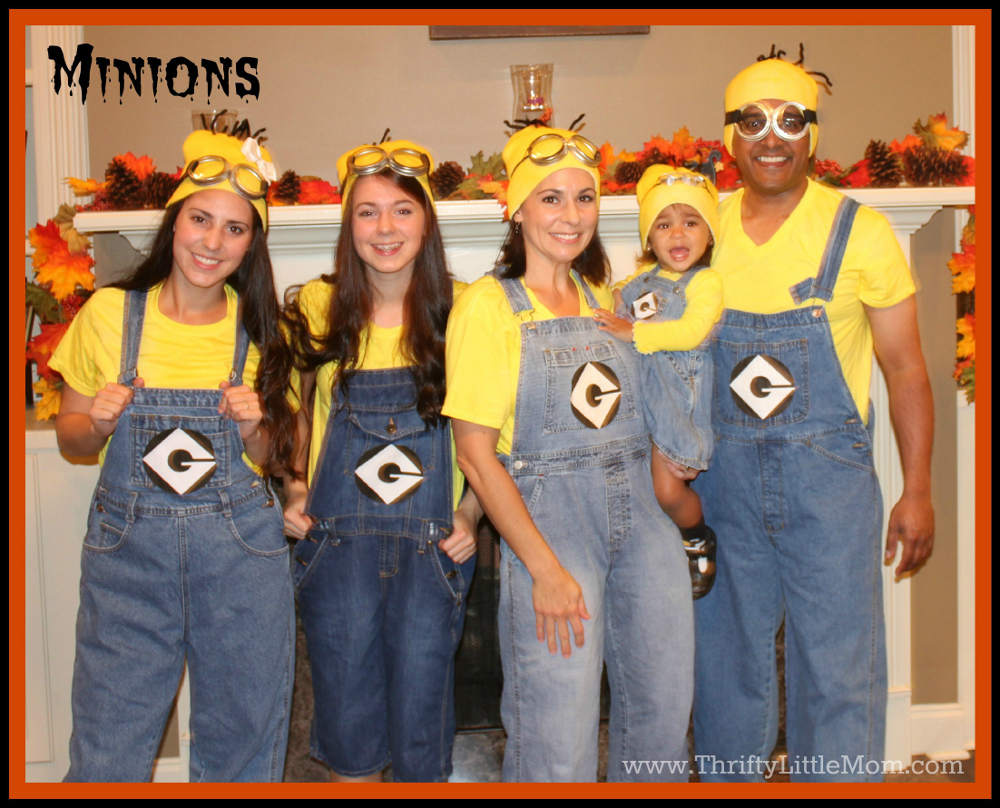 Bob's Burgers
Power Rangers
Frozen Movie Characters
Curious George
Indiana Jones
Super Hero (Batman, Robin, Batgirl, Joker, Harley Quinn)
Star Wars
Lord of the Rings
Matrix
Toy Story
Jurassic Park
Brave
Guardians of the Galaxy
Beauty and the Best
Moana Movie Characters
Suicide Squad
Inside Out Characters
Pirate Family
Charlie Brown Characters
Winnie the Pooh Characters
Peter Pan Characters
Monsters Inc. Characters
Farmers
Family Costume Ideas Inspiration 2- Draw upon your own life; what makes you—YOU???
Family/friends- Do a costuming of each other Last year a friend of mine did a costuming of me! She bought a wig, had it styled, dressed similarly, borrowed my favorite jewelry, and of course said all my favorite quotes. It was a big hit. (insert "Kendra" pic)
Work– Zombie or dark side your work self.
Fun– Have a favorite TV show, movie, hobbies, commercial, or even clothing designer? All can be used to put together that perfect creative costume.
Occupation- I'm a housewife and feel very 50's sometimes in my role, so I created a costume for it. 50's housewife & husband. We had the clothes and just bought little accessories. (little apron for me, and for him a cigar) cheap!
Another example was the year my husband tried his hand at brewing beer…so it was a natural choice to be a tavern maid & beer guy.
Family Costume Idea Inspiration 3- Literary Characters
This one might be my favorite. SO many to choose from that are super recognizable.  You can make practically anything have a connection if you are trying to couple match or group match.
Think…
Fairy Tales-ex. Little Red Ridinghood/Big Bad Wolf
Nursery Rhymes- ex. Little Miss Muffet and her Spider
Shakespeare- This year we are doing characters from  "Macbeth"  Shh! 🙂
Children's Book Characters (See our family pic Charlie and the Chocolate Factory)
Tall Tales- ex. Paul Bounyon and Babe the Blue Ox
Greek Myths- See our Mythical family (Ares, Aphrodite, and baby Cupid!)
The Wizard of OZ
Harry Potter
Hunger Games
Family Costume Idea Inspiration 4- Hit up your local Goodwill or local thrift store
The older and tackier the better!!!  Walk and around and see what speaks to you.
Our Chocolate Factory clothing came from Goodwill as did my golden Greek gown.
If you prefer to go the DIY route, check out my post on How to Make Your Own Family Costumes! 
Don't forget you can always find creative ways to use your costumes all year long!  Check out how we reuse our costumes each year.
Be sure pin this post for later!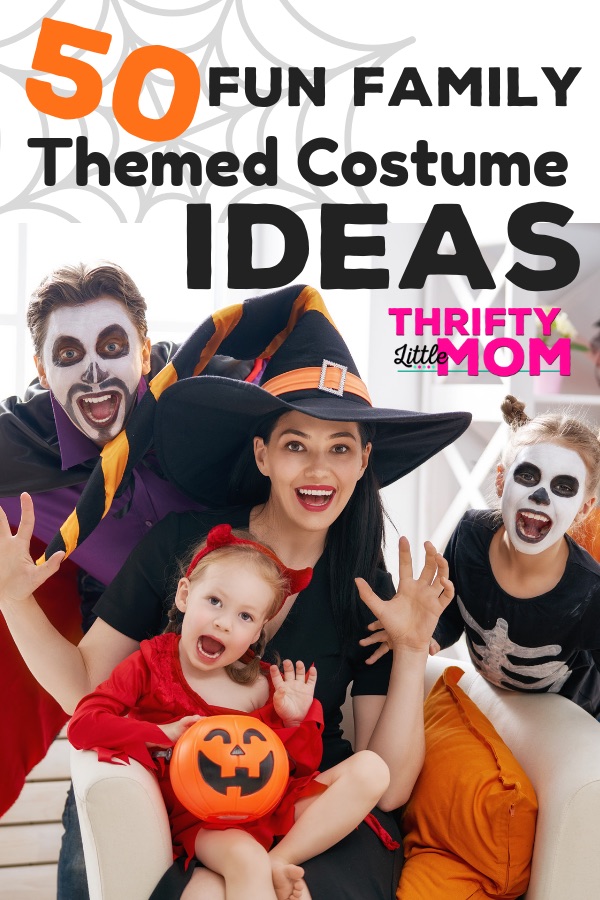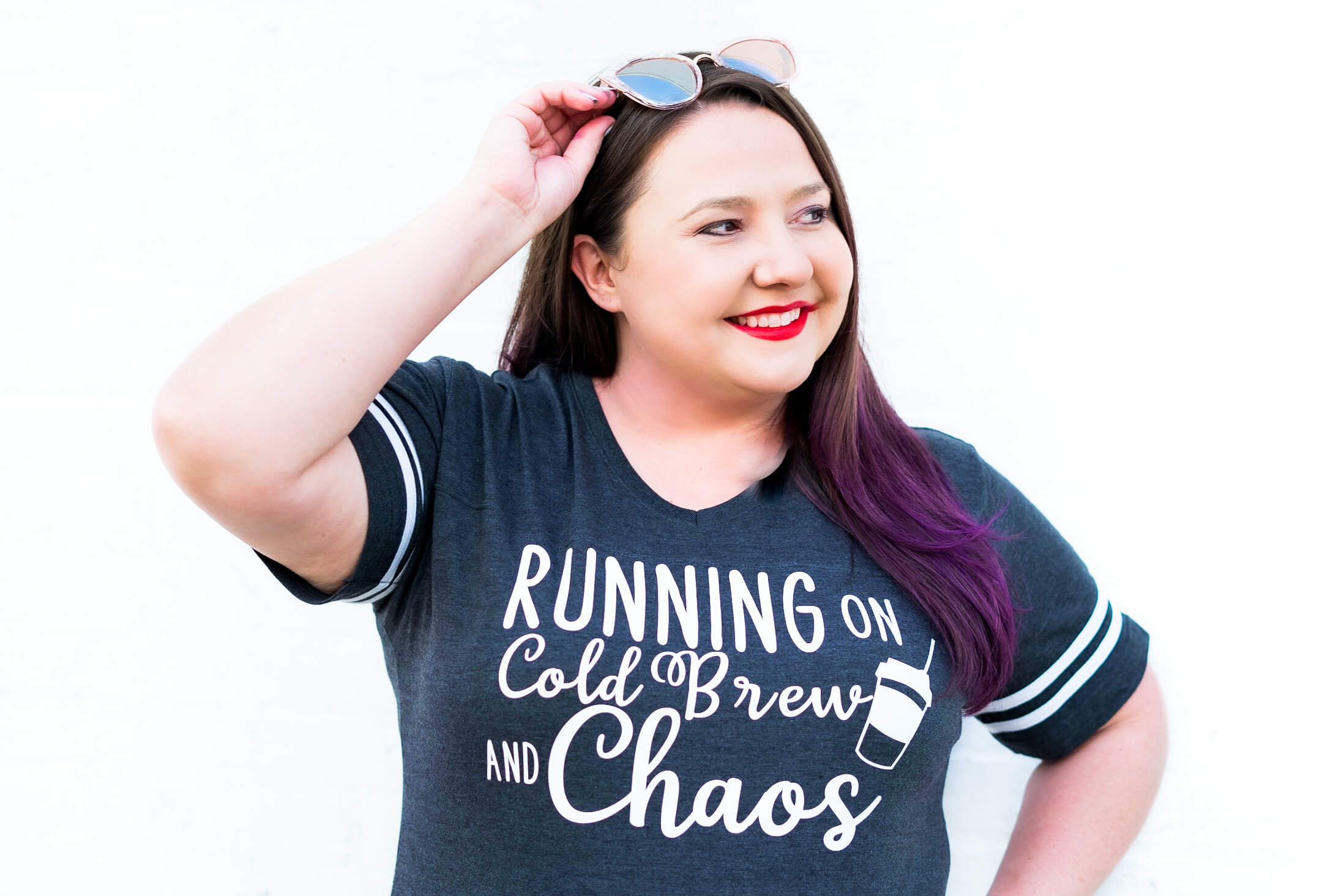 Kim Anderson is the organized chaos loving author behind the Thrifty Little Mom Blog.  She helps other people who thrive in organized chaos to stress less, remember more and feel in control of their time, money, and home. Kim is the author of: Live, Save, Spend, Repeat: The Life You Want with the Money You Have. She's been featured on Time.com, Money.com, Good Housekeeping, Women's Day, and more!