Throwing the Ultimate Harry Potter Themed Party
This post contains affiliate links. As an Amazon Associate, I earn from qualifying purchases. I also earn from qualifying purchases made with other brands and programs. See my
privacy policy.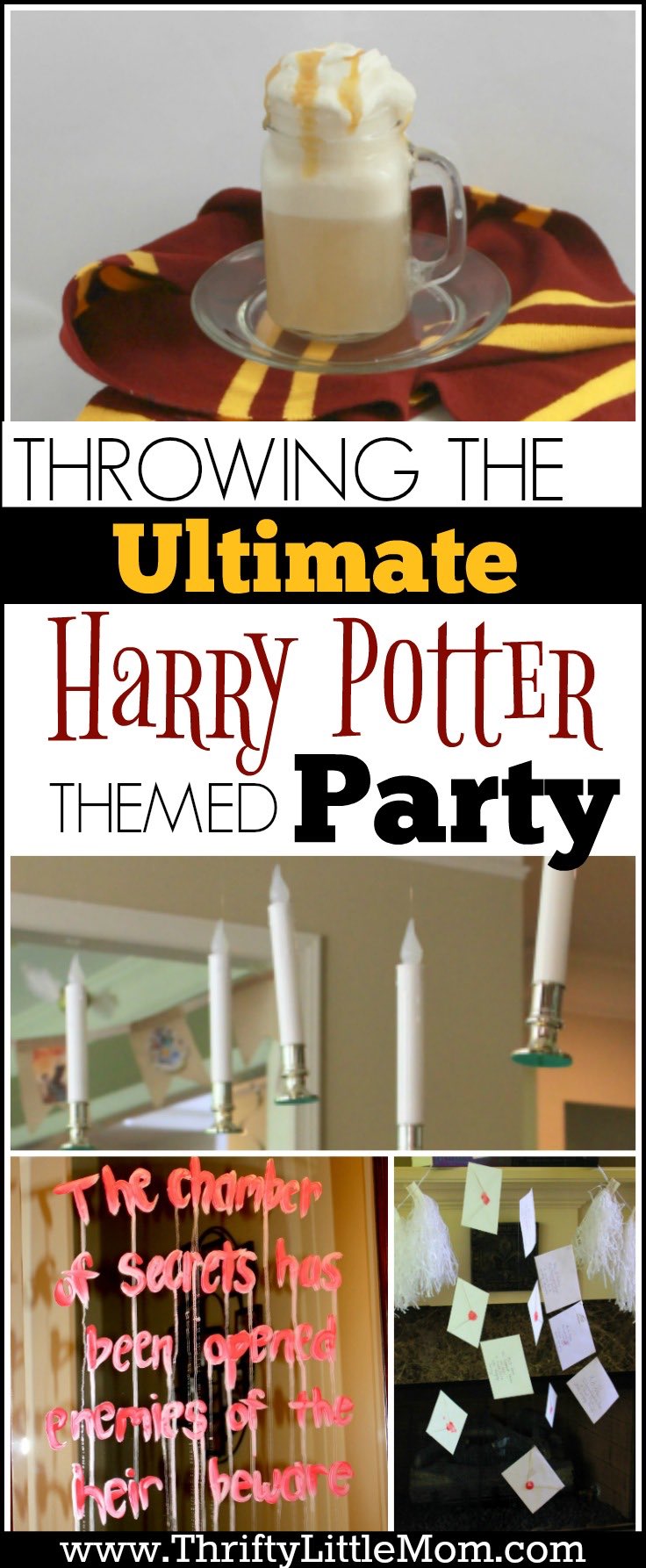 About a year ago I was invited to a graduation party at my best friend Rhonda's house.  The theme was Harry Potter and I'm not gonna lie, I was pretty darn excited.  Rhonda took DIY party decor to an impressively simple yet amazing level with this party and I just had to share it with you in case you are planning to decorate for your own party!  Here's Rhonda's tips on throwing the ultimate Harry Potter themed party!
Plus, I realize that not all of us are DIY people because of time or because we simply aren't crafty so I'll make it easy on you by adding some links to some of these items from Amazon so if you don't have time you can just order them all and be about your day!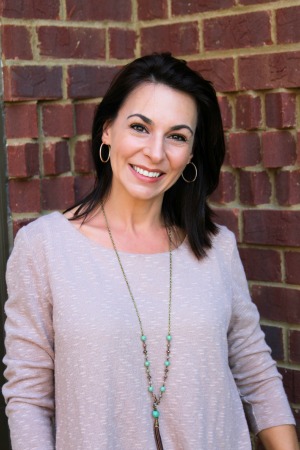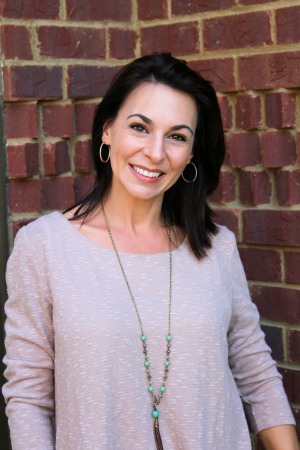 I've always advised my children not to be in a hurry to grow up so when my oldest daughter was graduating from high school and asked for a Disney Princess themed party, I was all for it! Fast forward 3 years and my second born asks for a Harry Potter themed graduation party-Great!  This post is filled with Harry Potter party ideas for teenagers but could be used for adults or kids parties as well.
The only problem is that I don't know anything about the series! While my avid readers devoured the books more than once, they just never held my interest (yes, apparently I'm a Muggle). A quick internet search and I had a foundation to build all the ideas I needed for our décor and best of all most we already owned tucked away with our Christmas decorations.
Here are simple and fun food and decoration ideas for Harry Potter themed parties!
Harry Potter Themed Party-
Butter Beer Recipe-
What's a Harry Potter party without some (non-alcoholic) Butter Beer?  This is one my favorite Harry Potter themed party foods.  Rhonda shares her recipe in this Harry Potter Butter Beer Recipe post on Thrifty Little Mom.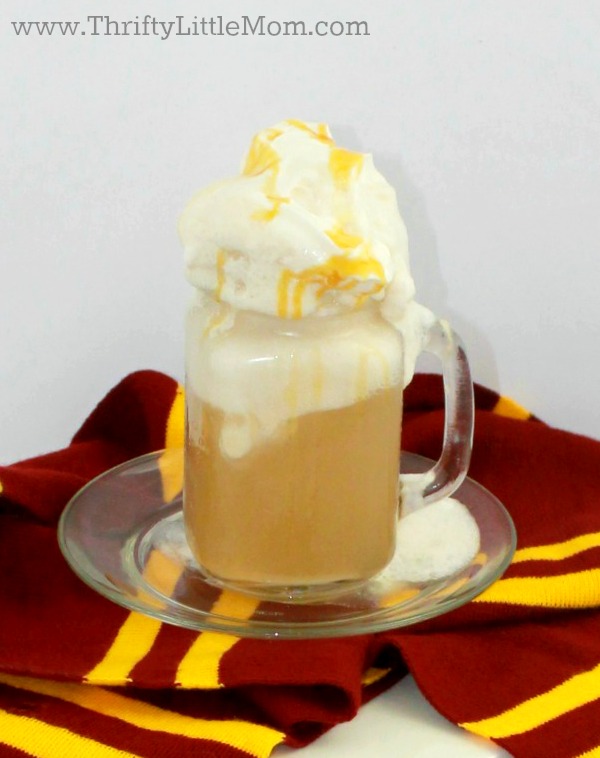 Harry Potter Party Supplies:
Flying Golden Snitches
One my fun Harry Potter party decoration ideas was the snitch. No seeker has to "die trying to get these Golden Snitches"! Simple, gold, Christmas ornaments are easily transformed into the Snitch by gluing feathers (left over from our Roaring 20's party) into either side of the ball.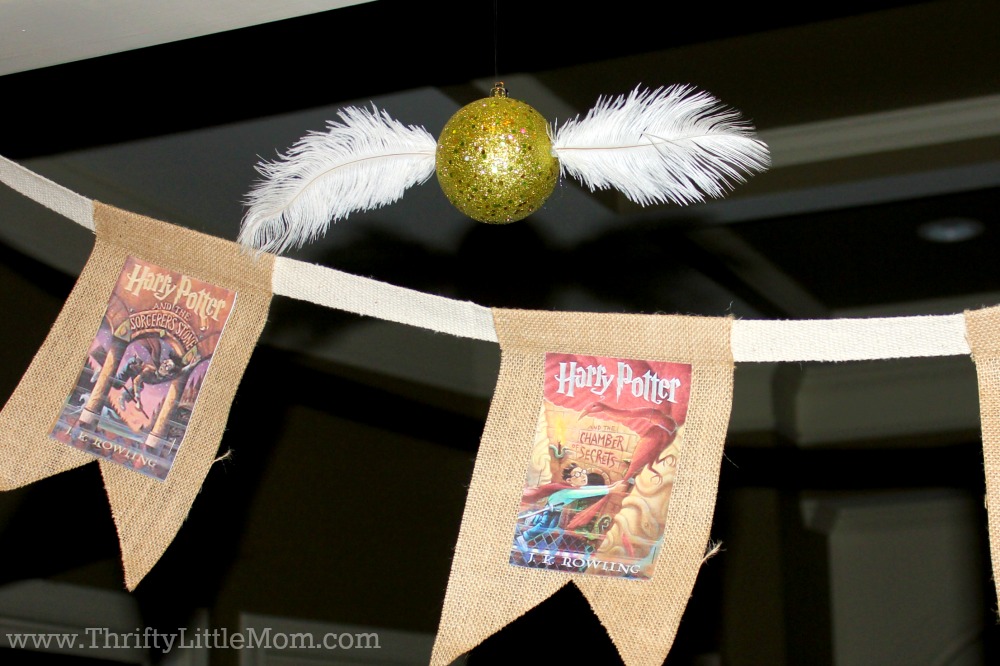 Floating Candle Sticks
A spool of invisible thread was all that was needed to hang our 'floating' candle sticks (another Christmas ornamentation) between two pendant lights in the great hall.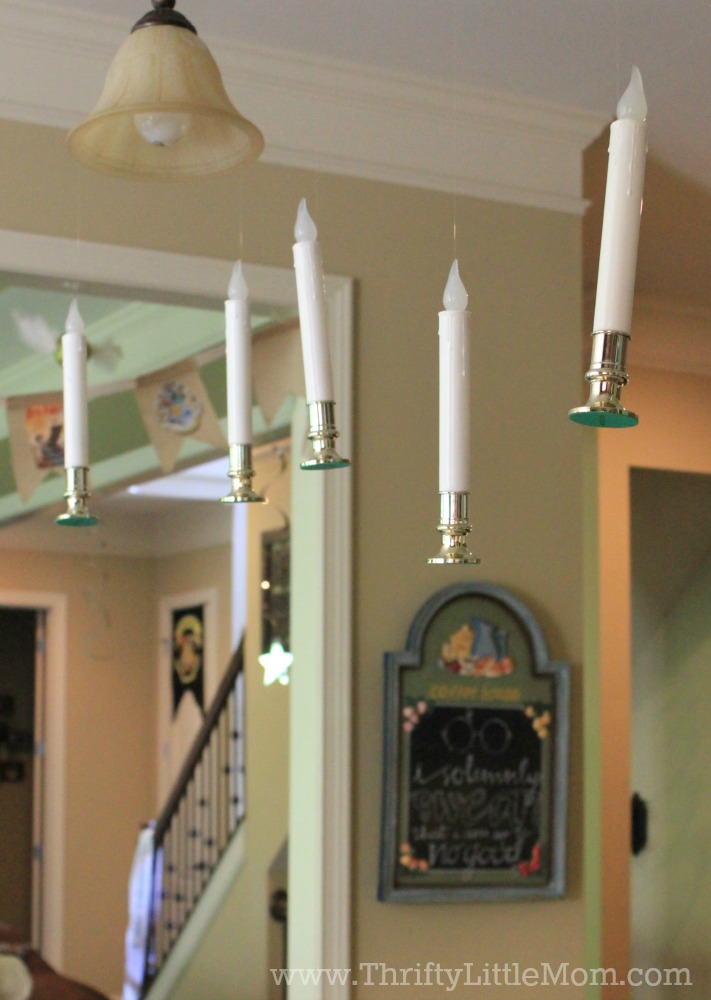 Youngerbaby Set of 12 Yellow Mini Battery Operated Wax Dipped White Body LED Taper Candles, Flameless Taper Candles for Wedding, Halloween, Thanksgiving -Batteries Not Included
Post Owls
By borrowing some creatures from our woodland themed Christmas tree, we conjured up a few Post Owls available for delivering messages. Using the invisible thread again, simply suspend Hedwig from the ceiling along with the letters stamped for distribution.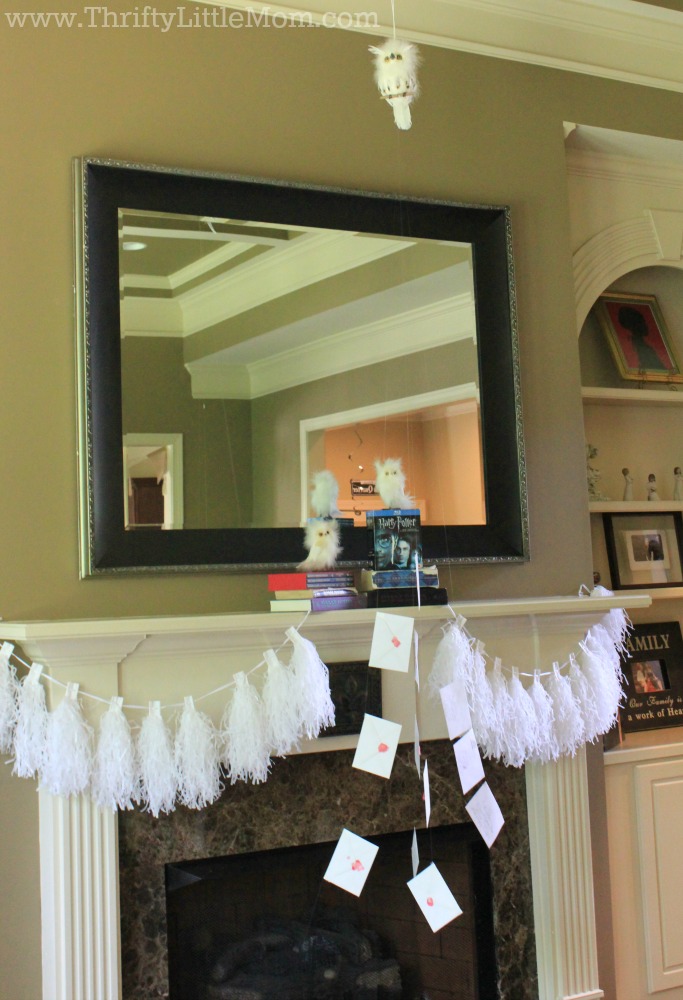 Flying Keys
The invisible thread also came in handy while making another winged décor item, the Flying Keys. The keys were the only item I purchased coupon in hand from my craft store. These were adorned with wings printed onto vellum paper, cut out and hot glued then placed in the foyer since apparently they are great for opening locked doors.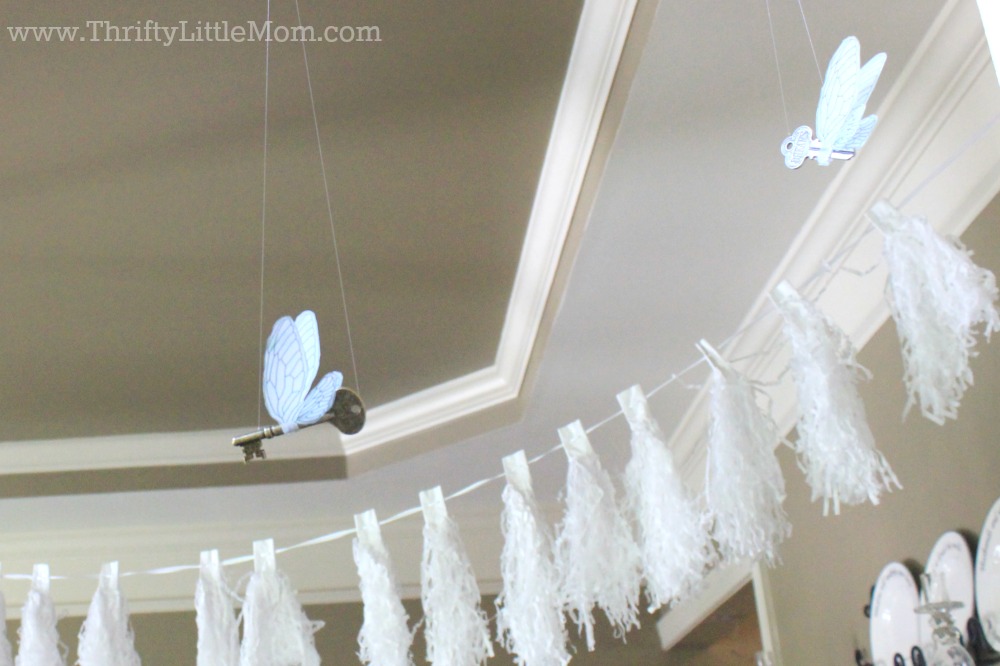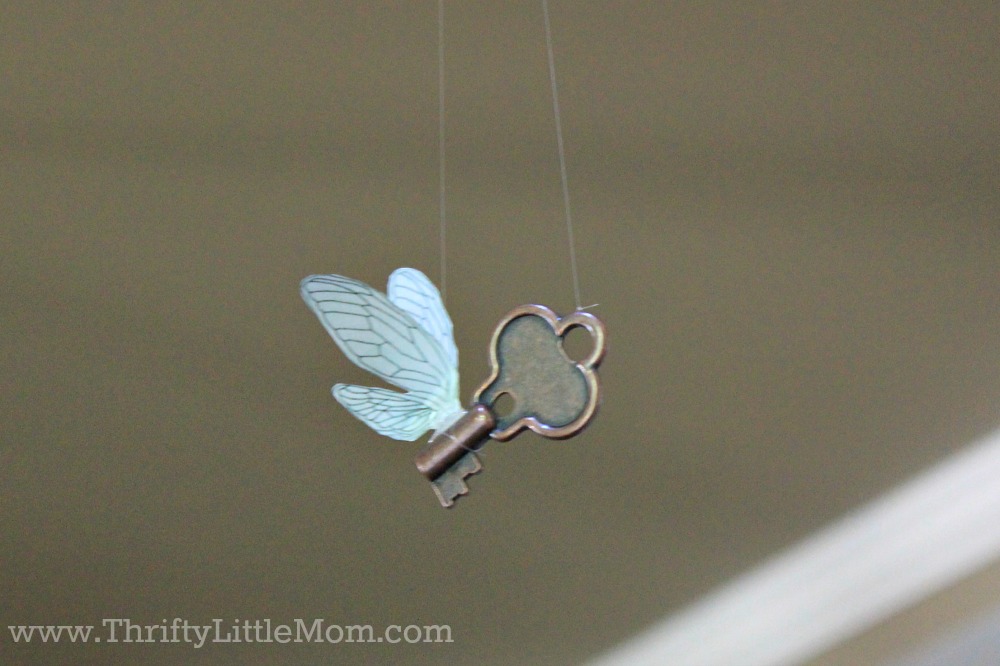 You can also snag these Makhry Mixed 20 Extra Large Antique Bronze Finish Skeleton Keys Rustic Key for Wedding  for Decoration Favor(Bronze)
 for around $10.
Platform 9 3/4
A Dollar store table cloth can easily be converted into the Brick Wall at Platform 9 ¾ by using sponges dipped into paint and placed accordingly.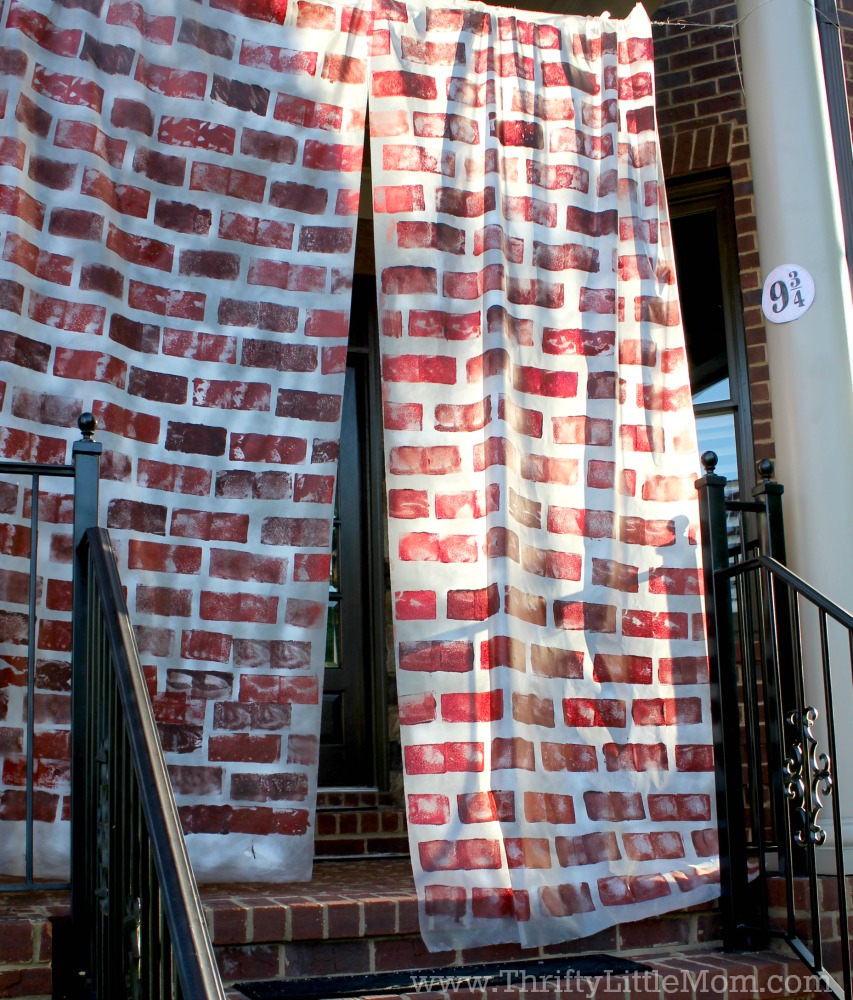 If you don't have time to make your own you can snag brick wall printed wall decor on Amazon!- 
Brick Wall Backdrop Party Accessory (1 count) (1/Pkg)
Moaning Myrtle & Chamber of Secrets
The same red acrylic paint used for the brick wall can be used on the chamber room mirror warning all 'enemies of the heir'. Another easy chamber room secret, is to add a Moaning Myrtle ghostly portrait to the inside of the toilet lid.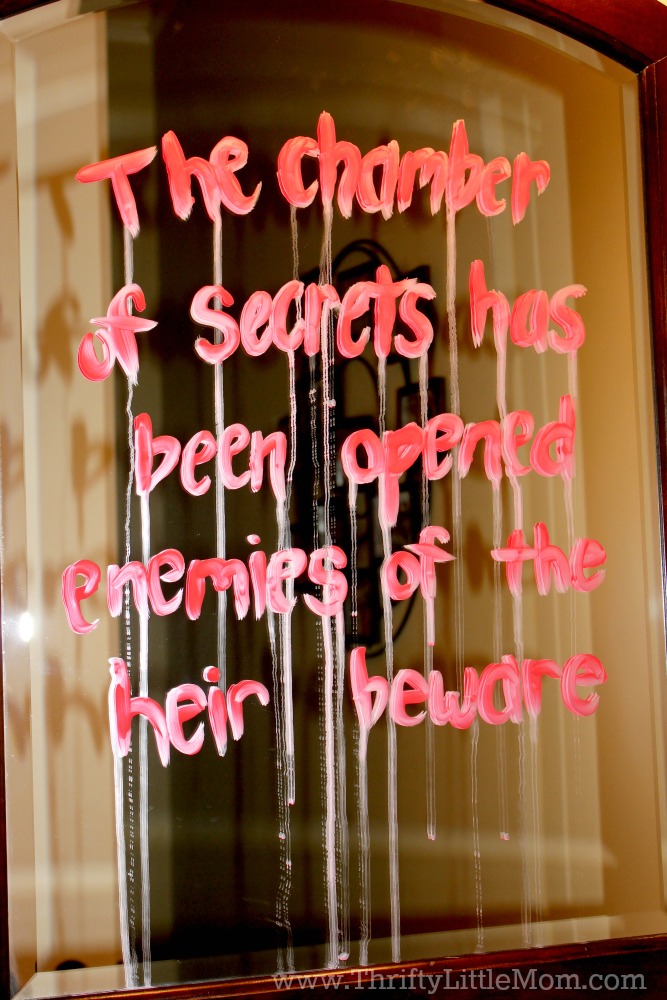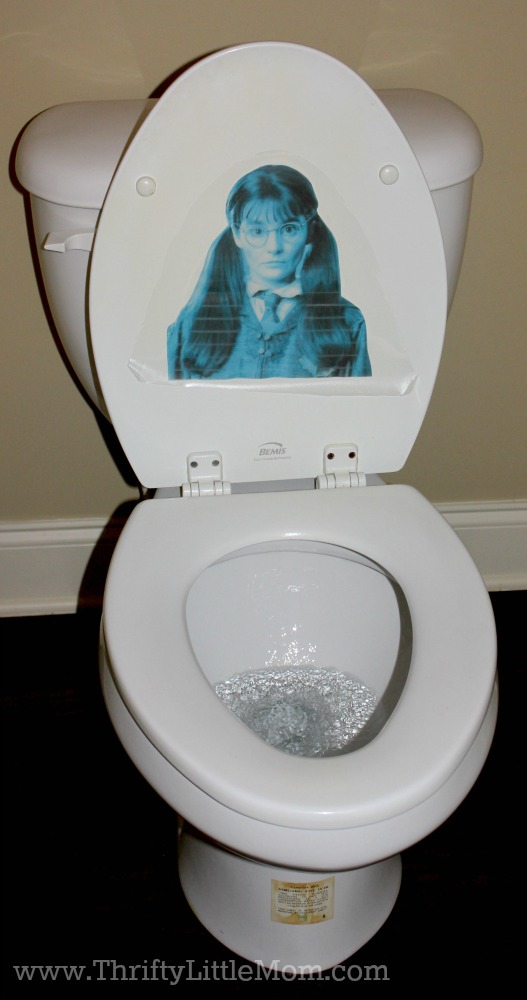 Bunting Additions-
While printing images don't forget the book covers and banner crests. They make great bunting additions.
Cool Party Decorations You Can Snag on Amazon:
I hope this post has inspired you to throw a party! Whether the occasion is a birthday, graduation, book club meeting or celebrating a movie premier have fun with themes like this one. But anyway, who says you need an occasion to make memories?
Fun Wall Hangings (These are all $20 or less)
Harry Potter – Undesirable No 1 Poster 24 x 36in
No Muggles Beyond This Point – NEW Humor Magic Wizard Poster
 HARRY POTTER WIZARDING WORLD MAP GIANT POSTER X3197
Party Snack Ideas
Lastly, if you've read any of my party posts before, you know I love the designers on Etsy. Etsy hosts a plethora of creative geniuses ready to personalize your party!
In this case Lynn Beaumont of Beauladigitals put adorable graduation caps onto little wizards for me and added my daughter's name to cupcake toppers. All I had to do was print, cut and glue onto picks.
I love these fun snack ideas!  These Chocolate frog molds are super cute!  Add melted chocolate and you've got some pretty darn cute finger desserts for guests!
Cybrtrayd A126 Frog Chocolate Candy Mold with Exclusive Cybrtrayd Copyrighted Chocolate Molding Instructions
Merckens Milk Chocolate 2 Pounds
Harry Potter Party Favors
Have you ever tried these Harry Potter Jelly Beans?  They have all the fun flavors from the movie and it will have your guests talking, tasting and inevitably laughing!
Bertie Bott's Every Flavour Beans Jelly Beans Harry Potter 4 pack
24 pc set – (12) Wizard Wands and (12) Wizard Glasses – Harry Potter party set
Invitations-
You can make some fun invites by snagging some beige cardstock and burning the edges (be careful and do this at your own risk!)
I love love love these wax seals!  Wouldn't it fun to get an invite with that on it?
 New Vintage Harry Potter Hogwarts School Badge Wax Seal Stamp Sticks Melting Spoons Candles Set
Harry Potter Themed Gift Ideas:
Want to delight your Potterhead for whom the party may be for?   Check out this list of 21 Useful Harry Potter Products You'll Want to Buy!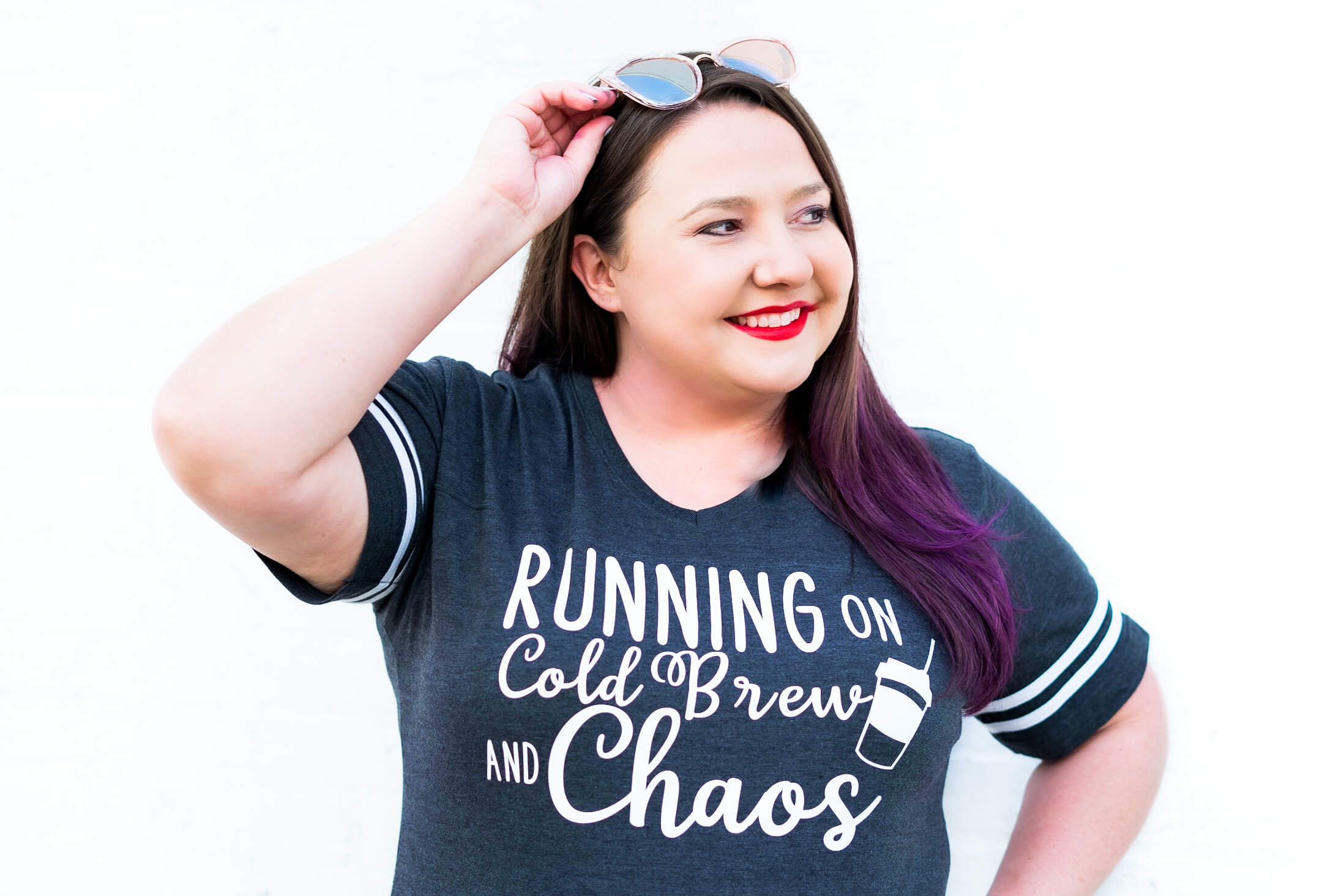 Kim Anderson is the organized chaos loving author behind the Thrifty Little Mom Blog.  She helps other people who thrive in organized chaos to stress less, remember more and feel in control of their time, money, and home. Kim is the author of: Live, Save, Spend, Repeat: The Life You Want with the Money You Have. She's been featured on Time.com, Money.com, Good Housekeeping, Women's Day, and more!
Summary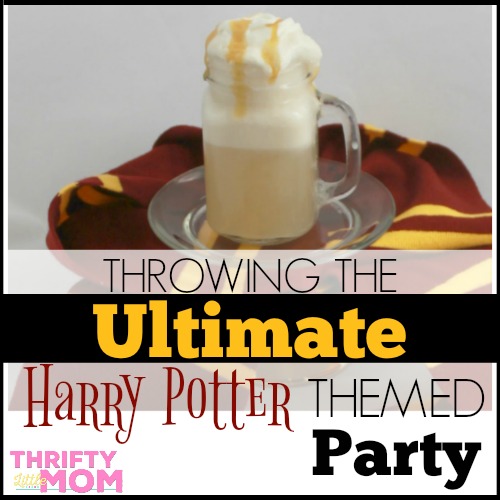 Article Name
Throwing the Ultimate Harry Potter Themed Party
Description
If you are looking for Harry Potter themed party ideas this post is full of suggestions, ideas and pictures to make your next party really magical.
Author