Planning a Harry Potter Baby Shower From Start to Finish
This post contains affiliate links. As an Amazon Associate, I earn from qualifying purchases. I also earn from qualifying purchases made with other brands and programs. See my
privacy policy.
Accio awesome baby shower! Anyone who has met me for 5 minutes probably can tell that I am a huge Harry Potter nerd. I love the books and the movies, my husband even took me to the theme park in Florida one year. There is something inherent in us to fall in love with magic. I want to bring all that magic into a Harry Potter themed baby shower for you!
Pick Your Baby Shower Color Scheme
When it comes to color schemes you can go with fun, bold & vibrant or a more dark and mystical theme. See the color schemes below to see what I mean.
Vibrant Baby Shower Color Scheme Example:
This color scheme includes the classic bold colors from each of the houses along with a little magical mix-in of purple.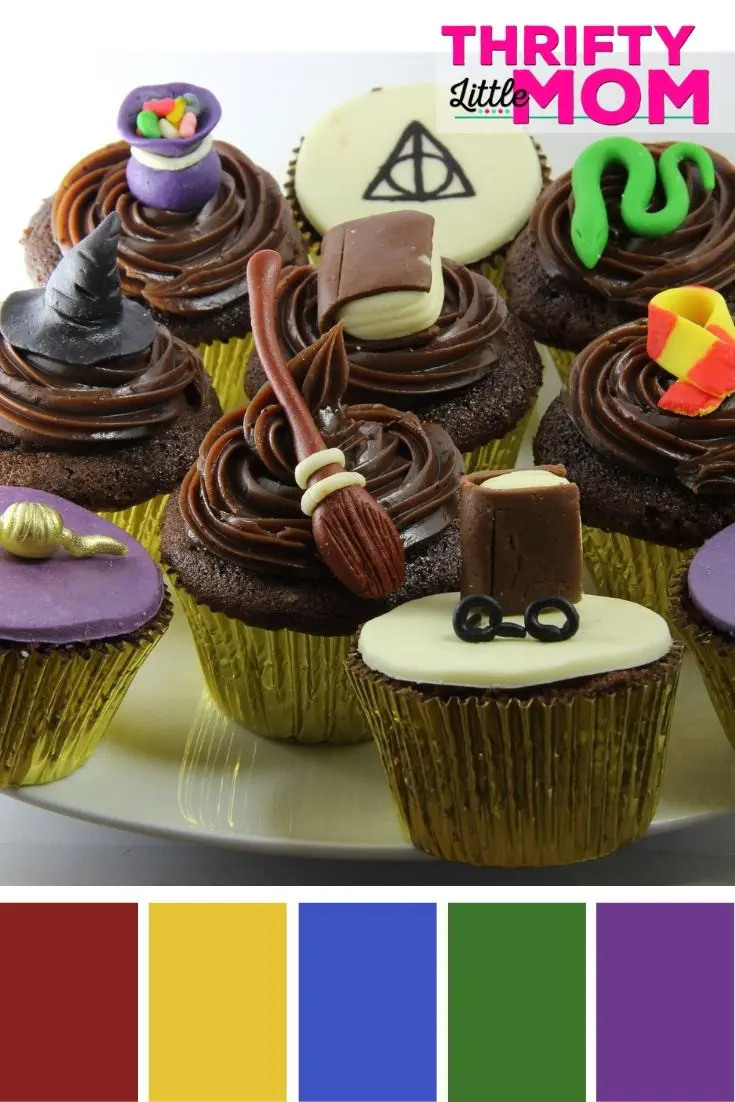 Elegant Baby Shower Color Scheme Example:
This color scheme is a little more elegant and focuses are warm, Gryffindor focused colors.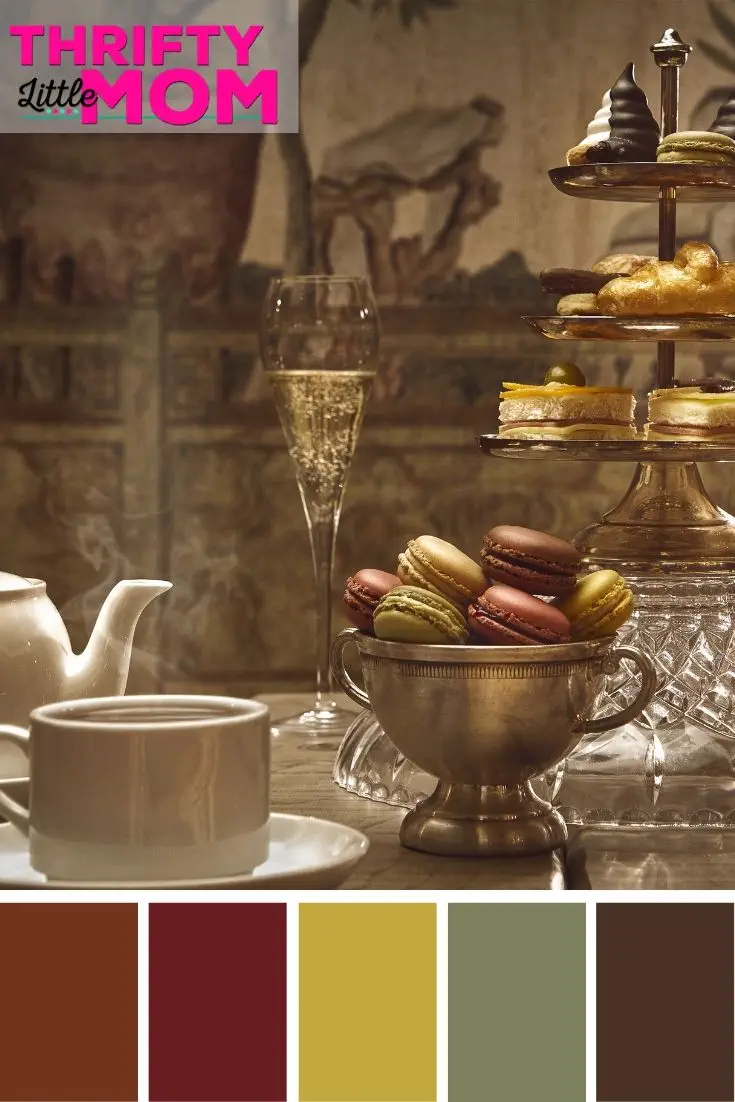 At the end of the post I've got tons of party shop inspiration to help you re-create some of the ideas highlighted as well as some new ones to consider!
Harry Potter Baby Shower Invitation Ideas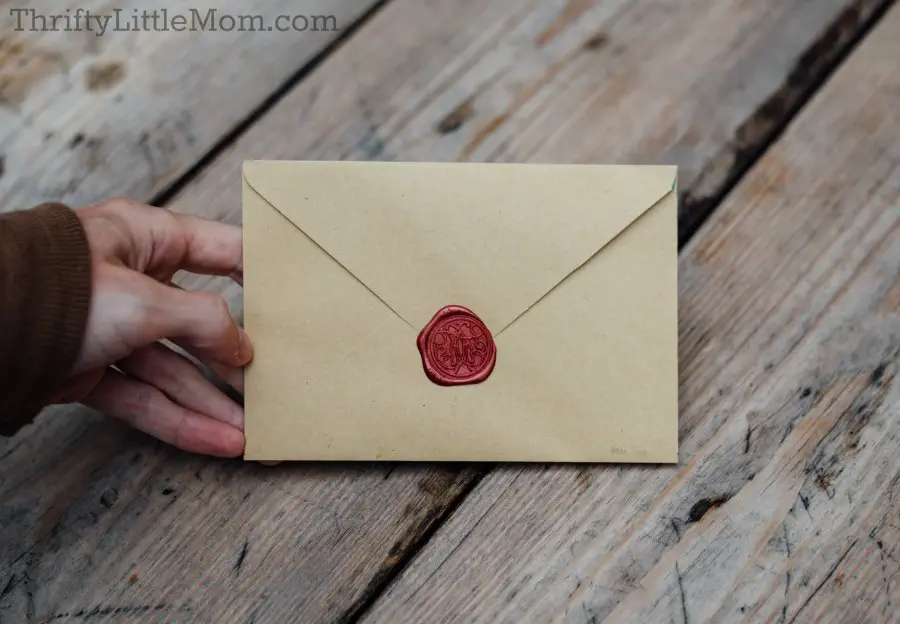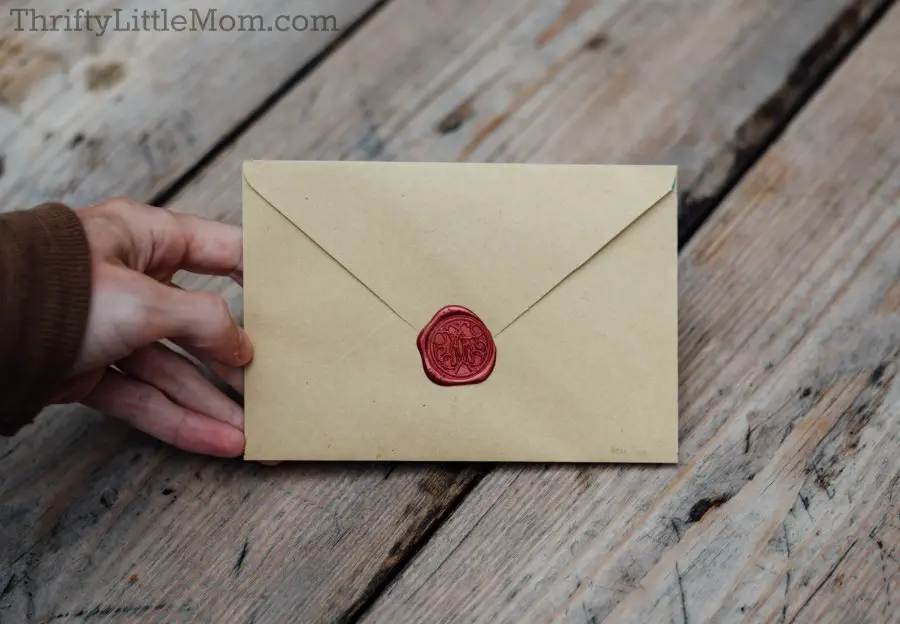 While you won't be able to send these by owl (if you know how, please tell me!), you can make sure that these fantastic invitations show up with style. There are so many artist that are crafting beautiful invitations that reflect the magic of the wizarding world that it is hard to not fly around the house with excitement.
Owls for days- beautiful styled owl cards that are customizable
Hogwarts Express ticket styling
Full baby shower invitation bundle- providing all the paper pieces you could dream up

Invitation
Diaper raffle card
Book request card
Sock request card
Thank you card

Marauder's Map style
Hogwart's Houses- so if you're not a classic Gryffindor, you can still have a great looking invitation
Harry Potter Baby Shower Decorations
My friend Rhonda threw an amazing Harry Potter themed party. She did a lot of DIY decorations that turned out spectacular.
Note: I will post some shopping options at the bottom of similar items you can scoop up.
Harry Potter Entry Way Decorations
Station 9 3/4 Front Door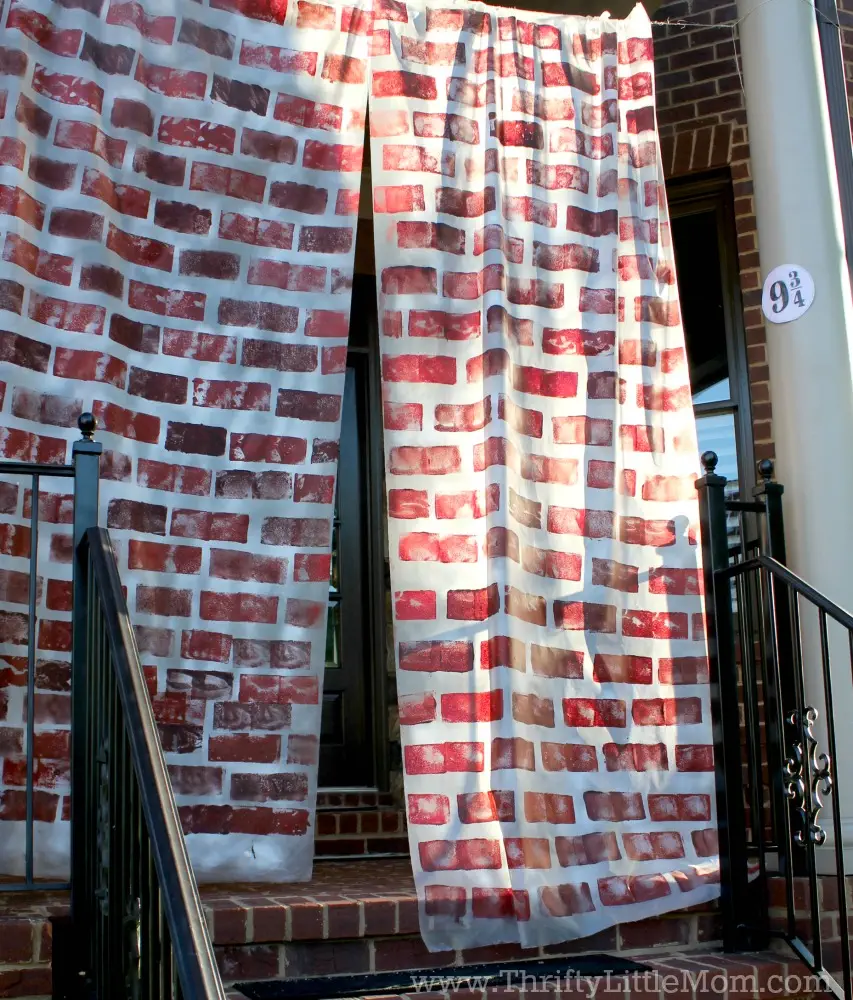 She was able to create this fun entry to the house with basic table cloths and time. If you want to make your own King's Cross Station entrance, pick up a Harry Potter themed Station 9 3/4 shower curtain that will do the trick nicely!
Flying Key Entry Way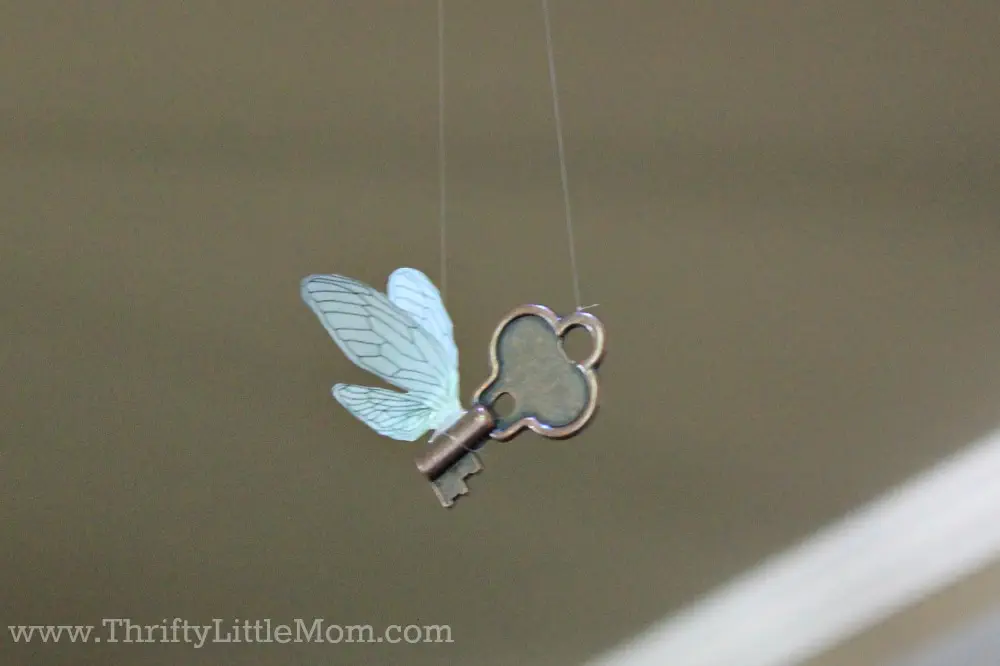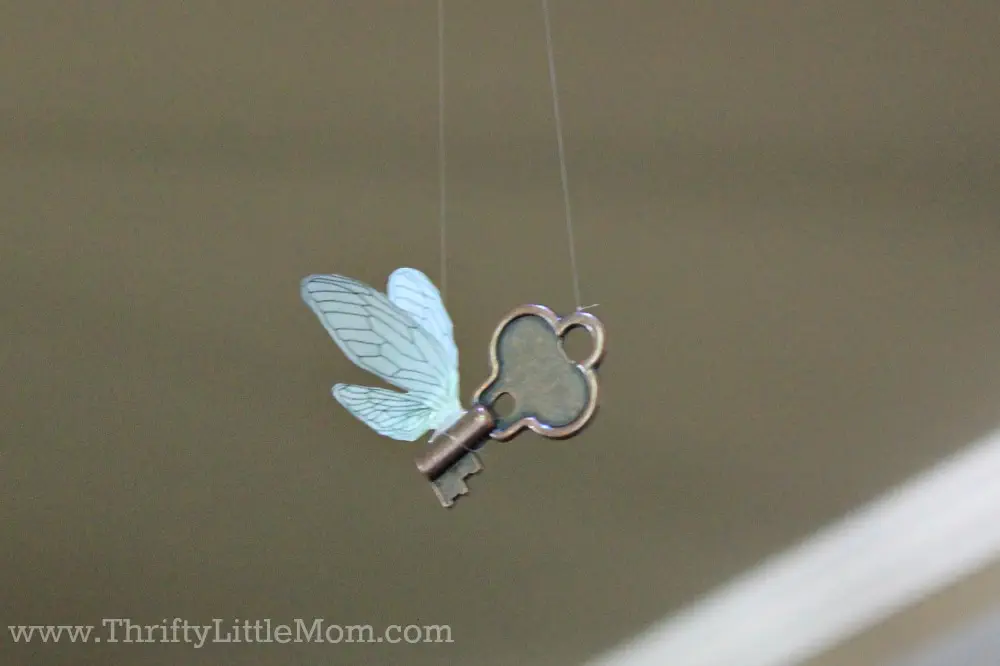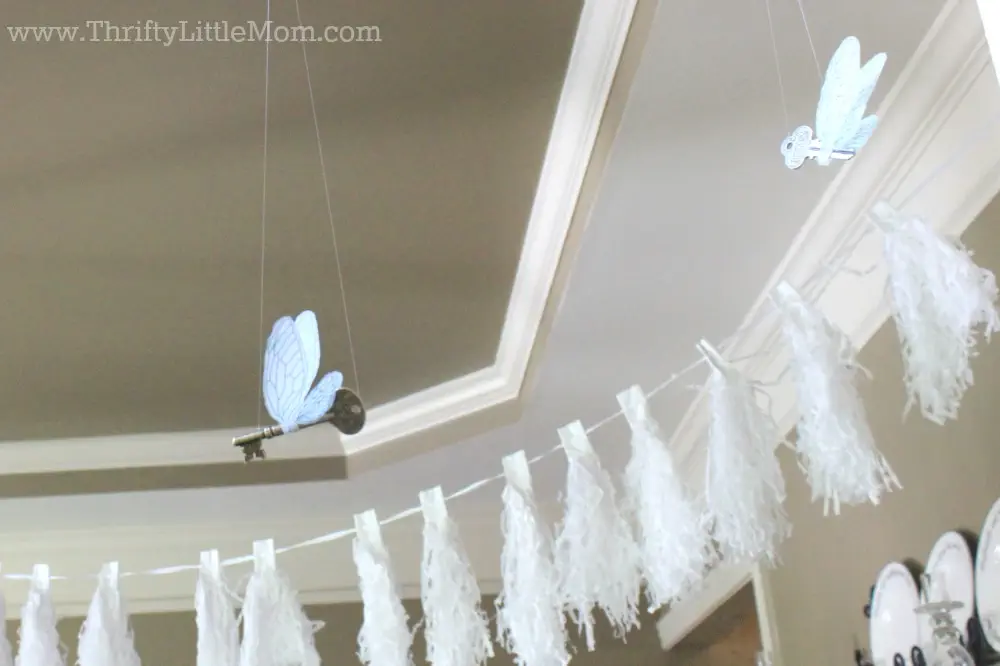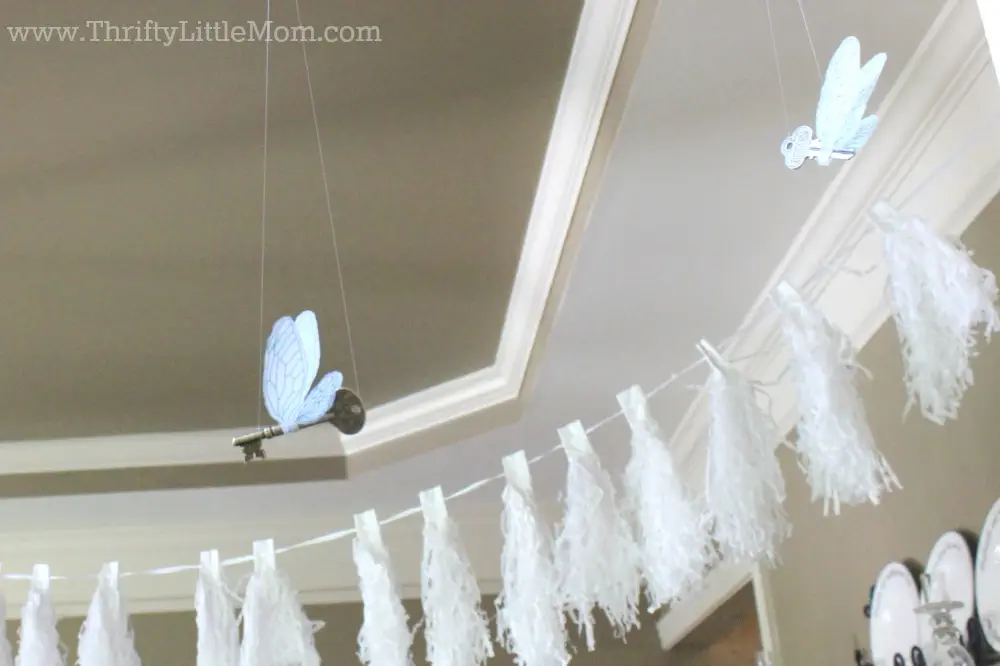 The flying key entry way will make a spectacular impact for a foyer or front door area. These keys are super easy to craft. The basic items needed for this:
Antique styled keys (these can be picked up at a craft store as well)
Vellum paper or lighter weight paper
Hot glue gun
Fishing line or invisible thread
Incorporating whimsical bunting will add to the magical feeling of this entry way. Usher guests into the exciting world of your Harry Potter baby shower.
Harry Potter Baby Shower Floating Decoration Ideas
In the wizarding world, everything is suspended by magical spells. While I have yet to learn these incantations, I have learned some ingenuity. The lovely view of items floating about the party will surely enchant your guests.
Floating Candles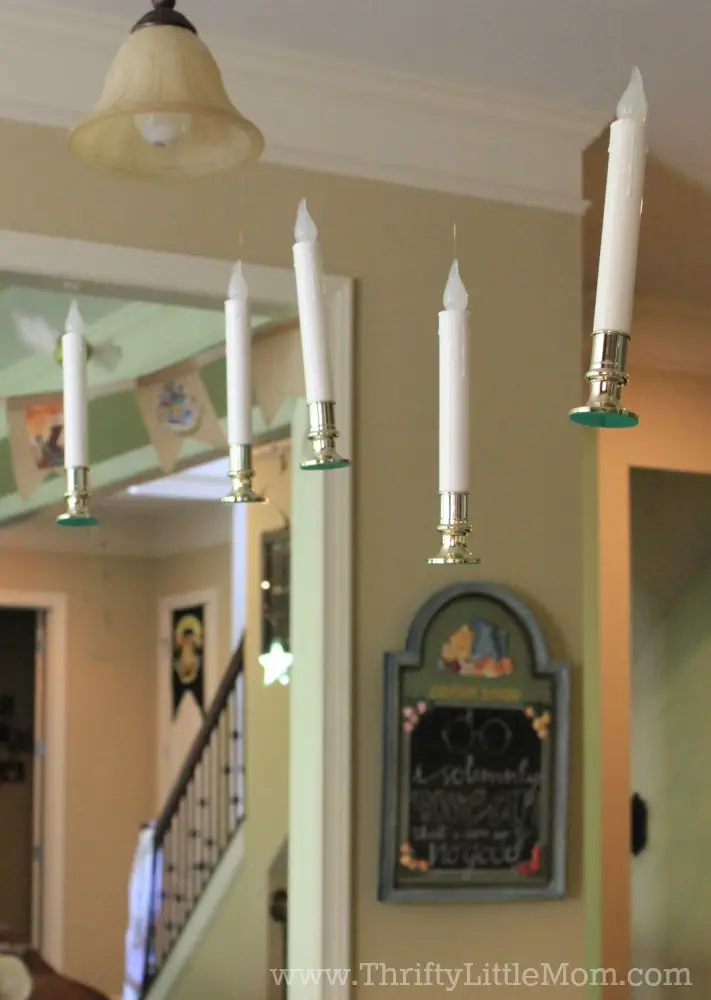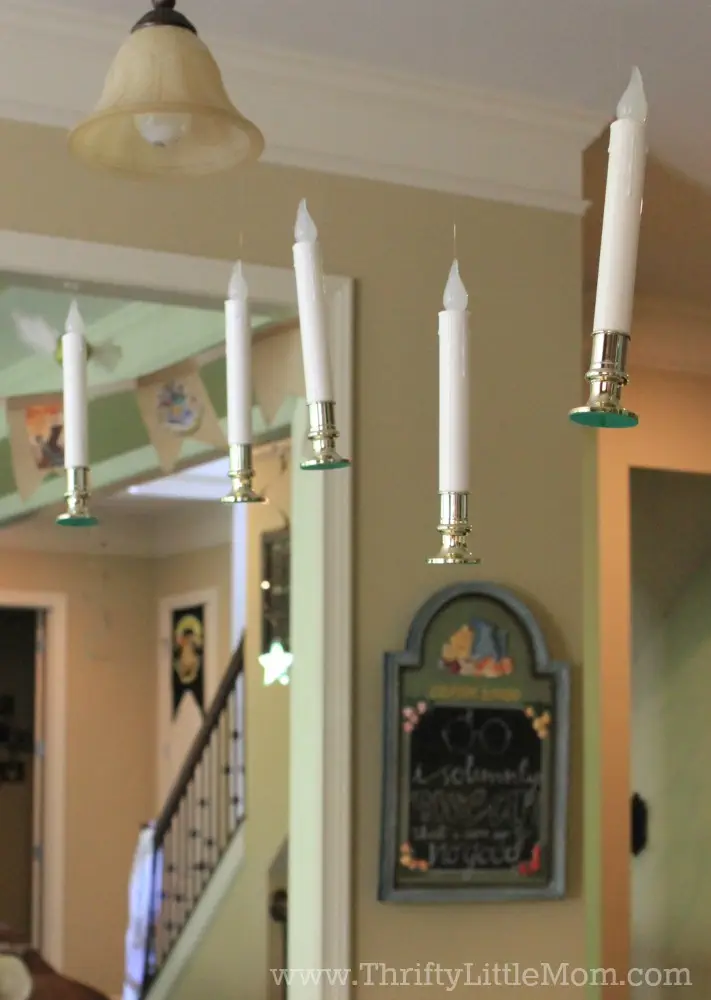 Suspended candles are an easy decoration that adds so much to the Harry Potter themed baby shower. I would suggest floating these over a table as your taller guests may find the hazardous if they are in a walking path.
Golden Snitch Floating Decoration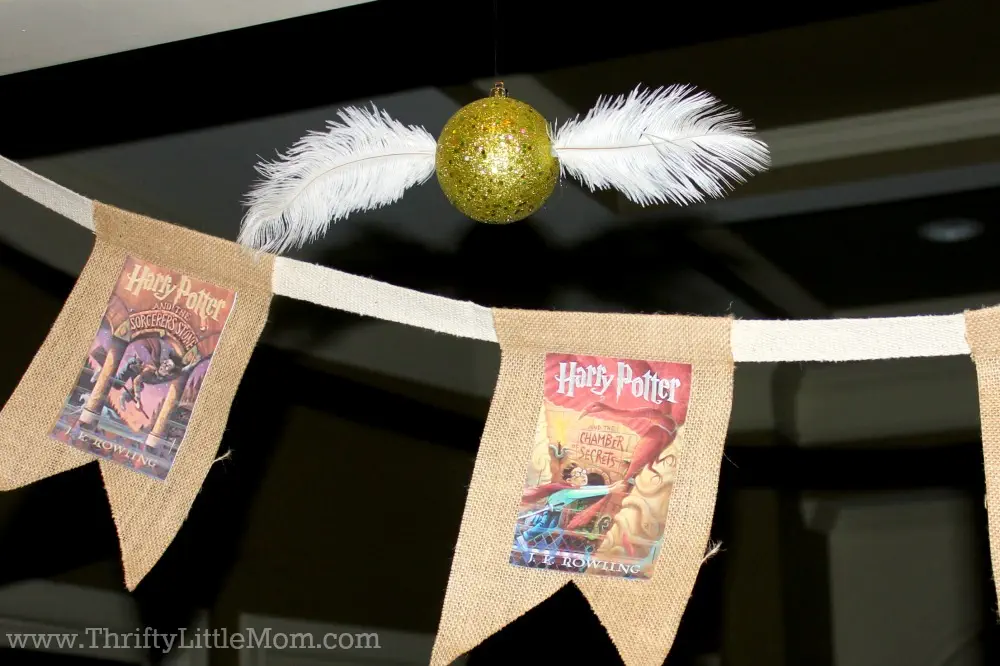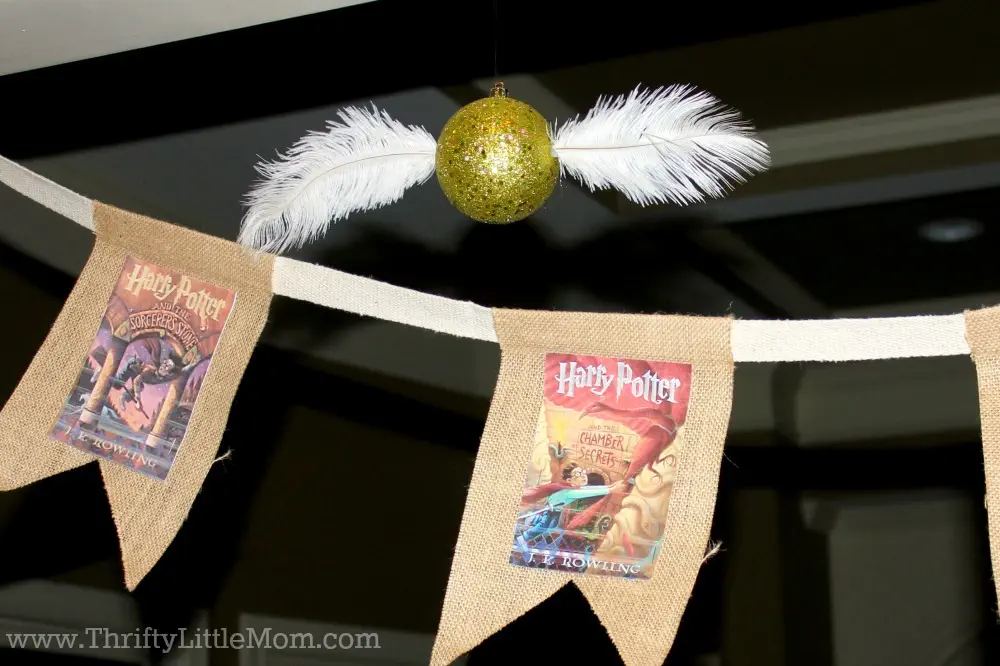 These decorations took little to no time to whip up. They are exciting and fun to sprinkle around the room. When you use Christmas ornaments as the base of the ball, they already have the loop to attach to!
---
Want to learn how to make your own bunting for the party? Check out my in-depth tutorial + Video on making your own bunting including templates.
---
Owls and Hogwart's Mail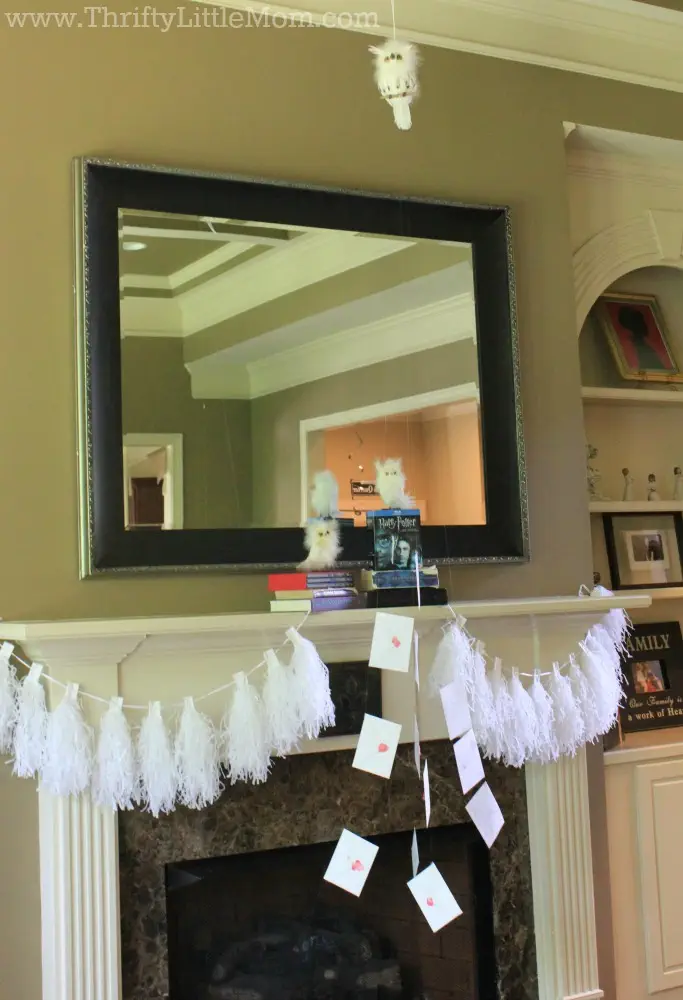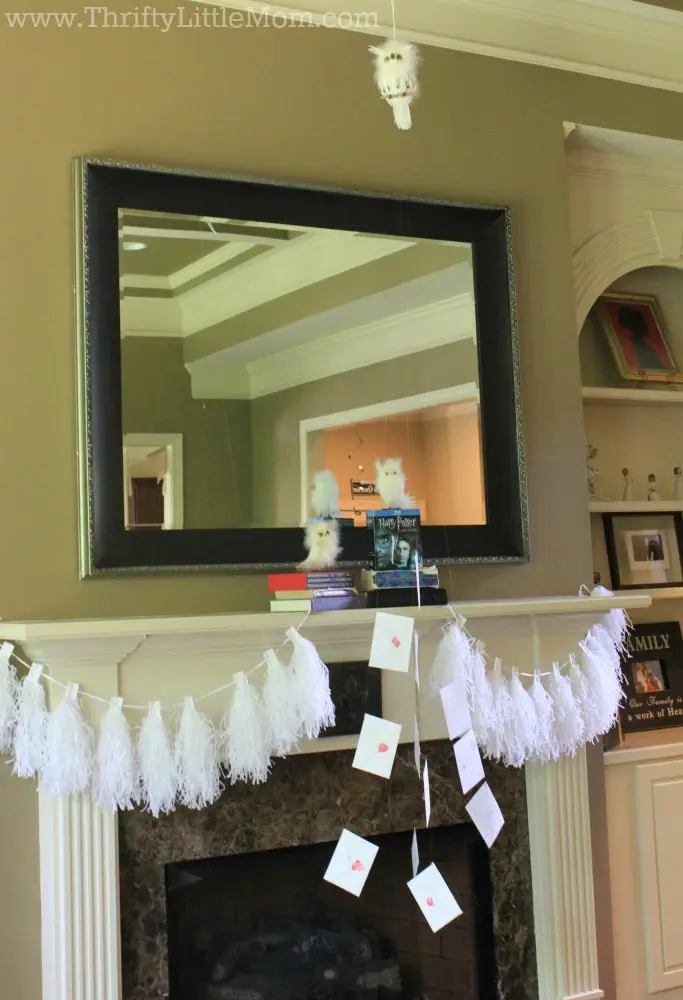 Especially if you have a fireplace, this is a great way to expand on the floating "enchanted items" idea.
Stamped and addressed envelopes
The owls can be grouped together to create a focal point
Feathery bunting is helpful in "filling in" the space
Balloons, Balloons, Balloons
Balloons can add height to corners and vaulted areas that need spicing up
Increase color theme choice throughout the event
Are an easy and inexpensive decoration
I love the Harry Potter themed balloon collection they have on Amazon
Glitter balloons, Solids, and Wizard motifs are all included
Plates and Utensils
Remember that the easiest way to add color to the party in by picking up your plates, napkins and all the utensil needs from Dollar Tree. If you need help, here are 9 party supply places you may have forgotten about.
Harry Potter Baby Shower Food and Drink Ideas
Getting inspiration for your table decorations and menu is easy. I personally love how prolific this theme has become making it a click away to get all you need.
Fun DIY Cupcake Ideas
If you aren't in the mood to make your own cupcakes, you can complete this theme by picking up your favorite flavors of cupcakes and themed cupcake toppers. Check out the cute options that are available.
Golden Snitch Cake Pops (must watch video HILARIOUS!)
Here is the the full (actual recipe) for making Golden Snitch Cake Pops
Hedwig the Owl Shaped Vegetable Platter
Harry's constant companion was Hedwig the owl. Always there for him through many of his trials, bring the owl theme in with an easy owl shaped veggie platter table decoration. For the eyes you can use dressings like ranch or bleu cheese.
Another option for the eyes- I also have a delicious and creamy great northern white bean hummus recipe that your guest will love!
Deviled Dragons Eggs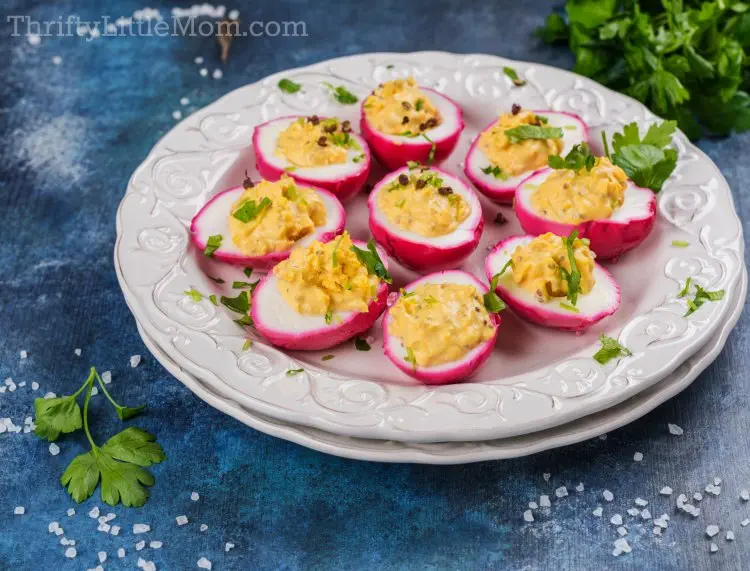 These deviled eggs always make a statement. The beautiful colors are enchanting and the flavor is delicious. Even if you are not queen of the kitchen, the recipe is pretty straight forward.
Ingredients needed:
1 cup apple cider vinegar, plus 1 tablespoon for filling
1 red beet, peeled and halved
1 tbsp granulated sugar
2 1/4 tsp kosher salt
A dozen (or more depending on number of guests) hard-boiled eggs, peeled
1 tsp anchovy paste
1/2 cup mayonnaise or similar
Chopped parsley for garnish
1/4 teaspoon freshly ground black pepper
Deviled Dragon Eggs Directions :
In a pot add

1 cup apple cider vinegar
1 tablespoon sugar
2 teaspoons salt
3 cups water

Add in the beet and bring to a boil
Remove pot from heat and cool
Pour mixture (with beet) into a large heat-safe bowl
Add eggs, making sure they are fully submerged and refrigerate for 3 hours
Stir the marinating eggs occasionally
You can leave overnight for a deeper shade of pink.
Remove eggs from liquid
Halve eggs carefully transfer the yolks to a bowl
Leave egg whites aside to fill
Add in mixing bowl

1 tablespoon vinegar
mayonnaise
anchovy paste
yolks

Season with 1/4 teaspoon each salt and pepper
spoon or pipe the filling into the egg whites
Sprinkle with additional herbs, if desired
Now you have a real show stopper of an appetizer for this party.
Mrs. Weasley's Corned Beef Sandwiches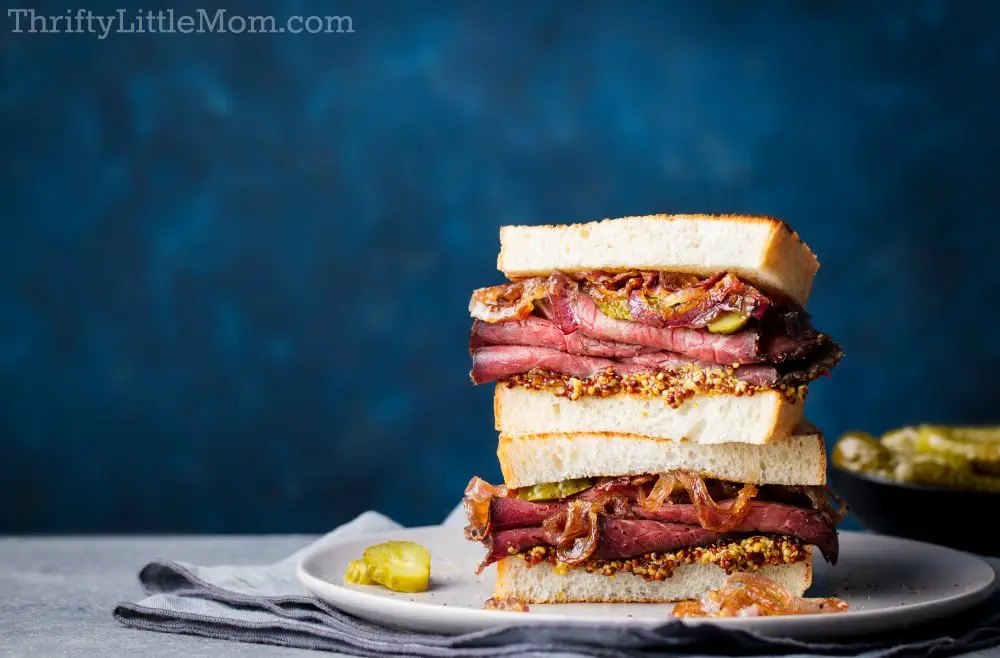 This delicious recipe would make a great finger sandwich idea. You can always do other meats like turkey or chicken. You could even use the Tofurkey Peppered Sandwich meats if you're vegan. But either way, Mrs. Weasley's Corned Beef Sandwiches would be a tasty addition to decorate your snack table menu.
Other Harry Potter Food Ideas
Luckily for us, this theme is huge! If you decide to go all out with your food table, here is a list of 39 Magical Harry Potter Inspired Recipes that may spark your imagination!
Several of the candies from the books are also available already crafted.
Chocolate Frogs
Bertie Bott's Every Flavor Bean (and they do mean it)
Exploding BonBons
Jelly Slugs
Butter Beer Drink Recipe
Minimal Ingredients:
Chilled 2L Cream Soda
Vanilla Ice Cream
Whipped Cream Topping
Butterscotch Syrup
Awesome glasses
Directions for my Easy Harry Potter Butter Beer Recipe
Harry Potter Baby Shower Game Ideas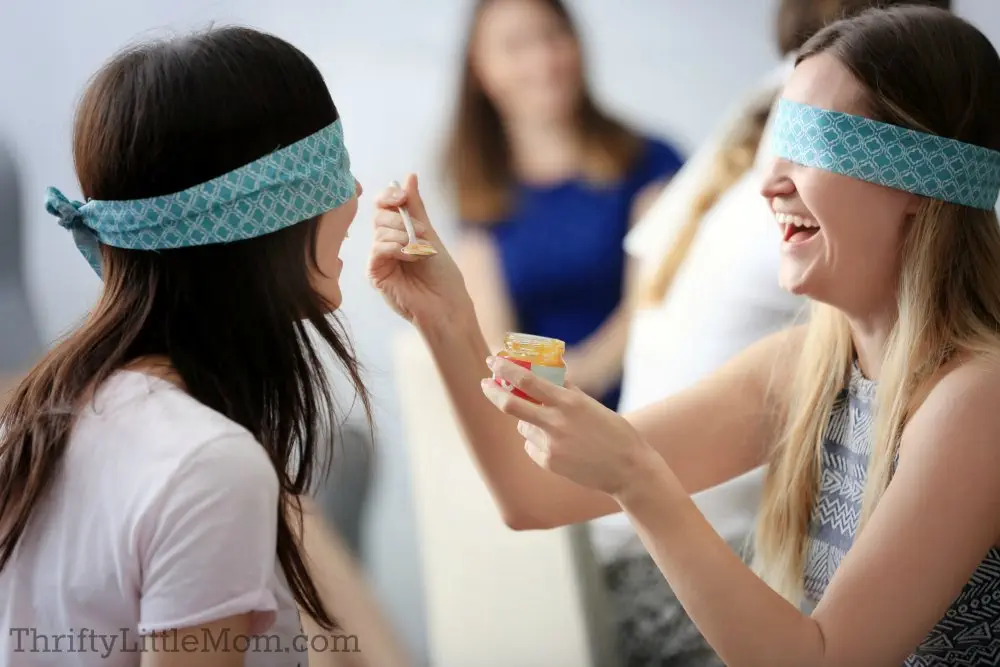 I'm personally a fan of easy to play games to keep everyone laughing and conversing. There are a couple games that stand out to me for this baby shower theme.
Guess the Baby Food "Every Flavor Food"

Like Bertie Bott's beans, pick out several flavors of baby food
Remove label and number each one
Blindfold guest
Guests will each try a different flavor and guess what it is
Pin the Scar on Harry

The FREE Scar Pinning Game Printable is available for download!

This game is played like "pin the tail on the donkey"
There is a giant Harry Potter head poster
Each guest receives a scar sticker
Bind folded, the guests give their best try at placing the scar in the correct location
Closest to the actual forehead position WINS!

Harry Potter "This or That"

Templates for Harry Potter "this or that"

The mom-to-be picks her choices from the listed items
Guest circle the answer they think she will choose

I.e. Hedwig or Crookshanks, Flying Car or Broomstick, etc.

Person with most correct WINS!

"Baby"- The word which must not be named

Everyone received a clothes pin (or themed button) upon arrival
Anytime someone says the word "baby" another can steal their pin
Once the gifts are done being opened, tally the pins
Harry Potter Baby Shower Favors
Make sure you send you guests home with something to remember the event. There are several cute options that will be adorable, thematic, and hopefully useful. See where you can buy these at the bottom of the article.
Broomstick style writing pin
Antique Key Bottle openers
Harry Potter Cork Jar "Potion" Bottles (I would fill these with black lava salt)
Bertie Bott's Every Flavored Beans
Chocolate Frogs
Harry Potter fridge magnets
Harry Potter Baby Shower Gift Ideas
There are so many artist creating Harry Potter themed gifts on Etsy. I love the creations they've been able to come up with. Anything baby could need, there is a Harry Potter version.
I know that I love receiving a Harry Potter themed gift. It's always a treat. If you know the magical folks in your life would love their little witch or wizard to be dressed to the nines, check out these amazing onesies.
Warner Bros Harry Potter Baby Boys' 5-Pack Bodysuits Hogwarts Gryffindor (6-9 Months)
Crazybee 3Pcs/Set Baby Boy Girl Infant Snuggle This Rompers (White01, 6M)
Get the Look- Harry Potter Baby Shower Decoration Links

SZDR Platform 9 And 3/4 Of King's Cross Station – Secret Passage To The Magic School Decorative Shower Curtain,Bathroom Accessories, 69X70 Inches, Perfect Anti-Mildew Polyester Fabric Shower Curtain.

Mmei 40 pcs Large Antique Bronze Steampunk Vintage Skeleton Keys for DIY Wedding Party Gifts Jewelry Necklace Pendants Decoration (4 Different Style x 10)

AMAGIC 6.5 Inch Flameless LED Taper Candles Lights, Battery Operated Harry Potter Floating Candles, Electric Tapered Candles for Christmas, Party, Wedding Decorations, Set of 12

Christmas by Krebs KBX20497 Shatterproof Christmas Ball Ornament, 6-Inch, Gold Glitter

Coceca 350 Pcs 8-12cm White Feathers for Various Birthday Party Wedding Festival Party Decorations

60-Pack Greeting Cards and Envelopes – Aged Style Envelopes and Half-Fold Note Cards – 6 Vintage Antique Designs, Glossy Finish, 4 x 6 Inches

New DLD Vintage Harry Potter Hogwarts School Badge Wax Seal Stamp Sticks Melting Spoons Candles Set (Original Version)

40 PCS Harry Potter Pattern Balloons, 12″ Latex Balloons Harry Potter Color Confetti Balloons Kit for Baby Birthday Party Baby Shower Harry Potter Theme Party Supplies

Harry Potter Inspired Cupcake Toppers (Set of 24) Harry Potter Wizard Birthday Party Decorations Supplies Hogwarts party decor

Harry Potter Milk Chocolate Frog with Collectible Wizard Trading Card 4 Packs

Jelly Belly Harry Potter Bertie Bott's, 1.2-Ounce (Pack of 8)

Universal Studios Wizarding World of Harry Potter Park Honeydukes Emporium Exploding Bon Bons Orange & Pinapple Flavoured 3.25 Oz Candy

Jelly Belly Harry Potter Jelly Slugs Gummi Candy Slugs – 12ct Box
Butterbeer Ingredients
Dr. Brown Cream Soda 72.0 FO(Pack of 1)
Gerber Purees 2nd Foods Veggie and Fruit Variety Pack, 16 Count

Magnolian 100 Pieces Mini Colored Natural Wooden Clothespins Photo Paper Peg Pin Craft Clips,Home Decoration Photo Clips with 33 Feet Jute Twine
Party Favors
Witches Broom Pens – 24 ct

50pcs Wedding Favors Skeleton Key Bottle Opener with Escort Tag Card

LABELS ONLY Halloween Small Apothecary Potion Bottles Harry Potter Party Prop

LEFV™ 2ml Small Bottles Transparent Mini Glass Jars with Cork Stoppers Top – Message Weddings Wish Jewelry Pendant Charms Kit Party Favors – Pack of 24

Black Lava Hawaiian Sea Salt 2 lb. Bag – Fine Grain by San Francisco Salt Company

Refrigerator Magnets – Harry Potter Theme Hogwarts House Crests / Spells
Hope you found this Harry Potter baby shower post helpful in planning your party! Good luck and be sure to tag @thriftylilmom on Instagram if you post pictures from your party so I can check it out!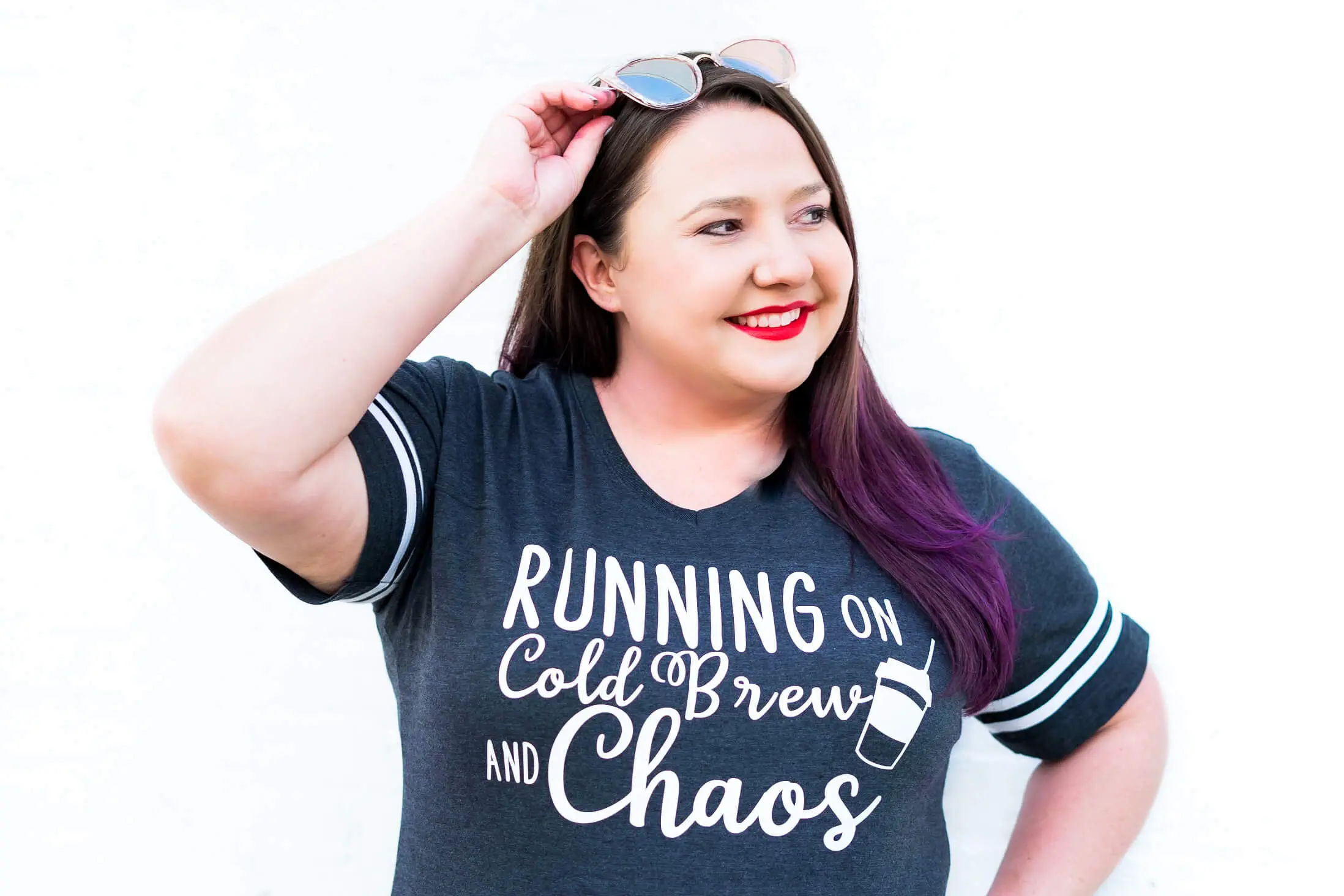 Kim Anderson is the organized chaos loving author behind the Thrifty Little Mom Blog.  She helps other people who thrive in organized chaos to stress less, remember more and feel in control of their time, money, and home. Kim is the author of: Live, Save, Spend, Repeat: The Life You Want with the Money You Have. She's been featured on Time.com, Money.com, Good Housekeeping, Women's Day, and more!
Summary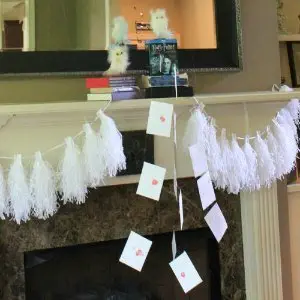 Article Name
Harry Potter Baby Shower Guide from Start to Finish
Description
If you are ready to welcome a new wizard or witch into your world, let me show you how to throw a fantastic Harry Potter themed baby shower.
Author