Wholesome Halloween Party Snacks
This post contains affiliate links. As an Amazon Associate, I earn from qualifying purchases. I also earn from qualifying purchases made with other brands and programs. See my
privacy policy.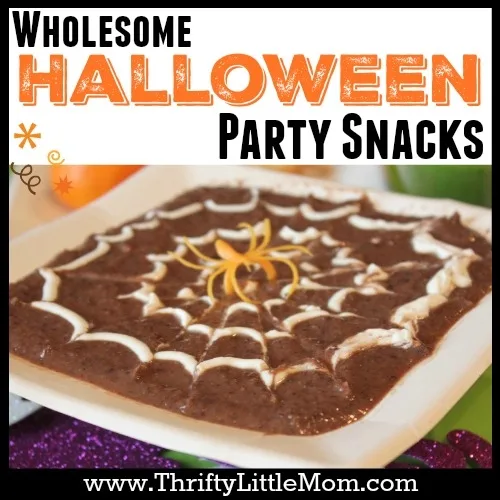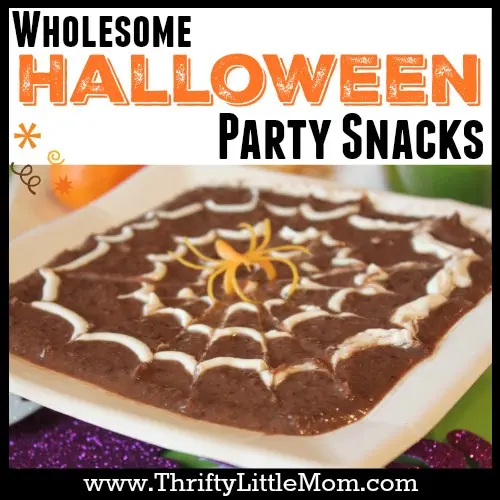 Kim and I were brainstorming some out of the box Halloween party ideas.  Since we have preschoolers, we were on a quest to find a way to have fun that doesn't center around sugary treats.  The mission if I dared to accept was to provide wholesome snacks for a Halloween party! 'Mission impossible' you say? Not so, I say!  Here are 4 wholesome Halloween party snacks with a spooky twist that won't have your kids hopped up for hours after the party ends.
Black Bean Spider Web Dip:
To make the black bean dip, just blend a can of rinsed black beans with 1/4 cup water, juice of 1 lime or 1 tsp lime concentrate, 1 tsp Seasoning salt & ½ tsp each garlic powder & cumin. For the web, put about a tablespoon of sour cream into a Ziploc bag, cut the very edge of the corner and pipe circles of sour cream on the dip then with a butter knife starting in the center drag the knife to the outside edge of the dip. Do this all the way around the dip and this will create a spider web pattern.  Pair with chips & veggies for dipping.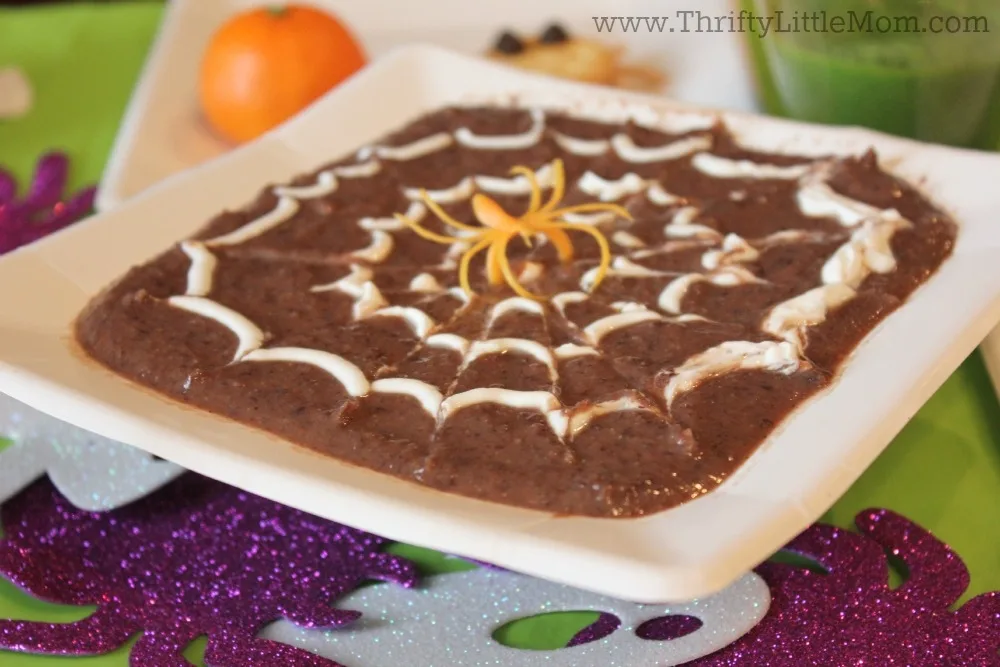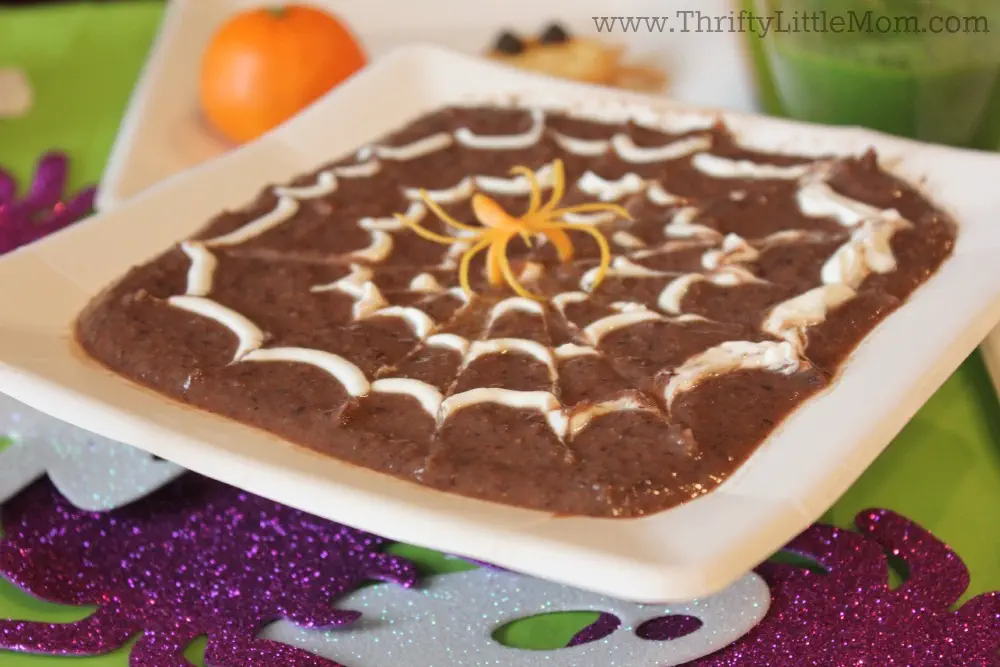 Cantaloupe Pumpkins:
To create this lil pumpkin, just use a melon baller to scoop round shapes out of the cantaloupe and insert a green cellophane topped toothpick (trimmed to fit snuggly) into the top for the stem.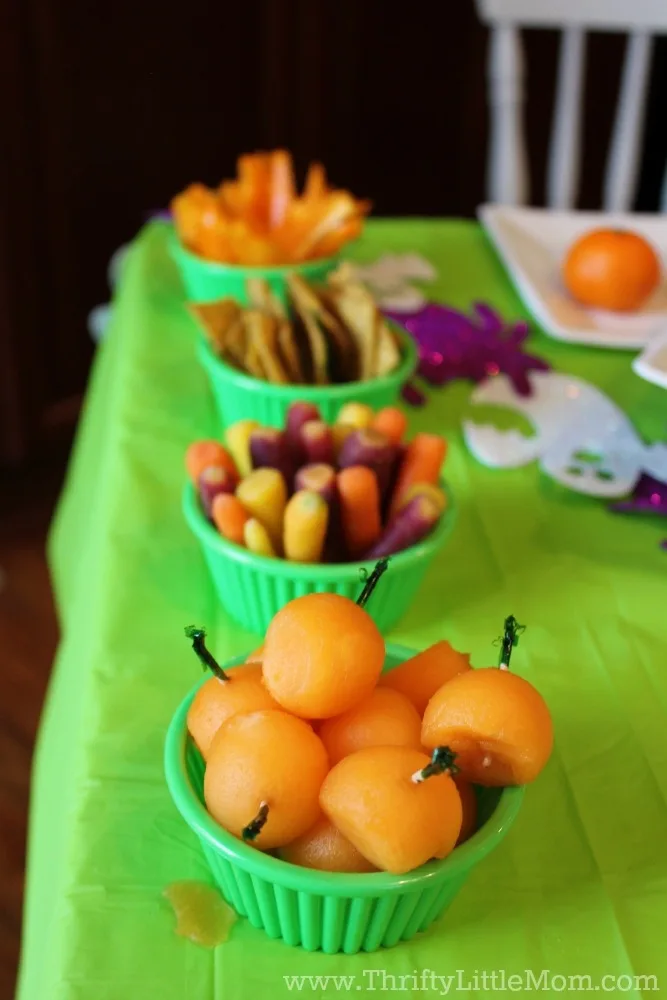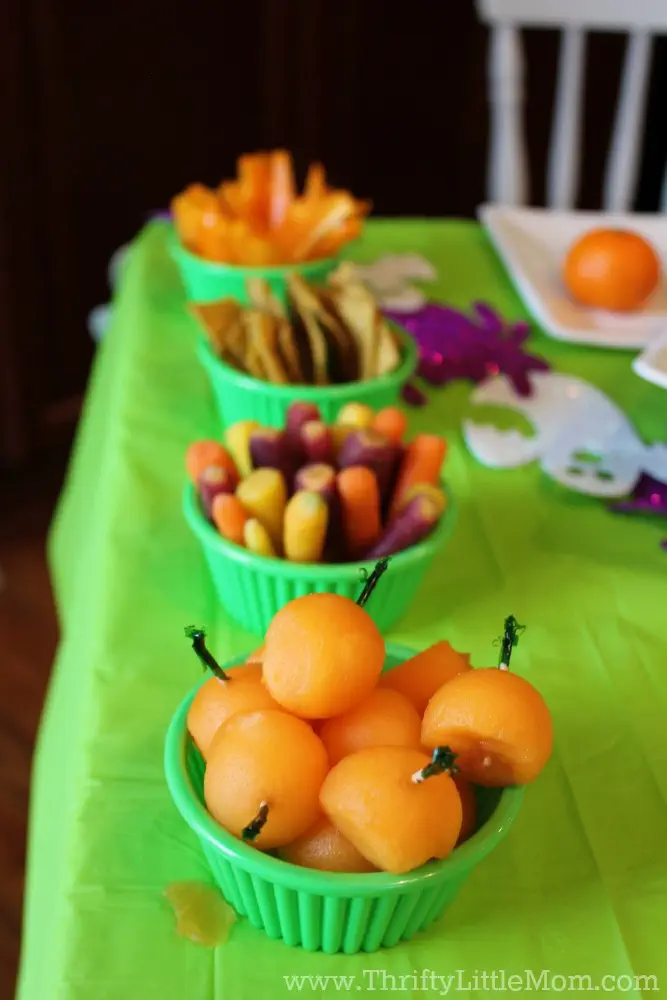 Spider Crackers:
Use desired spread (nut butters or sunflower seed butter) on one side of a round cracker, attach 'legs' (chow mein noodles) top with another round cracker and add 'eyes' (raisins or chocolate chip morsels) piped with spread to hold it in place.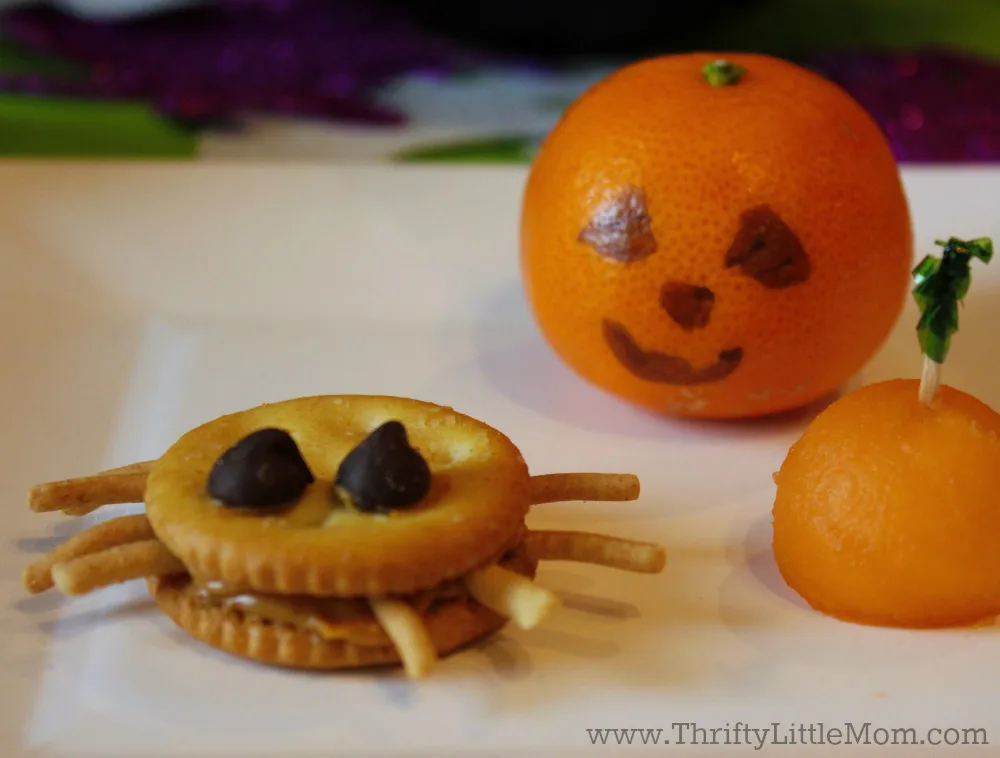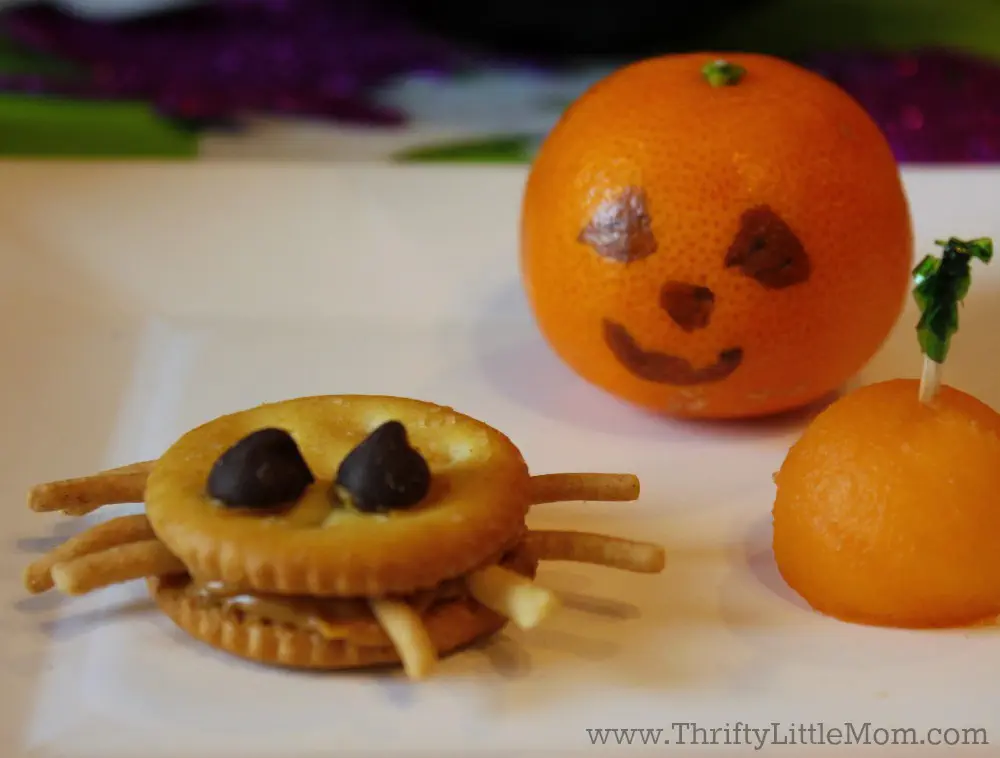 Spooky Spinach Smoothie:
Add 2 cups of washed baby spinach into a blender, puree with a can of crushed pineapple and 1 banana. Dilute with water if needed to thin the smoothie enough to drink through a straw.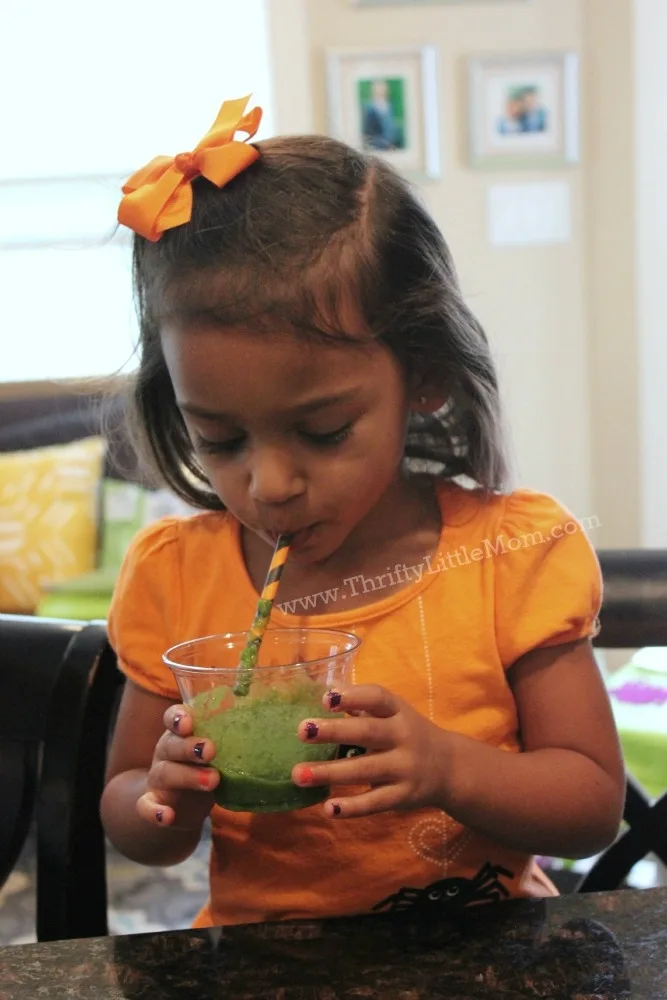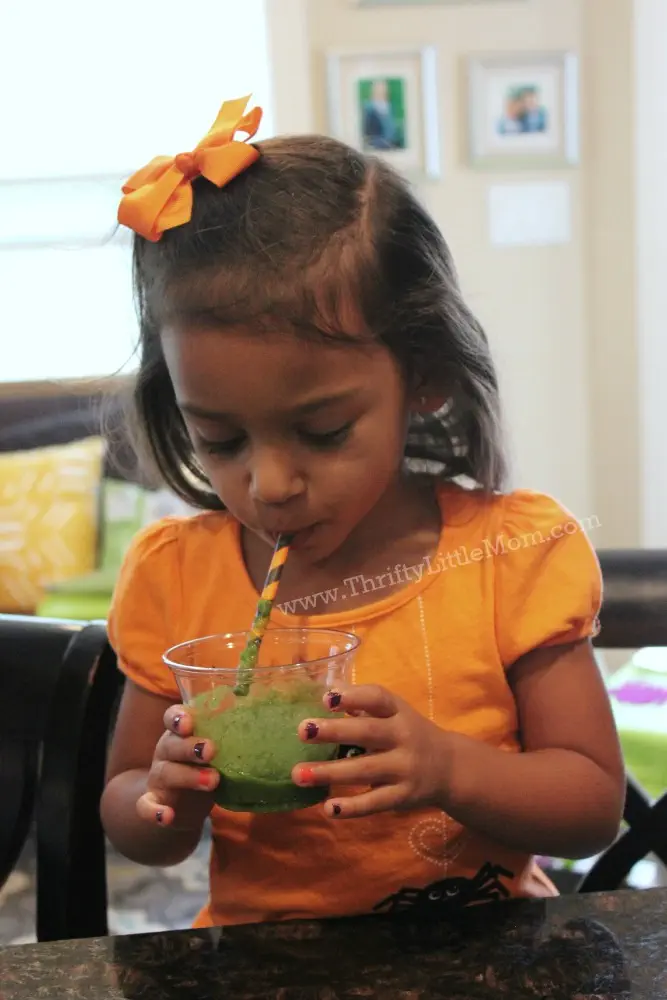 If you think we've accomplished the Mission, we would love for you to comment and also share your wholesome snack ideas.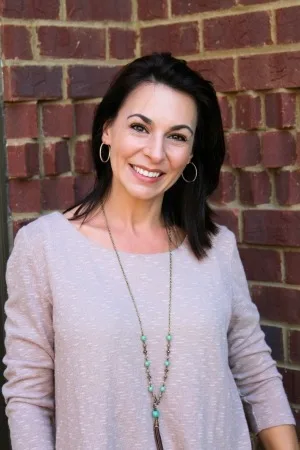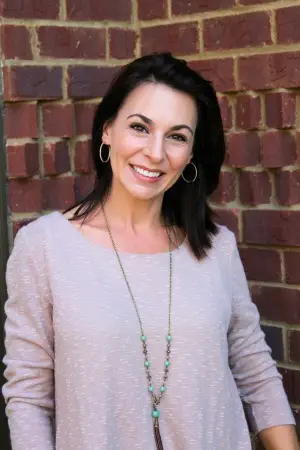 Thanks to Rhonda John for contributing this fun Halloween party post!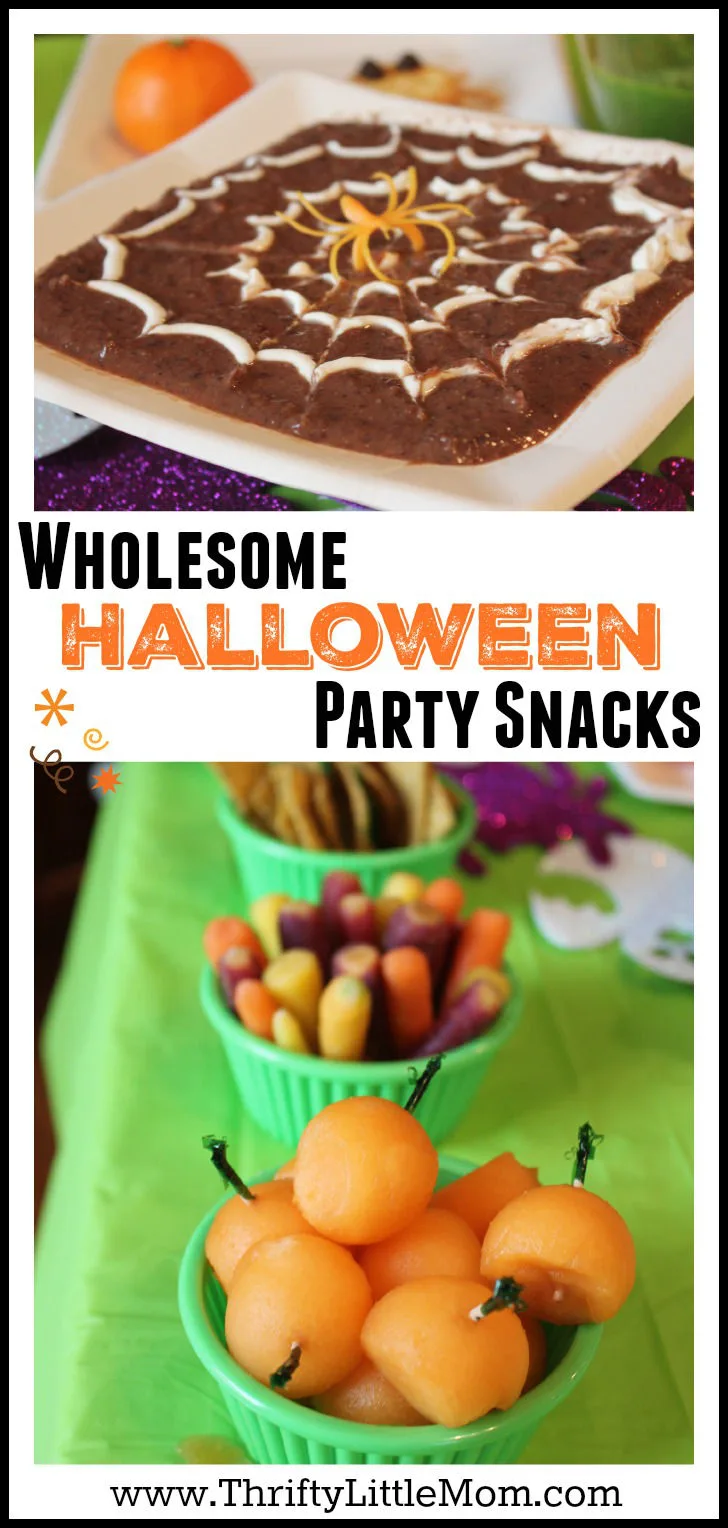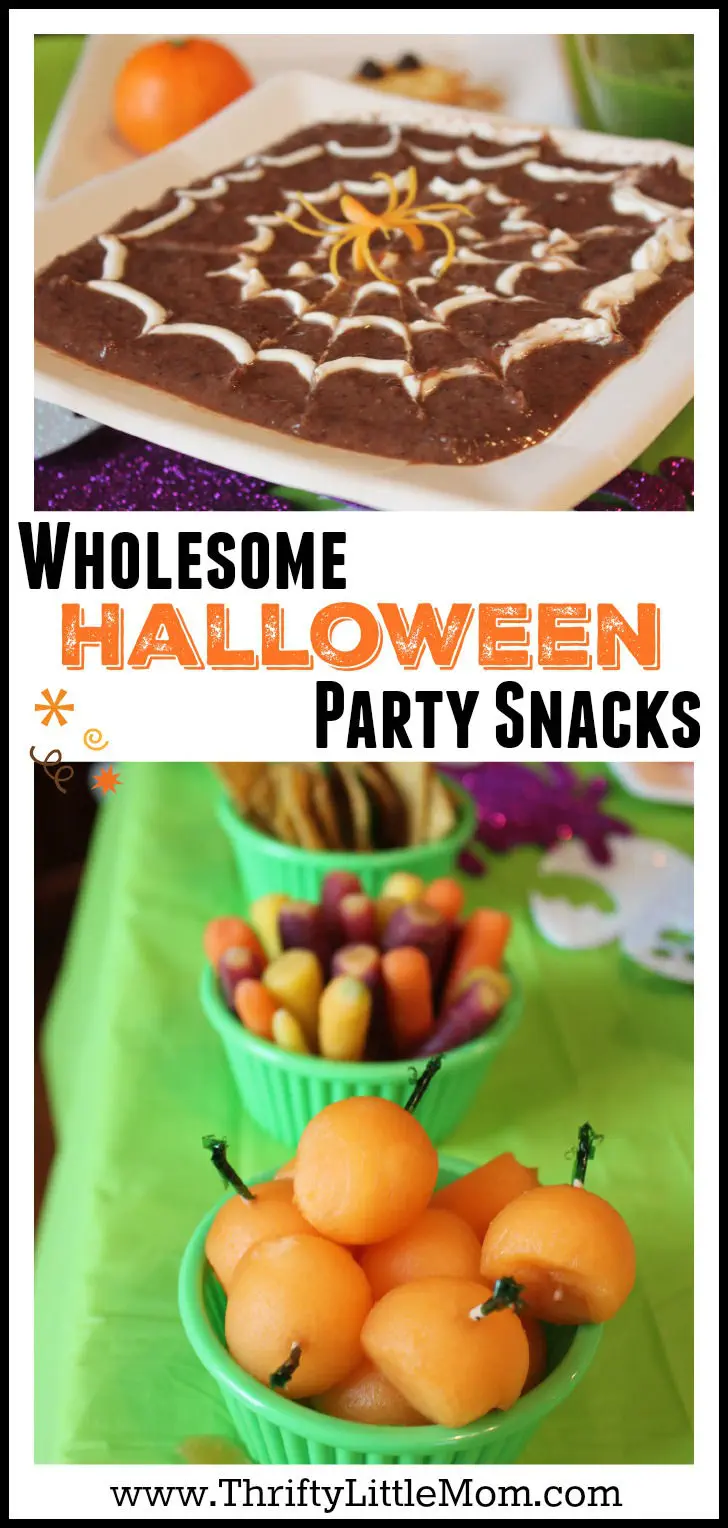 If you liked this post you might also like these posts from Thrifty Little Mom: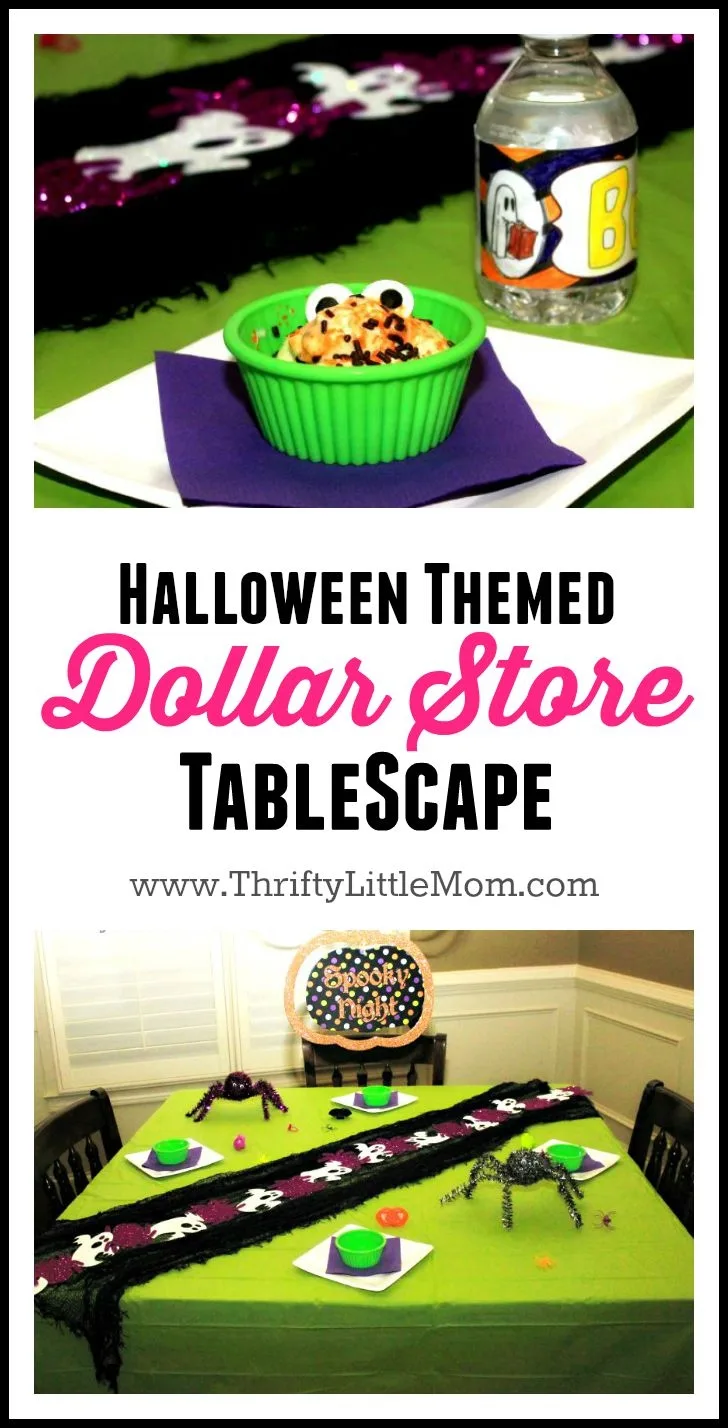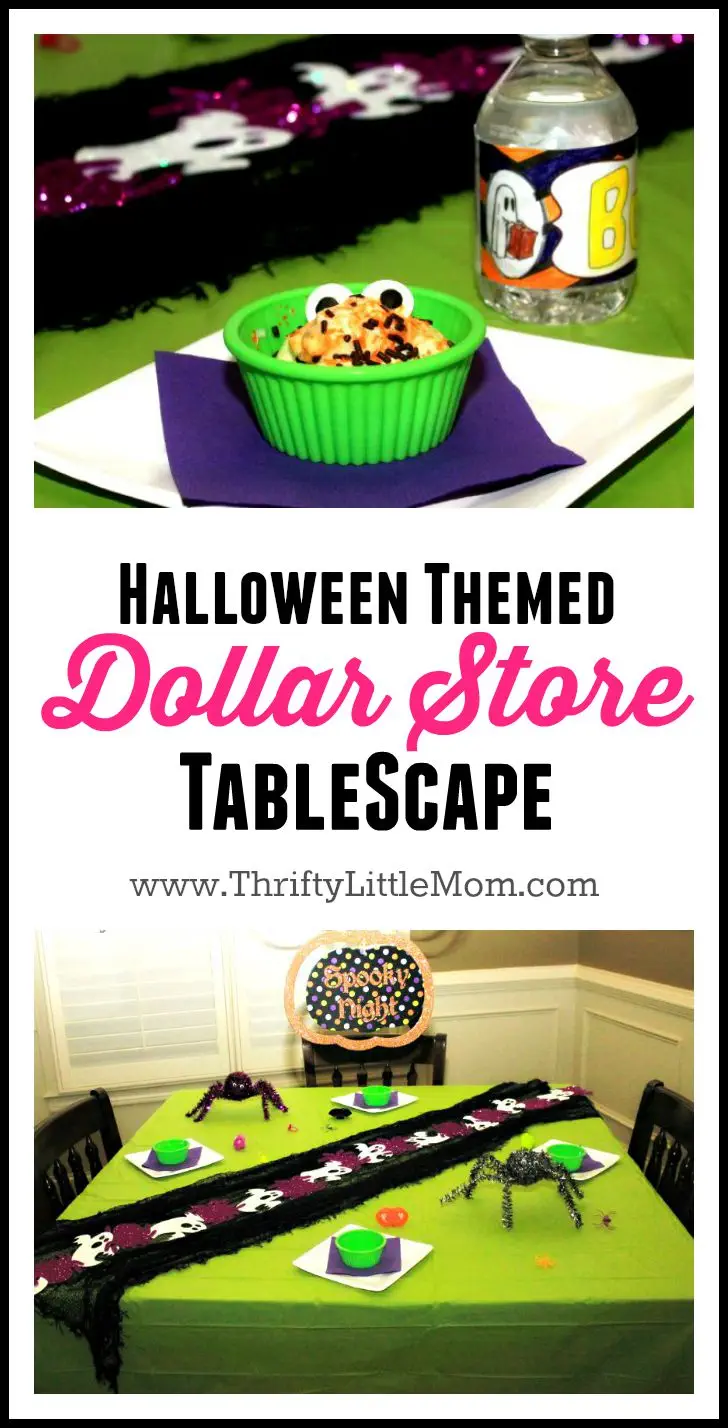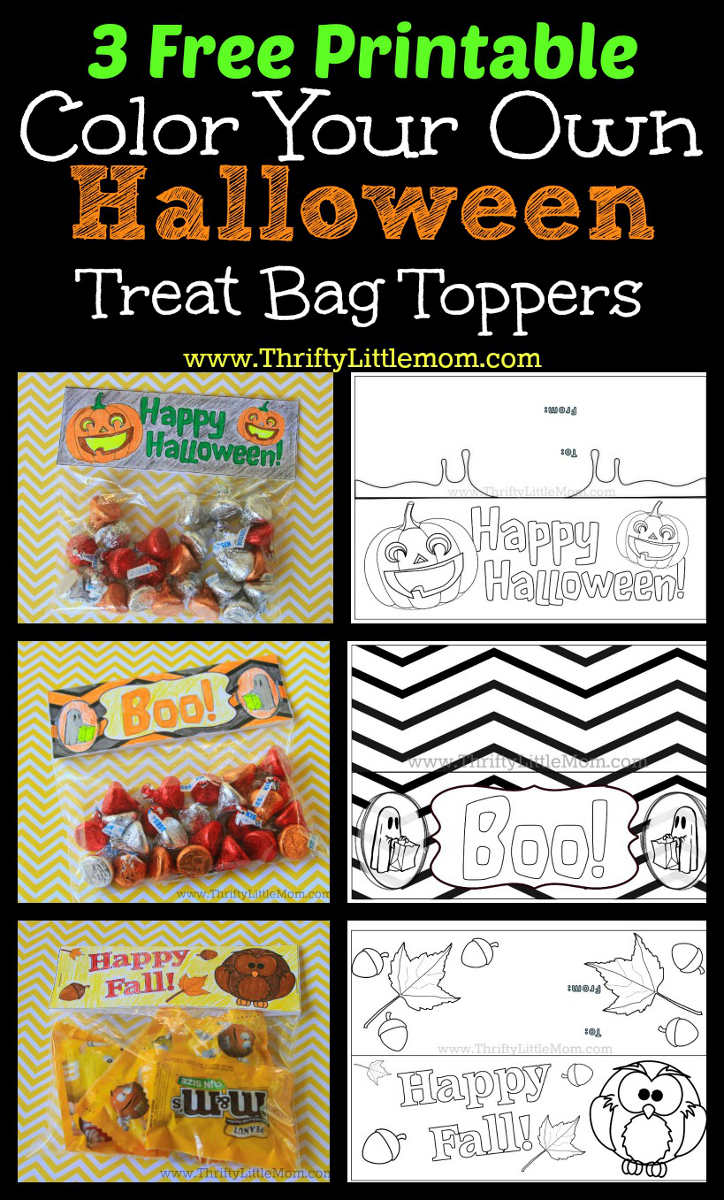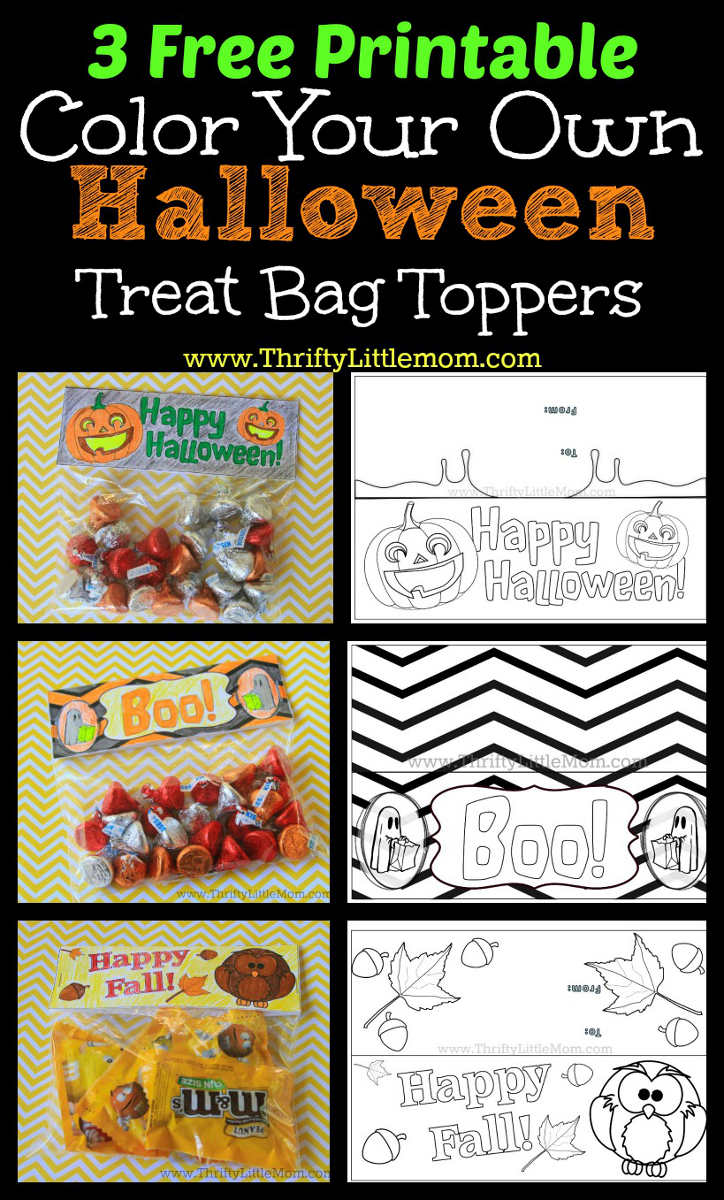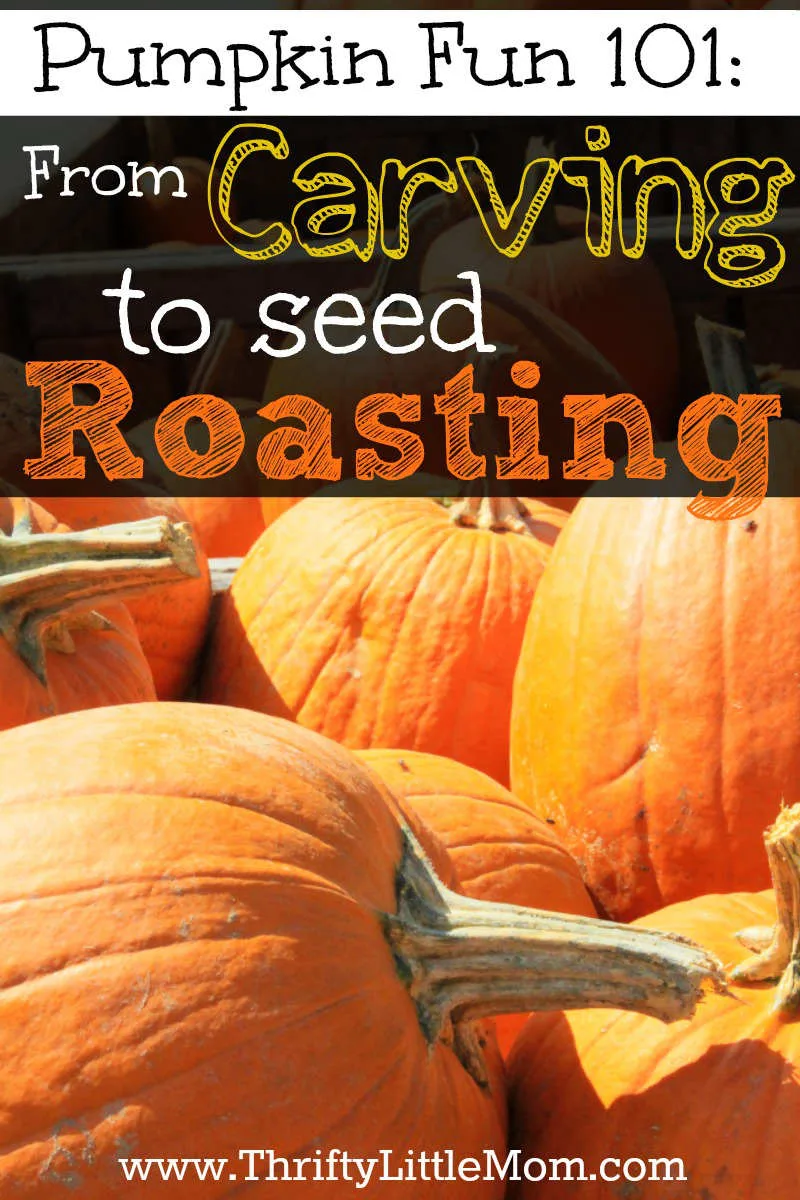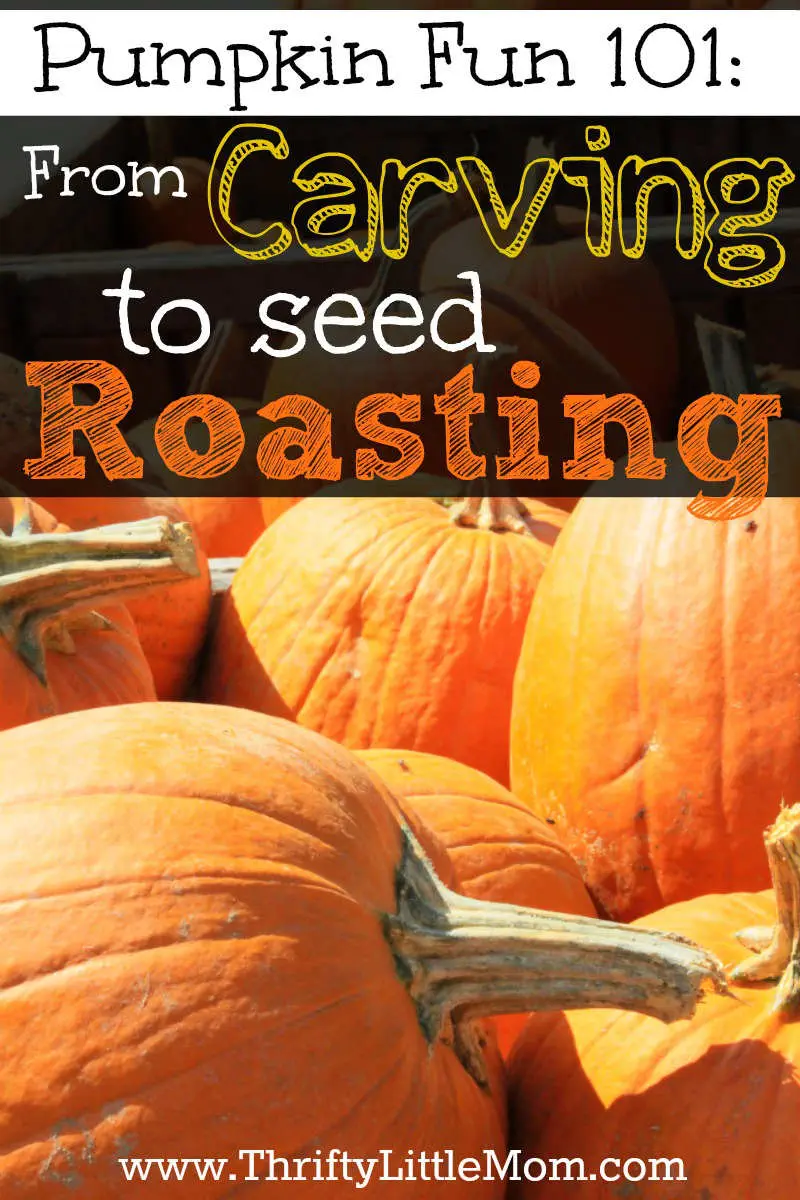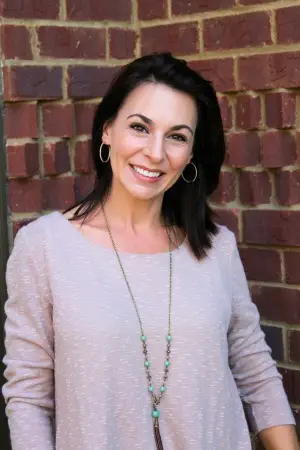 Rhonda is the owner of My Symphony Seasonings, LLC located in Georgia. She has a passion for good food, health & entertaining which was the perfect combination for creating My Symphony Seasonings, a company that encourages you to cook and eat whole foods, close to nature by providing original recipe blends of organic herbs & spices, free of fillers and artificial preservatives to add flavor, richness and health benefits to your dishes!