Must Have Cocktail Ingredients for Every Home Bar
This post contains affiliate links. As an Amazon Associate, I earn from qualifying purchases. I also earn from qualifying purchases made with other brands and programs. See my
privacy policy.
Looking to stock your home bar with the best cocktail ingredients? I've got you covered in this in-depth, go-to article on all the things you need to be a master drink crafter!
I love when I go to a friend's house, and they can make me my favorite spirit drink, a gin and tonic. The bubbles from the tonic and the bite of gin are tantalizing. Throw in a fresh slice of lime; I'm in heaven.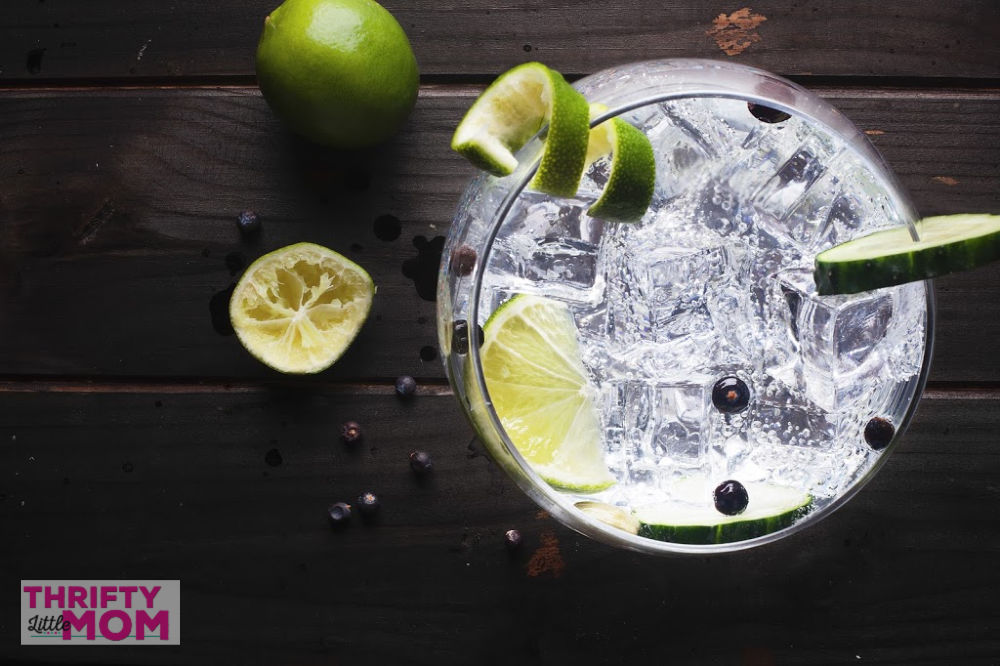 I've always wanted to be the person that loves to provide guests with their favorite libations when entertaining. It may be the Mad Men aesthetic with the clinking glasses or the speak-easy crafted cocktails that have gotten me here, but I know that these are the must-have cocktail ingredients for every home bar.
What are the main cocktail ingredients needed for a perfect at-home bar?
When I walk into a liquor store, it can be very overwhelming with all the choices, styles, and flavors of things available. Crafting a delicious cocktail doesn't have to be a home chemistry project with a little knowledge on your side. These are my ideas for your home bar basics:
Cocktail Ingredients Needs: Liquor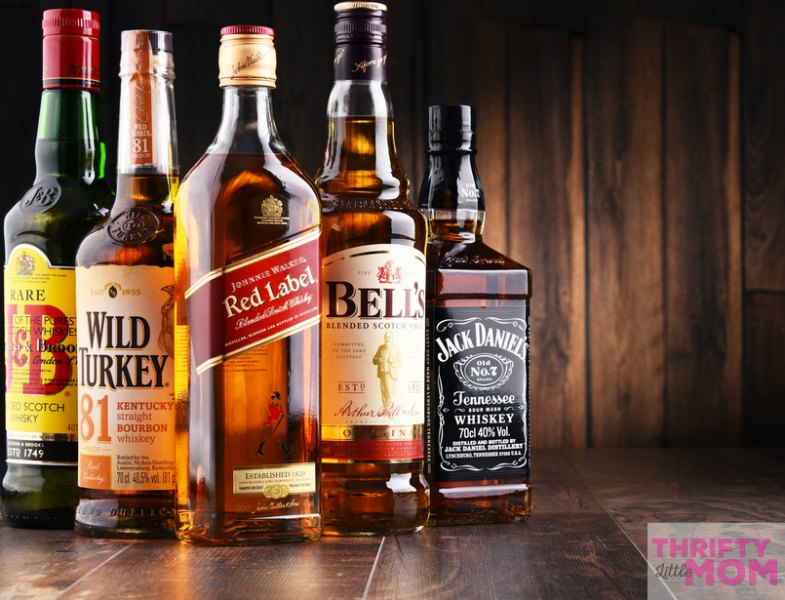 The heavy hitter of spirits, liquor has an alcohol content of over 40% or higher by volume (80 proof or more).

Low in sugar compared to liqueurs which will also be lower alcohol by volume

With every ounce of liquor, you will be getting a very concentrated dose of alcohol.

When you hear a drink like "rum and coke" or "vodka cranberry," the standard ratio for this is 1:2.

One parts liquor to two parts mixer

A standard pour for liquor in the scenario is 1-1.5 ounces, therefore 2-3 ounces of mixer
Whiskey and Bourbon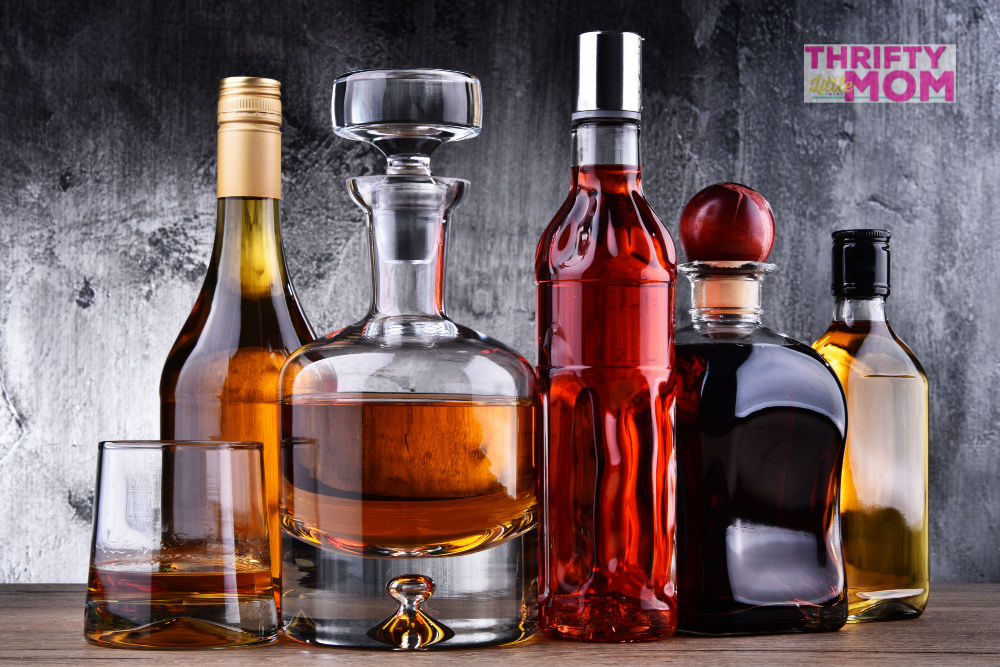 I can discuss all day with people about the differences and nuances between these two. I believe that when it comes to the basic needs of your at-home bar, having at least one form of this golden brown liquid available will make people happy.
Whiskey's base is grain such as rye, barley, wheat, or corn.

It is aged in a charred oak barrel to receive its amber coloring.

"Bourbon" is designated to the United States and primarily Kentucky.

Terms "blended" or "single malt" refer to the grains used to create it.

Common Whiskey Drinks-

Manhattan

Old Fashion

Whiskey Sour

Mint Julip
Vodka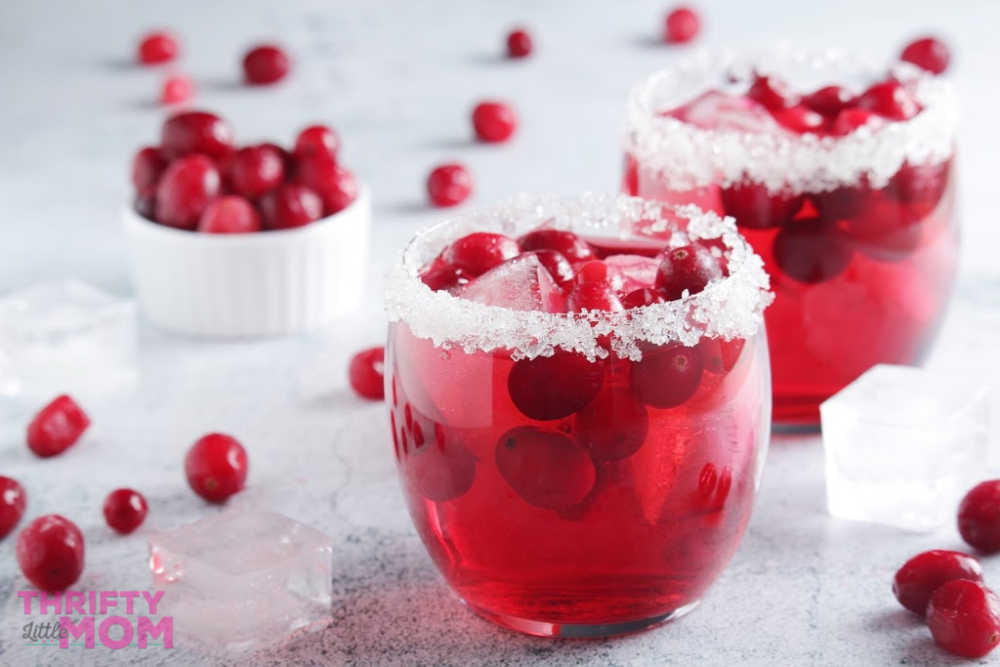 The penultimate mixing liquor is vodka. It goes with so many different mixers that you rarely have an issue making a delicious cocktail with whatever you have around. If I were to pick one item on the liquor list to have the large bottle of (referred to as a "handle"), I would choose vodka, even though it is not my personal favorite.
Vodkas originally were made from potatoes in Poland and Russia. A gluten-free liquor, who knew?

In more recent times, other grains and even some fruits are used in the fermentation process

Flavored vodkas are very prevalent in bars and found in a variety of tastes.

It is used to create sauces, pastries, and extract flavonoids from herbs and nuts.

Common Vodka Drinks-

Screw Driver

Vodka Martini

Bloody Mary

Moscow Mule

Cosmopolitan
Gin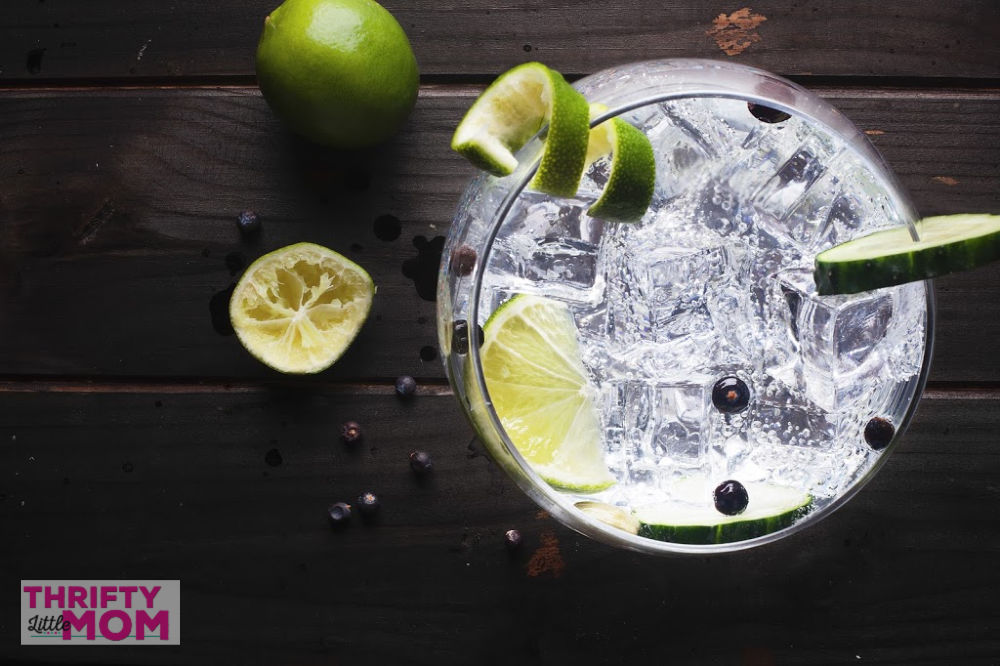 Gin is my favorite liquor and probably the most polarizing on the liquor list. You either enjoy the robust nature or find it revolting. To me, gin is fragrant and aromatic.
It boasts a piney fragrance of juniper, with a hint of herbs like coriander and anise. The flavors combined have depth and presence that I feel most liquors do not provide.
Gin is created using many different herbal compounds.

The varying flavors between brands are created by selecting various herbs in combination.

Not to be confused with gin liqueurs, which have gained popularity by infusing gin with other herbs and berries.

Common Gin Drinks:

Tom Collins

Gimlet

Gin Martini

The Last Word (my personal favorite in a craft cocktail bar)
Rum
"But where's the rum?" Famously quoted by our lovable pirate Jack Sparrow, we can indeed ask this of any home bar. Rums will come in several styles, but we are pleased with its island flavor and a sweet finish.
Rum is from sugarcane, which is what gives it its signature sweetness.

Several rums are available in clear and spiced, which has a lovely amber color.

Clear rum is used primarily with mixers for cocktail drinks

Spiced rum is also used, but not in as many specialty cocktails

Decide on which is your preference, or choose both as they are quite different in flavor

Common Rum Drinks:

Mojito

Rum Runner

Mai Tai

Piña Colada

Dark and Stormy
Tequila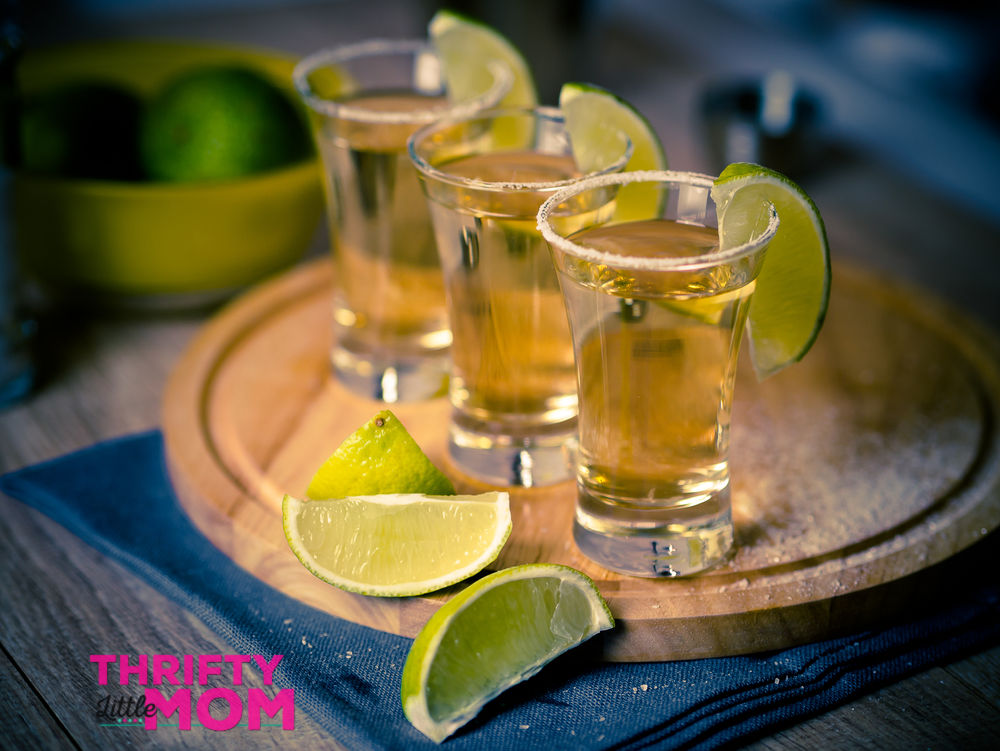 Just so you know, everything you think you know about tequila is wrong. I feel like this liquor often has a bad reputation, but it is quite exquisite. The aging process alone is as precise and regulated as that of bourbon. We tend to turn our noses up at the thought of this over-indulged, crazy night inducing, robust liquor.
Tequila provides styles such as silver, repesado, and añejo.

Silver- most commonly used for margaritas and mixed drinks, has been aged in stainless steel barrels.

Reposado and añejos are aged in oak barrels for months and even years.

To be "tequila," it must be made with 100% blue agave plant in the Tequila region of Mexico.

Flip over the bottle and look for the NOM symbol (Norma Oficial Mexicana) meaning it meets the requirements.

Common Tequila Drinks:

Margarita

Paloma

Tequila Sunrise

Matador

Bloody Maria
Scotch
You don't have to be an old gentleman from the 1950s to enjoy this classic liquor. Scotch is known as an expensive and often inaccessible liquor. But I am here to tell you that isn't the case at all. Once you discover your style, you will be more inclined to enjoy this exclusive liquor. There is always the essential guide to understanding scotch
Scotch regulations require it made in Scotland and a minimum of three years aging.

They can range in flavors from "peaty" to "oaky" depending on the style you prefer

You will hear people say "1 finger" or "two fingers," this is about your finger horizontally along the side of the glass as a measurement of ounces.

Ways to drink scotch: neat (without ice), a splash of water, one cube of ice, or a whisky stone.

Common Scotch Drinks:

The Highball

The Rusty Nail

Rob Roy

The Mamie Taylor
Essential
Cocktail Ingredients
Liqueurs List: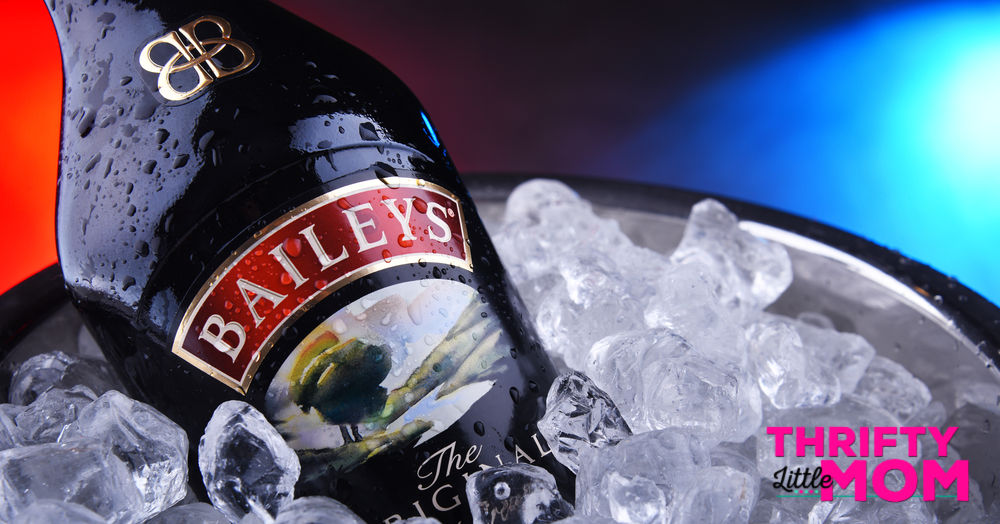 Liqueurs are essential in the crafting of any classic cocktail. They are the sweetness or flavor additives that give drinks their distinctions. While I enjoy them mixed with liquor, these can also be used on their own to flavor a juice or soda.
Using it by itself, you can enjoy a lower alcohol content drink as they must have below 40% ABV (alcohol by volume).
Triple Sec
Commonly found in margaritas and other tropical drinks

If you like orange, this is a great flavor option

The higher-end versions of this liqueur are often served neat (room temperature) and sipped in a snifter glass

Common Triple Sec Drinks:

Margarita

Sangria

Long Island Iced Tea

Cosmopolitan
Amaretto
Amaretto has a flavor that is called "bitter almond."

I feel like it is a rich flavor that this description might not portray.

You have tasted this in cooking for delicious items such as Tiramisu

Common Amaretto Drinks:

Amaretto Sour

Amaretto and Coffee

French Connection

Godfather
Coffee Liqueur
Kahlua is probably the most popular brand for this type of liqueur

Perfect for a night-cap drink with friends

Common Coffee Liqueur Drinks:

White Russian

Baby Guinness

Black Russian

Mudslide
Irish Creme Liqueur
Similar to coffee creamer, this makes for a delicious after-dinner treat.

I would use this in a dessert drink to add a creamy texture and flavor.

Common Irish Creme Drinks:

Irish Coffee

Irish Car-bomb

Baby Guinness

Buttery Nipple
Vermouth (dry)
Essential for making the perfect martini (whether that is gin or vodka-based)

It takes a bit of the "edge" off the liquor in the martini.

Pour into a martini glass, swirl around the glass, THEN DUMP IT OUT. If you miss this step, it will not taste like the restaurant.

If you like your martini "extra dry," then no vermouth is used at all.
Vermouth (sweet)
Sweet vermouth is used in drinks as an additive, unlike its dry counterpart, which you will remove before adding the alcohol.

Used mainly with drinks containing whiskey, bourbon or scotch

Common Sweet Vermouth Drinks:

Manhattan

Rob Roy

Americano

Negroni
(Non-Essential)
Cocktail Ingredients
Liqueurs:
There are so many choices when it comes to liqueur flavors. When deciding on your extras, choose characteristics you love. See which drinks you can create from your now fully-equipped bar list.
Melon Liqueur
Melon flavored liquor may not be a primary liqueur, but it makes for some delicious drinks

Mixing this beautiful green liquid with different juices gives an electric look for a holiday crafted cocktail.

Common Melon Drinks:

Midori Sour

Midori Illusion

Japanese Slipper
Chambord
You can get a "raspberry liqueur," but this specific brand has the addition of vanilla, orange, honey, and cognac in its flavoring profile.

Common Chambord Drinks:

French Manhattan

Grateful Dead
Cocktail Ingredients Essential Mixers (non-alcoholic) List:

Sweet and Sour
This classic recipe, made with fresh sweet lime juice and lemon juice is a staple for cocktail recipes.

Skip the pre-bottled mix in favor of a f

reshly made sweet and sour recipe

Getting a quality recipe will guarantee your drink will be perfect.
Simple Syrup
Simple syrup is liquid sugar for your drinks

Being that it doesn't have any other ingredients, this will last for some time.

Make your own using 1 cup of sugar and 1 cup boiling water, stir until dissolved.
Grenadine
Classically used for splashes in drinks, this has a lovely sweet and tart flavor

I love this pomegranate flavor in many drinks that don't contain alcohol- think "Shirley Temple" or "Roy Rogers" style beverages.
Bitters
Bitters are becoming more and more crafted.

I prefer the traditional Angostura bitters for most of my drink recipes that call for it.

You can find fantastic gift sets that include different styles to expand your at-home cocktail crafting.
Cream
I wouldn't carry a carton of cream in my at-home bar if I didn't make drinks with it regularly.

However, you can keep the "shelf-stable" cups (think diner, single-use portion) at your home bar; two of these will be enough for 1 White Russian.

If the cups are not your style, you can look for the powdered version for your bar.
Essential Juices
I highly recommend purchasing these mixers in the small cans. While it isn't the most "cost-effective" initially, if you do not use the large bottles regularly, they will go to waste.
Lime

Cranberry

Orange

Grapefruit

Pineapple

Tomato
Essential Home Bar Sodas:
Carry these in cans or small bottles as well to prevent your sodas from becoming "flat." A home bar is a perfect excuse to invest in a soda stream so you can make your favorite sodas whenever you need.
Coca-cola

Sprite or 7up

Tonic

Club Soda

Ginger Ale or Ginger beer

Diet of the same
SodaStream Fizzi Sparkling Water Maker (Black) with CO2 and BPA free Bottle
Essential Cocktail Ingredient Garnishes:
Mint

Olives

Orange

Lemon

Lime

Sugar cubes

Maraschino Cherry
Essential Home Bar Glasses:
Snifter– a bulbous glass used for liquor when served neat
Bourbon

Whiskey

Scotch

Aged Tequila

Brandy
Rocks– I use this glass for cocktails containing a few ingredients or single alcohol drinks served over ice
Rum and Coke

White Russian

Tom Collins

Whiskey rocks
Pint- while the name suggests it is 16 oz, the standard pour is only 14 oz. A pint is the best class for drinks that have multiple ingredients:
Margarita

Tequila Sunrise

Mai Tai

Bloody Mary
Martini- utilize this glass for your classic martinis. I would keep these in the freezer, so they are cold for a drink served "straight-up" (chilled with ice and strained).
Cosmopolitan

Manhattan

The Last Word

Japanese Slipper
Glass Coffee Mug- I love this glass for my after-dinner drinks (digestif). Mixing up a warm beverage with a soothing nip will relax you for the evening.
Irish Coffee

Hot Toddy

Spiked Cider

Mulled Wine
Essential Home Bar Equipment (Accessories):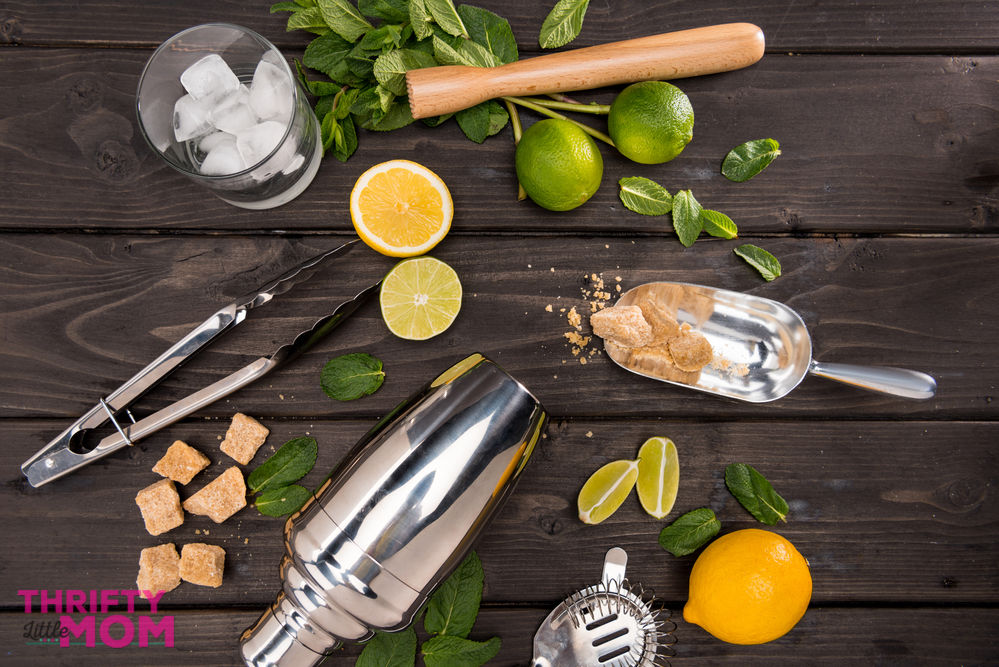 Whiskey Ice Cube or Stone
If you enjoy your whiskeys, this is one of the best gifts and tools.

The concept is the surface area is so large that the cube melts slowly and does not water down your drink but cools it thoroughly.

The stones do the same but without using water to freeze.
Shaker-
The science of a shaker is crucial when properly mixing drinks.

It creates a balanced cooling effect that does not water down your beverage.

Picking a proper shaker is essential. You want one that has a good seal, so the liquid does not escape.

I know that sounds like common sense, but there are plenty out there that are more looks than utility
Strainer-
Straining your beverage by using the lid found on your regular at-home shaker cup lids is the easiest way.

However, for me, I prefer a separate wire strainer to do the trick.

It allows you to keep herbs, large fruit chunks, and other pesky pieces from continuing their journey to your glass.
Jigger-
You may have seen this measuring device; it looks like a warped hourglass.

It has a small side and a large side.

I would look for one that is 1/4 oz on one side and 1 oz on the other.
Bar Spoon-
If you are interested in layering drinks in the future, this is the best tool to perform this task.

It has a long handle for stirring drinks you don't get sticky.

It's terrific for fishing that final olive or cherry out of the jar, too!
Muddler-
Opening the flavonoids of a herb or fruit is essential for flavor balance.

Crushing an orange peel into a sugar cube requires it.

A muddler can do that for you.

Pick a sturdy one made from one solid piece of material.
Toothpicks-
You will need these for your garnishes.

Choose a traditional toothpick or find a cool set that expresses your style or interests.
I hope that this has helped you decide on the perfect home bar basics and essential equipment needs. Between the liquor list and the full bar list, you should be stocked for your next get together. Cheers!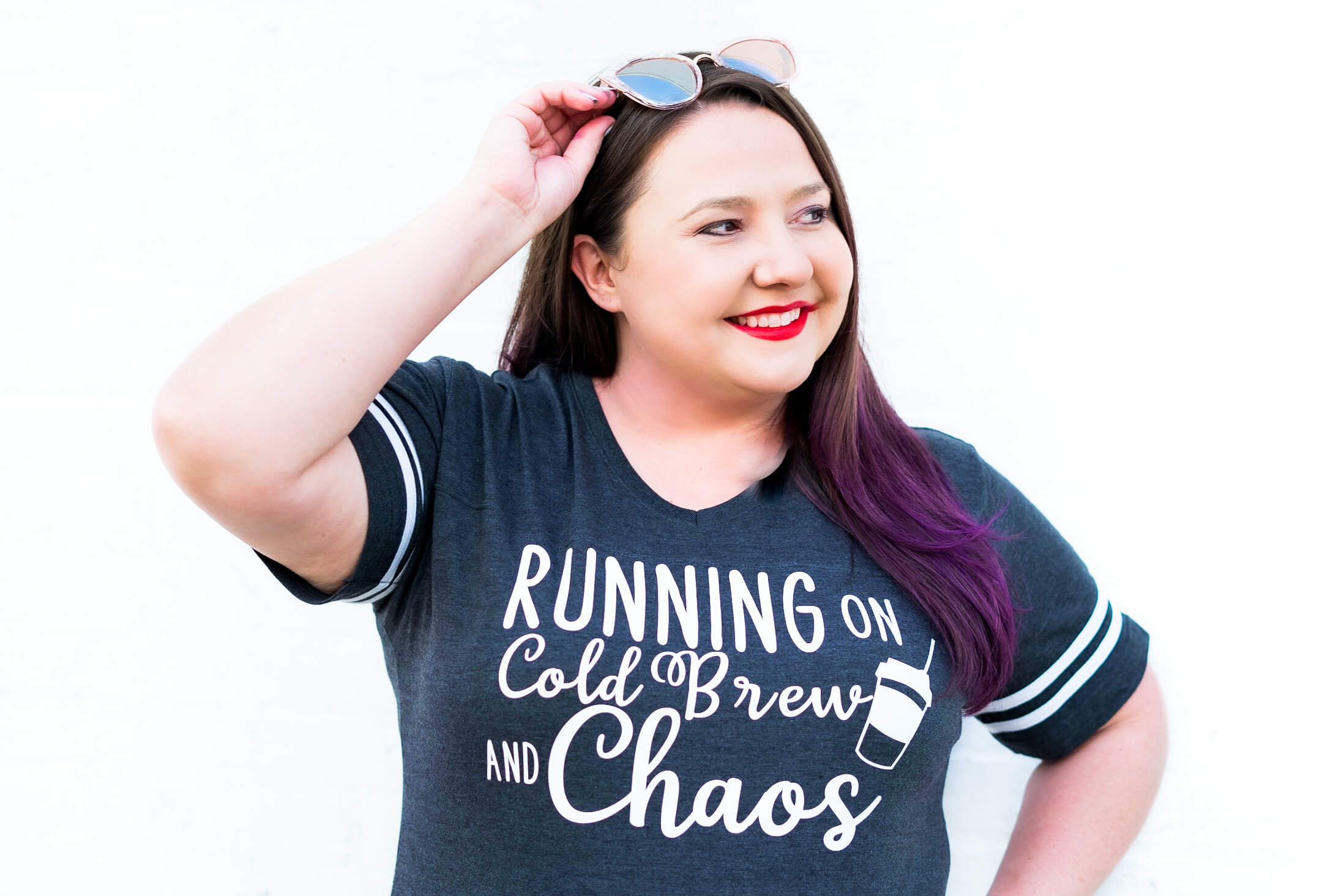 Kim Anderson is the organized chaos loving author behind the Thrifty Little Mom Blog.  She helps other people who thrive in organized chaos to stress less, remember more and feel in control of their time, money, and home. Kim is the author of: Live, Save, Spend, Repeat: The Life You Want with the Money You Have. She's been featured on Time.com, Money.com, Good Housekeeping, Women's Day, and more!
Summary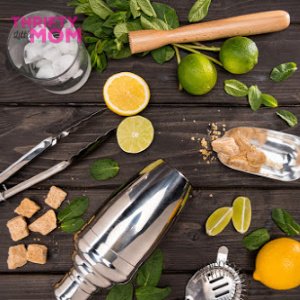 Article Name
Must Have Cocktail Ingredients for Every Home Bar
Description
If you like to entertain friends with delicious drinks, you need to make sure your home bar is stocked with these essential cocktail ingredients and tools!
Author