When having a party, celebration, wedding, or shindig, you usually need plenty of tables for sitting, serving, and socializing. This guide will help you decide which party table and chair rentals you should consider based on your upcoming event. Use this guide to determine, before you rent anything for the party.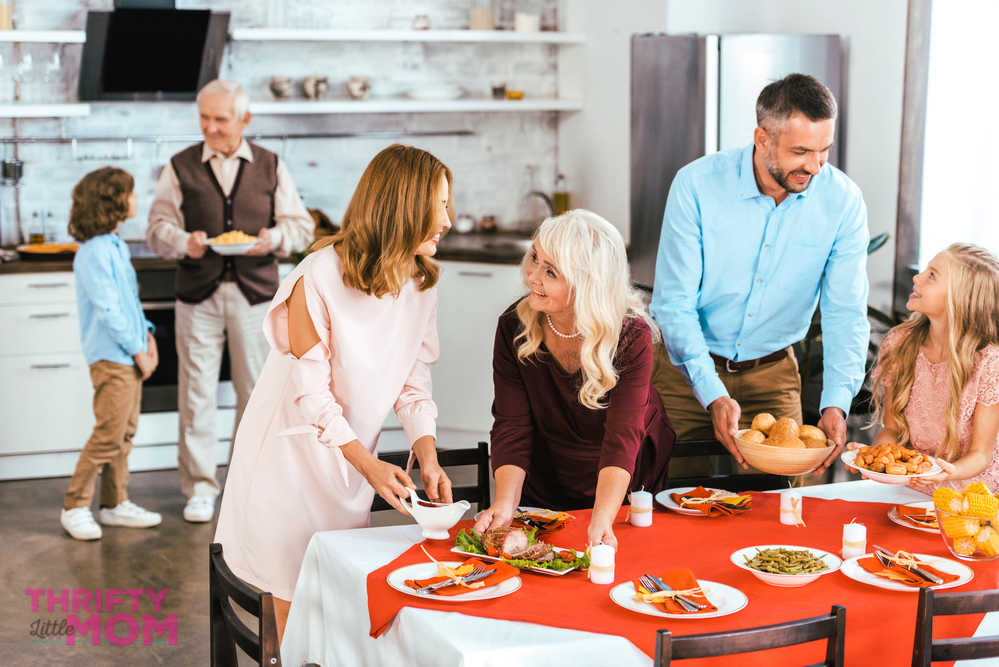 Before you start shopping for table or chair rentals:
The key to picking your tables and chairs comes down to 3 crucial variables:
1) What vibe or mood do they set?
2) How do they direct your guests to participate in your event?
3) Do they support the nature of the main event? Eating, drinking, being social, etc.
Decide the theme or setting
The theme will determine whether you go with a rustic, simple, or elegant table or chair arrangement.
Deciding on your theme will allow you to figure out what kinds of table cloths or covers you use to cover your table and chair rentals.
Your setting will create the criteria for the chair and table requirements
Decide on the number of people.
You don't have to be having a huge wedding or a sweet sixteen party to need party table and chair rentals.
I rent them when I know I'm having more people over to my house than I have space to accommodate.
In my spare room, I have seats and two fold-out 6-foot tables. I use these most at Thanksgiving and Christmas.
However, there are plenty of regular parties that I enjoy hosting where even that will not accommodate my guest list
Decide on what activities people will do at the event.
Eating together? (This can be a buffet or seated, served function)
Socialize with cocktails?
Watch something collectively like a sporting event?
Presentations at a retreat or convention
Tips for Party Table and Chair Rentals for Sit-down Dining: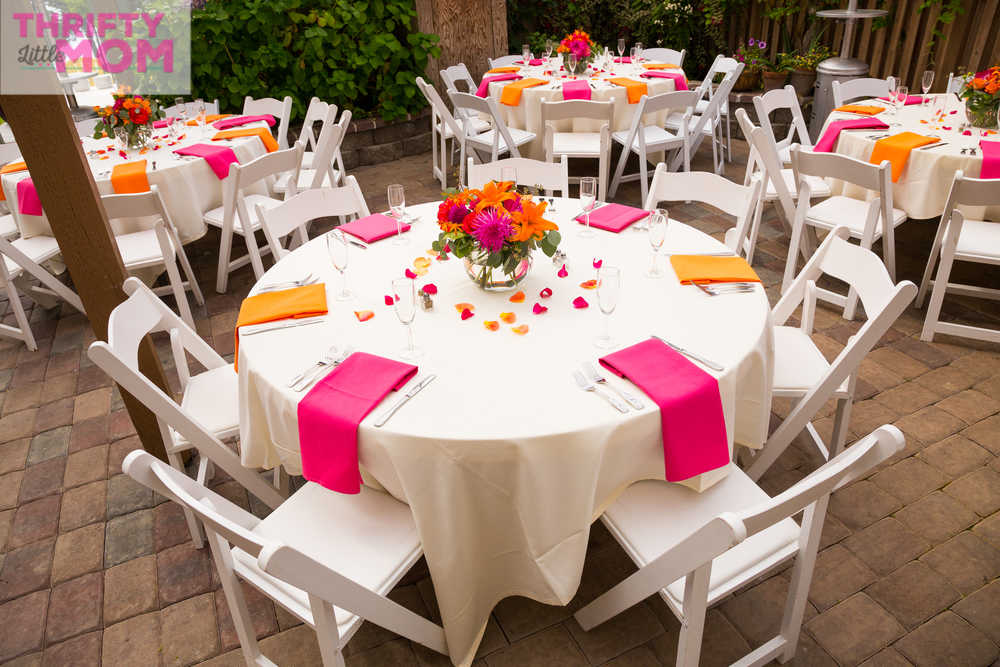 Weddings and other catered events will typically have three courses.
Being that these are plated events, guests will need room to sit and enjoy a full meal.
If people are eating, you will probably want to go with rectangular or round.
Round tables are going to take up more space but can have an exquisite feel.
Round Tables: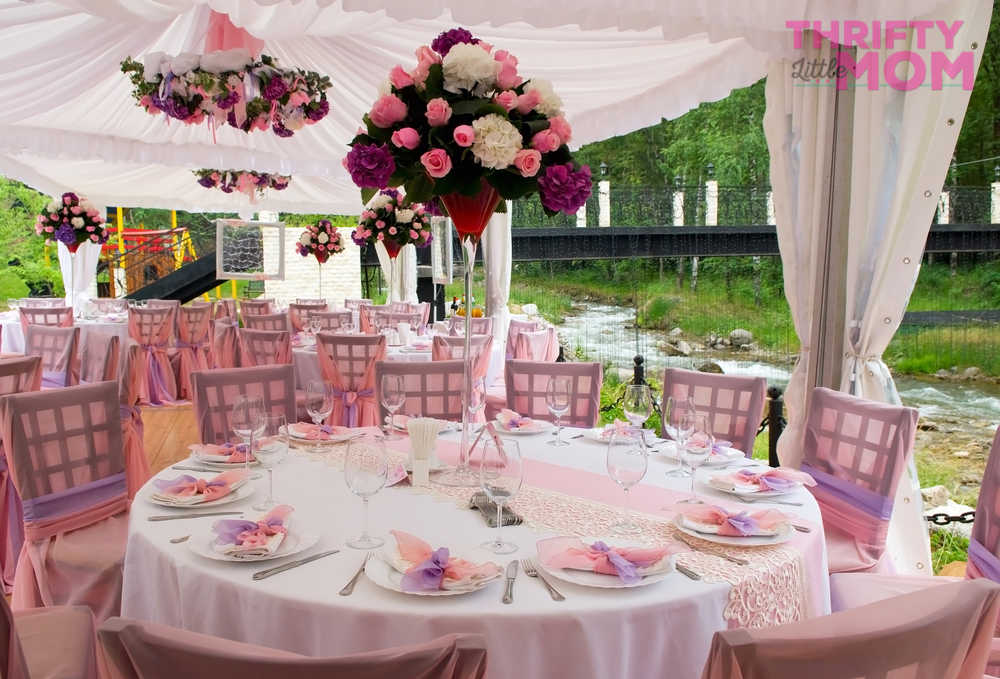 A classic look for most sit-down functions, these are the most common of the party table and chair rentals.
These standard-sized 60″ circular tables seat 8-10 guests
Most tables have a plywood top, so you will want to choose table clothes that will cover these well.
Long Tables: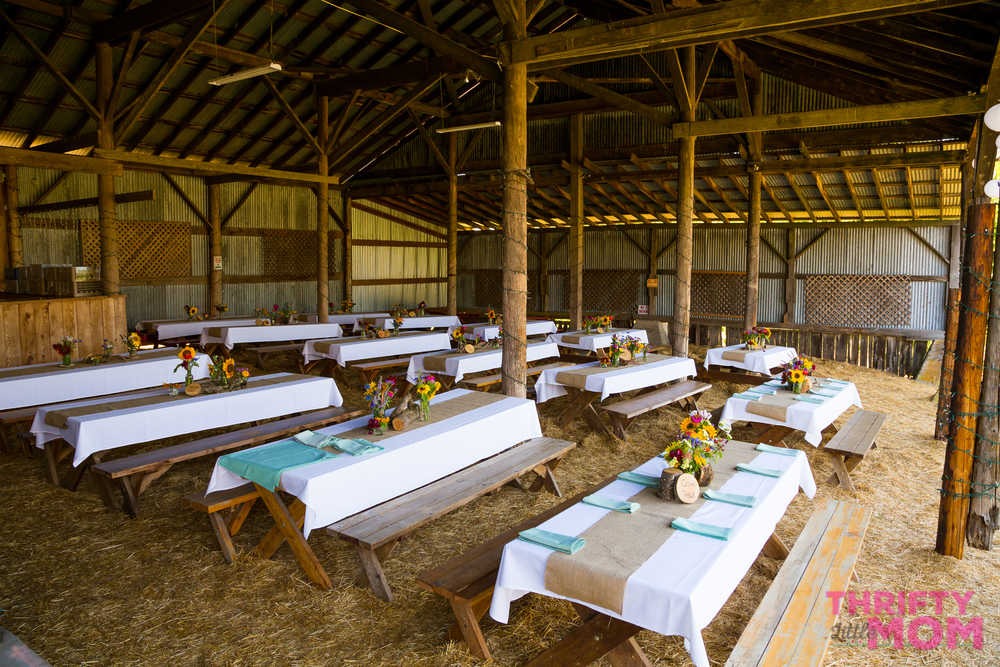 Long tables are going to have a more rustic or "family" style feel.
These long tables are around 6 feet long and have plywood tops and metal legs.
The six-foot version of this table will accommodate 6-8 people comfortably.
You may choose the higher-end version called a "farm table."
The "farm table" will have wooden legs and tabletop, and you may prefer that aesthetic.
Being that the "farm table" is more substantial construction, it is best for six guests (However, I always think you can fit another chair in at a party, lol).
Cocktail Tables:
These small profile tables are perfect at events where you will be socializing with cocktails and light appetizers.
If you want people to mingle at your party, you may wish to avoid chairs and go with small, tall bar style tables so that people can put their drinks down
People can gather around a table close enough for small talk and hear each other over any music that is playing.
Perfect for dancing and art-show style events where people will want to meander around a room.
Side note: Always be careful with music volume at your events that have a very social focus as it can make it hard to hear, be heard, and send your guests home with hoarse voices from shouting over the music.
Seating for Events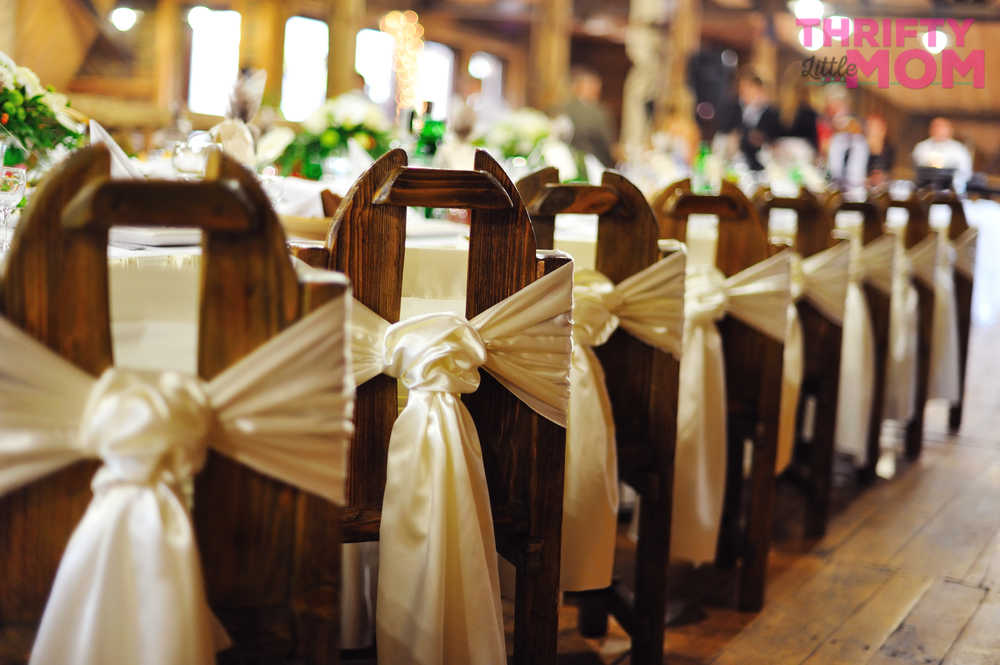 Observation seating:
If you want all eyes on something, you may want to go with seating that faces all one direction.
Choose if you will need to include "conference tables".
These are low profile tables that provide attendees with areas to place personal items or materials for the event.
An eight-foot table is suitable for 6-8 people.
How long will people be sitting? You may want to consider chairs that have supportive padding if a presentation will be occurring.
For wedding chair rentals, a classic folding chair is suitable for a 30-60 minute service.
Seating for Dining:
Once you have decided on the shape of the tables that will use at your event, it is time to decide on the chairs that will accompany.
The first choice in dining seating is benches or individual seating?
With a more casual dining experience, benches can be perfect.
Benches allow people of all ages and sizes to sit around and eat comfortably.
Do you want specialty chairs that present an upscale look?

With a specialty chair, you will not need to cover with fabrics to enhance the ambiance

Were you looking for chairs with fancy covers that can match the theme or color scheme?
Individual seating options to consider:
For every event, choose chairs that will work for your specific needs. Consider the one that fits your party table and chair rentals need best!
Folding:
Folding chairs come in a wide array of styles.
Lightweight plastic folding chairs will be excellent for outdoor events.
The plastic will be tolerant of weather issues that may arise.
Plastic material works well in direct sun and will not get too hot for guests if they have been in the heat of the sun.
"Garden Folding" chairs will give the convenience of plastic folding but have a sleeker, upscale look for outdoor seating.
Chiavari (pronounced "ke-a-va're"):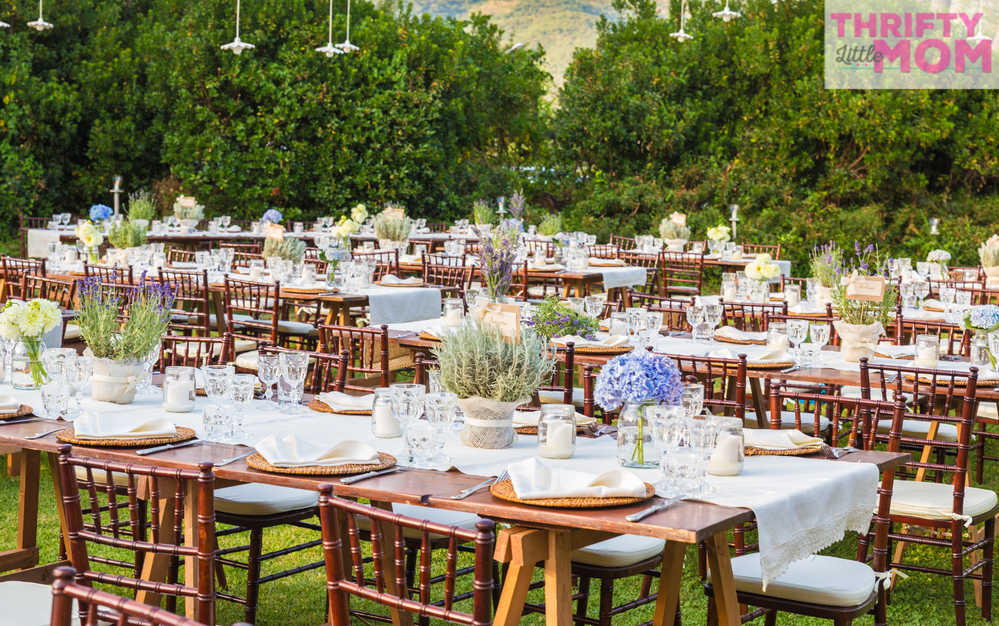 I love the Chiavari style chairs. They are known for their "bamboo" look that is carved into the frame. Originating in Italy in the 1800's, this style of chair was named after the city, Chiavari.
Classic and elegant, these chairs have been used from their early popularity with JFK and Jackie O's wedding to the "Golden Globe" awards.
Chiavari chairs can come in black, white, gold, and silver for your event.
These chairs have a low profile, which makes it easy to pack a lot into a small space.
If you decide to enhance these chairs with decorations, you can create an elegant and impactful look.
Banquet Chairs:
These padded chairs may be what you desire for your next event.
Banquet or conference chairs provide comfort for events where guests will be sitting for extended periods.
You may choose these chairs with older crowds that prefer a cushioned seating surface.
Banquet chairs can be stacked with ease if you need an area to convert during an event.
Their easy stacking and removal make them perfect for quick resets at a retreat.
Barstools:
The casual nature of a barstool is great for social gatherings that do not require a formal dining experience.
Barstools are available with or without backrests.
Pairs easily with cocktail tables to provide a relaxed feel. These are great for events with live entertainment.
Seating like this is best for social functions where meandering and chatting are the prime objectives.
Two heights for this style when figuring out your desired barstool- "Counter height" and "bar height"
"Counter height" is for tables that are 34″-36," whereas "bar height" is for tables that are 40″-42″.
If you have a guest with mobility issues, these higher bar chairs are not ideal for your party table and chair rentals.
Cocktail table chairs:
If you are looking for an elegant option to go with your cocktail tables, you may want to decide on a specialty cocktail chair.
The cocktail chair will have a backrest and a whimsical or sleek design.
Create an upscale look at your next event with these popular seating options.
Again, consider the age range of the guests attending the event when choosing this height option.
Kids and Infant chairs:
Having small children at an event can leave your head spinning. If you know that your event will have several toddlers or a group of kids, consider renting a few of the seating options to help parents out.
Most styles that have been mentioned above also come in a kid sized version.
Booster seats and high chairs will give parents peace of mind at the event.
It can be a small act that will make a huge difference in your guests' experience.
Here are some videos on how to make those chairs look fancy!
Consider Mobility:
It breaks my heart when I am at an event and I see someone with mobility issues struggling to enjoy themselves because of something like chair and table configuration. Keep this in mind when setting up your event. Basic planning in this situation requires only a few easy tweaks to make it fun for everyone. At private events, this is not required, but it is nice to consider for your party table and chair rentals.
ADA (American Disability Act) requires:
"An accessible table has a surface height of no more than 34 inches and no less than 28 inches above the floor."
"The minimum clear width for single wheelchair passage shall be 32 inches (815 mm) at a point for a maximum length of 24 inches and 36 inches (915 mm) continuously."
I got this from the ADA website if you were interested in more information
Rent, Borrow, Buy, or BYOC?
Here at Thrifty Little Mom, I always want to look at the cost/benefit ratios at the next gathering I host. Sometimes a causal event doesn't require that I rent chairs at all. When I throw an outdoor movie party or football watching night, I ask my guest to BYOC, bring your own chair. These days, we all have a few camping chairs that we can easily throw into the trunk and head over. But, I sometimes rent, borrow, and have even bought fold-out chairs before.
How many guests will you have at your function? This idea seems redundant, but it truly is the mitigating factor in chair rental at the party.
A basic folding, plastic chair starts at around $1/per chair. If you are having 50 guests, this isn't a crazy price for everyone to sit comfortably.
If you have a large vehicle, you can even avoid paying for delivery.
My friend recently fit 40 folding chairs in his Jeep Cherokee with ease.
I own six low-profile folding chairs just for parties where the dining table and patio chairs are just not enough.
Choose the Right Table and Chairs to Purchase
If you are lucky to have a large storage area, then this part will be easy to point, click, and ship. If you need some space saving options, then here are a few of my favorite folding tables and chairs. These can be folded and placed in closets, under beds, and behind sofas. The plastic is durable in all weather conditions, therefore, storing them outside is also an option if space is at a premium.
Cosco Products Diamond Series 300 lb. Weight Capacity Folding Table, 6′ X 30″, White

COSCO Stylaire Folding Table, 44″ Round, Black & Chrome


XL Series Square Folding Card Table (38″) – Easy-to-Use Collapsible Legs for Portability and Storage – Vinyl Upholstery for Convenient Cleaning – Steel Construction, Wheelchair Accessible (Beige)

Office Star Resin 3-Piece Folding Bench and Table Set, 2 Benches and 6 x 2.5-Feet Table

Flash Furniture 10 Pk. HERCULES Series 650 lb. Capacity Premium Black Plastic Folding Chair

7 Things to Consider Before You Book Party Tent Rentals
Inflatable Rental: 8 Things to Do Before You Rent
19 Best Birthday Party Places for Adults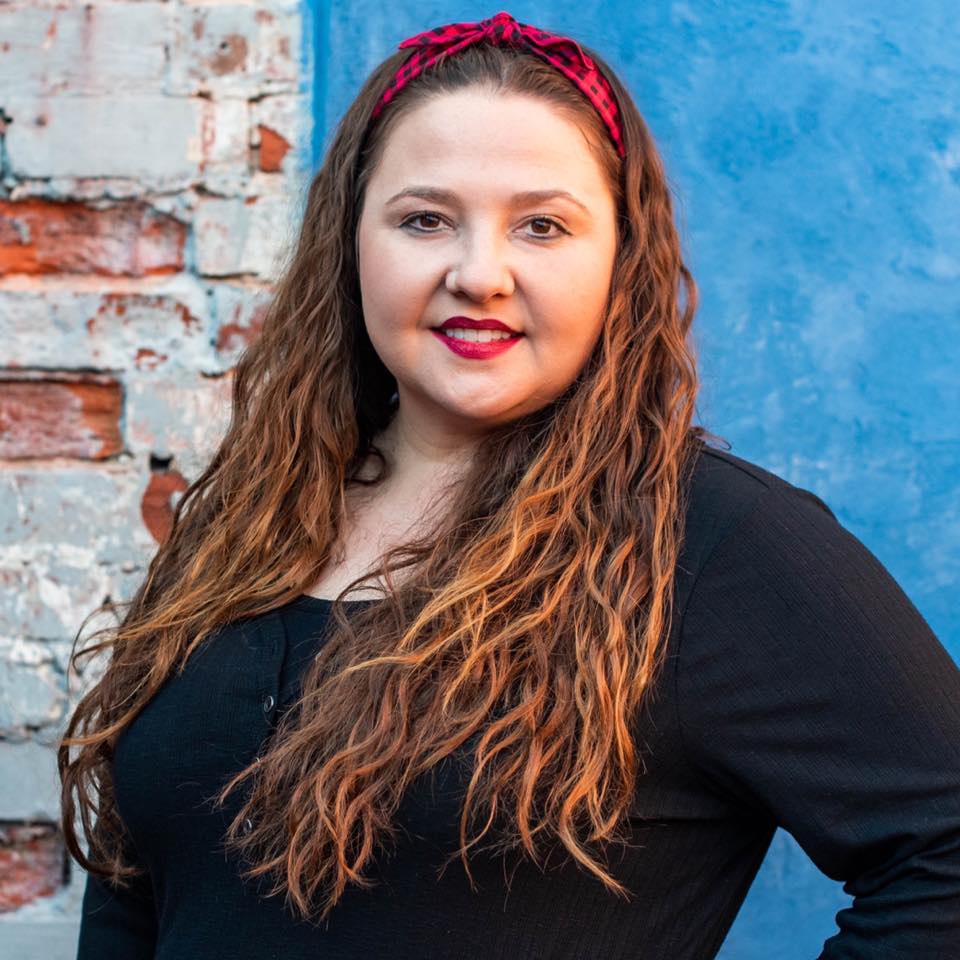 Kim's is the party planning, thrifty life-loving, intentional living catalyst behind the Thrifty Little Mom Blog. Kim was a pro event planner for over 7 years before she became a full-time blogger. Kim is the author of: Live, Save, Spend, Repeat: The Life You Want with the Money You Have. She's been featured on Time.com, Money.com, Good Housekeeping, Women's Day, and more! Kim aims to inspire you to create, celebrate, and live life intentionally!
Summary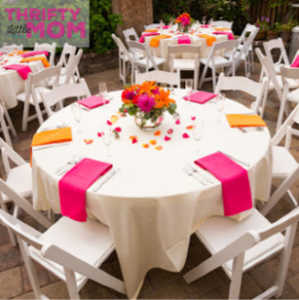 Article Name
Party Table and Chair Rentals Ultimate Guide
Description
Whether you are planning a wedding or a holiday family gathering, you may need party table and chair rentals. Here's how you can decide what you need.
Author
Kim Anderson
Publisher Name
Thrifty Little Mom