Anytime I am throwing a party at my house or event space; I evaluate whether a party tent rental is necessary. Since I have been hosting events for some time now, I have figured out a few critical factors in this decision-making process. If you are in the market for party tent rentals, here are a few things to assess before you get into it.
1. Consider the Party Tent Rental Event Usage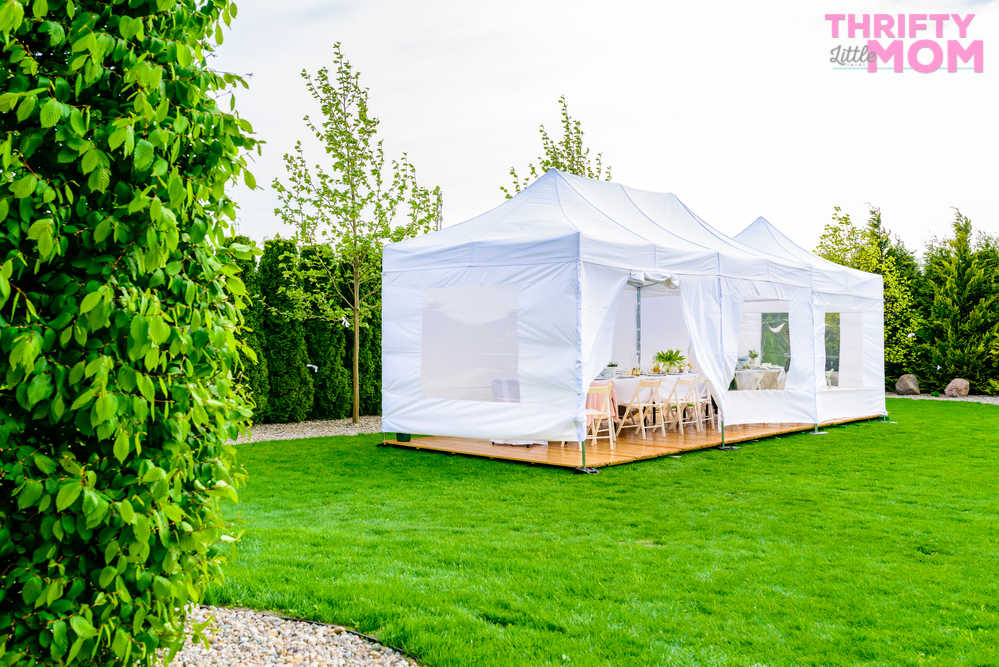 What type of event are you planning on throwing? We have used tents for everything from memorial gathering to outdoor movie parties. Decide what your top factors and desires are by making a list of top needs.
Will this be where the entire party is happening?
Are you using this for an over-flow area?
Is this party tent going to be in case of poor weather?
Do you have adequate space for the size of the tent desired?
Will you have enough space outside the tent for stakes and ropes?
Understand if your venue has limitations or requirements for tent rentals.
I have been at venues that do not allow staked tents as they can ruin the grassy areas.
2. Consider the Number of People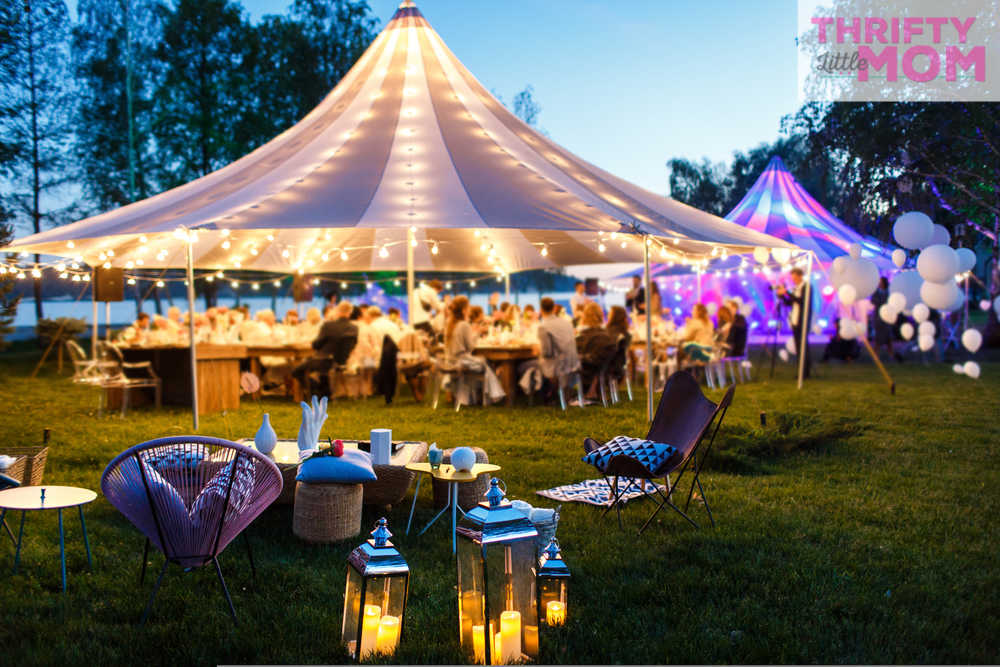 When basing the size of the tent on people you will have, it is good to note that you want approximately 10 square feet per person. As you start to incorporate extras like tables and chairs or a dance floor, you will also want to look at the configuration.
What you plan to put under the tent can determine how big of a tent you need too.
What shape tables do you plan to use?
How many food tables will you have?
Will you have a dance floor?
Is there enough light outside, or will you need lighting inside the party tent rental?
3. Consider the Styles of Party Tent Rentals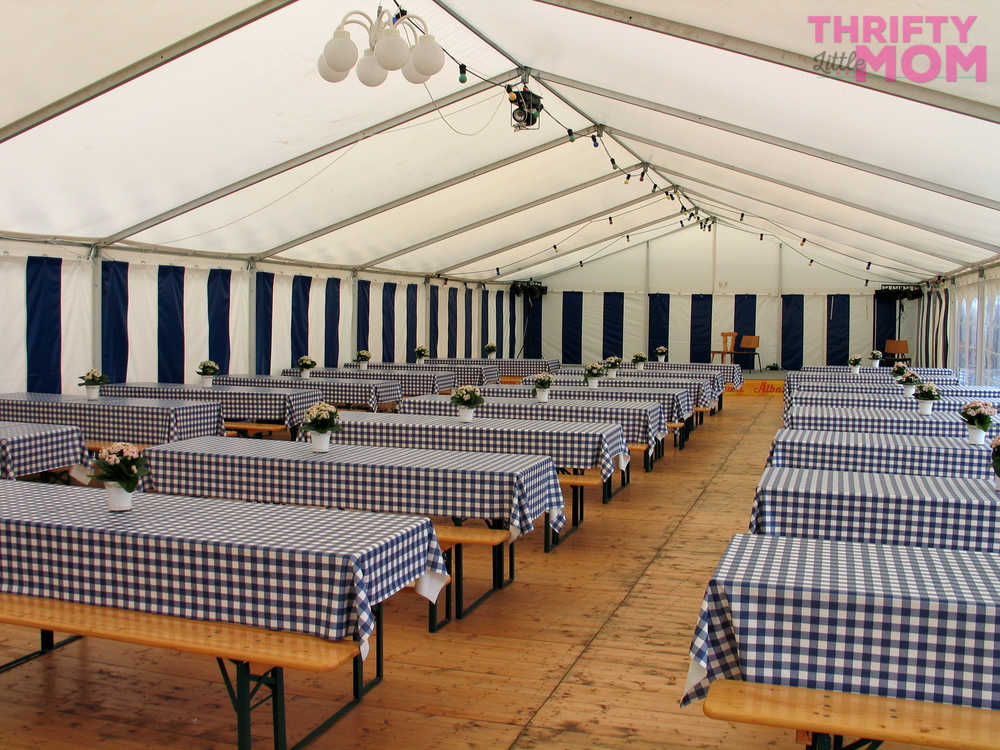 This is might be my favorite decision when it comes to planning for a tent. The styles are available in a vast range to perfectly fit your gathering.
Pole tents-
The nature of a pole tent is what some would refer to as a "circus tent" because of the peaked middle sections that create the height.
These can be festive and have a feeling of celebration in their design.
A pole tent will (usually) have the most variety of sizes of which to choose.
Some people do not like this style because there are poles on the inside area of the tent.
You may feel that these poles affect the aesthetic of your event.
Often more cost-effective since there is no framework needed.
MUST BE SECURED WITH GROUND PENETRATING STAKES- this is very important to consider when choosing your rental
Frame Tents-
A-frame tent will have its structural poles on the perimeter of the canvas.
There will not be poles in the interior that would cause any obstructions.
This style of the tent comes in plenty of sizes to fit your guest count.
I have seen these tents with clear, vinyl roofs that make for a light and airy affair.
It can be used on concrete or pavement but MUST have weights to secure them.
4. Think about any Party Tent Rental Accessories That You'll Need: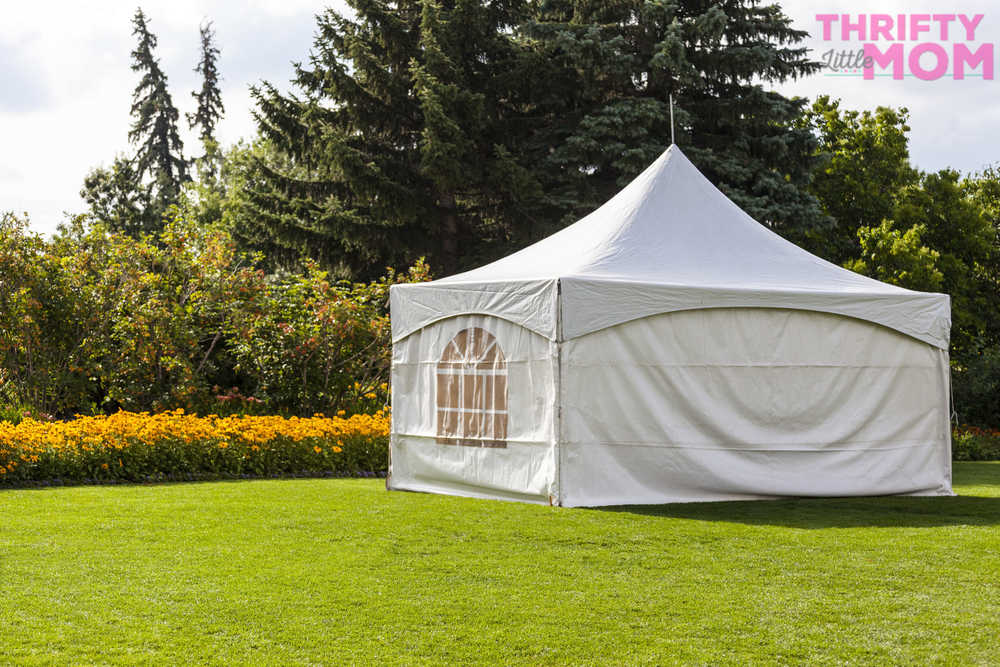 Sidewalls
sidewalls serve as excellent protection against seasonal weather
they do obstruct any view if that is key in the event
keeps in the heat if you are renting heaters
provides safety from sideways rain
Draping
The pole drapery covers the exposed poles of the tent to create a softer atmosphere
Ceiling drapery is installed to enhance the interior ceiling of the canvas, providing a finished appearance.
Lighting
Lighting makes the event sparkle. Decide on the styles you like most or require for the party.
Full lighting, soft lighting, or natural light- think about the different styles that will fit best.

"Christmas" style string lights
"Bistro" style string lights
Chandeliers
Lanterns
Spotlights
Canned (stage) lighting- these are great for bands!
Stages, Dance Floors, and Flooring
Will you be utilizing one or all of these at your next event?
Professionals will install these and come in ~4′ x 4′ blocks.
You can rent flooring to cover the whole space if you are concerned with mud or grassy areas being too moist at the event.
Consider tarps in areas where groundwater may be an issue.
Climate Control
Heaters and cooling units are available for year-round rental
Heating units come in different styles for warming the whole tent or specific areas.
Fans are utilized to create airflow but don't fully cool an area on a hot day.
If you want an air-conditioned feel, I suggest you rent a portable cooling unit.
5. Consider When to Buy, Borrow or Rent Party Tents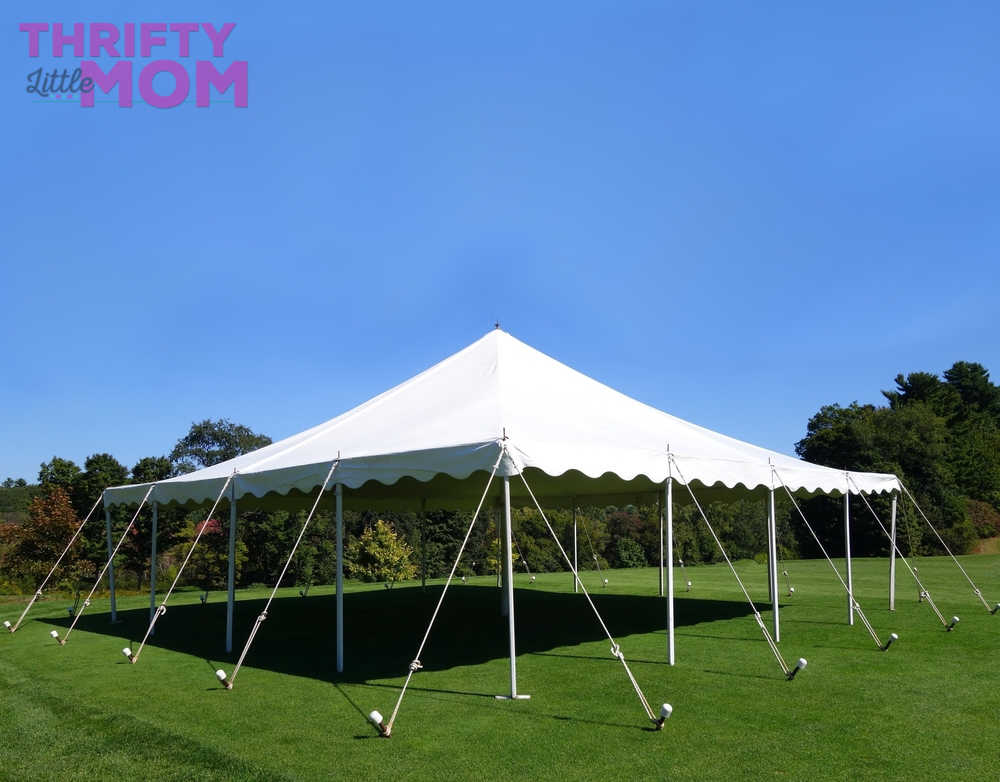 Depending on the size of your gathering, you might be able to borrow a few tents from friends, buy one yourself, or choose to rent one. We purchased a 14′ tent for the outdoor movie parties we like to host, and it was a fantastic investment.
Do you need frequent use of an overflow area?

We don't have a huge kitchen/living room hang out space. If we have more than eight adults, space tends to start feeling cramped
I like it when we can pop the tent up with a few chairs and tables to extend the entertainment area.
If this sounds like you, you may want to go ahead and invest in a party tent.
My husband is also able to use it as an extension on the garage during hot or rainy days when you have those projects that need to be completed.

The party tent rentals company will base the prices on daily rates.
The rates quoted do not (usually) include the delivery rates to and from the location
Some places will charge a higher price for weekend delivery to events
You may see additional charges for installation of the tent and accessories as well
With all of the costs adding up, you may find it is cheaper in your situation to purchase a tent
Smartxchoices 10′ x 30′ Outdoor White Waterproof Gazebo Canopy Tent with Removable Sidewalls and Windows Tent for Party Wedding Events Beach BBQ

CRINEX 10×10 Canopy Tent White, Pop Up Portable Shade Instant Folding Outdoor Gazebo Canopy Tent with 3 Removable Side Walls and Black Carry Bag
6. Party Tent Rental Extra Options
If you need more than solely party tent rentals, consider other items that you will want to rent, and you may be able to work a "bundle discount." Other things you can add to your event package include:
Table and chair combinations
There are round tables and rectangular tables for rent.
Round tables are for guest seating at most events.
Rectangular tables are for "honoree tables," such as the bridal party at weddings.
Food and drink tables are rectangular also at most events when there is a buffet-style service.
Linens for tables and to decorate chairs
You will find a wide variety of colors to rent with companies.
If you have a specific shade, however, you may have to provide those colors.
Rental companies have linen policies that are important to read and abide by.
Keeping them in good order and avoiding the creation of mildew when bagging them after the event will prevent you from having to pay any additional fees
Flatware and dining accessories
Rental companies direct you to have scraped plates returned to them.
The company wants to avoid food spoilage coming back to the rental center
With this policy, you will want to assign someone to make sure that the plates are clean before being placed back in the storage containers.
Following this policy will prevent additional charges associated with the dirty dishes.
Centerpieces and decorations
For holiday events, weddings, and birthdays, the rental companies will have predesigned decorations that you can rent
Renting these decorations makes it easier on the day of the gathering to have festive decor that will add thematic ambiance to your event without you having to create them beforehand and store them post-event.
Actual furniture pieces (these are great for a photo booth or picture spot)
Having a vintage couch or some classy armchairs to provide an unexpected seating area can be so much fun.
I've seen these set up for a cozy spot to chat with friends or as a photo opportunity area to commemorate the event.
Games and entertainment
There are carnival-style games that you can rent to keep people entertained and interacting with each other.
Cornhole is a popular rental game for parties.
Inflatable bounce entertainment
If you are hosting an event that will have more than five children, I suggest an inflatable.
It makes it easy to keep kids occupied during the socializing of the adults
You may even want to consider purchasing an inflatable if you tend to use these regularly.
Knowing how much space you have is just one of the things to consider before renting an inflatable.
Sno-Cone and cotton candy machines (or other concession machines)
A tasty treat is a fun addition to the party menu.
The "fair-style" food machines will add whimsy and fun to any gathering.
7. Do You Need An Event Planner
Sometimes, it's nice to have someone there to help make sure all the bases are covered!
I hope this helps you decide on your next party tent rental options. Have fun at your next gathering!

Inflatable Rental: 8 Things to Do Before You Rent
Party Table and Chair Rentals Ultimate Guide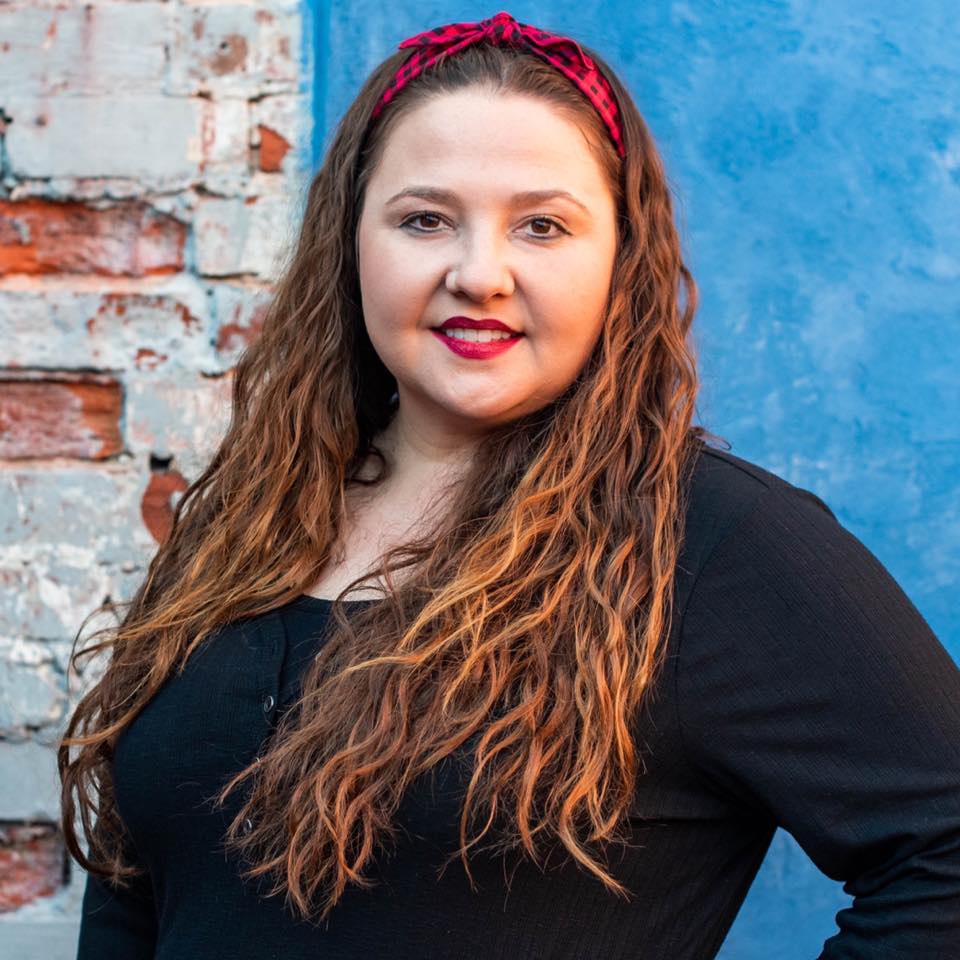 Kim's is the party planning, cupcake loving, celebration catalyst behind the Thrifty Little Mom Blog. Kim was a pro event planner for over 7 years before she became a full-time blogger. Kim is the author of: Live, Save, Spend, Repeat: The Life You Want with the Money You Have. She's been featured on Time.com, Money.com, Good Housekeeping, Women's Day and more! Kim aims to inspire you to create parties, celebrations and gatherings that everyone loves!
Summary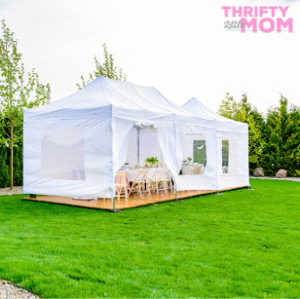 Article Name
7 Things to Consider BEFORE Booking Party Tent Rentals
Description
Thinking about booking party tent rentals for your next shindig? Before you rent, make sure you read these articles so you can prep and plan for an informed renting decision.
Author
Kim Anderson
Publisher Name
Thrifty Little Mom