15 Minute Poinsettia Decor Wreath
This post contains affiliate links. As an Amazon Associate, I earn from qualifying purchases. I also earn from qualifying purchases made with other brands and programs. See my
privacy policy.
With the winter holidays here, I am ready to decorate! I love the fragrant smell of pine and cinnamon and the bright red, beautiful blossoms of poinsettias. That means it's wreath time. Being a mom of 3, I don't have heaps of time to spend on making one. He's how I make a 15-minute poinsettia decor wreath.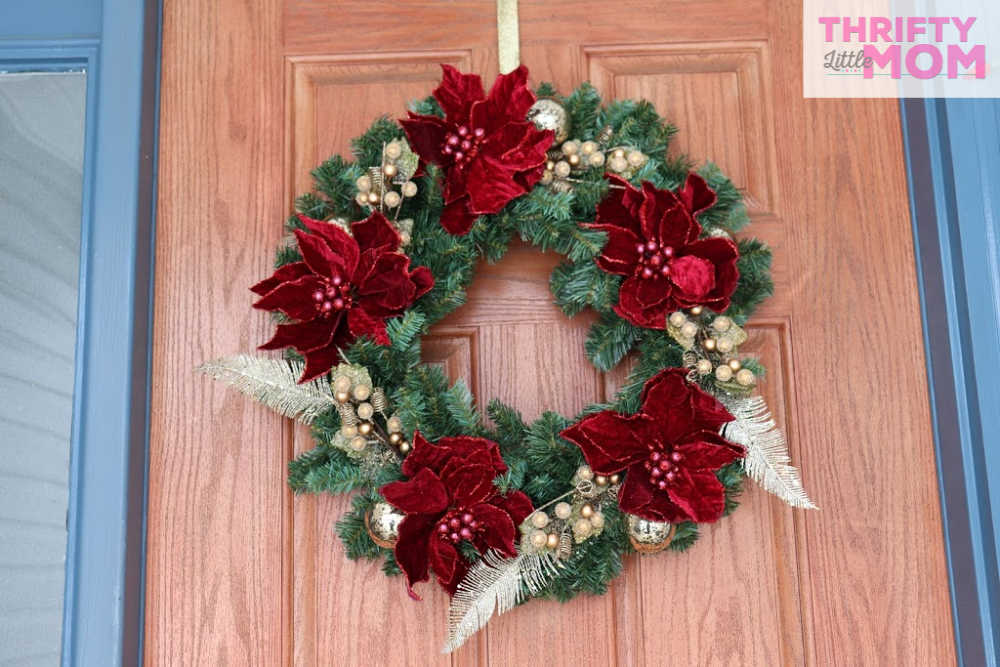 Why Poinsettia Decor for the Christmas Holiday?
Poinsettias have become the classic flower of Christmas here in the United States. They were initially introduced to us from the United States Minister to Mexico, where they are indigenous. The story of them becoming a religious symbol states that a poor girl was wanting to provide a gift for Jesus' birthday but had no money.
An angel inspired her. She went to gather weeds from a roadside and would place them on the church altar. As the legend says, that the bright red flower sprouted from the weeds to bloom into the poinsettia.
The familiar star-shaped leaf is said to symbolize the Star of Bethlehem. The crimson, red color represents the blood of Jesus and his sacrifice through the crucifixion.
Gather Supplies for the Poinsettia Decor Wreath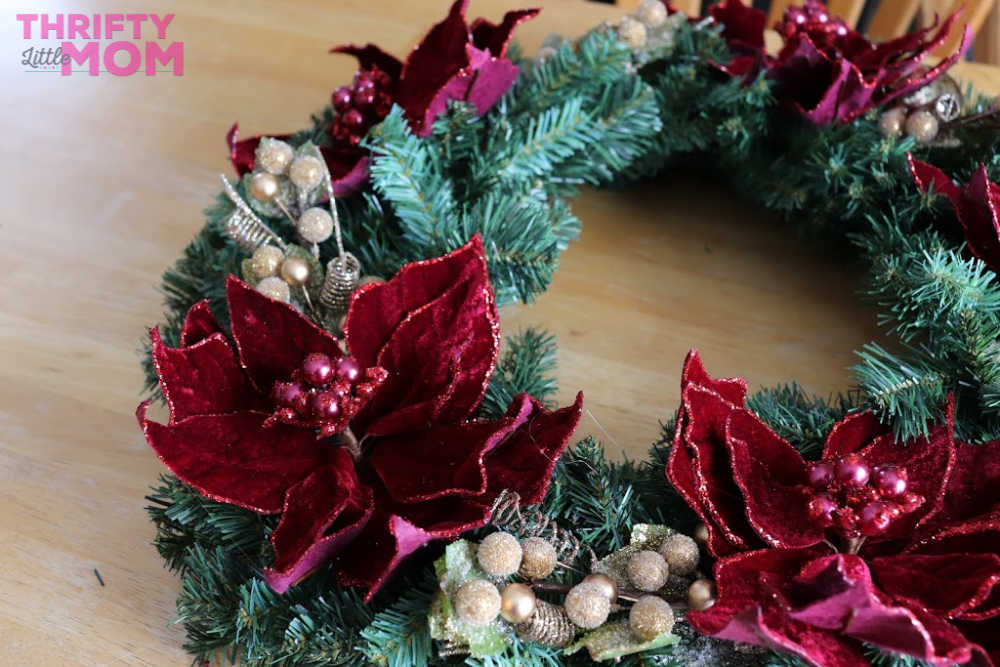 You will need some basic crafting supplies to complete this at-home project. That being said, this is also an excellent crafting party for your friends and family. A holiday get-together is always on my calendar.
Poinsettia Wreath Supply List:
A bendable faux pine wreath for your base

Wired floral poinsettia pieces

Extra wire-stem seasonal decorations (I like the stemmed berries, ornaments, and feathers)

Ribbon is optional

Small pliers for bending stems may be necessary if the wire is a heavy gage.

A hot glue gun is optional if you want added security

Over-the-door wreath hanger if you do not wish to secure with command hooks or nail
The Wreath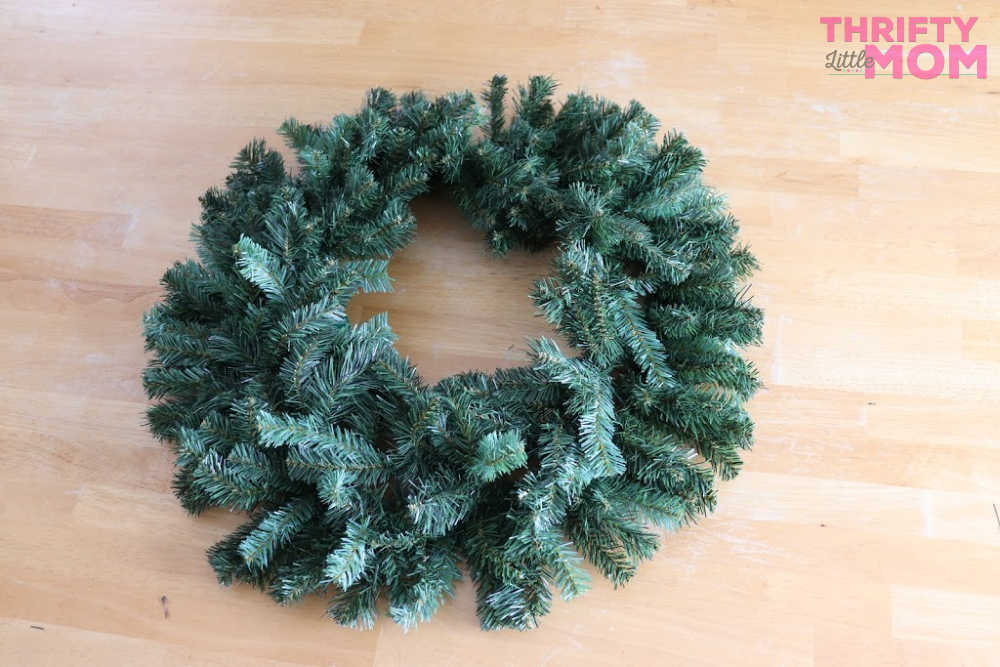 I prefer a wreath that is about 24″.

Get an artificial pine wreath that has a metal wire backing

The wire backing will give stability and allow for easy hanging

You can also find one that is pre-lit if you would like some ambiance at your door
Northlight 24″ Canadian Pine Artificial Christmas Wreath – Unlit
The Flowers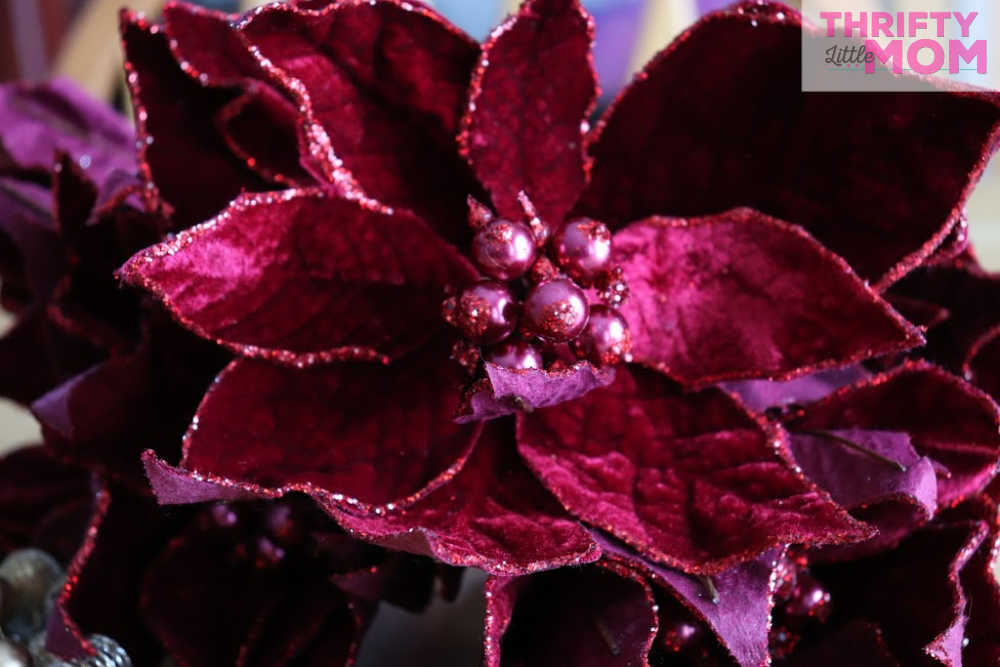 Poinsettia leaves come in all styles and color variations- red, burgundy and creamy white are the most popular for the season
I chose flowers that were thicker and made for outdoor use
Indoor flowers may fade quickly
The die used in indoor flowers may bleed when exposed to the elements
By choosing outdoor-use flowers, you will get years of use out of your poinsettia decor wreath
KI Store Christmas Poinsettia Artificial Magnolia Flower Ornaments Picks Stems for Christmas Tree Decorations Pack of 6 for Xmas Tree Wedding Centerpiece (Burgundy)
The Berries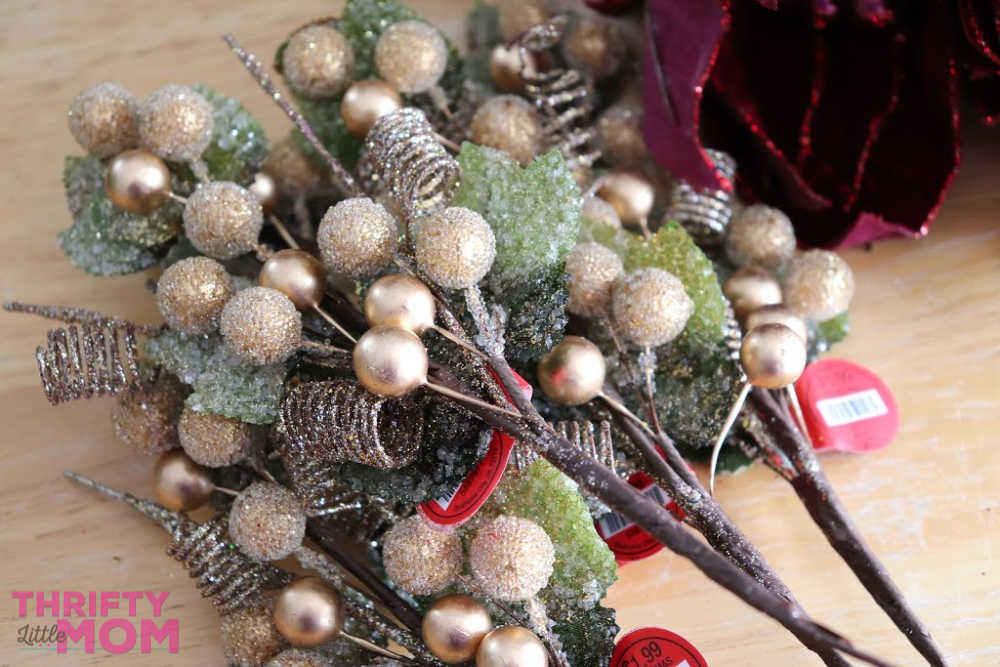 Berries, such as cranberries and holly berries, are popular during the winter season

I found that the ones with a bit of glitter and fake frost are my favorite to use

When they have the coating, the berries have more depth and texture and lead to a more professional look

Make sure the individual berry stems in the cluster are also wired to be placed as desired, not just the insertion stem.
KI Store Christmas Berry Picks Decorations Artificial Glittered Berries Stems Crafts Tree Decoration Ornaments for Xmas Tree Wedding Centerpiece Pack of 6 (Gold)
The Ornaments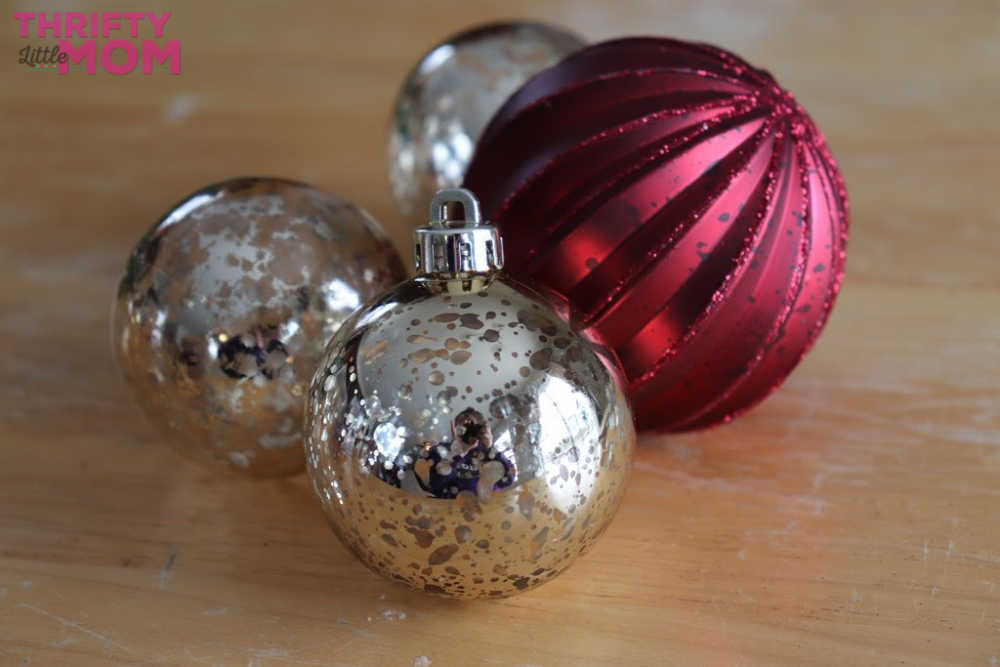 I chose to use the last-season ornaments that I had leftover.

Ornaments are optional because they can be holiday-specific.

I love the way they look, but you can extend the seasonality of your wreath by your decision to use or not to use these

I picked ornaments that were in my color scheme and hot glued them into bunches

You can also utilize ornament wire hangers to attach them to the wreath
Holiday Time 26-Count Red Intensity Shiny Matte Glitter Ball Ornaments
The Feathers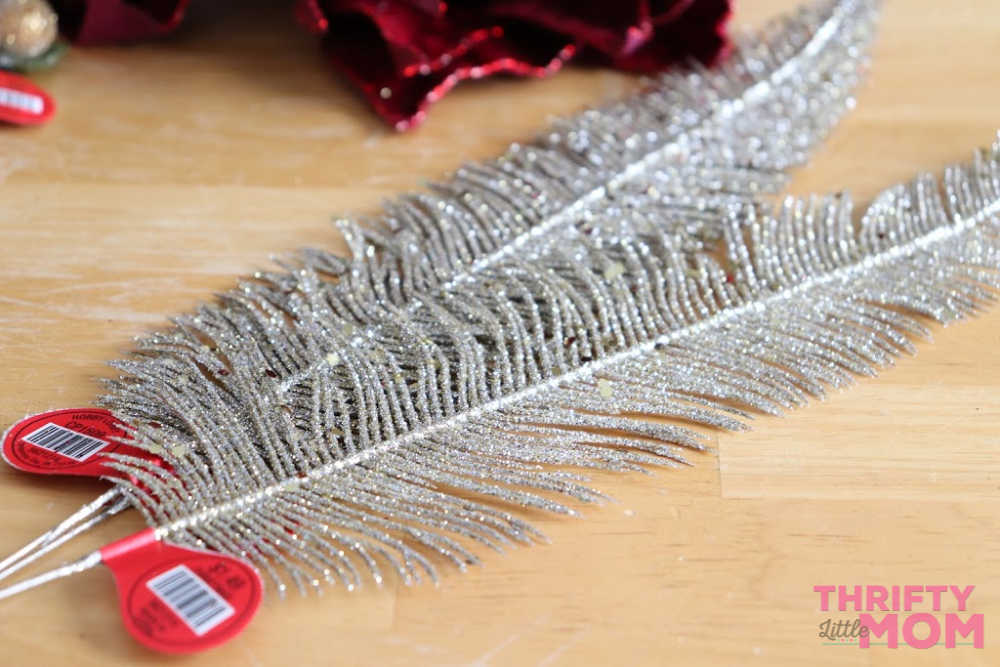 This wreath must last me the whole season, if not longer.

I picked up feathers that would not be affected by the elements.

The feathers are coated and then also covered in glitter, this will help with any harsh weather during the season.

I find that the feathers I chose had bendable stems, which is excellent, however, some of these can be a little more resilient to bending. You may need small pliers to help manipulate the stems.

If you are unable to find feathers, you can substitute fern fronds, as these will give the same overall appearance.
Queens of Christmas WL-PCK12-TF-SLV Peacock Feather Pick with Glitter, 12″, Silver
Assembly the Poinsetta Decor Wreath:
I list the items step by step below or you can watch my how-to video here:
Assembly of the poinsettia decor wreath is very simple. My children are getting to the age where they can help with this easy project. Invite your loved ones to join in the decoration of the holiday season.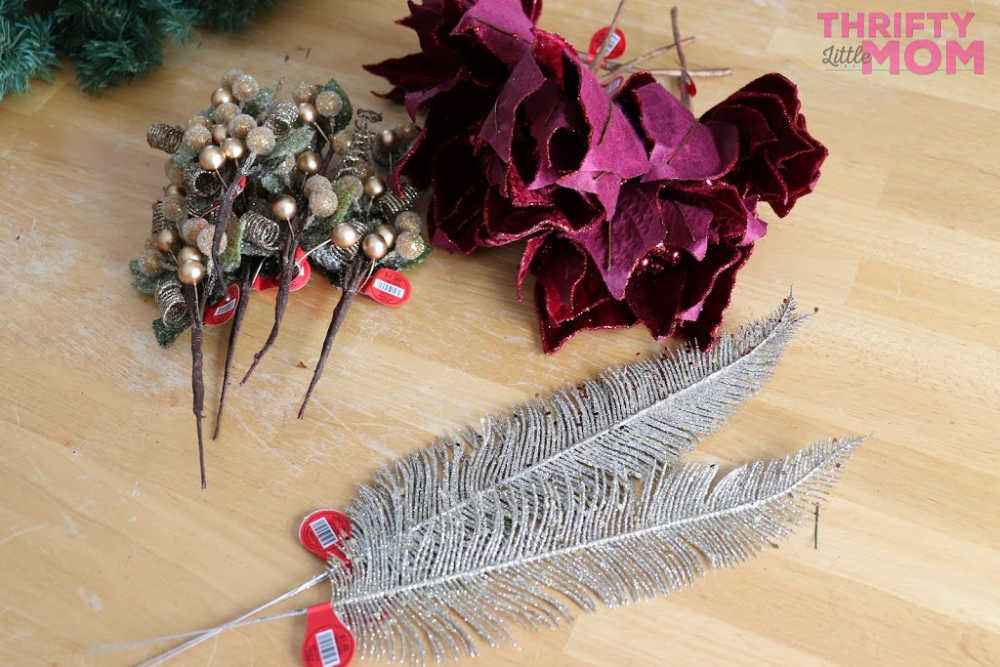 Step one: Prep Your Wreath
Lay the pine wreath on a flat surface.

Gently separate fronds as these may get smashed during storage

Make sure you distribute them evenly around the center

Pro-Tip: If your wreath has seen better days and needs some extra love, purchase pine garland from Dollar Tree wreath section and fill in any gaps. It is great for adding thickness overall.
Step two:
Select the pieces you will be using

Lay them out in the desired location BEFORE ATTACHING

You will want to attach the items on the poinsettia decor wreath from largest to smallest

The poinsettia leaves on my wreath are the largest.

From largest to smallest, it is then: ornament bundles, berry stems, and then feathers.

NOTE: If you will be adding ribbon, do this now or after the addition of the first flowers
Step Three: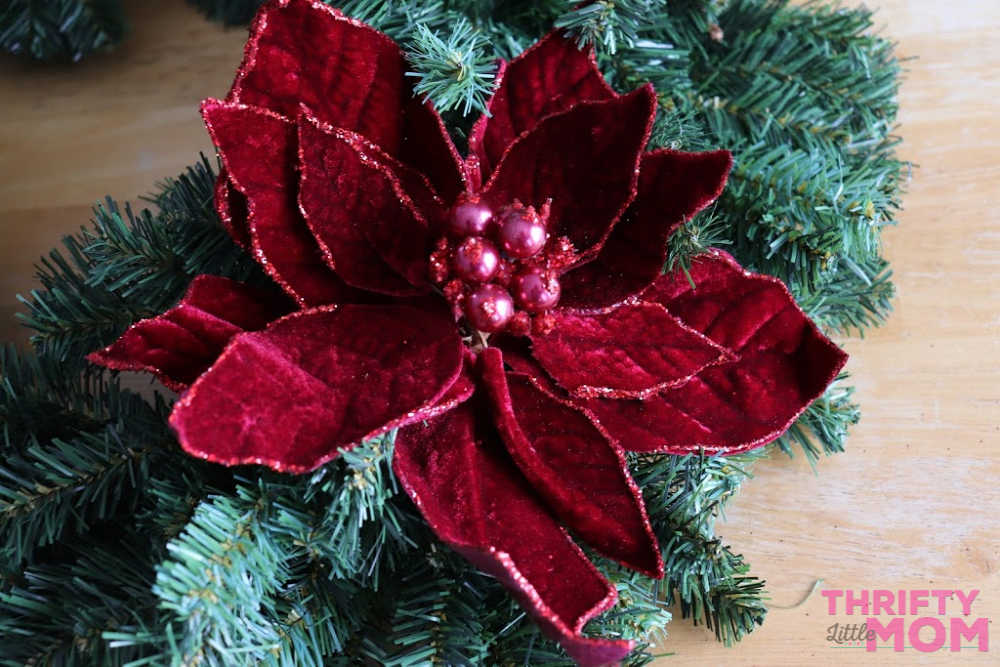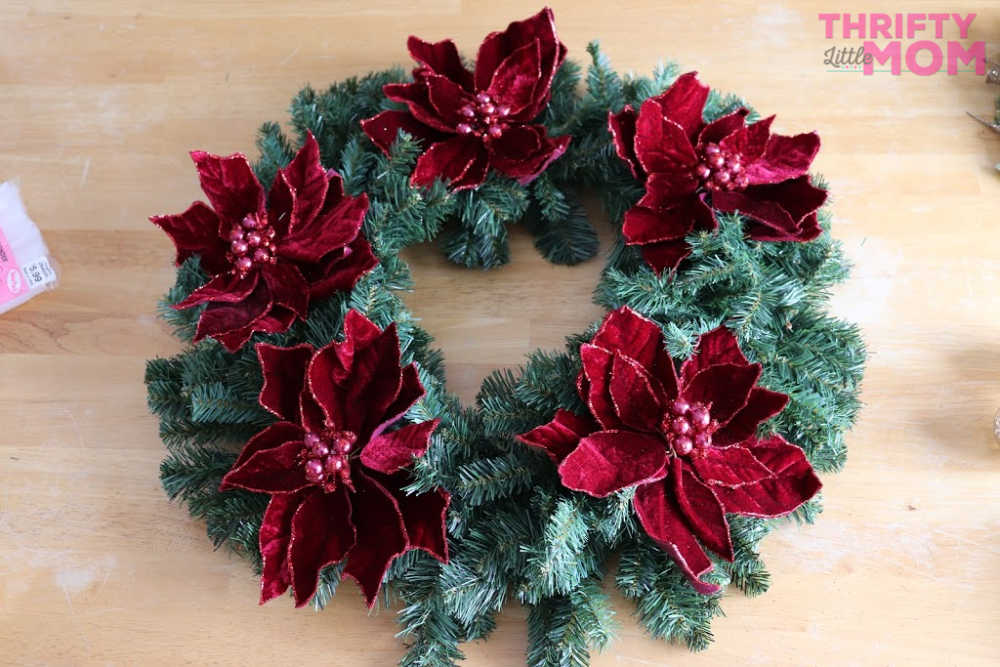 Attach the poinsettia flowers in the desired locations.
I chose to place mine in five points, equal distance apart.
Place through the pine leaves and wrap wire ends around metal frame in the back.
Step four: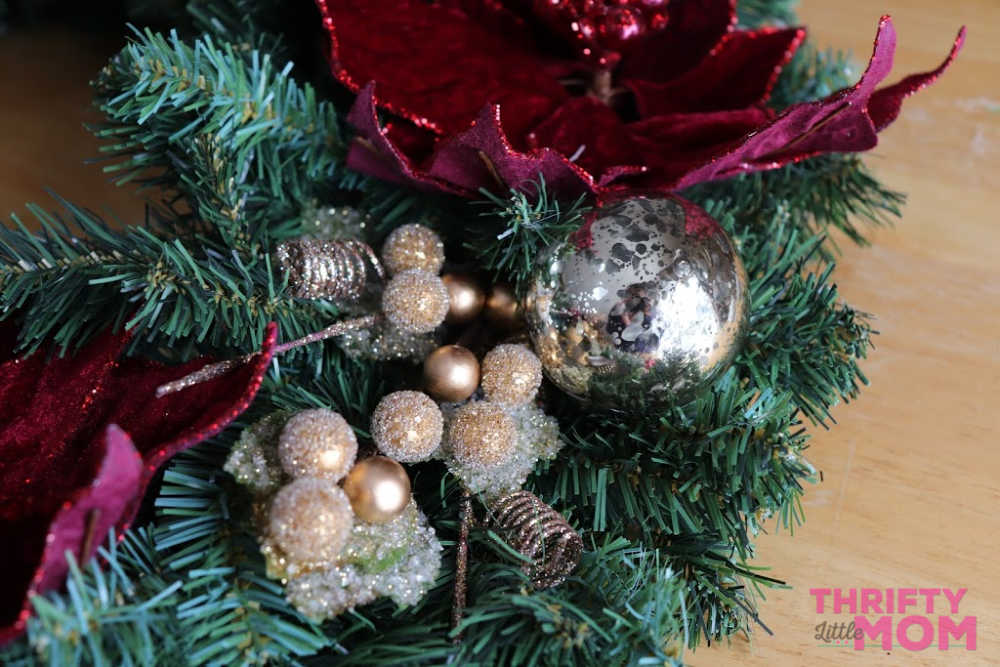 Add the next largest item- mine is the ornament bundles.
I chose to use hot glue for added security for this decorative piece.
Tuck the ornaments in tightly under the petals of the poinsettia.
This layering technique will add a lovely dimension to the poinsettia decor wreath.
Step five: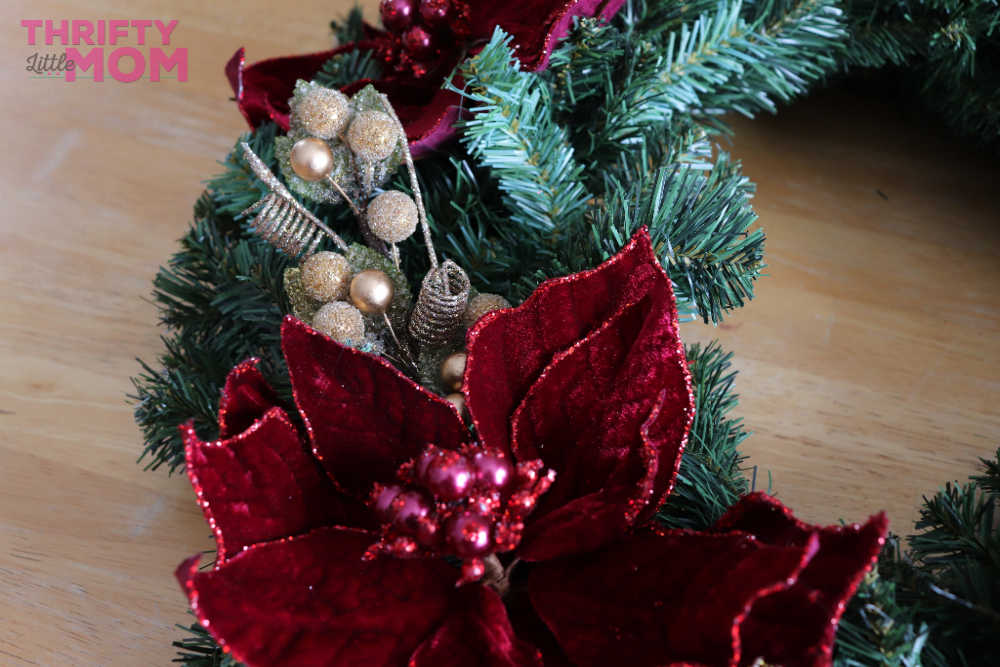 Slide berry stems into the wreath at an angle.
Wrap the wire stems into the metal frame for security.
Apply hot glue to berry stems if you would like.
Adjust the berry ends and spread them for width
Step six:
Add feathers to the poinsettia decor wreath.
I like to place a bead of hot glue to the shaft of the feather and press into the berry stems to add stability
Step seven:
Let the hot glue dry for 2-3 minutes.
Lift the wreath and shake
If you have glittered items, do this in an area you can clean up easily (lol)
Your poinsettia decor wreath will be on a door that is continuously opening and closing.
Shaking the wreath will show you where you may need to stabilize more.
Step eight: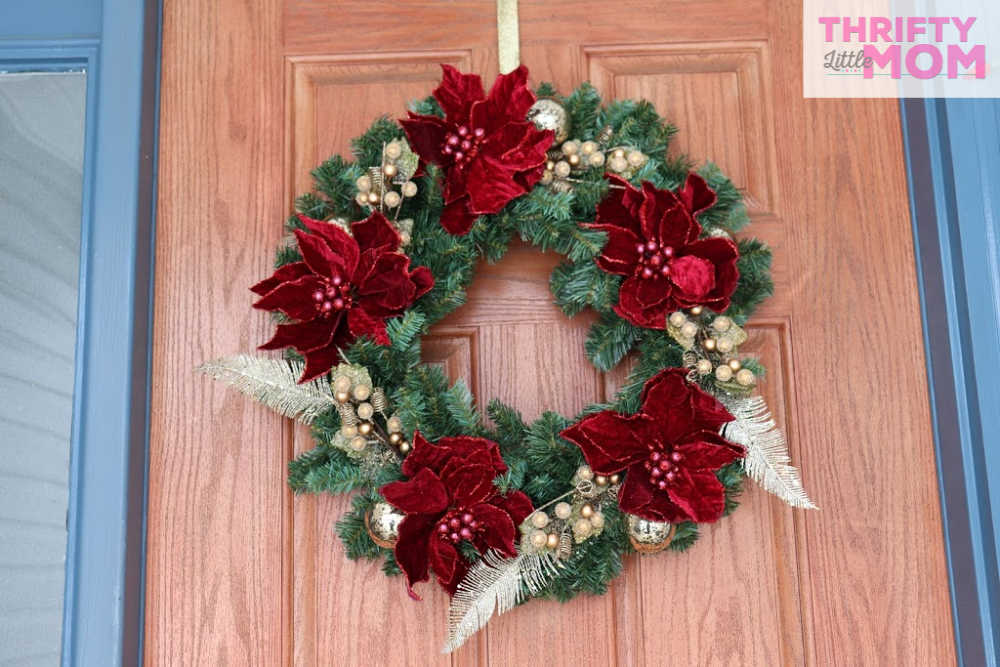 Hang and enjoy your holiday season!
I love getting out the garland and lights and planning my seasonal display.
The holidays are so much fun if you enjoy decorating.
There are so many different festive additions you can place throughout your house and front entry.
Poinsettia Care
When purchasing silk flowers, you will want to invest in a silk flower cleaner. Cleaning will guarantee the longevity of your poinsettia decor wreath for future uses.
Some people are hesitant about the poinsettia plant because of rumors that it is poisonous. However, this rumor was determined false by the American Journal of Emergency Medicine, which gathered research from the American Association of Poison Control Centers that showed that there were no fatalities from the plant.
The amount of poinsettia leaves a child would have to ingest to be poisonous is around 500! So, do not fear the beautiful poinsettia plant this holiday season.
More Thrifty Ideas for your Poinsettias Decor Wreath
Did you know that are several ways to save money when decorating for the holidays?
Some of my favorites include:
Christmas Tree Trimmings
The "free trimmings" bin at my local home improvement store is my go-to. They will have this located near the fresh trees. The container has fresh cuttings that you can acquire to enhance your holiday decor.
The fresh pine will make your home smell amazing! I place these throughout my home, and they bring a beautiful holiday cheer to every room. Decorate Like the Magazines Using Free Garland From Home Improvement Stores
Pine Cones
Walk around the yard or park for a few minutes this season and pick up pine cones. These cones can be bundled together in a table centerpiece, candle holder, or even a fireplace bucket. The pine cones look beautiful with other natural seasonal elements like berries and holly. You can place them with extra ornaments in a bowl by the front door.
Wrap Cardboard Boxes
When I was working in the corporate world, an easy way to decorate on a small budget was to make gift piles. You can save shipping boxes in different sizes, pick up pretty coordinating gift wrap, quality ribbon, and bows to decorate with. I would wrap these boxes and then layer them in areas around the facility. It was an inexpensive way to add Christmas cheer for a few dollars.
Want a more nature inspired Christmas wreath for the door? Check out my video on how to make a winter berry wreath!

Make a Winter Berry Wreath in 15 Minutes for $15
5 Fun Family Christmas Tree Decorating Traditions
Simple Seasonal Wreath Instructions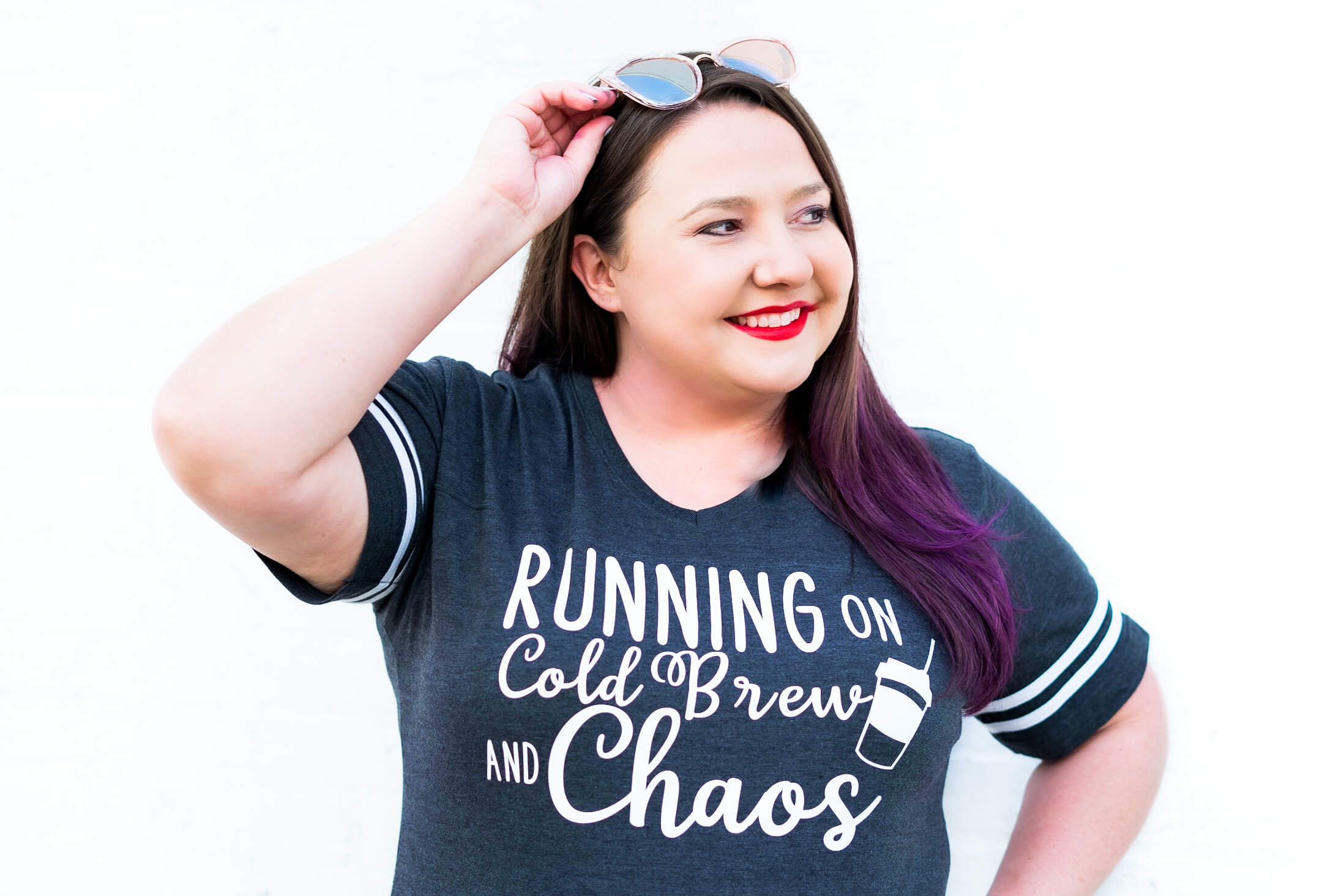 Kim Anderson is the organized chaos loving author behind the Thrifty Little Mom Blog.  She helps other people who thrive in organized chaos to stress less, remember more and feel in control of their time, money, and home. Kim is the author of: Live, Save, Spend, Repeat: The Life You Want with the Money You Have. She's been featured on Time.com, Money.com, Good Housekeeping, Women's Day, and more!
Summary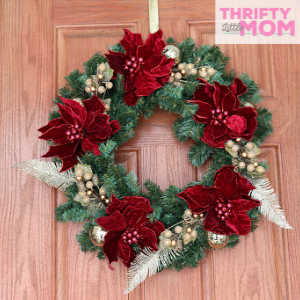 Article Name
15 minute poinsettia decor wreath
Description
For the holidays, I love to create a beautiful door decoration. Here's my easy 15 minute tutorial on creating your poinsettia decor wreath.
Author