Create a Black Friday Budget Battle Plan
This post contains affiliate links. As an Amazon Associate, I earn from qualifying purchases. I also earn from qualifying purchases made with other brands and programs. See my
privacy policy.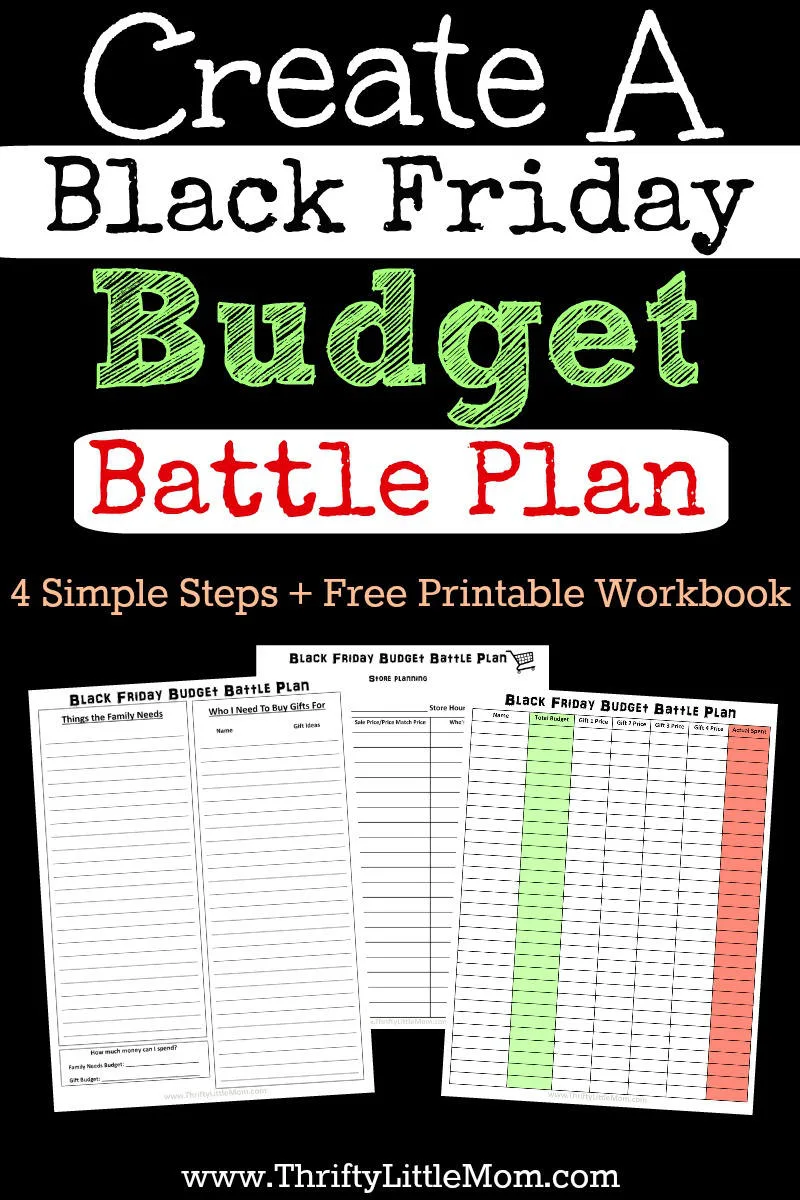 For all you other frugal loving people out there, one of our favorite shopping days is quickly approaching.  Black Friday will be here before we know it!  And while your kids and most everyone else is in a turkey-induced coma, you'll be up with your coffee in hand ready to get every good deal you can find.  One of the most important things you can do to set yourself up for deal-seeking success is to go ahead and create a Black Friday Budget Battle Plan in 4 Steps.
Nobody goes into a battle for deals without a little or a lot of pre-planning.  If you are a super couponer, deal-seeking is an art and a science.  If you are a everyday savings kind of person, it's about finding those perfect match-ups to get the cheapest price possible.  To make your planning WAY easier and a little more organized, I created this 4 page FREE printable Black Friday Budget Battle Plan Workbook.  If you need more of some of the individual planning pages, just click on the page image below.
Step 1- What do YOU need?
It's easy to write down all the people you need to buy gifts for but have you ever thought to inventory what you and your home needs first?
Those items that you need to refresh or get rid of because you've owned them for 10 years?  Like those bath towels and sheets you got for your wedding?
Black Friday is an excellent time to get ridiculously low prices on some of the stuff your family actually needs to restock and refresh your home.
Examples: 

Memory Foam Pillows
Bedding/ Bedding Toppers (I scored a $25 Queeen size Memory Foam Topper at Target that was around $125 regular price!)
Do you need fresh long sleeve shirts, blouses or denim?
Does your husband need some new clothes?
Anybody need new socks, underwear or shoes?
Does a family appliance need to be replaced?
Does anyone need a new phone, tablet or computer this year?
ACTION STEP: Make a list of what your family NEEDS.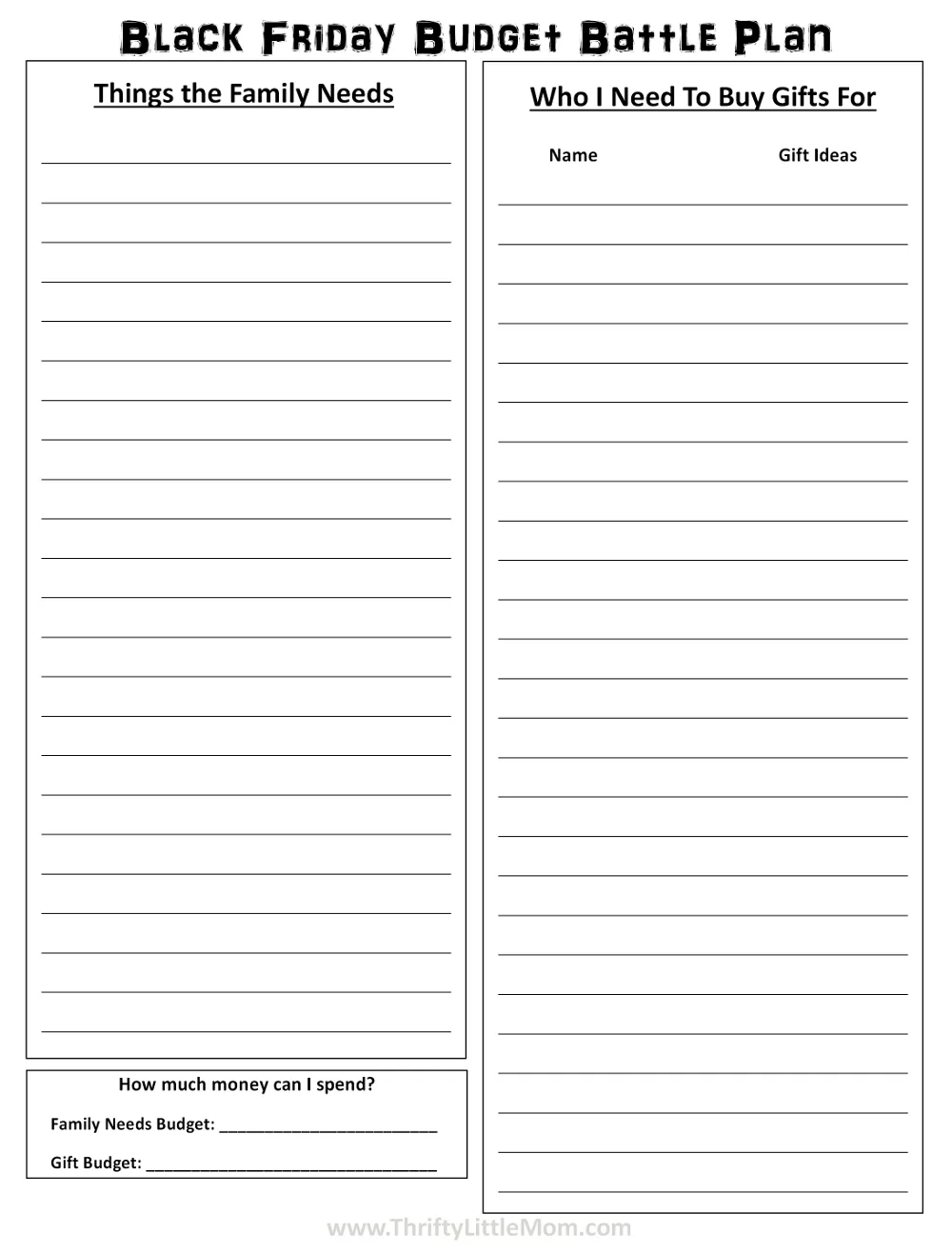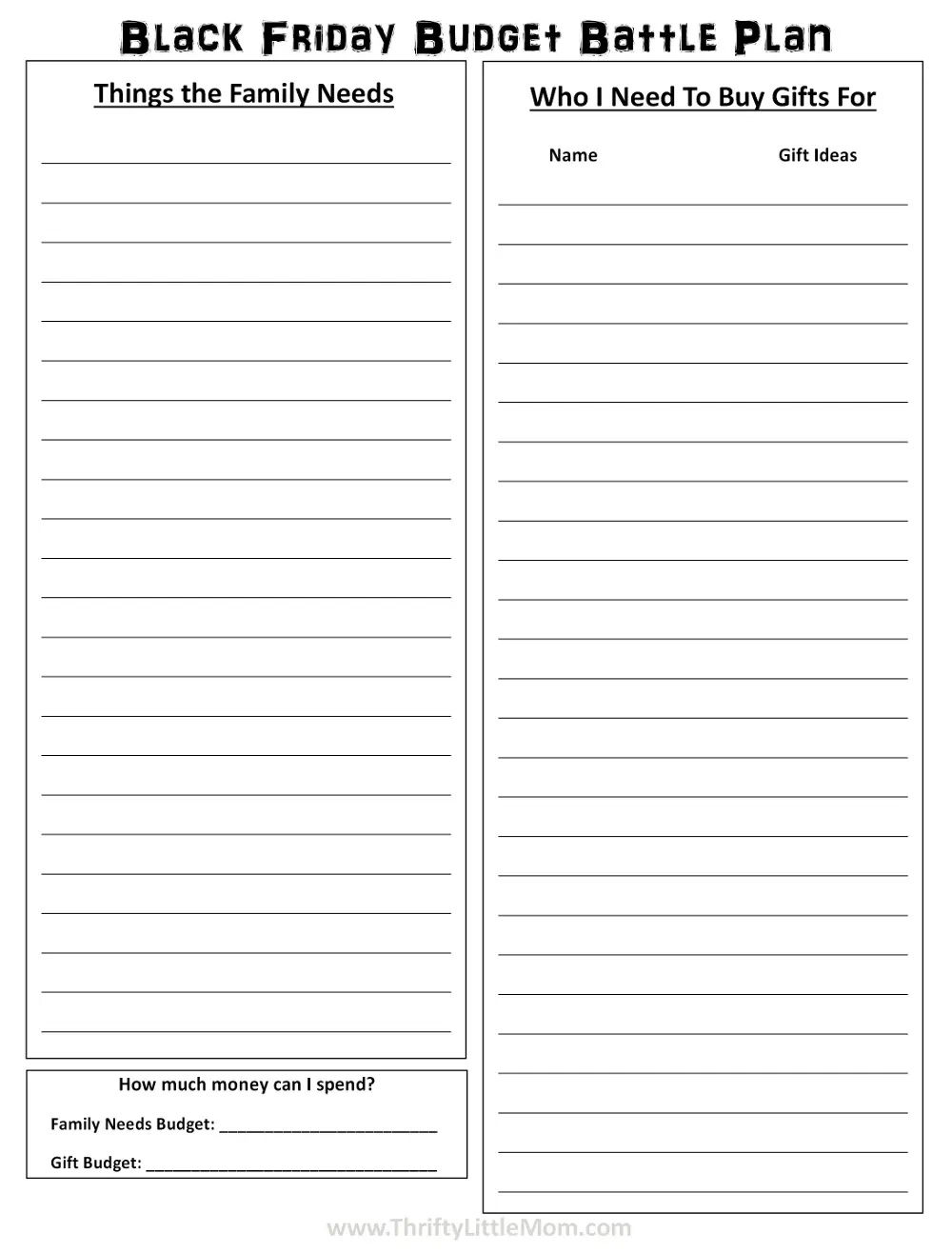 Step 2- Who do you need to buy gifts for?
Start writing down who you need to buy gifts for and potential things they may have already wished for or things you know they would like.
Decide which people have a list that can be checked off Black Friday.

For Example: Maybe your niece is a hipster type and would rather have a knitted coffee cozy from Etsy for Christmas.  You're not gonna find that at Super Mega Stuff Mart.
On the other hand your 8 year old nephew loves Nerf toys and you can look for those in the sale ads.
ACTION STEP: Make a list of who you need to by for and what you want to get them.
Step 3- Budgeting
Try Going Cash Only- I know that some people struggle with the idea, but I recommend doing the cash envelope system for Christmas this year.  If the thought of carrying too much cash around on Black Friday bugs you, use your debit card but make envelopes for each person or family to store receipts in and keep a running total on the outside of the envelope as you swipe.
Boss It Around- Decide how much you have to spend and then boss that money around and tell it where to go on your gift list.
Keep It Simple- We tend to spend more on immediate family and less on extended family and friends.  We try to make all the amounts the same so it's easier to track.  For example: Parents- $50 each, Siblings $30 each, Friends $20 each or a whole family gift for $40.
Check out my post on Planning a No Debt Holiday for more ideas on saving money this year!
ACTION STEP: Sit down with your spouse (if you have one) and come up with a reasonable budget based on the money you know you will have.  Avoid debt regret if at all possible.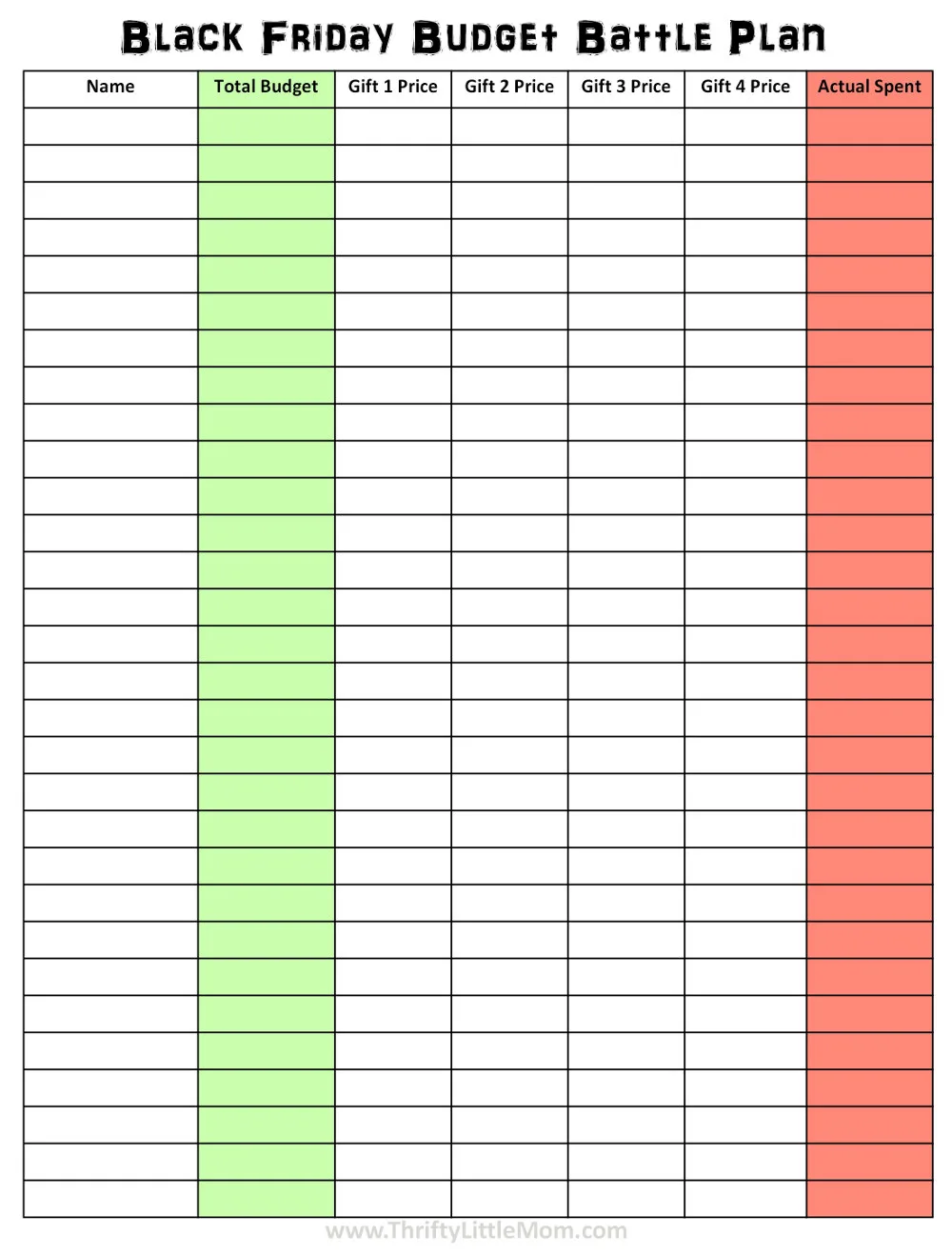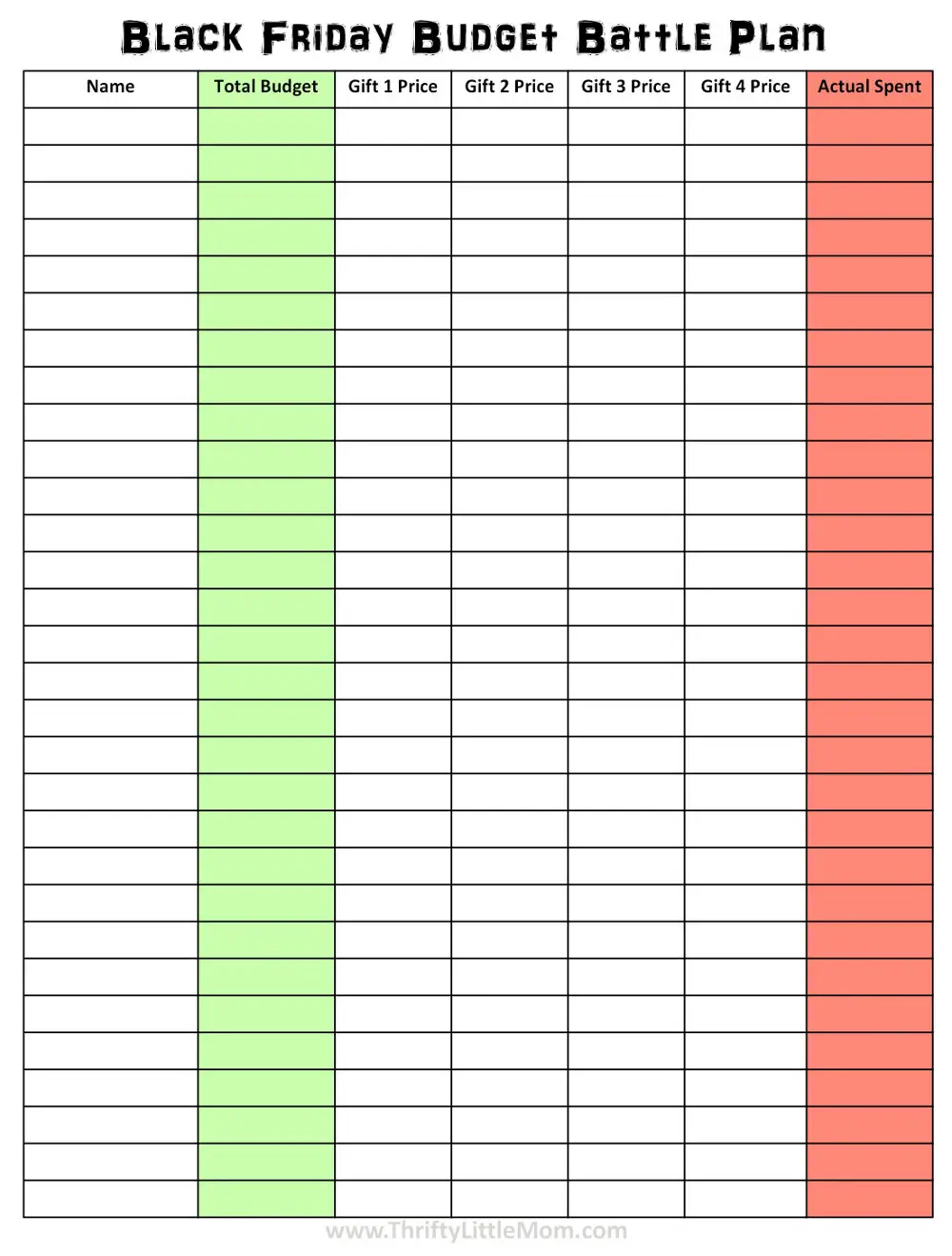 Step 4- Grab your ads and make plan.
The final piece of your planning puzzle is to sit down the week of Black Friday and start digging through your sales ads and papers.
In your Black Friday Budget Battle Plan Workbook you will find the last page says, "Store Planning". This is where you break your list down, store by store so that when you enter a store you don't become a deer in headlights trying to remember what you came in there for!  Don't forget to write down your store name and hours at the top of the sheet!
Print one for each store you plan to visit.
Within that store, decide what item your shopping for, what price it should be and if anyone has a better price that the store can match!  (Don't forget to bring those ads along).  Fill out who it's for and when you find it and put it in your cart, check it off!
If this works correctly you should be able to pull out a list for each store as you enter and know exactly what gifts to search for in the chaos and crowds.  Tunnel vision to get you in and out with what you came for.  Don't be swayed by the $3 DVD's if you don't need them.  Stay focused on your list.
ACTION STEP: Gather all the ads to the stores you love and go down your list comparing prices of the gifts you want to buy from store to store until you have a plan of the best places to get what you need.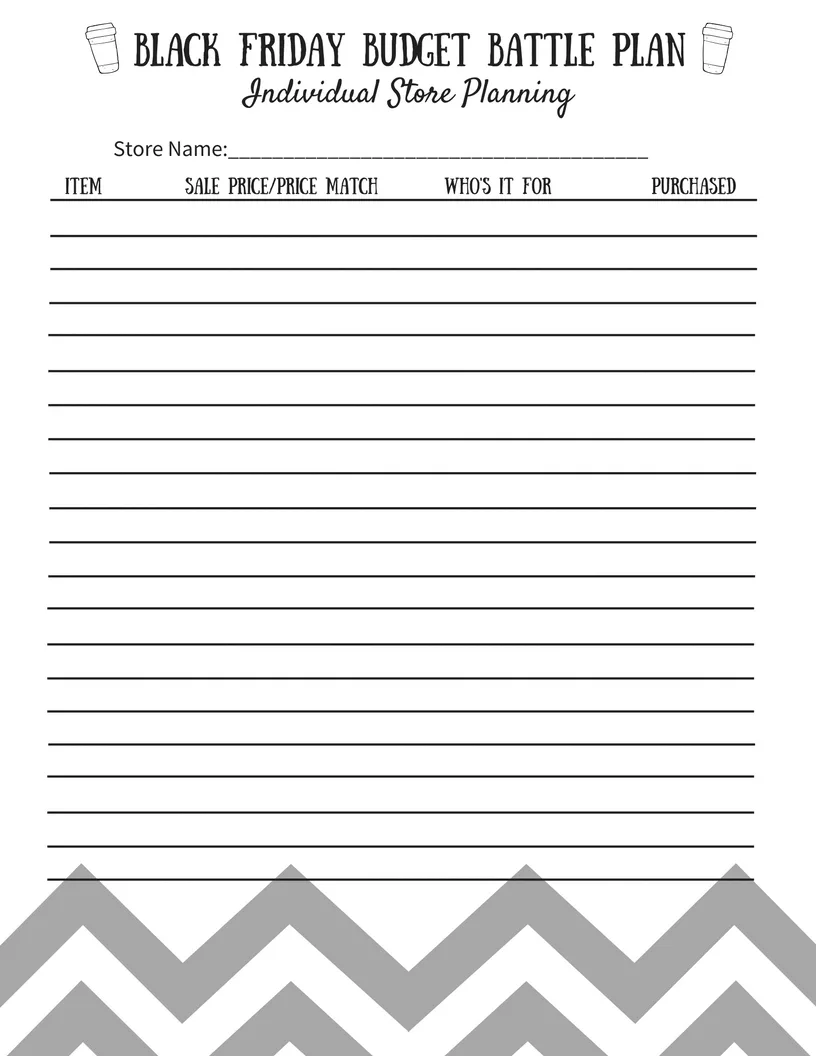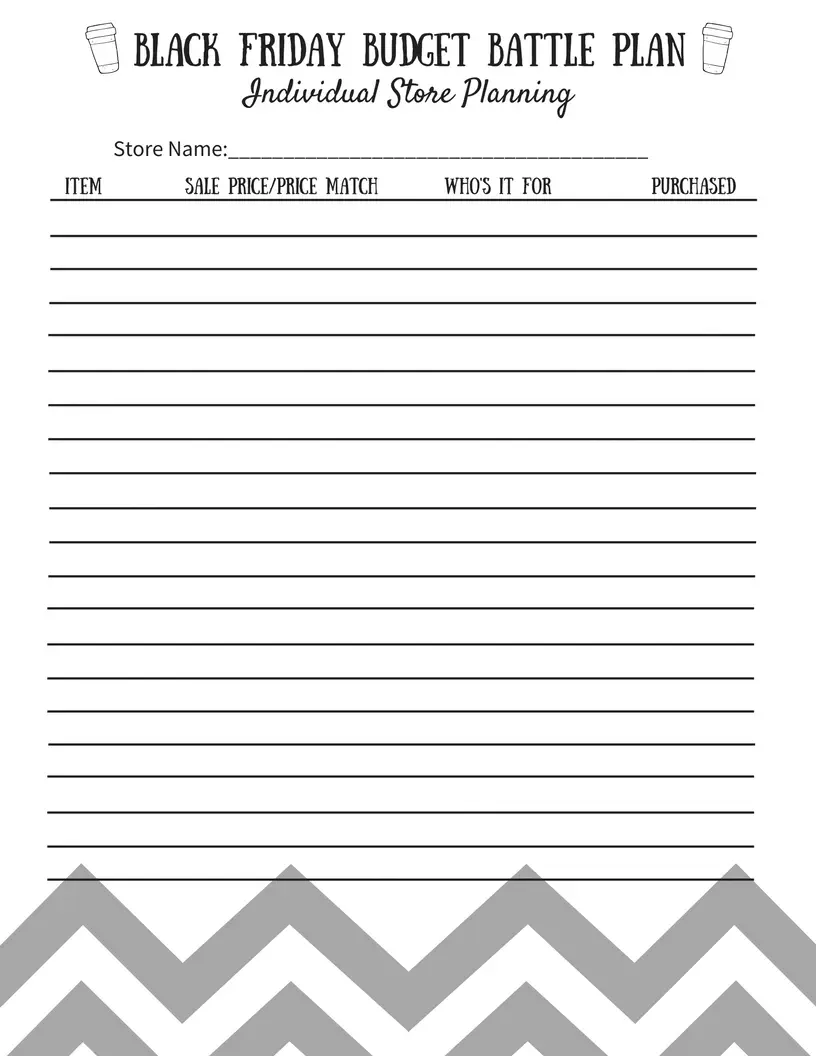 If you follow this simple Black Friday Budget Battle Plan you should have a successful and organized shopping expedition this year!  Good luck, drink coffee and give grace to all the other sleep-deprived, deal-hungry people around you!
Are you a Thursday Night or Friday Morning Shopper?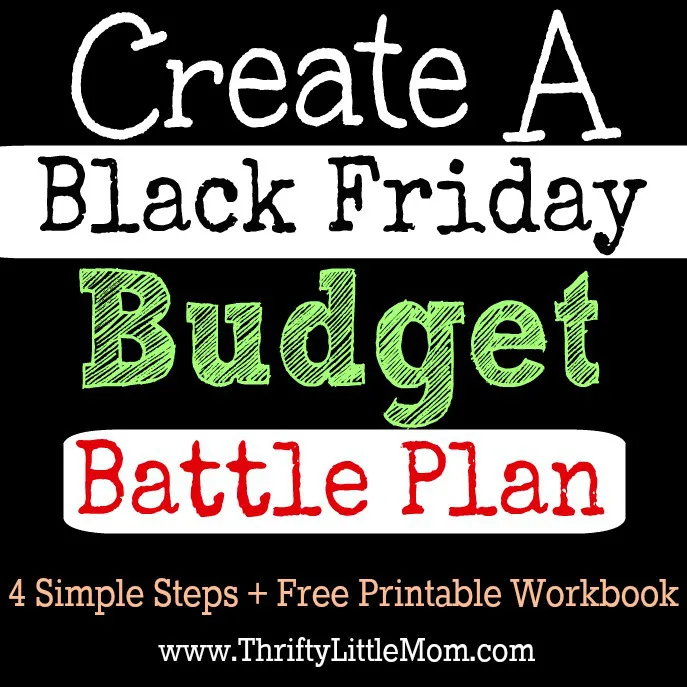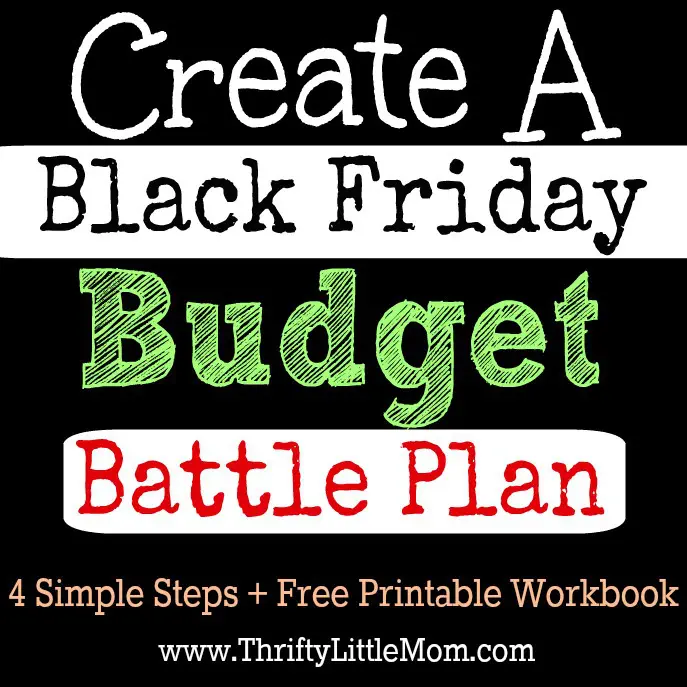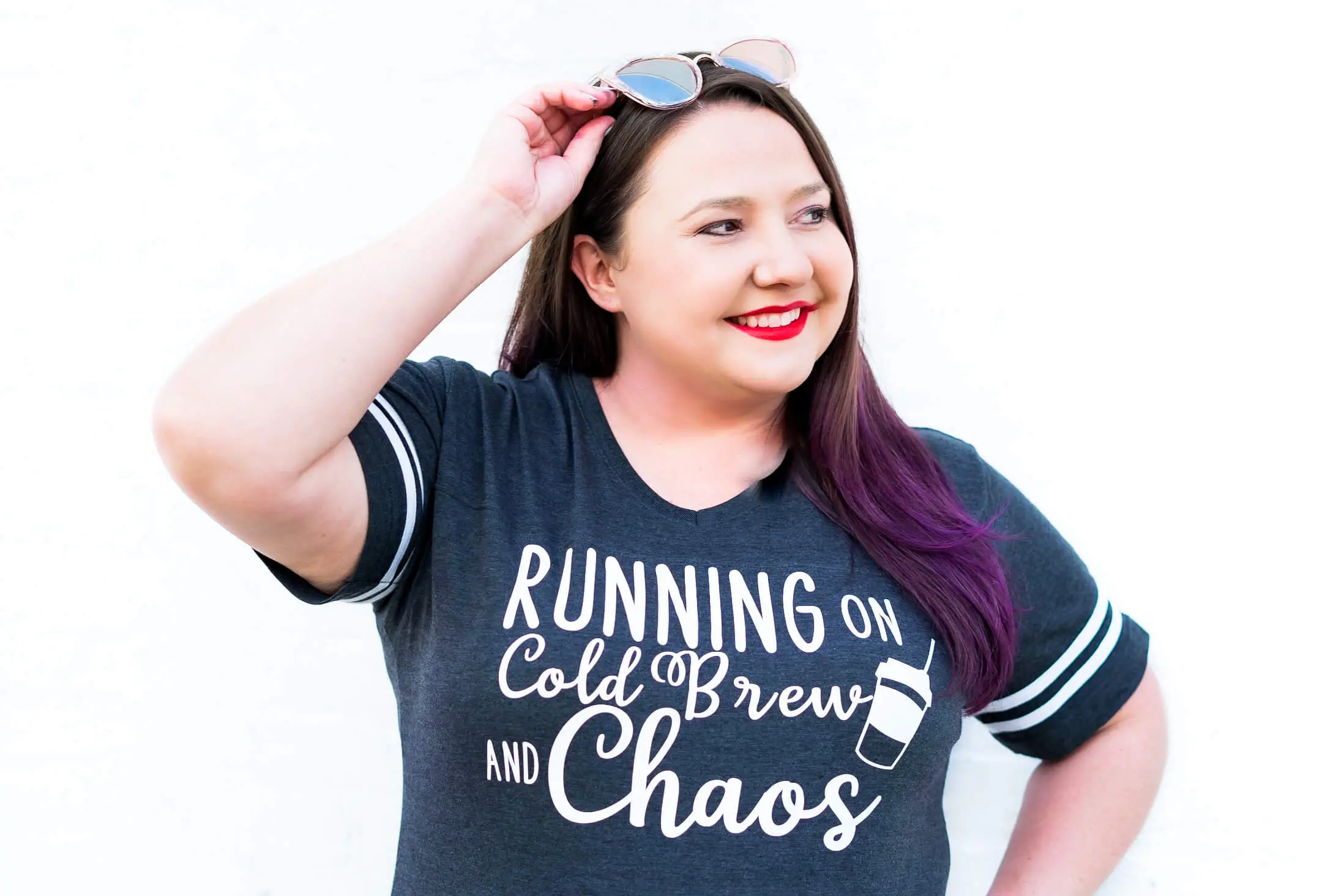 Kim Anderson is the organized chaos loving author behind the Thrifty Little Mom Blog.  She helps other people who thrive in organized chaos to stress less, remember more and feel in control of their time, money, and home. Kim is the author of: Live, Save, Spend, Repeat: The Life You Want with the Money You Have. She's been featured on Time.com, Money.com, Good Housekeeping, Women's Day, and more!