Fast & Easy No Mess Mini Caramel Candy Apples
This post contains affiliate links. As an Amazon Associate, I earn from qualifying purchases. I also earn from qualifying purchases made with other brands and programs. See my
privacy policy.
Something most people don't know about me is that I am a caramel addict.  I walk by a stand of caramel candy apples and it's over.  But you know what the real problem is?  Candy apples are darn HARD to eat.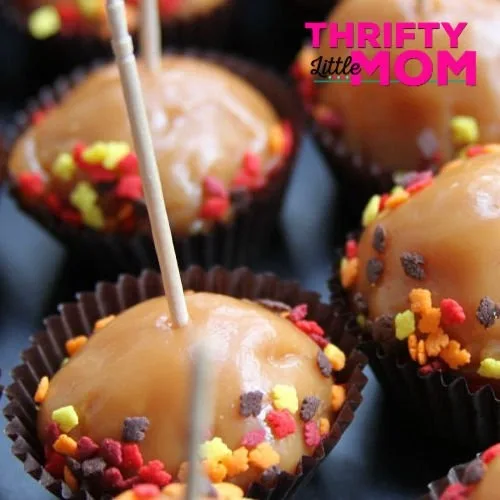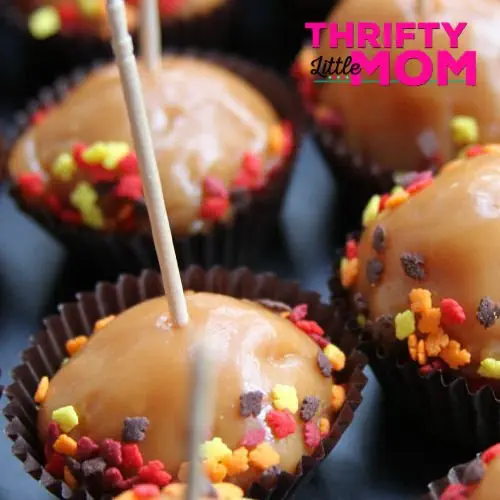 So when Chocoley, a gourmet chocolate and candy supply company, offered to send me some free caramel to get creative with, I literally couldn't pass the offer up.  As soon as the box arrived I felt like it was Christmas and to my caramel loving surprise, there were two whole TUBS of caramel at my disposal.
What's a girl to do with two whole tubs of caramel?  One, get a spoon.  Two, eat an entire spoon full. Three, come up with something amazing and useful to do with it (which wasn't hard because it's CARAMEL!)  Candy apple was my first idea but I wanted to do it my way.
So I decided to make some mini caramel candy apples.  I love the idea of these little bite-size delights because I literally can't eat the full-size ones.  Every fall, I walk by the windows of those candy stores in the mall and drool staring through the window at those giant, $10 per pound caramel dipped apples.
Here's the catch.  I love cooking.  I hate cleaning.  When I did my first taste test of the Chocoley caramel, one thing was clear, this stuff was really easy to mold and really easy to eat.  I didn't even need to melt the caramel to get it to work into the form that I wanted it.  It's so easy to manipulate.  So here is how I made my very first batch of fast & easy no mess mini caramel candy apples. Seriously, these took me about 30 minutes to make.  You need to make these at least one time this fall.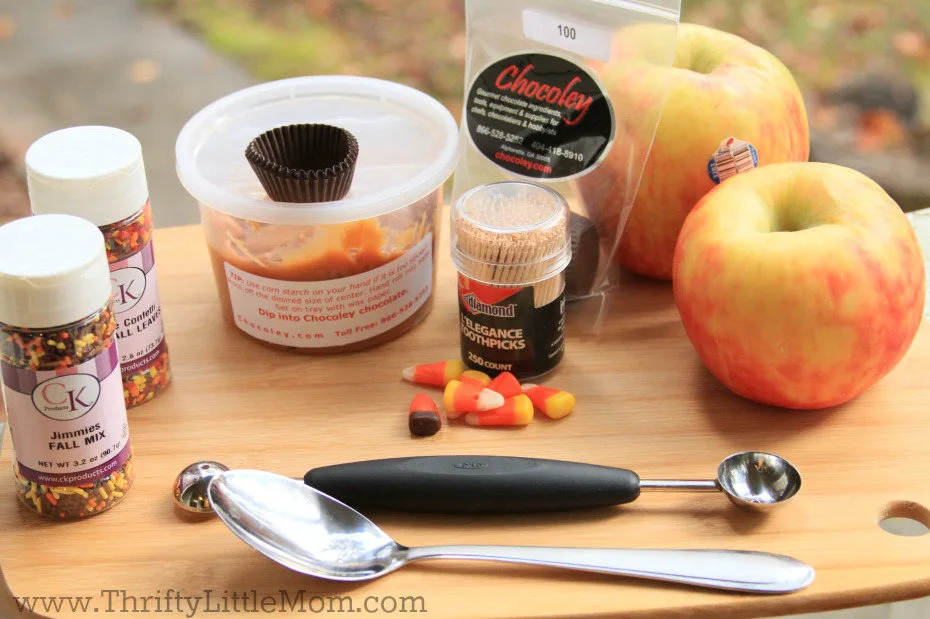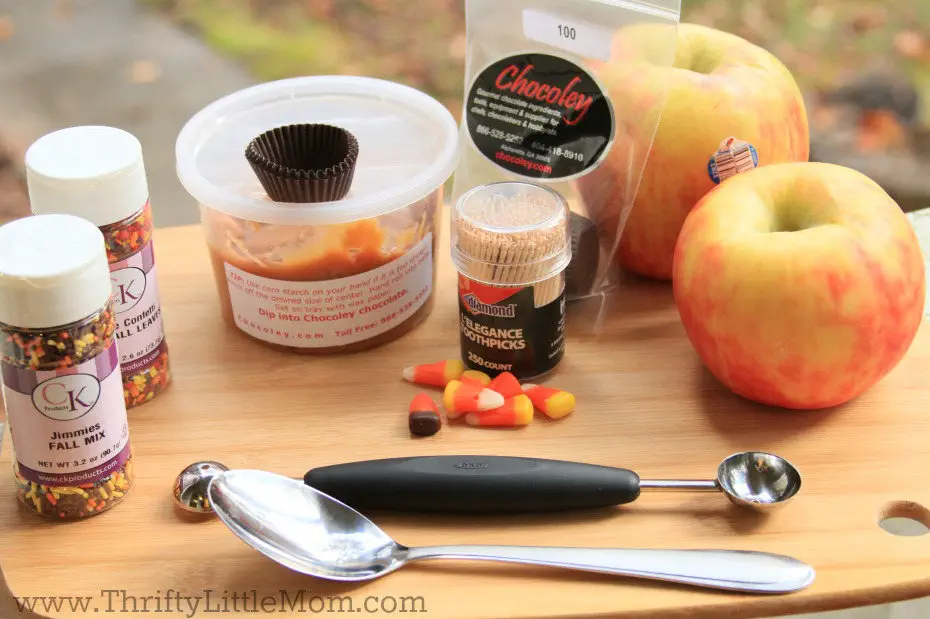 Candy Apple Caramel Ingredients & Supplies:
Mega apples- The biggest ones you can find in the batch.
Melon Baller Tool- I used OXO Good Grips Melon Baller
1 lb tube of Chocoley Caramel –
1- Fall Leaves Sprinkle Mix, 4 oz bag
20- Brown Candy Cups from Chocoley –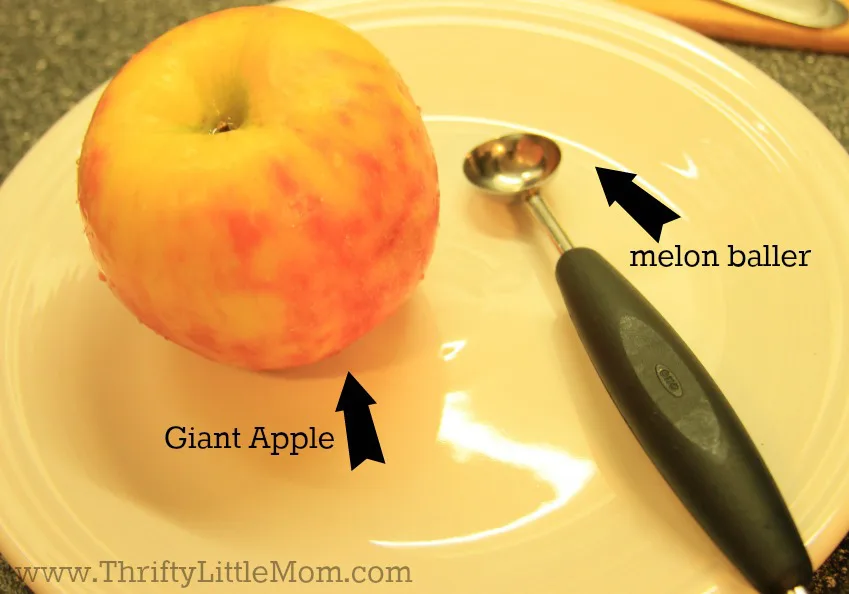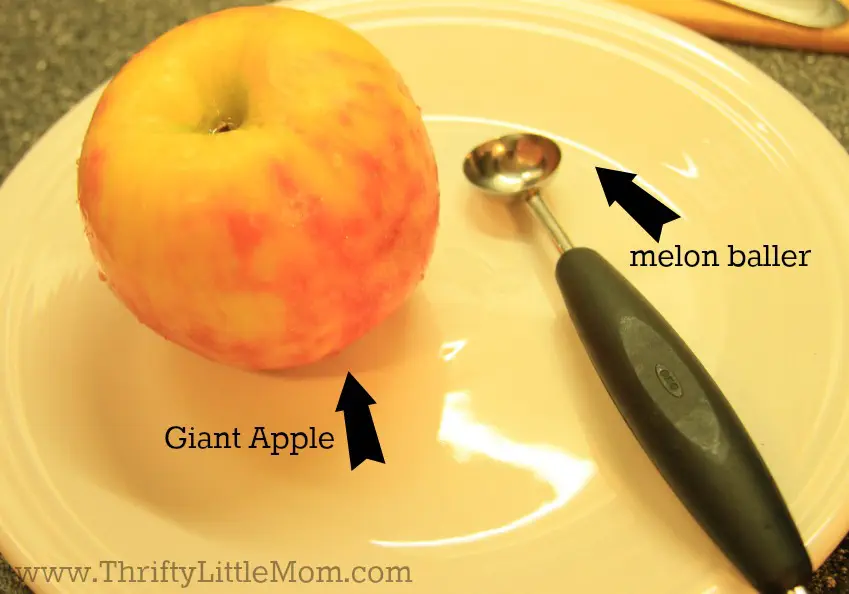 Candy Apple Step 1:
Using the large end of your melon baller simply twist and scoop out as many tiny apple balls as you can.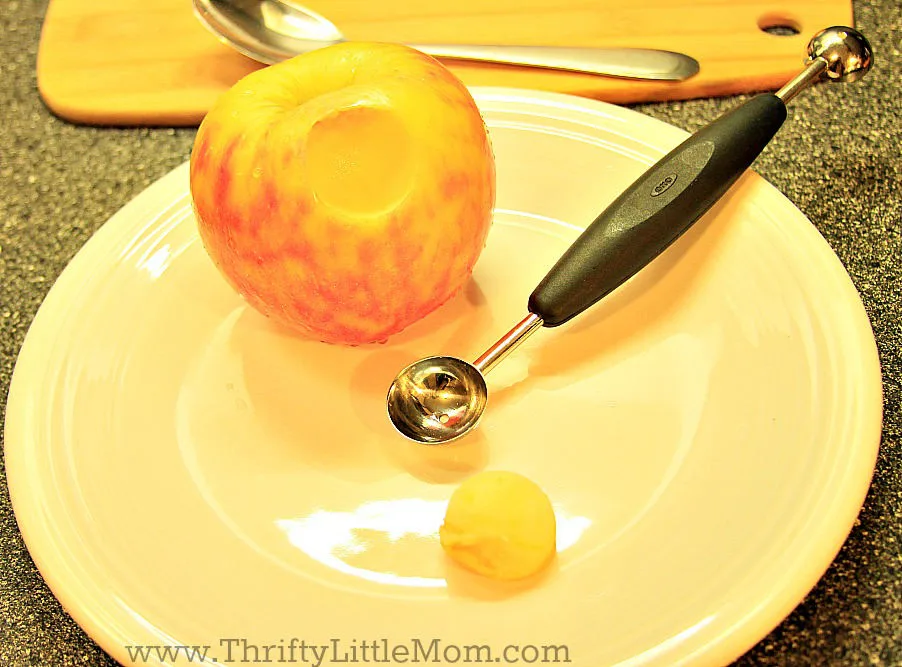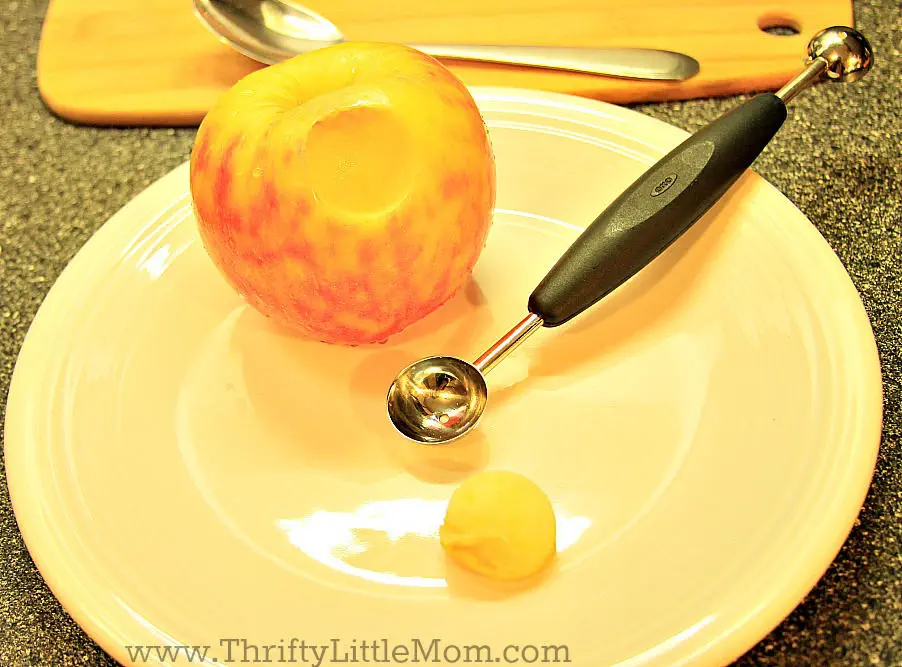 Candy Apple Step 2:
Dry off your apples.  Notice all the moisture on this plate?  No good for mini caramel apples.  You want to dry off your apples and keep them dry until you are ready for your caramel.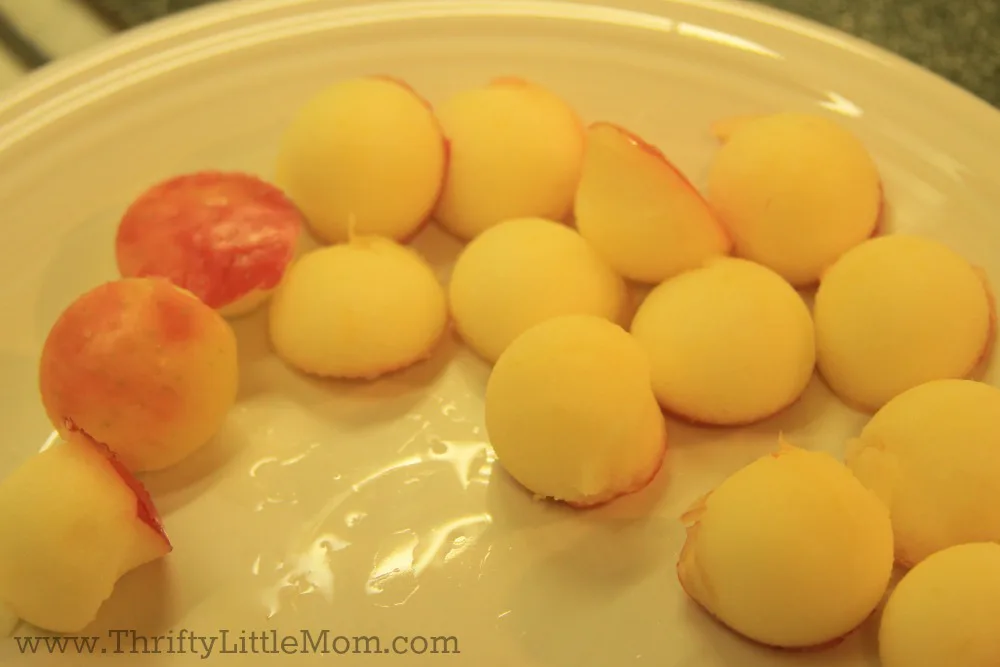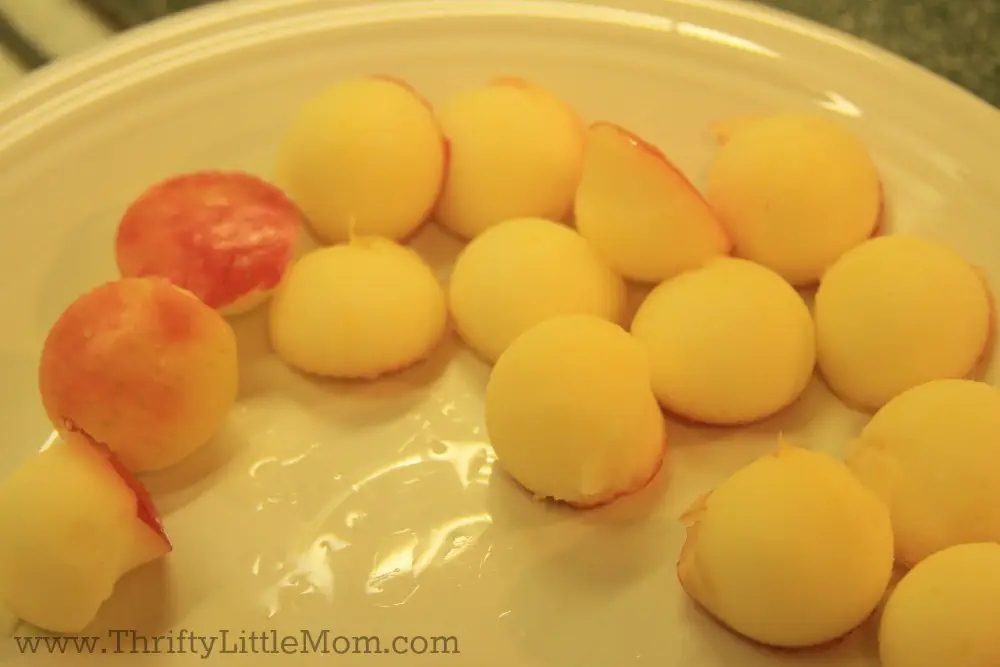 Candy Apple Step 3:
Prep your sprinkles in bowl for easy dipping- cause this process goes FAST!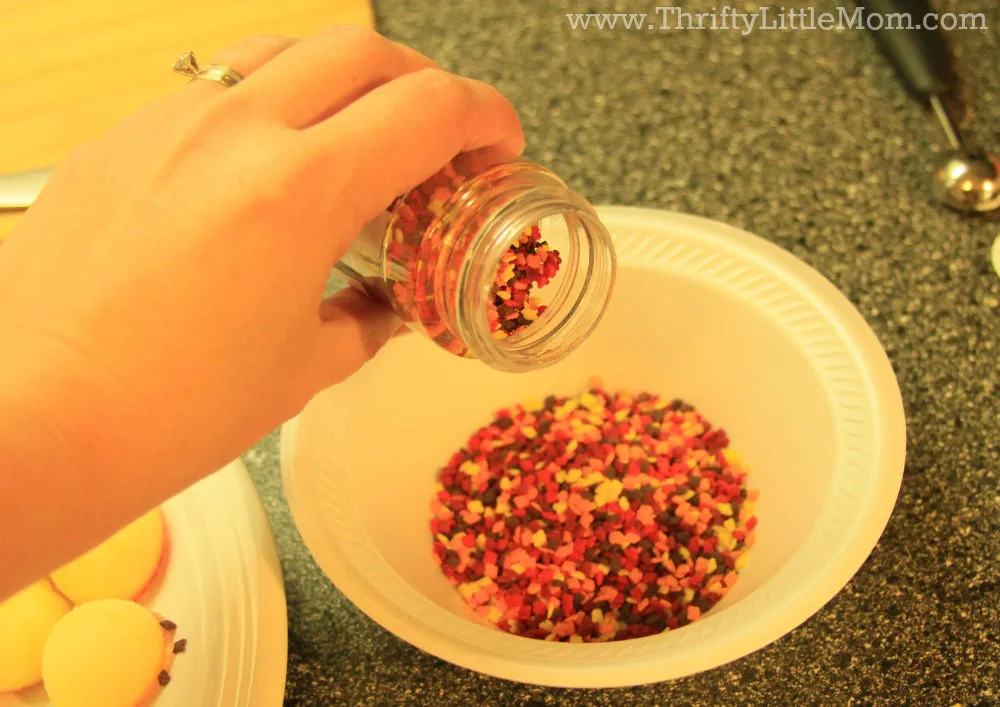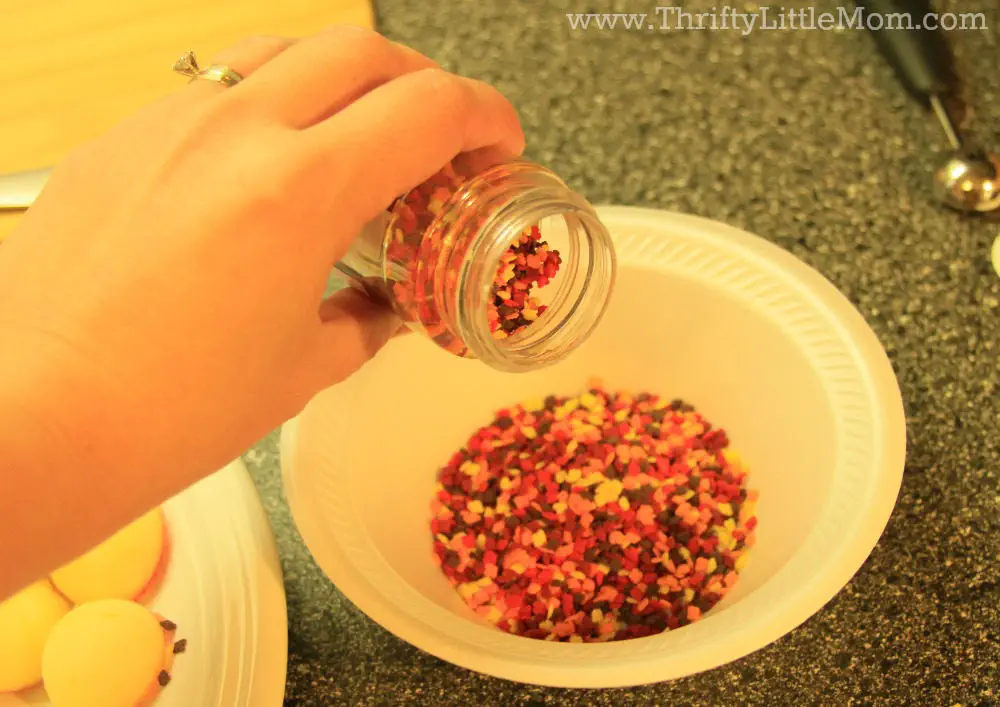 Candy Apple Step 4:
Spoon about a half tablespoon of the Chocoley caramel.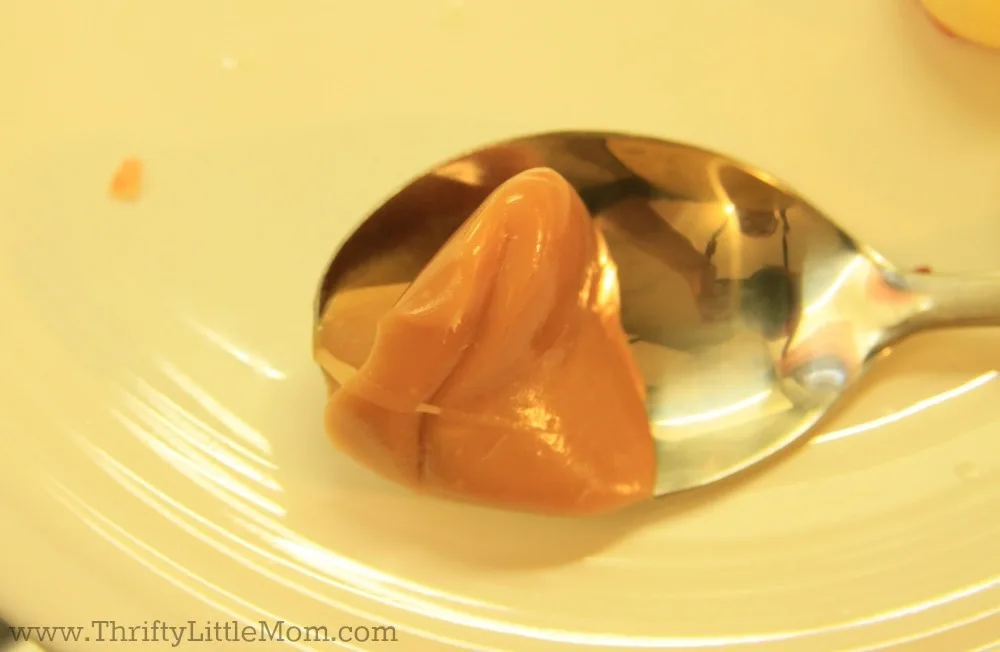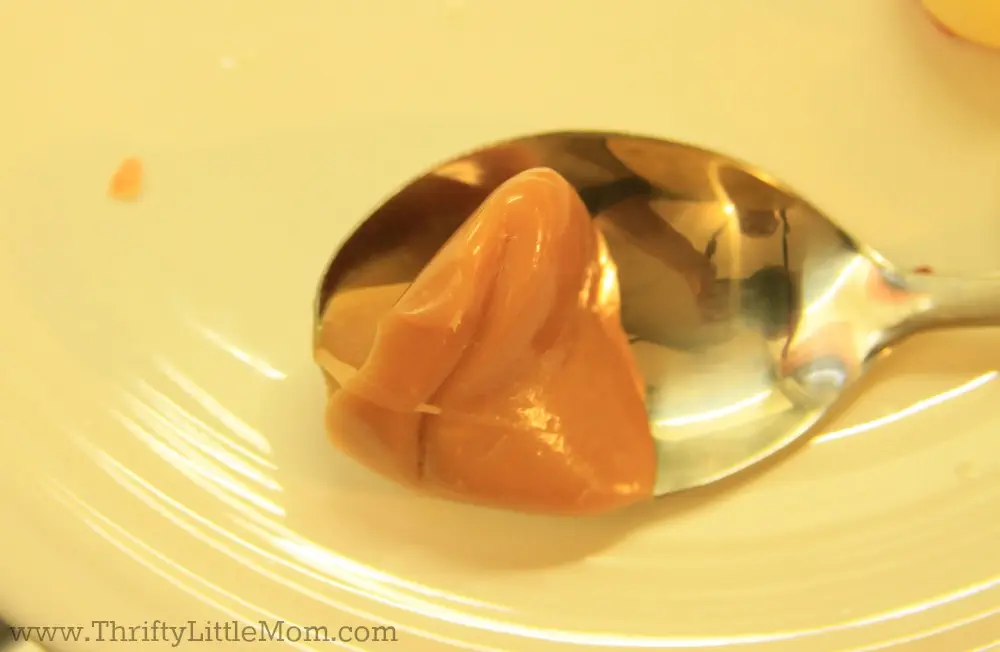 Candy Apple Step 5:
Stretch it out to form a caramel circle.  I didn't have any trouble with this sticking to my hands.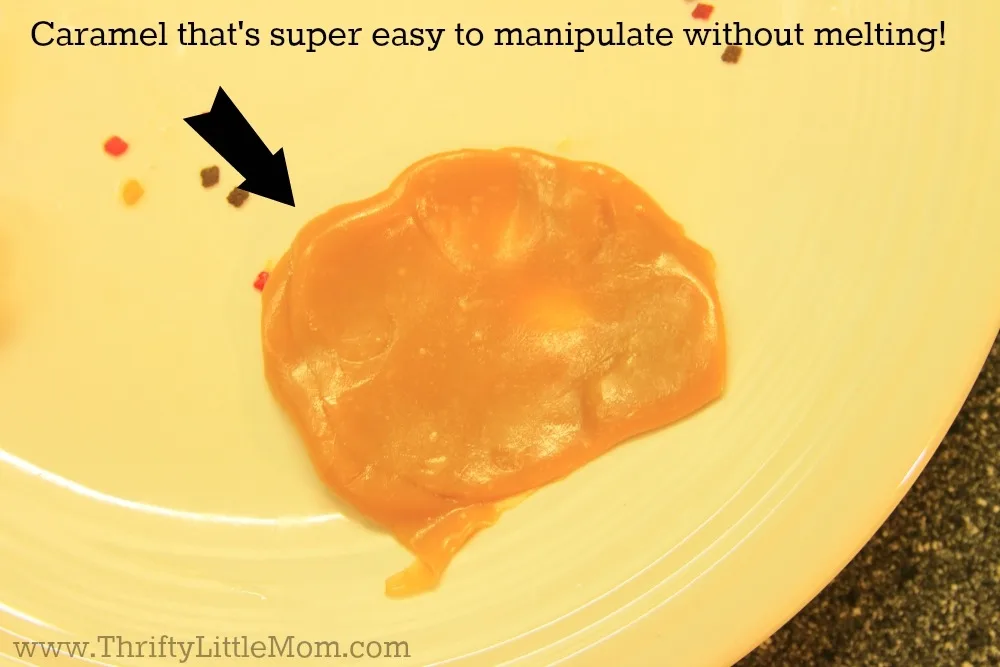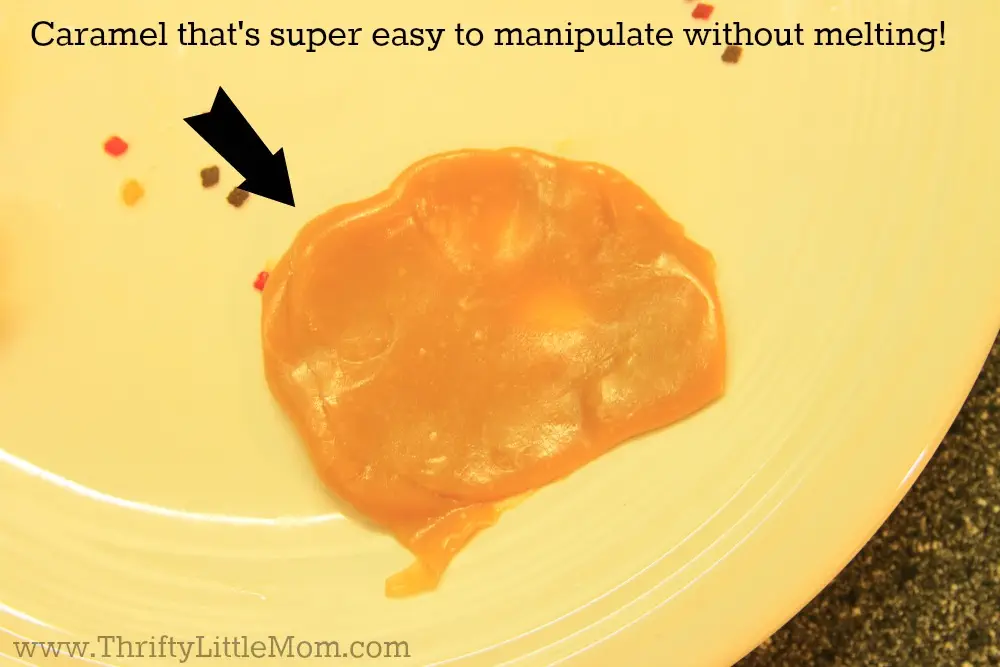 Candy Apple Step 6:
Carefully and gently place your apple ball in the center of the caramel and then wrap the caramel up and around all sides.  Smooth the caramel using your fingers much like you would clay.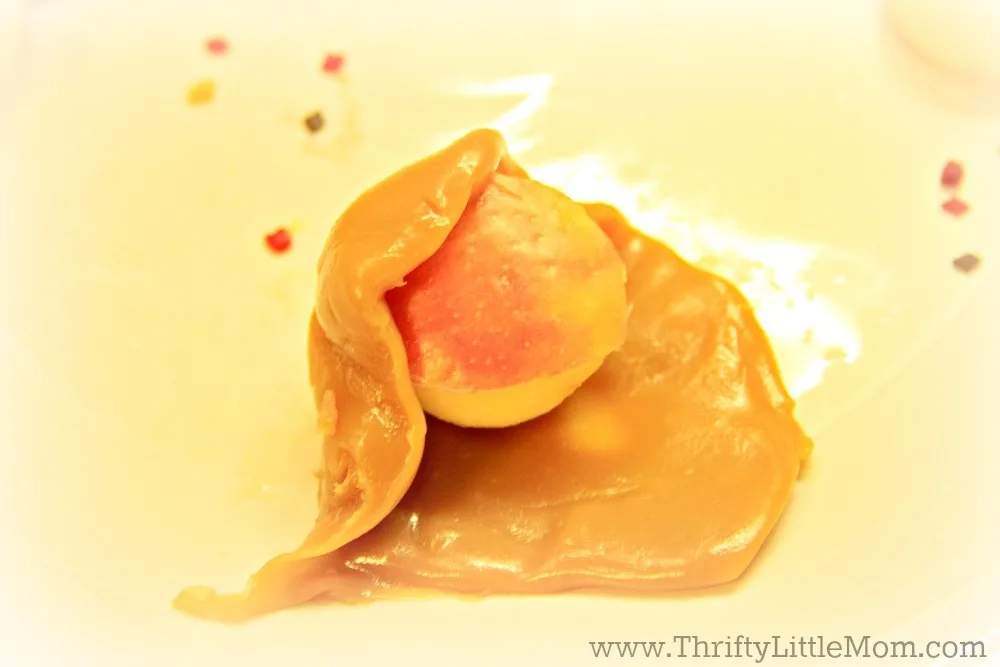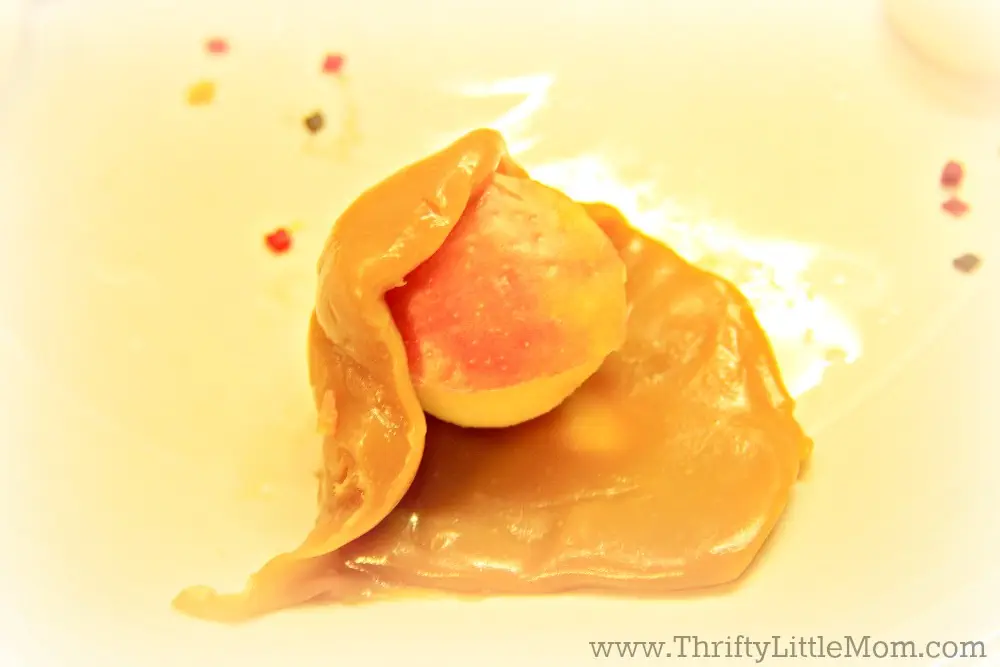 Candy Apple Step 7:
Stick a sturdy toothpick made for entertaining in the top of your apple.  While holding the stick, gently roll your caramel apple in the edible confetti.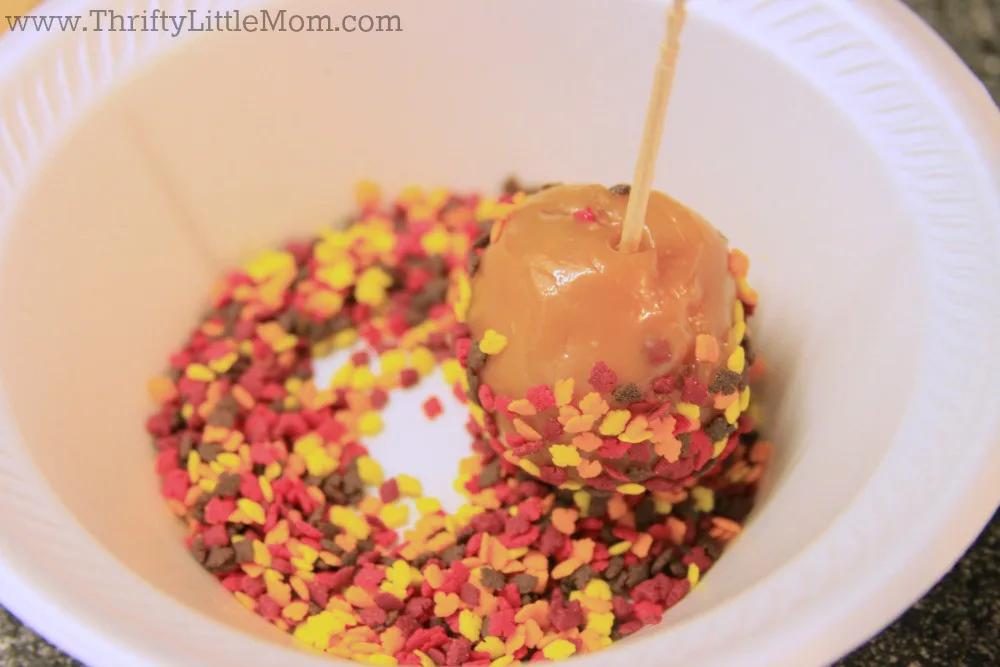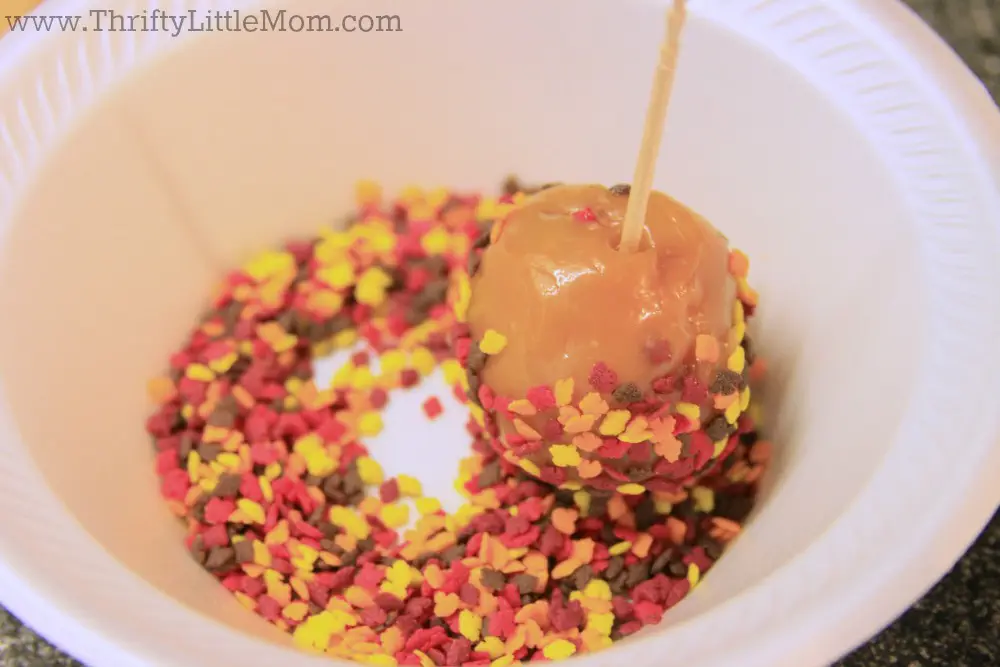 Candy Apple Step 8:
Place your apples in some little paper candy cups.  
IMPORTANT: Store uncovered candy apples in the fridge and be sure to serve within a few hours.  The caramel candy apple's taste great but they also sweat a little.  The longer they sit, not chilled, the less solid they become.  This is because these mini apples don't have skins so they release a little moisture.  The moisture starts breaking down the caramel and making it runny if they aren't set correctly or are left out too long.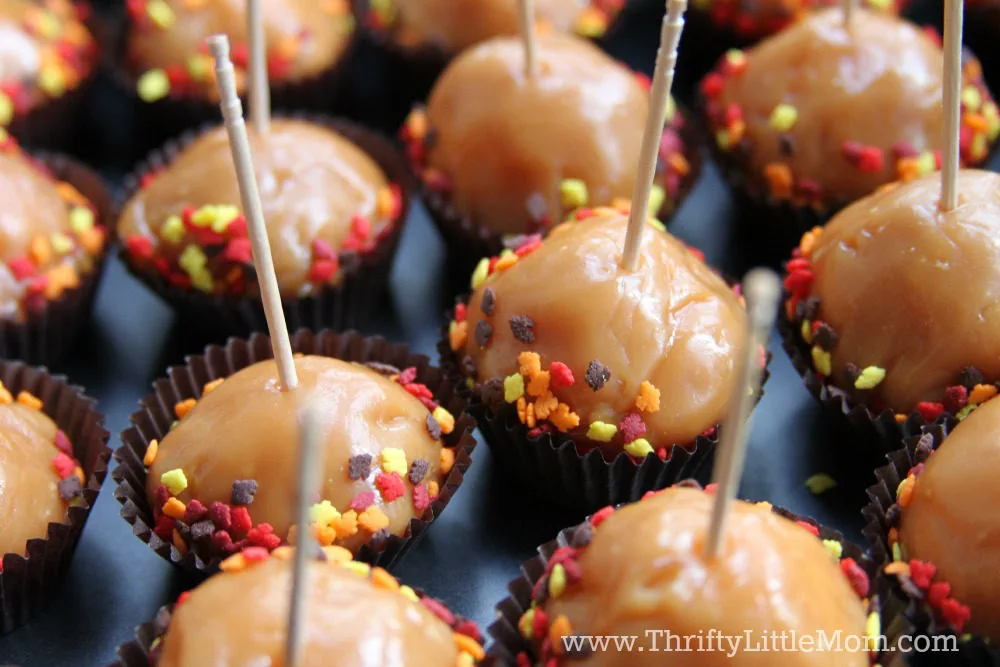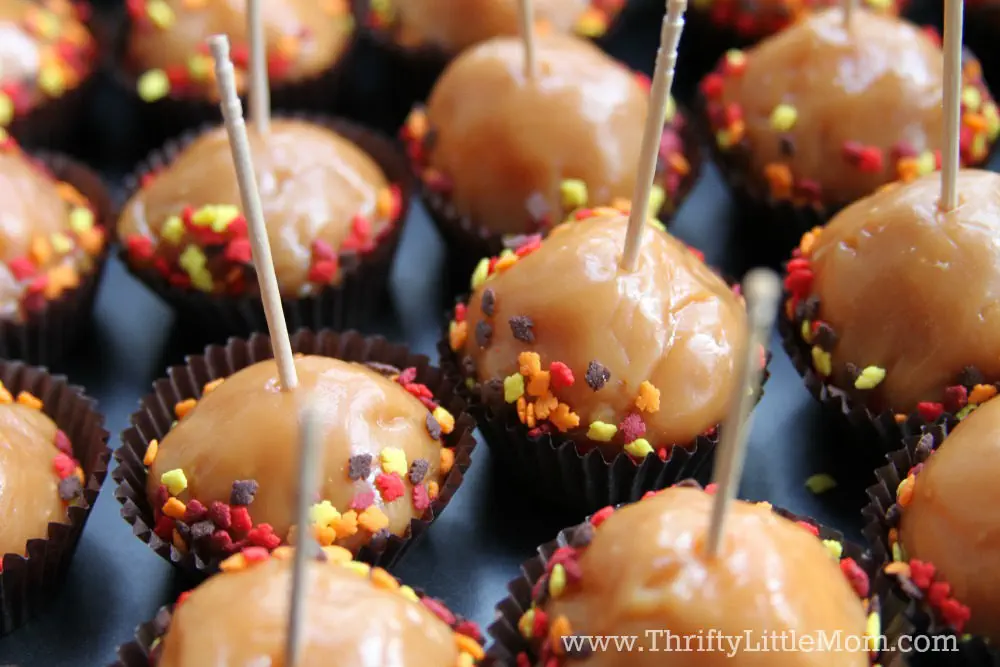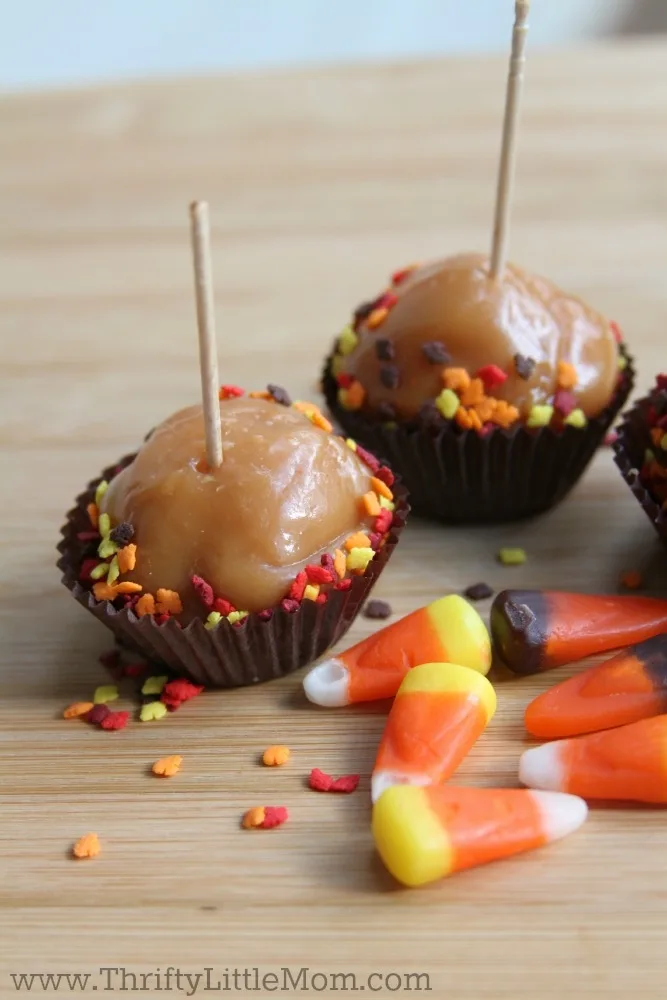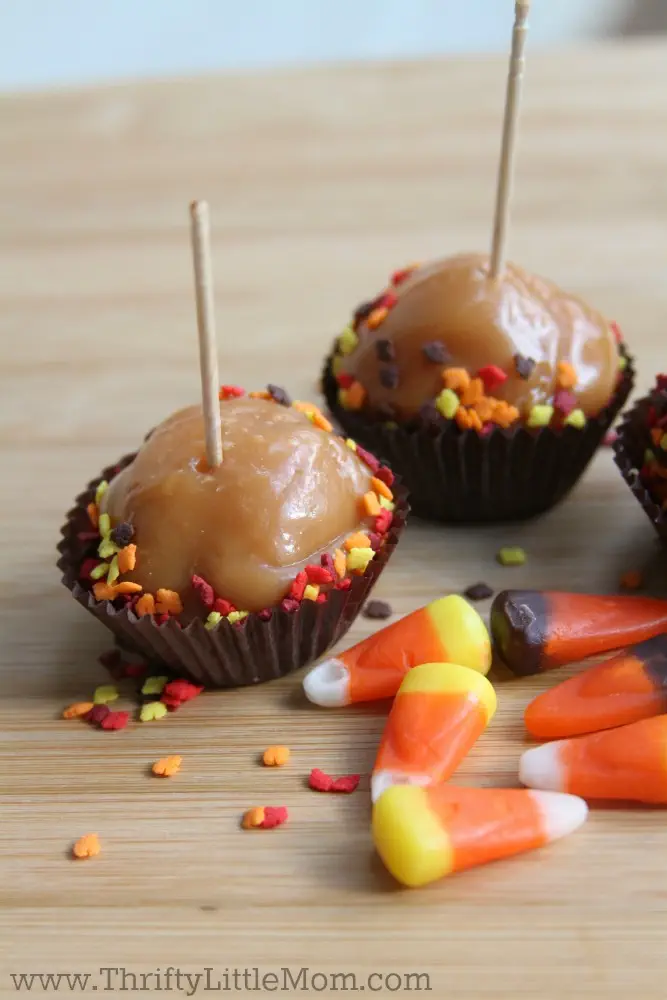 I hope you enjoyed this fall candy making project!  I know I did.  They really are fast and easy no mess mini caramel apples!  Stay tuned as I'm going to be making some delicious candy holiday gifts in the coming week using more of Chocoley's gourmet ingredients!
Tell me about your favorite fall treat in the comments section below!
If you enjoyed this post you might also enjoy these other articles from Thrifty Little Mom: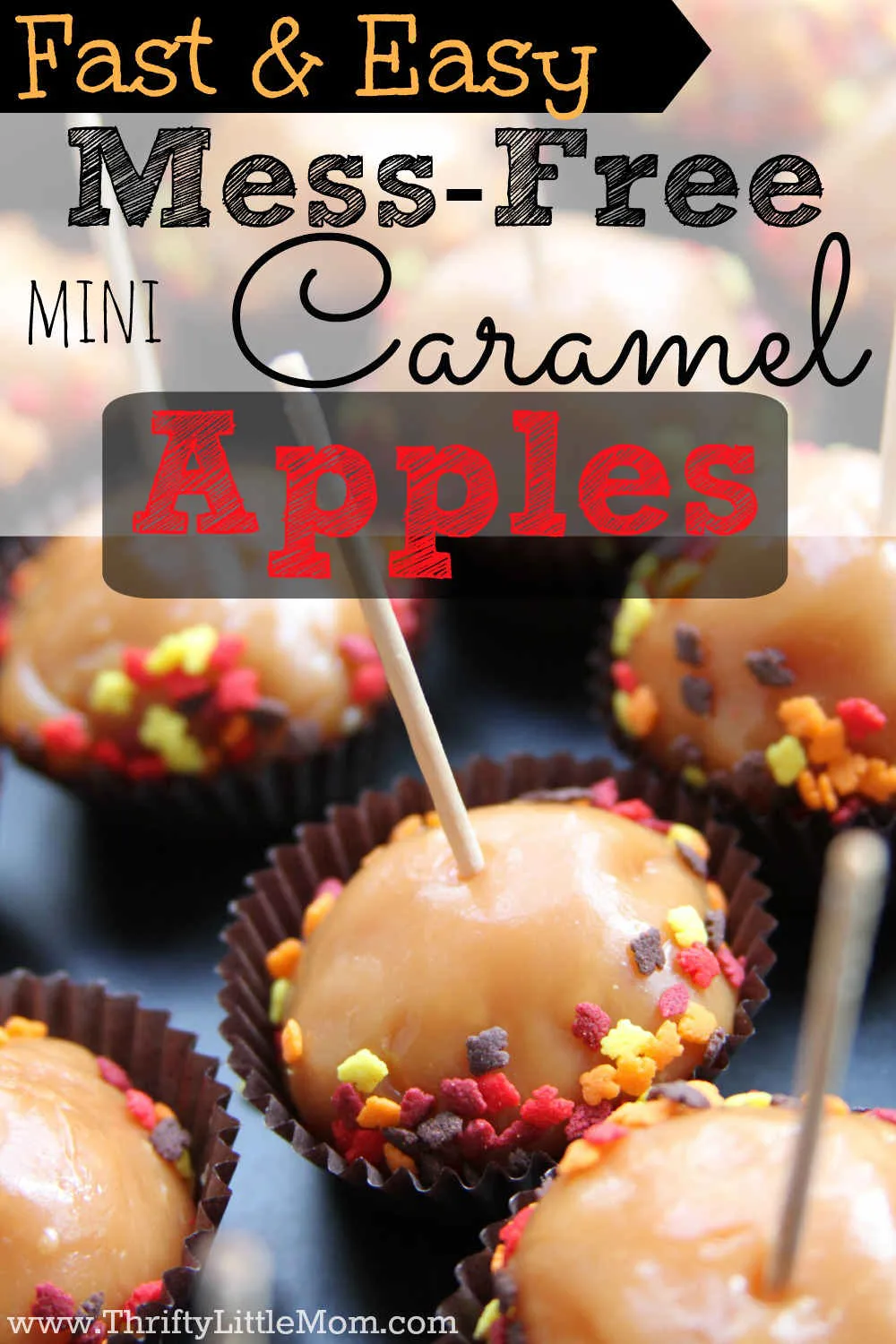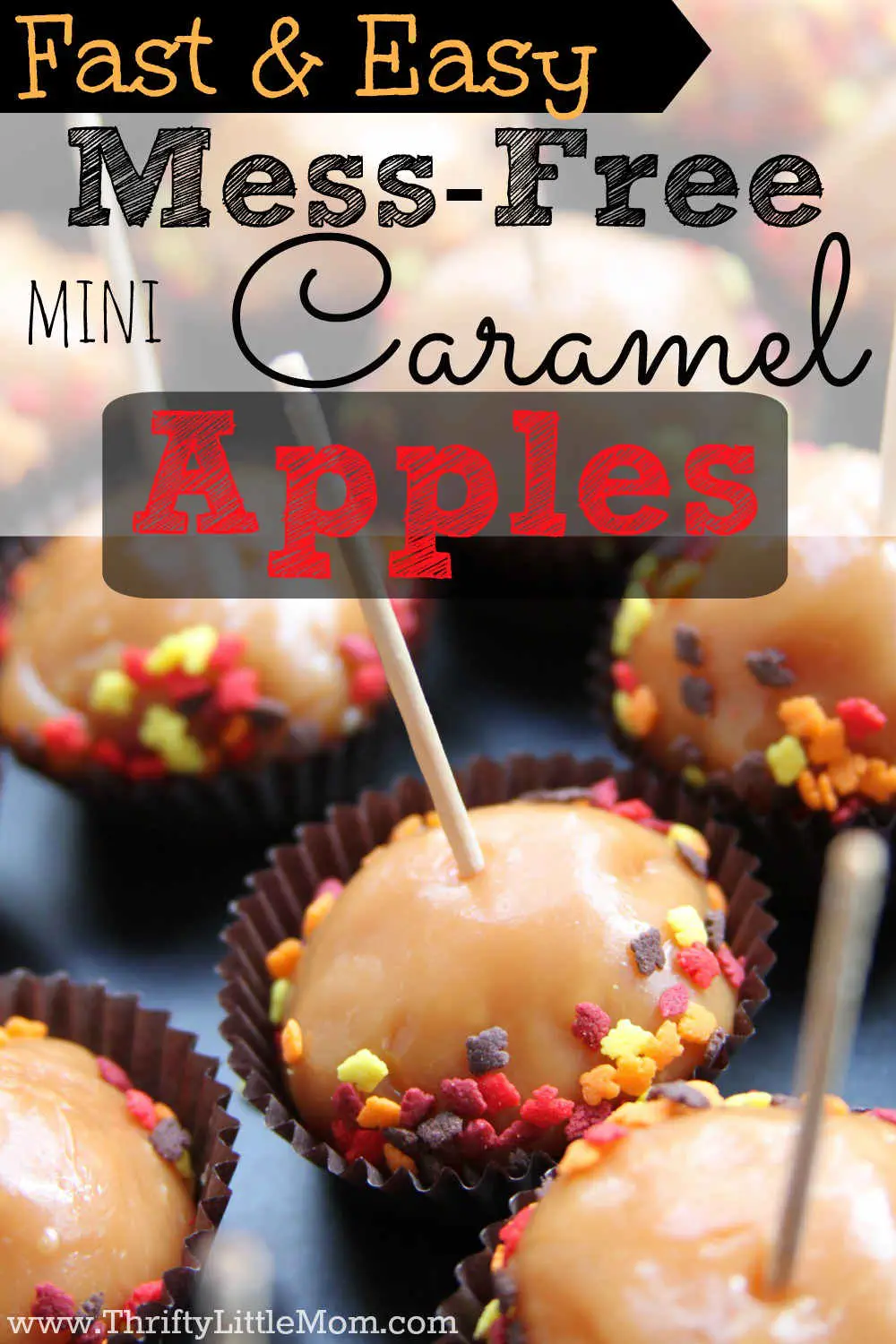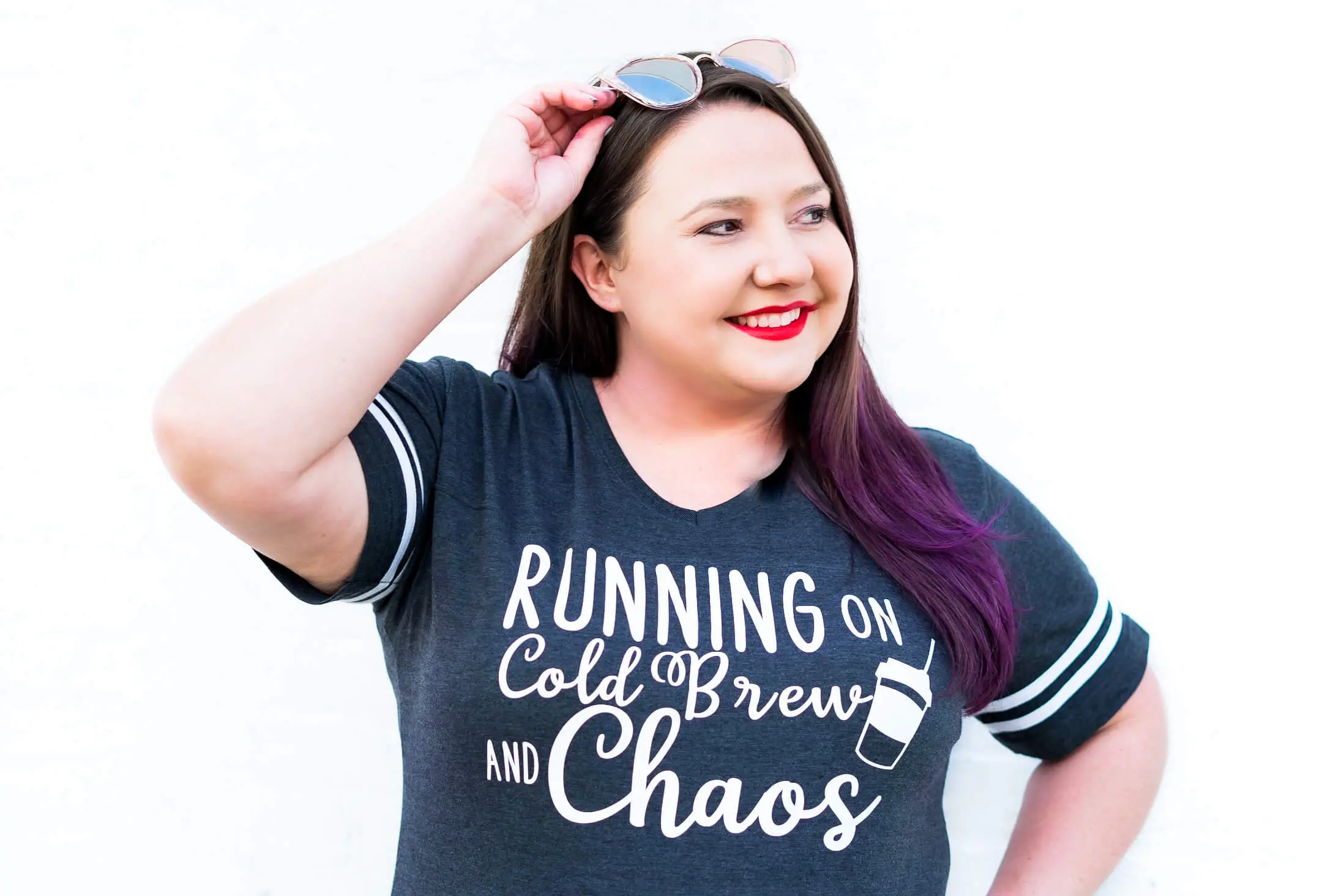 Kim Anderson is the organized chaos loving author behind the Thrifty Little Mom Blog.  She helps other people who thrive in organized chaos to stress less, remember more and feel in control of their time, money, and home. Kim is the author of: Live, Save, Spend, Repeat: The Life You Want with the Money You Have. She's been featured on Time.com, Money.com, Good Housekeeping, Women's Day, and more!
Summary