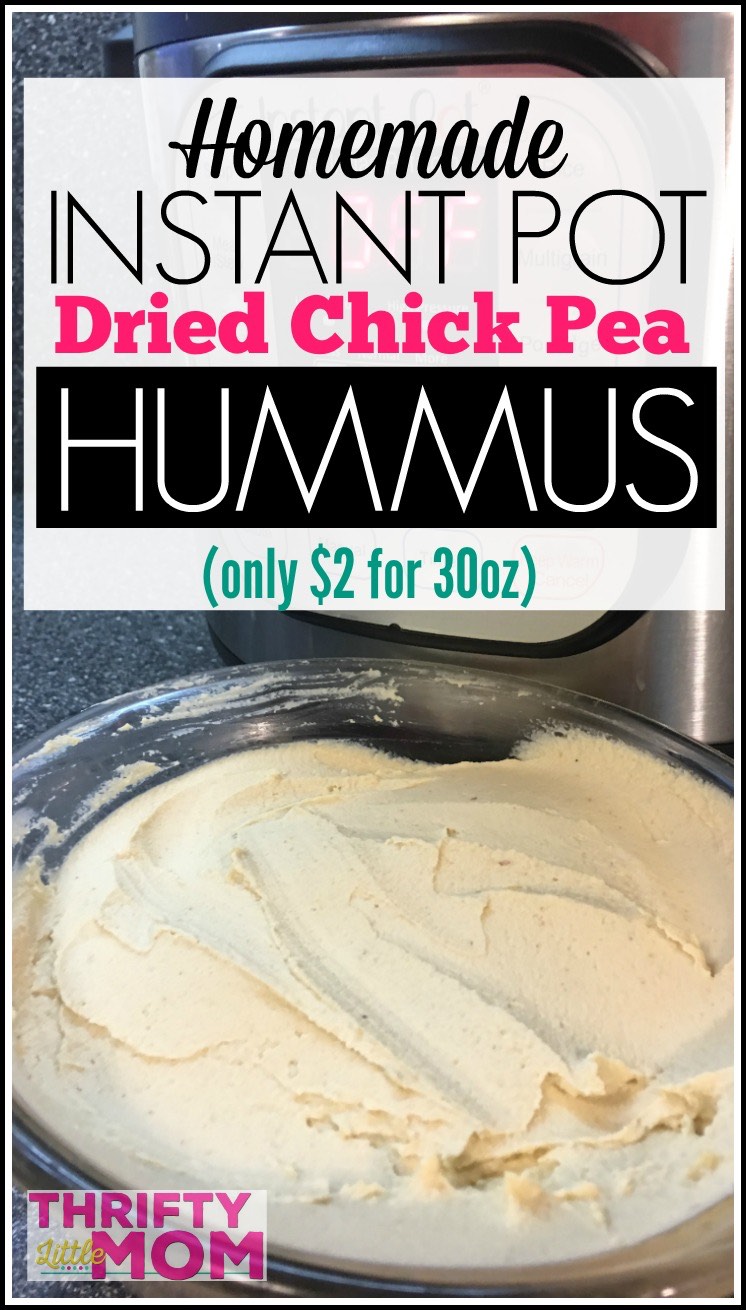 I don't know about you but I'm straight up addicted to the Instant Pot.  Pretty much since they day I stumbled upon an article that said I could cook dried beans without soaking them beforehand, I was hooked.  As you know, I struggle with focus and having to soak beans the night before never works out for me!  I ALWAYS forget and then I can't use them for dinner so I end up opting for cans which cost about $0.79 each not including the other ingredient cost.  This instant pot hummus recipe costs us about $2.00 to make 30 oz!!!
Now that I know I can cook beans from dry to perfection in 1 hour with my Instant Pot (Instant Pot IP-DUO60 7-in-1 Multi-Functional Pressure Cooker, 6Qt/1000W
) for super cheap, I'm going a little bean crazy.  But it's a good thing because it's literally saving my family money every week.   I have a house full of hummus addicts.  My 5 year old son would eat the stuff like ice cream by the spoonful if I let him.  My husband eats it every night as a snack.  We end up buying those 10 oz pre-made containers at the store and pay anywhere from $3-$4.  That means we are paying around $0.30 per ounce.
Last week I was going through my pantry inventory and stumbled upon a bag of chick peas that I had good intentions for last year but never got around to soaking.  Instantly the thought occurred to me to cook them up in my instant pot, put them in my food processor and make my own hummus!  (PS- if you have an Instant Pot or are thinking about getting one but are nervous about using it I highly recommend Erin Chases online course titled Electric Pressure Cooking 101 that teaches you how to use it for more than just chili and also gives you a free menu plan).

This is what I did to make my own hummus in the Instant Pot-
Note this recipe makes 30 oz of hummus which is close to 2 "family size" containers of the store bought kind (And yes, I did tare the glass jar before I added the hummus so the weight you see is correct).
Following the instructions that came with my Instant Pot I cooked 2 cups of dried chick peas in three cups of water on the beans/chili setting for 40 minutes.  I let the instant pot de-pressurize on it's own so it took right around 1 hour for them to be done (meaning I didn't turn the valve to quick release).
Once they had cooled, we drained the water and put all the cooked beans straight into the food processor along with some olive oil, lemon juice, Tahini, cumin, salt and pepper.

Hummus Ingredients (you'll want to tweak these to your own preferences- these are for a 30 oz container.)

I added about 6 tablespoons of Extra Virgin Olive Oil
5 Tablespoons of Tahini
3 Tablespoons of Lemon Juice
2 Cloves of Garlic
2 teaspoons of salt
Optional: I like Hummus with a little Cumin added in for a warmer flavor.  I added about 1/2 Tablespoon of Cumin to mine!

Tweak as you go- This is a really big batch of Hummus and to be honest, you'll need to tweak it and taste it as you mix.  You may like particular flavors to stand out in your hummus more than others so you'll want to add that item, mix and taste.  Keep tweaking until it's just right.  We tweak ours on a weekly basis to try new varieties.
Divide and Conquer- One of the nice things about making this much hummus was that I was able to spread it out between 2 or 3 storage containers and experiment with new flavors.  I added a speciality cilantro and onion olive oil to one batch.  I added extra Toni Chachere seasoning to another using my best friend Rhonda's Smooth and Creamy Hummus recipe.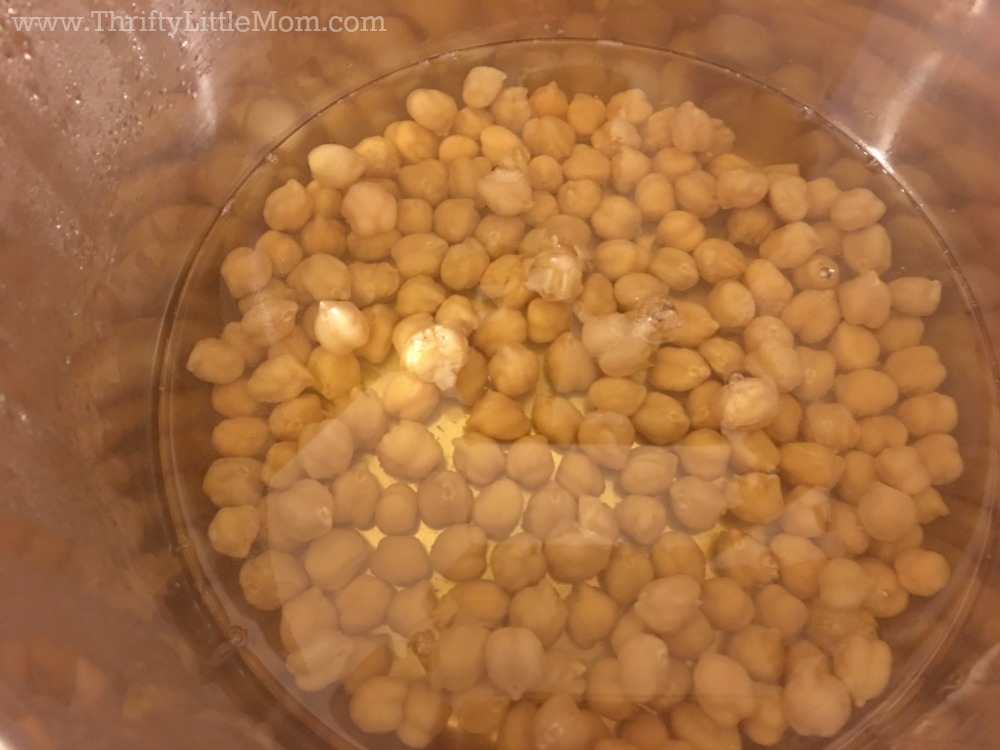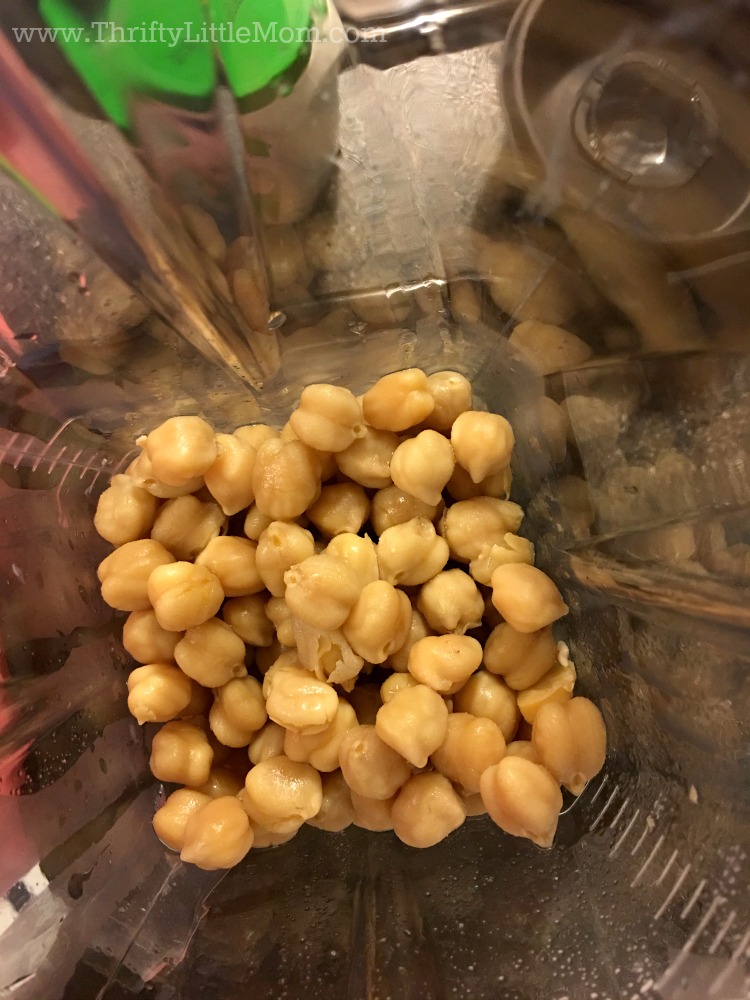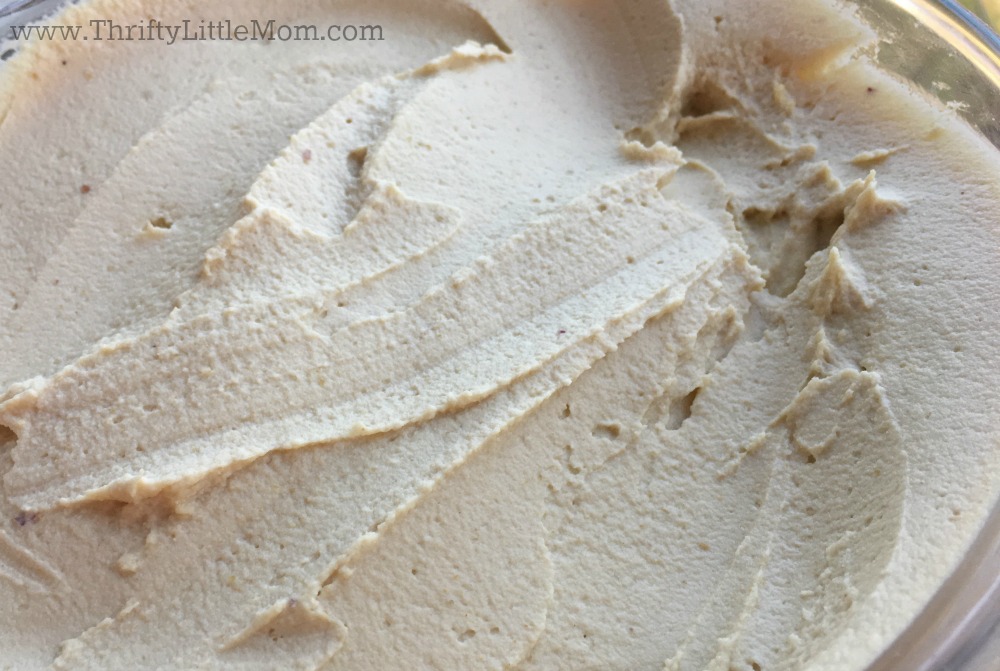 If you liked this post you might also like these other posts from Thrifty Little Mom: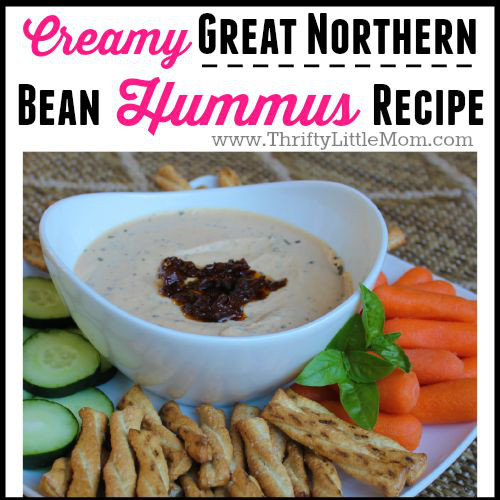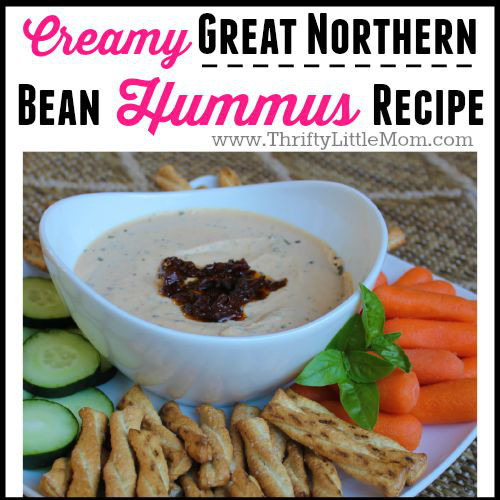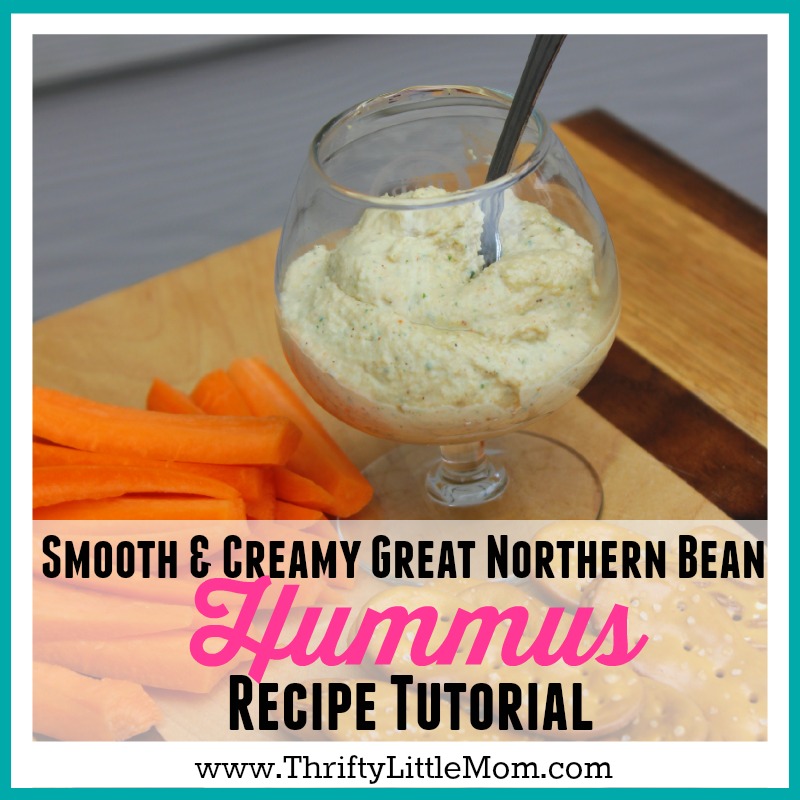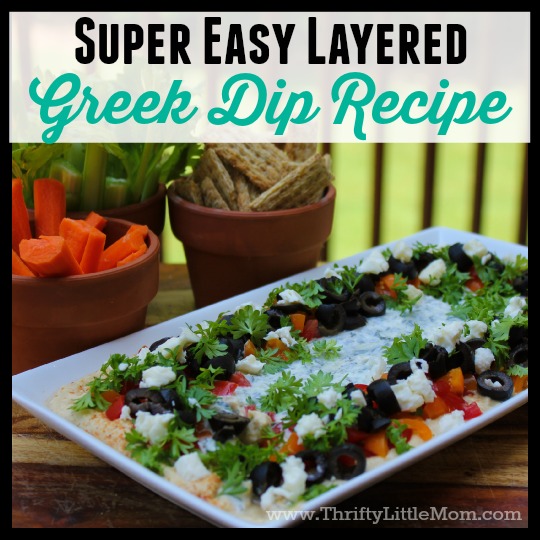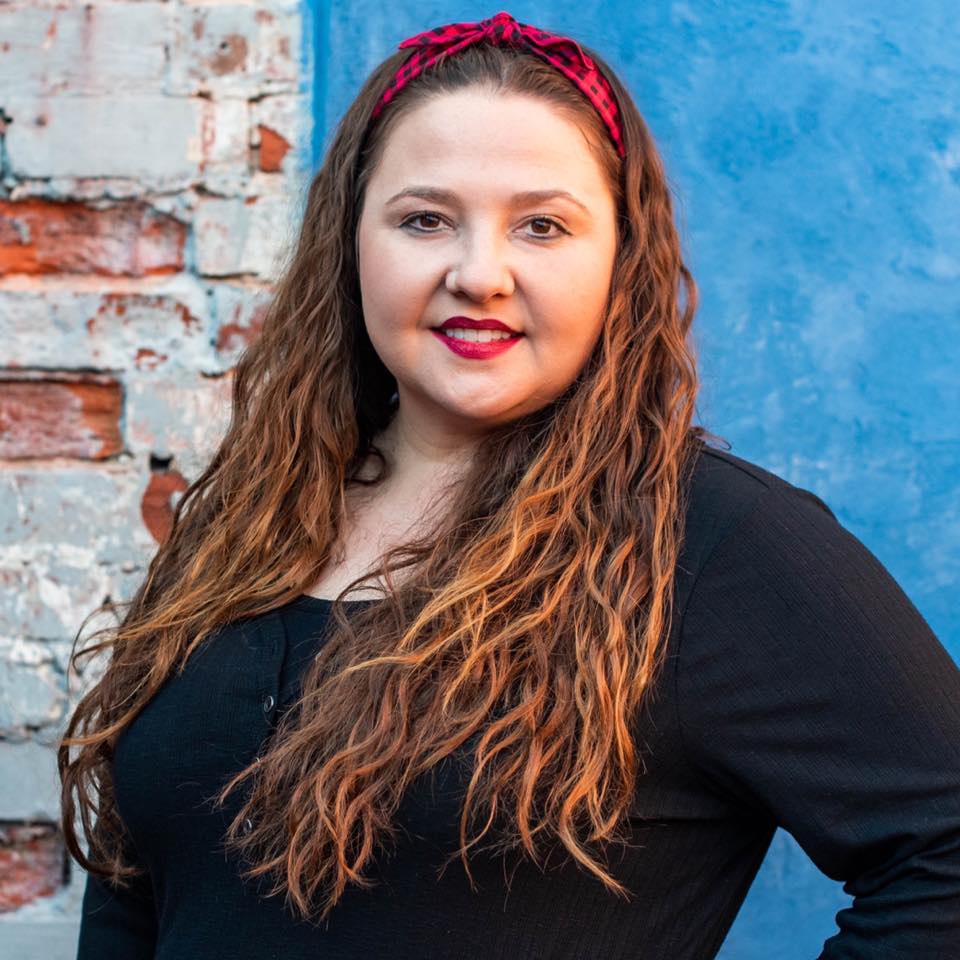 Kim's is the party planning, thrifty life-loving, intentional living catalyst behind the Thrifty Little Mom Blog. Kim was a pro event planner for over 7 years before she became a full-time blogger. Kim is the author of: Live, Save, Spend, Repeat: The Life You Want with the Money You Have. She's been featured on Time.com, Money.com, Good Housekeeping, Women's Day, and more! Kim aims to inspire you to create, celebrate, and live life intentionally!