How to Make School Memories Photos For Your Kids
Have you ever thought, "I wish I was creative enough to do those first day of school memories pics that I see all over social media?"  Well, I've got a solution that's both creative and easy!
I'll never forget my son's first day of Kindergarten!  He was all dappered up and ready for the school bus and as I got my cell phone ready to take the picture I panicked!  The one thing I forgot was to do was get one of those fancy little first day of school chalkboard sign things that I see my friends doing.  It's so darn cute!
Then I remembered that I might not actually need a physical prop and that I might just be able to save the day with editing the picture AFTER the actual event to have all the memories on it that I wanted to preserve from this snapshot of his life.
The Problem:
Wanting a cute memory of the first day of school and not having any props.
The Solution:
Ditch the props and add the memories directly onto the digital photo afterward!  I'll show you how easy it is!  In fact, you can go back and do this to any old photos you have too!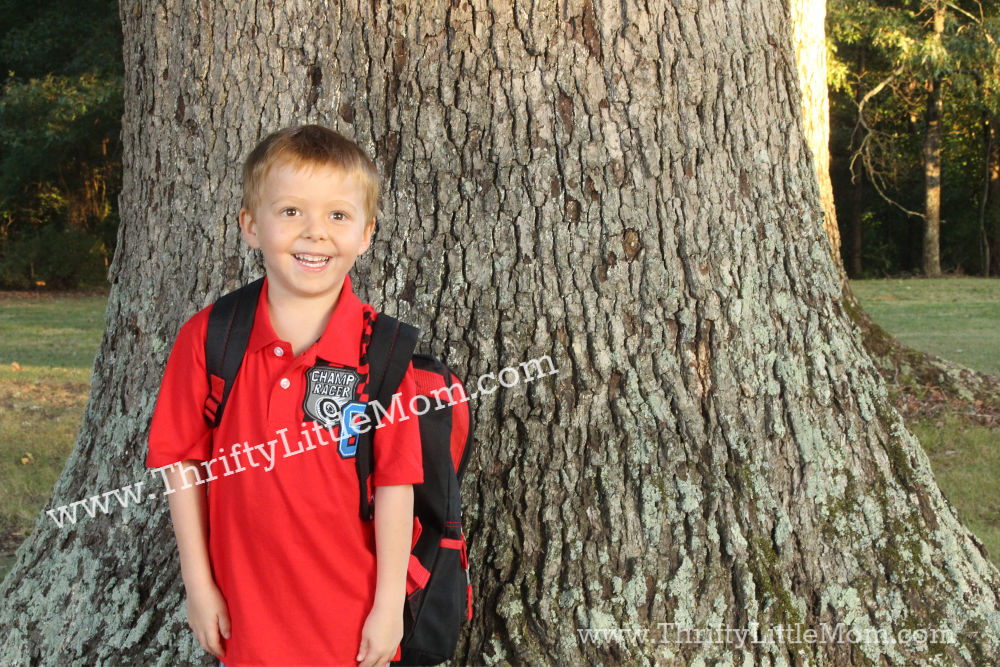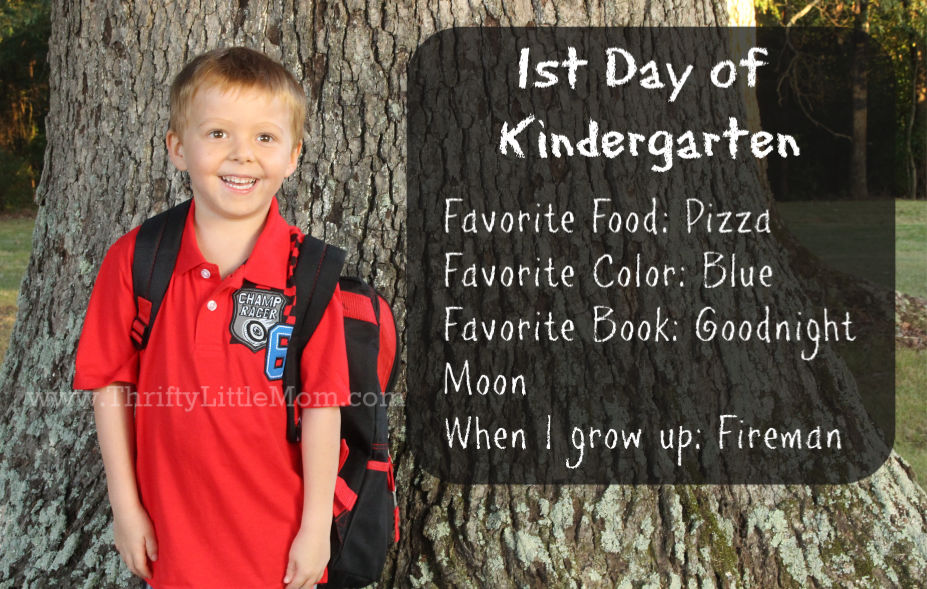 I decided that I would create an annual picture that I edit AFTERWARD to remind me of his grade, age and even his favorite things!  I'd love to show you just how easy and fun it is to make these awesome school memories photos!!
Once you have them all jazzed up they are just as easy to share on social media and send out to the grandparents!
As a blogger, I edit a lot of photos and I know that most moms cringe at the idea of using a complicated photo editing software like Photoshop.  I did too.  But I found two great options online that are fairly easy to use and you may just get addicted to using them for all your photo needs!!!  I use them ALL THE TIME NOW for personal stuff!
My Two Favorite Photo Editing Options –
I want to introduce you to two of my favorite online photo editing program called PicMonkey & Canva!  PicMonkey is a small fee per month but if you use it all the time it's worth it.  Canva is free for everyone so it's a thriftier option.  That's why I made a how-to video for both programs.
I'll show you in just a few minutes how you can turn those plain yet cute little first day of school photos into simple and easy memory filled snapshots.
Here's how it works– I've made two short videos to show you how to do this in two of the most popular and user-friendly online photo editing software for your school memories photos.
Option 1- Video: How to make school memory photos in PicMonkey
[adthrive-in-post-video-player video-id="O4Ax8jLE" upload-date="2018-08-10T15:17:01.000Z" name="Creating School Memory Photos in PicMonkey" description="This video shows you how to turn your first day of school pictures into fun memory detail keepers. "]
Option 2-Video: How to make school memory photos in Canva.
[adthrive-in-post-video-player video-id="UHApzKWR" upload-date="2018-08-10T16:32:06.000Z" name="Creating School Memory Photos in Canva" description="How to make your own school memories photos in Canva. "]
DIY School Memories Picture Tips
Always leave a little room to the left or right of your subject as you take the picture.
Crop the picture so it looks even on both sides of the image.
Don't forget to go ahead and print them so you can hang them or send them out to people who would love a copy.
Get a cool frame that you can use to display these photos year by year like this one from Amazon >>>
Umbra Hangit Photo Display – DIY Picture Frames Collage Set Includes Picture Hanging Wire Twine Cords, Natural Wood Wall Mounts and Clothespin Clips for Hanging Photos, Prints and Artwork (White)
When I was a kid we had one of those school memory books but it was always put away in an old box.  Some of my friends had those frames with the big picture in the middle and the small ones all around.   I like the idea of actually displaying these pictures somewhere in the house so I can see how his ideas and like's change year by year.
What about you?  How do you preserve your kids school time pictures?
If you liked this post you might like to try some of my other ideas too!
How to Organize Old Photos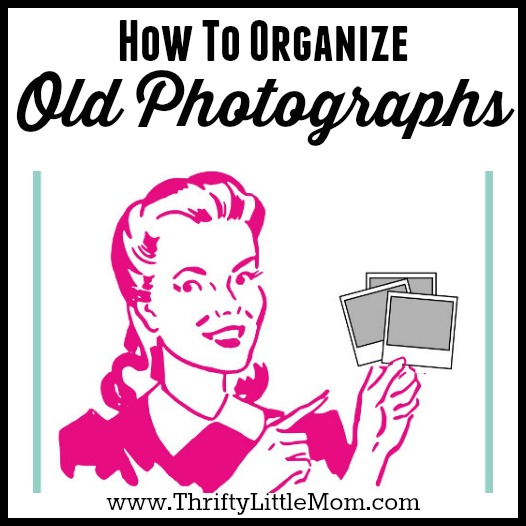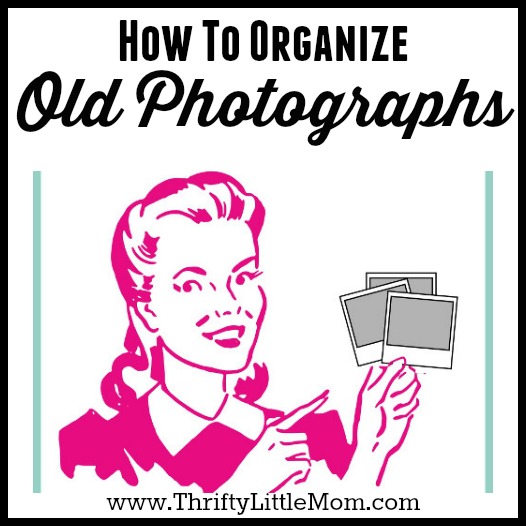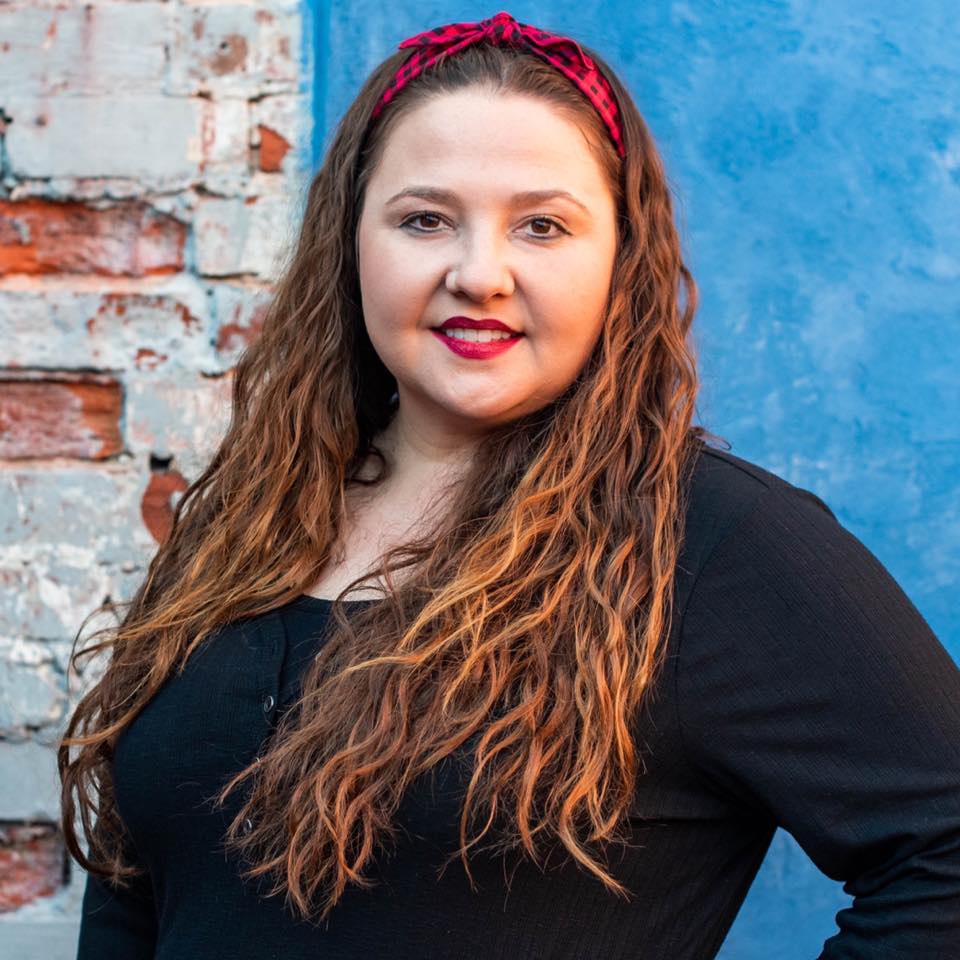 Kim's is the party planning, thrifty life-loving, intentional living catalyst behind the Thrifty Little Mom Blog. Kim was a pro event planner for over 7 years before she became a full-time blogger. Kim is the author of: Live, Save, Spend, Repeat: The Life You Want with the Money You Have. She's been featured on Time.com, Money.com, Good Housekeeping, Women's Day, and more! Kim aims to inspire you to create, celebrate, and live life intentionally!