The nectar of the gods. Wine has been a part of cultural celebrations since ancient times. There are Greek and Roman gods that are solely for wine. I mean, the first recorded miracle of Jesus was turning water into wine to keep a wedding party going! Whatever you might be celebrating this post is meant to be a wine for beginners guide so you can order like a pro or host a party with confidence!
Wine for Beginners Guide: Tasting the waters
When you are first starting out, the world of wine can be as large as the ocean. So how do you figure out what suits your palate? I love wine and I love discovering new flavors and aromas. Wine tasting parties are a fun way to get to experience different varietals and regions; one of these delicious grapes will soon become your favorite.
You can either:
Find a wine tasting night in your area
Schedule a private event with a wine room
Create your own at home
Let me walk you through a few ways to make sure your wine for beginners experience is a great success!
Wine for Beginners: Group wine tasting
You can find a room in your city or you can go to a winery, either way, there are options when it comes to experiencing multiple types of wines in a taste testing setting.
Several wine stores will have a "Wine Wednesday" tasting event. These are open to the general public and will set you back about $5 to attend. Most of these events have 5-6 wines to try.
They will feature a brand grouping (i.e. Cupcake's full line, Bogle Cellars full line, etc.) or they may do a regional experience like that of Spain, France, (considered "old world wine") or Napa Valley, Oregon (considered "new world wine").
This is a great experience no matter what you are celebrating. These featured bottles will be available to purchase if you decide you like one.
Wine for Beginners: Private wine tasting
Wine rooms will also let you book your own private event. This is great because you will be able to customize the soiree. I will explain how it works and then we will discuss options for crafting your own wine party.
Based on my experiences, most wine rooms will have a booking fee.
Usually these aren't more than $50 to book and you pay for what gets opened.
Choose 5-6 wines, these can range from 15-25 dollars a bottle.
Typically this will work for a group of 30 if you are just doing a tasting.
If you have around 10 people:
This will allow you to taste all the wines and then get to enjoy a full glass of one of the wines as well.
The wine room can help guide you to the wines that are right for you based on their selection.
My local wine room will also do this party at an outside location for an additional $10 if you prefer a more intimate setting.
Wine for Beginners: At home tasting party
Maybe you decide to take the reigns and do the darn thing yourself.  Get a personalized wine glass to commemorate your first wine adventure and have a grand ole time from the comfort of your own vista. Here are a few of my personal favorite tasting tours.  You can also grab these for your next party and serve them with confidence.
I will list brands specifically, but you can make your own choice if a brand isn't available to you.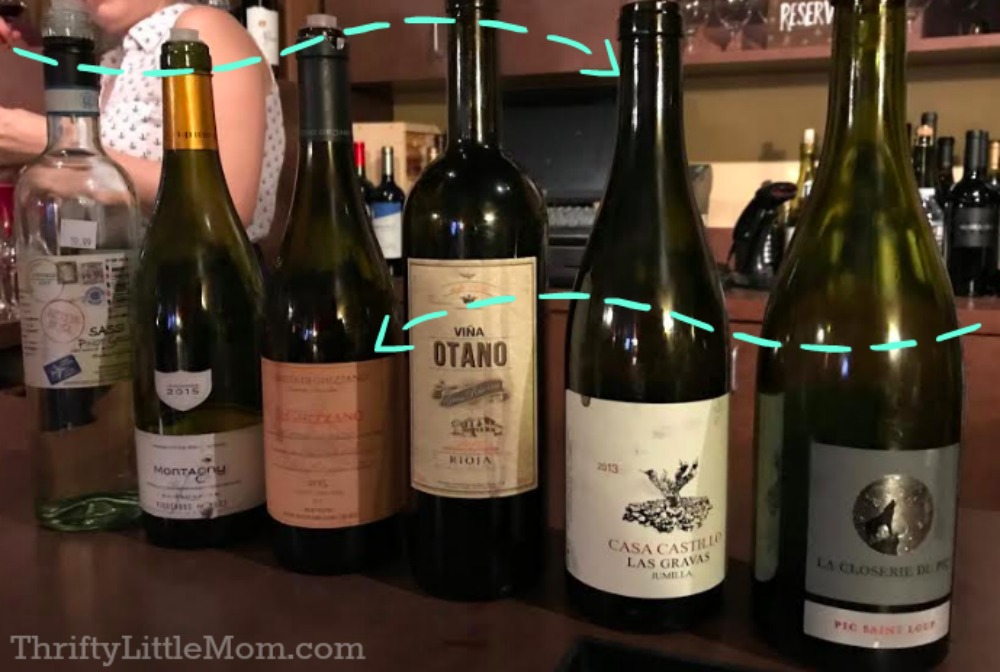 Pacific Palate
The vines of the pacific are different than anywhere else in the world. These vines, known as "new world" wines are called such because they have not been growing for hundreds of years like their European counterparts.
Since the roots have not anchored as deeply into the rock beds, they have less mineral content which leads to more fruity and floral flavors as opposed to the earthy and stoney flavors for which "old world" wines are more commonly known.
Wine for Beginners: Why drinking them in the right order matters.
White to Red, Dry to Sweet- Repeat in reverse
These are typically served in an order of White to Red and Dry to Sweet. The reason behind this is because of how our taste buds sense flavors. White wines are usually more delicate in nature. Having a red wine before can taint the palate because of the heaviness of the tannins.
Following a sweet wine with a dry wine will cause the dry wine to taste more bitter and ruin the nuances of the varietal. So in conclusion, start with your driest white (like a chardonnay) and end with your driest red (like a cabernet).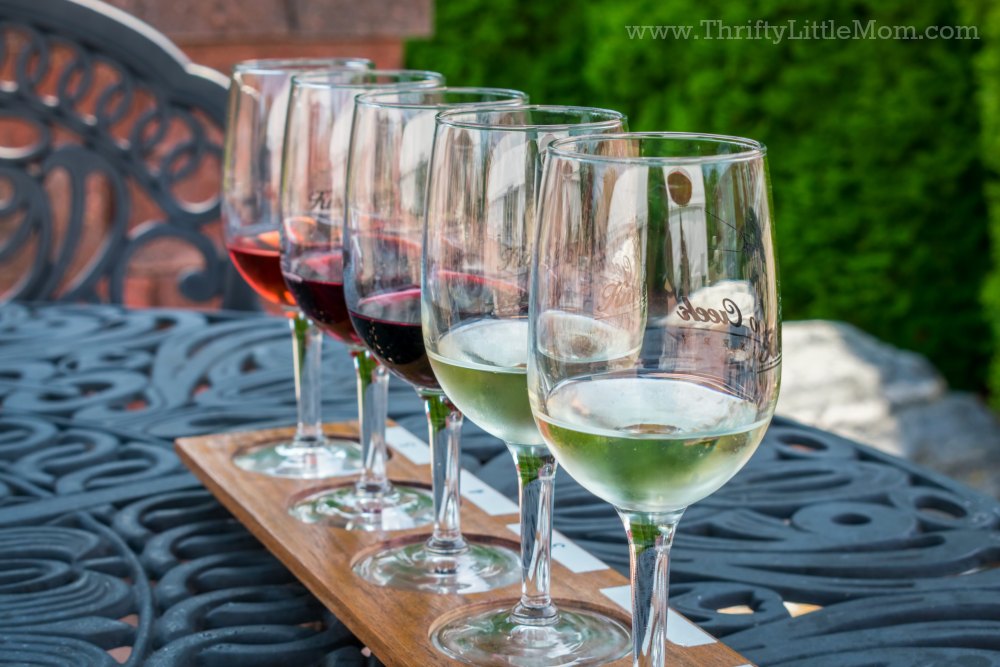 Give these wines a try
Mer Soleil Un-Oaked Chardonnay– "Chardonnay?! I'm not 80." This ain't granny's chard. From Santa Lucia Highlands, Monterey, Central Coast, California, this Chardonnay is fermented in stainless steel casks so it doesn't have that earthy wood flavor that chardonnays are usually known for. Buttery and full bodied, it is a lovely start.
J Vineyards Pinot Gris– These grapes provide a medium-body mouth feel. A pinot gris will have more fruity notes than its cousin the pinot grigio. This is a chance to try something that is not as citrusy as even the Californian variety.
Seven Deadly Zins– the Michael David Winery is a fun winery in the Lodi (pronounced Low-Die) region of California. This has more jam style flavors and can be a great transition from the whites to the fuller bodied reds and will have a lighter mouth feel than the subsequent reds.
Firesteed Pinot Noir– joining this tour is the Willamette Valley in Oregon. I love Oregon pinot noirs, but this is definitely one of my favorites. Spicy cranberry and raspberry notes are always welcome in this house.
Francis Ford Coppola Claret- The black diamond, this is a precious gem of a wine. Its deep berry notes and hints of dark chocolate make this full body bottle a beast amongst other cabernets. Did we mention it is super sexy too? Meeeeeeow!
The old world wines vary the most in my opinion. So many countries can offer numerous grape varieties and the difference in climates and minerals found in the soil means that the possibilities are endless.
While I could go on and on about these styles, I will give you and easy and affordable way to experience Europe that you should be able to find at most stores.
European Wine Party!
Grand Veneur Côtés du Rhoné Viognier Blanc- Anybody that knows me knows that I am in love with the Rhoné region of France. The viognier has a similar mouth feel to the Chardonnay but offers a delicate peach aroma that only a skilled wine maker can provide. If you cannot find this particular one, look to see what is available in your area because this wine is not to be missed.
Casal Garcia Vinho Verde- You buy one bottle, you buy two. Don't let the price point on this Portuguese wine fool you. The crisp pear notes with it's frizz ante nature (slightly effervescent) provides a delightful dance to your palate. DO NOT PASS THIS WINE UP!
M. Chapoutier Bellaruche- This wine is made from a combination of granache and syrah grapes. It is a medium bodied wine with a bold flavor of black cherry. French and fun, add this to the tasting for something different, but slightly similar to a pinot noir.
Bertani Valpolicella Ripasso- whether you can find this particular brand or not, this style is to die for. The basics of this wine: the grapes are aged past maturation on the vine and allowed to start drying. This concentrates the sugars. Once the grapes are fermented, they are then re-passed (ripasso) to create the second life of this deep full flavored wine. It is rare to find a full bodied wine with these sweet characteristics.
Campo Viejo Gran Rioja Reserva- from the Rioja region of Spain, this wine is made with painstaking precision. The Tempranillo grape is delicate yet exploding with flavor. By blending and balancing with other grape varietals, the berry notes are vibrant and exciting to experience.
Bubbles and Sparkles
Its your party and you deserve to have all the bubbles you want! A fun take on a wine party would be to make the tasting all sparkling wines. These can range from white to red and sweet to dry with no stone unturned in between.
With this experience, it is best to go from dry to sweet as opposed to our previous tasting paths which went from white to red.
Bellissima Zero Sugar Sparkling Wine- you may trip on the "Zero Sugar" aspect of this wine, but in spite of it's claim, you won't miss a thing. The flavors of grapefruit and floral notes provide a dry and zesty palate pleaser.
Cleto Chiarli Lambrusco di Castelvetro Vigneto Cialdini- that's a mouth full. If you can get your hands on this dry and sparkling red wine, you will nail this wine tasting. The notes of cherry and elderberries will excite the tongue with a crisp effervescent finish.
Lolea No. 5 Rose Sangria- Sparkling, pink and floral, this wine has flavors of hibiscus and ginger. Slightly sweet and flirty, just like me! Wait, ok, fine, just like you!
Ca' Montebello Sangue di Giuda- This sweet, sparkling RED wine is named this, meaning "Blood of Judas". It was named this because the monks who made it wanted to keep the nuns out of their cellar. Oh boys… This wine is fabulous for everyone.
Gemma Di Luna Moscato- Tiffany blue and fizzy for you. This sweet moscato will end the tasting with pizzazz and delight. The sweetness is concentrated and has notes of peach. It is absolutely decadent and delicious.
What else can we do while we wine?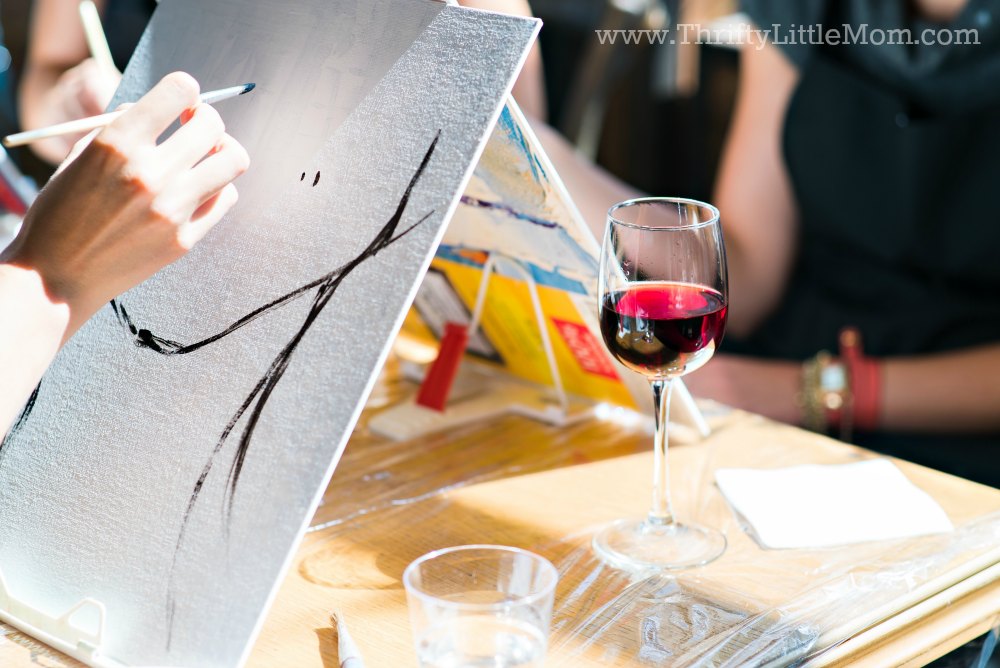 If you do decide to enjoy your wine tasting at home, this may be a great time to incorporate a Sip and Paint party theme into the evening. Have a blast drinking delicious new wines and creating a memorable masterpiece to take home.
Check out your local rooms and create a friendship that will mature like a fine wine. Hope you found this wine for beginners guide helpful! Salut!
Want to create a Food and Wine Feast?
One of my most favorite menu planning apps is eMeals.  My most favorite menu plan option is the the Special Occasions Plan.  This is basically a done-for-you party menu plan that you can send to a shopping list to buy yourself or send to your favorite online grocery shopping service.
Here's how it works:
Sign up for your free 2 week trial here. 
Check out all the fun holiday and celebration menus.
Open the Food & Wine Feast option.
Send it to your shopping list or online order service.
Follow the recipes.
Serve and delight your guests!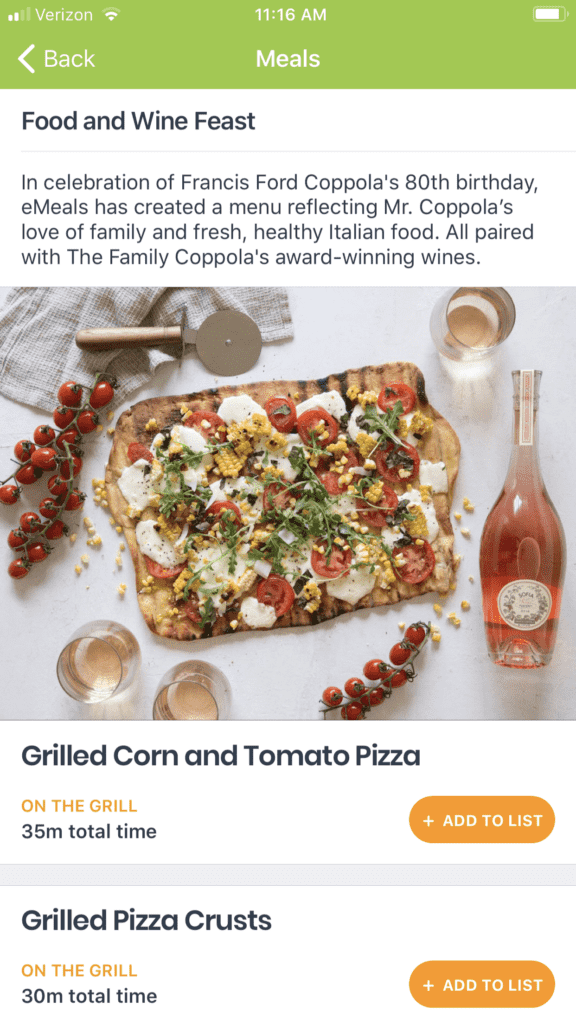 Special thanks to Augusta Anderson (our other contributing author) for writing this awesome post!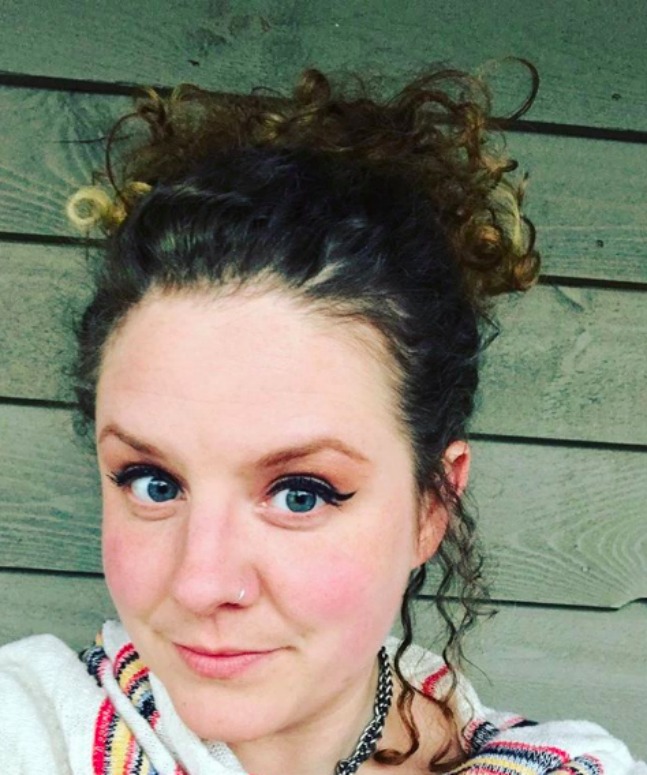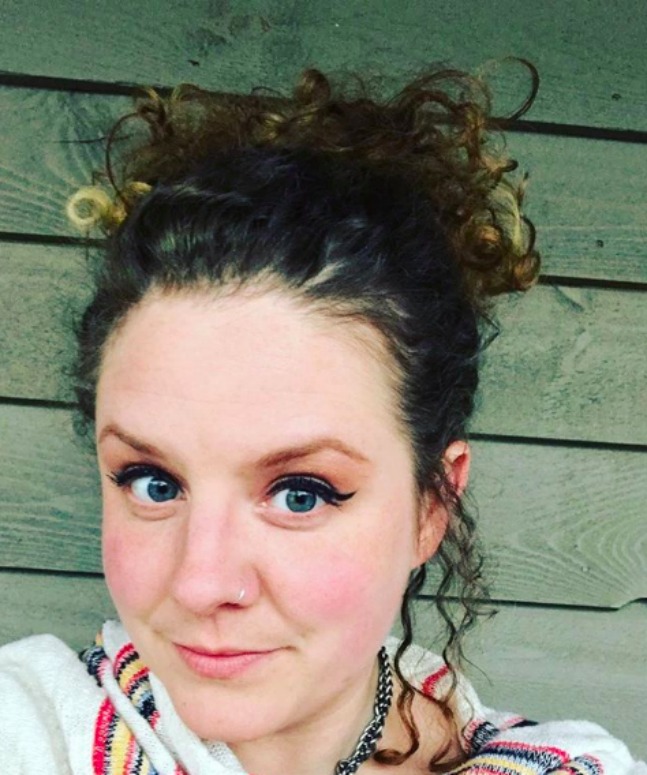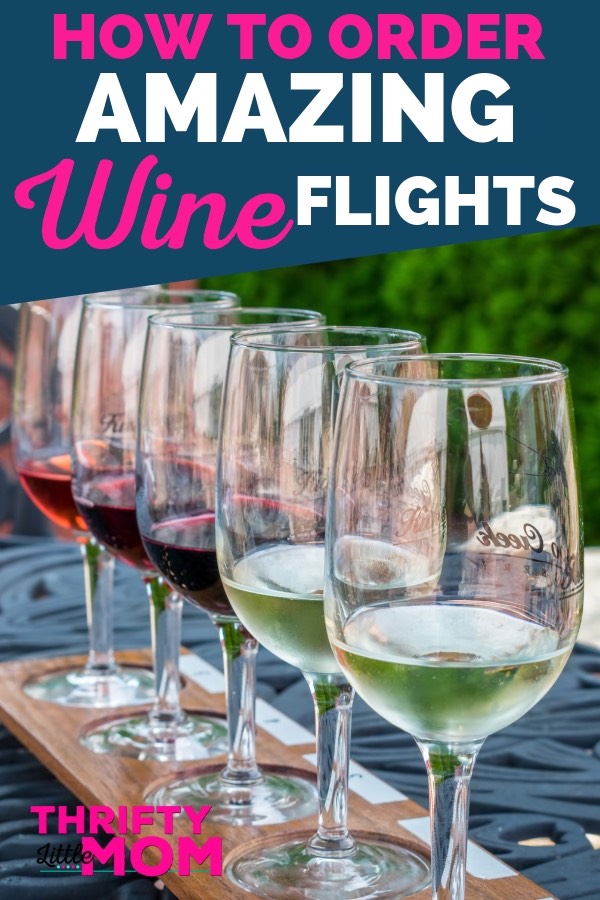 Summary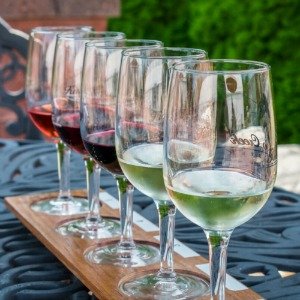 Article Name
Wine for Beginners: Order & Serve with Confidence
Description
Wine for beginners a quick win guide to help you know what to order and even what to serve when you are a wine newbie.
Author
Kim Anderson
Publisher Name
Thrifty Little Mom