Ultimate Guide to Planning a Kids Disco Party
Remember when you were a kid and the things that made a party mesmerizing were the lights? For me, it was the skating rink with their giant, mirrored balls that caused tiny orbs of light to dance across the floors and wall. It was a magical place. Why do disco balls entrance us so much? I love the idea of throwing a kids disco party to bring all that excitement into their sphere.
Where to start when designing a great party? When I decide to throw a kid's party, I first consider which venue is the best for hosting my children's party. Since I want this to be a disco party, I need a place that is conducive for the lighting and space needed to do this.
The thrifty mom in me knows that I could also make this work and have a disco party at home if the budget was tight for renting a space.
A large space is best for a kids disco party
If you are planning a party at home consider the garage or basement.
Larger rented spaces will allow for the mirrorball to have the biggest impact
Once you have decided on a place, then you need to get those invitations out!
Kids Dico Party Invitations
Funky and groovy invitations will help solidify this theme. I am a big fan of the paper invitation. When people receive a paper invitation, then they are more likely to make that event a priority. You can still send out e-vites and reminders, and a Facebook event page is also helpful for detailed information. I know that the paper invite goes straight onto the fridge where it is always in the eyesight of the guest- prime real estate in my opinion.
70's Disco – Shaped Fill-in Invitations – 1970s Disco Fever Party Invitation Cards with Envelopes – Set of 12
Kids Disco Party Decorations
Lighting
Being that this party is centered around the mirrorball, you can place this iconic party piece throughout the event. Make sure that you have at least one real, working disco ball to set the mood, but otherwise, these can be used in all areas of decorating to amplify the theme.
12″ Disco Mirror Ball Party Kit includes an LED Pinspot and Motor – Adkins Professional Lighting
If you wanted to have several disco balls in the room, you can put smaller ones around the room to make overlapping patterns that can be quite mesmerizing. I think the kiddos will love this style too!
OMERIL Party Lights Disco Ball, USB Powered 11 RGBY Color Disco Lights Sound Activated Strobe Light with Remote Control DJ Lights for Home Room Parties Birthday Bar Karaoke Xmas Wedding Show Club
Streamers and Balloons
The thing I love about steamers and balloons are the height that they add to the aesthetic. It is important to have the dynamic of the party represented from floor to ceiling. This will encapsulate the theme and make for an immersive experience. Transforming the room with these decorations will WOW the kids. Look for items that scream disco inferno!
LaVenty Set of 5 Disco Party Balloons Disco Fever Party Decoration 70s Disco Party Decoration Saturday Night Fever Party Decorations Disco Ball Dance Birthday Party Supplies

5 Count 22 Inch 4D Large Round Aluminum Foil Balloons Self-Sealing Disco Fever Mirror Metallic Hangable for Party Birthday Party Wedding Baby Shower Marriage Decor Supplies Square
Beistle 53539 70's Disco Fever Streamer, 2 Piece, 6″ x 7′, Multicolored
Adorox Metallic Silver Gold Rainbow Photo Backdrop Foil Fringe Curtains Party Wedding Event Decoration (Metallic Rainbow)
Table Decorations
Designing a great table layout is easy with some simple planning. The main things you want to focus on are:
Themed table cloth
Paper products that are indicative of the disco aspect

Plates
Napkins
Cups
Straws

Dessert toppers
Appetizer plate decorations
By combining these funky items, your guests will be transported via soul train. The bright colors and vintage-inspired designs are iconic and nuanced.
Disco Ball 70's Party Supplies Themed Paper Plates, Napkins and Table Cover Serves 16 Guests

Set of 35 LaVenty 70's Disco Cupcake Topper 70's Disco Cake Decoration Disco Cupcake Toppers Saturday Night Fever Party Decorations Disco Ball Dance Birthday Party Supplies
70's Disco – Paper Straw Decor – 1970's Disco Fever Party Striped Decorative Straws – Set of 24
DIY Disco Floor
Want to create a classic disco floor- it's not as difficult as you might think it is. You will need some basic materials and a little craftiness. But I guarantee the result will be fun for everyone!
Here's a quick how-to video!
Food and Drink
With kids parties you want to consider two variables:
What will they eat.
What is fun to eat.
With the in mind, here is a list of the best food for kids parties because they are more likely to eat it. Then you fun some suggestions of foods that are just down right FUN to eat and drink.
Pizza
Pizza Pockets
Nachos
Tacos
Chips and Dip
Chocolate Chip Cookies
Oreo Cookies
There are so many iconic foods from the 70s era. Pick some of the favorites and create a throwback experience for everyone!
Jell-O
"It wiggles and it jiggles!" We love this weird, gelatinous food. From my childhood into adulthood, I enjoy the different ways you can make this delightful treat. I love to put it in fun drinks for kids or throw them into a creative vintage mold for a party. This kids' disco party is no different! Decide which iconic Jell-O mold you want to use for this party.
Aokinle Silicone Baking Molds, European Grade Fluted Round Cake Pan, Non-Stick Cake Pan for Jello,Buntcake,Gelatin,Bread, 9.45 Inches Tube Bakeware Red
Chocolate Fondue
There is no time like the present to break out this iconic blast from the past. The stinky gruyere cheese can miss this kids' social event, but the chocolate is more than welcome to attend. Pick up a (kid-safe) fondue pot and make this experience something to remember.
Fondue Dippers:
Berries

Strawberry
Raspberry
Cherry (pitted)

Bananas
Apples
Angel food cake
Brownie bites
Cookie dough
Marshmallows
Rice Krispie treats
Electric Countertop Chocolate Fondue Maker – 800W 2QT Black/Red Fondue Pot Set, Cheese Melter Warmer Cooker Pot, Nonstick Melting Pot, Includes 6 Dipping Forks, Utensil Tray Lid – NutriChef
Drinks

There are several drinks that the 70s are known for making famous. Bring these delightful beverages into your kids disco party. Whether they are sparkling or still, they are delicious and always a treat.
Orange Soda
I know you're thinking, "Kim… orange soda?" Yes, my friends. We forget how tantalizing this beverage is to the tongue. It is sweet, zesty, and effervescent. If you want to make things a little more fun, add a little B-12 to the mix. This vitamin will glow under UV light. Place a small black light near the table and see the kids' faces (and drinks) light up!
Kool-Aid
Every flavor of kool-aid is delicious. Making regular Kool-aid for this party is an easy way to please the masses. However, if you wanna take it one step farther, freeze different colors of kool-aid drinks. Since the drink comes in every color of the rainbow, you can make an exciting drink for your party-goers. Take the colorful cubes and drop them into light-colored sodas to make an impact on their thirst experience.
Music
Be sure to download a rockin' and groovy playlist for this shindig. There are so many great ones out there to choose from for this event. Keep the music going all night long!
Disco Party Favors
I enjoy good party favors. Cultivated, themed items can really bring your party to a whole new level and dynamic. For a kids disco party favor, I would definitely look into wearables. Kids love to dress up and by including items at the party that they can wear, you make the experience encapsulating. This is a night to remember, give them a memento!
Disco Necklaces
The fun of the disco ball can be worn at this party. These cute accessories will catch the light of the event and shimmer and shine all night long.
12 Pieces Assorted Color Disco Ball Necklaces 70s Disco Party Necklaces for Christmas Party Favors,Home Decorations, Stage Props, School Festivals and Costume Accessories
Goodie Bags
If you want to send them home with some treats, make sure you find a disco party favor bag that is on the theme! Stuff them full of favorite candies and treats. It's a great way to end this amazing night.
70's Disco – 1970's Disco Fever Party Favor Boxes – Set of 12
I hope that you have enjoyed these funky kids' disco party ideas! Have a groovy time! If you want help ditching your party planning overwhelm be sure you get my thrifty little Stree Free Kid's Birthday Bash Planner and Workbook.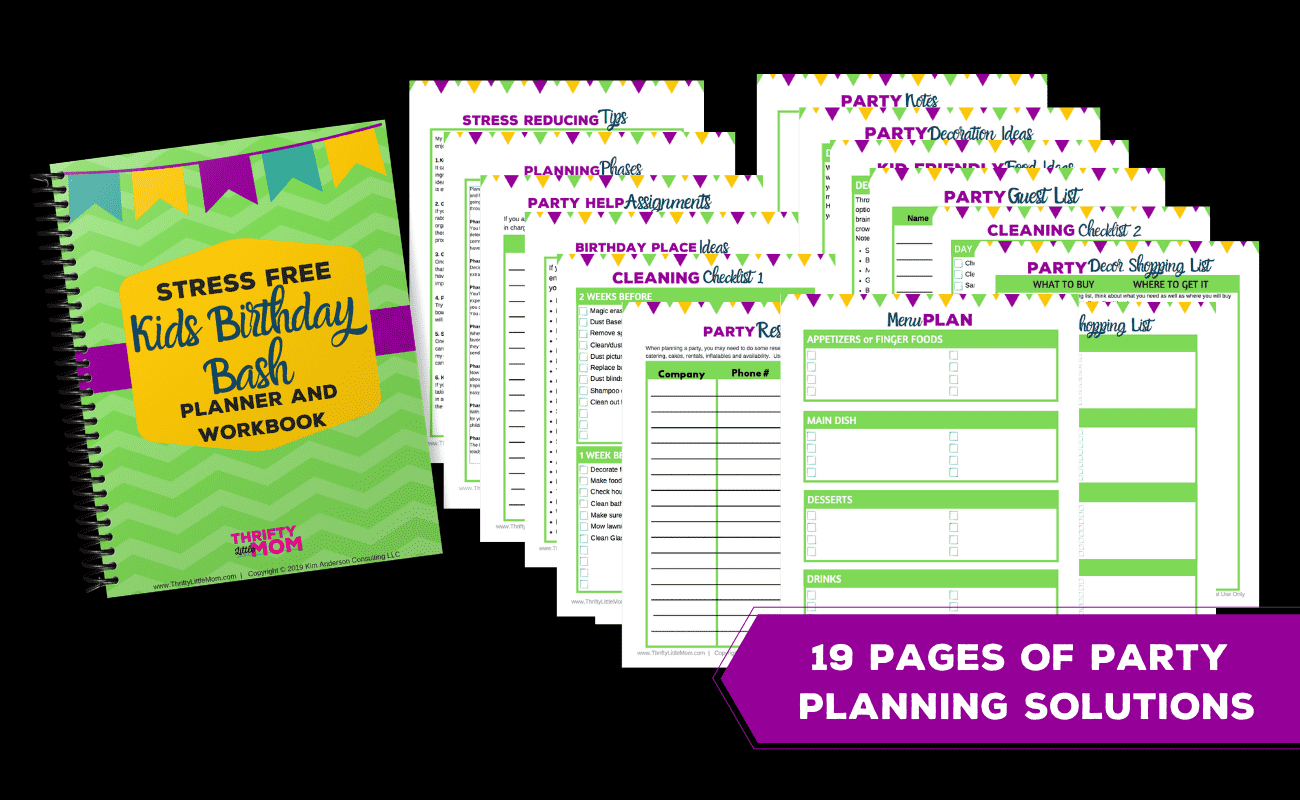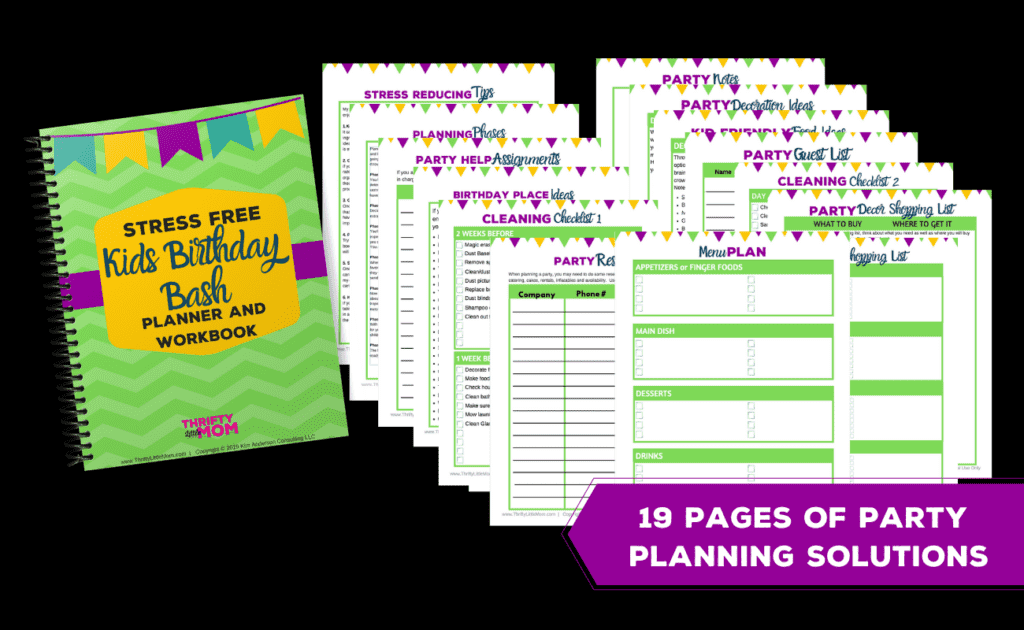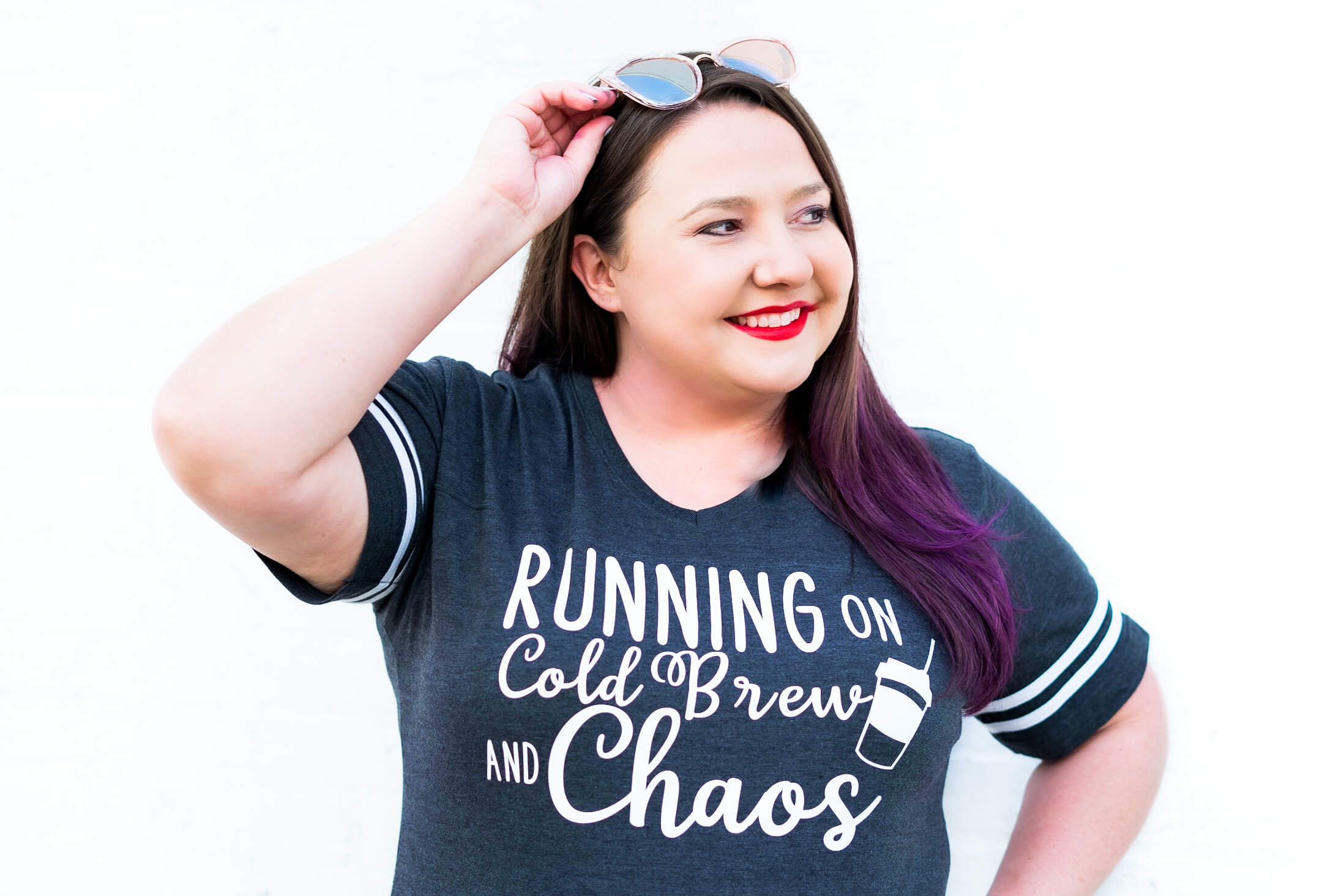 Kim Anderson is the organized chaos loving author behind the Thrifty Little Mom Blog.  She helps other people who thrive in organized chaos to stress less, remember more and feel in control of their time, money, and home. Kim is the author of: Live, Save, Spend, Repeat: The Life You Want with the Money You Have. She's been featured on Time.com, Money.com, Good Housekeeping, Women's Day, and more!