23 Mother's Day Gift Ideas for Your Wife
There is nothing better than a thoughtful gift from your significant other. When my husband presents me with an item, whether big or small, my heart flutters, and I feel so special. With Mother's Day, the thoughtfulness that is expressed on this day is always cherished. I love the items that I receive from my husband over the years, so I thought I'd share my favorite Mother's Day gift ideas for your wife!
Mother's Day Gift Ideas for Wife
Spa Day Gift
It's no secret that we love to be pampered. A spa gift card could be just what the doctor ordered for Mother's Day. However, spa packages can be a little pricey for some. You can throw a thrifty at-home spa day for your wife, or you can choose one of these exceptional items to shower her with your love and adoration! Any lady would love to receive one of these pampering products.
Shower Steamers
Similar to a bath bomb, these are great for the ladies that enjoy a soothing aromatherapy experience without the hassle of drawing a bath. Sometimes we want to feel the warm stream of water from a showerhead instead of a pool of water. These great shower steamers provide comfort and relief when the time or convenience of a bath is not an option.
Cleverfy Shower Bombs for Valentines Day – [6x] Shower Steamers With Essential Oils For Aromatherapy And Stress Relief – Great As Birthday Gifts For Women, Gift For Mom, Unique Gift For Women
Herbal Tea Set
Getting to relax with an aromatic, hot cup of tea is one of the simple pleasures in life. You can find me under my weighted blanket with a rom-com movie and a delicious cuppa for my Mother's Day gift idea. Please pass the remote.
Tea Gift Set for Tea Lovers – Includes Double Insulated Tea Cup 12 Uniquely Blended Teas and All Natural Honey Straws | Tea Gift Sets for Women Men | Tea Gifts Box Presented in Beautiful Gift Box
Essential Oil Diffuser

What I love about aromatherapy oil diffusers is that they offer multiple benefits compacted into one device. When you add in essential oils, you receive the benefits from the aromatic compounds. Most of these diffusers will also release a small mist.
The mist is known to be calming visually. The sound of the water percolating inside is said to bring benefits as well. All in all, this is a pretty sound Mother's Day gift idea for your wife.
Zen Breeze Essential Oil Diffuser Dark Wood – Aromatherapy Diffuser – Birthday Gift Edition
Succulents
These little plants are one of the most natural floral gifts to maintain. The tiny terrariums come in all shapes and sizes. They are effortless to take care of as they require a small amount of water and sunlight.
Consider a location that would be most desirable for a new addition and pick a style that fits. Hanging teardrops are great for the kitchen. Potted succulents work well in bathrooms and offices. Here are my favorite plants and accessories for Mother's Day gift ideas for wife.
Succulent Pots, ZOUTOG White Mini 3.15 inch Ceramic Flower Planter Pot with Bamboo Tray, Pack of 6 – Plants Not Included
Succulent Plants (5 Pack), Fully Rooted in Planter Pots with Soil – Real Live Potted Succulents / Unique Indoor Cactus Decor by Plants for Pets

Pack of 3 Teardrop Hanging Terrarium – Mini Hanging Garden – Various Creative DIY Projects – Functional Home or Office Décor – Transparent, Heat-Resistant and Durable High Boron Silicon Glass
Spa-style Mother's Day Gifts for Wife
We would all love a day out of the house, away from the kids to relax and enjoy a moment of solitude. I can't even use the bathroom without interruption from one of my three kids. So going out to an establishment that promotes relaxation would b the highlight of my year.
Salt Rooms
Here is North Carolina, we have several salt and mineral rooms to boast of locally. If you are near a larger town, the chances are that you also have these magnificent rooms.
The Asheville Salt Cave near me is one of the highest-rated experiences in the area. The benefits of the minerals and the quiet comfort is truly rejuvenating. Find a salt room near you for a unique gift for your wife this Mother's Day.
Float Spa
Also known as a deprivation float tank, these "zero gravity" chambers resort the body and mind. With water that is high in beneficial Epsom salt, your body floats in a chamber to help relieve muscle and joint discomfort, reducing cortisol (stress hormone) levels in the body while you relax. The list of benefits is truly astounding. So if you're wondering "what to get my wife for mother's day?" I've got your answer right here!
Yoga Day
Look for a yoga studio around your area and see what style of packages they offer. You may find restorative workshops or specialized classes that would be a fun alternative to a traditional yoga experience.
Maybe there is a weekend retreat that the studio is offering. There are lots of styles and practices to choose from that will fit the dynamic for a unique gift for your wife this Mother's Day.
Oxygen Bar
This popular restoration activity is popping up in cities everywhere. The clinic will provide medical-grade oxygen therapy for individuals. These locations promote oxygen therapy as a way to boost energy (all moms are in desperate need of this), reduce stress, and overall relief. Think this might do the trick for your wife? I would be thrilled with this gift.
Smash (Rage) Room
Need a gift for the woman who wants nothing? Maybe your wife isn't a traditional spa-style woman. We all still need some stress relief. Find a smash (or "rage") room near you.
These rooms you will pay by the minute (usually 20-45 minutes) and the desired style of items that you would like to destroy. Some places even have cars that you can go crazy on beating up. Are kids getting ready to be home for summer break? It sounds like a tremendous end-of-the-school-year experience!
The Little Things
Sometimes it's those small, everyday items that can make the most significant difference in how your day goes. I know that I love my cup of coffee in the morning. You do not want to see me when I realize that the beans are spent.
Maybe your lady enjoys a lovely bottle of wine to end her harrowing day. Think of these great "year-round" gifts that keep on giving this Mother's Day.
Coffee Subscription
Yes! Please, and thank you! It's like they totally get ME! What if every month you could receive a delicious new taste adventure? Well, friends, we live in the future!
We can have the best of the best delivered to our doors without even having to think about reordering. That works wonderfully for my ADD self and me. I'll take two. Check out this coffee subscription box.
Wine Subscription
Now we're talking! I am a creature of habit for the most part. I know which bottles of wine I love, and I seldom venture from the safety of what is known. I think it is good when you find a wine subscription service that will tailor their choices to what you know you like.
Or you may like the adventure into the unknown. Either way, there is an excellent wine subscription service out there that will thrill your lady and make for the perfect Mother's Day gift idea from a husband.
At-Home Dinner Subscription
There are several different meal kit providers out there. The idea behind this is a gift of you (as the husband) to cook ONE meal a week for your wife. This kit service makes it easy for you to say, "Don't worry, honey, I got us tonight." Sure, you could pile everyone into the car and go to some restaurant once a week, but taking the time to prepare a meal for your wife shows that you are meeting her where she usually works so hard.
There is so much more love put into crafting something by hand than by merely swiping a card and calling it a night. Its the action more than the final result. But the meal kits take the guesswork out of the task- this makes you look like you know what you're doing!
Mother's Day Gift Ideas for Wife- Tech-gifts
For the wife that loves a new toy, a technology gift can be a great benefit and comfort. Here are my favorite tech-gift that are great Mother's Day gift ideas for your wife:
Kindle E-Reader-
An e-Reader will allow for less clutter (we mom's love that). You have the benefit of having multiple books on one device, waterproof and it will automatically save where you left off (when a child inevitably spills milk all over the kitchen floor)
Kindle PaperWhite
Kindle Fire
Kindle Oasis
Kindle Paperwhite – Now Waterproof with 2x the Storage – Includes Special Offers
Kindle Unlimited-
Does she already have the device? Kindle Unlimited allows for listening and reading thousands of books. She will never want for material to relax with when she has all she could want at her fingertips.
iPad-
If she is more of an Apple product woman, an iPad is invaluable. From recipes and tutorials in the kitchen, to how to fix that annoying ceiling fan ticking, she can have information in the palm of her hand.
New Apple iPad (10.2-Inch, Wi-Fi, 32GB) – Space Gray (Latest Model)
Smartwatch-
A smartwatch is a beautiful gift idea for Mother's Day from a husband. Phones can be cumbersome in certain "motherly situations" and a smartwatch provides a handsfree option when you are elbows deep in a child-produced fiasco.
Apple Watch
Fit-Bit
Samsung Galaxy Watch
Garmin
Samsung Galaxy Watch Active2 W/ Enhanced Sleep Tracking Analysis, Auto Workout Tracking, and Pace Coaching (44mm), Aqua Black – US Version with Warranty
Sentimental Mother's Day Gifts for Wife
"What do I get my wife for Mother's Day?" seems to be a common question. She may already have all the gadgets and gizmos that she needs. How about something cute and from the heart? There are a few things that I recommend for Mother's Day gift ideas for wife.
Canvas Print of Family
I have several of these in my house, and they make me well-up with joy and comfort when I see my beautiful family on my walls. These precious moments remind me of all the time I've put in making a happy home. They are like an award that I hang up to say, "Hey Kim, this is what all of this if for!"
SIGNFORD Custom Canvas Prints, Child Pets Personalized Poster Wall Art with Your Photos Wood Frame Digitally Printed – 11 "x14"
Mother's Journal
I' me sure you've heard of "mom's brain" when it comes to the forgetfulness we mothers experience. Don't let the memories escape. Write them down to reflect on in future years. I love these daily journals. They don't take a lot of time to write down a few memories that will last a lifetime.
Mom's One Line a Day: A Five-Year Memory Book (New Mom Memory Book, Memory Journal for Moms, New Mom Gift Ideas)
Funny Things
There are a lot of cute mom "meme" type things going around that make for a fun laugh. Pick up something that will give your wife a chuckle. This glass is one of my favorites right now:
Momma Shark Needs a Drink Do Do Do Do Funny Novelty Libbey Stemless Wine Glass with Sayings – Gift for Moms, Birthday, Christmas, Mother's Day Gifts
When I first saw this shirt on Amazon, I literally laughed out loud. Especially in 2020 when my gym closed down for months on end.
Womens My Favorite Workout Alcoholic Person V-Neck T-Shirt
I hope that these Mother's Day gift ideas for wife will help you create a beautiful day for your beloved.
20 Mother's Day Celebration Ideas
Make A Mother's Day Handprint Frame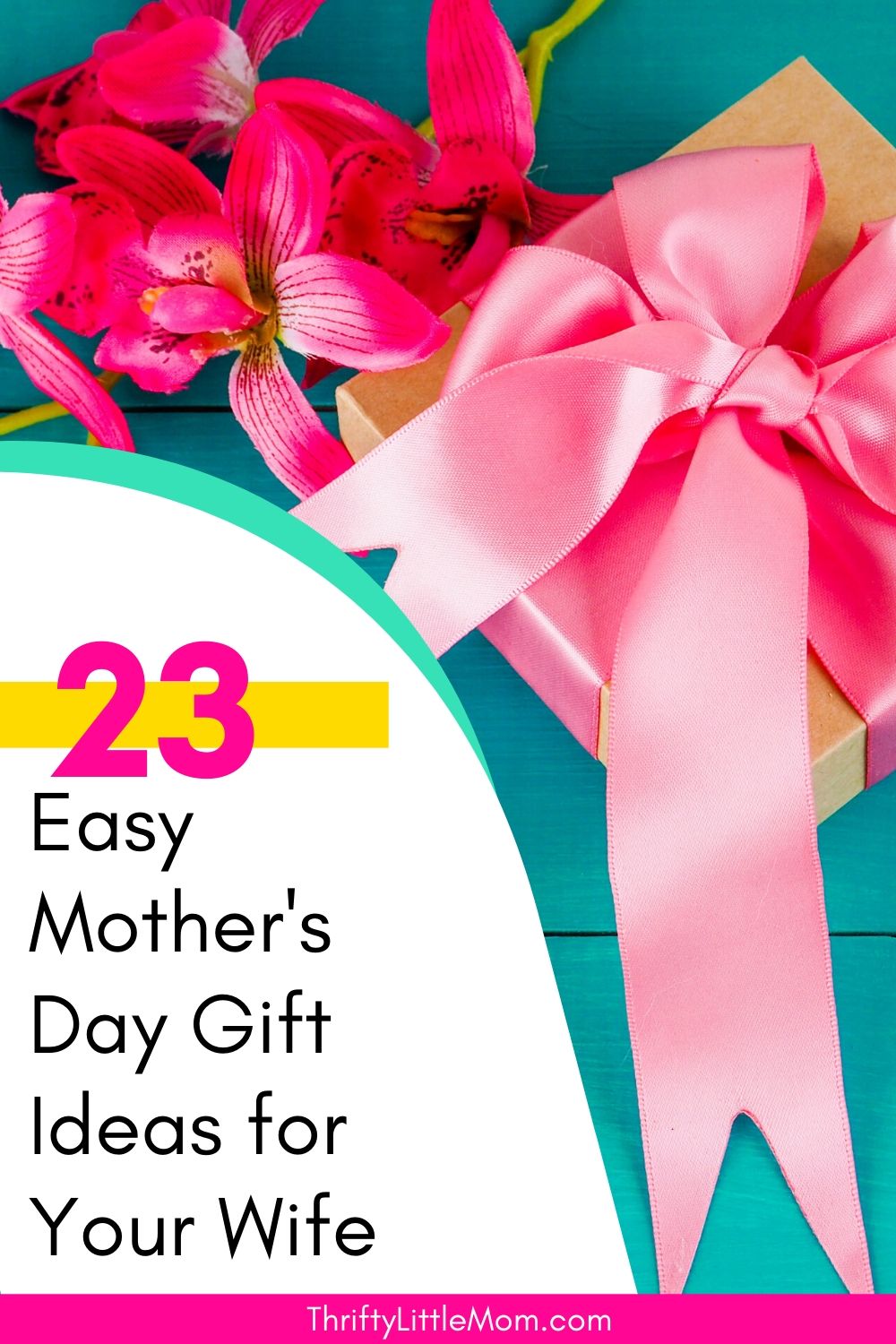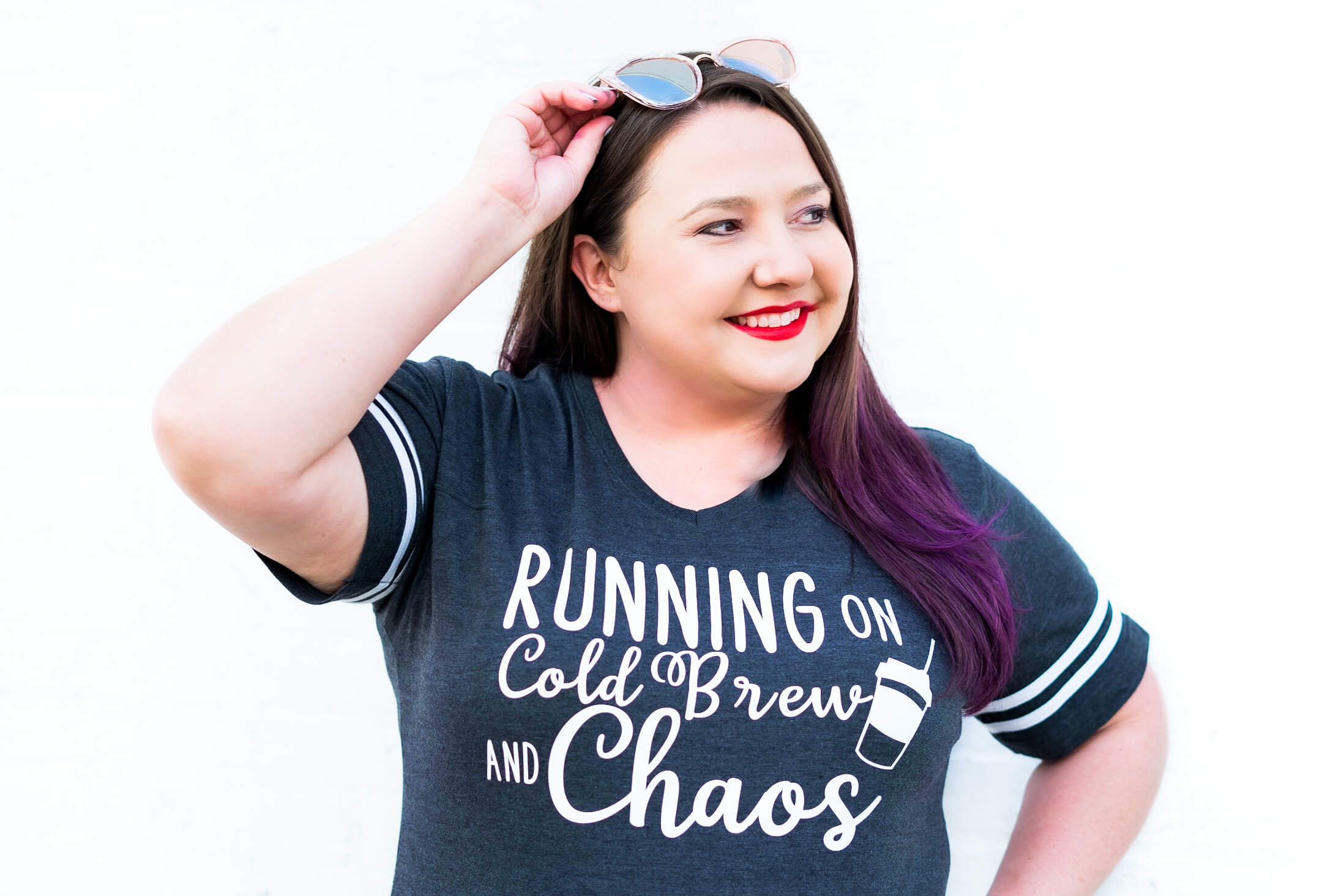 Kim Anderson is the organized chaos loving author behind the Thrifty Little Mom Blog.  She helps other people who thrive in organized chaos to stress less, remember more and feel in control of their time, money, and home. Kim is the author of: Live, Save, Spend, Repeat: The Life You Want with the Money You Have. She's been featured on Time.com, Money.com, Good Housekeeping, Women's Day, and more!