Planning a 70's Style Disco Party
Give me a decade party to attend, and I go all out. I love getting dressed up for an 80s themed party or 90s themed party. Joining my favorite decade parties is the 1970s. A disco party is calling my name, and I am ready! When you throw a disco party, then you need to make it feel like you are stepping into an evening of Saturday Night Fever. Here is how I would craft the perfect 1970s disco party.
Spread the Word
Getting the message of your event to everyone is the first step in your party initiative. I prefer a paper invite by mail. It is fine to do an event on social media; in fact, it is a perfect idea if you want to give more information than what will fit on the paper invitation. However, a paper invite will make its way on the fridge and will be more memorable when it comes time to cut loose.
70's Disco – 20 Shaped Fill-In Invitations and 20 Shaped Thank You Cards Kit – 1970s Disco Fever Party Stationery Kit – 40 Pack
Disco Party Places
The venue you choose for your disco party is essential to this particular theme. It is necessary to have the proper space for dancing since that is what this decade is most famous for portraying. There are plenty of places that you can rent for this occasion. Here are a few places to look into when planning your party.
Disco Party Lighting
Once the venue has been established, you can focus on creating the party time machine that will transport people to the funky-fun of the 1970s. You will NEED a mirror ball. This item is not a suggestion. It is a requirement. If you feel crafty, create mirrored balls for the event. You can also purchase the full kit if you desire the real deal.
12″ Disco Mirror Ball Complete Party Kit with 2 LED Pinspots and Motor – Adkins Professional Lighting
Another Lighting Option
While disco balls were all the rage in the 1970s and continue to light up clubs to this day, we now live in a time where LED makes everything easier. I stand by my previous statement of having mirrored balls.
Instead of having the mirror ball be the source of lighting, use an LED fixture to give the ambiance of the disco
Then, simply hang decorative disco balls for aesthetic.
LED lighting is powerful and effective
OMERIL Party Lights Disco Ball, USB Powered 11 RGBY Color Disco Lights Sound Activated Strobe Light with Remote Control DJ Lights for Home Room Parties Birthday Bar Karaoke Xmas Wedding Show Club
Disco Party Decorations
This gathering allows you to stretch those creative muscles when it comes to decorations. There are fantastic products at craft stores and thrift stores that help you achieve the desired outcome. See what you can find to enhance your disco party!
Get Creative with Vinyl
Go to a thrift store and get some of the bargain bin vinyl records.
Pick all available sizes
You can enhance these with glitter around the edges or in the middle area
Drill a hole or use the existing central hole to hang using clear fishing line
Hang from curtained areas, the ceiling or wherever you have to add height
Balloons, Bunting and Streamers
When I decorate for a party, I want there to be floor to ceiling decorations. Get thematic balloons will create loads of enjoyment and up your production value for the event. Streamers will envelop the room into its very own time capsule. Bunting can be hung along walls for an eye-level expression.
Disco Ball Balloons 20 Pieces 22 Inch 4D Disco Balloons Large Silver Laser Foil Balloon Metallic Mirror Balloon for Disco Dance Party
Let's Boogie Banner, Gold Glitter Paper Garland with Gold Dot Banner for 70's 80's Themed Party Decoration Birthday Party Supply

Adorox Metallic Silver Gold Rainbow Photo Backdrop Foil Fringe Curtains Party Wedding Event Decoration (Metallic Rainbow)
Table Decorations
Are you planning on renting tables? If you have several tables, then I suggest making cute DIY table decorations that will WOW your guests. These features are important in solidifying the theme. Layer items to make personalized table decor. Items that are classic from the 1970s that you can use to decorate your tables:
Vinyl Records
Small Disco Balls
Roller Skates
Vintage Telephones
Funky Sunglasses
Gold Chains
Boas
Talking Tables-DISCO Glitterati Disco Ball LED Party Table Lights, Silver
Big Dot of Happiness 70's Disco – Table Decorations – 1970s Disco Fever Party Fold and Flare Centerpieces – 10 Count
Food Table Decorations
Get a great table cloth that is indicative of that "Saturday Night Fever" feel. I like the ones that have the block print similar to the light-up floors that discos are known for having. These can be enhanced with table runners and themed service ware.
These are the items to get in theme:
Tablecloths
Paper Products- food plates, dessert plates, napkins
Fun silverware
Cups that are funky and fun
Festive straws
70's Disco – Paper Straw Decor – 1970's Disco Fever Party Striped Decorative Straws – Set of 24

Disco Tablecover Party Accessory (1 count) (1/Pkg)

Disco Ball 70's Party Bundle with Paper Plates and Napkins for 16 Guests
Get into Character
Vintage Threads
There are plenty of iconic 70s fashion items that people are familiar with seeing. There are platform shoes and butterfly collars; there are afros and feathered bangs. You should make sure your guests have something that will make them feel a part of the party, even if they don't have all the gear. Simple items- like funky glasses or several afro wigs for people to wear.
Fluffy Afro Synthetic Clown Wig for Men Women Cosplay Anime Party Christmas Halloween Fancy Funny Wigs (Black)

Hippie Glasses – John Lennon Sunglasses – 12 Pack Retro Sunglasses – 70's Disco Costume Accessories – By Tigerdoe
Disco Party Photobooth
Don't forget to capture the memories at this party! Set up a photobooth with thematic props for guests to commemorate the evening. Extra points if you choose a polaroid option! The new polaroid printers connect to your smartphone for impressive digital quality!
Allenjoy Disco Party Backdrop Shiny Disco Lights Ball 70s 80s 90s Dancers Crazy Birthday Dance Party Cake Table Banner Shining Neon Night Decorations 7x5ft Photography Background Photo Booth Props


Polaroid Pop 2.0 2 in 1 Wireless Portable Instant 3×4 Photo Printer & Digital 20MP Camera with Touchscreen Display, Built-in Wi-Fi, 1080p HD Video (Blue) Prints From your Smartphone.

1970s Disco 70s Throwback Party Theme Photo Booth Props Decorations, 41 Pieces with Wooden Sticks and Strike a Pose Sign by Outside The Booth
1970s Food Classics
The iconic foods of the decade should definitely make an appearance at your disco party.
Fondu it up!
A classic fondu was a staple in the 1970s. I don't see why you shouldn't go all out at your party with this cheesy crowd-pleaser. Fondu requires a few gourmet kinds of cheese that are easy to find at most grocery stores. The key to this melt is to pick high-quality cheese. If you are going to make it, don't cut corners here.
Basic Ingredients:
Gruyere
Fontina
Gouda
White wine
Garlic
Great Items to Dip:
French Bread
Sourdough Bread
Rye Bread
Potato chunks
Broccoli
Asparagus
Cauliflower
Mushrooms
Apple slices
Cuisinart CFO-3SS Electric Fondue Maker, Brushed Stainless, 6.12″ x 10.50″ x 7.00″
Don't Forget the Chocolate Fondue!
Chocolate fondu would make a delicious and out-of-the-box dessert at a disco party. People will be lining up to try dipping different noms into the pot. Here are some fun things to dip into chocolate fondu:
Angel Food Cake
Strawberries
Blackberries
Pitted Cherries
Frozen Banana
Pretzels
Frozen Peanut Butter Balls
Brownie Bites
Chocolate Chip Cookie Dough
Sugar Cookie Dough
Classic Chex Mix
This mix was a party staple. You may be old enough to remember your mother making it at home. The warm butter gently stirred into the tasty pieces. Here's an easy recipe from Chex.com if you want to try making it for yourself!
Ingredients:
3 cups Corn Chex™ cereal
3 cups Rice Chex™ cereal
3 cups Wheat Chex™ cereal
1 cup mixed nuts
1 cup bite-size pretzels
1 cup garlic-flavor bite-size bagel chips or regular-size bagel chips, broken into 1-inch pieces
6 tablespoons butter or margarine
2 tablespoons Worcestershire sauce
1 1/2 teaspoons seasoned salt
3/4 teaspoon garlic powder
1/2 teaspoon onion powder
Directions:
Combine the ingredients except for the seasoning and butter
Melt the butter and mix in the seasoning
In a large bowl, mix the two until the items are evenly coated
Spread onto a baking pan
Place in 250ºF oven
Stir every 15 minutes for one hour
Lay on paper towels to dry
Deviled Eggs
Everybody's mother and grandmother had their own way of creating a signature deviled egg. Some people went classic with mayonnaise, mustard, and paprika. Others would incorporate anchovies or olives to spice things up. No matter the difference in the recipe, you could be guaranteed that these would be making an appearance at the party. Find your perfect deviled egg recipe and dish it out!
Hello, Jell-O
Everything in Jell-O, even some things that make us cringe now. I mean, tuna and olive Jell-O, what were they thinking?! But just because people did some weird things in the 1970s doesn't mean you need to replicate that for your next disco party. You can create some fantastic crowd pleasers that will bring the theme into the party without grossing people out.
Classic Beverages for a Disco Party

Old Fashion Cocktail
If we want to do a throwback to the cocktails of the 1970s, then we must start with the king- The Old Fashion
Throughout the years, this rich whiskey drink has taken on new shapes and new names, but we're going to enjoy it at it was originally made.
Ingredients:
2 ounces of high-quality whiskey (traditionally rye, but bourbon is fine, too)
Three dashes of Arognasta bitters
One sugar cube or 1/2 tsp of granulated sugar
club soda (seltzer)
Orange slice (optional)
Maraschino cherry (optional)
Directions:
In a rocks glass, place sugar cube
Add the dashes of bitters into the sugar
Using a muddler, grind the sugar until fine
Place several ice cubes into the glass
Pour in choice whiskey
Top with a splash of soda water
Garnish as desired
JS-GXJ 8″ Muddler Bar Tool, Durable Stainless Steel Cocktail Drink Muddler Set Profeesional Grade Bar Pestle with Mixed Spoon, Liquor Pourer and Jigger
Other Popular Cocktails
Stinger- this one has a lovely bit of mint flavor
Brandy Alexander- if you like it sweet
Tom Collins- for the classic gin enthusiast
Grasshopper- if you're in a dessert mood
Harvey Wallbanger- if you're feeling zesty
Non-Alcoholic Drink for a Disco Party
The seventies really did a number to the beverage industry. The shelves at the grocery were now lined with all sorts of colors and flavors. You can use these classic beverages as mixers if you are inclined, but they make for a delicious drink for those abstaining.
Orange Soda
Kool-Aid
Mr. Pibb
Mello-Yello
Disco Party Music Magic
Playing the right tunes at this party is paramount. Make sure to stream a great 1970s station for your disco party. If streaming isn't an option, you can find some great options in other formats. Just make sure you "play that funky music white boy," or everyone will be "Kung fu fighting" (and I heard those kicks were fast as lightning).
70's Disco Party Hits
Disco Party Favors
It's a good idea to thank your guests for attending your event. I enjoy sending my friends home with a little something that will remind them of the great time that we have when we get together. Pick out a few of your favorite items and send them home in a groovy way!
Mini Disco Ball Keychains for 70s Party Favor Decorations – 12 Pack
Plastic Wide Hair Pick Comb, 6.5 Inch Smooth Hair Pick Comb, Afro Hair Comb, Hairdressing Styling Tool for Natural Curly Hair, Assorted Colors (6 Pieces)
70's Disco – Mini Candy Bar Wrapper Stickers – 1970s Disco Fever Party Small Favors – 40 Count
I hope these disco party ideas inspire your next celebration! Remember to stay funky, my friends!
29 Adult Birthday Favors Your Guests Will Love
19 Best Birthday Party Places for Adults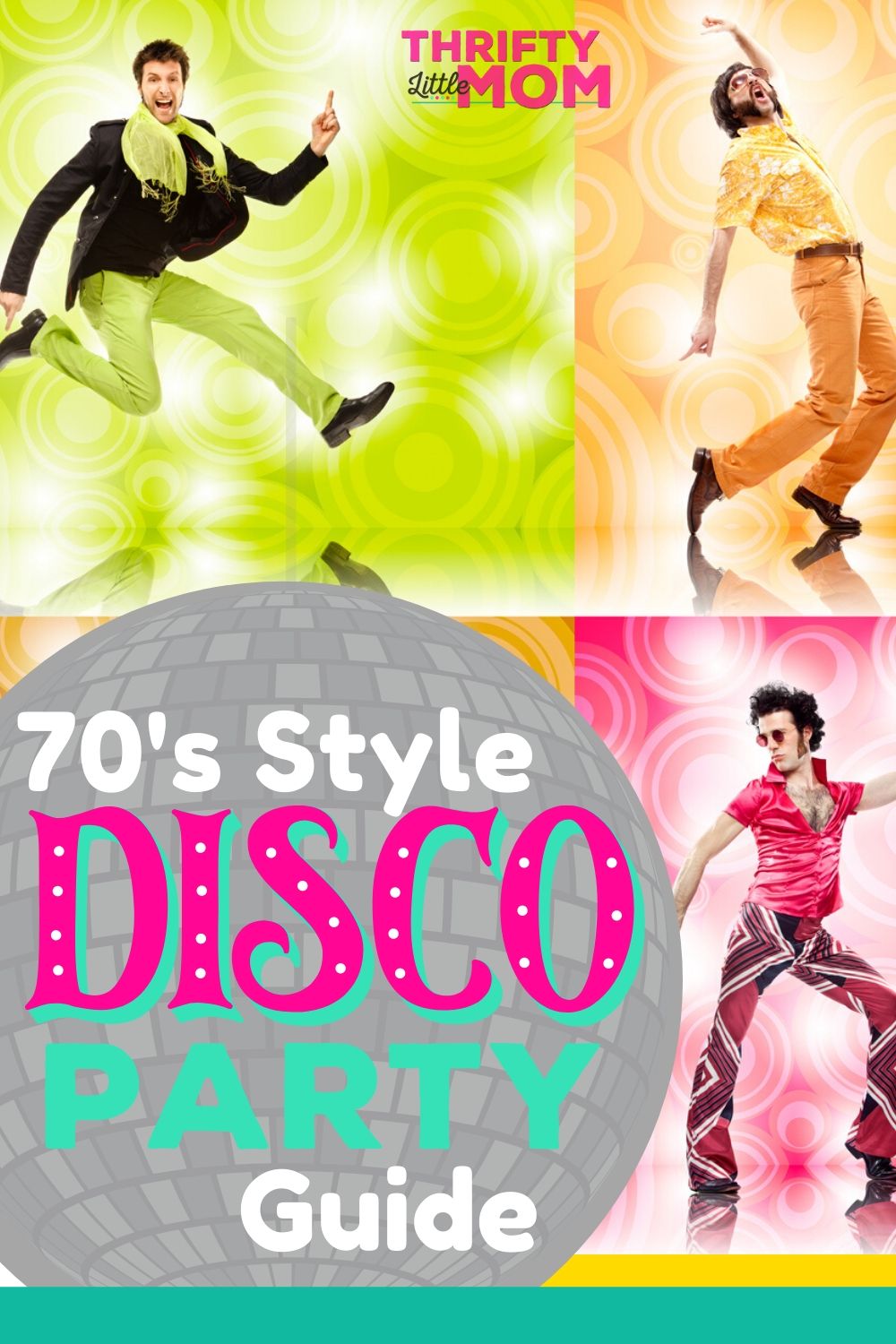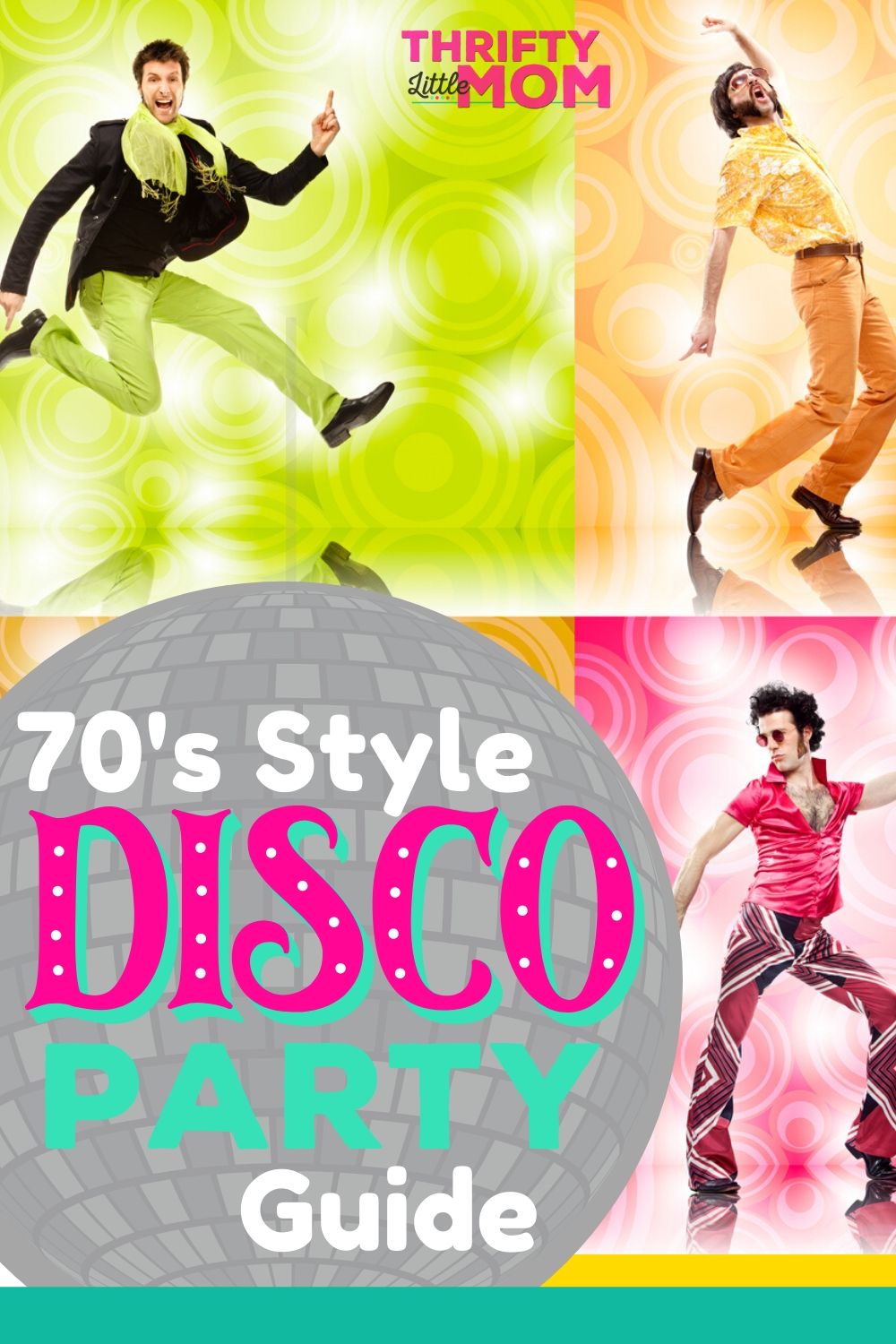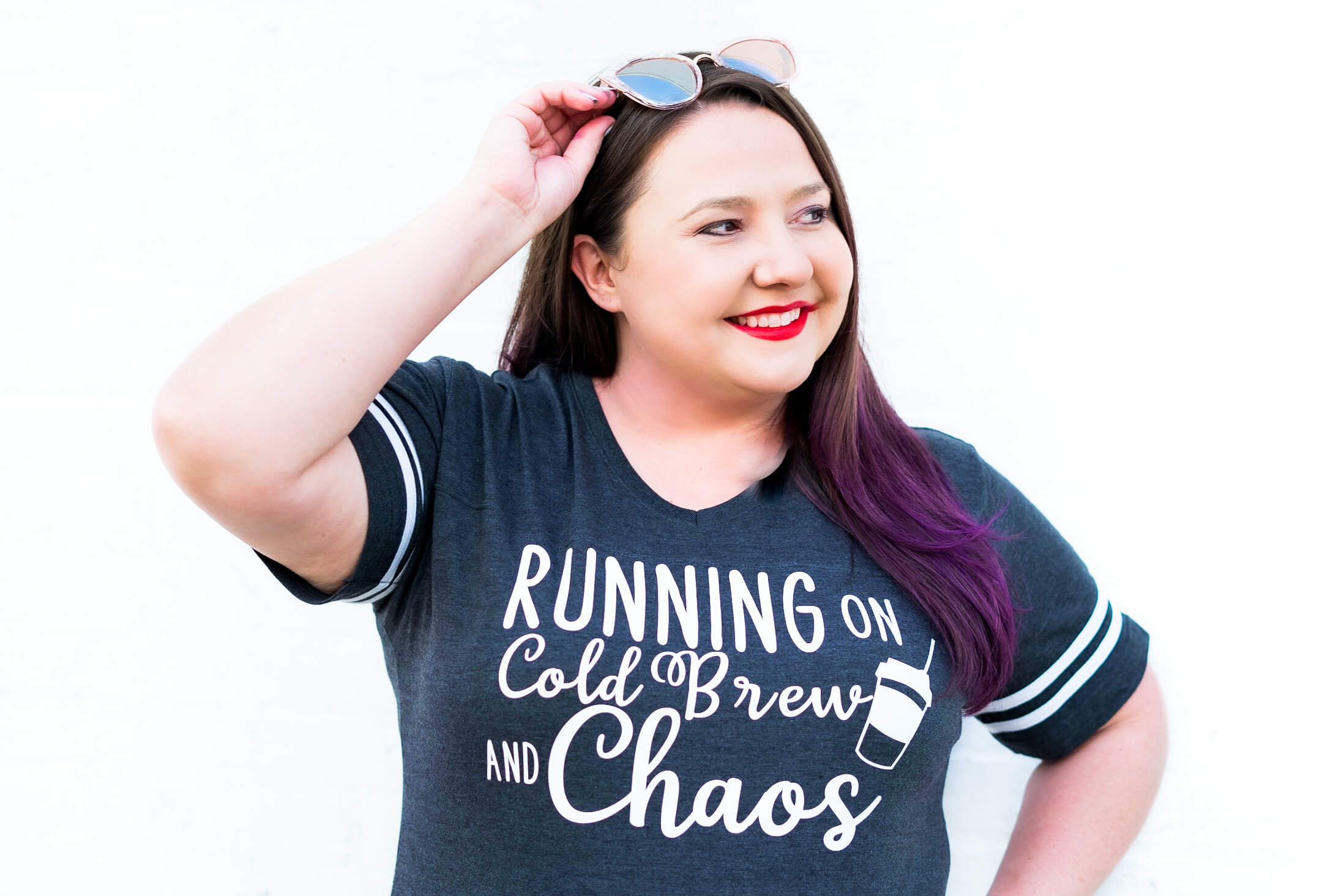 Kim Anderson is the organized chaos loving author behind the Thrifty Little Mom Blog.  She helps other people who thrive in organized chaos to stress less, remember more and feel in control of their time, money, and home. Kim is the author of: Live, Save, Spend, Repeat: The Life You Want with the Money You Have. She's been featured on Time.com, Money.com, Good Housekeeping, Women's Day, and more!