Planning a Classic 90s Party from Start to Finish
Looking for a fun idea for your next get together? From the generation of Nickelodeon game shows and In Living Color, comes the best party you will throw this year- 90's Party! So break out your Salt N' Pepper t-shirts and your starter jackets, friends and get ready to party like its 1999!
Step 1- Pick Your 90s Party Color Scheme:
When thinking about which direction to take your 90's party, you have a ton of great options.  I made a visual example in the pin below so you can see the different ways you might want to take your party based on which of these classic patterns you like the most!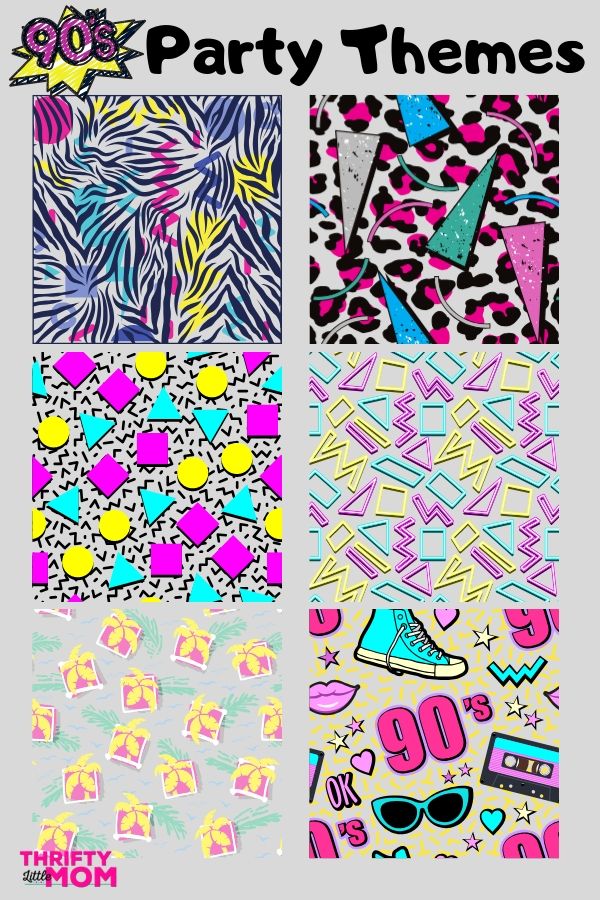 When coming up with decorations think of 90s attire & 90s school notebooks
Bold color combinations
Abstract art shapes
Layered patterns
Palm Trees
Classic 90s Icons
Step 2: Pick Your 90s Party Invitations
 Inviting people to a party will set the mood for the theme that you choose.
When it comes to the 90's it's color splats, geometric shapes and bright colors.
Choose an invitation that fits your desired theme- whether it is Neon, Geometric or just lots of color.
There are great invitations to fit your 90's party with a little searching.  These are few of my favorite!
90's Throwback – Fill In 1990s Party Invitations (8 count)
80's Retro – Shaped Fill-in Invitations – Totally 1980s Party Invitation Cards with Envelopes – Set of 12
Step 3- Pick your 90s Party Classic Supplies:
One thing consider about throwing a 90s party is that color is king.  That means that you can actually go with a ton of solid, bright decorations and it's going to look great.
I'd encourage you to start looking for your decorations at one or two of these 9 Thrifty Party Shop Places Most People Forget About. 
If you want to go even more authentic, check out these geometric decor options. 
Step 4: Prep Your Photo booth
Creating a great photo booth is pretty simple, but it will add so much fun to your 90s party! Here's the basic setup needs:
Back drop or neutral curtain
Props
Lighting
Camera/Phone
Tripod or camera holder
Instant print camera- I love these because guests can immediately take the picture with them
Emvency Tapestry Colorful Graphic Retro Vintage 80S 90S Style Abstract Good Design and 1990S Memphis Home Decor Wall Hanging for Living Room Bedroom Dorm 60×80 inches

90s Party Photo Booth Props Kit-1990's Throwback Party Supplies Decorations

10″ Selfie Ring Light with 50″ Extendable Tripod Stand & Flexible Phone Holder for Live Stream/Makeup, UBeesize Mini Desktop Led Camera Ringlight for YouTube Video, Compatible with iPhone/Android

Fujifilm Instax Mini 9 (Ice Blue) Instant Camera with Mini Film Twin Pack
Step 5- Get Creative with Decorations
There are lots of pre-created 90's Party supply sets that are right out of the box and ready to go.  But I still like to add an element of DIY to most parties that I throw because it helps me explore my craft side.
Here is a fun and interesting table centerpiece you may want to look into creating!
---
DIY 90s Party Center Piece Project:
This  centerpiece piece is great if  you:
Want "easy to construct DIY"
Already have cassettes lying around
Inexpensive yet effective
Want a cool party favor for your guest
Supplies for this:
Cassettes
Hot glue gun- HOW DO I KNOW WHICH TEMPERATURE TO GET? Great question!

High temp glue guns are best for this style of project where you will want guaranteed stability.
Heavy duty plastic that is bonding to heavy duty plastic will need the reinforcement of this level of heat.
Leave this craft project to the adults unless you want to supervise a low temp craft party

Battery operated lights
Maxell 109085 Brick Packs Optimally Designed for Voice Recording, Low Noise Surface with 60 Min Recording Time Per Tape

Hot Glue Gun, Blusmart Upgraded Mini Glue Gun with 30pcs Melt Glue Sticks, 20 Watt High Temperature Glue Gun for DIY Crafts, Projects, Fast Home Repairs & Creative Arts, Blue

6 Pack Fairy Lights 7 Feet 20 LED Starry Lights Battery Operated String Lights Silver Coated Copper Wire Firefly Moon Lights for DIY Wedding Bedroom Indoor Party Decoration (Multi)
---
DIY 90s Party Bunting-
One thing I really love is creating bunting for my parties to hang above the party table and/or across the fireplace mantel.  One quirky and fun DIY option is to use floppy disks or Vinyl's to create your own bunting.  You would simply want string and then hot glue or connect the items side by side on the string.  Once done you can hang them up!
I made a diagram so you can see what you might be able to make with a few records and floppy disks!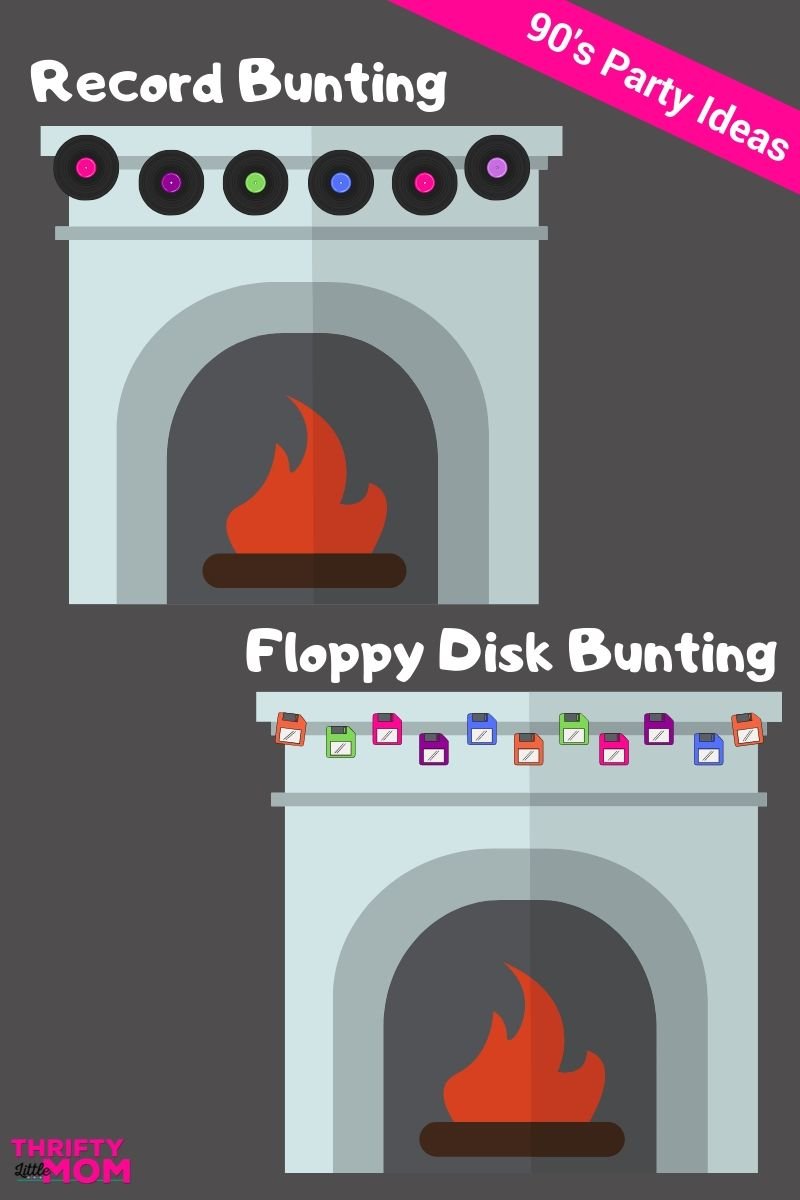 You can snag these DIY supplies on Amazon: 

Verbatim CD-R 80min 52X with Digital Vinyl Surface – 10pk Bulk Box, Blue/Green/Orange/Pink/Purple – 97935

PHT Silicone Blanked Label Retro 3.5 Inches Floppy Disk All-weather Coasters , 4.7 X 3.6″, Set of 8
If you want to go the easy route, you can also pick up a 90s party decoration kit. These are simple and but still bring the theme into the room.
Big Dot of Happiness 90's Throwback – Diy Pennant Banner Decorations – 1990s Party Triangle Kit – 99 Pieces
Step 6- Create a Menu
Classic snacks from the nineties will always be a hit at this party.  Want to go down memory lane?  Check out this fun list of 90s Snack Foods and Candies from Mashable.
Creative 90s Party Food Ideas:
A 90's movie and television show classic food that brings friends together for a party just about anywhere.
 You can buy actual Lunchables Pizza or Cracker Packs
Make a fancy looking lunchables "board" by cutting your favorite cheeses and deli meats into little circles.  Here's my tutorial on how I make these meat, cheese and cracker stacks myself.
Assemble them for your guest OR
MAKE YOUR OWN GOURMET "LUNCHABLES" PIZZA BAR!
Make a Gourmet "Lunchables" Pizza Bar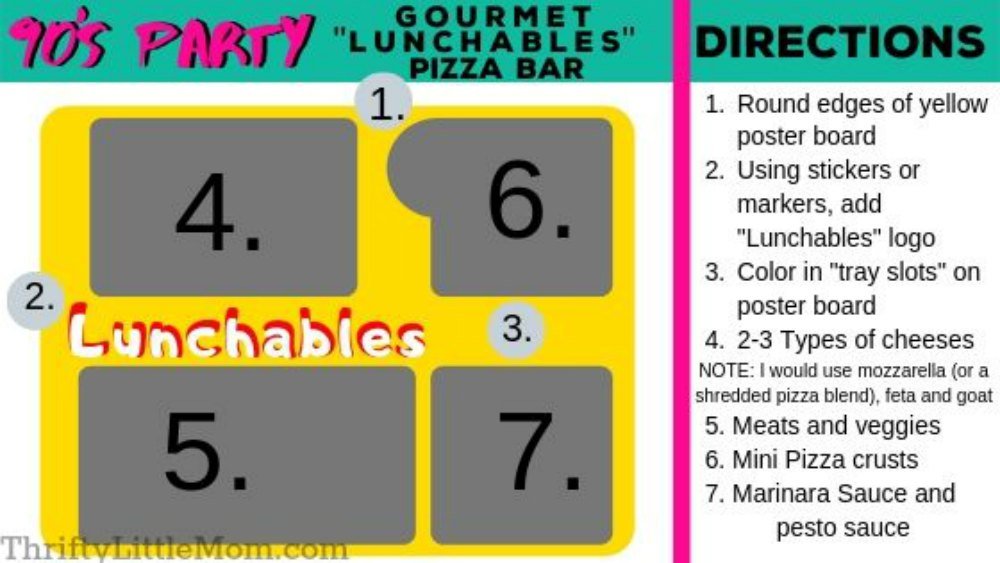 Ingredients:
Mini pizza crusts or flat breads
2-3 types of cheeses-

I really like mozzarella or a pizza blend shredded
crumbled feta
crumbled goat cheese

Meats/ meat alternatives- pick your favorites!

Pepperoni  (turkey or beef)
Prosciutto
Bacon
Calabrese
Sausage
Vegan pepperoni or meat crumble

Veggies-pick your favorites!

mushrooms
olives
marinated tomatoes
green peppers
spinach

Sauce options

Classic marinara pizza sauce
Basil Pesto
Lemon artichoke pesto- I love the one that Cibo makes
Alfredo
Balsamic
Directions:
Create the "Lunchables" table set up

On yellow poster board draw "tray slots" to place fixin's in
Place items (on plates or trays) in their section

Have a toaster oven set to 400 degrees and guest can heat pizza for around 5 minutes
Dunkaroos had two basic ingredients:
Cookies-these are more fun if you find the "bite sized" version

Chocolate animal cookies
Vanilla animal cookies
Chocolate chip cookies
Oreo cookies
Cinnamon graham cookies
Chips Ahoy! Mini Chewy Chocolate Chip Cookies, Big Bag, 3 Ounce (Pack Of 12)

Stauffer's Animal Crackers Snack Cookies: Chocolate and Original [1 Bag of each]

OREO Mini Chocolate Sandwich Cookies, Original Flavor, 12 Big Bags

Keebler Scooby-Doo! Graham Cracker Sticks, Cinnamon, 12 ct
Icing

Oreo butter cream icing- this was the most popular for Dunkaroos
Chocolate
Vanilla
Rainbow sprinkled vanilla
Strawberry
Hazelnut
You can purchase the tub containers of icing if you want "scoop and serve".
Miss Jones Baking Organic Buttercream Frosting, Chocolate (Pack of 1)

If you like to make your own foods though, making a basic butter cream icing and adding flavors will save you money and prevent waste.
Fun 90s Party Dessert Ideas:
Gushers– grab some packs for people to enjoy, or check out this cake!
Fruit Roll-Ups- this lasagna looks epic!
There were so many great snacks coming out in the 90s. We couldn't get enough! These snacks could also be used as party favors!
Step 7- Create a Drink Menu
Whether you wanted to have cocktail or a mock-tail, there are some great recipes out there to bring this 90s party theme into play!
Surge
Lucky for us 90s kids that surge is actually back on the market for this party! Pick up some cans and reminisce about the vending machine banning that happened in your cafeteria.
Surge Citrus Flavored Soda 16fl oz. 12 cans
Looking for a fun cocktail for the event? Make a "Surge" Mimosa.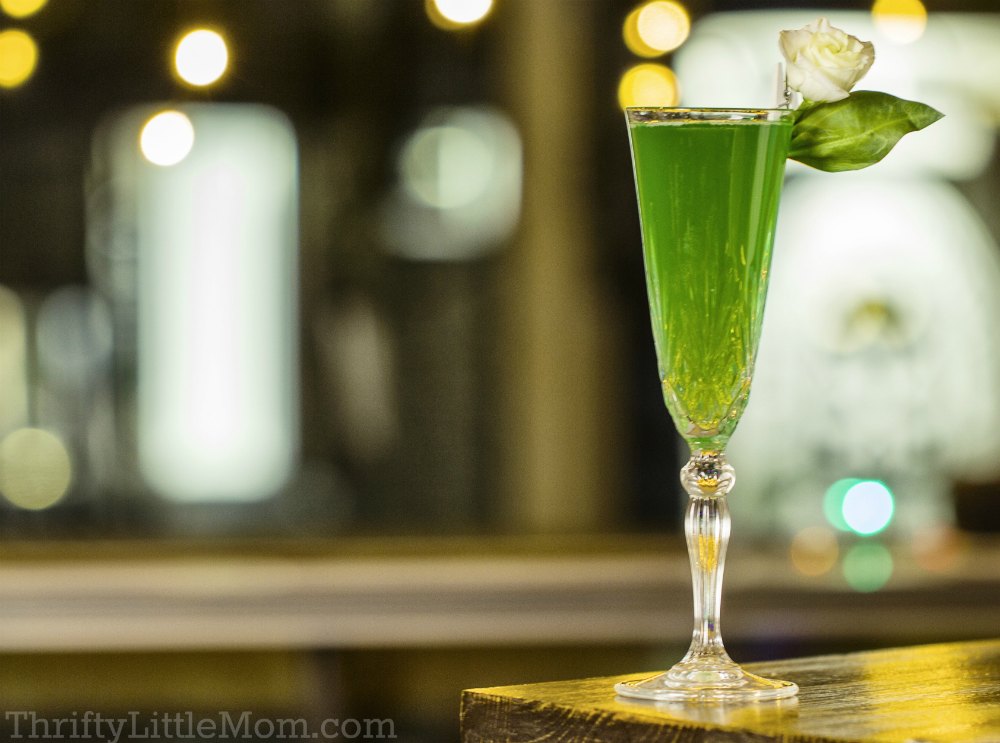 "Surge" Mimosa Ingredients:
Extra Dry Sparkling wine: 5 ounces
Triple Sec: 1/2 ounce (or to taste preference)
Midori or green melon liquor: 1/2 ounce
Splash of Sweet and Sour
"Surge" Mimosa Directions
First, pour 1/2 oz of Midori into bottom of glass
Add 1/2 oz Triple Sec
Then, pour sparkling wine slowly, at an angle, into glass to prevent spill over
Splash in Sweet and Sour mix
ENJOY!
Capri-Sun for Adults
Always a party favorite in the regular version, but you can make "adult capri sun"s with zipper locking bags.
Step 8 – Pick Your Classic 90s Party Song Playlist
From the decade that brought you the wave of boy bands and pop princesses, there is never a shortage of great throw back music to choose from!  The easiest route in my opinion is to select a 90's playlist from Amazon Prime music.  In fact you can try it out if you want with this link>> Try Amazon Music Unlimited Free Trial
.
When I throw a party now, I sometimes pre-select the playlist but with this kind of party I want to be pleasantly surprised so I would just voice command Alexa to play a 90's playlist from Amazon music.
If you want to play a CD there are some fun options out there too:
Now THAT's What I Call Music
This is the quintessential nineties era music choice. When you could call in on a 1-800 number because it's "not available in stores".
NOW That's What I Call Music Vol. 1
Step 9- Prep any games you may want to play.
Consider setting up an area of the party space for people who would like to play games or bring the whole group in to battle it out in 90's trivia!
Check out this game >> Buffalo Games Hella 90's – Pop Culture Trivia Game
Step 10- Decide if you want 90s Party Favors
Make sure not to leave your guests empty handed! Send them home with a goodie bag of fun 90s kitsch!
Nickelodeon GAK
Nickelodeon Gak Super Stretch Goo Green & Outragous Orange
Push Pops
Push Pops Original Assortment 24 ct
POGS
200 Milk Cap Pogs with Slammer (Ready to Play Game Set) A Classic Milk Cap Game

Yeonha Toys Bracelets Party,52 Pack Slap Bracelets (26 Design), Slap Bands with Colorful Hearts,Emoji,Peace,Animal Prints Toys Party Favors Birthday School Classroom Prize for Kids Boys Girls Adults

Pop Rocks Candy Ultimate 9 Flavor Assortment – Strawberry, Cherry, Tropical Punch, Watermelon, Blue Raspberry, Bubble Gum, Cotton Candy, Grape, Green Apple 18 Packs Total With Licensed Sticker

Store On Wheels Party Favors – Nickelodeon Nick 90s Key Chains/Charms Set of 10 Pieces
90's Throwback – 1990s Party Favor Boxes – Set of 12
I hope you enjoyed these 90s party ideas. Make your nineties party a nostalgic throwback to remember!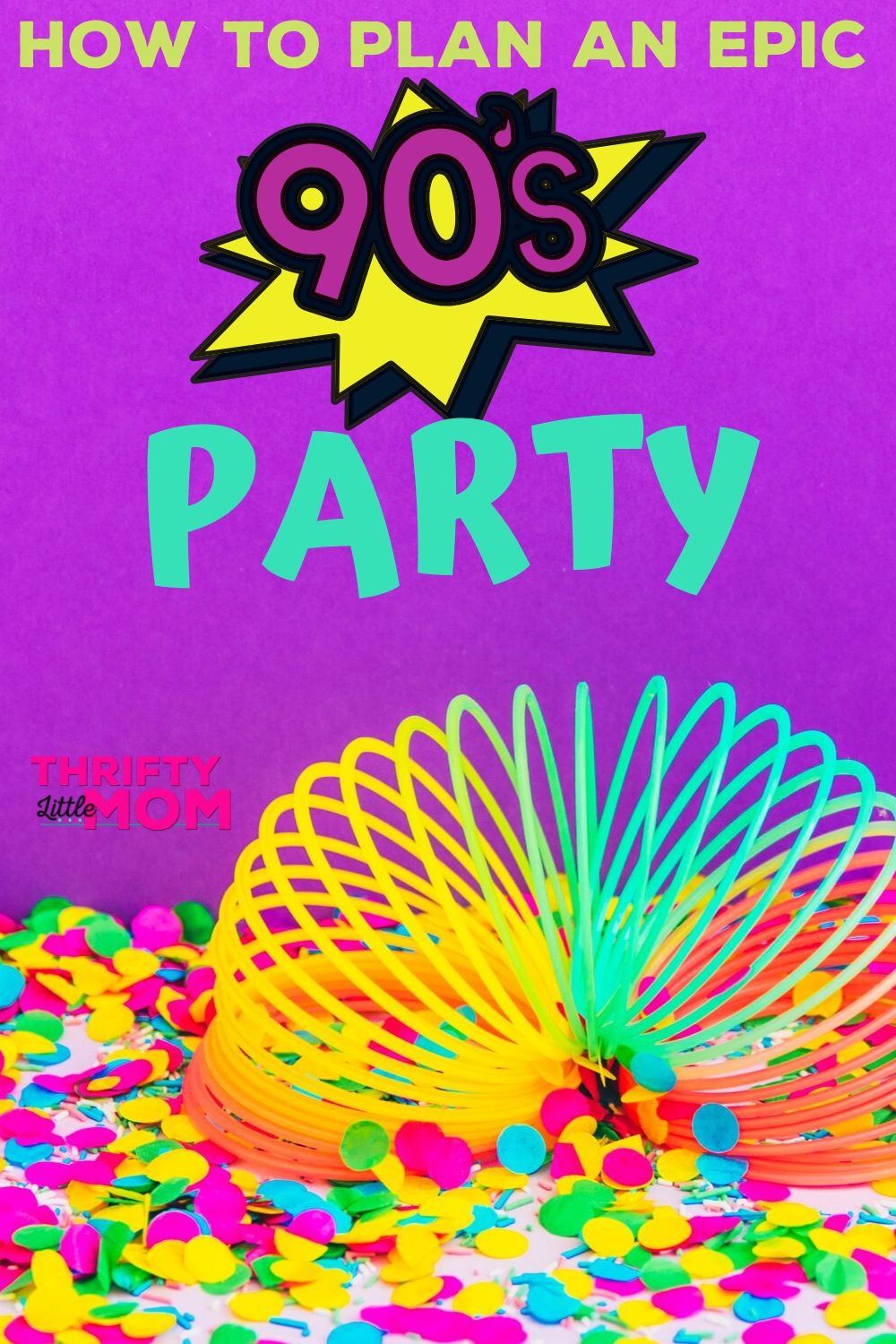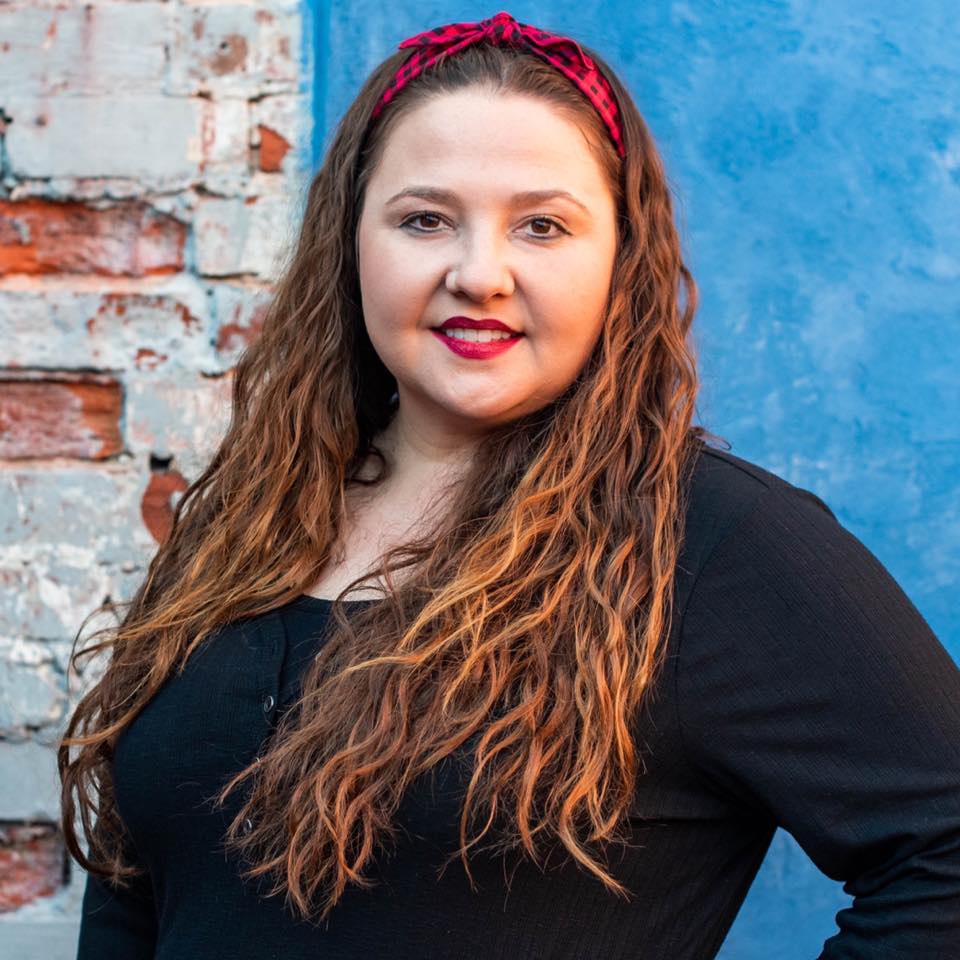 Kim's is the party planning, thrifty life-loving, intentional living catalyst behind the Thrifty Little Mom Blog. Kim was a pro event planner for over 7 years before she became a full-time blogger. Kim is the author of: Live, Save, Spend, Repeat: The Life You Want with the Money You Have. She's been featured on Time.com, Money.com, Good Housekeeping, Women's Day, and more! Kim aims to inspire you to create, celebrate, and live life intentionally!
Summary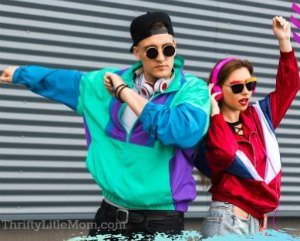 Article Name
Description
There was no better time to grow up than the decade that brought you boybands, Furbies and Nickelodeon game shows! Here are some ideas to help you throw the best 90s Party!
Author