What to Wear to a 90s Party- 32 Easy Ideas
The invites are out, the planning is underway and you are going to have a blast at a 90s theme party. "BUT WHAT AM I GONNA WEAR?!" Don't worry! There are so many great options for outfits! I have the ultimate list to help make your evening a success! Here's what to wear to a 90s party.
Where to look for 90s clothing:
The first place I always think to go looking for 90's clothing is the thrift store. But recently I found that a lot of 90s fashion is actually back so you may even be able to head to the mall and find exactly what you are looking for.
I usually find the most on point 90s options at stores like Rue 21. If you are lazy like me, I just order it on Amazon haha (you'll see those options in the image examples in this post).
Wherever you decide to go shopping, I hope this post inspires your 90s party wear search! Good luck!
Ideas For What to Wear to a 90s Party
The Starter Jacket
Start off your outfit with the easiest and most recognizable piece of 90s fashion. The starter jacket was everywhere in 90s boasting your favorite sports team logo.
Starter Men's Throwback Half-Zip Pullover Jacket, Amazon Exclusive, Black with Iron Grey, Medium
The Jean Jacket
In the 90s this was oversized and cuffed. It was a wardrobe staple and what to wear to a 90s party. Light colored and even acid washed, this was a veritable fortress of protection to most teens. Buttons and patches help to customize the look.
Anna-Kaci Oversized Grunge Chic Distressed Boyfriend Long Sleeve Denim Jacket, Small
The Plaid Flannel Shirt
During the grunge movement, the flannel shirt was iconic as an over-layer to any ensemble. Tied around the waist or draped over a band t-shirt it provided a "neutral" no matter what the pattern of plaid was.
Romacci Women Oversized Plaid Tartan Shirt Buttons Pocket Turn-Down Collar Boyfriend Long Sleeve Baggy Check Blouse Tee Shirt
Pleather Jacket
Whether this was short or floor length, worn over your t-shirt or your prom dress, it was the answer to the traditional leather jacket of the previous decades… not to mention a fraction of the price.
Bellivera Spring Faux Leather Jacket For Women Womens Long Sleeves Winter Faux Leather Embroidery Floral Zipper Jacket,Black1702020,Medium
The Crop-Top
Luckily for your costuming search, this shirt has made a huge comeback! You can't throw a hacky-sack through a campus without hitting 3 people wearing them. But in the 90s it was huge for dudes to wear them as well. So remember, anyone can rock this look
Marek+Richard Core Crop Tee(Small, Burgundy)
The Band T-shirt
What to wear to a 90s party? Looking for easy 90s attire? Any 90s band touring t-shirts were popular (this is consistent through many decades, of course). Here are a few band t-shirts that would have worked well with the grunge look:
Pearl Jam
Nirvana
Bush
Hole
Alice in Chains
Soundgarden
Foo Fighters
Candlebox
Official Hole Flag T-Shirt Licensed Band Merchandise White
The Oversized Shirt
It seems like in the 90s it was very fashionable to drape yourself in copious amounts of fabric from head to toe. The oversized men's shirt is indicative of this fashion statement. One that had a print that could be seen for miles was the key to completing this 90s trend.
Ragstock Men's Casual Button-Up Icon-Printed Woven Shirts (Medium, Abstract-90s-1942)
The Mandarin Collar Shirt
Wings on collars? Get them out of here! We don't need these! I believe it was a personal rebellion against the ties of the working man. Don't have wings? Can't wear a tie. This classic 90s shirt was everywhere.
Idopy Men`s Chinese Traditional Mandarin Tai Chi Kung Fu Collar Frog-Button Shirt Beige US XL Asian 5XL
The Zipper Turtleneck (also available in short-sleeved)
The zipper turtleneck made a statement that was simply, "this neck? now you see it, *ZIIIIIIIIIIIIP* now you don't". My personal favorite in my collection was bright green and ribbed. We definitely had an obsession in the 90s for ribbed clothing. (See corduroy pants)
Women Harajuku Kawaii Checkerboard T-Shirt Turtleneck Plaid Front Zipper Streetwear Crop Tops (M, Pink)
The Bowling Shirt
Do you bowl? Doesn't matter. This shirt was worn in and out of the bowling alley and automatically made you 5 levels more "chill" when you wore it. Sport this look with a backwards Kangol hat and you were ready to lean against any brick wall in style. All I can think about when I see these shirts is Noel Crane from Felicity.
Anchor MSJ Men's 50s Male Clothing Rockabilly Style Casual Cotton Blouse Mens Fifties Bowling Dress Shirts (XXL, Maroon)
Satin Shirt
Satin was the rage. Shining, shimmering splendor. These shirts were fantastic if you didn't mind sweating for the entire day. Men and women both fell prey to this sweltering fashion statement.
YOUMU Women Satin Silk Long Sleeve Button-Down Shirt Formal Work Silky Blouse Top Champagne
Overalls
Make sure if you're going to rock this look you do it with only 1 shoulder strap. Extra points if these have some sort of Looney Tunes character embroidered on them.
Jynco Jeans
The bigger the better. When you walked through a puddled, these would soak up to your knees and would basically never dry. But, you looked so cool. Make sure you look for these with as many unnecessary pockets as possible- especially the cargo pocket at the ankle.


High-waisted AKA Mom Jeans
"Mom jeans" as we like to call them. But in the 90s, they were the sexiest pant for a lady to wear. If your zipper wasn't 10″-12″ at least you weren't doing it right.
ruisin High Waist Boyfriend Jeans for Women Vintage Sexy Mom Jeans Denim Pants Light Blue 30 x L28
Carpenter Pants
Wide legged, big pockets, and the classic hammer strap. Wearing these pants as a female gave you a sense of edginess and empowerment, you were totally cool.
Signature by Levi Strauss & Co Men's Carpenter Jean, Light, 32×32
Couderoy Pants
These were popular with very wide wales (the ribbing). The distinct whooshing sound that was made when walking still haunts the halls of your high school nightmares. Maybe this is what to wear to a 90s party if you want to be warm.
Haggar Men's 21 Wale Stretch Corduroy Expandable Waist Classic Fit Plain Front Pant, Brown, 36×32
Doc Martin's
Bouncing souls and yellow stitching with eyelets that could stretch from the tops of your toes to the top of your knee. While these shoes have never gone out of style, they are iconic for this era. They grew in popularity during this decade and made a mark that would put them down in fashion history as THE boot to be seen in.
Dr. Martens 1460 Originals 8 Eye Lace Up Boot,Black Smooth Leather,11 UK (12 M US Mens / 13 M US Womens)
Chunky-Heeled Clog Sandals
Oh yes. These were the epitome of sexy with their clopping wooden heel. Shiny rivets gleaming in faux leather, you were every bit of that 90s sitcom fashionista.
AMS Women's Adjustable Buckles Chunky Heeled Platform Sandals Summer Dress High Heels Shoes (White, 11 US)
Black Slides with nylon band
You remember wearing these to everything! They could be your fancy church shoe or your casual cookout kicks. But either way, they seemed to go with every outfit in the nineties.
DENER Women Ladies Black Flat Sandals,Chunky Kitten Heels Slide on Wide Width Dressy Shoes Slippers (Black, 38)
Sketchers Tennis shoes with THICK soles
Walking endlessly around the mall required a comfy shoe. This shoe also needed to make a statement. That statement was that we were going to be 3 inches taller than normal and mostly sit in the food court.
Spaghetti Strap Dress
Short, medium or long, this dress was worn for every occasion there was. If you were into grunge, you'd wear it with a flannel. If you were preppy, you'd wear it with a sweater. No matter the look, this dress was your base.
SweatyRocks Women's Spaghetti Strap Lace Up Back Casual Short Mini Gingham Dress Black and White S
The Floral Dress
"Ground breaking". While the spaghetti strap dress was the style, the floral print was huge for patterns. It was the 90s version of leopard print from the 80s. Its was everywhere and absolutely what to wear to a 90s party.
MSBASIC Women's Sleeveless Adjustable Strappy Summer Swing Dress (Medium, MS6216-8)
Oriental Dresses
These faux silk dresses could be worn to either a dinner date or a grunge show and no one would blink an eye. Make sure you wear pigtail buns with chopsticks and complete the look with your calf-high Doc Martins.
7Fairy Women's Vtg Navy Blue Dragon Mini Chinese Prom Dress Cheongsam Size 8 US
Classic 90s Dresses Materials:
Crushed Velvet
Plaid
Lace
Marabou trim
Bottle cap Seatbelt
A classic of the 90s era, this belt was created from an old seat belt, usually a chevy or ford, with metal bottle caps nailed into it. You could rarely fit it through any belt loops on your pants, but it would be great layered over your ribbed tank top.
International Coca-Cola Bottle Cap Seatbelt Belt
Braided Belts
Make sure you're keeping your shirt tucked in tightly to sport this classic look. Pair it with a double pleated khaki pant or short. It needs to be long enough for you to do the classic flip and tie down action.
Men's Leather Braided Belt, WERFORU Cowhide Leather Woven Belt for Jeans 1.3 Inch Wide with Prong Buckle,Fits Waist from 45-48 Inches,1-Black
Pay attention to #3 for your classic belt flip.
Belly Chain
While this was completely useless for any type of belt, it was perfect for a pair of high waisted jean or crop top. If you were really cool, the more rhinestones, the better.
Bellady Sexy Rhinestone Body Chain Jewelry Waist Belly Chain for Dance, Heart
Vests
Usually, these were some funky pattern of the front, heavily woven with a black silky back. Rock this look with a pair of high-waisted pants and a tucked-in black t-shirt. Don't forget the braided belt!

Tribe Azure Women Fashion Vest Handmade Embroidered Boho Hippie Sleeveless Open Front Short Summer Beach
Fanny Packs
Love them. Never leave them. They could be worn all the time. Keeping your valuables close to you while you were skateboarding or cruising the mall.
Travel Fanny Bag Waist Packs Multiple Functions Hip Bum Chest Back Bags Chest Pouch with Adjustable Belt Strap for Men Women Fit for Outdoor Events Hiking Cycling Running
Slap Bracelets
How aggressive yet stylish. This iconic trend was popular in age ranges from 3-19. The brighter the better. Love that pattern? I'll trade you. This is definitely what to wear to a 90s party.
Novelty Place Animal/Heart Print Slap Bracelets Party Wrist Strap for Adult Teens Kids – 9″ Assorted Colors (Pack of 25)
Chokers
The most popular choker was the black woven stretch choker they referred to as the "Tattoo". You can still find these at accessory stores. But any choker will do for this classic nineties look.
BodyJ4You 12PC Choker Necklace Set Colorful Flowers Stretch Elastic Jewelry Women Girl Kids Gift Pack
Hemp Necklace
Itchy. Super itchy. But man, you were cool. It doesn't matter that you have a red rash around your neck and you smell like wet grass, you were cool.
FROG SAC 6 Hemp Necklaces for Men and Women Braided with Natural Hemp Cord, White Puka Chips and Wood Beads – Unisex Beaded Hemp Necklace – Quality Hemp Jewelry (2)
Puka Shell Necklace
Did you live in a land-locked state? It didn't matter. You could still be as cool as those California dream boats by simply adding this beachy accessory to the mix.
TIKCOOL Cowrie Shell Necklace for Women Seashell Choker Necklace Set Puka Shell Necklace for Summer
Ball Chain
Feeling edgy and angsty? Please feel free to don this classic piece of metal. From tiny to marble sized, this necklace made the statement that you were deep and emotional and that you had heard the latest Pearl Jam b-side.
9.5mm Extra Large Silver Steel Ball Chain Mens Necklace with Extra Durable Color Protect Finish – 13 inches
Butterly Clips
Here's a Video on How To Use Them for the perfect 90's look:
Take your hair, part it down the middle.
Take a comb and run it along your hairline 1/4 of an inch, where all your "baby hair" is located.
Keep that forward.
Now, in inch wide parts parallel to the middle part, pin back your hair with these clips
FIT AT LEAST 10!
200Pcs Mini Claw Clips,Assorted Color Butterfly Flower Shape Hair Clips Candy Colors Hair Clips For Women Hair Accessories Clips
Tiny Backpacks
If you had one of these with the zipper that transformed it from two straps to one, you knew what was up. Maybe it was black shiny vinyl with a white flower on it. Either way, if you had a tiny back pack, you were as cool as the nineties could be.
SEALINF Women Girl Bling Mini Backpack Convertible Shoulder Cross Bags Purse (black-2)
Floppy Hats
Blossom, Clarissa, and Tia and Tamara. Our sitcom icons were know for this hat especially if it had a giant flower sprouting from it. This hat came in every material- denim, linen, velvet, and patchwork.
Small Colored Lens Glasses
The nineties' glasses were small. The popular lenses were holographic, red or just a light smoky grey. They were angular or perfect circles. They were… useless for actually blocking sunlight. The frames were thin metal that would snap if you opened them too quickly. Or they were more plastic than lenses creating a strange alien eyed look that limited any peripheral vision one might need.
FEISEDY Fashion Designer Sunglasses Retro Small Petals Shape Arc Temple Design B2298
I hope this helps you decide what to wear to a 90s party! Have a totally rad time!

Check out some of these fun articles on the history of what we were to 90's parties.
Article From UpProxx: Look For The Star: How Starter Jackets Became the Iconic Clothing of the Early 90's
Article From InStyle: History of The Fanny Pack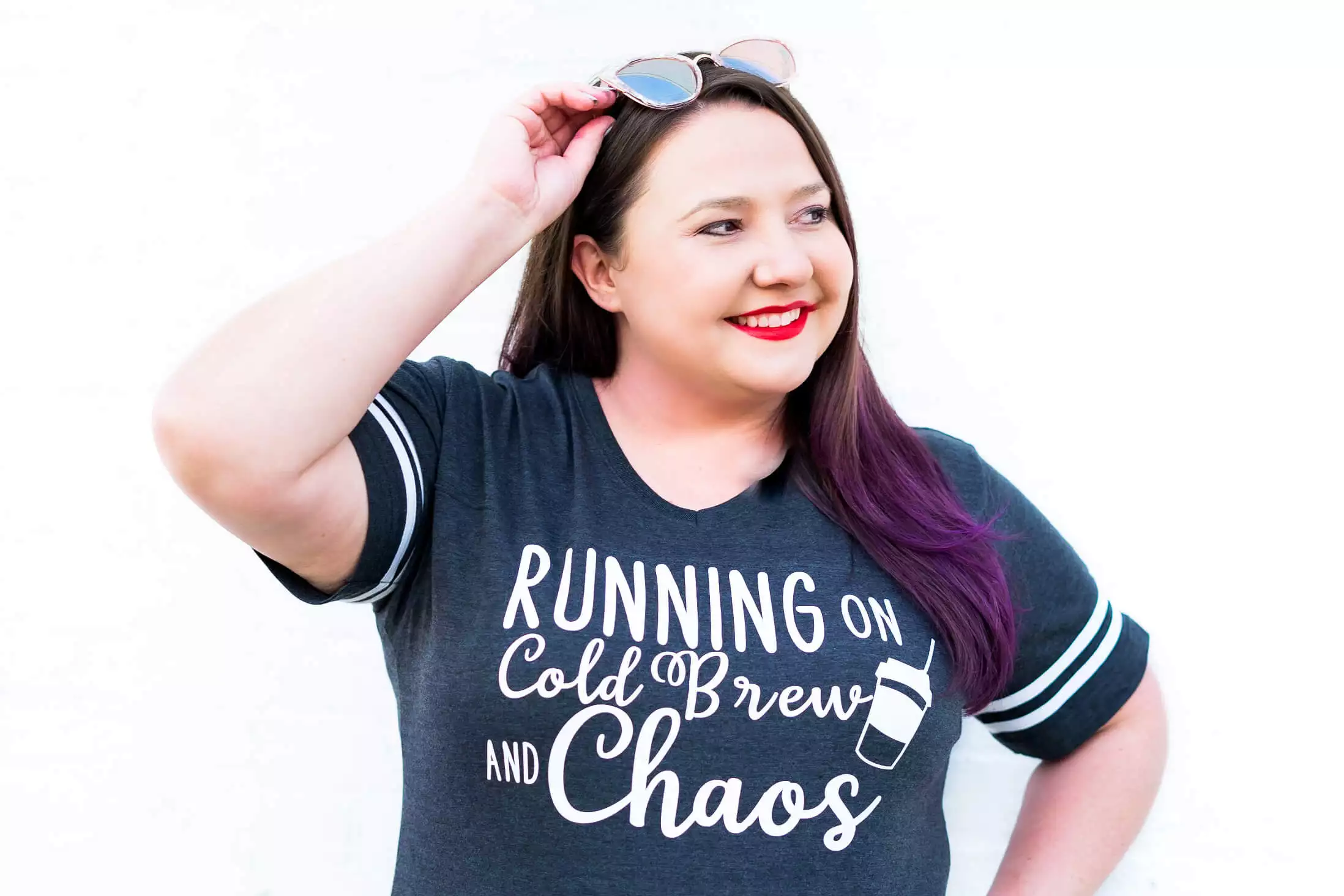 Kim Anderson is the organized chaos loving author behind the Thrifty Little Mom Blog.  She helps other people who thrive in organized chaos to stress less, remember more and feel in control of their time, money, and home. Kim is the author of: Live, Save, Spend, Repeat: The Life You Want with the Money You Have. She's been featured on Time.com, Money.com, Good Housekeeping, Women's Day, and more!