Twenty Two 10 Year Old Birthday Party Ideas
The development of children at age ten will increase dramatically. Kids start to establish their preferences in things such as music, movies, television shows, hobbies, and special interests. The experts review development milestones for ten-year-olds. While I am no expert on the specifics of growth, I can throw a fabulous bash for kids. Here are my favorite 10-year-old birthday party ideas.
Grab Your Party Guide and Budget Planner
Before we get started be sure that you grab my Party Guide and Budget Planner for FREE!!
Out of the House
If you want to make this decade milestone a big to-do, then getting out of the house and on to an adventure may be precisely the treat your ten-year-old will be looking forward to experiencing. At this age, you can have a much more engaging experience with your birthday kiddo. This decade's celebration is the prime opportunity to try something new and exciting. These are my favorite 10-year-old birthday party places.
Favorite Sports Team
Getting to experience a full stadium of any sporting event is always powerful. The feeling of walking into a large venue with the hustle and bustle of fans getting ready to hoot and holler, the scent of buttery popcorn popping- it's electric! Some stadiums (this is a baseball example) offer packages that include things like:
Stadium Hot Dog or Pizza Party
First Pitch
Special visit from the mascot
Happy Birthday shout out and song
Arcade
I don't know about your kids, but I have to limit the amount of time my son is allowed to engage in video games. Since he does have a specific allotted time, hours at an arcade will seem like heaven.
Arcades provide great packages that can range from economical to extravagant. There are almost always packages to fit any budget. Consider hosting a small tournament on a favorite machine (mine is skeeball- don't come for me! lol).
Bicycle Tour
As motor skills are increasing, kids are becoming better at physical activities that take focus and agility. Having a day or nighttime tour on bicycles can be great fun and burn off some energy. Try mapping your trip to personalize it for the area that you live in currently.
Start at a local eatery
Head over to the park or cool water feature area
Move the group to a dessert location
Finish up by going to a comic book store or another store of interest to get a gift
Decorate the bikes!
I love the LED lights that you can get for tires; they're so cool
Brightz CruzinBrightz Blinking Tri-colored LED Bicycle Accessory Light, Red/Green/Blue
Batting cages
I feel like when you reach this age range, batting cages are great fun for everyone. You don't even have to be great at it to enjoy the experience. The canter will have birthday party packages available that will make it easy to host the event. Ask about decorating for the theme, too!
Escape Room
Oh boy! If you know me, you know that I am addicted to escape rooms. When I visit a new city, I always have to see what they have to offer. For a 10-year-old birthday party idea, this experience will be the right amount of challenging. There will be plenty of puzzles that will require those newly burgeoning reasoning skills. Plus, the rooms are the right level of intriguing that is both spooky and super cool!
Concert
Does your child love music? Then a concert experience maybe the coolest option for them at this age. They will be mesmerized by the lights and acoustics that will be raining down on them. Choose a band that fits into their age bracket (or don't, maybe your kiddo is ready for a crazy mosh pit, lol) and get a group together to dance and shout the evening out!
Ice Skating Rink
The beautiful thing about ice skating rinks is that they are perfect year-round. They are cool and comfortable, whether it is 70 degrees or seven degrees. This activity is one of my favorite winter birthday party ideas. Since your child's coordination has improved (somewhat) at this age, you may be able to sit back and relax while they shoot across the icy floor.
Roller Skating Rink
I enjoy skating rinks. Perfect party places for kids because they often have games like limbo and skating "musical circles" to keep their interests. With so many fun packages to choose from, there will not be a shortage of fun. Make sure you consider getting knee and elbow pads if you're worried about coordination development.
BOSONER Kids/Youth Knee Pad Elbow Pads Guards Protective Gear Set for Rollerblade Roller Skates Cycling BMX Bike Skateboard Inline Skatings Scooter Riding Sports (Black, Medium(9-15 Years))
Ropes Course
Talk about an adrenaline rush! Most children have not experienced something like a ropes course. They are usually 25-50 feet above the ground. This height doesn't sound so crazy, but when you are, on average less than 5 feet tall, it is a skyscraper. It's like a jungle gym in the sky. The kiddos will have an absolute blast monkeying around up there!
Trampoline Park
Trampoline parks have become such a high energy activity at any time of the year. My favorite parks also have the "ninja warrior" style courses to practice agility and strength. This bounce-bash is a premier 10-year-old birthday party place to try out. They also are known for their worth-while birthday packages with a variety of offerings.
Aquarium/Zoo/Raptor Center
Head off and patronize a great aquarium or zoo. Exploring different animals can be mind-opening for kids at this stage in life. All the different habitats and species that exist will add awe and wonder to their previous notions. Seeing animals they may have only seen in books will be exhilarating!
Circus/Acrobatics
When I was a child I got to see the circus when it came to town. I was done for. There was nothing I loved more than the bright costumes and death-defying acts. Seeing a woman do a backflip from one trotting horse onto the back of another pretty much made my brain explode. Your child is at the right age for these experiences to solidify in their minds and help move them towards a creative mindset.
Paintball Range
I feel like this is the day my son has been waiting for his whole life. He loves playing target games on his consoles, so I know that he would absolutely love to paint the course with these projectiles. They make low-impact paintball guns and ammunition for kids in the 10-year-old age range. Honing their hand-eye coordination will make this a fun and challenging experience.
Dance Lessons
Kids love to move to the beat. Hiring an instructor to teach some fun hip-hop or other variety of dance moves will prove most enjoyable. This will get the kids moving and burn off that infamous energy that they are never in short supply of having.
10-Year-Old Parties At Home
Depending on your setup and budget, you may opt for an at-home experience. Celebrations at the house can be a smashing sensation with a few of these great 10-year-old birthday party ideas. You can even mix and match for a full day of fun and excitement from the comfort of your home.
Indoor Movie Party
If you want to throw an Indoor Movie Party then have I got some fun ideas for you! Giving the kids a specialized location that is transformed for their viewing pleasure will create a memorable event. Get some snacks and a few of their favorite flicks and let the show begin!
Science Party with Mad Scientist
Kids are fascinated by science experiments. There are ways that you can make an explosive party (well, not too crazy explosive) that will engage and inspire their desire for learning. Did you know that you can hire a "Mad Scientist" to come and do a professional-level event? MadScience.org will help you find one near you. If you do not have one close enough, you can decide on some easy experiments for the kids to engage in together.
Kitchen Science Lab for Kids: 52 Family Friendly Experiments from Around the House
JustForKids EyePro ANSI Z87.1 EN166 Certified Kids Safety glasses, Kids goggles, Scratch, Impact and Ballistic Resistant Safety Goggles with Clear Lensassorted color frame, Child Youth Size, 6 Pairs
Pool Party
Easy and always a favorite is a pool party. Make your pool party even more fun with a classic or unique pool party theme. Keep the kids from boredom with 15 Classic & New Pool Party Games. My favorite thing is to encourage everyone to bring a funny or ridiculous pool inflatable. When I see a floating piece of pizza, I giggle and smile every time.
Pizza Pool Float Raft Outdoor Swimming Pool Inflatable Float .Fun Pool Floaties, Swim Party Toy, Summer Pool Raft with ( 3 Drink Holders)
Inflatable Waterslide
If you don't have access to a pool, or you really want to up the anty, consider a waterslide. These are great for all ages (over 3, of course) and will add hours of enjoyment to any party. If you have never gotten one of these rentals before, consider these 8 things before renting an inflatable.
Inflatable Obstacle Course
Kids at this age are constantly wanting to flip and fly. I'm pretty sure my son is convinced he was born to be a ninja. I like to encourage play and exercise so I feel that these inflatable obstacle courses are just what the doctor ordered. When they get to run around with their "outdoor voices," it makes my stress level drop like a child down the slide of a bouncy castle.
Video Game Theme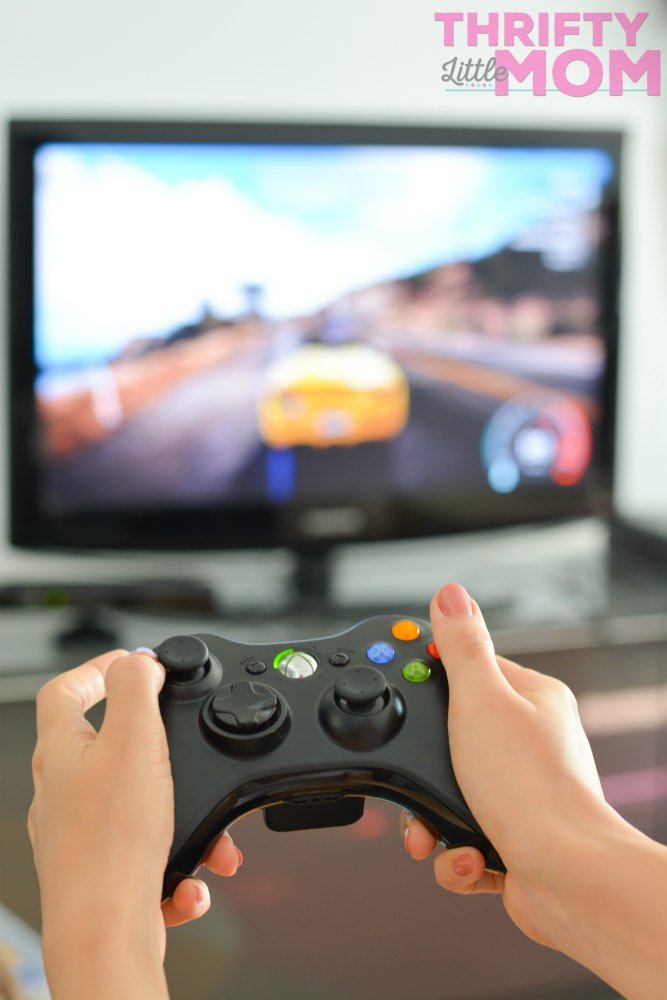 For a video game party, you can either host one with multiple consoles and T.V.s or you can hire a video game party to come to your house. These rentals are fantastic. The companies boast huge screens and countless games for the kids.
The added bonus is that the games and activities are housed in a mobile trailer that is made for hanging out. That means your house stays a quiet sanctuary. Ahhhh! We live in the future!
Spa Party
If you desire a 10-year-old birthday party for a girl, then maybe she would love a spa experience. You can host a thrifty spa party that will be classy and fun without breaking the budget.
I had a make-up party when I was a kid and that was a great experience. Consider hiring an esthetician to teach everyone about proper face care regiments.
Foam Party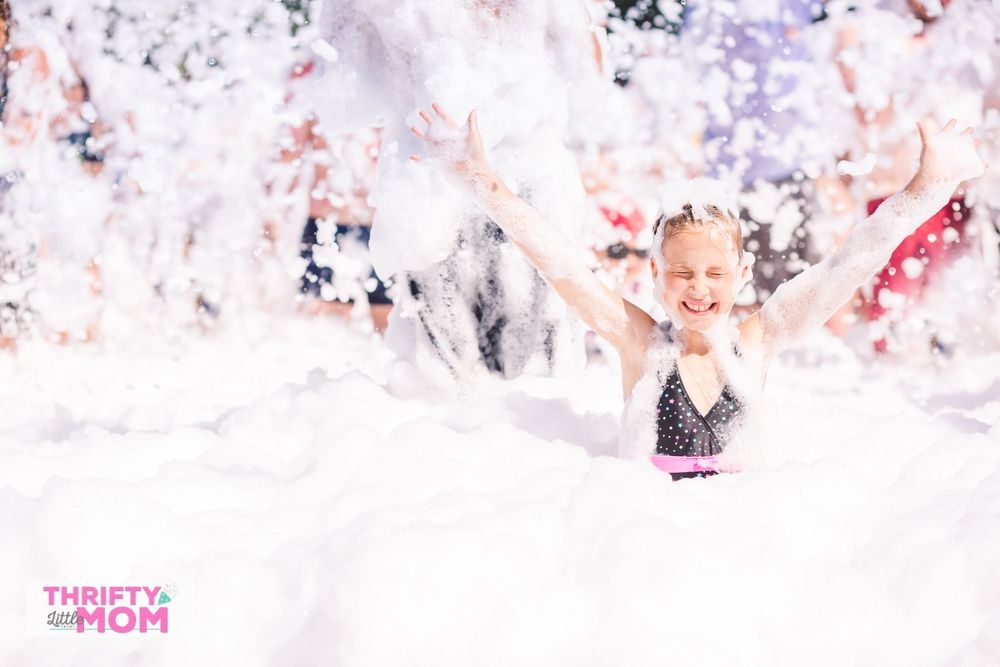 Consider a foam party for a fun, new experience. These machines are rented from many party supply stores and can be operated easily. I would use a foam party and attach it to another fun theme. If you wanted to throw a mermaid party or a Sponge Bob Under the Sea Soiree, this could be the "extra" that makes your 10-year-old birthday party extraordinary!
Game Night
If you plan on having a theme party around your kid's favorite movie or television show (I love throwing a Harry Potter themed party), find a fun trivia game for all the guests to play together. Whatever the interest, you can find trivia for it online with ease. If you have trouble finding trivia because you think it is obscure, try going to IMDb.com and searching the title. IMDb has fan-posted trivia in a subcategory. \
HedBanz – Harry Potter Party Game for Kids
I hope you like these 10-year-old birthday party ideas. May they provide inspiration for the first-decade celebration!
Before you go, check out this awesome deal on my printable Kid's Birthday Bash Planner (you can use it over and over again!)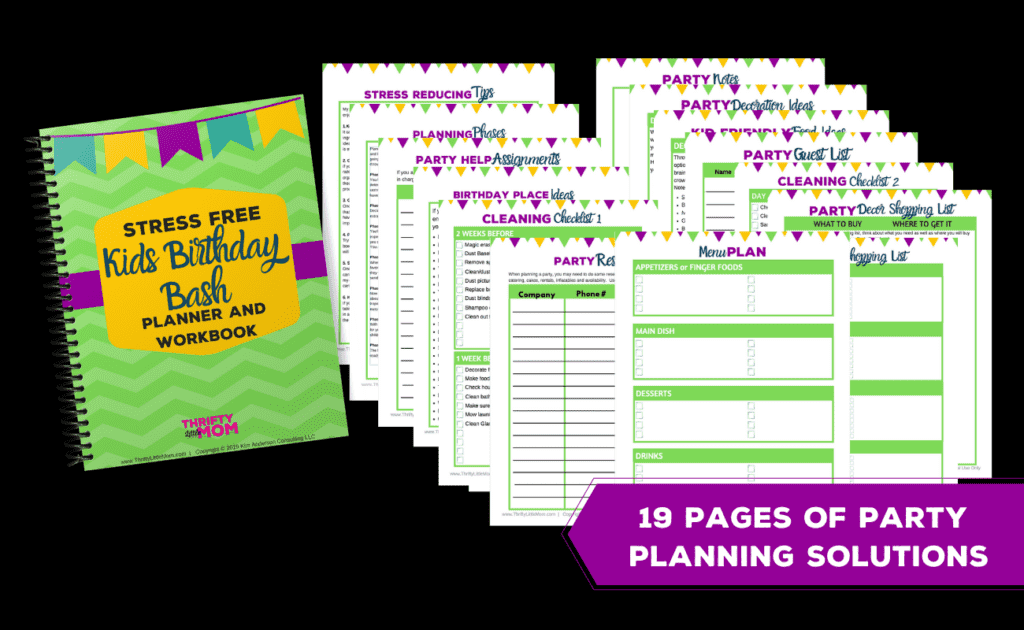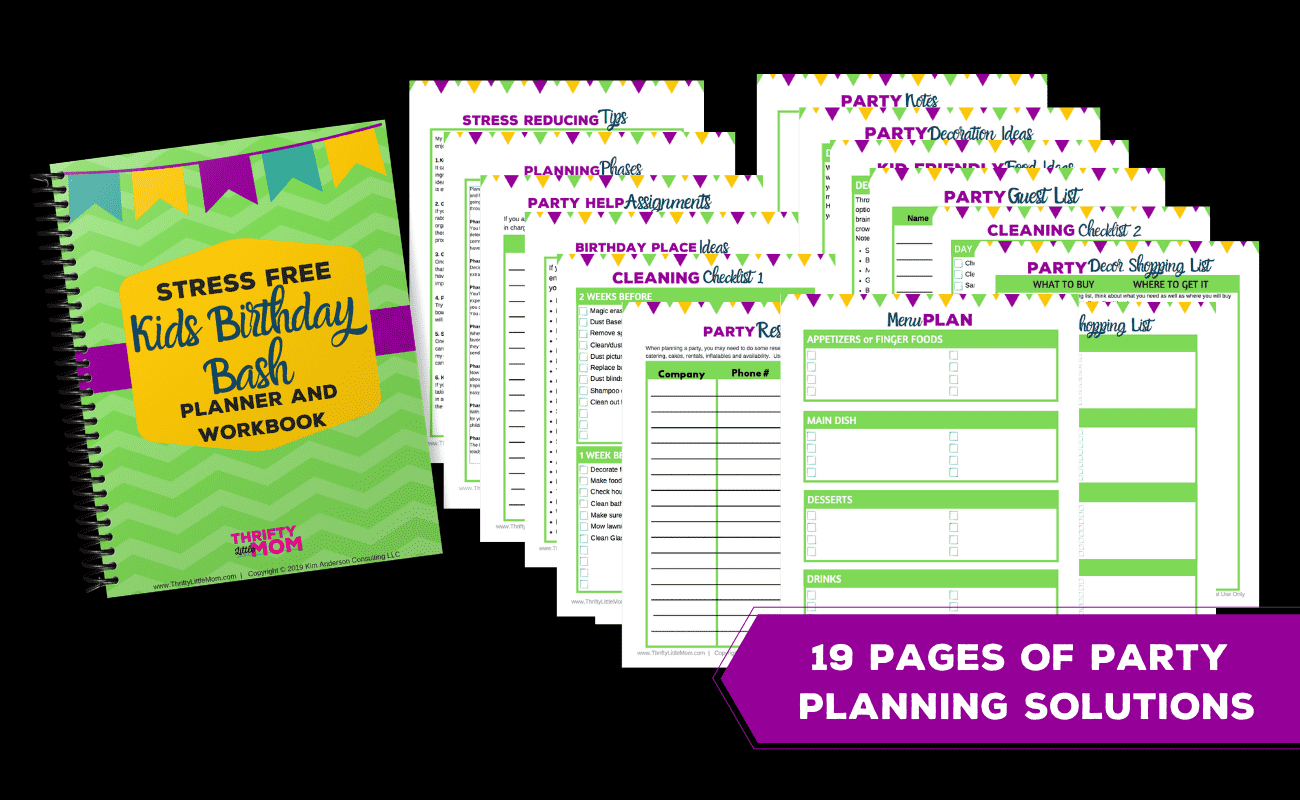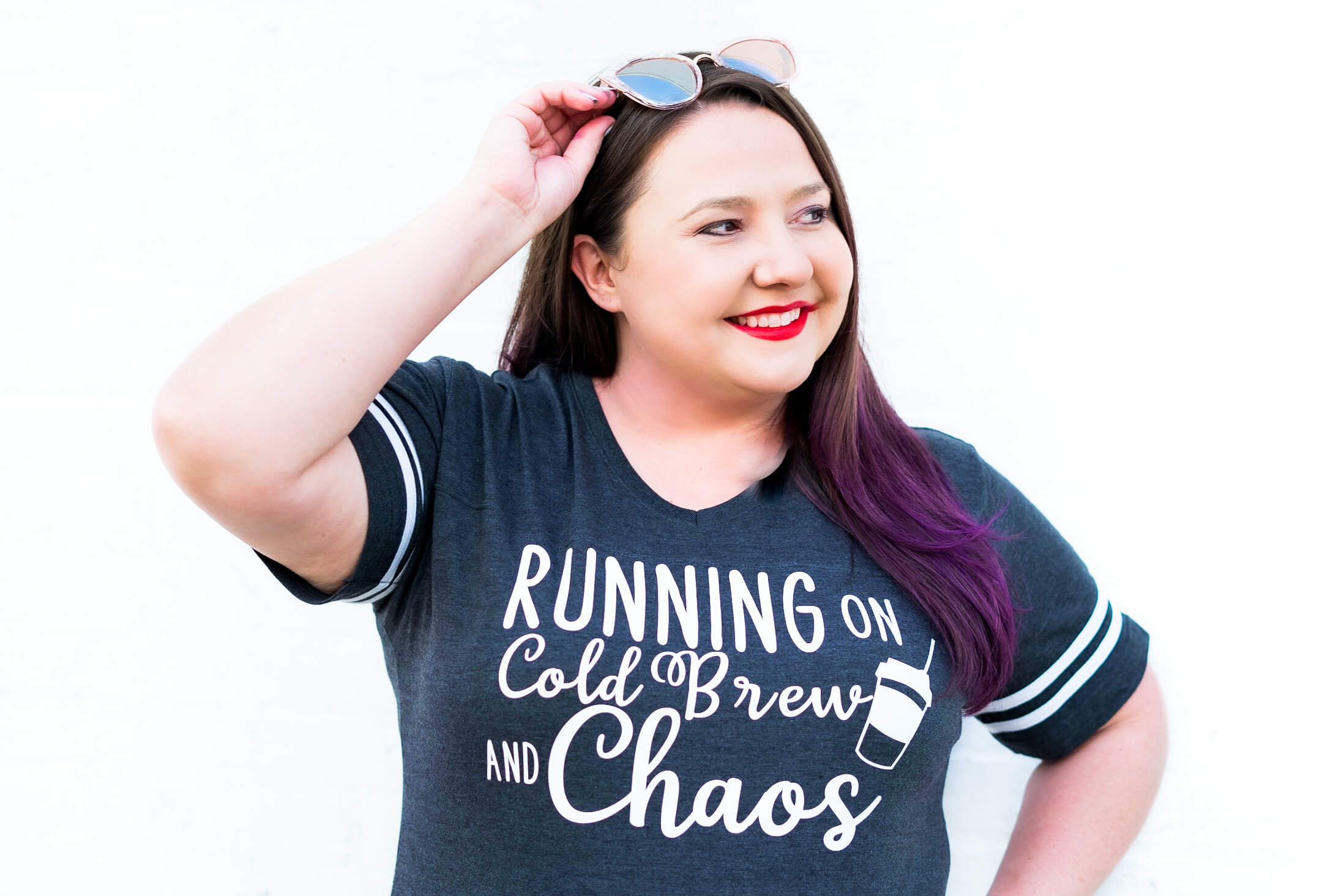 Kim Anderson is the organized chaos loving author behind the Thrifty Little Mom Blog.  She helps other people who thrive in organized chaos to stress less, remember more and feel in control of their time, money, and home. Kim is the author of: Live, Save, Spend, Repeat: The Life You Want with the Money You Have. She's been featured on Time.com, Money.com, Good Housekeeping, Women's Day, and more!