27 Cheap Birthday Party Ideas for Any Age
This post contains affiliate links. As an Amazon Associate, I earn from qualifying purchases. I also earn from qualifying purchases made with other brands and programs. See my
privacy policy.
Throwing a good party makes me the happiest woman in the world. I like it when I can get a group together and to laugh and celebrate. I am always looking for new ways to indulge in the event without breaking the bank. Since I love having a good time year-round, I decided to make this list of cheap birthday party ideas that you can use when you need to come up with a plan.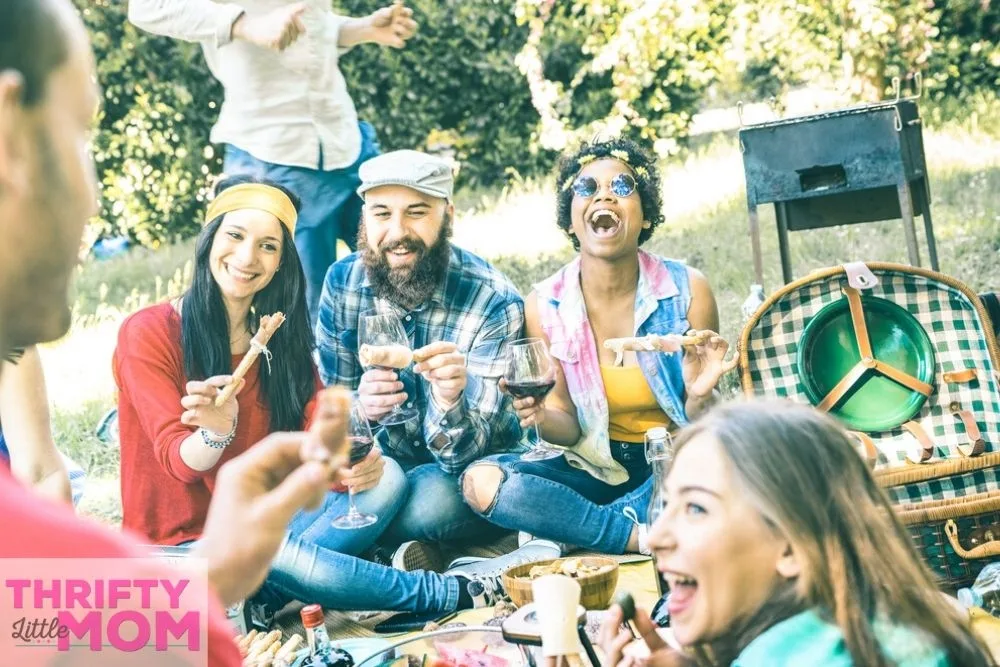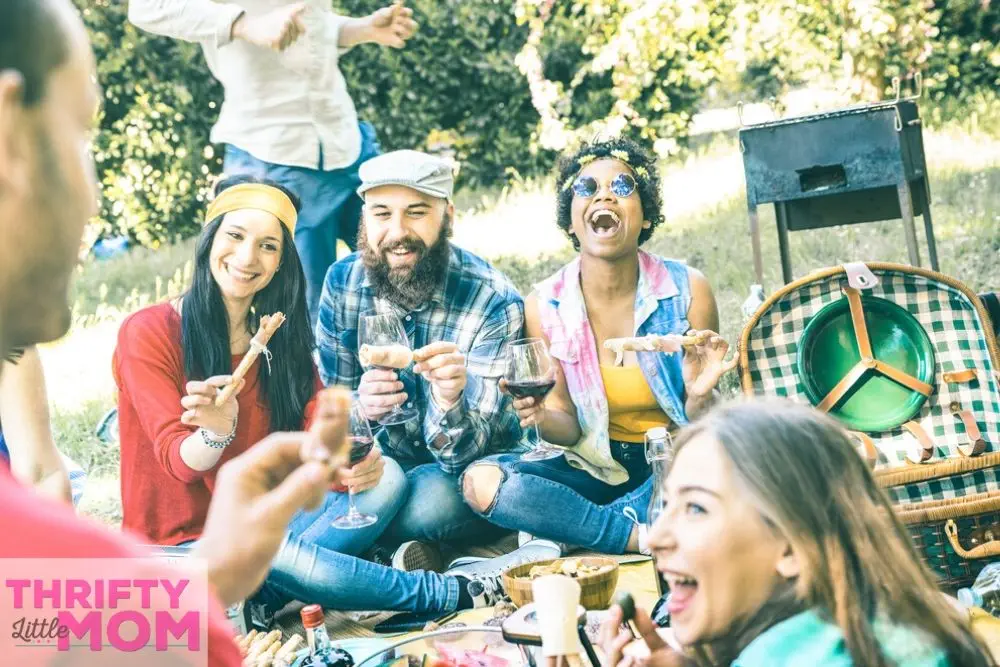 Public Parks
I usually pick a public park for events that need to accommodate a larger group of people. This location gives everyone ample space to stretch out and use their "outdoor voices." Most parks will have areas that are covered that you can utilize.
I highly recommend contacting the park and reserving a pavilion in advance. Booking in advance will guarantee your party area isn't taken over when you arrive. Remember to check all the rules and regulations for your specific park.
This is one of the cheapest birthday ideas for big groups that you can't fit at your own home or don't want to clean your house for! 
Neighborhood Pool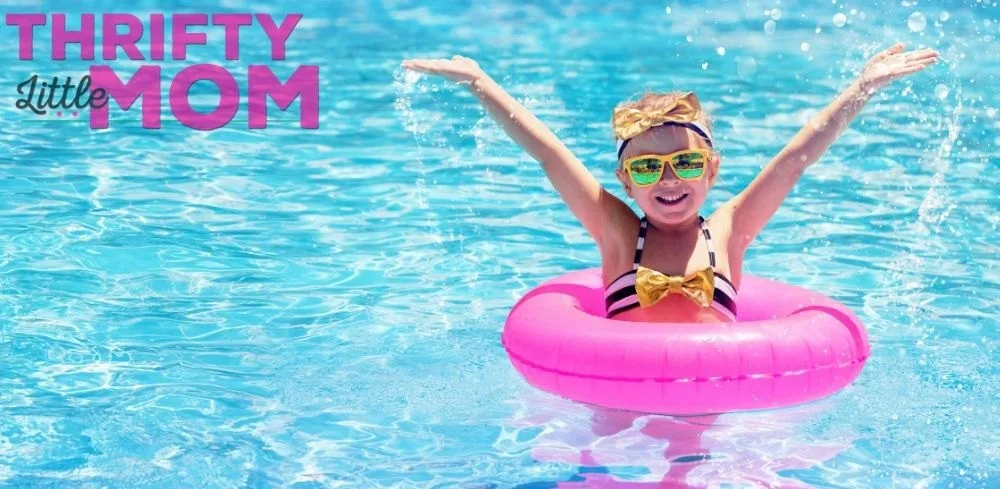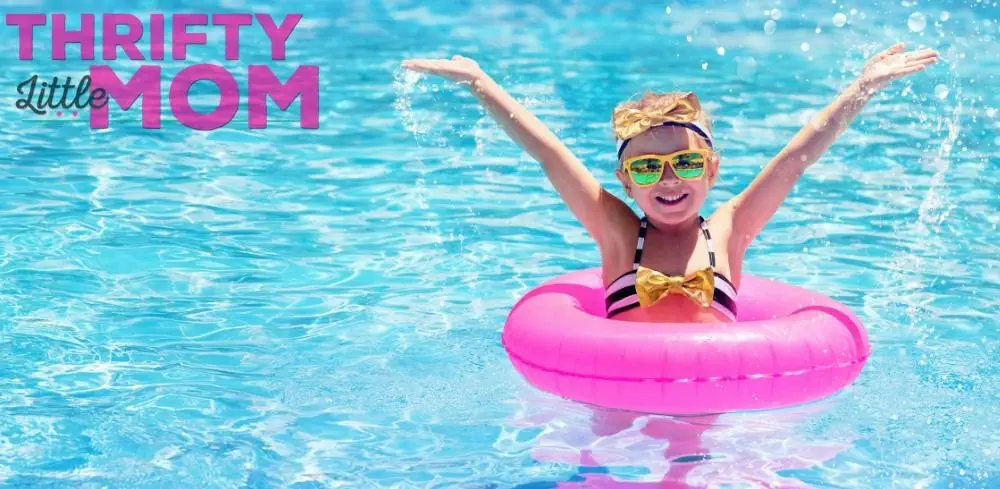 I love a good pool party. There is nothing better than those summer months of bliss that let you soak in the sun and splash around. You can choose a fun pool party theme that will make your guests smile with delight. My favorite is an inflatable party. Encourage your guest to find the most outrageous pool float to bring to the party. I think I like this unicorn party island.
Intex Unicorn Party Island, Inflatable Island, 198″ X 132″ X 68″
Picnic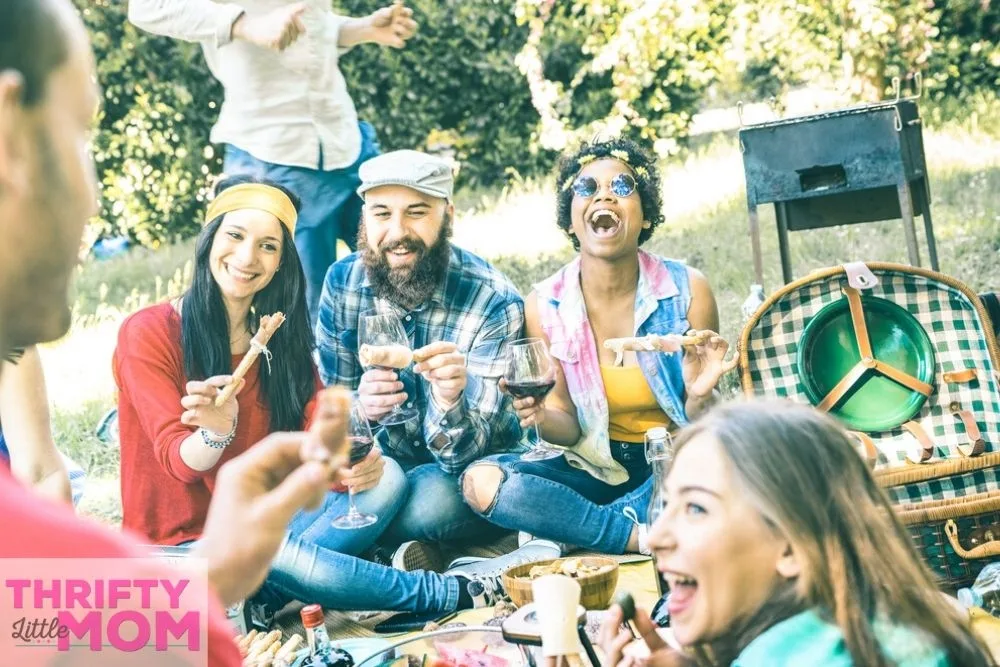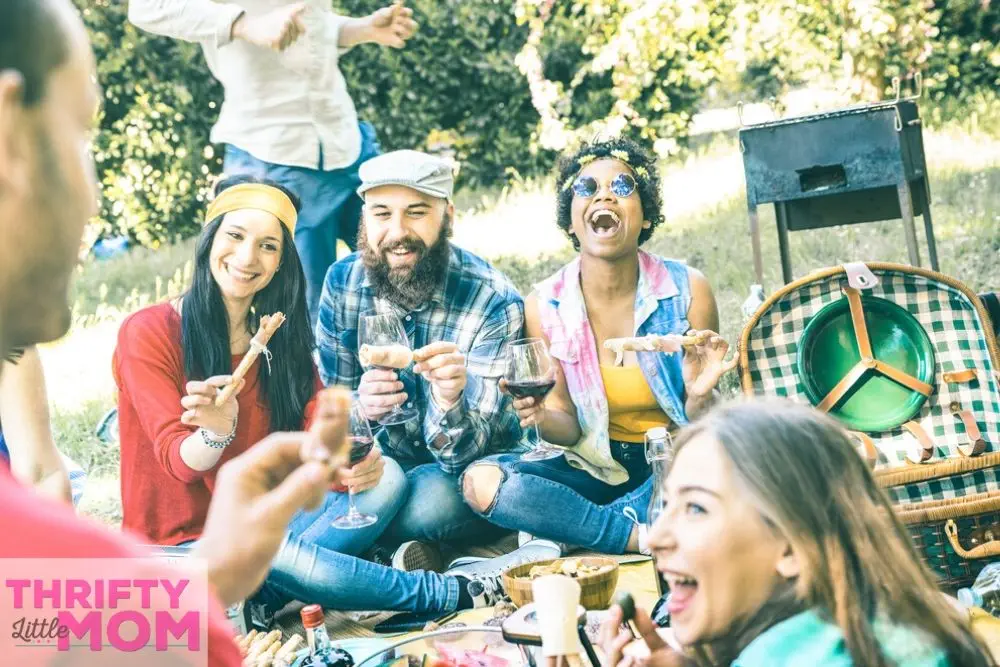 You can choose your favorite location in the area, but picnics can be a lovely way to spend your birthday. Crafting a great picnic is very easy. With some simple planning, you can make this celebration a hit. Throw some new twists on a classic picnic with these simple additions.  Grab your basket and blanket, and enjoy this cheap birthday party idea!
Mall
I remember being a 'tween and rolling around the mall with my best friends for my birthday. We didn't need to spend a bunch of money to have a good time. A cheap birthday party idea for kids is made simple at the mall. The different available activities can make for a great time, no matter the age. 
Matinee Movie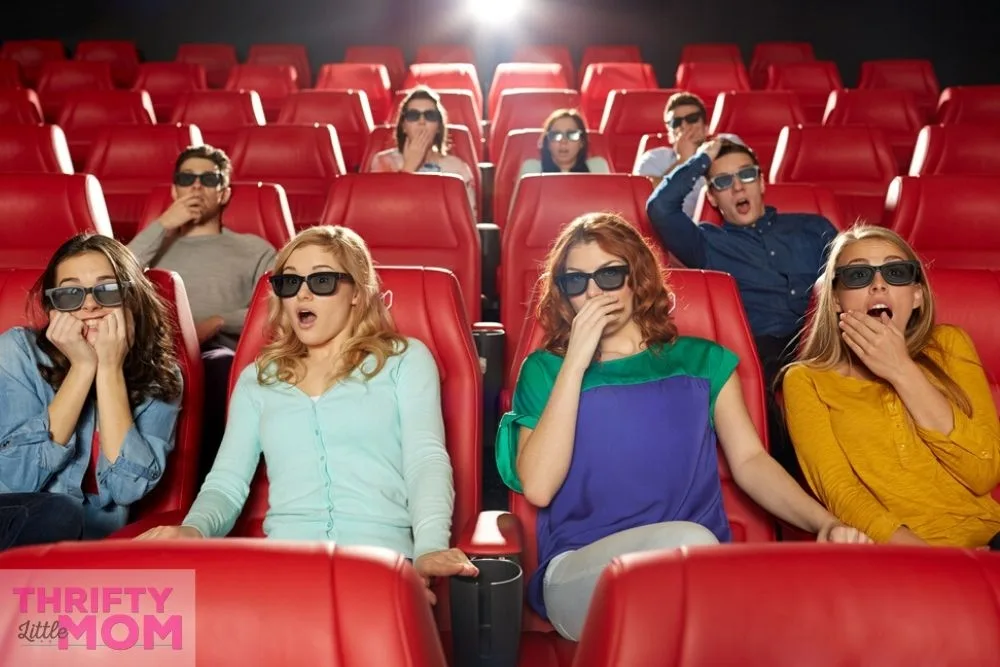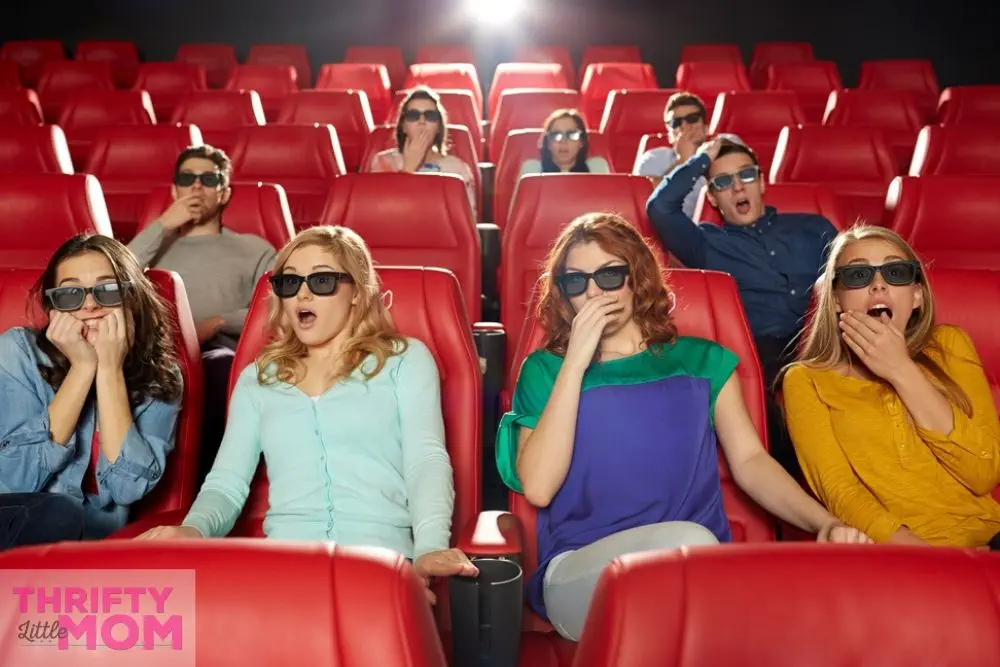 Movies in the morning and early afternoon are cheap! The theatres here in town also offer a summer movie camp for kids that can prove to be a great money-saving option. The theatre shows popular, but the previous years, movies at a highly discounted or free rate. For a thrifty mom, this can make for the perfect cheap birthday party idea. 
Friend with Pool
Don't have access to a neighborhood pool? Phone a friend! Don't be afraid to reach out to friends and family to ask to use their pool. People love getting to share their party space; after all, that's mostly why they got it in the first place. What I've found is that my friends who have pools want any excuse to have a soiree. It never hurts to ask!
Restaurant Play Area
One of my most cheap birthday party ideas for kids. This one hits close to home since I remember being little and going to McDonald's for birthday parties. It was so much fun. We'd all get Happy Meals and play for what felt like hours. Have a few extra dollars? Hire a magician or clown for a bit of entertainment. Utilize this excellent space for the kids while you can. 
Brewery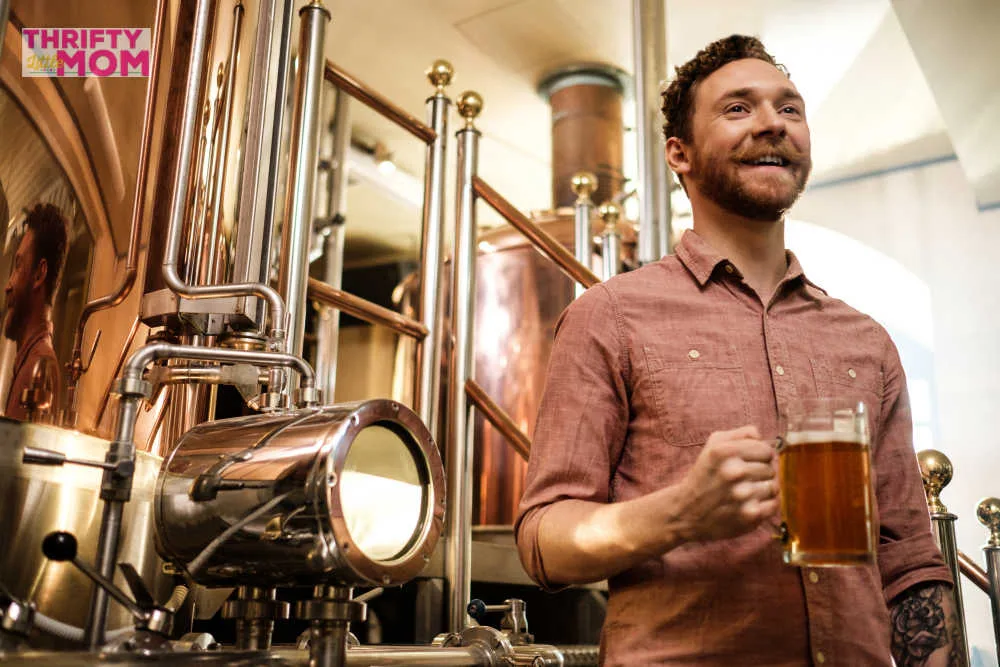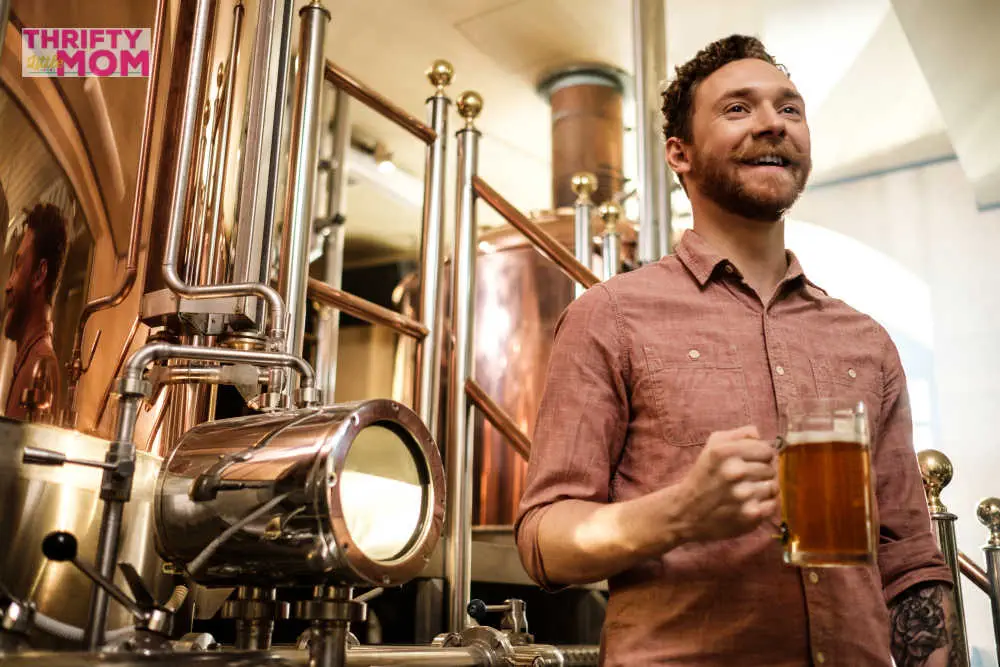 I may be biased to breweries, but I think they are lovely locations for hosting events and parties. They can be so accommodating for whatever style of event you are thinking of hosting. Talk to your brewery to find out what kind of fun and excitement you can add to your special day. They may be able to provide a separate room, a private tour, and maybe even a birthday flight!
Note that I've seen plenty of parents with little's host the little's party at a brewery.  These can be great places because the adults have something to enjoy and many breweries have nice outdoor seating or green spaces for kids.
Vineyard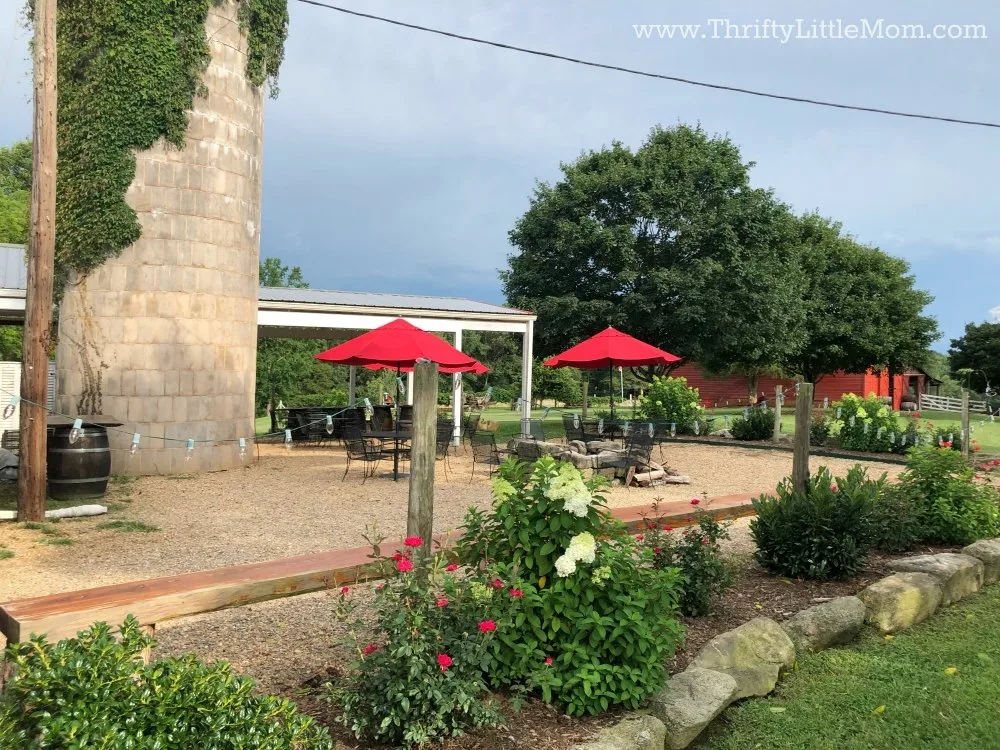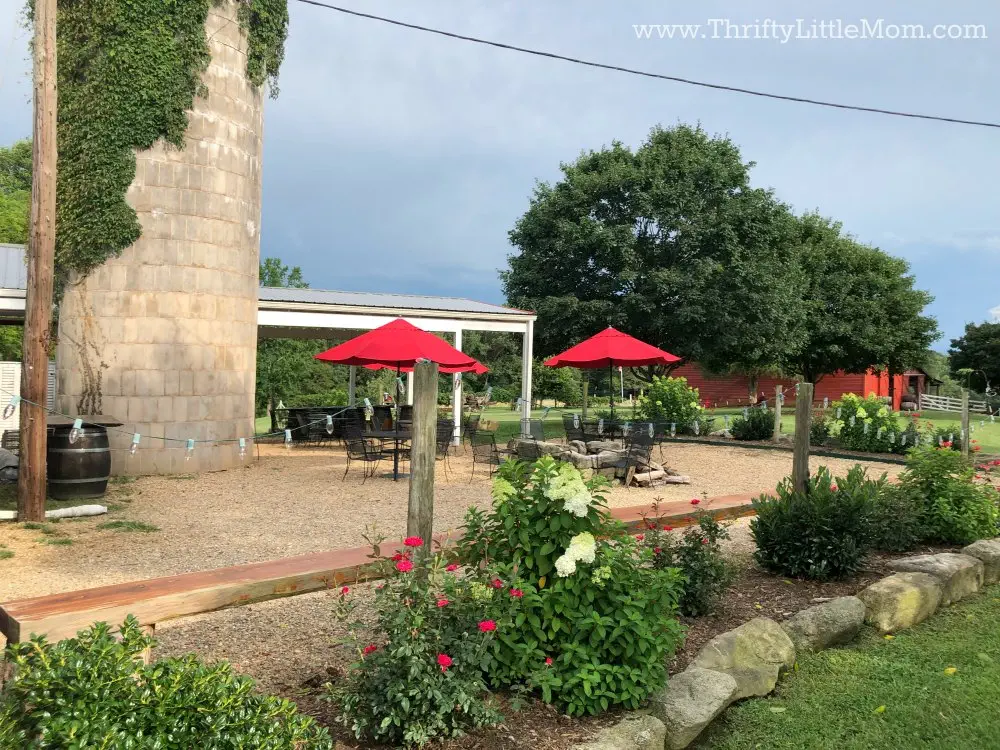 A beautiful vineyard provides gorgeous views and is a cheap birthday party option. One of my favorite features of wineries is the fantastic flora that is all around you. There are the luscious grapevines, the busy bees, and the soft breezes to enjoy to your heart's content. Taste some delicious wines and explore new flavors. This location will undoubtedly be a delightful day. 
Grab a group of your 21+ friends, bring a picnic and split the cost of some bottles of wine at your local vineyard!
National Park
There are over 400 national parks in the continental United States. Is there one near you that you haven't seen before? I am so lucky to live near the Smoky Mountains, so there are countless new waterfalls and bluffs that I haven't even seen yet! Exploring nature is a great way to spend your birthday. Get a group together to increase the fun that can be had. 
Greenway Hiking Trails
You may not even need to leave your city to enjoy a beautiful hiking trail. When I lived in Atlanta, we used to enjoy the large pedestrian greenway that spans the east side of the town. Now, here in rural North Carolina, there are several that meander right outside of our small downtown. See what kind of adventures are available on the greenways in your town. 
Canoeing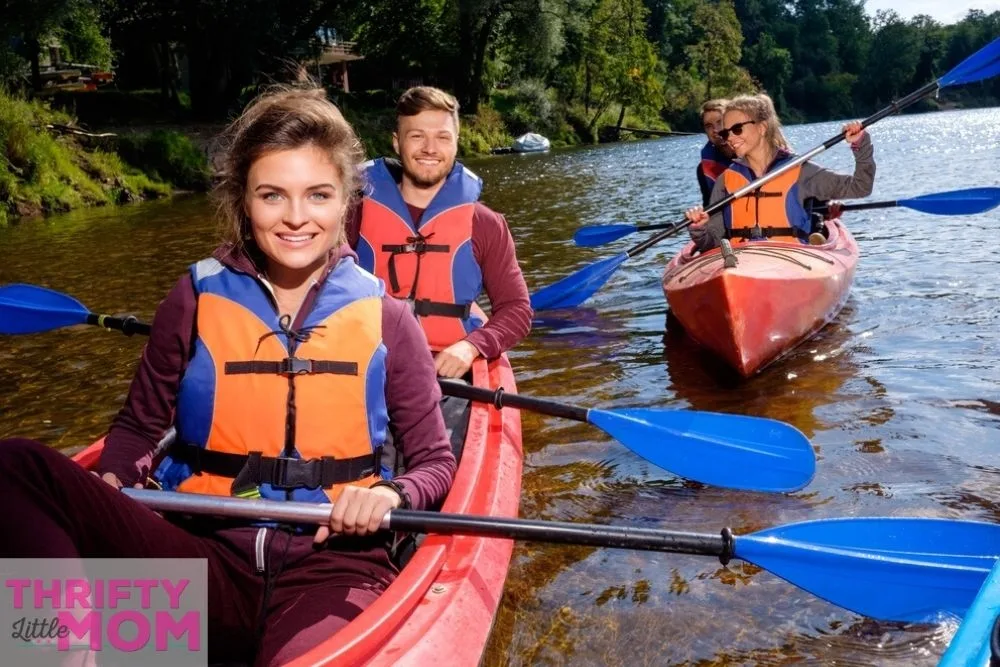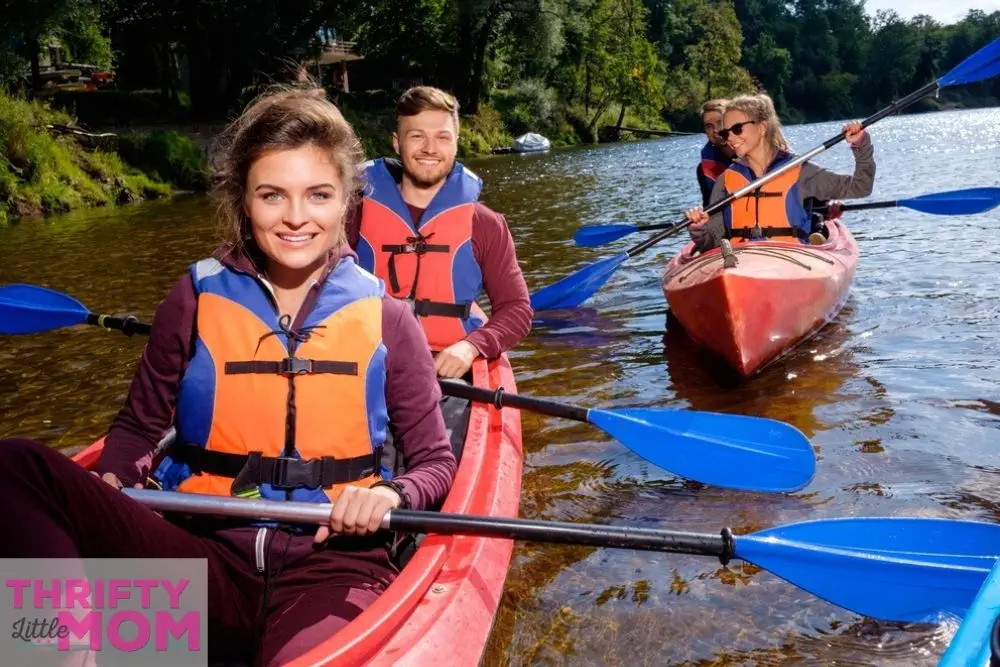 Ask around before renting a canoe. There are plenty of people that have canoes that they are not utilizing. See if you know anyone that has one available for you to enjoy on your birthday. If they cannot, they can be very affordable to rent. Review basic canoe safety and take to the rippling waters. Lavish in the lazy rivers and beautiful lakes.
Lake Day Cheap Birthday Party Ideas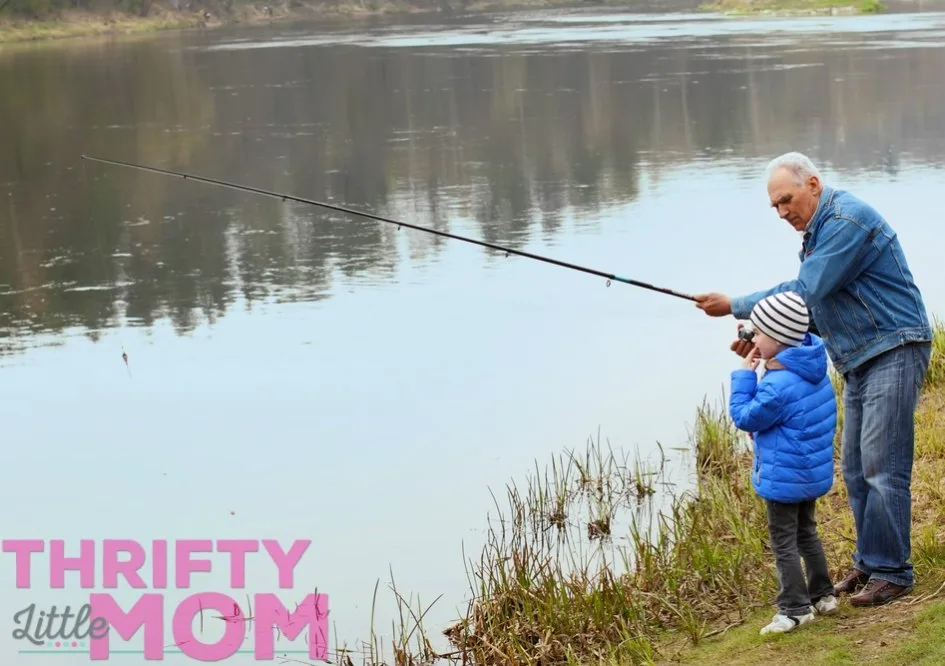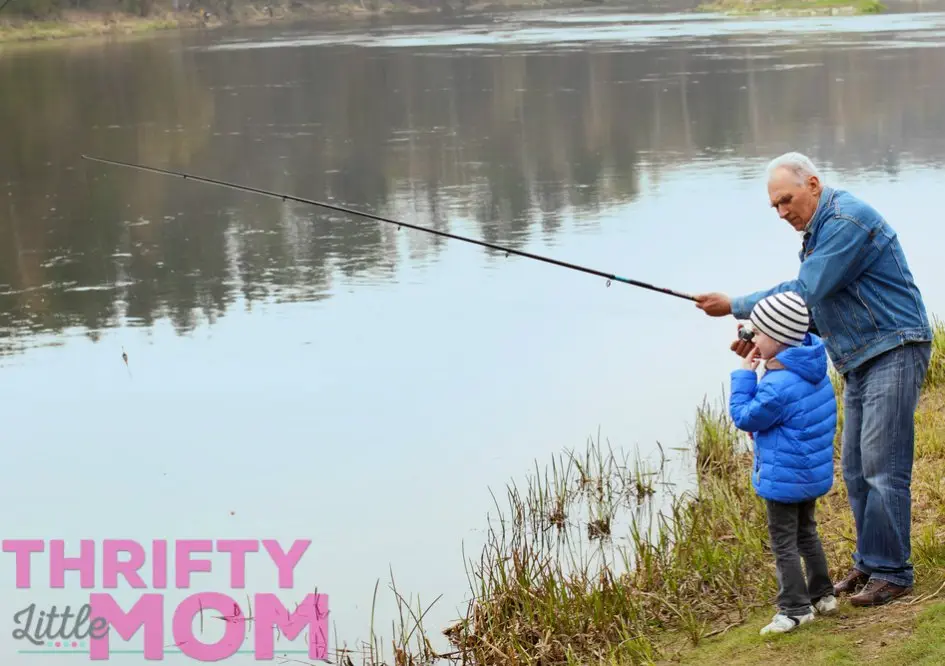 Find a lake nearby and relax with a day of fishing and nature enjoyment. Even if you aren't an avid fisherman, the lake provides a litany of activities that you can enjoy. Bring a picnic and sit on the shore or dock. If you do like to fish, have a go at crafting your own pole. "Pole fishing" was a traditional way of fishing without a reel. All you need is a good stick, some fishing line, a hook, and bait. Kids will get very excited about learning this way. That is the thrifty way to enjoy fishing from the shore. 
Friend's Timeshare
Crowdsource your party. A cheap birthday party idea is to ask around for a location to celebrate simply. Lots of people these days have some form of vacation option. See if any of your friends or family can afford you the opportunity to utilize their timeshare. 
Beach Party

Make a day at the beach your cheap birthday party idea this year. Plan for the kind of day you want to have. Pack up the sun protection and chairs and make your way to the shoreline. It's your birthday celebration, and you deserve a day of relaxation. Bring some fun games to entertain you and your friends. I love our bocce ball set and portable corn hole boards. 
Himal Collapsible Portable Corn Hole Boards With 10 Cornhole Bean Bags And Tic Tac Toe Game 2 Games on 1 Board (2 x 1-feet)
Friend's Vacation Home
My husband has a great little mountain retreat that his family members utilize for small gatherings. Consider asking a friend or family member about their amenities. Maybe you can find a getaway that you hadn't considered before. Free is obviously one of those super cheap birthday party ideas. LOL
Paddle Boards
Renting paddle boards can be an inexpensive way to have an outdoor adventure. Paddling is a great activity to get the blood pumping but also relax and take in the scenery.
Pack a lunch or a small picnic and see what areas you discover. I love all the little coves and nooks that you'd never know about until you break free of the ground and take to the water. 
Beach Picnic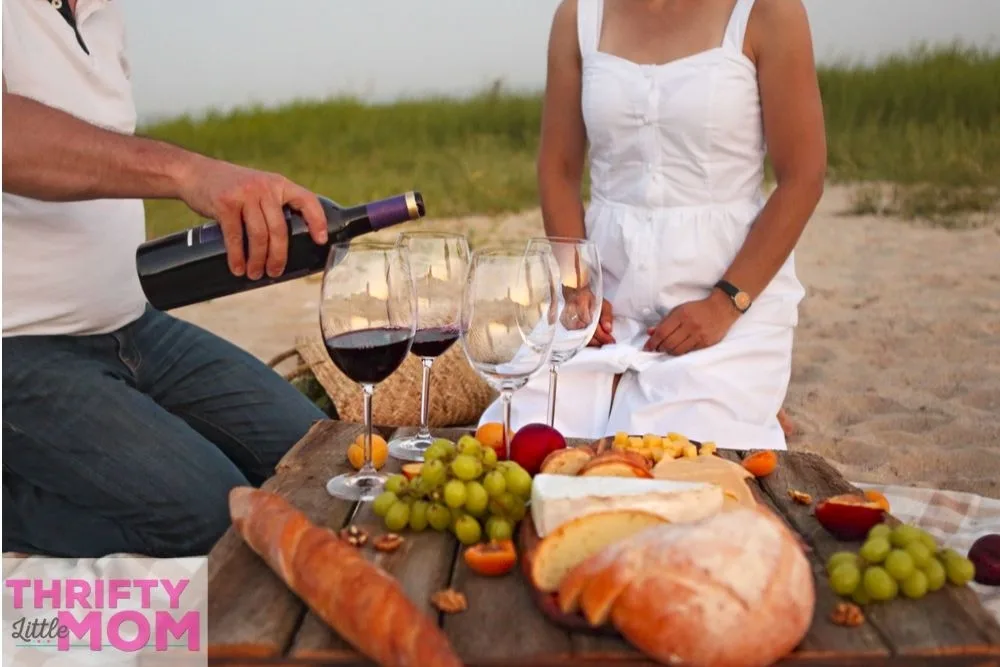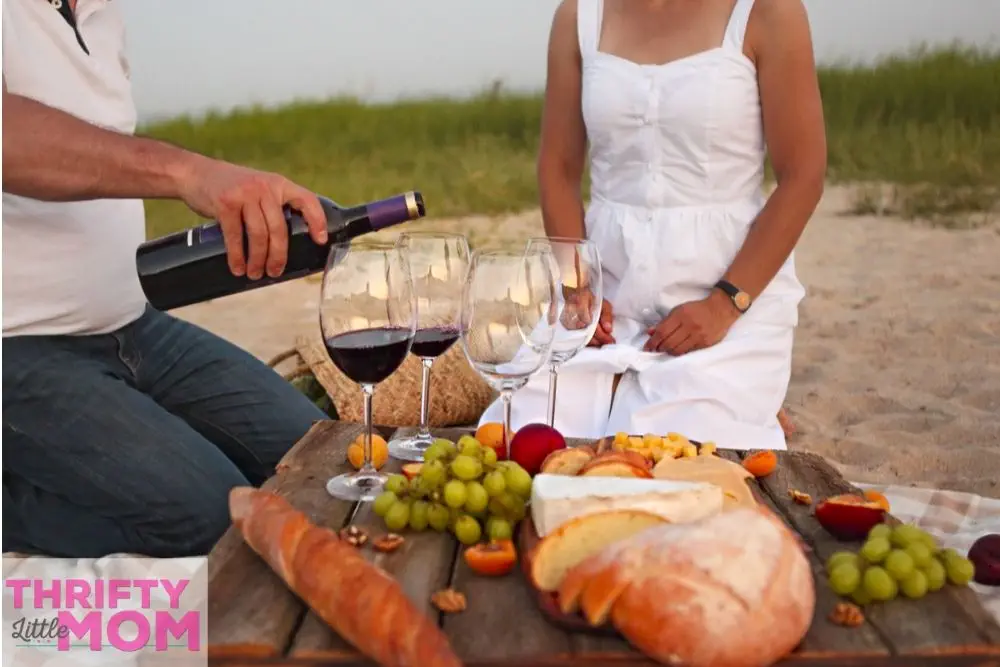 I would personally love a beach picnic. Create a picnic in an intimate setting or a larger group. Either way, the beach provides a beautiful backdrop for birthday celebrations.
Prepare your picnic items in advance, choose foods that will be something special and out of the ordinary. After all, this is your birthday. I love my wine and cheese pairings when hosting parties. These boards are always a hit with friends and I find the cheapest board supplies at Aldi. 
Scavenger Hunt
No matter the age, a scavenger hunt can be a lot of fun. Make these yourself, or you can come up with fantastic scavenger hunt ideas by searching the web. Adult scavenger hunts can take place all over the city. The nice part about a children's scavenger hunt is that you don't have to have a large area for the kiddos to have a fun time. 
Progressive Dinner Party
If you have never participated in a progressive dinner, I highly recommend it. The idea is that you enjoy a different course of food in a different location. Being that you are using people's houses and preparing the food and drinks yourself, this can create a great cheap birthday party idea. 
Have at least 3 locations/houses available
Appetizer, Main Course, and Dessert would be the minimum offerings- feel free to expand!
Being that each host has minimal responsibility, people get to relax, and it takes the pressure off of having to provide a massive party atmosphere.
Biking Party
Grab your handlebars and hold on tight! A biking party can take place during the day or the evening.  Have everyone decorate their bikes accordingly. There are fun LED lights for partying at night, and kaleidoscope pinwheels make day time celebrations a colorful event.
Ideas
Dress up in a costume- 80's party anyone?
Find fun party hats for everyone to wear 
Use garland and streamers to decorate the bicycles
Purchase battery operated lights for fun and safety
Bright Spokes Premium LED Bike Wheel Lights – 7 Colors in 1 – USB Rechargeable Battery – Strong Silicone Tube Cover – 18 Modes – for All Ages – (1 Tire)
Tailgating Party
The penultimate cheap birthday party idea, in my opinion. Get your friends to get their grills, tents, and collapsible chairs together. Grab a BlueTooth speaker and download THE Best Party Songs Playlist.
Truthfully, the best part of a birthday party is the people that are in your life. You can have a great time with minimal effort. Enjoy grilling up some delicious foods and laughing with your crew. 
Dessert Decorating Party
Let's face it, baking yourself if way more affordable than buying a crafted dessert. Set up an area and let everyone make their favorite style of dessert. Pick up the group's favorites:
Cookies
Cakes
Cupcakes
Decorating icing
Sprinkles
Wilton Gel Food Coloring and Sprinkles Decorating Kit, 10-Piece – Gel Food Colors, Sprinkles, and Bright Sugars
Karaoke Party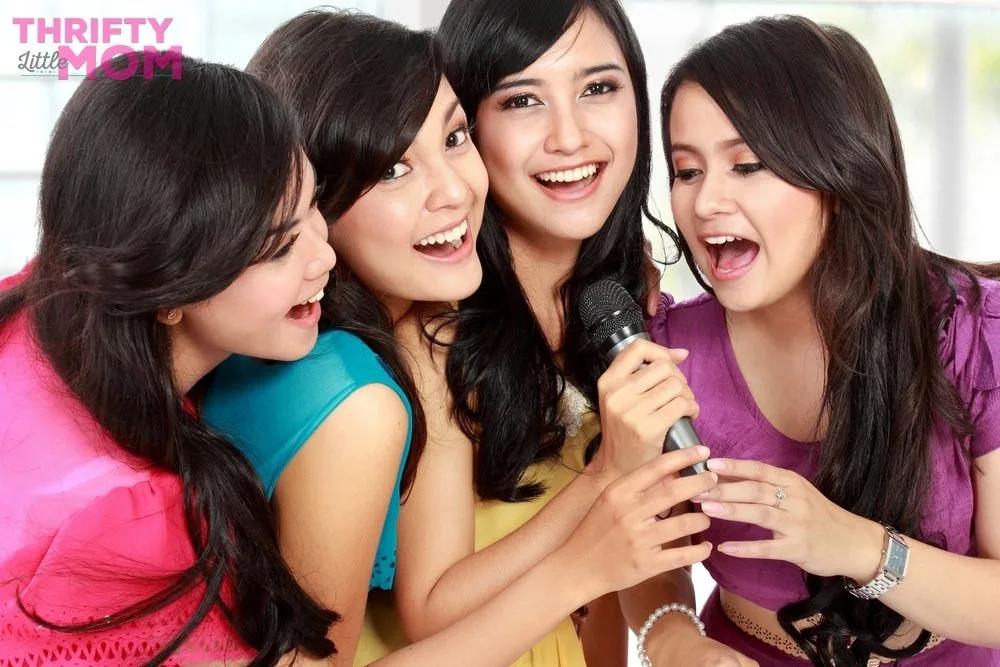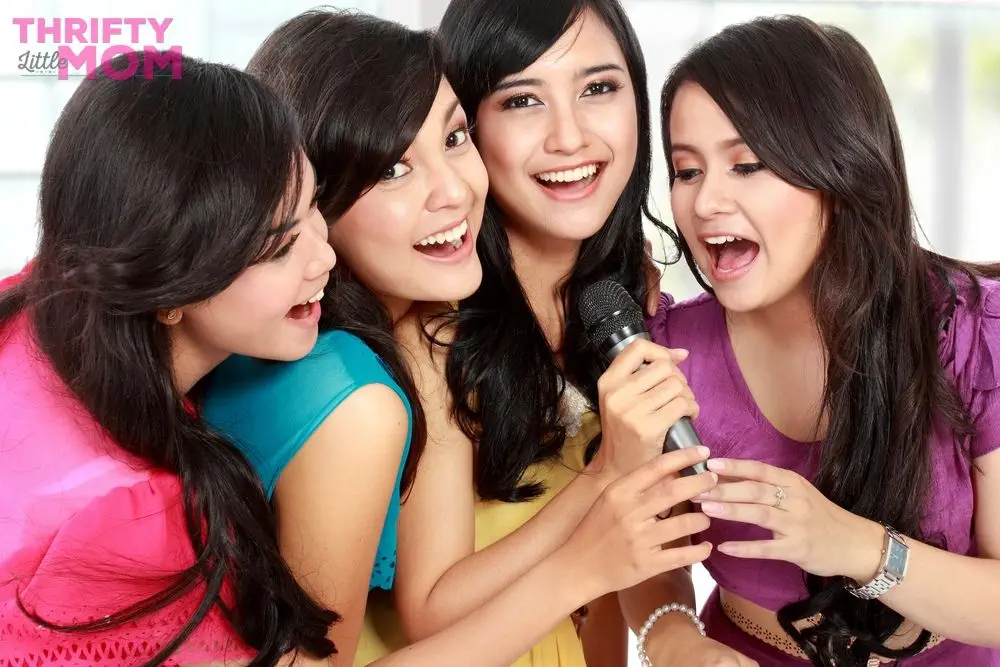 This is one of those easy cheap birthday party ideas.  Going out to karaoke can be a fun experience, but you can also do it from the comfort of your living room. When you go out for karaoke, frequently, you have to wait in lines and may only get to sing a few songs. With the assistance of YouTube, you can have access to almost every song in the karaoke version you could desire. You can have a great time at home and not break the bank!
One Day Road Trip
When I was a teen we would often drive somewhere that we could get to, explore, and return home on the same day.  That way we didn't have to spend the night in a hotel but we could get out and do something fun. 
You could start with picking one of the items from this list that's within a few hours of your house, go do the thing and come on back home! 
Watch the Game Party
If you've got a sports fan in your home but don't want to pay for event tickets consider throwing a simple game-watching party with a BRING YOUR OWN BEER invite to friends.  
Shopping at grocery stores like Aldi can help you create a lot of great game day party snacks and keep the cost extremely low!
Indoor Streaming Movie Night
Since the pandemic of 2020, movie production companies are starting to release brand new major movies straight to streaming services.  The movies that usually costs me $12 per person to get into see now cost me $20 to rent and sometimes $25 to buy.  
Therefore, if you want to stay in, consider renting a brand new movie you've been waiting to see and host an at-home kind of movie party.  
I hope these cheap birthday party ideas help inspire your party animal. Have fun crafting the perfect party for your group!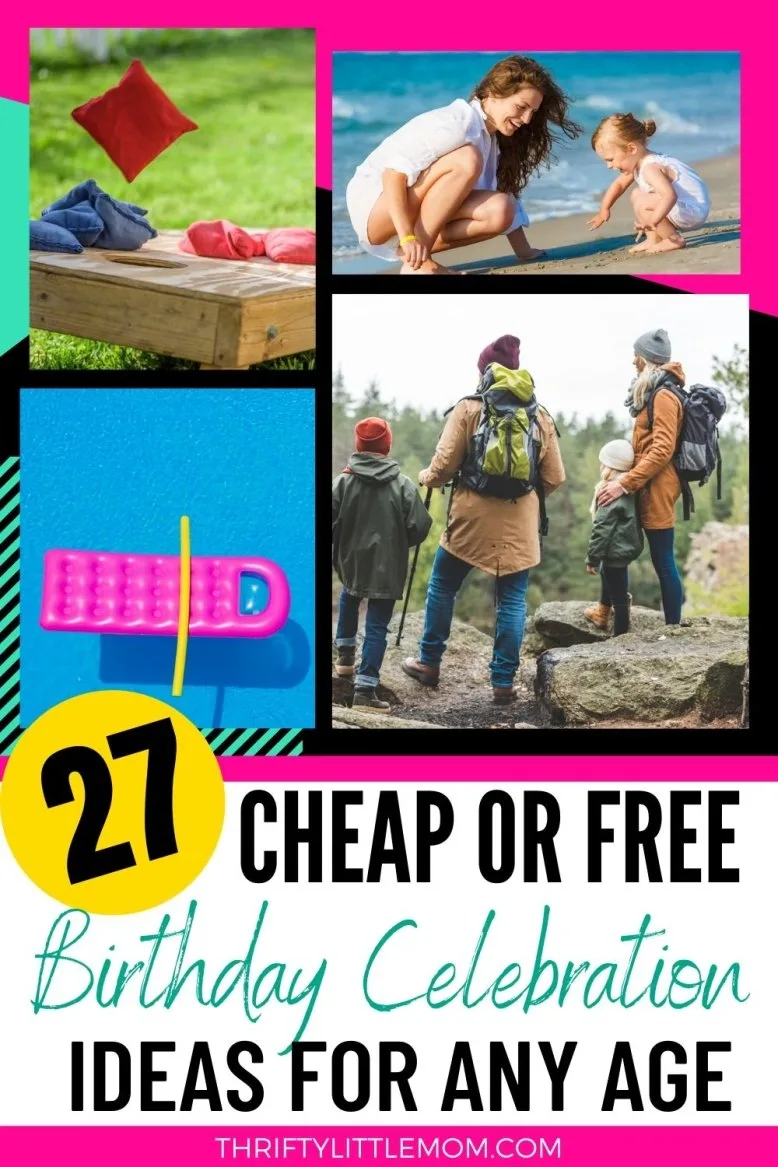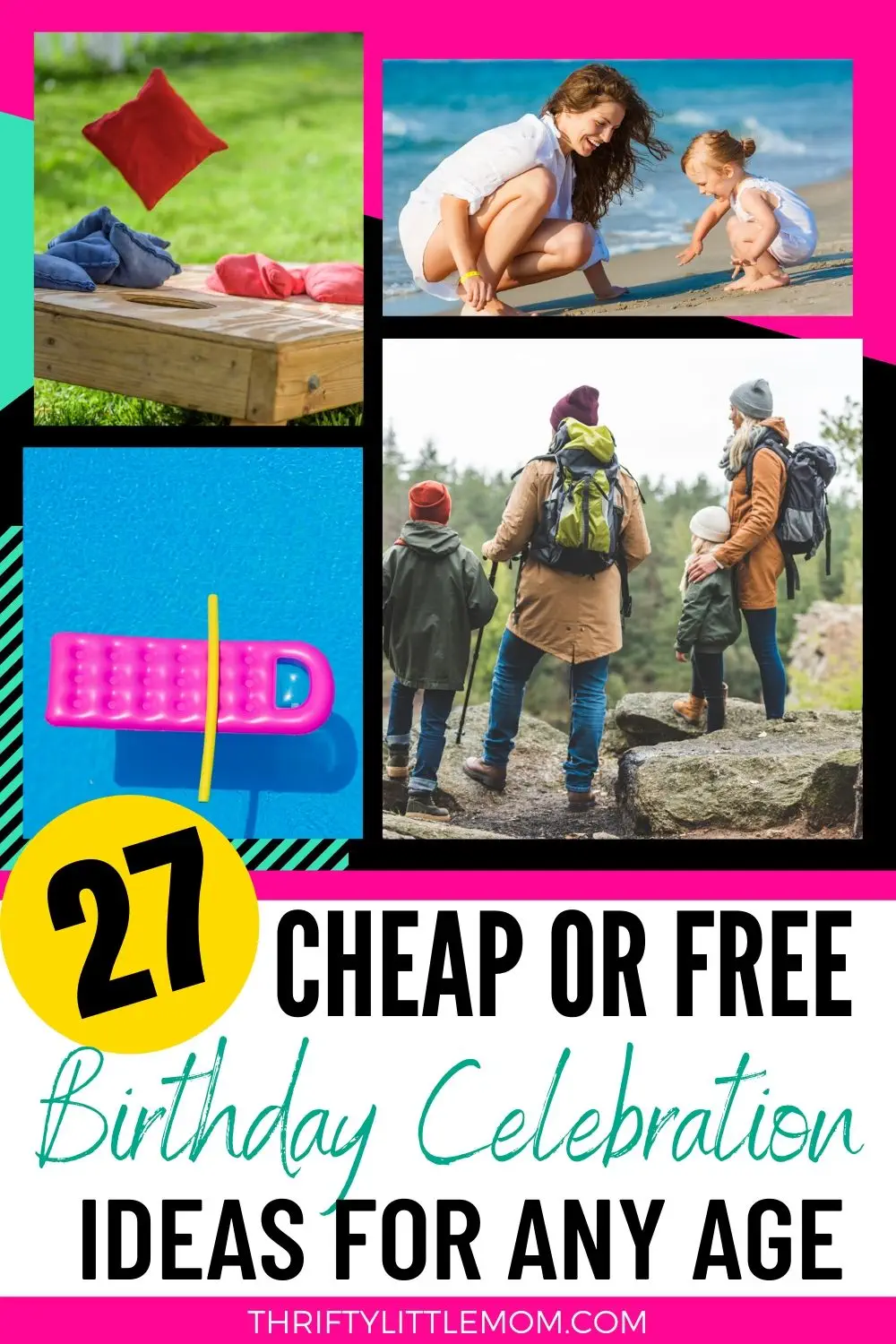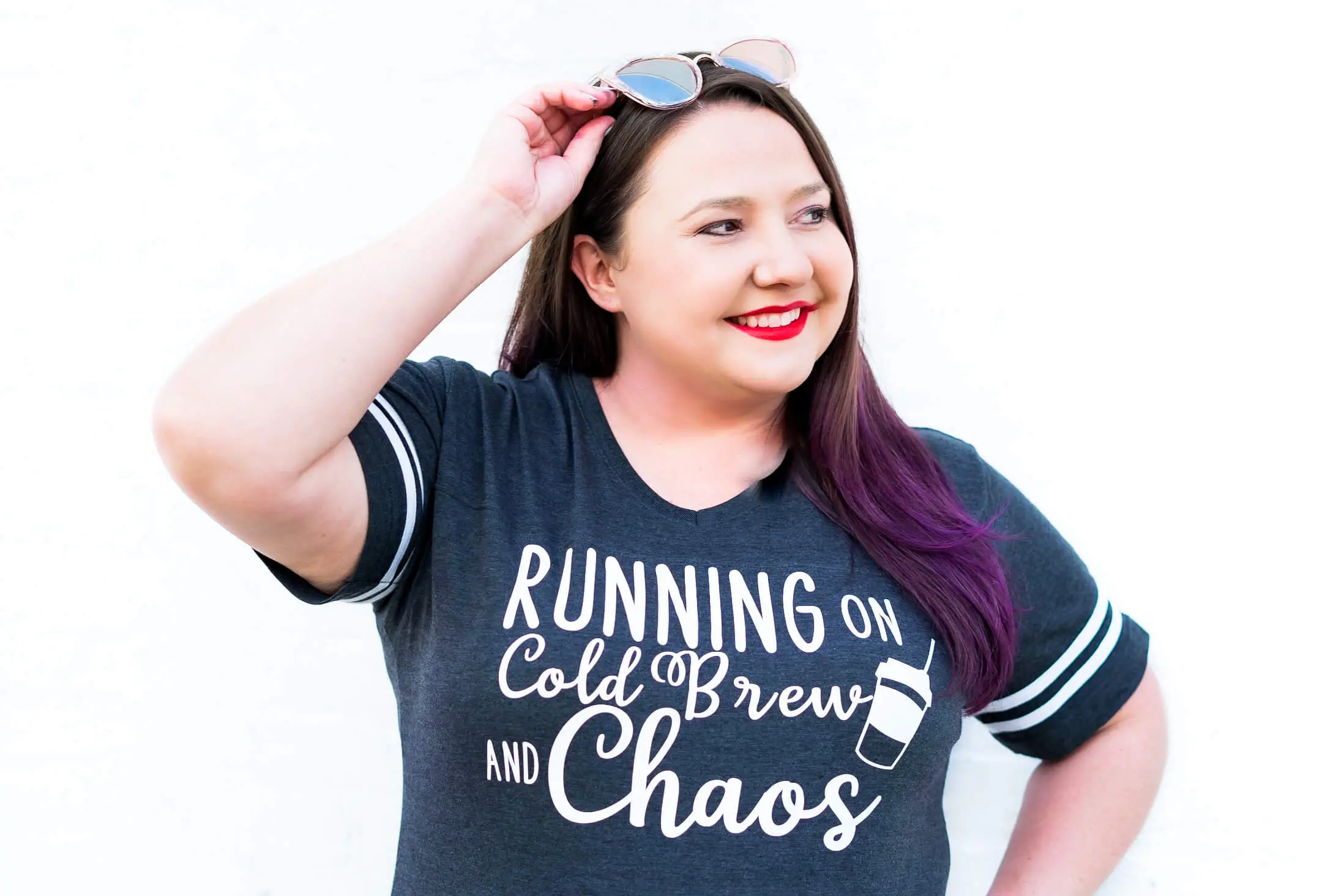 Kim Anderson is the organized chaos loving author behind the Thrifty Little Mom Blog.  She helps other people who thrive in organized chaos to stress less, remember more and feel in control of their time, money, and home. Kim is the author of: Live, Save, Spend, Repeat: The Life You Want with the Money You Have. She's been featured on Time.com, Money.com, Good Housekeeping, Women's Day, and more!
Summary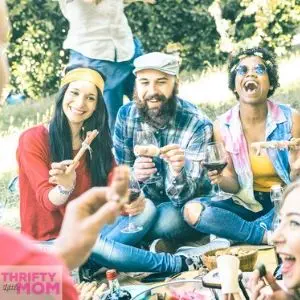 Article Name
27 Cheap Birthday Party Ideas for Any Age
Description
Just because it doesn't cost a lot of money, doesn't mean it can't be a quality party. Here are my favorite activities for cheap birthday party ideas!
Author
Publisher Name
Publisher Logo