I'm not gonna lie, I love to dance.  I've been to many events with a DJ and you can tell when a DJ knows his crowd, because the party songs are epic, make everyone run to the floor and everyone is loving it.  I've also been to event where the music more like huh?? And I spent most of the night by the snack table chatting (but I'd much rather be dancing off calories than eating them.)
If you have an upcoming party and you have any hope that people will get themselves out on a dance floor (real or just the carpet in your living room) then you need an EPIC play list (and maybe a signature drink or two).  Lucky for you, I've put together what I feel is a list of the best party songs that will get your guests moving to the dance floor or at least bopping and rocking where they are standing.  You can mix these up in whatever order you want!
Where to get the party songs for adults listed:
I've included a link to each of the songs on Amazon.  If you have Amazon Prime Music,( Try Amazon Music Unlimited Free Trial  — I love it!)
you may get some of these items for free.  Otherwise they are less than a few bucks to own for all your epic party needs.
How to play the party songs:
At our home parties we don't get excessive in the old technology department, we just use a Echo device.  If you don't have one, the
All-new Echo Plus (2nd Gen) – Premium sound with built-in smart home hub – Charcoal
 is great for music in a party environment. In fact sometimes our guests get to tell Alexa what songs they want to hear and that's nice too!  Like a robot DJ that takes requests!
If you've got any kind of speakers and can hook them up to your phone, you're on your way!
There are 30 songs listed so that should give you roughly 120 minutes of music and more if you add your own favorites to the list pssst– I've got a printable list at the bottom.
Best Party Songs for Dancing Playlist
Want a printed version of this party songs playlist (with extra blanks) so you can have it to make create your own epic party music playlist?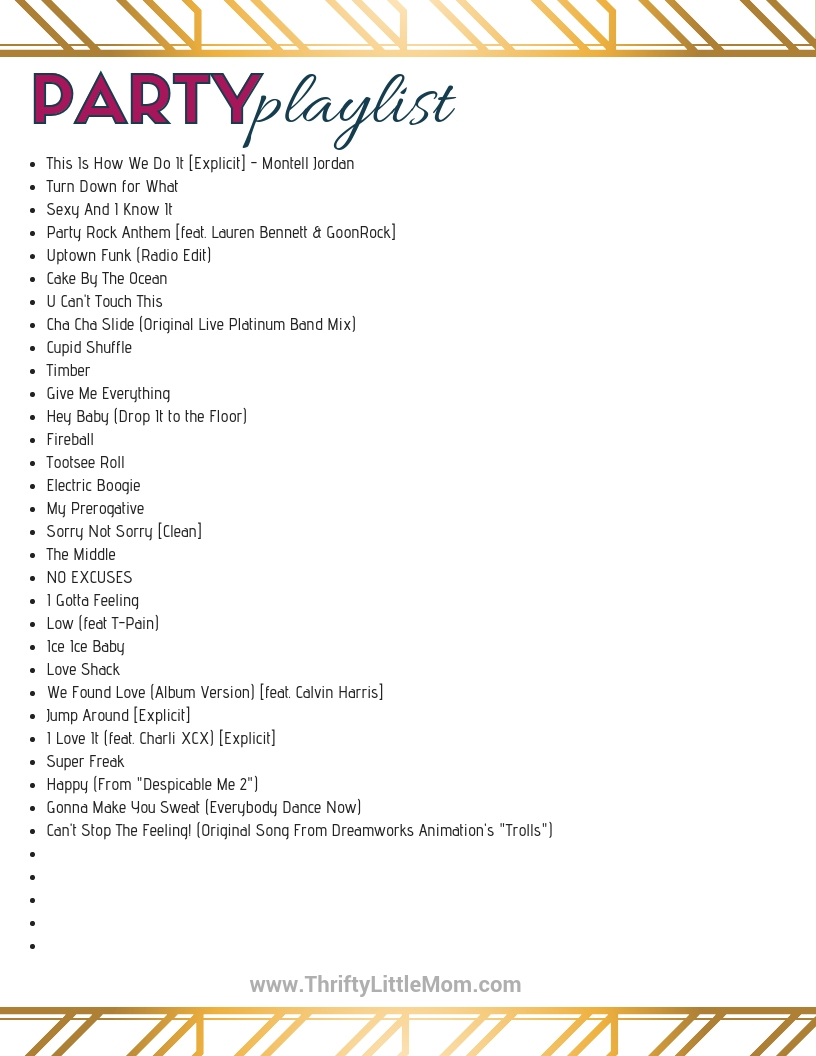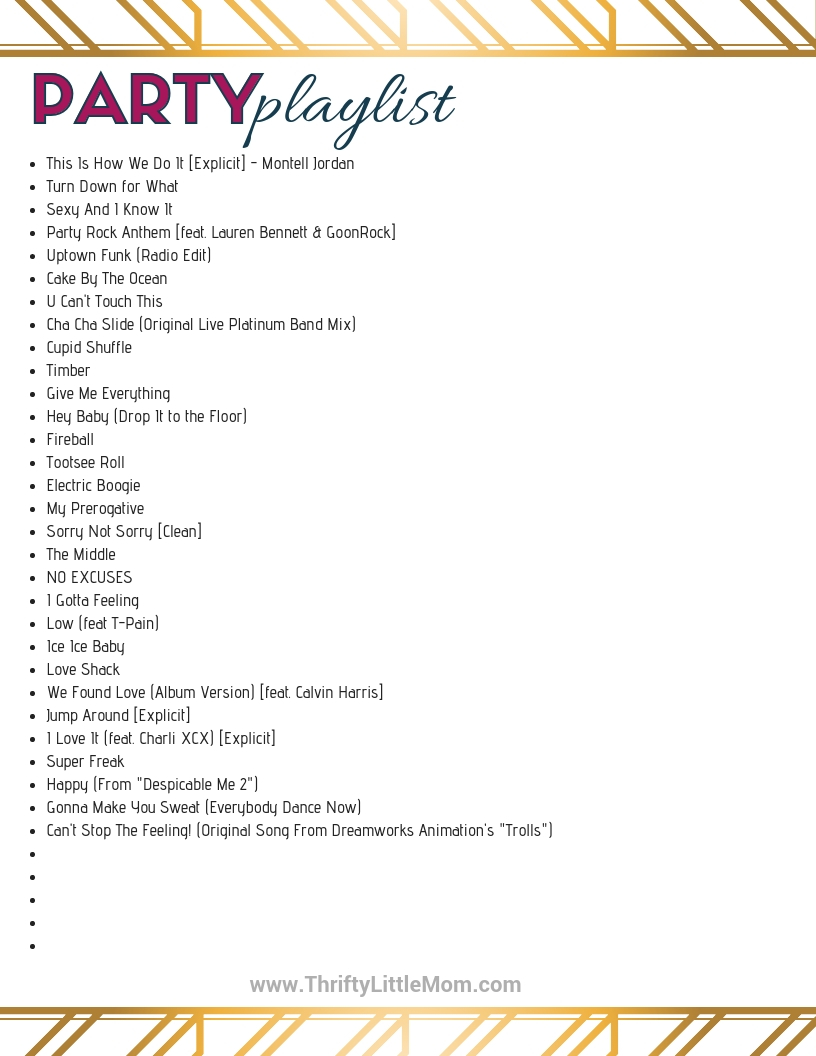 Sign up for my weekly party inspiration email and I'll send you this party songs checklist with extra blanks to add your own favorites plus give you access to my resource library!  Sign up here or in the box below!
If you enjoyed this post consider checking out my other party ideas:
Pssst… share this with a friend or Pin It for later!!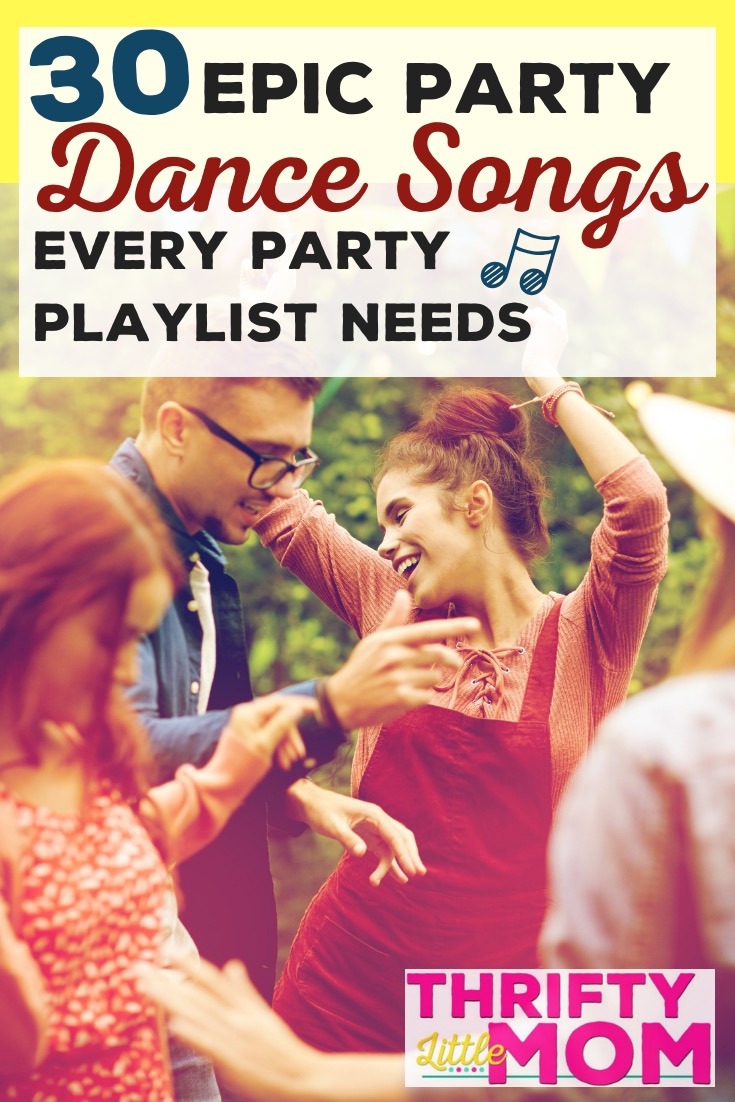 Subscribe to my emails + get your printable party playlist from this post!
Subscribe and as a gift I'll send you this free printable party playlist with all these songs and space for your own! Be the most organized host/hostess on the block!
Don't forget to check out what's in the resource library! https://thriftylittlemom.com/thrifty-little-mom-resource-library/ Password: Thriftyprints
Summary