I don't know about you but sometimes it seems like it can be very difficult to come up with birthday party ideas for husbands. In this post, I'm hoping I can help provide you with creative birthday ideas for your husband whether you are planning a quiet party at home or with a group of friends.
Start with a Birthday Theme
Consider picking a theme for the party that closely matches your husband's interests. If you start with a theme it will be easier to come up with ideas for decorations, food, drinks and activities.
Here are some birthday theme ideas for guys to get the creative juices flowing:
Theme it around one of their unique interests or hobbies.
Lumberjack Theme (think lots of plaids)
Hunting Theme (think lots of camo)
Beer Themed
Comic Themed
Star-Wars Themed
Favorite Movie Themed
Favorite TV Show Themed
Favorite Band Themed
Favorite Decade Themed
Pizza Themed
Favorite Sport to Play Theme
Favorite Sports Team Theme
Favorite College Team Colors
Neutral Colors
Based on the theme you chose you can now decide how simple or extravagant you want you party decorations to be.
If you plan to have your husbands birthday party at home with just the family, then you can keep the decorations fairly simple. When we celebrate at home with family, then I usually decorated the food tables and the mantel, keeping it very simple.
If we have guests coming over, I'll usually add decorations to the front porch and back porch as well.
The Cake: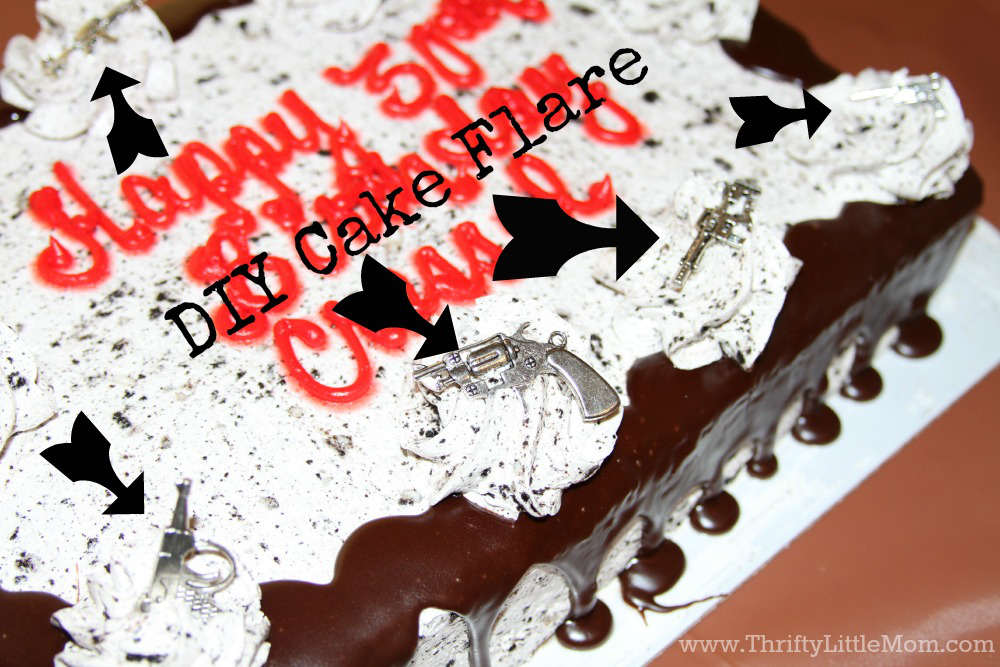 I wanted a unique, tasty cake so I ordered one of Target's amazing cookie's and cream cakes and asked them to leave the little cookies off.
That's where the specialization came in. I wanted to make the cake theme appropriate so I got on etsy and found a lady that sold small gun charms for jewelry making and she had them to my house in 2 days flat.
I added those to the cake myself.
I felt this addition was more the "testosterone" on the cake rather than the "icing" on the cake.
This cake was $12.99 with my Target coupons.
Thrifty Tip- Cupcakes are always an easy single serve option for any party. They are usually a low cost option as well. You can personalize cupcakes very easily.
The Decorations: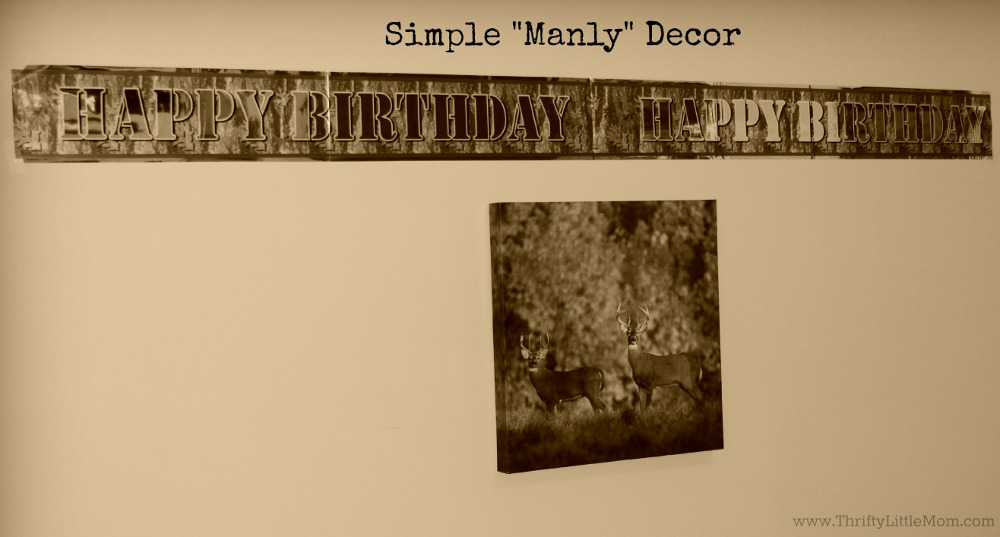 I could have gone crazy with decorations. Instead, I chose a few simple things that I purchased and found around the house.
I got a brown "fall" table cloth at Target ($2.00).
A camouflage "Happy Birthday" banner from Walmart (less than $2.00).
The dear canvas pictured is actually from my husbands "Man Cave" area.
I bought black cups and plates from Target and used white Up & Up brand plastic silverware but put them in handmade vintage looking mug.
Thrifty Thoughts- If you have items/decor around your house that fit your theme, use those items. They are FREE!
The Food:
I kept things really simple and ordered PaPa John's meat covered pizza, hot wings from my local deli and chips. I know that's ridiculously simple but do you know who spent the evening with friends rather than cleaning dishes? This lady. Really great party with little to no clean up.
The Festivities: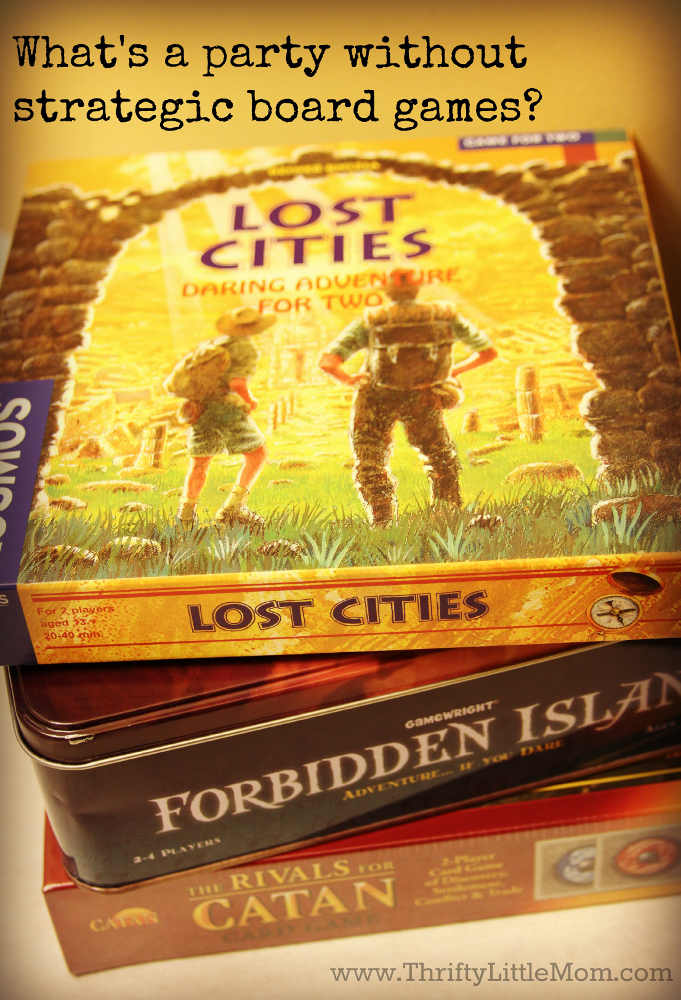 The night was filled with strategic board games (check out my game night post for examples of games we like) and a bonfire outback in our fire pit (click here for my instructions for building the pit seen here).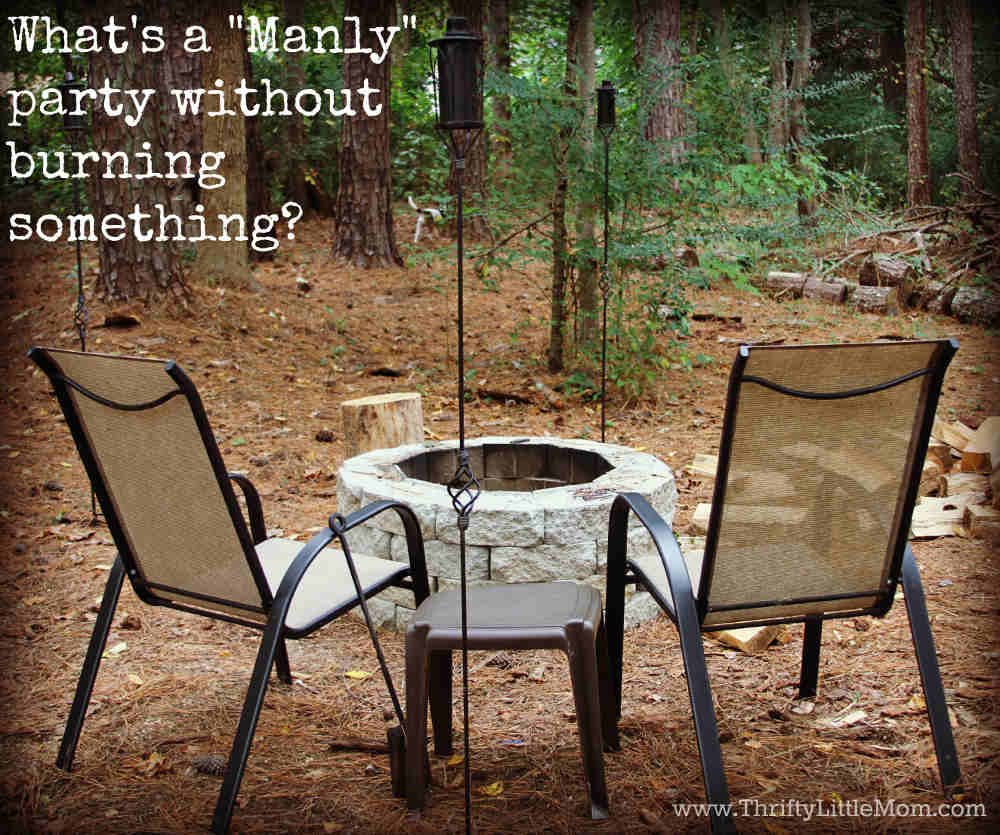 The Party Favors: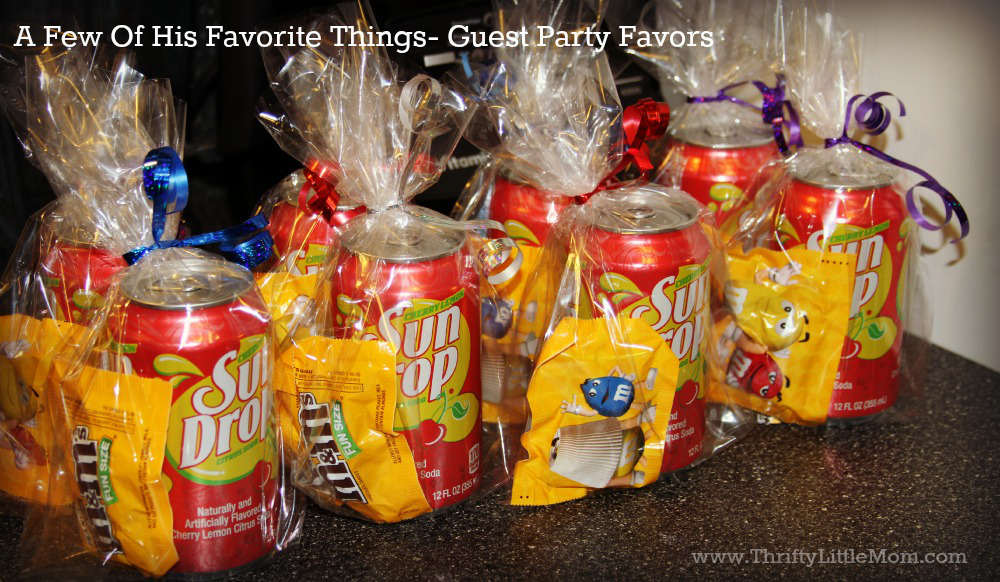 I got some clear plastic goody bags from Target ($2.00) and filled them with my husbands favorite soda and his favorite candy in individual serving sizes.
I used some ribbon from the Christmas ribbon stash and voila! Personalized party favors that people actually want to take home.
Thrifty Tip: If you want to do Party Favors, food is always practical because it's usable.
That's it. It was a simple party for a simple guy and he had a great time. So even though I threw it together last minute, we enjoyed spending time with friends and family rather than trying to fit an excessive food menu or itinerary into our festivities.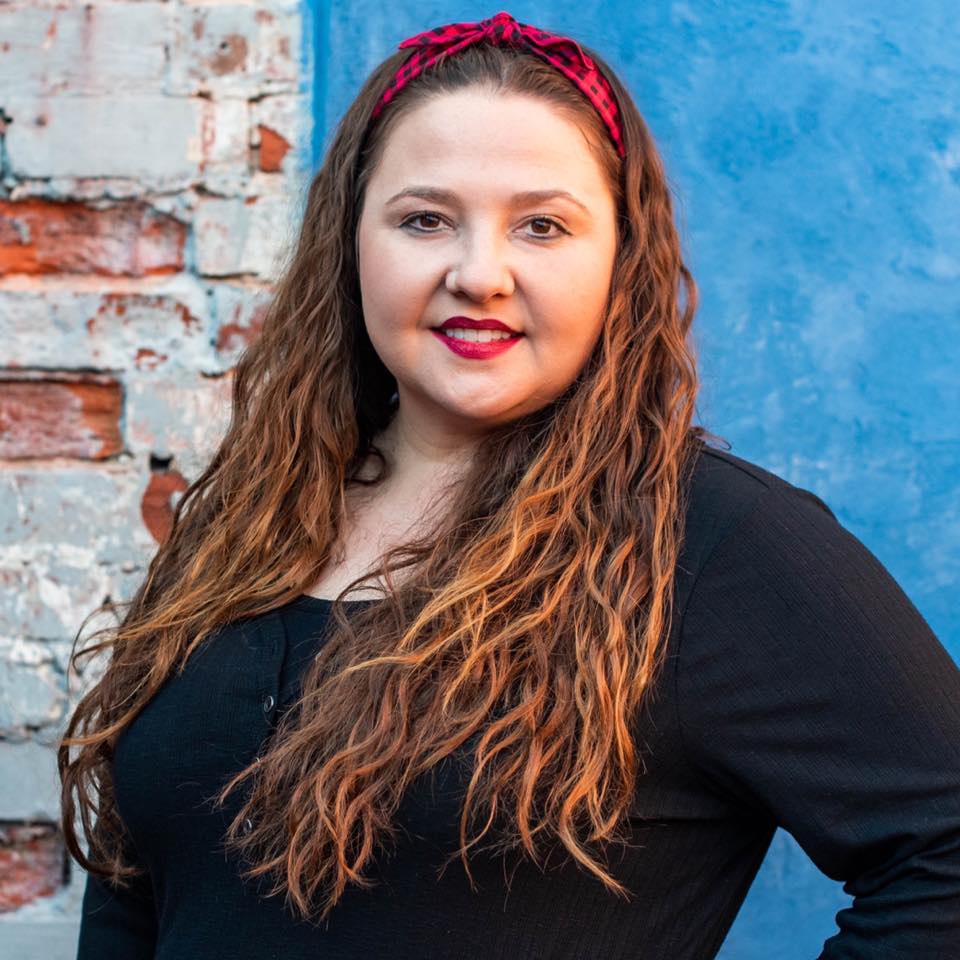 Kim's is the party planning, thrifty life-loving, intentional living catalyst behind the Thrifty Little Mom Blog. Kim was a pro event planner for over 7 years before she became a full-time blogger. Kim is the author of: Live, Save, Spend, Repeat: The Life You Want with the Money You Have. She's been featured on Time.com, Money.com, Good Housekeeping, Women's Day, and more! Kim aims to inspire you to create, celebrate, and live life intentionally!