Fun & Fabulous 30th Birthday Gift Ideas
This post contains affiliate links. As an Amazon Associate, I earn from qualifying purchases. I also earn from qualifying purchases made with other brands and programs. See my
privacy policy.
I recently had a friend turn 30. This year is a massive milestone in the life of a person. We are leaving behind the "coming-of-age" years and transitioning into a new level of adulthood. At thirty, things can start to feel bigger and more expansive than in previous years. It's as if, overnight, you are thrust into a new mentality. Now is an excellent opportunity to give one of these great 30th birthday gift ideas.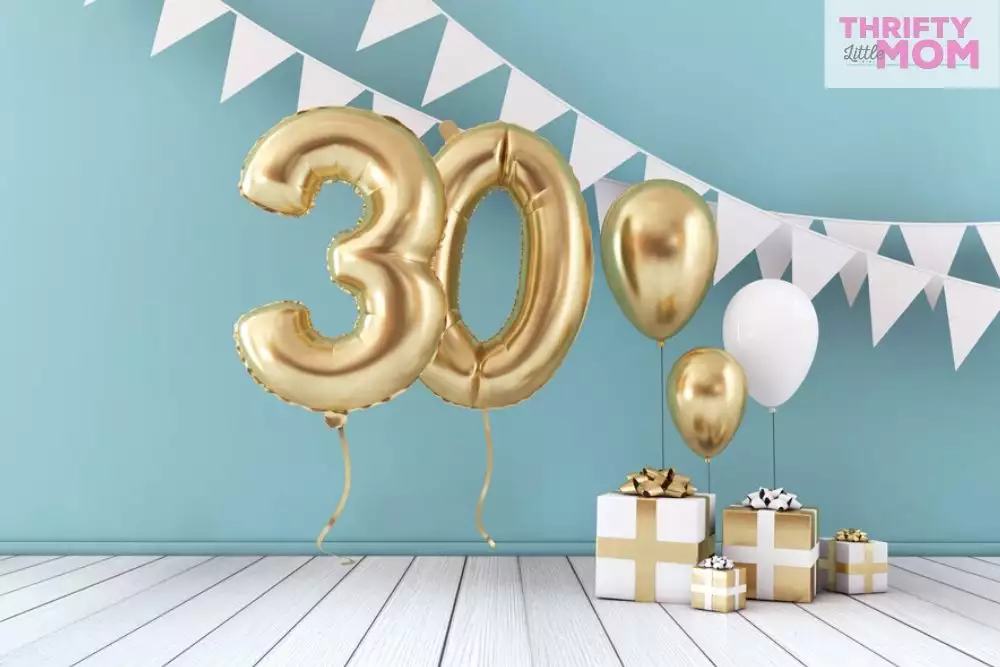 Sentimental Gifts
Not that thirty makes you "the person that has everything," but you may feel a bit more established by this time in your life. Getting the big, new, latest, whatever, may not be the thing that feeds your soul. Since this is a milestone year, a sentimental gift can mean the world at this point.
Jewelry Ideas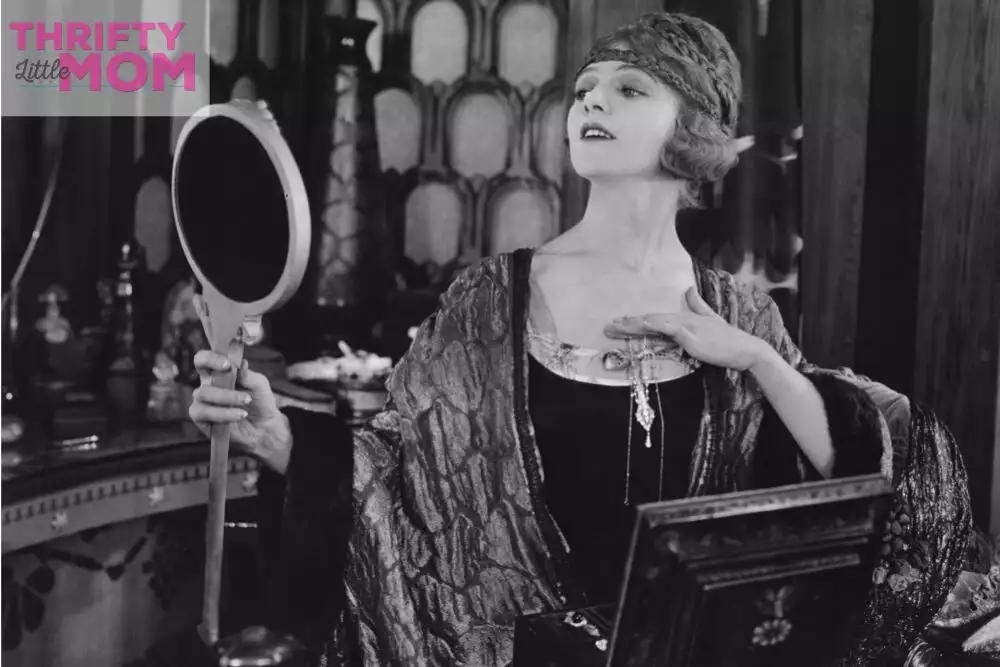 Vintage
I love a piece of vintage jewelry. There is something about finding a piece that fits your style that is from decades gone by. One of my favorite places to find vintage or vintage-inspired jewelry is Etsy.com. This style of jewelry makes for a one-of-a-kind present that they will cherish for years.
Engraved
Does your friend have a favorite phrase or meaningful mantra that would look beautiful in a script? Find a beautiful bracelet or locket and have it customized for them. This heartfelt gift shows that you know them and hold their interests in your mind. They can wear this token of love every day.
What to engrave:
Birthday
Anniversary
Initials
Phrase
Bible Verse
Longitude/Latitude lines of a particular place
Encouragement
Things to engrave:
Bracelet
Locket
Keychains
Watch
Ring
Personalized Name Plate Gold Bar Bracelet in Handmade Wedding Jewelry for Women Bridesmaid Gifts Anniversary Best Friend Gifts for Mom Christmas Gift – 12BR

1928 Jewelry Silver-Tone Rotating Trio Locket Necklace, 30″

Engraved Wooden Watch Unique Wedding Anniversary Gifts for Husband Boyfriend Until The End of Time
Wish Necklaces
On your birthday, you get to close your eyes, make a wish, and blow out your candles. I believe we should never stop wishing. Wish for more happiness, more love, more time, more joy. I think wishes do come true. Celebrate the birthday wish with wishing inspired necklaces.
Handmade Terrarium, Real Dandelion Seeds in Glass, Make a Wish, Flower, Wildflower Necklace 2248

SHUIMNH Friendship Wishbone Clavicle Necklace Sun Necklace Chain Silver Luck Flower Pendant Necklace with Message Card Gift Card
Monthly Gifts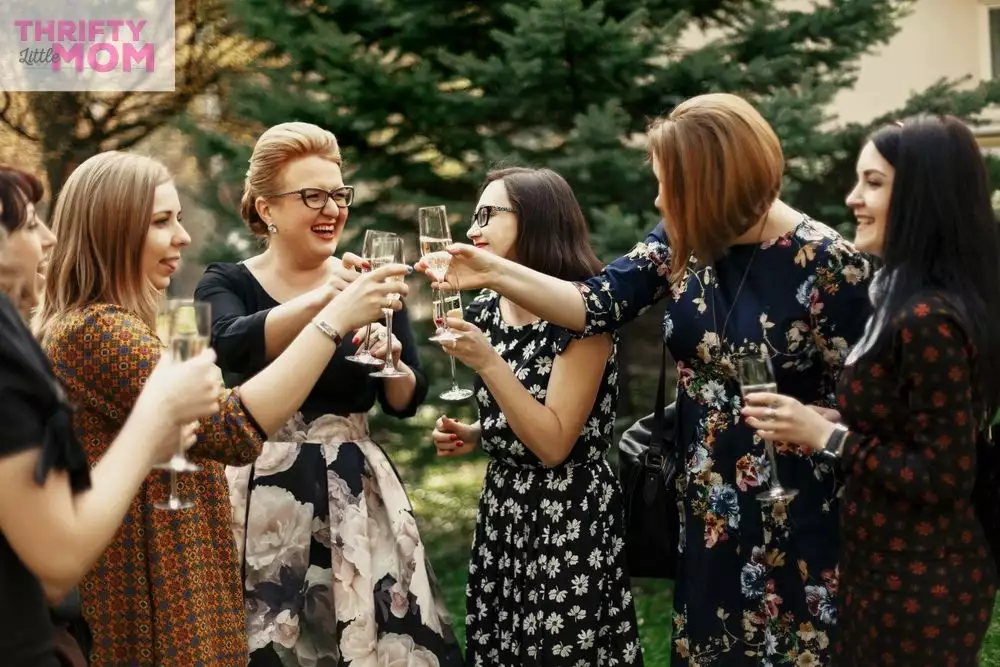 You know your friend, and you know what they are into. Chances are there is a subscription-based service that they would love for the year ahead. I can think of a few off the top of my head that would be great 30th birthday gift ideas.
Wine Subscription
There are plenty of wine enthusiasts that would love to receive a monthly gift from the nectar of the gods. The services that are out there range from monthly sample packs, red and white bottles, or even a full paring option with meats and cheeses included. Find a wine of the month club and customize them for the birthday person in your life.
Beer Subscription
Much like the wine subscription, this is delivered monthly. As the craft beer industry is exploding here in the States, the variety is ever increasing. These customizable boxes allow you to pick and choose your styles and never get bored. Here is an example of a Beer Subscription and how it works.
Make-Up Subscription
We all loved being pampered, and who wouldn't? I usually am in a hurry, and I order the thing that I ordered the last time because it worked "good enough." I am a busy mom, so trying to peruse the aisles of a make-up store, much less finding the time to get to one, by myself, is so much work that I will give up and click that "reorder" button. Receiving a box that has full-sized products or an array of sample packs to try out sounds like a birthday every month. The best make-up subscription boxes are out there; just waiting on you to click "send."
FabFitFun
When it comes to the quintessential "all in one" box, the FabFitFun box goes to the top of my list. There are so many different options when it comes to customization that no two boxes are the same. You can choose the products that fit your lifestyle best and have them delivered 4x a year. They are PACKED with goodies.
Other Great Subscription Boxes
If you're into it, they make a box for it! These subscription boxes come in a variety of price ranges to fit most budgets. Whether you are looking for subscription boxes for women or men, there are plenty to choose from.
T-shirt club
My Purse Club
Encouragement box
Explore Local Club
Hygge Fem Box
TheraBox
Finders Seekers Mysteries box
Underwear Club
Earring Club
Crafty Gifts
I am a lover of all things crafty. From my early years of childhood crafting, to when I was in high school and college making jewelry under the name "KD Dids," I have loved to make things from scratch. Even though crafting is a great hobby, it does come at a price. Here are my favorite crafting supplies for 30th birthday gift ideas.
Cricut Machine
Maybe the person in your life loves to spend time crafting. I know that in my life, I am continually utilizing my Cricut machine. This fantastic tool I use in so many different styles of crafting. Does your friend like working with paper, leather, or vinyl? The precision and creativity you can do with this machine are mind-blowing.
This year I made personalized ornaments with my children using the Cricut machine. I have seen plenty of people use it to make jewelry, t-shirts, bags, and accessories, to name a few.
Cricut Explore Air 2 Machine Bundle Iron On Vinyl Pack Tools Pen Design Beginner Guide
Hot Glue Gun and Glue Roll
There is nothing I cannot do with my gun and a little hot glue. I just my hot glue gun for all my crafting needs. The best hot glue gun can help you with many a project. I've even caught my husband using it in his shop. The gun I use is a pretty simple device, but it is the glue roll that has been the game-changer in my crafting world. I hated always having to feed these little four-inch sticks into my gun every 30 seconds. Now with 60 inches of glue, I never have to hold up my flow to refeed.
Surebonder RM-5 All-Temperature Glue Roll, 60in. x 27in./Mini/5′
The Gift of Time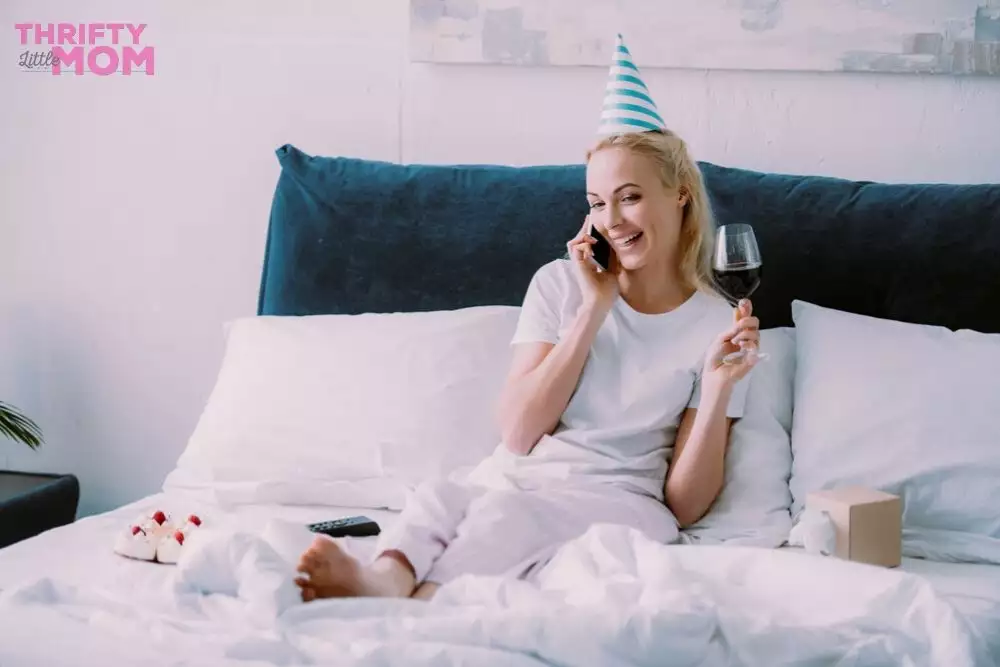 Of all the 30th birthday gift ideas, quality time is crucial, especially in our society today. We are either running around doing everything for everyone or holed-up in a house or office for the majority of the day. Give the gift of time to the person you are celebrating this year.
Time Alone
If your 30th birthday honoree is a mom, consider giving her the day or night off. She can use this time to do a few things that are just for her. She can go to a salon or spa. It may be her choice to walk around a museum and enjoy a latte in the quiet. Either way, a good day of recharging will do wonders.
Girls' Night Out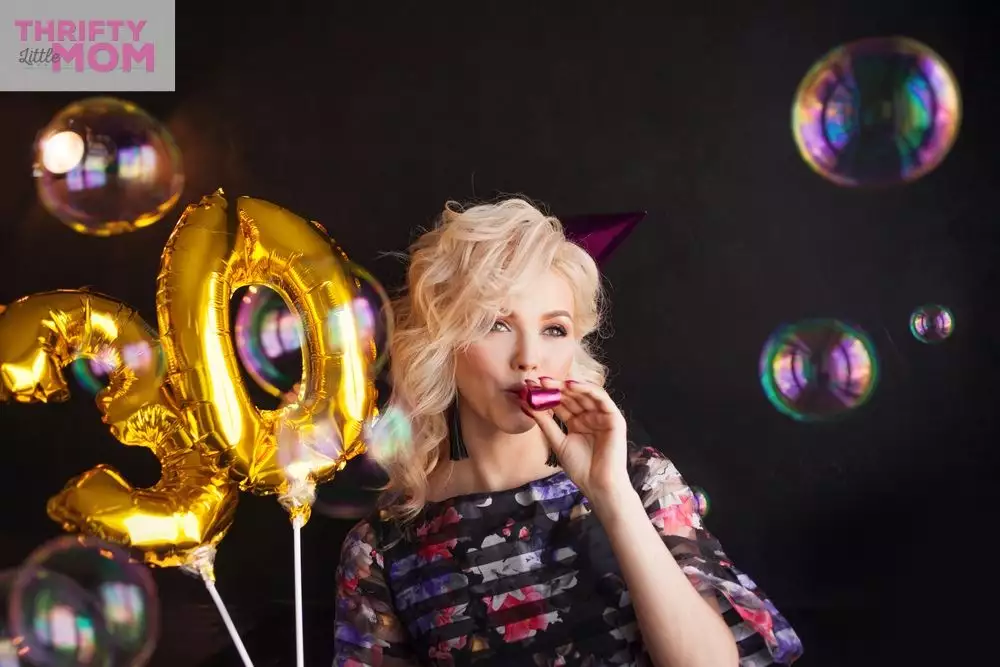 Not ready to settle in for the evening? Enjoy a fun girls' night out. I love a progressive evening. Decide on a location for appetizers, then a different setup for dinner, finally choose an exciting dessert location. The breaking up of events allows you not to get bored or force yourself to indulge all in one sitting. Customize it to your honoree's delights.
Date Night Out
Explore and adventure on a date night with the one you love. Plan a day of sight-seeing and an evening of romance. This date night will fit the bill for a memorable 3oth birthday gift. Up the anty and do what my husband and I do every year around my birthday. We plan a small getaway and plan our next year. Coming together to build the future can invigorate the emotional bond that makes your life together unique.
Experience Gifts
With thirty being such a huge milestone, you may want to plan something more elaborate. Maybe thirty is the year you finally go to Hawaii or try zip-lining. Going somewhere and pushing yourself to try something new will open up a side of you that will be forever changed.
30th birthday ideas for her (link) or him don't have to be classic. You can choose an adventure that is tailored to the explorer that you are. Give the gift of experiences with some easy gift card acquisition.
Wine Tasting in the Dark
White water rafting adventure
Spa Day Package
Race Car Driving
Weekend Getaway
Hot Air Balloon Ride
Snorkeling with Manatees or other aquatic life
I hope my 30th birthday gift ideas help you discover the perfect present for a particular person in your life. Here's to being thirty, flirty, and thriving!

19 Best Birthday Party Places for Adults
29 Fun Winter Birthday Party Ideas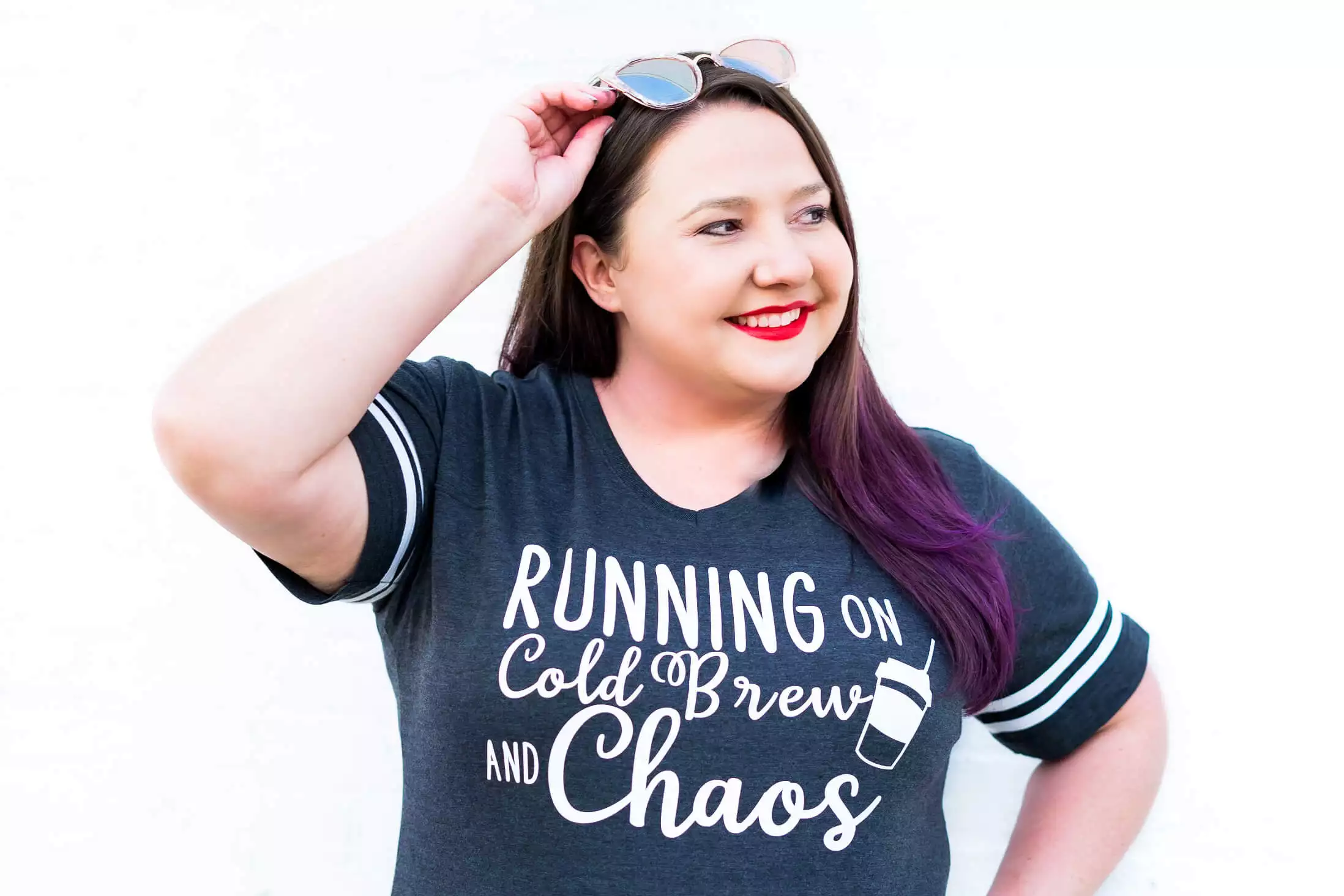 Kim Anderson is the organized chaos loving author behind the Thrifty Little Mom Blog.  She helps other people who thrive in organized chaos to stress less, remember more and feel in control of their time, money, and home. Kim is the author of: Live, Save, Spend, Repeat: The Life You Want with the Money You Have. She's been featured on Time.com, Money.com, Good Housekeeping, Women's Day, and more!
Summary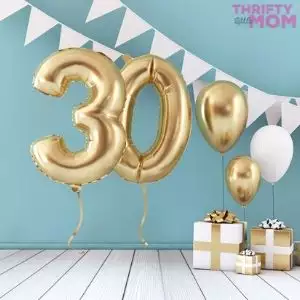 Article Name
Fun & Fabulous 30th birthday gift ideas
Description
Thirty, flirty, and thriving is how we all want to approach this milestone year. Here are my favorite 30th birthday gift ideas.
Author