Father's day gifts come in all shapes and sizes and generally men are the hardest people to SHOP for.  I personally am a fan of gifting activities or experiences instead of "stuff" to celebrate and bring everyone closer together. Depending on your budget, there are so many ways to show the man in your life that you appreciate him. If you are having trouble thinking of a fun thing to do, here are 25 ideas for Father's Day activities to help you plan!
Father's Day Activities around Experiences
June is a perfect month to do outdoors activities. Its not hot all day, but it still is nice to cool off during the peak sun hours in the shade. Here are some great outdoor ideas to satisfy your need for nature- starting with the outdoor checklist:
Sunscreen- make sure it is sweat-proof and water-proof. Remember to re-apply.
Sun-gear- hats, sunglasses, and even SPF shirts are perfect for these days
Towels- whether in or near the water, it always good to have a few on hand
Footwear- flip flops are great for ease, but invest in a pair of amphibious shoes that work well in both wet, slippery situations, as well as dry, rocky conditions.
Moisture wicking/quick dry clothing- I would make sure that I had at least one shirt and one pair of shorts/pants that boast this fantastic fabric. Nothing worse than a soggy drive home.
Snacks, Snacks and Snacks- getting out into nature sounds great until you are there and HUNGRY! Being in more remote areas means its a good idea to bring things- just in case
Book in advance- once you have decided what you would like to do, BOOK IT. Father's Day weekend is known for its heavy focus on outdoor activities so don't wait and miss out!
These are just the basics, but it is a good reminder for the exciting Father's Day ideas to follow
1)White Water Rafting
One of mine and my husband's first excursions was going white water rafting on the Nantahala River in North Carolina with a group of friends. We had to drive a few hours to get there, but man, was it worth it! It was great to spend the day in cool water while the sun was in full blast mode.  With Father's day falling in June this is a great one of the Father's Day activities that serves as a great summer kick off.
Most excursions are around $60-$120 per person
Trips can be anywhere from 3-6 hours
Beginner courses are usually available
Raft guides are always a great idea for the adventurous but less experienced.
Here are tips on how to plan your rafting trip.
To find Google: "Rafting trips near me"
2) River Tubing
So you may not have category 3 rapids where you live. That doesn't mean you can enjoy a slow trip in an inner tube down a twisting river. There are rivers throughout the country that boast these lovely outings. Grab your water shoes and shades, this (kid friendly) trip is a great way to spend a lazy day.
Thrifty Mom Approved at around $10 per person
Some even offer cooler tubes so you can pack a lunch and drinks
Rope swings and swimming holes are usually found along the route
2-4 hrs depending on how long you wanna stay and play
Pick up a water proof case for any necessary valuables such a keys, phone, and wallets
Floating Waterproof Dry Bag Backpack 5L/10L/20L/30L/40L, Roll Top Dry Sack Pack for Marine Canoe River Kayaking Rafting Boating Swimming Camping Hiking Beach Fishing Sailing Paddling (Orange, 10L)
3) Canoeing/Kayaking Father's Day Activities
When my husband and I were first dating we used to strap a canoe to the top of his dad's truck and go to Latta Plantation on Mountain Island Lake in North Carolina. We enjoyed paddling around and finding shallows to take a quick swim in. We even just found out there is a canoeing trip down the French Broad straight to the Sierra Nevada Brewery- count me in! Even if you don't have a canoe of your own, this experience is worth the few bucks it takes to rent one.
Budget friendly at ~$50/4hrs
Usually fit 2 adult and 2 children in a canoe
No river require (a lake or small water area is great too)
To find Google: "Canoe/Kayak rentals near me"
4) Fishing Trip
Everyone in my family loves to fish, from my dad and father-in-law, all the way down to my littles. We try to take time throughout the year to get together and spend the day casting rod and casting away cares. This easy Father's Day activity is both relaxing and easy to set up. Whether you go to your local sportsman store for quick tackle items, or decide to charter a boat, this adventure will make a simple activity into a memorable day.
5) Disc Golf
Take the fun of golf and mix with frisbee, and you have the fantastic world of disc golf. This is a wonderful outdoor sport that involves walking through lush landscapes to move your disc further to the targets. I like this sport because you don't have to be overly athletic to participate and it is leisurely enough to chat with friends as you progress. You'll definitely get your steps in for the day as course can range from 9-18 holes.
Consider going to a sports consignment store like "Play it Again" to pick up the equipment.
Only 2 discs are needed to get started- the driver and putter (you can get a third "mid-range driver disc" but in my experience, it isn't required)
Most ranges have beginner-advanced tee-off areas to help with your skill level
To find Google: "Disc golf ranges near me"
6) Zip-lining
Safely soar through the tree tops and over rivers in this one of a kind adventure. You can find these in all sorts of places these days and even those rafting trips will have this option as a fun add on it you are trying to expand the Father's Day activity experience.
Zip-lining is an intense, fun and memorable life experience.
I consider it to be the baby step toward sky diving or bungie jumping.
Zip lines usually take one person at a time down a long wire hanging above a wilderness canopy.
Expect to spend around $50-$60 per person.
7) Train Rides
Here in North Carolina, a cool train ride experience isn't hard to come by. We typically go up to the Blue Ridge area, but in the Smoky Mountains, they have a "Beer Tastin' at the Station" event or a moonshine sample tour "Shine and Dine" which is sure to please Dad. Train rides are great because the cool open air breezes are exhilarating and the covered areas mean that you can avoid the heat of the beating sun.

Even if beer isn't your thing, this locomotive experience it a blast!
Tickets vary by train ride and experiences provided
Alcohol trips are 21+ only so get a baby sitter
Prices for the alcohol trips include food as well making this a great all included date
Other Out of the Box Father's Day Activities
8) Brewery tour
Breweries are popping up in every city, big or small. Does your husband have a favorite brewery he hasn't had a chance to visit yet- mine has a list longer than Santa's for the ones he wants to see. If you haven't had a brewery tour experience, they are usually free to the public or, (sometimes) for a small fee, enjoy tastings of all the beers. It's like a science museum where you get to drink while you learn!
Tours are usually free to go on
Many brewery's are family friendly.
Look for a brewery that has a patio with free things to do
We love NoDa brewery in Charlotte because they have a disc golf putting range!
9) Shooting Range
These days most shooting ranges are indoors. The ones that are outdoors still have a nice covered area away from the hot summer sun. My husband loves honing his target shooting abilities and if that's what he likes to do, then by all means, get out there Wild Bill. Shooting ranges are a safe location to practice your skills with helpful and knowledgeable staff members.
Range use costs around $10 per person
Skeet shooting is around $5 per person
Shot gun rentals for skeet shooting are often available
Picnic areas are usually around location of shooting ranges
10) Axe-throwing
I recently went and enjoyed this new sport- ever heard of Axe throwing? This is popping up around different towns and it is said to be "Better than darts!" We had so much fun learning and competing we didn't want to stop. In fact, we spent the rest of the day discussing how to build our own range at home.
This can be played with a minimum of 2 people up to 20 people
Usually cost around $40 per person for about 2.5 hours of throwing
The only requirement to participate is closed-toe shoes
11) Flight Lessons
Ever since my husband was little he wanted to fly a plane like his grandfather had done. Every year he would inevitably bring up this passion during a conversation, but he would always shoot down the idea because of the expense. With a little thrifty planning I decided to make it happen. I got him the gift that he wouldn't get himself. Now, in the event of a zombie apocalypse, I know he can safely fly us away.
12) Sky Diving
Free falling! Sometimes you gotta get 12,000 ft up into the air to remember that you're alive. This experience is once in a lifetime. If you like adrenaline, this is the best way to get it going. The nice thing about this experience is that the father that your honoring will be strapped to someone who knows what they are doing and isn't looking to die either. My friend's dad went on his 70th birthday. I guess they always say, you're never to old [to jump out of a plane at 12,000ft, strapped to another person, traveling at 120 mph], right?
13) High Speed Luxury Car Driving
There are several companies that boast this experience and most men would die to drive a Lamborghini at 120mph. These luxury cars are not just for millionaires anymore, they are available to be driven in the way they were meant- FAST! Even if you were the kind of person to rent one to drive around, you wouldn't be able to (safely) take it to full speeds in everyday driving situations. This is a really cool, once in a lifetime opportunity that would deliver adrenaline at every mile per hour reached.
Google: "High Speed Racing Experience" to see what's near you
14) Drag Racing Experience
Imagine driving over 100 miles per hour in just a few seconds- the burst of speed with the g-force pressing against his chest as his hands grip the steering wheel. Yep, that would make most men happy. This is such a neat opportunity for anyone to try, but it would definitely be a game changer as far as Father's Day activities are concerned.
15) Mountain biking
The more things in this world that you can enjoy that give you a workout and a sense of satisfaction the better. Mountain biking is a great hobby to get the man in your life into. In addition to just being a great cardio workout, it gets the adventuresome spirit men are known for, rolling (no pun intended). Mountain biking doesn't have to be as dangerous as it sounds to be challenging and exhilarating.
16) Scuba Lessons
Self Contained Underwater Breathing Apparatus- That's a super long way of saying "flippers and fun". The neat thing about scuba lessons is that it opens you up to future opportunities. When you go to the coast or even mid-west caverns, there are options to scuba dive if you are certified. Learning this new skill can lead to all sorts of new adventures and a new way of seeing the world.
17) Lunch with an astronaut
There are few people who have gotten to experience life outside of our atmosphere. I'd love to sit down and pick the brain of one of our most interesting national treasures- an astronaut. At Kennedy Space Center, you can have lunch with one! If you are into science and technology, this could be right up your alley. Included in the ticket is admission to Kennedy Space Center.
18) Surf Lessons
Cowabunga Dudes! If there is a beach, there is a surfing instructor. If there is a surfing instructor, there is someone to show you the way to riding the waves. In addition to a great form of exercise, you can't beat the fun of the ocean. These can be done as a group as well, so the whole family can get involved. I love the idea of a fun and challenging experience to help my family grow together. This would be so much fun for a Father's Day activity.
19) Rock Climbing
Ropes? Check. Chalk? Check. Shoes? Check. Endless amounts of fun? Double Check. Going to a rock climbing facility is a great way to experience rock climbing without having to worry about the bothers of the outdoor arena- my hand + bugs in crevasses = cringe just thinking about it. Indoor versions of rock climbing provide all the safety equipment necessary and helpful guides for the inexperienced. This is also a family friendly adventure.
20) Cave Explorations
There are many cave systems running throughout the country and this would be a great opportunity to see the beautiful creations the damp rock and mineral deposits create. Some of these systems even have underground ponds and lakes. This is an enchanting experience that will make you feel like you've stepped into a fair tale.

21) Ultimate Golfing Experience
Wouldn't be amazing to play a course that you've dreamed of? Going to professional level courses is the dream of any avid golfer and the locations they are in are usually worth the trip for any non-golfer involved. You can google "golf holidays in America" and see what everyone thinks internationally is the best we have to offer. Hit a hole in one with this gift!
22) Sporting Event with VIP seats
Just because his favorite event doesn't happen in June, doesn't mean the gift can't be for a future event. His favorite Pro Football team? His favorite major league baseball stadium? Give him the gift of the VIP experience with tickets to his favorite game, smack dab in the middle of the action. Find out what his dream experience would be. Is it court side tickets to an NBA game or sky box view for a hockey match? Find the thing that excites him and turn it up to 11!
23) Sailing lessons
Be the captain of your destiny. Or at least a small vessel for a few hours. Sailing lessons are full of different skills that you can use in your everyday life, not just on the water. From learning to tie knots to navigation (all our men could use a little more of that), there are many valuable things to learn all under the veil of sailing. This also guarantees that you will probably find yourself cruising the waters more and more as time goes on. Not a bad trade if I do say so myself.
24) Parasailing
Let's go fly a kite- a kite that can carry a person or 2. This is a very safe and controlled experience of flight. It is somewhere in between skydiving and waterskiing without the danger or skill required of either. I love the idea of being a hundred feet up in the air with my love, laughing and enjoying the beautiful sights.
25) Dinner of his dreams- Brazilian Steakhouse
Most fathers are pretty easy to please when it comes to food. So a dinner experience may not be what you think of when it comes to guys. Have you heard of a Brazilian Steak house? Imagine an all-you-can-eat buffet mixed with fine-dining. For one flat price, servers will bring around wood grilled meats for you to enjoy. Steaks, lamb, sausages- slow roasted to perfection that are absolutely mouth watering. This is a culinary experience to say the least. Look on Groupon to see if there are deals in your area.

If you liked this Father's Day Activity Ideas Post then you may also like this articles:
I hope this Father's Day Activity post has given you some inspiration for the Father's day experience that will memorable for a guy in your life!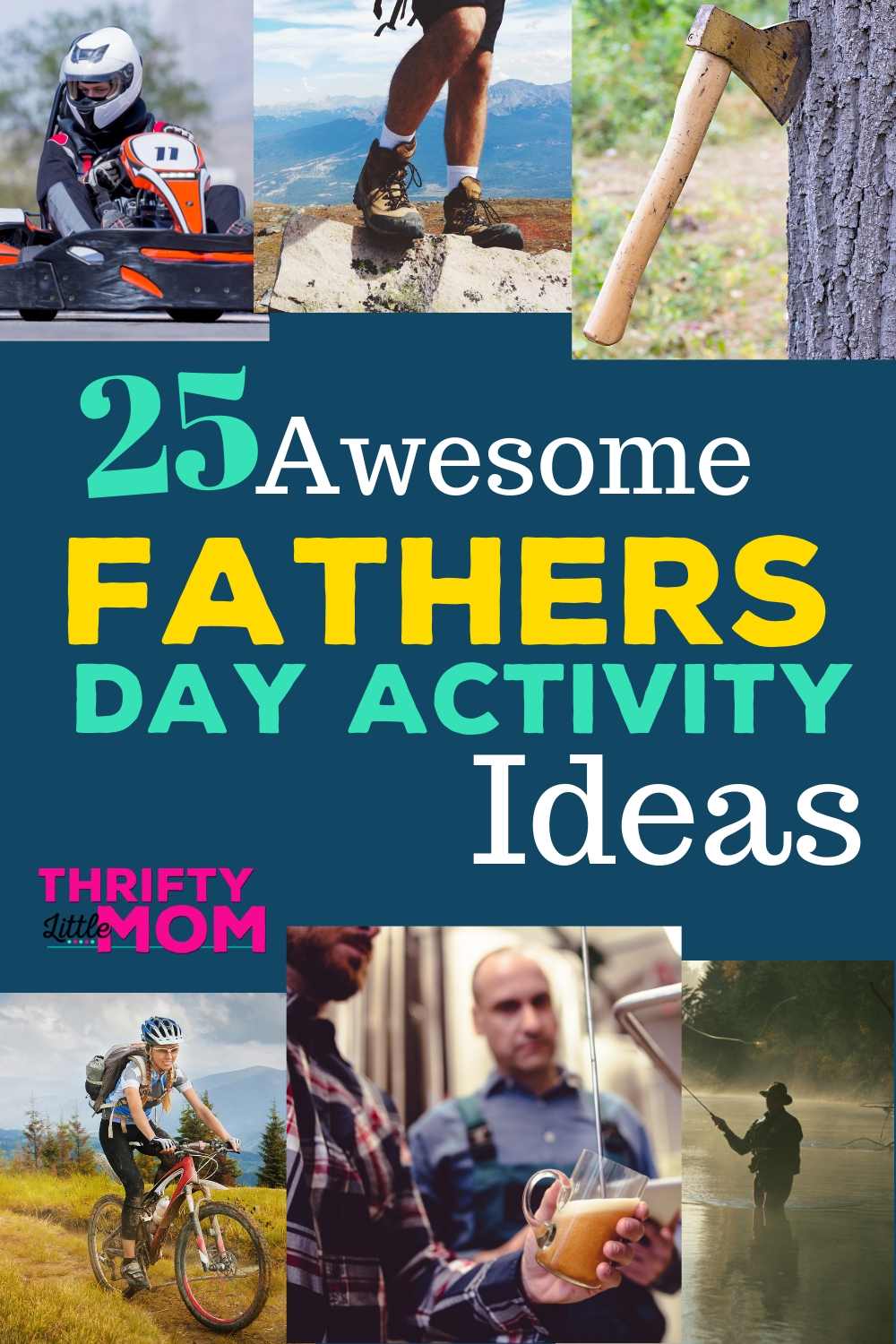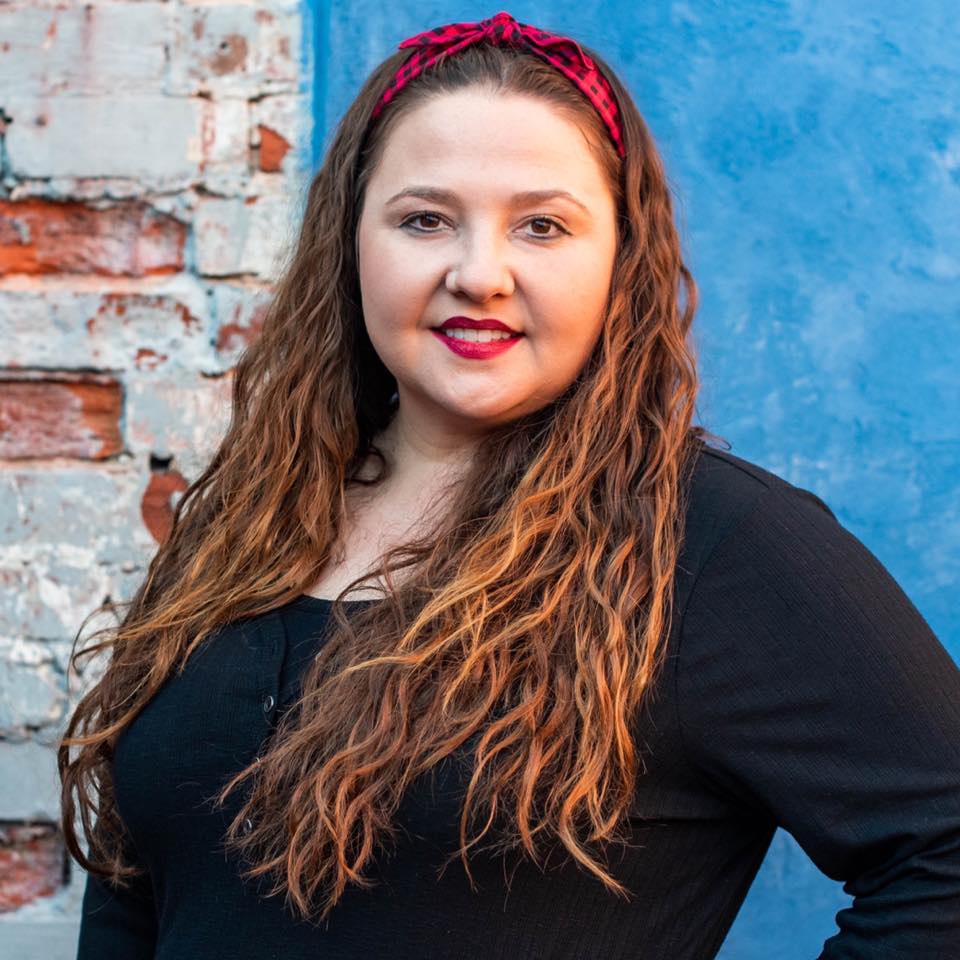 Kim's is the party planning, thrifty life-loving, intentional living catalyst behind the Thrifty Little Mom Blog. Kim was a pro event planner for over 7 years before she became a full-time blogger. Kim is the author of: Live, Save, Spend, Repeat: The Life You Want with the Money You Have. She's been featured on Time.com, Money.com, Good Housekeeping, Women's Day, and more! Kim aims to inspire you to create, celebrate, and live life intentionally!
Summary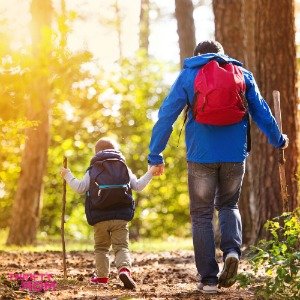 Article Name
25 Experience Based Father's Day Activities
Description
Having a hard time buying a gift for a father in your life? Skip the gift and pick one of these awesome Father's Day activities in your area!
Author
Kim Anderson
Publisher Name
Thrifty Little Mom