Moana Birthday Party Ideas & Planning Made Easy
This post contains affiliate links. As an Amazon Associate, I earn from qualifying purchases. I also earn from qualifying purchases made with other brands and programs. See my
privacy policy.
Ready to throw an awesome Moana Birthday Party?  This post is ready to inspire you with fun food, creative decor, and more!  Throughout the article, I provide ideas, how-to videos, shopping lists and more!
Moana Birthday Party Food & Drink Options
Keep it simple with Fruits and Veggies:
You can keep it simple with fruits and veggies, but if you want to go all out and impress your guests try your hand at making some of these unique Polynesian-inspired recipes!
Fresh Tropical Fruit
Fruit Dips
Fresh Veggies
'Otai-Tonga is a Polynesian fruit-based drink you can make!
Try my low calorie (no-alchohol) Sparkling Pina Colada Recipe
Haupia is simple coconut pudding.
In the Spring/Summer there are so many fresh fruits and vegetables, it is a great time to host a Moana themed birthday party! Fresh produce is the best party food because you don't need to worry about refrigeration or spoilage and they can be washed and cut several days in advance!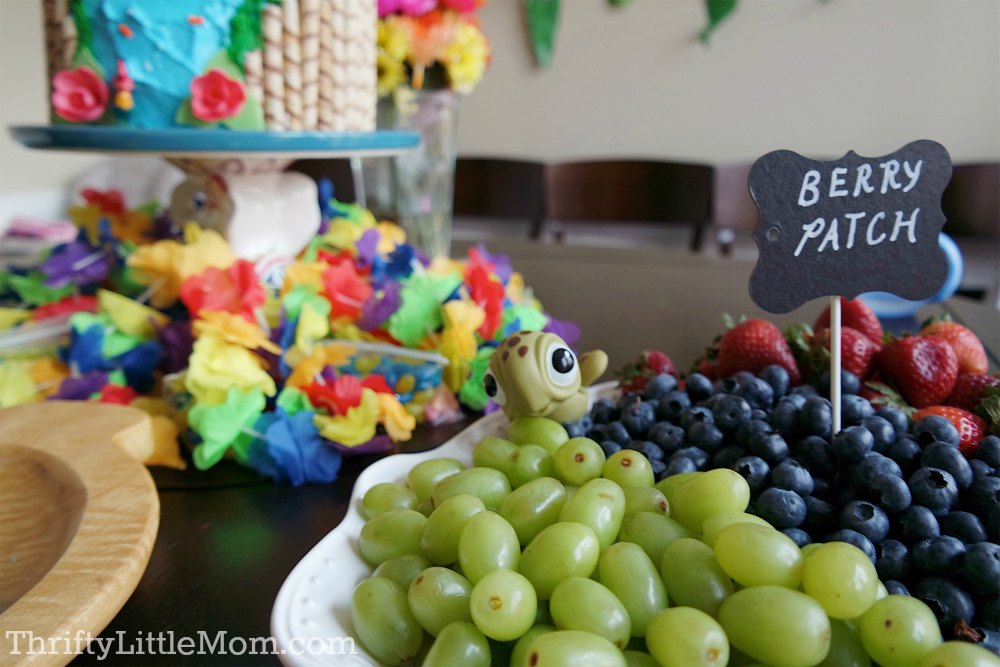 Watermelon Turtle Shell:
To elevate the typical Fruit Tray, use a watermelon as the vessel to hold cut fruit.
If you've ever wanted to carve a watermelon but thought it would be too difficult, try cutting the melon in half, scooping out the fruit to serve and simply carve the top into a turtle by scoring the 'shell' with a knife!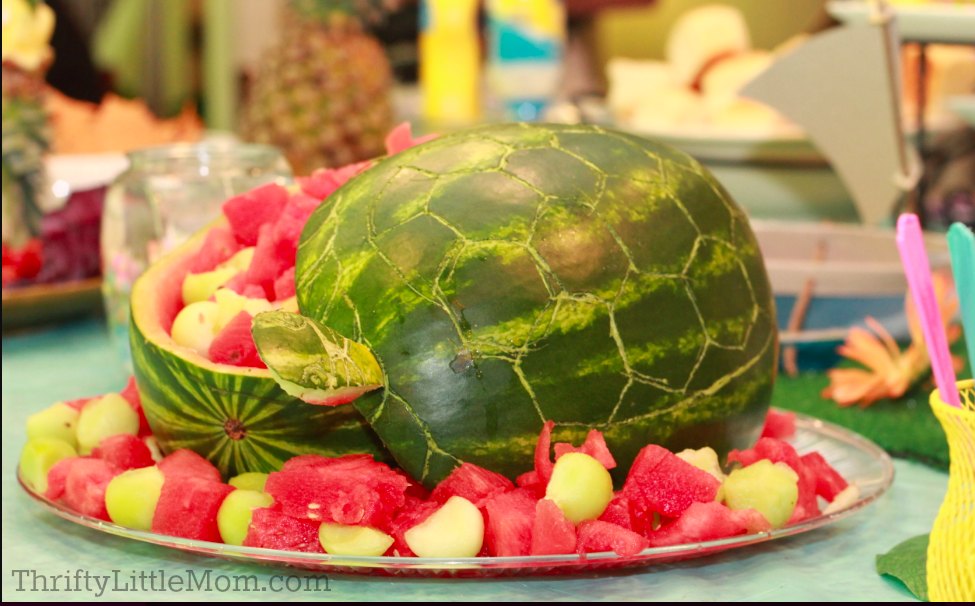 Want to see the shell making process in action? Check out this video:
Make Veggies Into Fun Tropical Shapes:
In a similar way Vegetables can be displayed by simply using purple cabbage leaves to hold veggies like carrots, sugar snap peas, cut broccoli, cauliflower, cucumbers, etc. and while you're at it use a carrot and bell pepper to make a palm tree held together with tooth picks.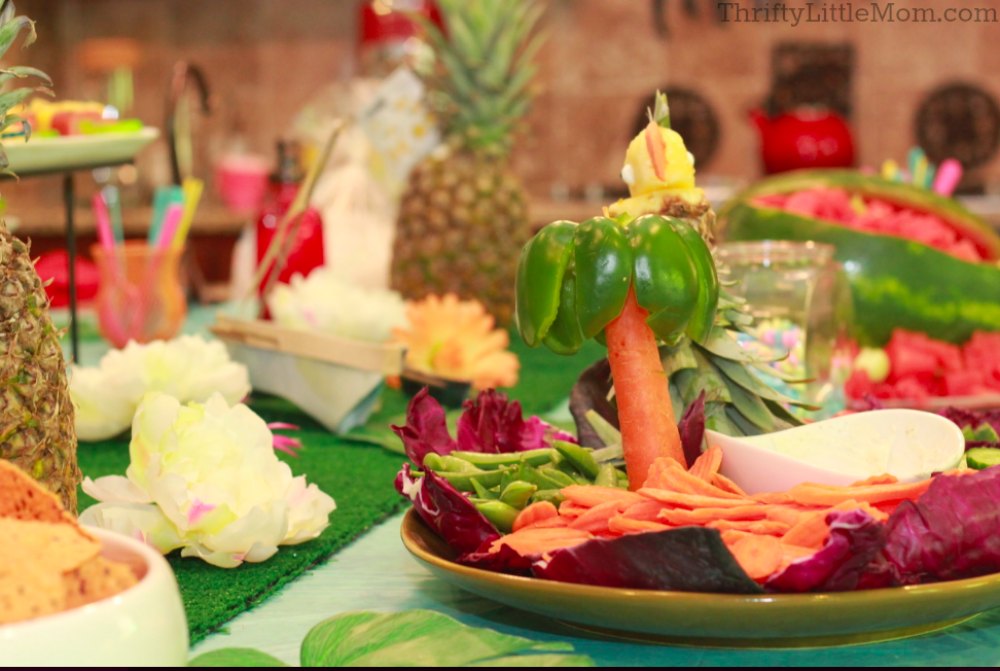 See how to make these fun pepper palm trees in this step by step video:
Skewers Make an Instant Island Feel
For skewered snacks think outside the toothpicks by using fun drink stirrers or straws instead of just wooden skewers.
A wonderful cooked sausage and cubed pineapple makes a deliciously hearty island snack.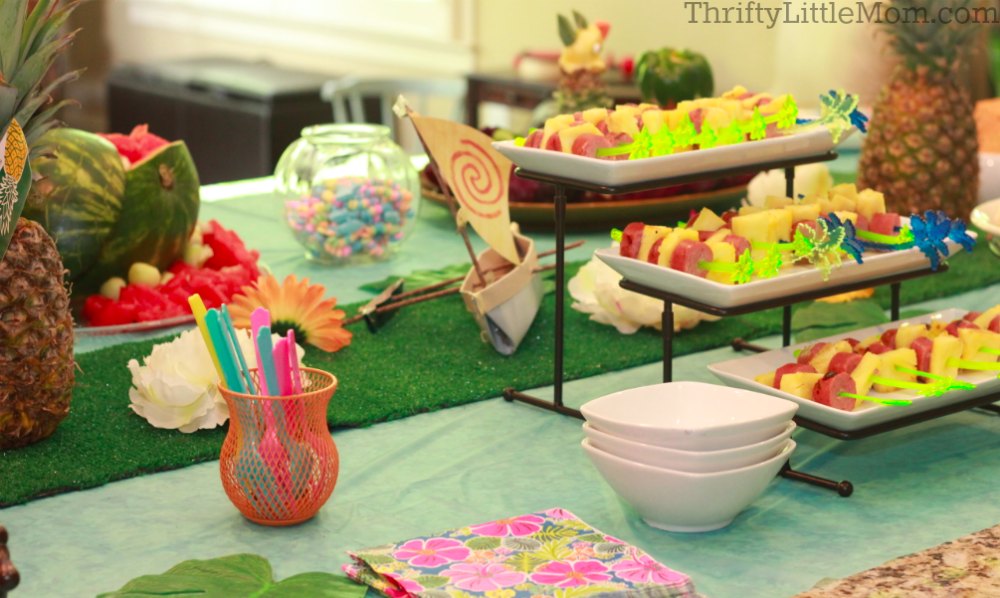 Creative Moana Birthday Party Dessert Ideas:
These delicious "driftwood" pretzels are very easy to make.
Using white chocolate and blue food coloring, dip the pretzels half way into the mixture.
Add sprinkles and a cute chalkboard description, this makes for a colorful and thematic treat for your Moana birthday party!
Want to learn how to make our own chocolate covered pretzel rods? Check out this Chocolate Pretzel Rod tutorial!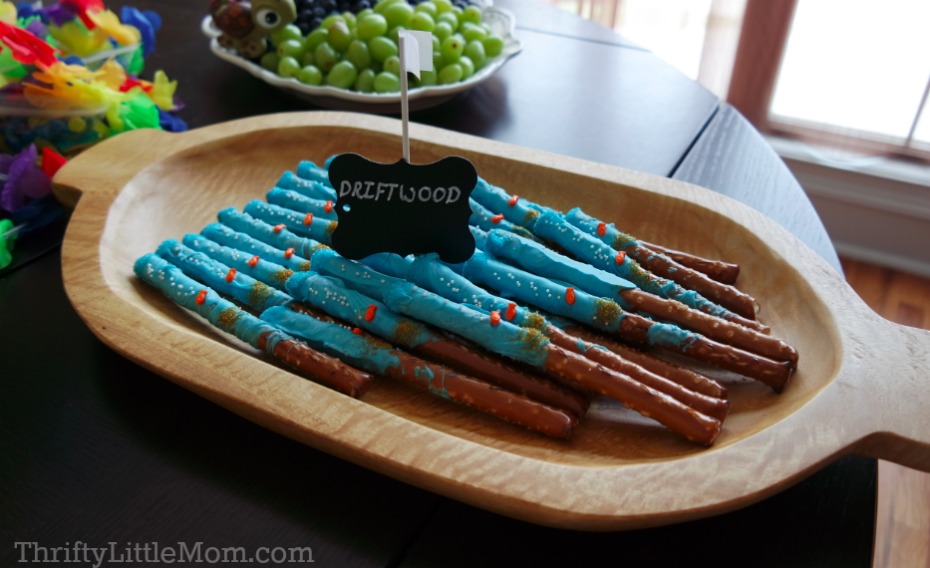 The Moana Birthday Party Cake-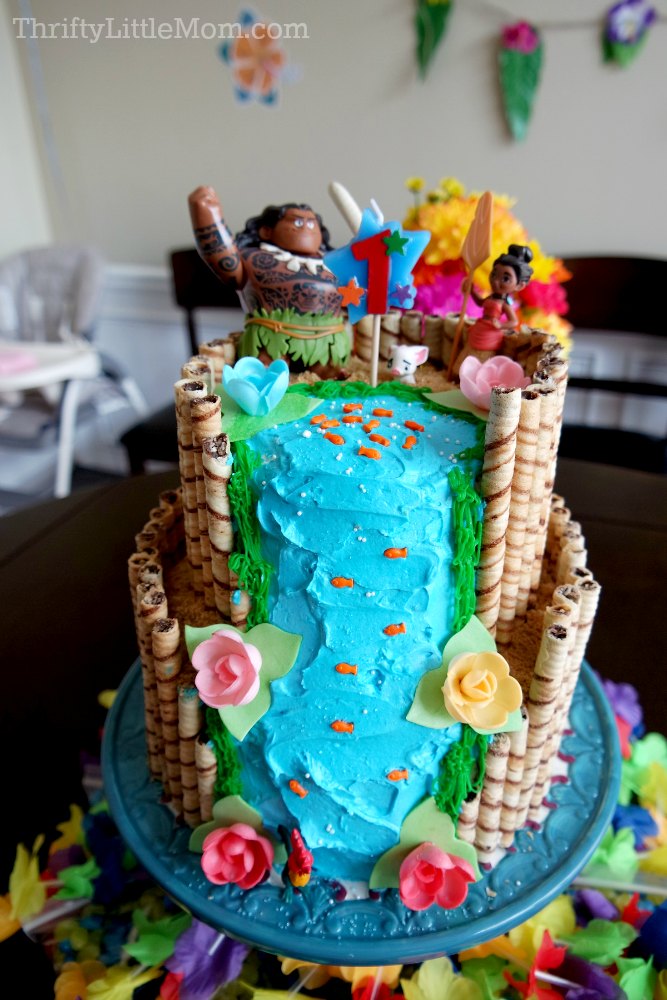 The icing on the cake would be… well, a beautifully themed iced cake!
Using two different sized round cake pans, layer accordingly and frost as you normally would placing Pirouline rolled wafer cookies along about ¾ of the outside vertically leaving space for the blue tinted buttercream frosting 'waterfall' accented with flowers and topped with Moana figurines like the ones in the shopping list below from Amazon.
Here's a video tutorial to show you how to make this cake at home:
---
More Moana Birthday Party Decor Ideas
For the island décor make your own Coconut Trees by simply cutting leaves out of construction paper, using brown crepe paper for the trunk and golden balloons for the coconuts.

If you don't feel comfortable free handing the leaves, google search a palm leaf image, enlarge, print, cut and now you have a stencil!
The rest can be done by simply taping the leaves, trunk (just dangling brown crepe paper) and coconuts onto the wall! Don't forget to make easy buntings by cutting and knotting together leis to hang in the party room.

Finally, beautify the buffet table by adding a colorful vinyl table cloth layered with artificial turf, silk hibiscus flowers and leaves cut from construction paper.
Moana Birthday Party Dress Up Ideas
Of course when it comes to themed party fashion, Amazon is a great place to order your Moana inspired clothing or try a personalized T-shirt/Onesie from Etsy.
AmzBarley Moana Dress Up

If you'd like to make a tutu for your island girl, it is super simple and thrifty to make- just purchase one pack of 1 inch elastic and spools of tulle ribbon in the colors you would love.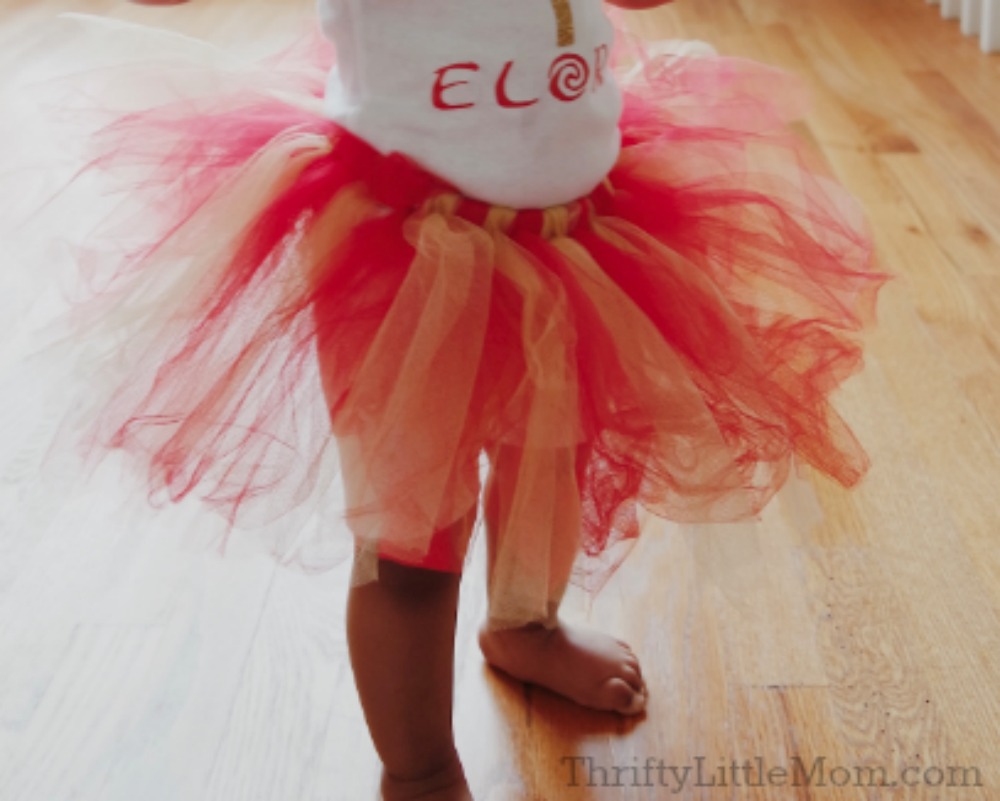 Moana Birthday Party Skirt Instructions:
Cut the elastic to fit the waist of the person wearing the tutu.
Determine the length you would like for the tutu
Double that length
Cut several strips of the tulle ribbon
Keeping the elastic straight fold the tulle in half and tie onto the elastic by pulling the raw tulle ends through the looped end
Continue with each cut tulle ribbon strip until you reach your desired fullness.
At this point try the skirt on your island girl and safety pin the elastic to fit. You can either keep the safety pin in place or stitch the ends by hand or with your sewing machine. To finish off your party ware, don't forget some colorful leis!
Watch this quick tutorial to see how to make your own skirt step by step:
Easy Moana Party Entertainment Ideas:
Now what do you do to entertain the kiddos? Kim and I have previously talked on the TLM podcast about scouting high schools and colleges for talent! Drama/theatre faculty know their students and can recommend those who are not only gifted, but can command the room (which you will need with children). The best thing to do is put the casting call out on your own social media pages as well as email local faculty with your special request including all of the specifics:
date
time
location
talent needed
amount the job pays
Our party entertainment was a college student who sang, played the guitar and even had the kids up dancing the hula. Her voice is so beautiful she literally moved the parents to tears while mesmerizing the children during the sing along!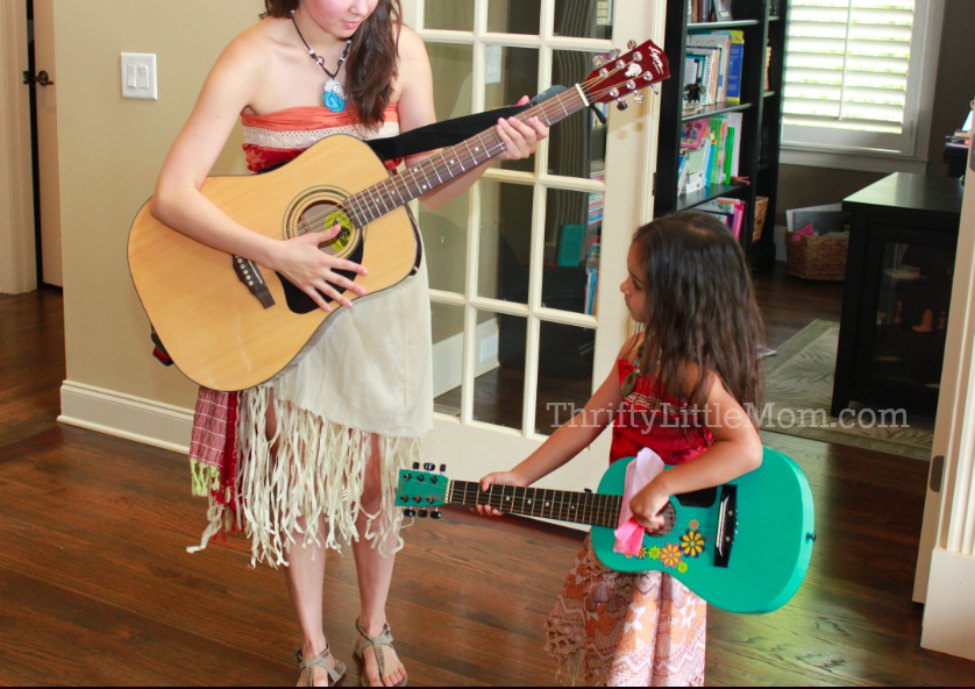 Moana Birthday Party Favors:
Lastly, what party goer wouldn't want to go home with a Candy Kabob for a party favor? Skewer up some colorful gummy candies, drop them in a clear cellophane bag, tied with a ribbon and/or flower and display in a glass vase with a heartfelt 'thank you for celebrating with us' card. And, of course, because it is a Moana birthday party, "You're Welcome!"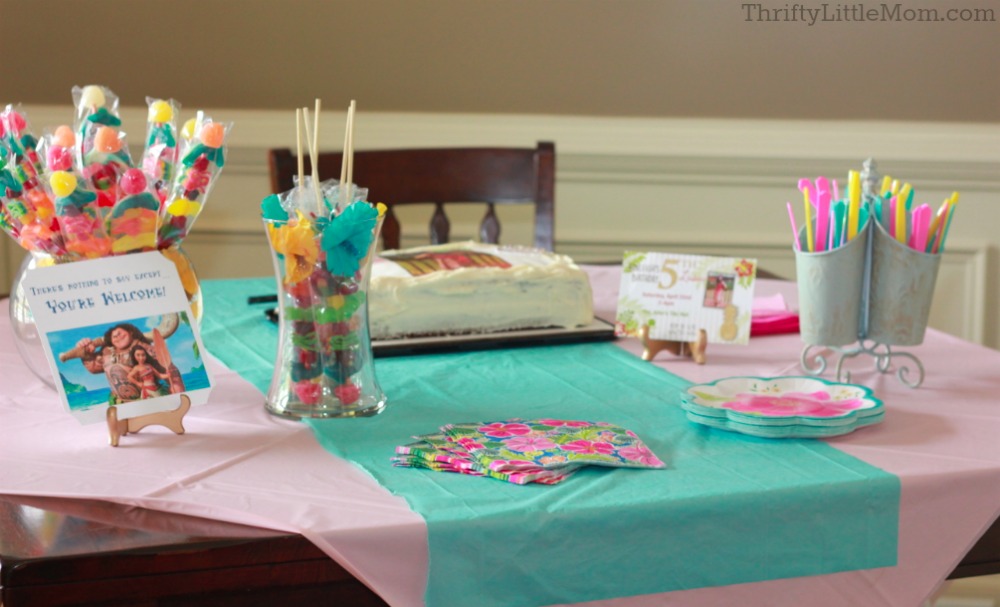 Shop Moana Party Supplies for Favors straight from Amazon:
Please, share your party pics and ideas on all social media platforms with the #thriftylittlemom.
Shop the Moana Party Supplies & Look on Amazon:
Just to make this easy if you want to go ahead and order your supplies and have them heading to your house today, I've made this list of options from Amazon!
Party Supplies & Decorations:
A2ZPlusmore 12 Moana The Movie Birthday Invitations (12 5x7in Cards, 12 Matching White envelopes)
Tropical Luau Hawaiian Summer Party Supply Pack for 50 with Decorations Includes Plates, Napkins, Cups, Tropical Palm Tree Table Centerpiece, Hibiscus Garland, and Pineapple Centerpieces!
7 Inch Plastic Cocktail Ice Drink Swizzle Sticks Tropical Palm Tree Set of 50 by GOCROWN
(Food & Fruit Kabobs/ Drink Mixers)
Myamy 36 Counts Hawaiian Leis Necklace Tropical Luau Hawaii Silk Flower Lei Theme Party Favors Wreaths Headbands Holiday Wedding Beach Birthday Decorations (3 Dozens)
Party Essentials Hard Plastic Cutlery Combo Pack, 96 Pieces/32 Place Settings, Assorted Neon Brights
Wilton Turquoise Candy Melts Candy, 12 oz.
Wilton Turquoise Candy Melts Candy, 12 oz.
(For the Driftwood Pretzels)
Wilton Industries 710-4648 Disney Pixar Finding Dory Sprinkles (Fish on the Driftwood Pretzels)
---
Grab the cake supplies for the cake on Amazon:
Love the cake and want to make it yourself? Here are the accessories you can snag on Amazon!
Wilton Industries 710-4648 Disney Pixar Finding Dory Sprinkles, Multicolor

Pirouline Artisan Rolled Wafers – Dark Chocolate – 14 oz
Honey Maid Graham Cracker Crumbs (13.5-Ounce Box)
(For the sand look on the cake layers)
Before you go, check out this awesome deal on my printable Kid's Birthday Bash Planner (you can use it over and over again!)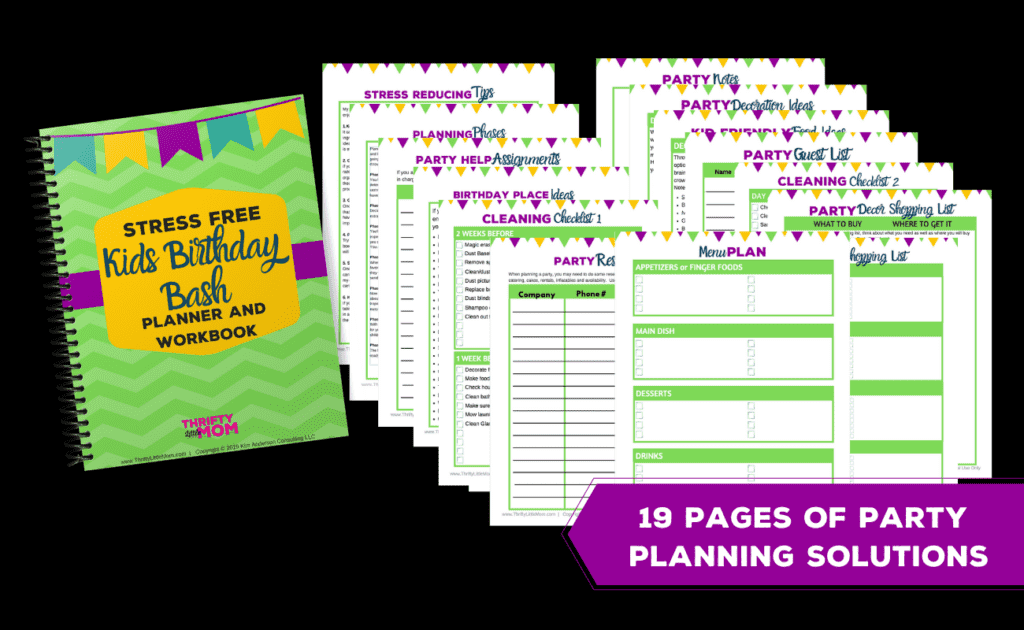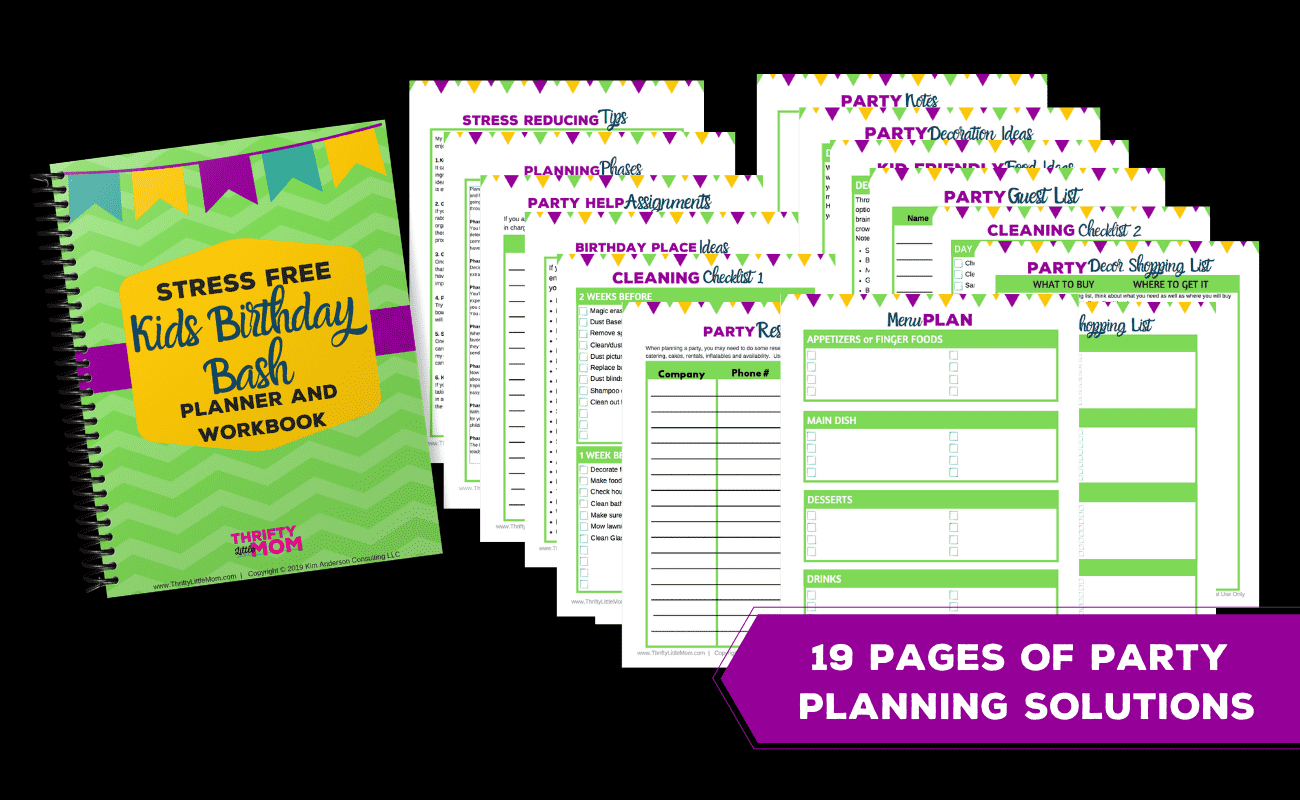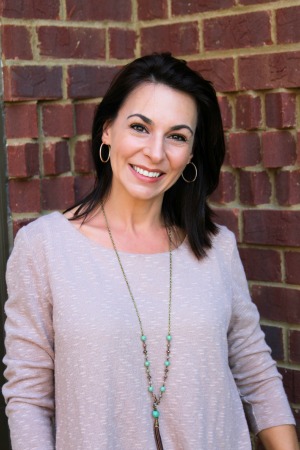 Rhonda is the owner of My Symphony Seasonings, LLC located in Georgia. She has a passion for good food, health & entertaining which was the perfect combination for creating My Symphony Seasonings, a company that encourages you to cook and eat whole foods, close to nature by providing original recipe blends of organic herbs & spices, free of fillers and artificial preservatives to add flavor, richness and health benefits to your dishes!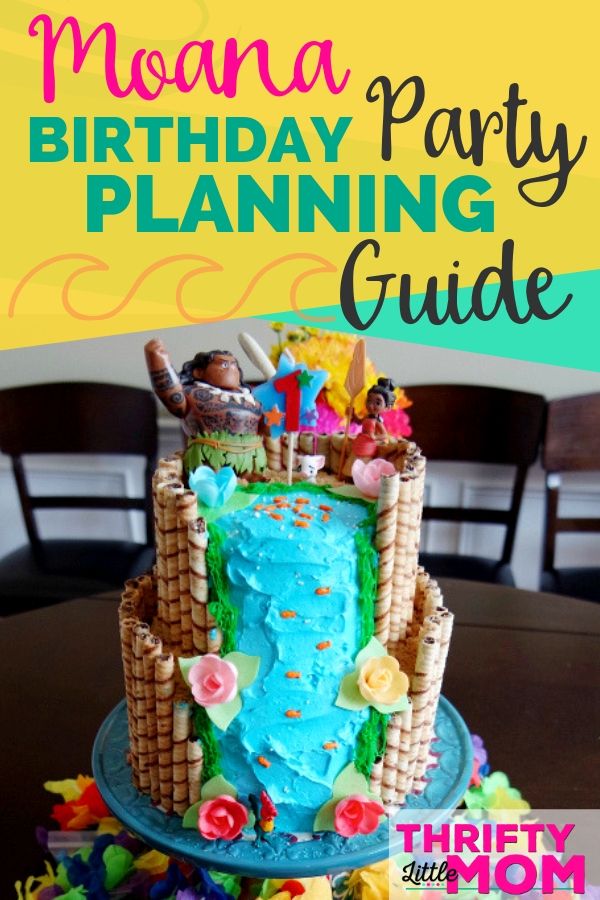 ---
Other themed party ideas from Thrifty Little Mom: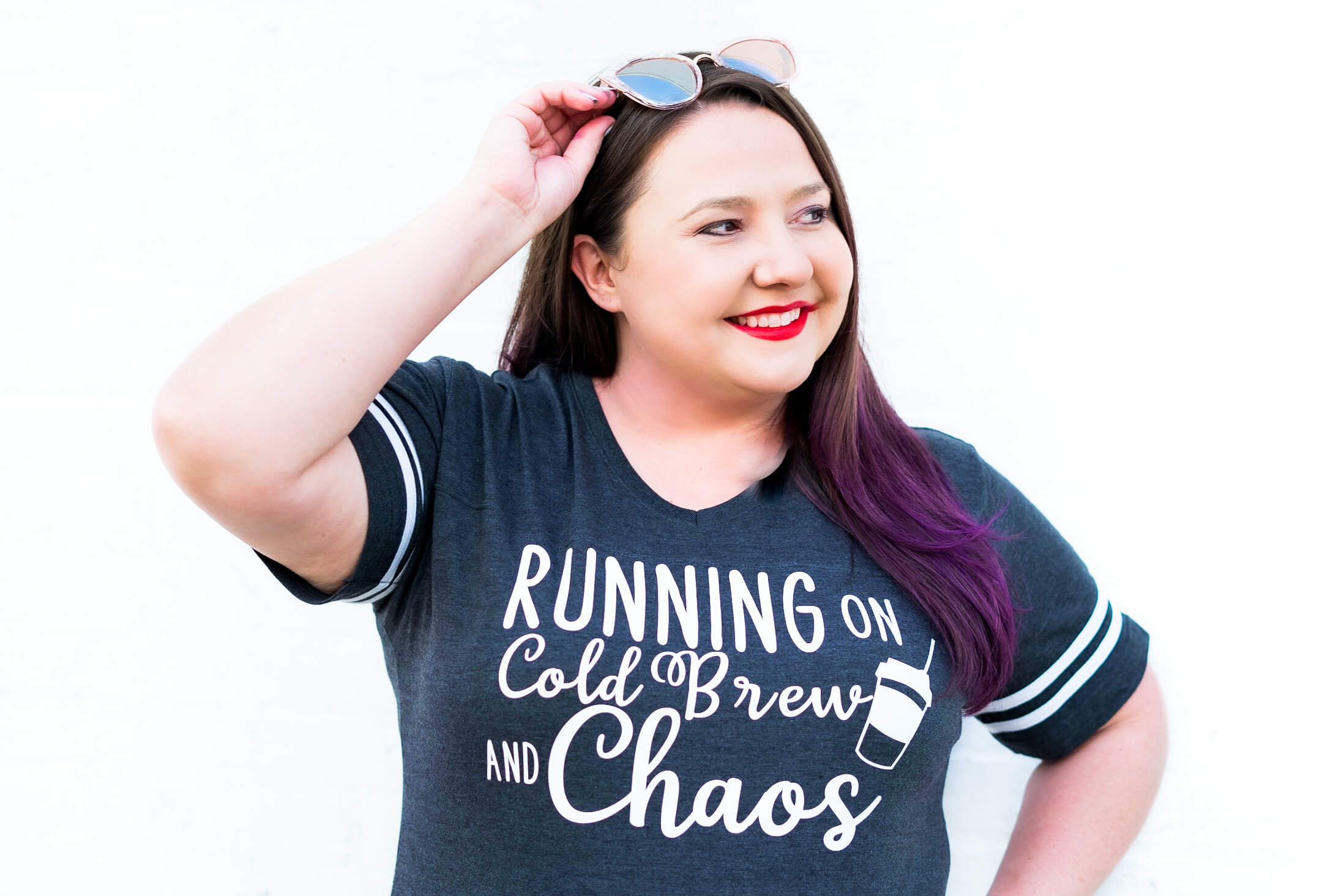 Kim Anderson is the organized chaos loving author behind the Thrifty Little Mom Blog.  She helps other people who thrive in organized chaos to stress less, remember more and feel in control of their time, money, and home. Kim is the author of: Live, Save, Spend, Repeat: The Life You Want with the Money You Have. She's been featured on Time.com, Money.com, Good Housekeeping, Women's Day, and more!