15 Purr-fect Cat Birthday Party Ideas
This post contains affiliate links. As an Amazon Associate, I earn from qualifying purchases. I also earn from qualifying purchases made with other brands and programs. See my
privacy policy.
We millennials are setting a new standard when it comes to our love for our fur babies. With more of us treating our animals like proper parts of the family, we are starting even to celebrate their birthdays and "Got you day". Here are some fun ideas that hope inspire you as you prep for your cat birthday party!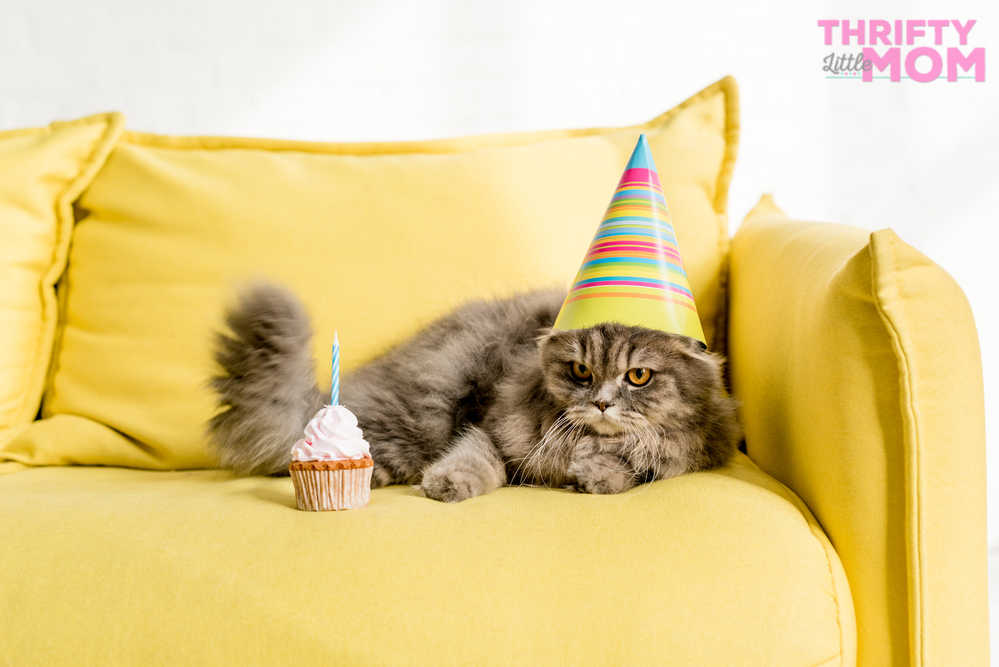 Cat Birthday Party Ideas: Invitations
If you are ready to have an excellent "PAW-ty," get your guests excited with fun invitations. I love sending invitations in the mail. You can create a Facebook event or even send an E-vite, but there is something so special about receiving an actual physical card.
Kitty Cat Face with Pink Blue and Purple Watercolor Flowers Birthday Party Invitations for Girls, 20 5″x7″ Fill In Cards with Twenty White Envelopes by AmandaCreation

Cat Birthday Party Ideas: Decorations
Photobooth:
When setting up for a party, I like to try to include an area for friends to take cute photos during the event. These photo opportunity areas encourage group photos and help remind you to take a few photos to remember the party. I like finding a fun backdrop or curtain and adding a few props to it.
Kitten Photo Props (32 Pieces) for Photo Booths, Kids Birthdays, Cat Parties and More! Our Kitten Photo Prop Party Favors are Pre-Made (Not DIY) for Your Convenience!

Bunting:
I love making a bunting for any style of party, especially with an Easy No Sew Bunting Template. You can choose to make one of these with adorable patterns and colors. I love looking for cute fabrics that will fit the theme of the party. I've seen spaceship cats, tie-dye cats, and even grumpy cat fabrics you can purchase. If DIY isn't your style, this is my favorite cat birthday party bunting.
Birthday Cat Garland, Photographic Cat Faces Birthday Banner, Kitties Bday Party Bunting Decoration

Balloons:
I try to bring balloons into any party I host. The reason why balloons are perfect is that they create height in decorating, but you don't have to worry about them falling if you fill with helium. Try bundling the balloons together and placing them in corners of the room or on either end of the bunting to make a layered statement.
30pcs cat ballooncat Rose Gold letter Meow Party Decorations Kit Include Gold Confetti Balloons, Meow Cat Claw Latex Balloons,Animal Birthday Adjustable Hat and Bow,Pink Ribbon, Cat Interactive Stick toy

Tablecloth and Paper Products:
If you plan on having a Cat-Cake or regular refreshments for your guests, you can add a tablecloth the bring the theme together. Pick a funky one that matches your color scheme. They have created cute sets with cups, plates, and napkins to celebrate the little ball of fur in your life. I like the all-in-one pack when choosing a specialty theme.
177 Piece Cat Theme Party Supplies Set Including Banner, Plates, Cups, Napkins, Tablecloth, Spoon, Forks, and Knives, Serves 25

Extras:
I saw these party hats and masks, and I flipped. They are so much fun, and if you wanted to add them to your list of cat birthday party ideas, I highly recommend them.
Cat Masks with Party Hats Halloween Kitten Masks for Kitty Cat Birthday Party Kids Costumes Dress-Up Party Supplies(12 Pieces)
FAYEAH Cute Birthday Party Cone Hat and Blingbling Bow Tie Breakaway Collar Set with Adjustable Headband for Small Dogs and Cats (Red)
Cat Birthday Party: Cat-Cake Recipe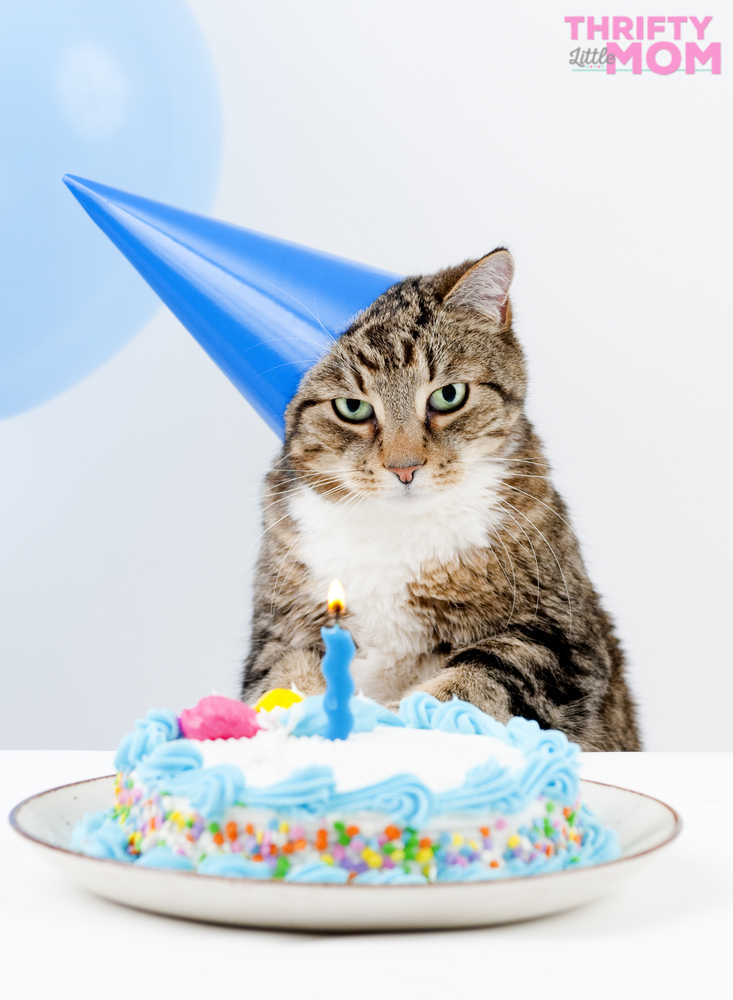 If you want to make your cat's cake from scratch, there are plenty of tasty treats that cats can eat that are both normal to their diets and able to be cooked into a cake. The most common is to use canned tuna. As we know, the kitties go crazy at the sound of a can, so they will be very excited to see their treat.
Here is how I would make a cat-cake at home.
Cat-Cake Ingredients-
1 can of tuna

1 egg

.5 ounce shredded cheese

1.5 tablespoon of all-purpose flour

1 teaspoon dried catnip

Shrimp or other fishy garnish
Cat-Cake Baking Directions-
Heat your oven to 350 degrees Fahrenheit.

In a small bowl, mix the can of tuna with cheese, catnip, and flour.

Separate the egg white from the yolk.

Add the egg white to the tuna mix.

You will want the mixture to be more runny than firm, like that of cake batter.

Once you thoroughly mix the ingredients, pour into muffin or cupcake style tin.

Cook cat-cake in the oven for about 15 minutes.

Remove the tin and let cool.

Place on a plate and garnish with shrimp.
Cat-Cake Colored Icing (optional)
You may know if your cat has a dairy sensitivity. Some cats are perfectly fine with it, and others do not respond well. You can make icing to decorate using this mash potato recipe. Here is an effortless way to make a fun icing for this cake.
Ingredients
Instant mash potato mix (look for a dairy-free flake option if your cat has a sensitivity)

Water for the mash potato recipe

1 tablespoon cream cheese (optional)

Coloring options

1 tablespoon juiced spinach leaves if you would like light green

.5 teaspoon of spirulina powder for blue/green

1 tablespoon juiced beet for pink

1 tablespoon juiced carrot for yellow/orange
Directions
Make mash potato recipe accordingly and cool.

I like mine to be on the thicker side rather than runny so that it will stick to the cake.

Add cream cheese if you choose to. (I mostly use it to help whiten the recipe and kitty-cats love it)

Add coloring and mix well

Using a spatula, spread "icing" onto the cake.
There are plenty of great recipes for how to make a cat birthday cake online. Mix and match your favorite ingredients to craft a one-of-a-kind tasty treat for your fur-baby.
Cat Birthday Party Ideas: Gifts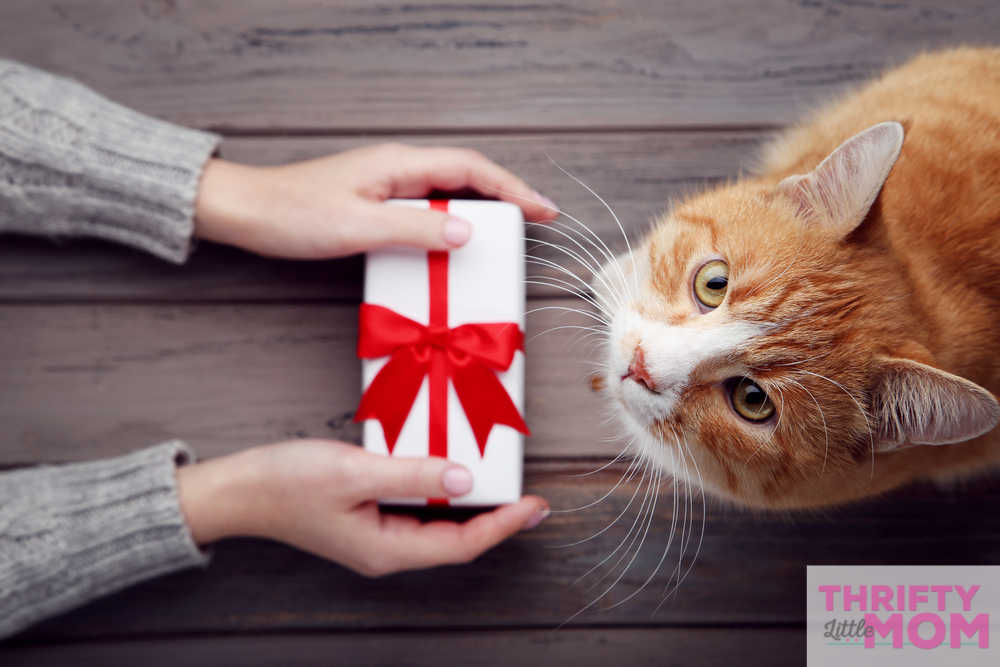 Getting great presents for your cat can be the most fun shopping excursion you go on. I always get stuck on the pet aisle staring at all the cute new items that they have created for our sweet fluffies. Some of my favorite cat-based things can be bought in bulk too.
Small Gifts:
Batting balls- these are the cute little balls that are either plastic or fabric that excite cats

Feather on a stick- cats love the hunt, and these can create an excellent time for you both to play together

Catnip Mice- these tiny, fake, mice are filled with catnip to get your cat going.

Crazy Circle- this toy is a plastic circle that has a ball in a channel that the cat will try to get to, but it will not release. The ball will go in a circle.

Collars

Treats

Cat grass
TotalGreen Holland Amazing Cat Grass Grow Kit | Grow Your Own Pet Grass from Seed Indoor in Just 5 Days | Cat Treat | Unique Indoor Greenhouse | Grow Healthy Cat Treats & Toys | Pet Snack
Large gifts:
Scratching post or cat climbing tree

Cat shelves- these shelves attach to the wall and are perfect for small apartments or avoiding dogs.

Timed auto feeder- this feeding bowl allows you to maintain a feeding schedule and avoid over-feeding.

Window cat perch is perfect for bird watching in the afternoon sun.

Outdoor cat play tent

Cat watering fountain- I love this watering fountain for cats and dogs.
Pedy Cat Water Fountain, 1.6L Automatic Flower Water Fountain, Pet Water Fountain for Cats and Dogs with Carbon Filter

Want more Cat Birthday Gift Ideas? Check out this Amazon list of Cat Gift Ideas.
Check out these 101 Things to do with your cat! You might just find one that would make a great birthday activity or outing!
I hope these cat birthday party ideas help you to craft the perfect celebration for your special furry friends. Make it a purrrrr-fect party!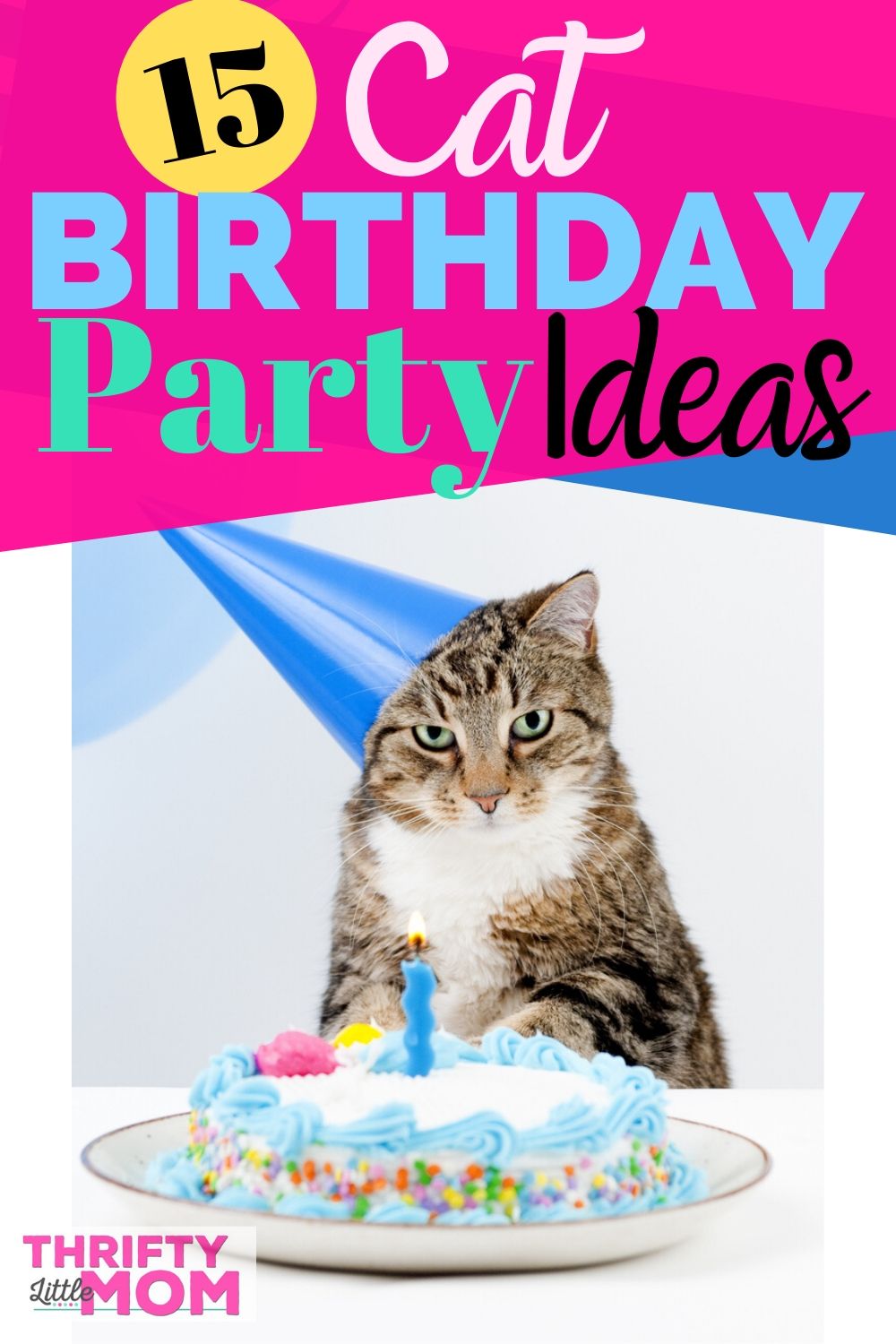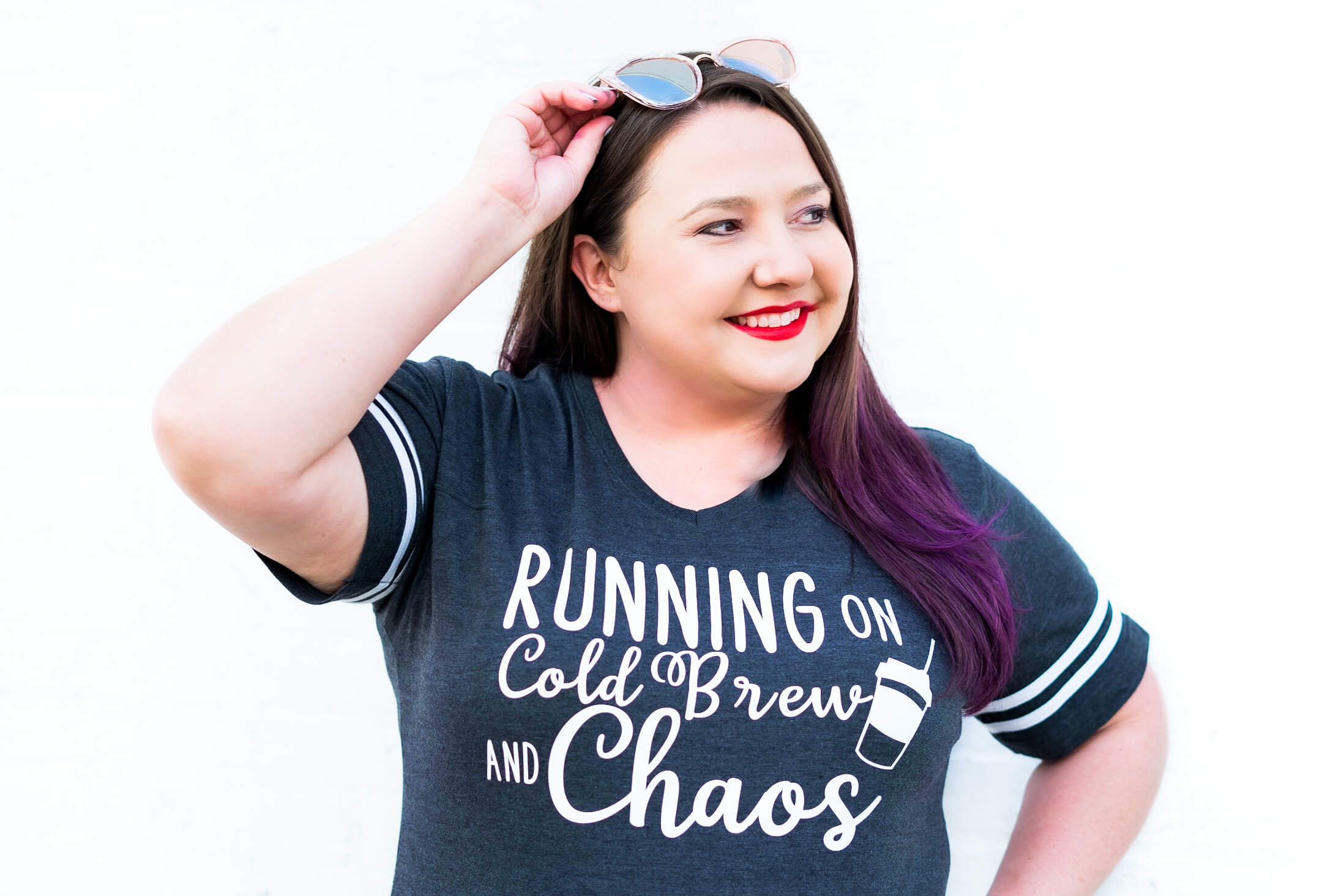 Kim Anderson is the organized chaos loving author behind the Thrifty Little Mom Blog.  She helps other people who thrive in organized chaos to stress less, remember more and feel in control of their time, money, and home. Kim is the author of: Live, Save, Spend, Repeat: The Life You Want with the Money You Have. She's been featured on Time.com, Money.com, Good Housekeeping, Women's Day, and more!
Summary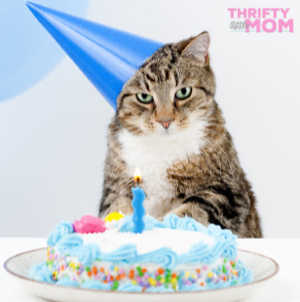 Article Name
15 Purr-fect Cat Birthday Party Ideas
Description
If you are the kind of person that holds your feline friend on the same level as family, then let me tell you my favorite cat birthday party ideas.
Author