10 Easter Games for Kids of All Ages
This post contains affiliate links. As an Amazon Associate, I earn from qualifying purchases. I also earn from qualifying purchases made with other brands and programs. See my
privacy policy.
Now that all my children are getting to the age where they can fully enjoy seasonal games, I want to make an effort to bring as much fun to our celebrations as possible. After we finish our super easy Easter Brunch menu, it is time to party! I remember being young and experiencing the classic Easter egg hunt. We had other fun activities to engage in that have flooded back to mind over the years. So, let me tell you about my favorite Easter games.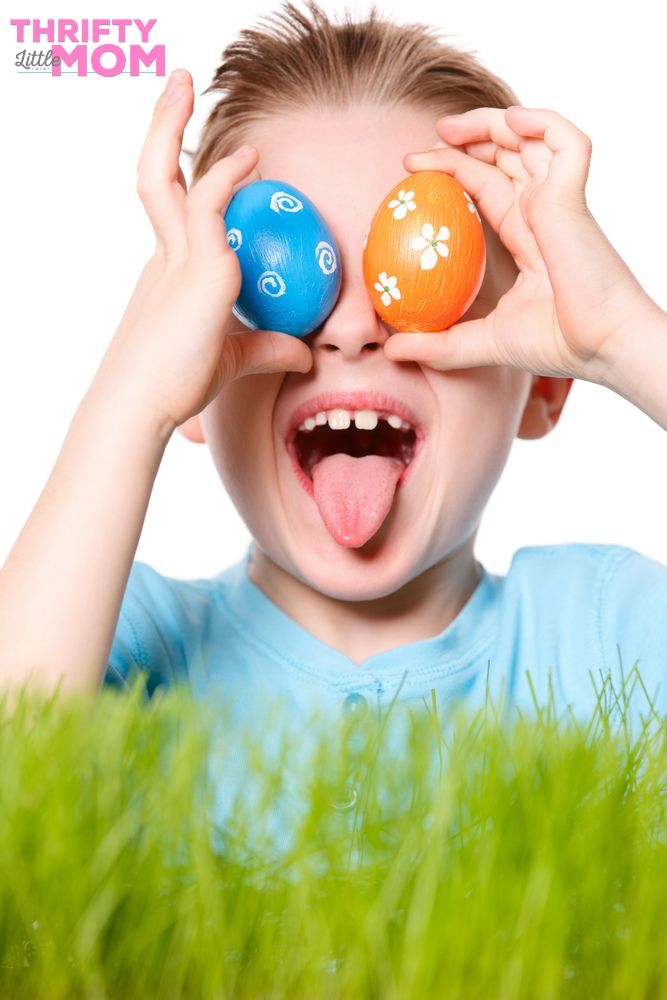 Traditional Easter Eggs
While the origin of Easter eggs is still up to some debate (which came first the holiday or the egg), one thing we know, Easter eggs are here to stay. There is much symbolism given to these eggs. It is essential to explain why, as Christians, eggs were an important part of the celebration.
Why the Egg?
During Lent, you remove meat from the diet (some will choose another vice or item other than meat). This removal of meat is as a sacrifice until Easter. Eggs were a prominent "staple food" during this season. In Christianity, the egg is to symbolize the resurrection of Jesus from the tomb, breaking out of the grave. The eggs were traditionally dyed red to represent the blood that Christ shed on the cross on "Good Friday." Now, we enjoy coloring the eggs in all different colors and styles. There are ways to use natural foods to hand dye eggs and even kits that have excellent galaxy dyes. You can purchase a classic package that is reminiscent of the same one I used back in the day. Oh! How I loved that little metal dipper! The process, however, seems to have stayed the same overall.
PAAS Friends Egg Decorating Kit, Medium
The Science of Dying Eggs
Wonder how it works? Here's the Science!
Choose your Eggs Wisely!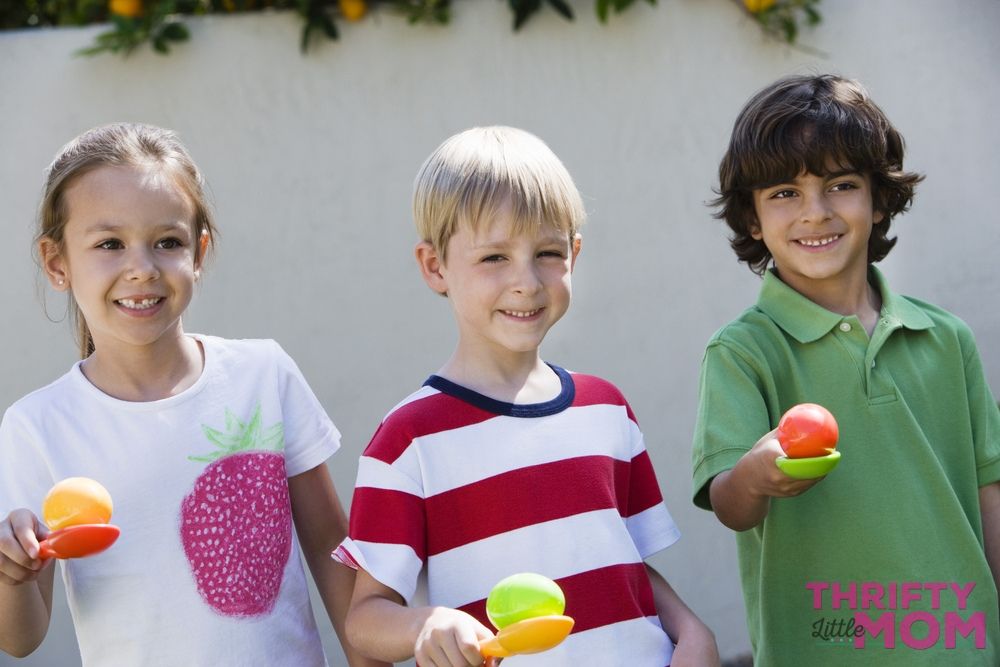 When I was growing up, we always boiled eggs for Easter. It wasn't until I was a little older when the plastic, colored eggs became the rage. I think we all grew tired of eating egg salad for the two weeks after Easter had passed. We would get very excited at the contents inside the little pastel-colored ovals. We knew that in one of the eggs, there was a coveted $10 bill (my dad loves chaos, I think). So, to this day, we tend to go with plastic over boiled.
Pros VS Cons
BOILED EGGS and kit are usually less expensive overall ($.98/Dozen and ~$3 for the basic dye kit)
If you have food coloring and vinegar, you don't need to purchase a kit at all!
Eggs are a healthier food option than the candies that usually found in plastic eggs
"Lost eggs" will be found by wildlife or biodegrade naturally
If you have a lot of children, then you will have a lot of eggs to eat in the subsequent weeks
Dye kits are messy and can stain furniture and clothing if not adequately protected
PLASTIC EGGS can be purchased for ~$1/dozen at Dollar Tree
Candy packs can be chosen from the same location to fill eggs
When filling with chocolates or similar, if left in the sun too long, candy will melt
"Lost eggs" will be lost until the end of time
Plastic eggs can be reused for several years
Giraffe – Easter Eggs (150-Pack)
Classic Easter Games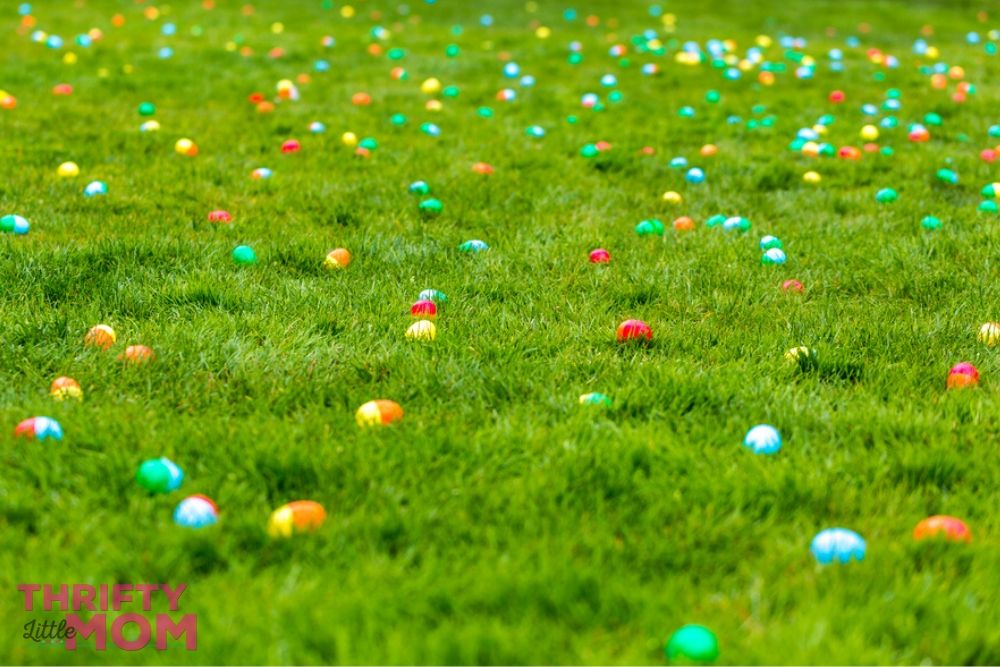 1) Easter Egg Hunt
A traditional Easter egg hunt is a staple activity of the festivities.
If you are throwing a large Easter gathering, consider having two-three areas for egg hiding

1-5 years are hidden to be found by little eyes and slow legs- so in plain sight
6-9 years can be done more inconspicuously with challenging areas
10+ is a veritable free-for-all, make it tough, especially if there is a single "prized egg."

Make sure everyone has a basket or egg collection bag of some kind
PRE-COUNT your eggs- you will know if they have all been collected when the game is over.
2) Egg and Spoon Race
The spoon race is a traditional relay race, but it does add fun and excitement to the day's activities.
Create a route that contestants will have to race through
Straight paths are great for all ages, but including obstacles for older groups can be very entertaining.
One spoon and one egg per person
Contestants are not allowed to touch the egg with their other hand.
If a participant drops their egg, they must try to retrieve it using only the spoon. NO HANDS!
The first one to the end wins!
3) Egg Toss
The tossing of the egg can make for one messy event if that is your style. There is something about a dirty event that always cracks people up (no pun intended). You can opt for boiling eggs instead to avoid the mess. But, if you're not going to go big, then go home.
Teams of two will stand facing each other
Starting at a distance of 2-3 feet they will toss the egg back and forth
Once they have both completed the starting distance, they will take one LARGE step backward, away from one another
This back and forth will continue until one team remains with their egg intact
I do not recommend plastic eggs for this game- they will either come apart too quickly or not at all
4) Egg Pass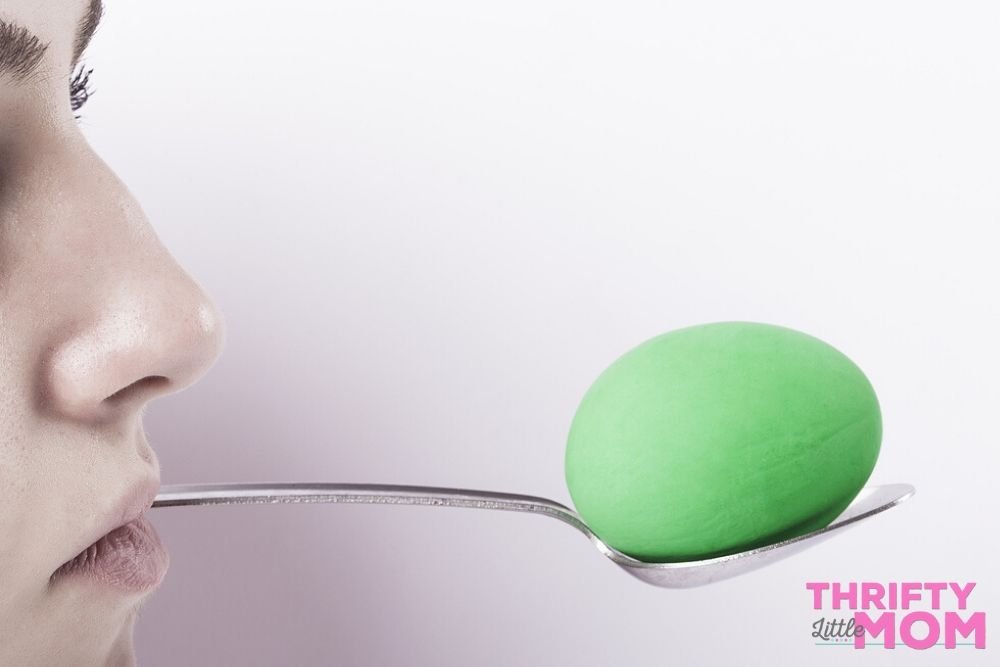 Depending on the age range of your participants, you can choose to approach this game in several ways:
Spoon and egg are the traditional items needed to perform this task
Younger players can pass the egg holding the spoon in one hand (the other hand behind the back) while trying to give the egg to the next person in the line
For older participants, they must pass the egg holding the spoon in their mouths, NO HANDS!
I prefer to use raw eggs during these games since everyone gets the biggest laugh out of a broken egg
If you want to avoid the mess, boiled works well too
5) Battle Eggs (Greek Egg Tapping)
Being a traditional Greek Easter (Pascha) game, it is straightforward to play (most of the time done right at the dinner table), and all ages get to participate.
Eggs are traditionally dyed red for this game
You will go around the table tapping eggs end to end (pointy to pointy)
As the eggs are cracked, the person remaining with an uncracked egg is declared the winner
There are many ways to win the greek egg tapping game if you know the facts
6) The Egg Roll
While this is an easy game for children to play, it is quite comical to watch adults participate in this activity
Each player has one egg
You can choose the terrain to be challenging (uphill) or moderate
Players will push the egg using their noses (or other facial features) while on all fours
The player to successfully make it to the end (without giving up, I'm looking at you adults) WINS!
Fun Easter Game Activities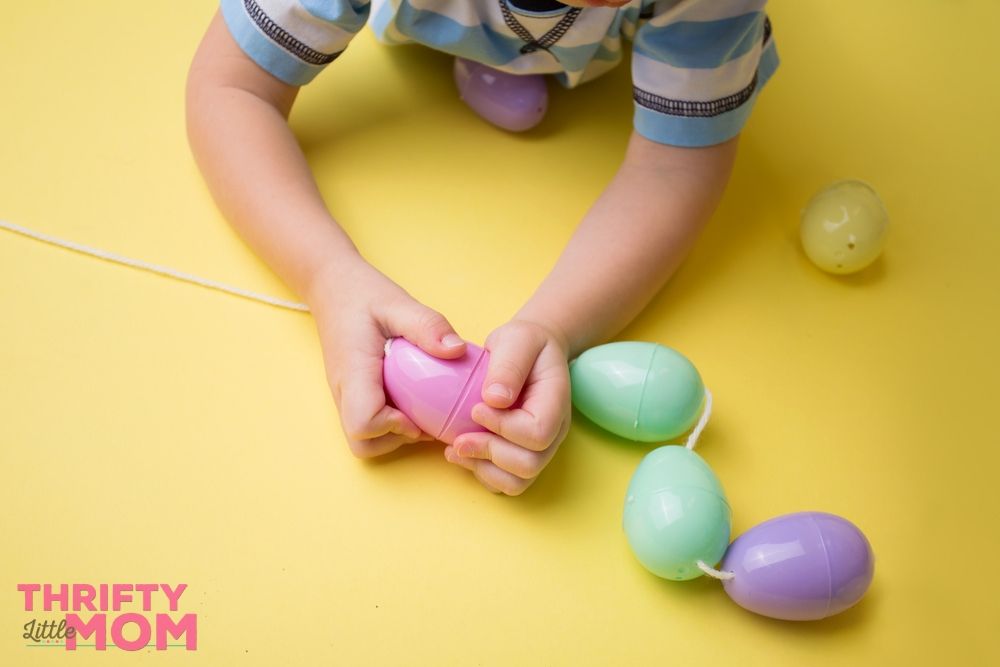 Children love participating in a fun crafting session. You can incorporate fun Easter crafting activities into your holiday celebration.
8) Egg Stringing
Your regular, plastic eggs will have small holes in either end. These holes allow for air to push out when adding items and closing them.
Using a lovely yarn and plastic needle thread eggs from end to end
If you like spacing, tie small knots in between the eggs
These strings of eggs can be used to decorate your mantle
Add it to bunting (you can use my easy no-sew bunting template) for a layered effect.
9) Egg Decorating
If you would prefer a less messy way to decorate (hard-boiled) eggs, there are several options to adorn these ovular ornaments.
Easter-themed stickers
Acrylic paints
Waxed crayons
Markers (washable)
Stamps
Glue with:

Glitter
Sequins
Pom-poms
Jewels
Tissue Paper
10) Easter Craft Projects
There may be a need for Easter games that you can play inside if the weather is not on your side this season. I like to find a fun craft that will be fun to do inside, just in case those spring showers pop up to ruin the outdoor activities.
Easter Scratch Craft- this is a great craft for all ages to participate; I love the bright colors too!
MALLMALL6 64Pcs Easter Scratch Art Party Favors Easter Eggs Bunnies Chicks Scratch Cards Easter Decorations Party Supplies Scratching Bookmarks DIY Crafts Party Games School Classroom Supplies for Kid
Easter Bunny Masks- these can be a fun craft that the kids will enjoy throughout the day. What kid doesn't love a great costume piece, especially a mask they get to customize.
Fun Express Easter Bunny Mask Craft Kit (Makes 12) Easter Crafts and Activities for Kids
Coloring Craft- pick a fun coloring craft for the kiddos to engage in. I love these stain glass windows because you can use all the colors of the rainbow. This craft will be fun if you're dealing with a dreary day.
Baker Ross Cross Color in Window Stained Glass Decorations, for Kids to Decorate and Display (Pack of 12)
I hope these fun Easter game ideas will brighten your time with your loved ones this holiday season!

4 Awesome Teen Easter Basket Ideas
Easy Easter Treats That Kids Can Make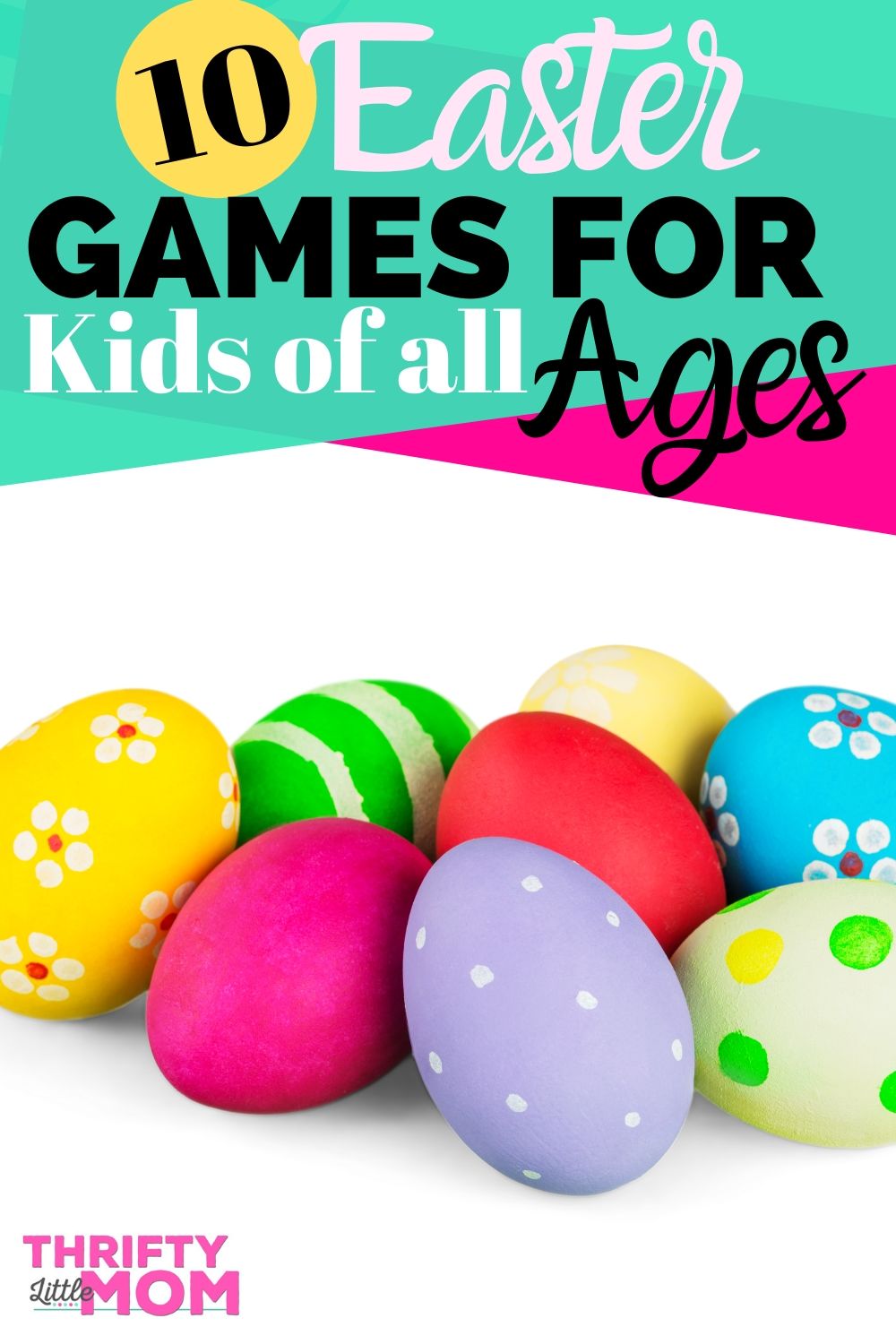 Access my FREE Party Printables Vault!
Subscribe to my weekly intentional living email magazine and I'll give you access to my life printables vault! Cleaning, planning, organizing and more!
Don't forget to check out what's in the resource library! https://thriftylittlemom.com/thrifty-little-mom-resource-library/ Password: Thriftyprints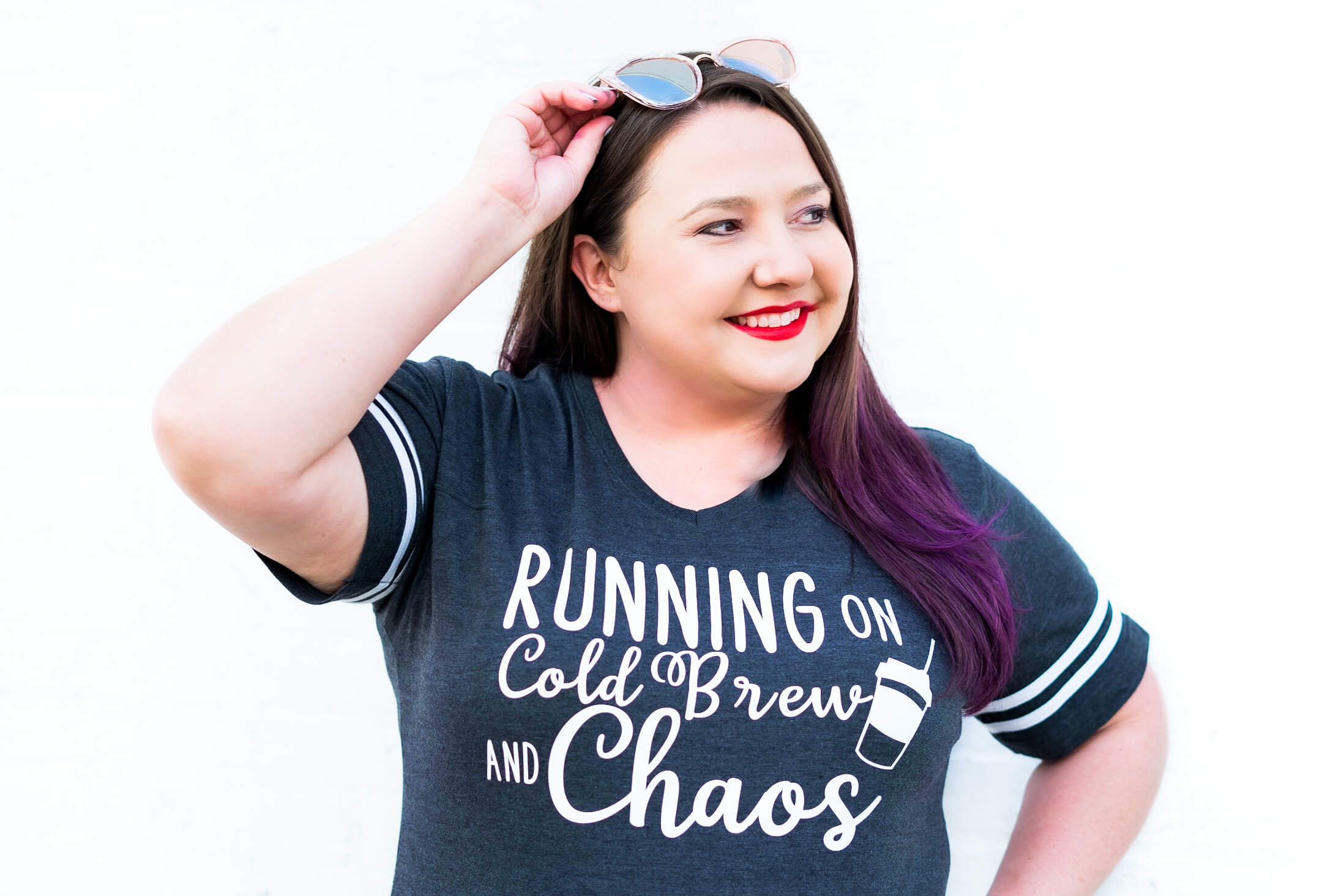 Kim Anderson is the organized chaos loving author behind the Thrifty Little Mom Blog.  She helps other people who thrive in organized chaos to stress less, remember more and feel in control of their time, money, and home. Kim is the author of: Live, Save, Spend, Repeat: The Life You Want with the Money You Have. She's been featured on Time.com, Money.com, Good Housekeeping, Women's Day, and more!
Summary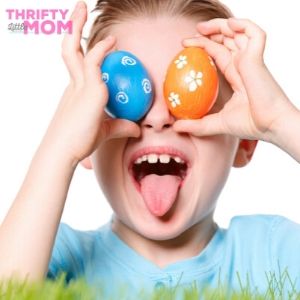 Article Name
Description
When spring is in the air, we know that it's a matter of time before the season is ready for some awesome Easter games. Here are some of my favorites!
Author