25 Crowd Pleasing Party Platter Ideas
This post contains affiliate links. As an Amazon Associate, I earn from qualifying purchases. I also earn from qualifying purchases made with other brands and programs. See my
privacy policy.
If you are hosting a party or gathering at your house, platters are a great, crowd-pleasing option. They are fantastic at taking up table space, looking amazing (with minimal effort), and give your guests something awesome to graze on with a nice variety of options. Here are some of my favorite platter ideas.
We've also gone the extra mile in this article to give you some dietary alternatives like Paleo, Low Carb and Gluten Free options.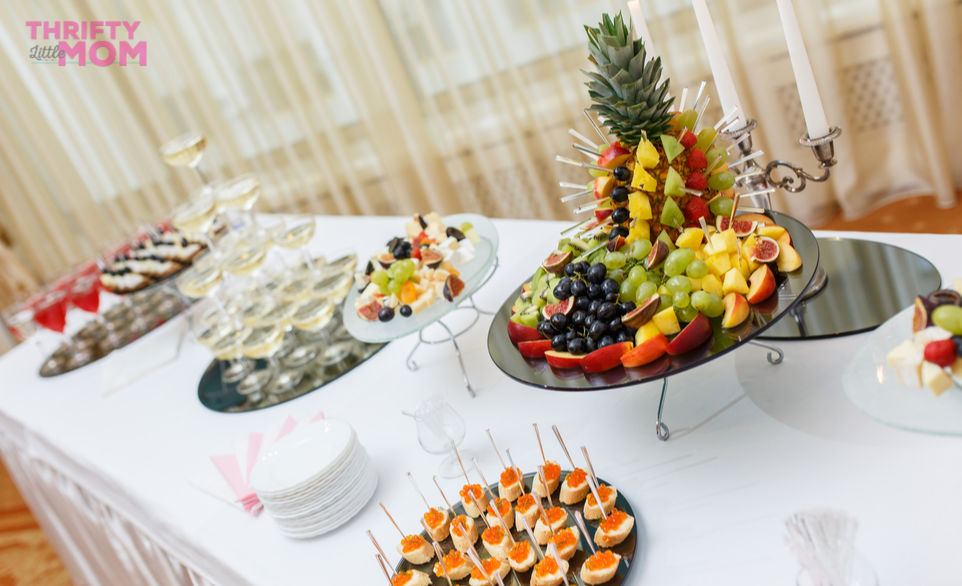 Consider the Dietary Needs of the Party Guests
An excellent place to start when deciding on a platter is to choose how you will use it, the number of guests in attendance, and any dietary concerns. I will try to make sure that I have an option for all of the major dietary needs. I may not be aware that one of my guests is in one of the categories, but I want anyone who attends to feel comfortable. Keep these options in mind:
Vegan/Vegetarian

Low-Carb/paleo/keto

Gluten-Free/Gluten-sensitive

Picky-eaters a.k.a. children (lol)
25 Platter Ideas:
When choosing a style of the platter for your party, you should figure out if you are providing light grazing, a three-course option, or sweets and treats only. There are so many options for platters that you can create various styles to fit any occasion. I have a few notes with the different styles with the dietary notes attached:
1. Seafood Platter-
Here are some ideas for what to put on your platter: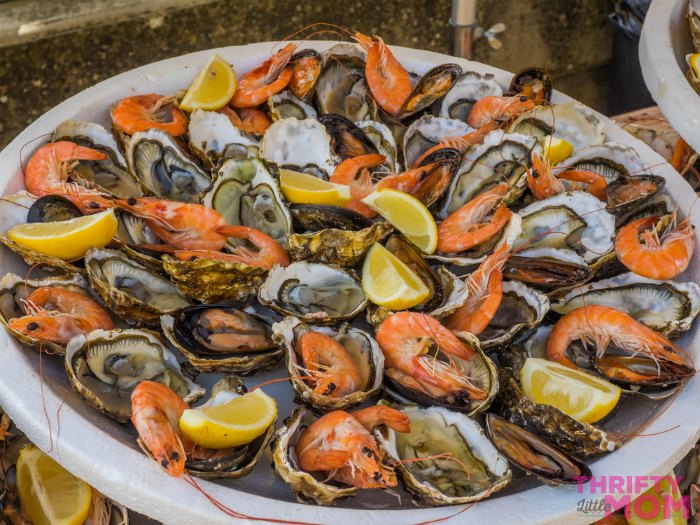 Low-Carb/Keto/Paleo Options:
If you decided to go with a decadent seafood option, you must remember to have plenty of refrigeration available or a cooling table. Since these platters usually consist of shrimp and shellfish, you will need to keep a timer nearby.
Here are some tips from the FDA on how to choose and serve seafood safely.
2. Sushi Platter-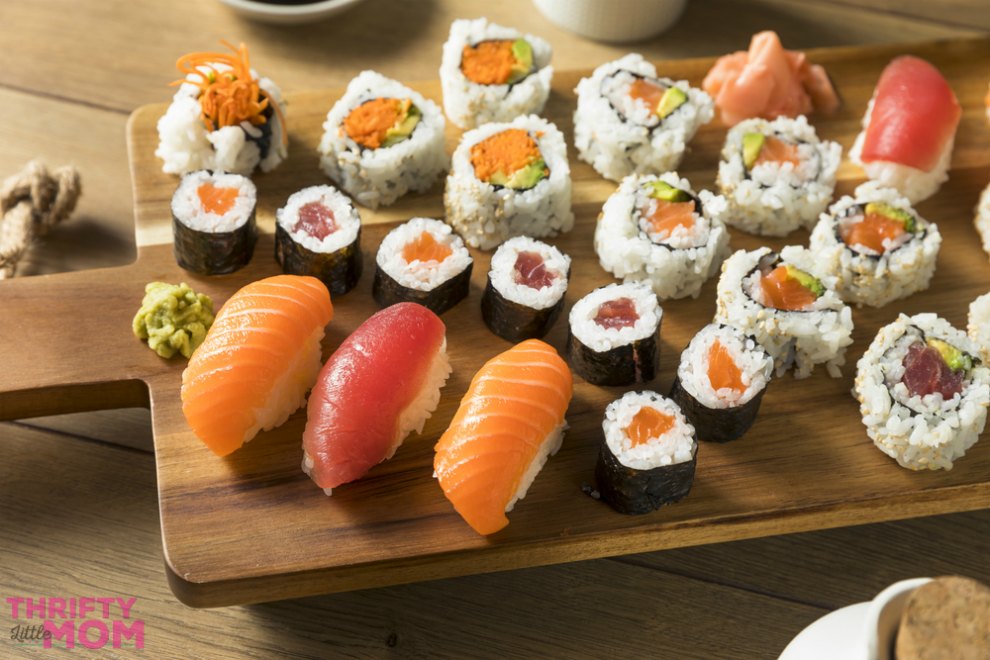 Vegetarian/Vegan options, Gluten-sensitive
When I attend a party with a sushi platter, I feel as if I have hit the jackpot. My husband could clear the tray himself.
If you are going to provide a sushi platter, this should be served in the same way as the above seafood platter, as there will be "high risk" foods on the tray too so know how long you need to keep it chilled or allow it to sit out. Hopefully you serve it and it's gone within minutes!
Basically, this is always a treat for guests.
Make Your Own Sushi –
We often make our own sushi platters for family events. Here is a video that explains how to make them!
3. Gourmet Cheese Platter-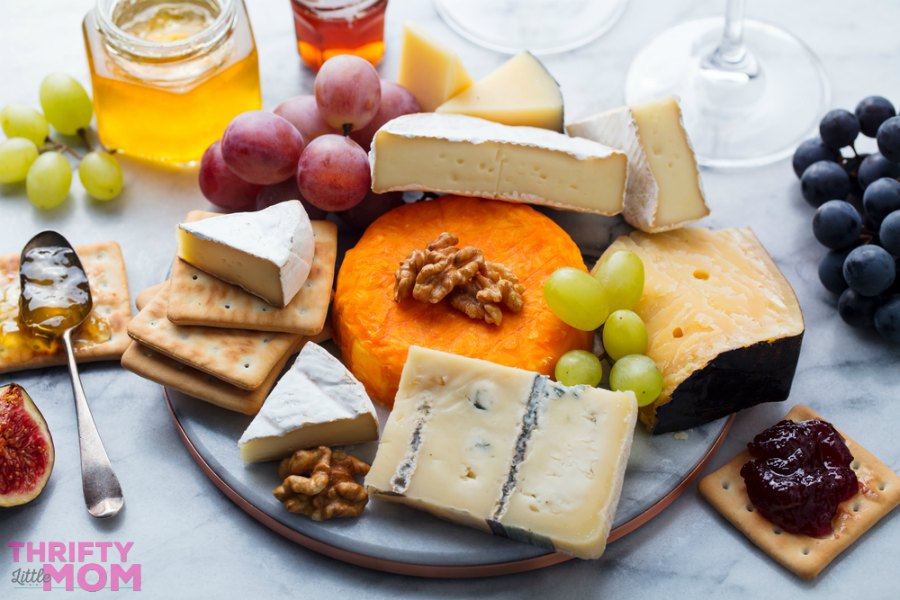 Vegetarian, Gluten-Free/sensitive, Low-Carb, Keto
When you venture into the world of "gourmet cheese," it can be different for those used to classic cheese trays. The best part about these cheeses is that (when kept out of the direct sun) can be placed out for an extended period.
Minus your sensitive soft-ripened cheeses (i.e., brie), hard cheeses are made to last at room temperature from their ancient roots before refrigeration. An excellent platter choice for your party.
Visit this article to discover how to pick the right cheeses for your platter and maybe even a wine flight: how to create a simple wine and cheese party.
4. Fruit Platter-
Strawberries
Blueberries
Pineapple
Blackberries
Raspberries
Figs
Kiwi
Watermelon
Melon
Don't forget to try some exotic fruit options just for fun!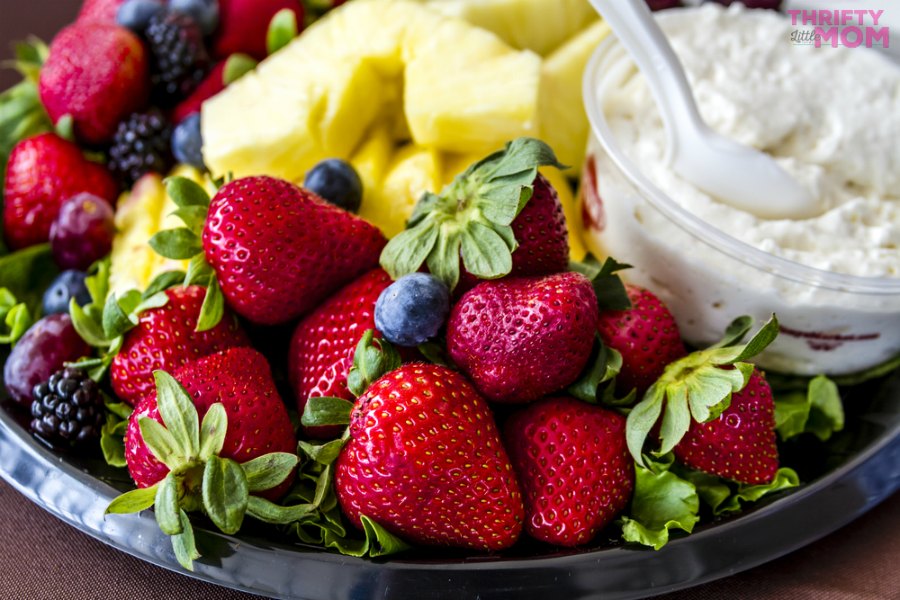 Vegan/Vegetarian, Low-Carb/Keto/Paleo, Gluten-Free/Sensitive, Picky-Eater
Not every fruit will fall under all the categories listed above, but there is an option to fit all dynamics. Berries are a delightful treat on a fruit platter that will cross-off all of these dietary needs, so remember to stock up on those.
The fruit tray can double as a dessert platter also if you add some sweet dipping sauces on the side, such as chocolate and caramel.
These are "low-exposure" foods, so you don't have to worry about the holding temperature, like with the others. Win!
5. Vegetable Platter-
Broccoli
Grape Tomatoes
Carrots
Califlour
Green Beans
Peppers
Radishes
Cucumbers
Consider trying out speciality veggies in unique colors!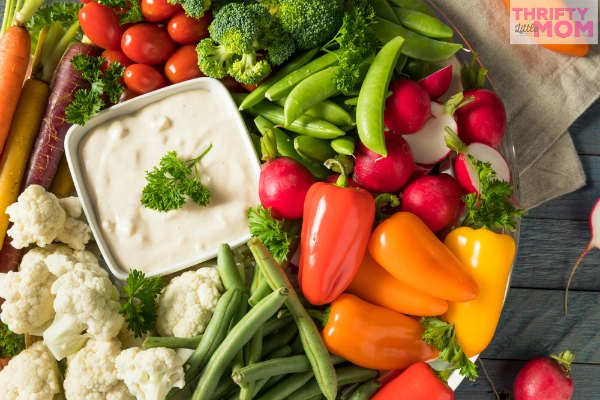 Vegan/Vegetarian, Low-Carb/Keto/Paleo, Gluten-Free/Sensitive, Picky-Eater
As with the fruit tray, this would also check most boxes in dietary concerns. My sister-in-law is a colossal veg-head and will wipe out a veggie tray in 3 seconds flat.
I prefer to make my veggie trays for events, instead of buying pre-made ones. Not that there is anything wrong with a store-bought one, but I like to pick out my favorites and ensure that the cherry tomato to celery ratio is more in my favor.
This tray is also "low-exposure" when the temperature is a concern.
6. Gourmet Meat Platter-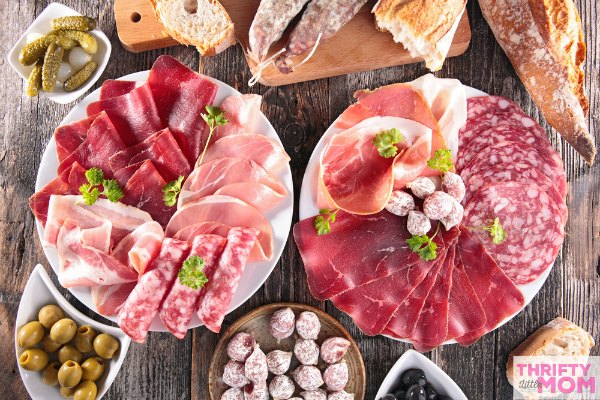 Low-Carb/Keto/Paleo, Gluten-Free/Sensitive
Gourmet meats will be your dry-aged and cured styled items, also known as "charcuterie." These boards will consist of sliced favorites such as:
Prosciutto

Soppressata

Calabrese

Chorizo

Other "salami" styles.
These meats are processed in a way that makes them "low exposure" for your party, as well. Just watch out for packages that say "uncured" as they don't have the same kinds of preservatives in them and probably don't need to set up.
Head over to the deli or specialty foods section of your grocer and see what new and exciting options there are to try!
Note: Pancetta has to be cooked, don't make the same mistake I made my first time, and pick this up for your board. (lol)
7. Wrap Platters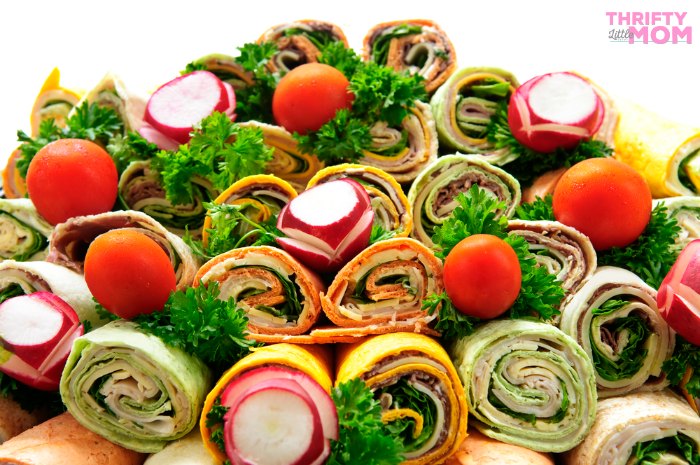 Vegan/Vegetarian options, Picky-Eaters
I love a well-done wrap platter. The colors and shapes are mesmerizing to look at, and they make a powerful statement on a table. These are easy finger-food platters that will make your guests very happy.
They take little maintenance throughout the party and will usually be wiped out before the 4hr mark. Depending on the grocery store you are purchasing from, or if you choose to make your own, you could also have a "gluten-sensitive" option.
When making wraps you'll have lots of options including the type of wrap. Most grocery stores offer spinach, low carb, regular, whole grain and sun dried tomato wraps. Which you can use to create:
Turkey Wraps
Veggie Wraps
Chicken Cesar Wraps
Roast Beef Wraps
Itallian Wraps
Lettuce Wraps (for gluten free or Keto guests)
Consider also keeping some dressing options on the side along with small dipping bowls.
8. Deli Meat and Cheese Platter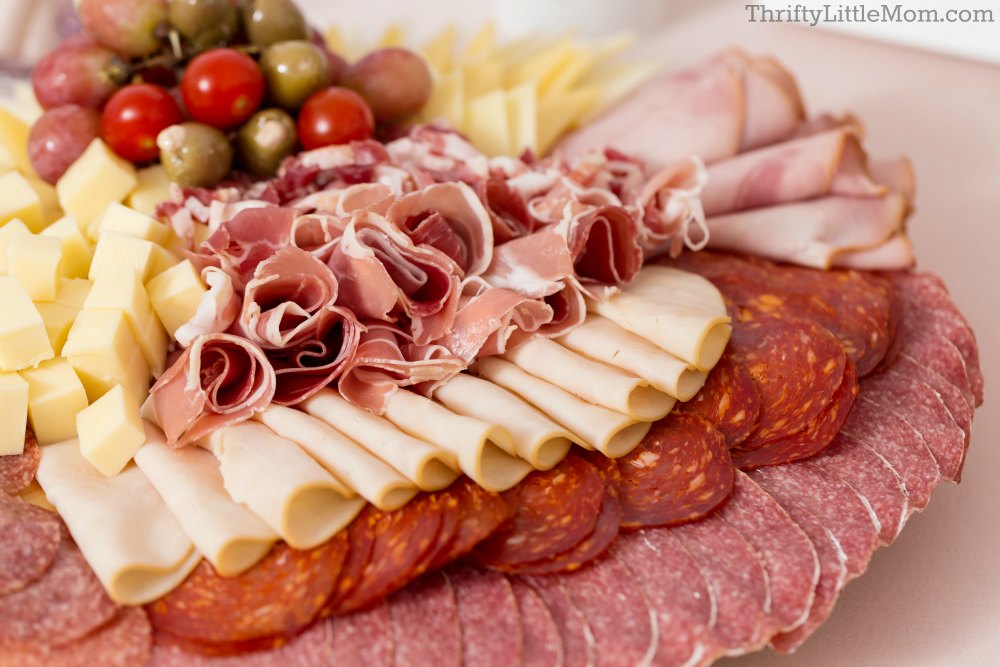 Vegetarian, Low-Carb/Keto/Paleo, Gluten-Free/Sensitive, Picky-Eater
And there was much rejoicing! By providing both options, people can pick and choose exactly what they like and need. If you are adding extras to this, you can provide gluten-free options such as a rice flour bread, or a low-carb/keto/paleo option like leaf lettuce.
Throw some Tofurkey slices on, and even the veg-heads will dance with excitement. Your picky-eaters will surely find something to enjoy on this spread, too. Almost everyone can make something from this setup.
9. Hummus Platter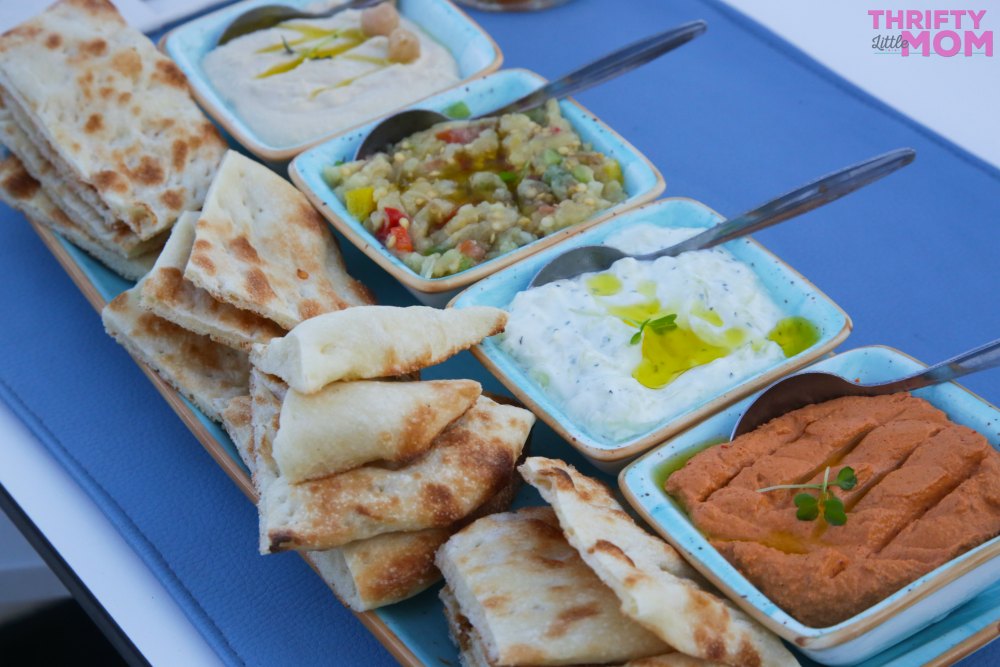 Vegan/Vegetarian, Gluten-Free/Sensitive
Hummus is the new ranch dip (I could get in big trouble for saying that here in the south, but it's true!) I love that hummus can be used in so many ways these days.
From a dip to a spread, you can make this tasty dish do many different functions. A hummus platter will delight your guests.
Hummus also comes in a wide range of flavors. The most common one's you'll find at the grocery store are:
Regular
Garlic
Sun Dried Tomato
Olive
Red Pepper
If you go to a speciality store you may be able to find even more varieties. Roots, a hummus company out of Asheville, NC makes some AMAZING hummus in some very unique flavors that are sold in stores like Ingles.
Mango Sriracha
Thai Coconut Curry
Hot Chipotle
Black Bean
Spinach
Kalmata Olive
Lemon Pepper
Hummus is a "low-exposure" food, so it can be left unattended for the duration of the event.
10. Platter Ideas: Dessert
You will find dessert trays difficult to accommodate several of the dietary restrictions. That's ok. Most people who have chosen to refrain from things like wheat, dairy, and refined sugars will know that desserts are not on the agenda for the party.
Do not worry about making a fancy 8-hour keto cheesecake for the one person who might have chosen this lifestyle. This situation is when having a great selection of low-carb fruits will be satisfying to your guests in these categories.
11. Cookie Platter
Vegan/Vegetarian, Gluten-Free/Sensitive, Picky-Eater
If you plan on creating a delicious cookie platter, take this opportunity to purchase items that most people can enjoy. Even my local grocery store has cookie options to fit the above dietary concerns.
A cookie platter is one of the easiest dishes to DIY. Consider making a "cookie bar." Provide assorted toppings:
Marshmallow Fluff

Icings in different flavors

Whipped Cream in a spray can

Hot Fudge

Caramel Sauce

Sprinkles

Cherries, strawberries
12. Brownie Platter
Vegan/Vegetarian options, Picky-Eaters
Give me a fudge brownie any day, and you will see a big ole smile on my face. This dessert is a little more challenging to accommodate the various dietary concerns, but that doesn't mean it isn't a great party tray option.
With all the different styles of brownies, you can create a cool bricked tower that will impress everyone.
13. Assorted Dessert Platter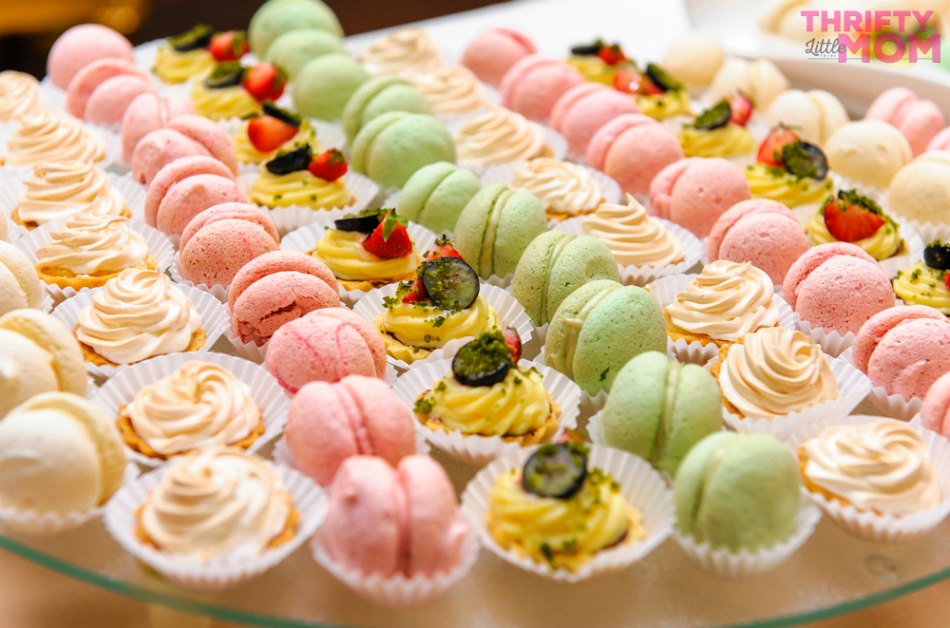 Vegan/Vegetarian, Low-Carb, Gluten-Free/Sensitive, Picky-Eater
If you want to create the ultimate spread, you can choose to create your custom assorted tray. Grocery stores have great "mini-dessert" options in the bakery, dry shelf, and freezer section. By picking up different mini-options, you can truly make everyone happy and provide a smorgasbord of sweet treats.
Macrons

Mini-cupcakes

Fruit tarts

Cannoli

Cookies

Petit Fours

Cheesecake bites

Truffles

Brownie bites
Non-Traditional Platter Ideas for Your Party
So, maybe the platter idea isn't going to work out the way you'd like for it to have worked. Too little time, unexpected stress, or even just a grumpy day can cause platters not to be created the way you had imagined. Don't delete all your Pinterest boards, then fall to your knees, screaming, "why can't they appreciate my want to make it pretty?!"
You can still have a platter with the basics- hot dogs and hamburgers

Before you close the screen in anger at the mere suggestion of this classic party choice, hear me out!

You can accommodate all of the dietary concerns with these easy platter ideas.
14. Hot Dog Tray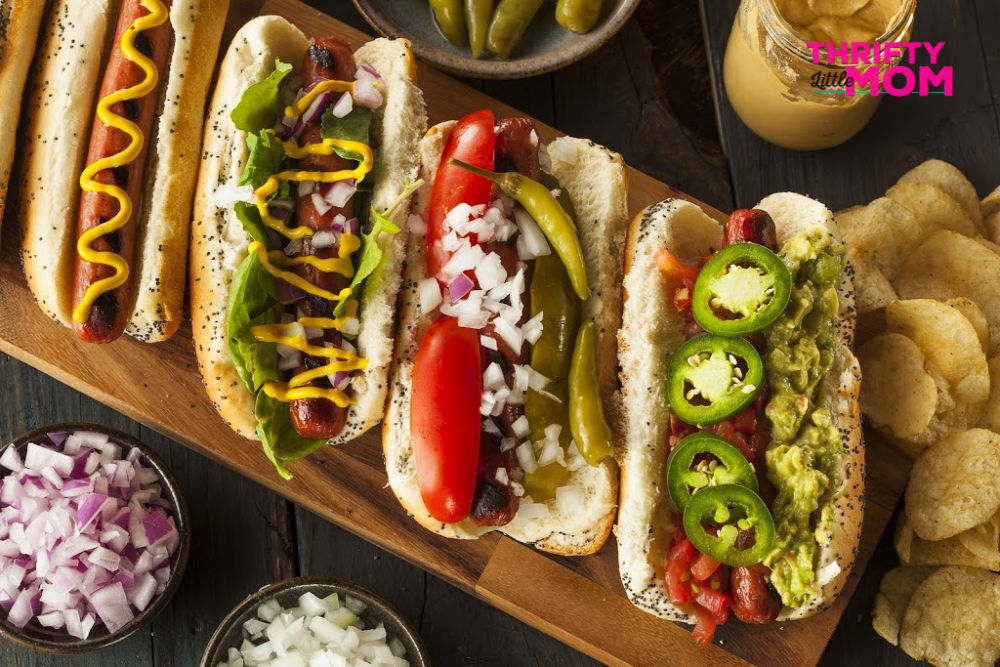 Imagine with me, a beautiful tray of hotdog-style meats.

You can have classic beef dogs for the picky-eaters and traditionalists.

Next to the classic dogs, some gourmet brats with sage and apple seasoning, lightly steaming on the tray.

In addition to those gourmet dogs, you have also picked up a pack of Field Roast vegan applewood smoked sausages or Tofurkey dogs.

Seeing these delights on a beautiful platter doesn't seem so bad, now does it?
15. Burger Tray
Classic all-beef patties

Turkey Burgers

Bison meat

Salmon Patties

Impossible Burgers by Beyond Meat

Black bean burger
If this idea is sounding better and better to you, then you may want to read about the Ultimate Backyard Barbecue Menu from Start to Finish or The Ultimate Barbecue Food List & Grilling Guide to get ideas that you will love! With so many of these foods, you don't even need a grill, if the season isn't there. You can make these items in a skillet or with a stove-top grilling-plate.
16. Wing Tray
Who doesn't like an assortment of chicken wings?
Lemon Pepper
Hot Wings
Jerk Seasoned Wings
Honey Barbecue
Regular Barbecue
Grilled Wings
Already Prepared Platter Ideas
If you choose to have your platters pre-made, which as a busy mom, I totally relate to, you can select various sources:
1) Grocery– your local grocery store may have a catering menu to plan your event in advance. They can custom make platters to fit your occasion; they need 48+ hours notice. Go to the deli area and ask if they offer a catering menu separate from the trays that are "grab and go."
2) SAM'S CLUB/COSTCO/BJ'S- I would consider these bulk-giants to be one of the best places to pick up foods for platters. They are constantly sourcing new and different finger food options. Some of the best frozen mini quiches I have ever had came from Sam's Club, and they were a hit!
3) Caterers- You can choose to use a local caterer, a local private chef, or my favorite, a culinary student (they're passionate and oozing with creativity, and relatively inexpensive to hire). These options will provide you with customer service that will make your party a success.
4) DIY- DO. IT. YOUR. SELF. Pick your favorites from above and start brainstorming. You are very capable of creating a masterpiece you will be proud to show off! Also, everything tastes better when you make it with a little bit of love!
5) Restaurants- Even your favorite restaurants can provide platters for your event. Creating easy finger foods is a specialty that most restaurants are willing to engage in. Let them know what styles you are looking for and see what they can do. You can even bring in your own trays and platters to fit the theme of your party.
Where to Buy Serving Platters
Don't feel like you need to keep pre-made platters in their storage containers. Spruce up the event with some fun or thematic dishes. I am always on the hunt for a tray that speaks to my party-throwing soul.
1) Online- Shopping online will be your best bet for finding something that is the exact style, width, or theme that you desire for your event. Wide-mouth bass themed platter? Check. Hand-hewn baltic fir wood with cross-cuts of cedar? Check. Find the perfect dishes with an easy google search of what you desire.
2) Thrift Stores- Get in the mix and up-cycle. There are plenty of post-holiday finds that can accommodate your next event. You can even break out of the box and go "unconventional." I have a friend that will use picture frames that have ornate frames as her food trays. Truly spectacular platter ideas.
3) Craft Stores- If you haven't been to look at platters at your craft store, you might want to avoid it. THERE ARE TOO MANY CUTE ONES TO CHOOSE FROM! I can't control myself sometimes when I see all the designs they offer. Be warned. 🙂
5) SAMS/ COSTCO/ALDI- These particular grocer chains offer one-off short term buys. I found the most beautiful wooden cheese board with a handle at Aldi last year for $10. I couldn't believe the quality and beauty of the piece at such an affordable price. Go ahead and check out these retailers as well.
I hope this list will help you with your next event or party. Have fun creating your unique party platters that your guests will love.

Low Carb Appetizers for Parties
Creamy Great Northern Bean Hummus Recipe
Smooth & Creamy Homemade Hummus Recipe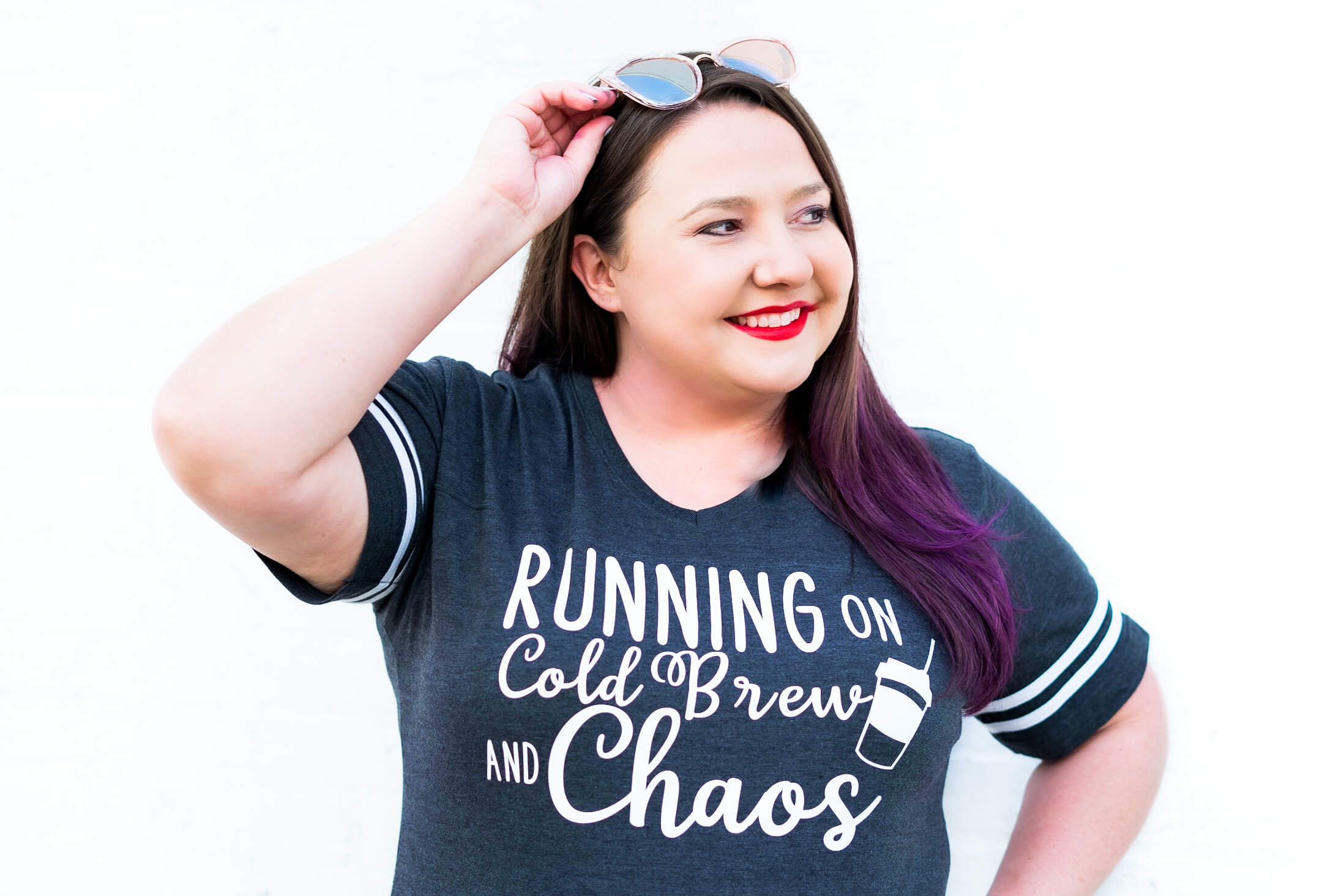 Kim Anderson is the organized chaos loving author behind the Thrifty Little Mom Blog.  She helps other people who thrive in organized chaos to stress less, remember more and feel in control of their time, money, and home. Kim is the author of: Live, Save, Spend, Repeat: The Life You Want with the Money You Have. She's been featured on Time.com, Money.com, Good Housekeeping, Women's Day, and more!
Summary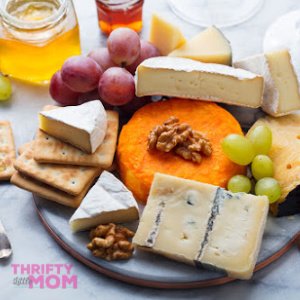 Article Name
25 Platter Ideas for Your Next Party
Description
If you are hosting an event, one super crowd pleasing food option are platters! Here are simple and unique platter ideas to help you create your menu!
Author