30 Super Easy 11 Year Old Boy Birthday Party Ideas
The age of eleven celebrates the entrance into the tween years. It is a weird age for most kids, not just the boys. You are no longer that little rascal that you were only 11 months ago. Now your eleven-year-olds are spreading their wings and hitting developmental milestones. It is hard for boys of this age to process a lot of what is happening in their bodies, social circles, and educational levels. Since all kids develop at different rates, here are some 11-year-old boy birthday party ideas that cater to all developmental levels.
Outdoor 11 Year Old Boy Birthday Party Ideas
The boys are becoming more and more self-aware and expanding their manly prowess. There are lots of magnificent "skill building" activities that are perfect for young men this age.
It is an excellent time for them to experience more in-depth outdoor activities. For 11-year-old boy birthday party ideas, here are fun outdoor activities.
Hiking
A beautiful hiking trip can set the tone for an enjoyable birthday experience. Getting into nature and exploring the beauty found, there will create an appreciation that will last a lifetime.
Have the kids do a nature scavenger hunt while they trek. Find some fresh mushrooms, new bugs; there is so much to be seen out in the wild.
Canoeing
These boats hold a special place in my heart. One of mine and my husband's first dates was on a canoe in on the lake. You can find canoe rental pretty easily near these abundant water sources.
The companies will also provide safety equipment to help ease your mind. These boys are ready for some water adventures!
Fishing
Now is a great age to ramp up the fishing experience. The boys are now at the age where they can learn more about the actual skills that go into fishing. No more of mom or dad setting up the rod and reel.
They can now attach their bobbers and sinkers on their own. Let them learn this new skill. You can give a man a fish, or you can teach a man to fish.
Boating
With an experienced adult behind the wheel, this birthday can prove educational and exciting. Sailing has so many skills and techniques to do it right. First-hand knowledge is the most significant way to learn. Give your 11-year-old boy a taste of the action.
Ropes Course
I love an excellent ropes course. They give you a feeling of being on top of the world. Seeing the beauty of nature from the canopy is exhilarating. I highly recommend this experience if you haven't had a chance to experience it yet.
These courses provide obstacles that require you to learn and assess your surroundings in real-time to make it through the different areas. Eleven is the perfect age to start the process.
4-wheelers
The recommended engine size for 11-year-old boys or girls to ride an all-terrain vehicle is 70cc. Some adventure parks and rental companies have these for trekking through trails and paths. It is a fun way to see nature and work on driving skills.
Camping
Enjoy a full camping excursion. Keep the group manageable. You don't want more kids than the adults can watch at any given time. If you choose to go to a site, you will need to find out what the requirements are for groups. You can also host a camping party in your back yard, just make sure the neighbors know!
Paddle Boarding
Any child above the age of 5 can be ready to start paddleboarding. However, I would say that if you are looking into doing this in a small group for an 11-year-old boy's birthday party idea, keep the ages in the double digits. Make sure you check with the rental company to see what kind of parental releases are required.
Rafting Trip
For most, at age eleven, you can start to learn the finer skills of whitewater rafting. The guides are very experienced and can maintain the safety of the passengers. Rafting with a professional will be fun and allow the kids to "dip their toe in the water" of this advancing sport.
Water Park
If children can swim, then a water park will be entertaining for eleven-year-olds. There are slides and wave pools as far as the eye can see. Now they are even old enough to try the surfing experience. Mom can just hang out and relax in the shade.
Theme Park
The average height of an 11-year-old boy is 56 inches. That means that every ride can be accomplished if they are brave enough.
Give the kiddos some excitement with this fun birthday adventure. Birthday packages are also available with advanced notice. I planned a Disney trip on a budget and it was a great birthday experience.
Airsoft Park
At age eleven, Airsoft fields allow kids to play without the parents having to be present on the ground. The fun that these parks provide is a high-intensity adrenaline rush. It is an excellent experience for kids that are interested in future careers in the military or first responding units.
Lake Blob
Every year we would go to a campground by a lake. They had a massive inflatable "pillow" that was floating on the water. One person sits on the end by the water while another person jumps from 10-20 feet in the air onto the side close to the shore.
The air moves from one end to the other, sending the lake end person high into the air before returning to a splash in the water. It was so much fun.
Inflatable Course on Water
If you can travel or find one of these near you, this would be the most EPIC 11-year-old boy's birthday party experience! It has everything- water, obstacles, mayhem. This course is the kind of thing that makes me happy I have a rambunctious boy that would want to try adventures like this.
Ziplines
Flying high through the trees from one area to another. If you have ever wanted to feel like Tarzan, zip lines give you a feeling of freedom in the air like nothing else. The ziplines are safe and they provide gear like helmets and gloves. See what excellent zip line courses you have near you!
Paintball Course
Kids love to participate in tactical activities. A paintball course is not only an adrenaline-packed activity, but it also makes artwork out of their clothing. (Don't worry moms, it washes out) There is always protective equipment for rent, but make sure you don't over-layer.
Active 11 Year Old Boy Birthday Party Ideas
Children at this age are becoming more socially focused. Finding a birthday party idea that encourages communication and interaction is key. Find an activity that increases social bonding. This bonding will prove to be valuable in their growth and development.
Sports Themed Party
Is your boy on a team or individual sport? Celebrate their passion for these activities by throwing a party that gets everyone involved.
Go see their sport on the professional level- stadiums have great birthday packages
Host a basketball party at the YMCA- you can rent the court and a special area to host the food and presents
Budding, young golfer in your family? A trip to a driving range like Top Golf would be awesome
Is your child into martial arts- have their friends come and take a quick class
Trampoline Dodgeball
At age 11, boys are ready to engage in the fun sport of dodgeball. It's high time we got high flying on an awesome indoor trampoline party. Check with your local trampoline park to see the available space for this activity.
I would also determine the teams using a system like drawing numbers or picking names out of a hat. This will prevent the awkwardness of being picked last for a team. Save that dread for the schoolyard, not a birthday party.
Activity Center
I enjoy activity centers because they make it easy to throw an impressive 11-year-old boy birthday party. They have all kinds of packages that include so many fun things in addition to food and drinks:
Go-Karts
Miniature Golf Course
Arcades
Regular or Water Bumper Cars
Batting Cages
Indoor 11 Year Old Boy Birthday Party Ideas
Indoor Obstacle Course
These obstacle courses are found all over the cities. They are fun for all ages and provide an all-season option for a great birthday party idea. If your boy has ever wanted to see how he would do on Ninja Warrior, now is the time to experiment! You can buy a funny ninja costume to add to the hilarity that will ensue.
Rubie's Opus Collection Child's Blue Ninja Costume, Medium
Hobby Related Party
Kids are into different things that others may not have had the opportunity to experience. If you want to try something outside of the box, look into the different hobbies your child enjoys and have his friends try them out too! What interests seem like fun to you?
Archery- give them the Robin Hood experience
Martial Arts- meet the next Jackie Chan
Fencing- sword fights are exhilarating
Building projects- birdhouses, boxes, and similar items would be a fun learning experience
Video Game Party
Find a Mobile Gaming Party near you. These awesome trailers show up to your house or location of choice. The trailer has everything the kids will need to have fun. Plus! It isn't in your home. They can be loud and have a great time without disrupting your domicile.
Strategic Board Games
When it comes to developmental levels, eleven is when kids are becoming more aware of strategy and dexterity. Board games that require more than rolling the dice and moving spaces can help hone their aptitude in critical thinking.
Indoor Soccer Center
Get the kiddos moving around! Soccer is great fun and excellent exercise. Renting these spaces is easy. The centers have party packages that include the time on the field, the equipment needed to play, food, and drink catering options. It is a great all-in-one option.
Laser Tag
I never grow tired of laser tag events. Even as an adult, I find this to be thrilling and exciting. 11-year-old-boy birthday parties are easy at these venues because they make planning it a breeze.
The packages that are provided include food and drinks, decorations, paper products, and rounds of games. They take all the guesswork out of making a great party for your kiddo.
Ping Pong Tournament Party
Coordination has improved dramatically at this age. Hosting a ping-pong tournament will challenge hand-eye coordination skills. Create a bracket board and see who finishes in the top.
Include a prize for the winner or winners (if you do multiple rounds). My husband and his friends started playing young and they created a lasting bond over this bouncy, fast-paced game.
Franklin Sports Table Tennis To-Go – Complete Portable Ping-Pong Set – Includes Ping-Pong Paddles, Balls, and Net, Plus Easy-Carry Bag – Easy Set-Up – Expands to 6' – Easily Attaches to Table Surfaces
Whirly Ball
Take bumper cars, add in some lacrosse, and finish with a touch of basketball. Whirly Ball is a fast-paced game of agility and movement. It is challenging in all the right ways for an eleven-year-old. I mean, it is even challenging for me! I had a blast the last time I played. For 11-year-old boy birthday party ideas, I am sure they will love the experience.
Movie Party
You can take the group to see a 3-D movie or an IMAX showing. These movies are enveloping and an experience like none other. You can find great matinee rates that will allow for a fun day at a discounted rate! Another option is to rent a theatre. You will get one of the smaller theatres but it is your private screening. The theatre has packages for food and drinks too!
Bowling Alley
I think bowling is one of the best 11-year-old boy birthday party ideas. By this age, kids can bowl on their own, and you can get rid of those bumpers for a real challenge. Cosmic bowling in blacklight will also make this event pop! Anytime I can have a party in blacklight I try to include it. Kids love the glowing action that this party provides.
I hope these 11-year-old boy birthday party ideas inspire your next celebration. Have fun expanding the horizons of development!
Want to plan this party in a no-fail way? Check out my Printable Stress-Free Kid's Birthday Bash Planner and Workbook!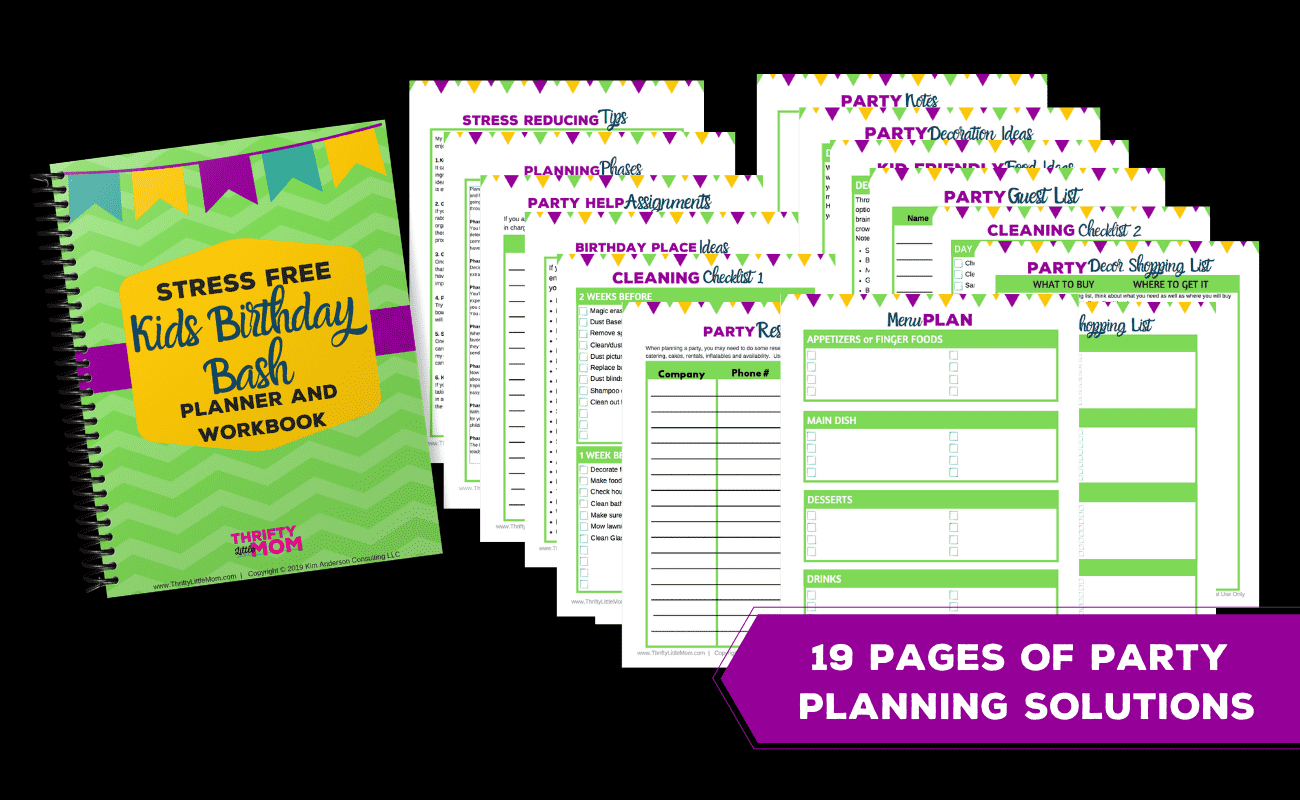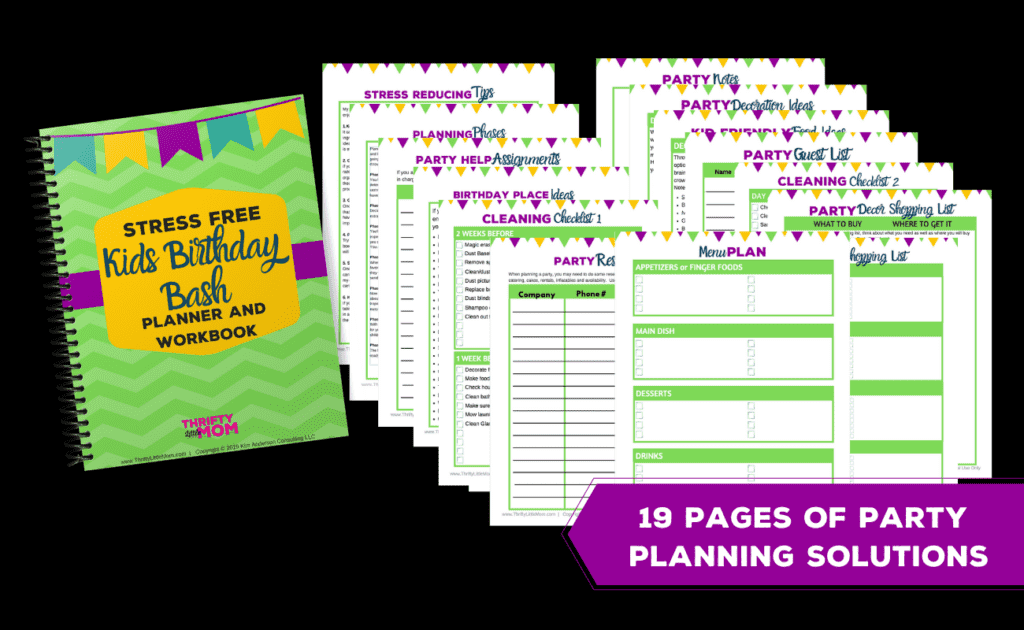 ---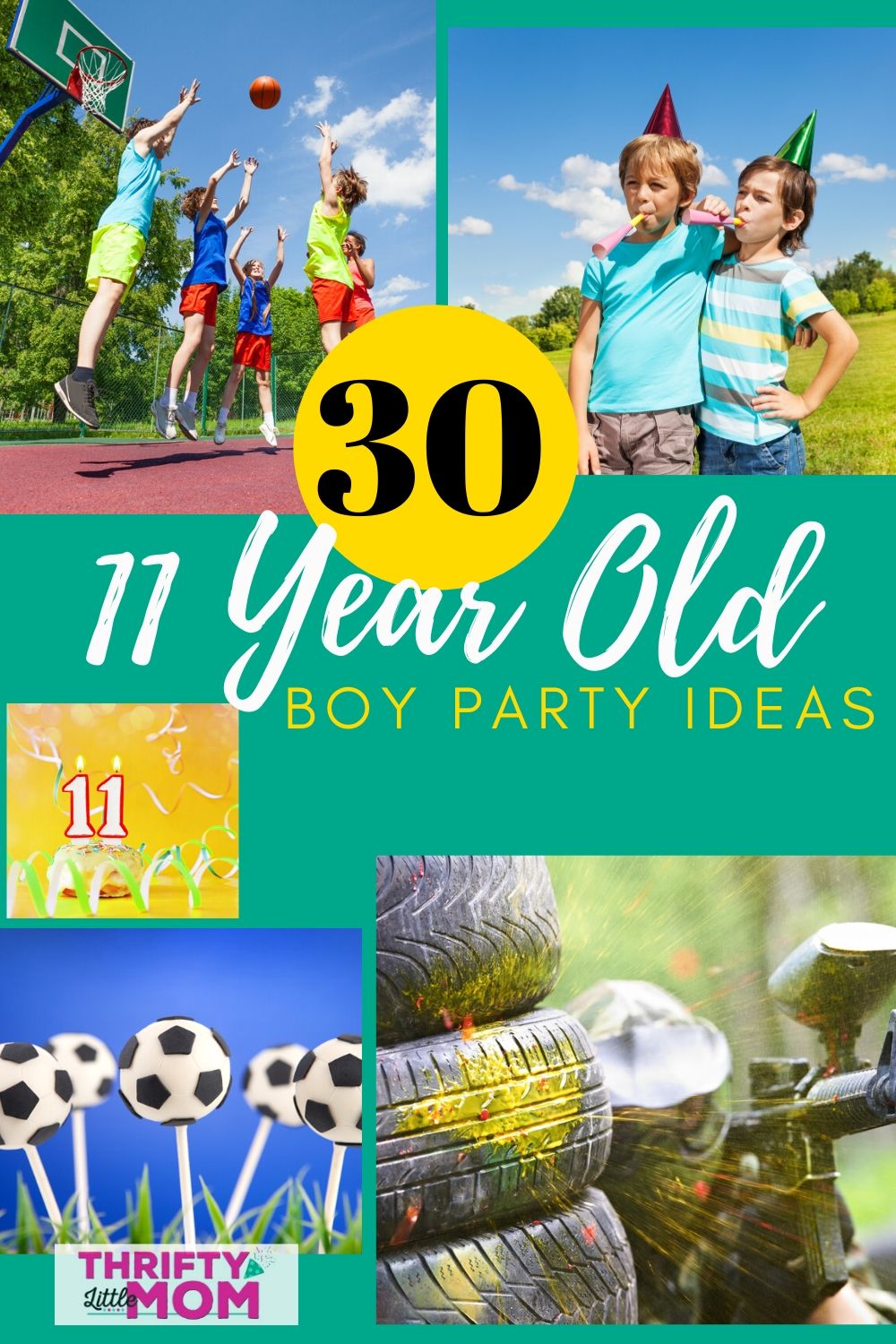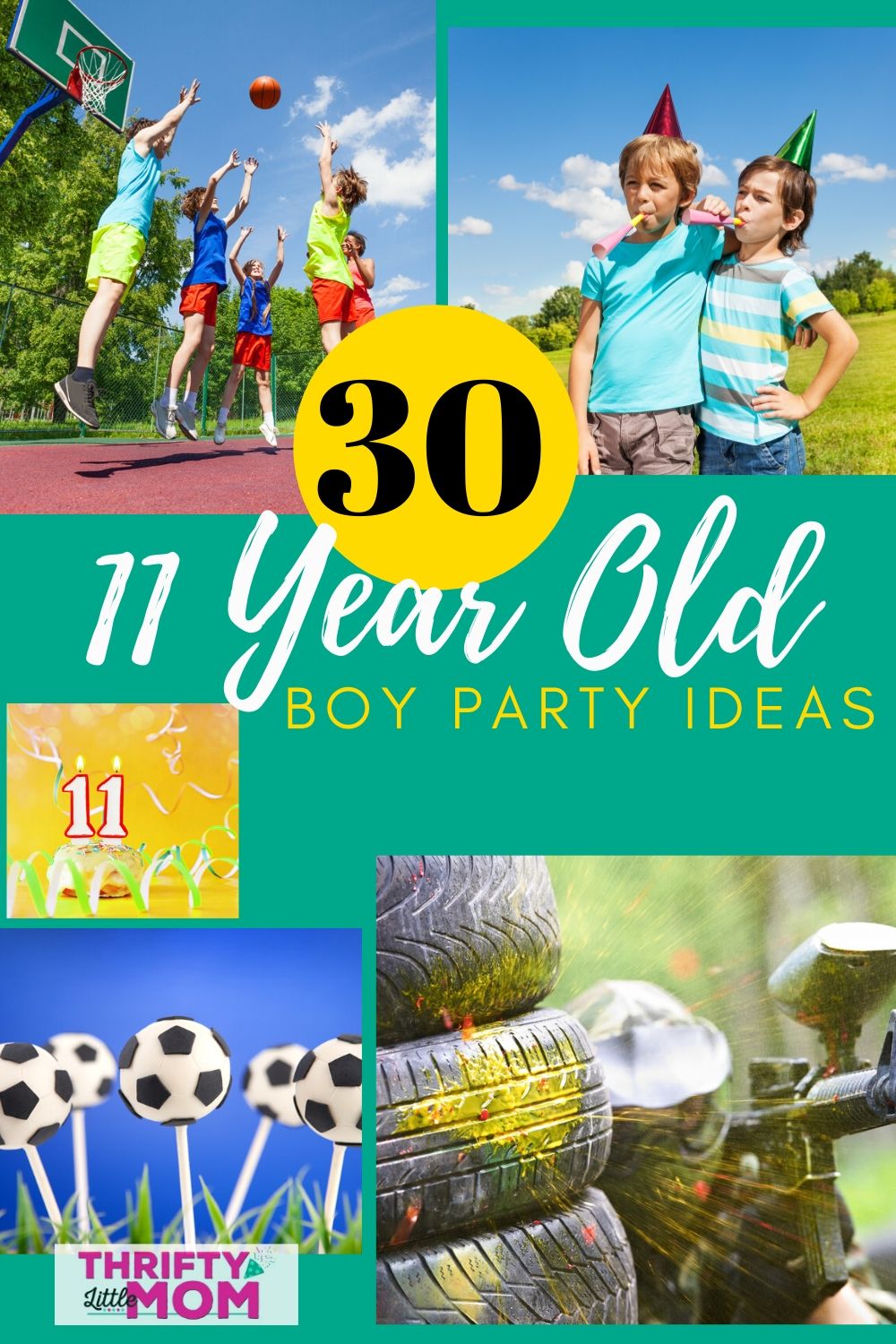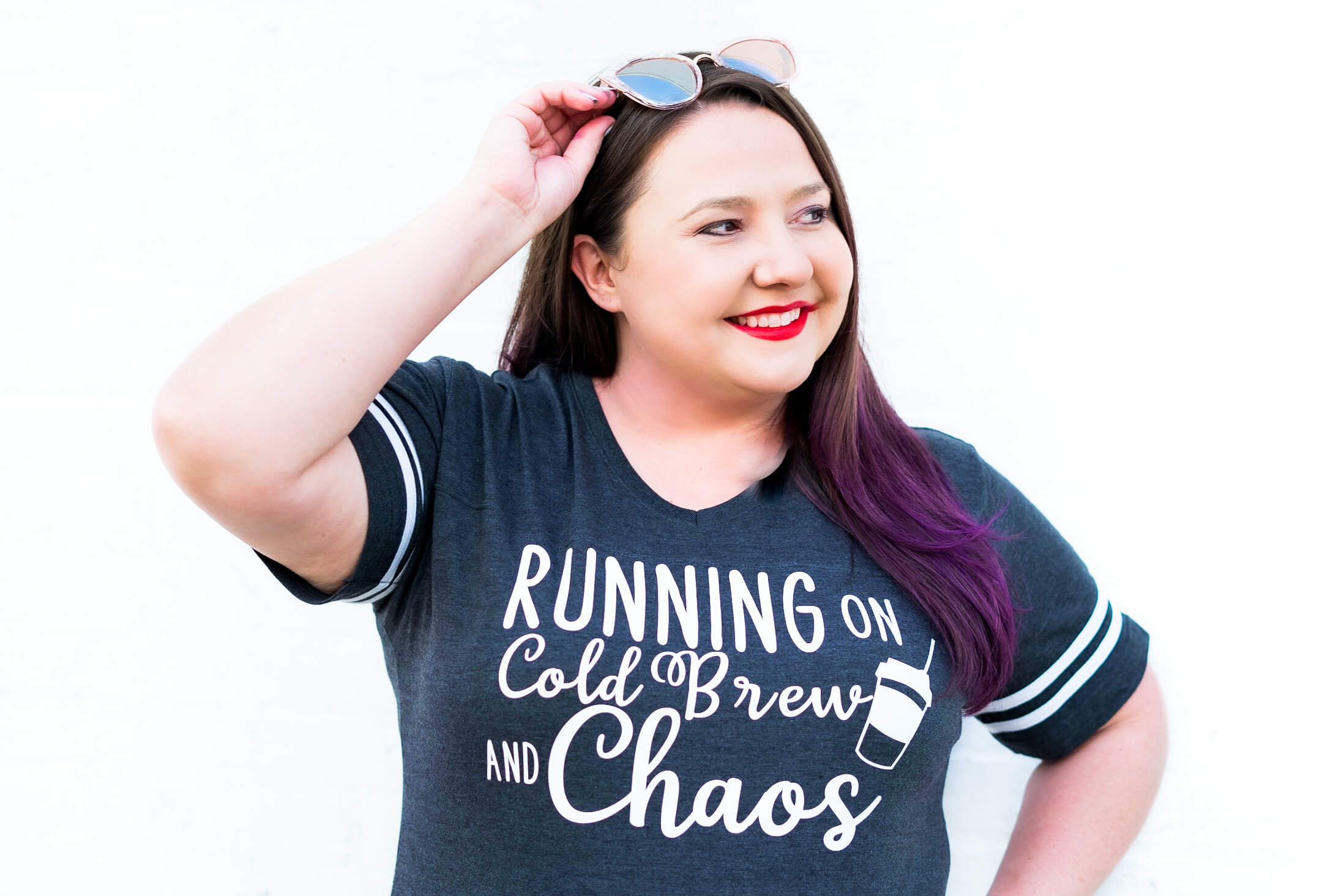 Kim Anderson is the organized chaos loving author behind the Thrifty Little Mom Blog.  She helps other people who thrive in organized chaos to stress less, remember more and feel in control of their time, money, and home. Kim is the author of: Live, Save, Spend, Repeat: The Life You Want with the Money You Have. She's been featured on Time.com, Money.com, Good Housekeeping, Women's Day, and more!