Ultimate Dinosaur Birthday Party Planning Guide
This post contains affiliate links. As an Amazon Associate, I earn from qualifying purchases. I also earn from qualifying purchases made with other brands and programs. See my
privacy policy.
I'm from the first generation of Jurassic Park kids. I remember going to the theatre to watch these crazy prehistoric creatures come to life and walk on land again. To see something so real was mesmerizing, and I was instantly hooked on dinosaurs. That trend has continued with my kids, who love dinosaurs and get excited over their "big stomp" and "roar." Let's throw a great event with these dinosaur birthday party ideas.
Note: All items discussed will be in a mega shopping list at the bottom of the article.
Dinosaur Birthday Party Invitations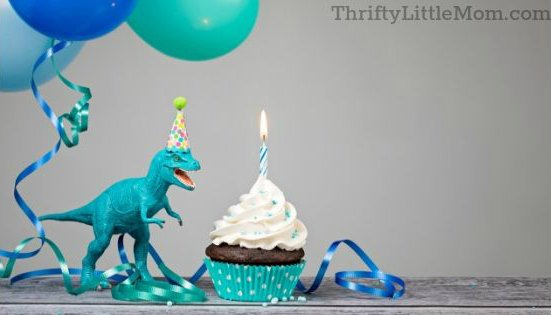 There are several invitations to choose from when it comes to this theme. Whether you prefer the dinosaurs that are true to life or the bubbly-cute dinosaurs, there is an invitation style that will meet your desired look for the dinosaur birthday party.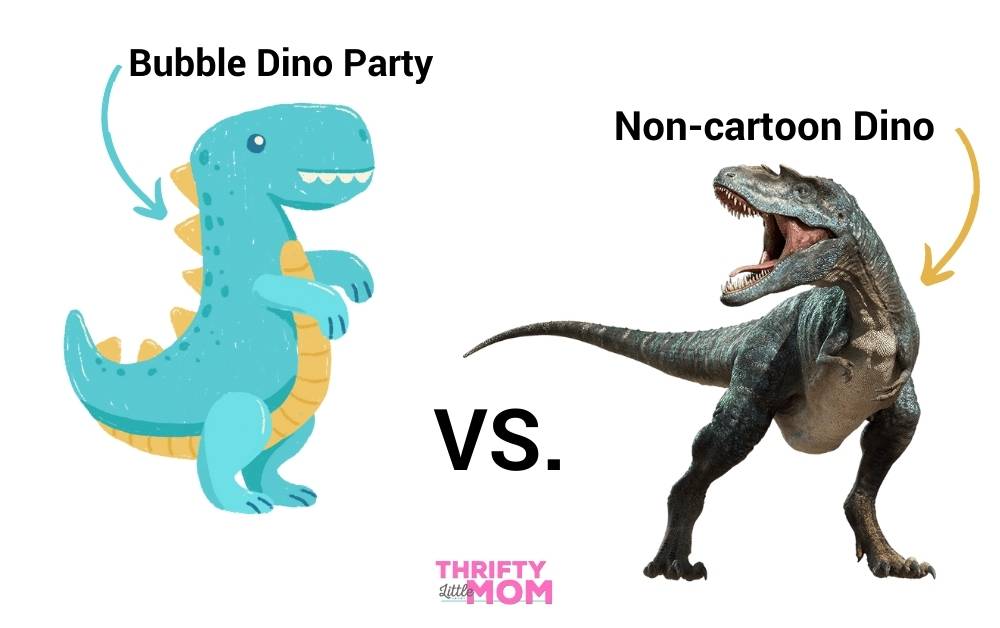 Older kids will prefer the more life-like dinosaur invitations
Younger kids will tend to like the basic shapes and colors of a cartoon dinosaur.
Check out the packs that include all paper needs, these will include

Dinosaur themed invitations
Envelopes
Matching "thank you" cards

Including some fun stickers in the invitation will up the excitement of the party before it even starts.
Dinosaur Birthday Party Supplies
I really like the green and orange color scheme as it can take the look of more realistic (rather than sweet cartoon dino's) and give it some color other than brown.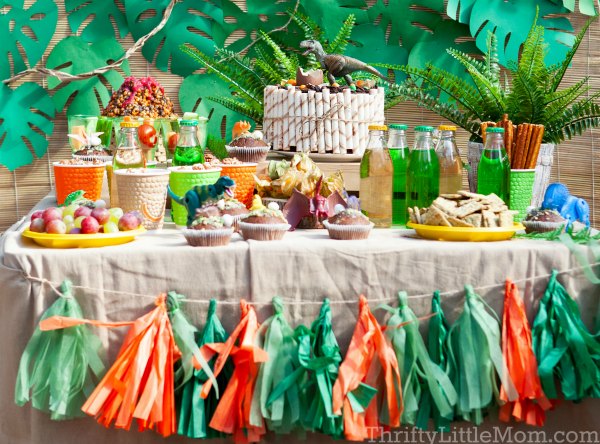 I love how easy they make it is to get all the decorations for this dinosaur shindig. Amazon tends to sell big kits that are designed to include all the odds and ends that will add flair to the party. Usually, they will have:
A banner
Table covering – Burlap can add some rustic texture
Cups and plates
Forks, knives, and spoons
Straws and napkins
Balloon and ribbons
Tiny dino figurines
This is an essential party kit
I would add a few more extras just to make the theme pop
The shoppable image below shows you a large Amazon Dinosaur Birthday Party Kit made little kid-friendly dinos.
This shoppable image gives you an example of another Amazon party kit with a real-life dinosaur look.
Dinosaur Birthday Party Menu
When prepping for the party going with some more natural items as the base for your foods can help create that dino feel. For example:
Wooden Bowls
Wooden cutting boards
Slate boards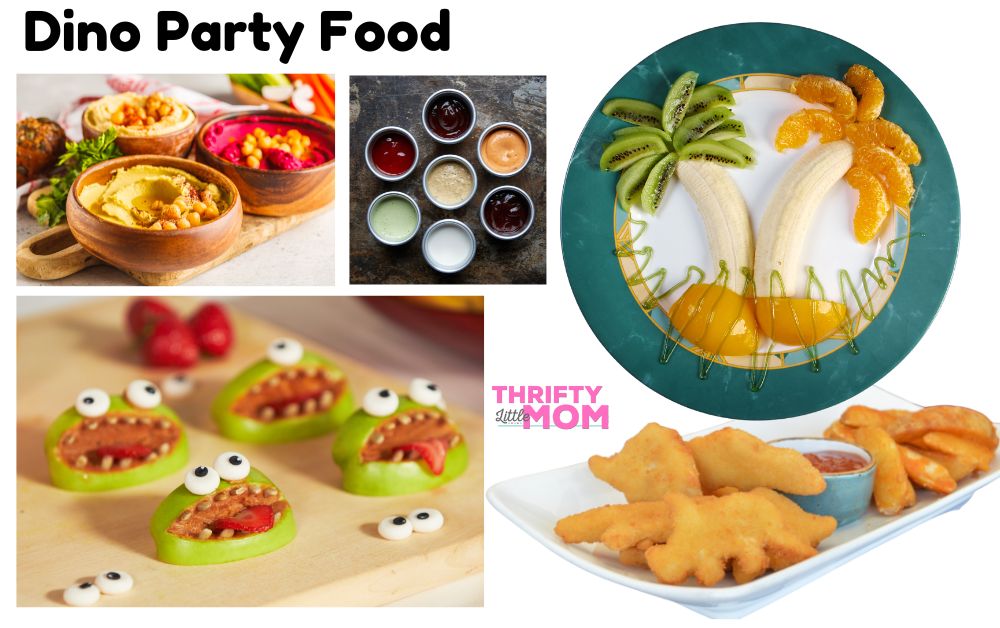 Dino Birthday Party Cake or Cupcakes
For kid's parties, I usually prefer cupcakes because it seems like it's a bit more controlled. The cupcakes are all the same size, so you don't get fights. They feel less messy, and it's easier to send extras home with guests vs. a full-on cake.
If you are torn between getting a traditional cake and cupcakes, this video from Sweetwater Cakes shows you how to combine the two for a cut pull, apart dinosaur birthday party cake.
Exploding Volcano Cake
If you want to get a little fancy for your party, consider creating an Exploding Volcano Cake. It not only creates a "wow factor" to a traditional cake, but it creates an interactive experience your guests and kid will remember for a long time.
Check out this easy-to-follow recipe for an exploding volcano cake.
Dinosaur Birthday Party Themed Food Items List
I have a list of go-to kids' foods in my Stress-Free Kid's Birthday planner but in addition to those items, be sure that you do some themed items as well.
Dinosaur Shaped Nuggets
My kids love these! They are available widely at most grocery store chains.
This brand- Yummy Dino Buddies has:

Regular Nuggets
Whole Grain
Meatless Plant-Based
Gluten-Free
Chicken and Veggie

Create fun dino-themed names for all the condiments too!

BBQ Sauce- Tar Pit
Ketchup- Lava Flow
Honey Mustard- Mud Puddles
Ranch- Glacier Melt
Broccoli Tree Forest
These are usually done in clear single-serve cups
The base in the cup is usually hummus or ranch
Place broccoli cuts into the base (upright) to appear as if they're growing out.
Water Melon Dinosaur Head
Check out this video for instructions.
You will need the following items:

1 large watermelon
Scooping utensil- a large spoon will work fine
Box Cutter
Sharp Knife
ink marking tool
Rock Chocolate
Creates a significant design element
It looks just like polished rocks
They can be utilized as cake accents or in bowls for an added treat
Dinosaur Birthday Party Entertainment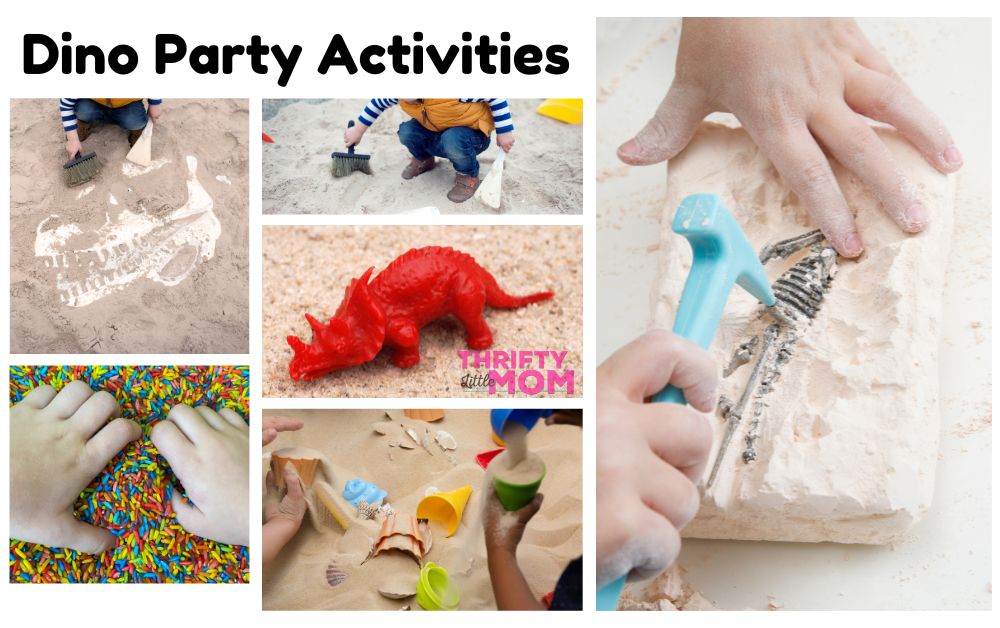 Dinosaur Party Games
Discover dinosaur bones-
Fill a kiddie pool with sand or dirt
Or you can pick up already made faux-ssils
Hide in sand
Give the kids small shovels and brushes to help "excavate" the fossils and clean them
Pin the tail on the dinosaur
Just like a regular pin, the tail
also available in "pin the horn."
T-Rex Piñata Bash
Pick up a fantastic dinosaur piñata
Give the kids a stick and a few spins
Have a blast
Dinosaur rainbow scratch art
Sit down activity
Ornament for keepsake
Great for motor skills
Dinosaur Movie Party
Throwing a movie party is so much fun. This is an excellent option if you have kids that love the different movies that are available.
Here are some dinosaur birthday party movies from different streaming services:
Ice Age Movies – Disney+
Dinosaur– Disney+
The Good Dinosaur – Disney+
The Croods- Hulu
The Land Before Time- Peacock
Dinosaur Birthday Party Music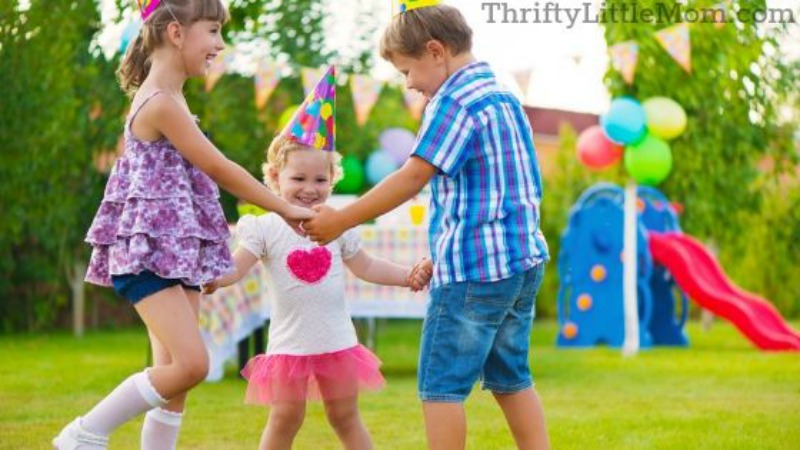 Music for this party can go several ways. You can choose a great sound track from a movie featuring dinosaurs or go with sing-along style tunes that the kids can bust a move to!
Dinosaur Movie Soundtracks
Jurassic Park Original- this is the theatrical original so it ebbs and flows like the movie. Great for background music.
Jurassic World- same orchestral dynamic as the original. Also good for background music
Jurassic Park by the Hollywood Orchestra- this album is great because it features songs from other movies that are powerful and fun to hear.
The Good Dinosaur- this has a great folk feel to it that won't bore you. This has great beats for dancing around.
Ice Age- orchestral but entertaining- "Fighting over the melons" is great!
The Land Before Time Movies- this has some of the sing-along songs that your children may be familiar with
Dinosaur Birthday Party Music
Here is a quick list of songs for kids.
Amazing Dinosaur Songs- this is great for parents because most of the songs are to childhood songs you are already familiar with
Dino-Songs by Don Copper- these are fun and educational songs that will be great for kids
Dinosaur Songs by Pink Fong- new and fun songs for kids to enjoy!
Dinosaur Birthday Party Favors
We all love a goodie bag to go home with. I try to find one or two solid goody items to give out to kids as favors so that they don't get in their parents' car and dump a bunch of broken, junky or even slimy toys in the floorboard. Instead, I go with one thing worth it. Trying to find good dinosaur party favors isn't hard as everybody loves something dino-related!
Adopt and Dino
I did this concept at my twin's unicorn party. Essentially you make the party favor a fun mini dino mylar balloon that at first serves as a decoration that the guests can then take home.
Dinosaur Drawstring Bag–
Reusable drawstring bag that you can fill with goodies.
Dig It Up Dinosaur Eggs-
These eggs are great because they are more than just kids' toys.
They have to meticulously "excavate" the dinosaur from the egg first.
Come with an informative card that has facts about the dinosaurs too!
Dissolving Dinosaur Eggs-
A fun treat for little kids who may not be able to handle the digging of those dino eggs.
You place the dino egg into the water
The egg dissolves, revealing a tiny dinosaur
The dinosaur then grows in the water
Dinosaur Take Apart Set-
Dinosaurs come with tiny tools to disassemble and reassemble
STEM-approved toy for motor skill development and problem-solving
I hope that you have found this post helpful as you start exploring what you will put together for your kids dinosaur birthday party. There is a lot to plan. Below you'll find a list of suggestions for items that were discussed throughout this post. In addition, don't forget to check out my Kid's Party Planner.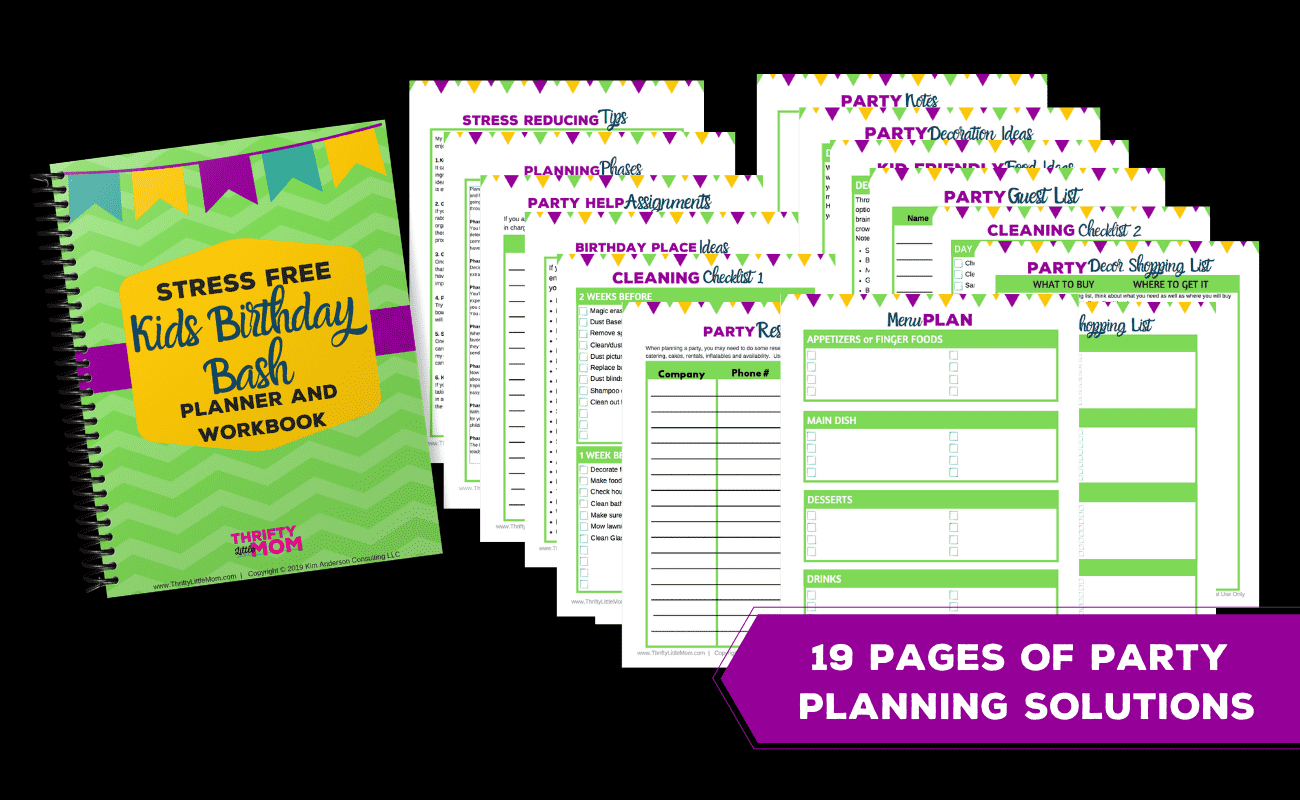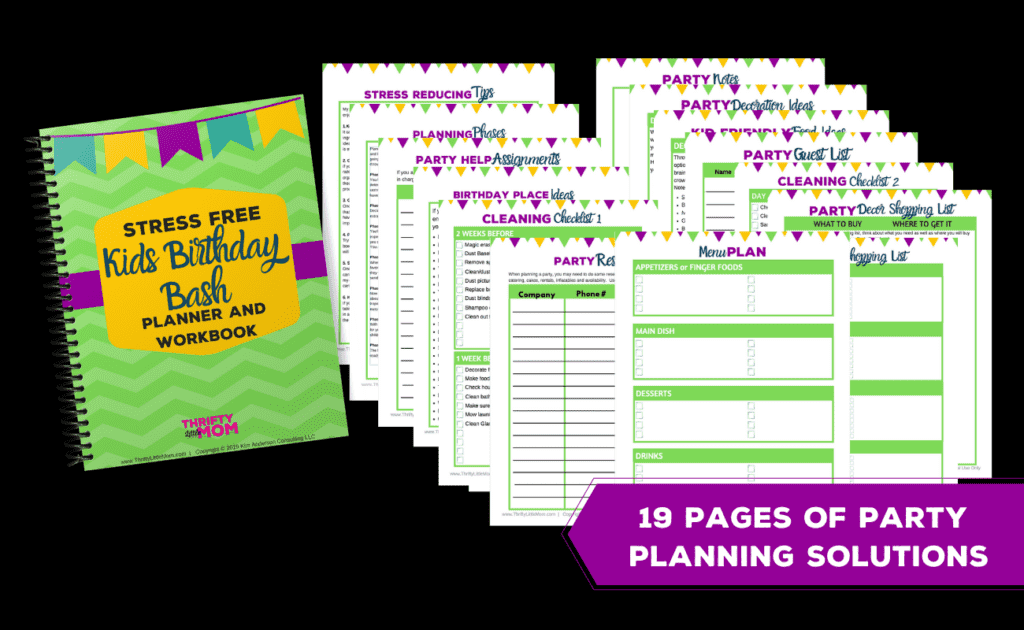 Shopping List For The Dinosaur Birthday Party
Invitations-
Dinosaur Birthday Party Pack – 12 Invitations, 12 Thank You Cards, 24 Envelopes

WERNNSAI Dinosaur Birthday Invitations – 20 Pieces Fill-in Invitation Cards with 20 Pieces Envelopes Dinosaur Party Supplies for Boys Birthday Baby Shower

Beestech 500+ Dinosaur Stickers for Kids Boys Girls Toddlers, Teacher Reward Stickers, Potty Chart Training Stickers, Dinosaur Party Favor & Supplies, Dinosaur Favor Bags Hats Goody Gift Bags Boxes
Dinosaur Party Decorations and Supplies
WERNNSAI Dinosaur Party Supplies Set – Dinosaur Themed Party Decoration for Boys Kids Birthday Cutlery Bag Table Cover Plates Cups Napkins Straws Utensils Banner & Balloons Serves 16 Guests 169 PCS

Tropical Green Palm Monstera Leaves Summer Hawaiian Jungle Beach Fabric Leaves Luau Safari Party Supplies Decorations, 48pc

Party Hanging Decoration Dinasour Wild Theme Mixed Green Orange Red Paper Tassels Garland Wedding Banner Bunting Baby Shower Garlands (Need DIY Set)

Dinosaur Birthday Party Supplies: 24 Dinosaur Party Masks – Masquerade and Halloween Dinosaur Face Mask – Foam Dinosaur Mask for Kids Themed Party Favors Decorations and Hats

BeeGreen Dinosaur Party Supplies Cupcake Toppers and Wrappers 24 Pack Cupcake and Cake Decrorations for Kids Boys Birthday Party

24 Dinosaur Cupcake Toppers + 24 Wrappers – Red Fox Tail

Wood Salad Bowl Set (Bamboo, Set Of 4) Best For Serving Salad, Pasta, Soup, and Fruit. Bowls Looks Absolutey Beautiful With Your Kitchen Setting. Pba Free/Eco-Friendly, By Midori Way
Dinosaur Party Cake Decorations
Prehistoric Deluxe DINOSAUR 18 Piece Birthday CAKE Topper Set Featuring Random Dinosaur Figures, Themed Decorative Accessories, Dinosaurs Average 1/2″ to 4″ Inches Tall

Whimsical Practicality Dinosaurs Edible Icing Image Cake Toppers
Dinosaur Party Games
NUOLUX 3Pcs 4D Dinosaur Fossil Skeleton Toys DIY For Kids Fossil Skeleton Figure
Beistle Pin The Tail On The Dinosaur Game


Ya Otta Pinata T-Rex

Supla 36 Set Dinosaur Birthday Party Game Supplies Magic Color Scratch Art Rainbow Dinosaur Ornaments Dinosaur Craft Kits Dinosaur Party Favor for Kids Boys Girls Classroom Craft
Dinosaur Party Music Selections
Jurassic Park (Soundtrack)

Jurassic World (Original Soundtrack)

Jurassic Park

The Good Dinosaur

Ice Age (Original Motion Picture Soundtrack)

The Best Songs from the Land Before Time

Most Amazing Dinosaur Songs

Dino-Songs

Dinosaur Songs 2
Dinosaur Birthday Party Favors
BeeGreen Dinosaur Party Supplies Favors Bags for Kids Boys and Girls Birthday 12 Pack Dino Drawstring Gift Pouch for Goody

Dig a Dozen Dino Eggs Kit – Break Open 12 Unique Dinosaur Eggs and Discover 12 Cute Dinosaurs – Easter Archaeology Science STEM Gift

Dinosaur Eggs Toy Hatching Growing Dino Dragon for Children Large Size Pack of 30pcs,Colorful Crack by Yeelan

Rhode Island Novelty – 24 Dinosaur Dino Mugs Plus

Dinosaur Toys Take Apart Toys With Tools (218 pieces) – Pack of 6 Dinosaurs With 12 Tools – Construction Engineering STEM Learning Toy Building Play Set – Toy for Boys & Girls Age 3 – 12 years old

56 PCS Dinosaur Party Favors,Dinosaur Party Goodie Bag Fillers,Prizes Gift Carnivals for Kids Birthday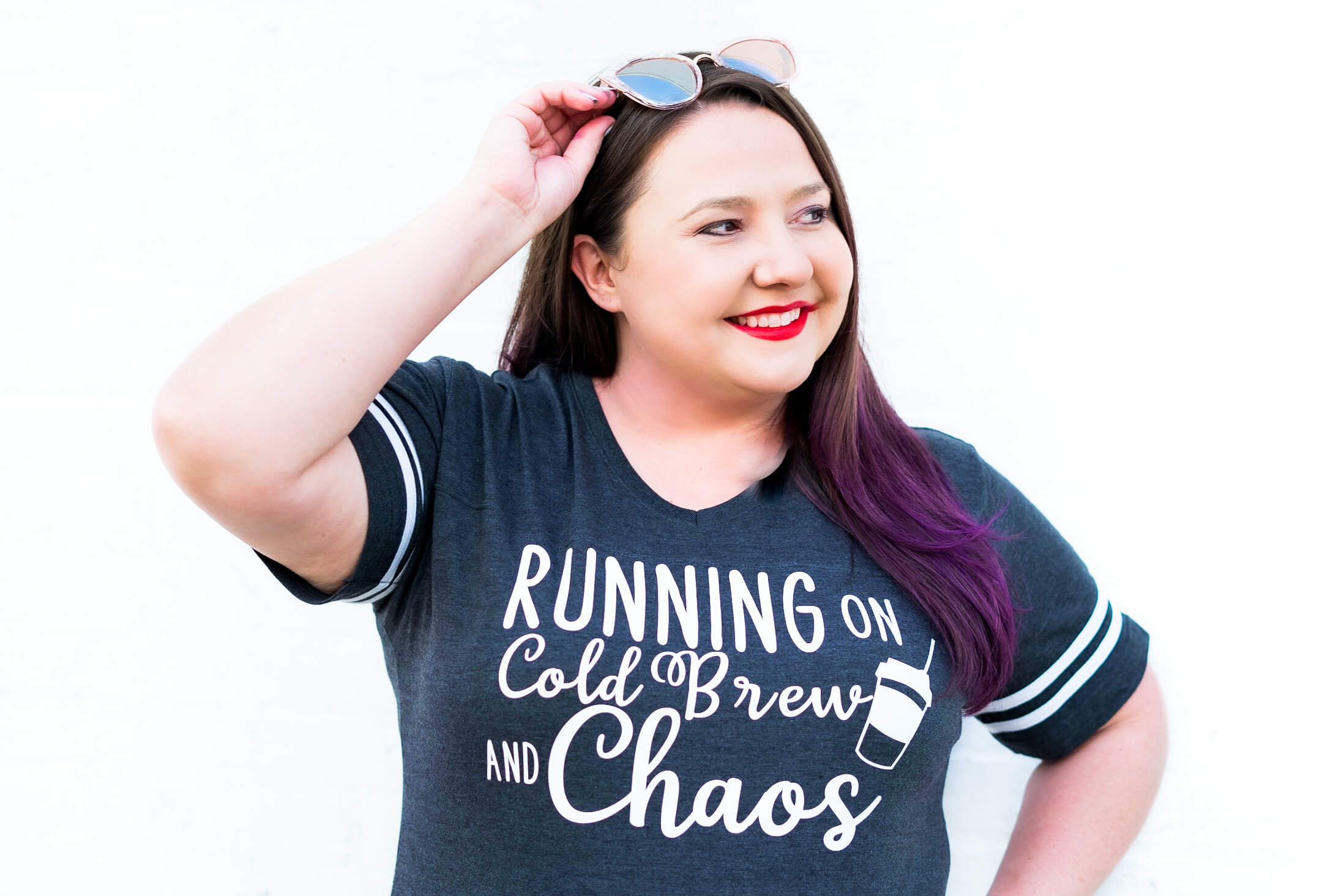 Kim Anderson is the organized chaos loving author behind the Thrifty Little Mom Blog.  She helps other people who thrive in organized chaos to stress less, remember more and feel in control of their time, money, and home. Kim is the author of: Live, Save, Spend, Repeat: The Life You Want with the Money You Have. She's been featured on Time.com, Money.com, Good Housekeeping, Women's Day, and more!
Summary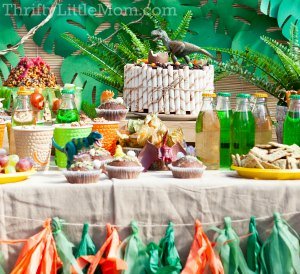 Article Name
Easy Dinosaur Birthday Party Ideas
Description
If you have kids that love jurassic life, let me show you how to throw a fantastic dinosaur birthday party with these ideas!
Author
Publisher Name
Publisher Logo