White Elephant Gifts Worth Fighting For
This post contains affiliate links. As an Amazon Associate, I earn from qualifying purchases. I also earn from qualifying purchases made with other brands and programs. See my
privacy policy.
So you're staring at your ugly sweater Christmas party invite. You keep re-reading the part about bringing a $15 gift for the white elephant gifts exchange game.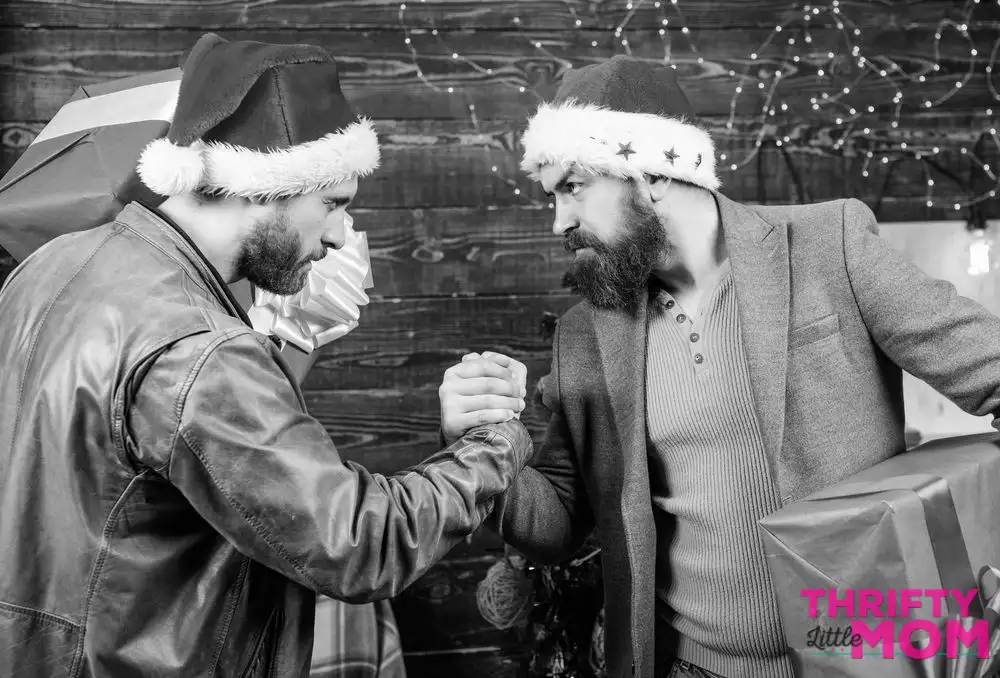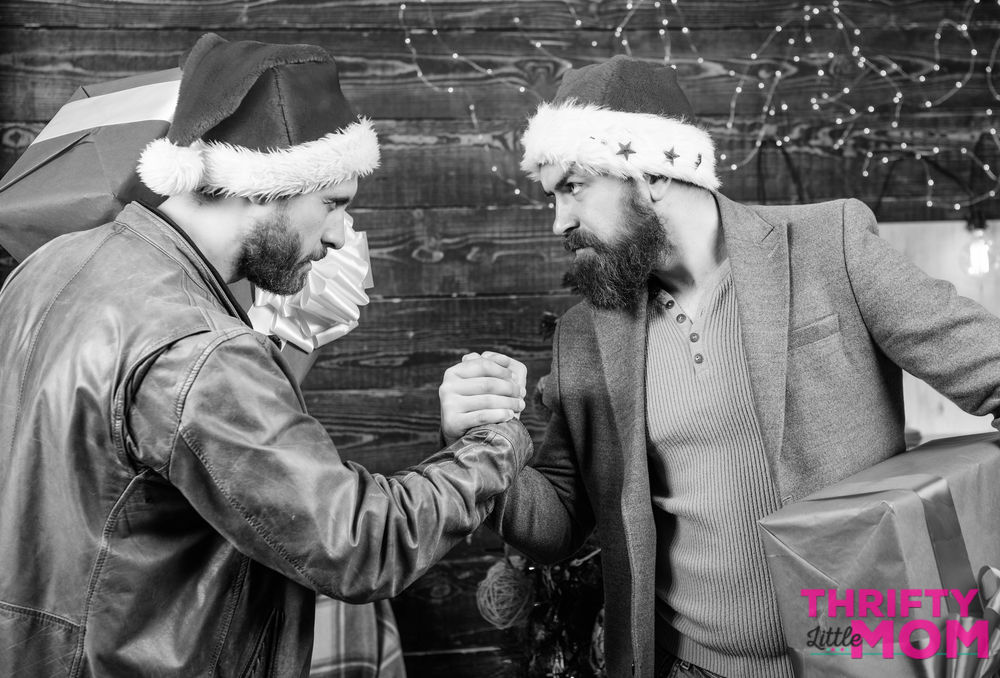 Your mind races with various ideas but you settle down in the comfort of knowing that with everything else you have going on during the holidays, there is a drug store not far from the party. You'll just stop in and grab a plaid wearable blanket with sleeves, a gift bag and some tissue paper.
When the big day comes, everyone draws their numbers. The gift swap game begins and you wait anxiously to see who will pick your gift.
Finally, someone opens your contribution, gives the surprise face followed by the courtesy laugh that communicates, "Great… I got the gag gift this year." What they know is that they are stuck with this gift and nobody's going to steal it. The game is officially over for them.
You try and recover by making a joke like, "Hey, now you can go fishing and stay warm and cozy" ensuring that no one suspects you brought it. Especially when you are sitting with a gift card in your hand to your favorite coffee shop.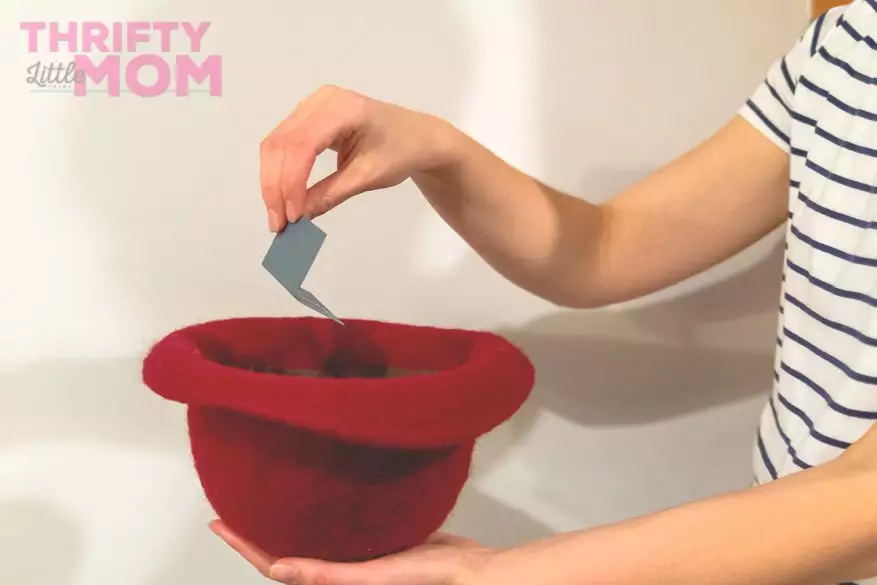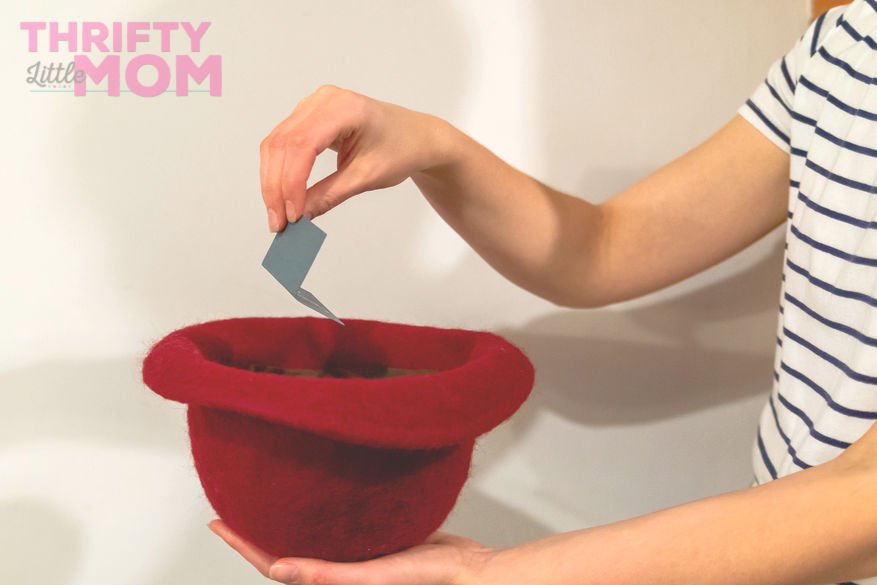 Be Prepared For Your White Elephant Gifts Party
Instead of making this gift a last-minute scramble, try bringing a white elephant gift worth fighting for. In my opinion, the best gift swaps typically involve way more stealing than gift opening.
You want your gift to make the party more fun and highly competitive. It's entertaining to see people's true competitive sides come out during a Yankee Swap or White Elephant exchange.
After much experience in these gift swaps, I've come up with a list of what I consider the top white elephant gifts worth fighting over. Your friends are probably different from mine, but if you see something you might fight over, consider it a good bet for the party. Here are some creative white elephant gift ideas.
1. White Elephant Gifts Prank Boxes W/ Legit Stuff Inside
These are super funny empty boxes for any gift swap party. I even bought one for my nephew one year. The outside cover displays some ridiculous or stupid kind of "As Seen On TV" parody product. But you can put a cool gift inside like movie tickets or gift cards.
They have MANY different kinds of boxes to choose from so be sure to check out all the ones they have on Amazon for less than $10.
Bath and Brew- This one looks like a shower coffee maker and soap dispenser.

The Crib Dribber- Imagine a giant hamster water feeder for kids that you put milk in. Hilariously disturbing.
The iDrive- So you can use your ipad as you drive around town.
My personal favorite is the Wake Prank Pack Wake & Bake Griddle
. At a party a few years ago, I kept staring at this trying to figure out why anyone would leave eggs out on the griddle clock raw the night before. lol Then it was revealed that it contained movie tickets inside and the fight was on!

2. White Elephant Gifts Hilarious Adult Arts and Crafts and Comfort Items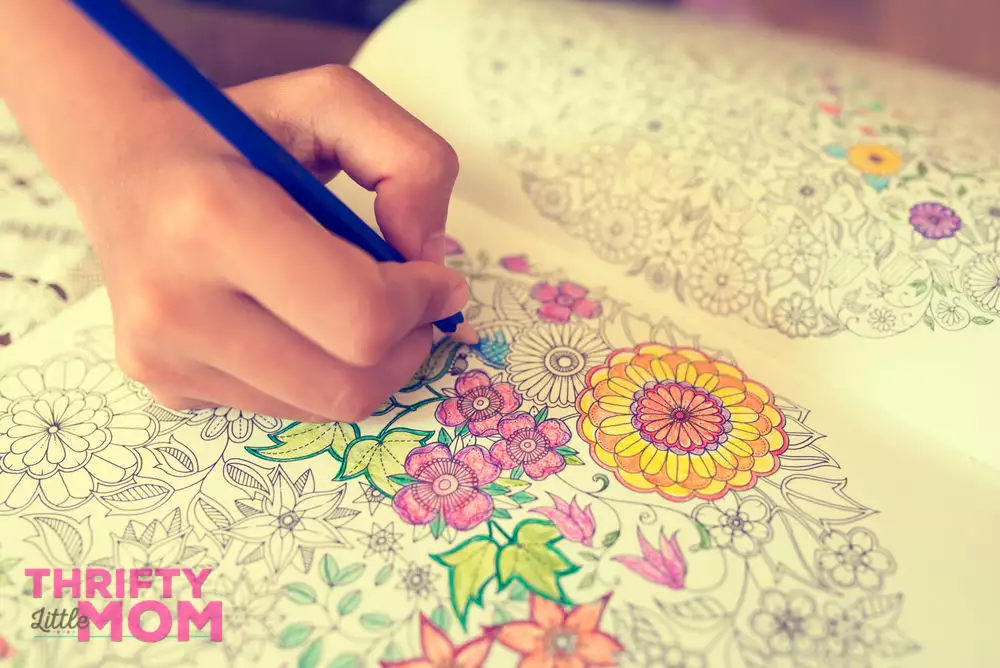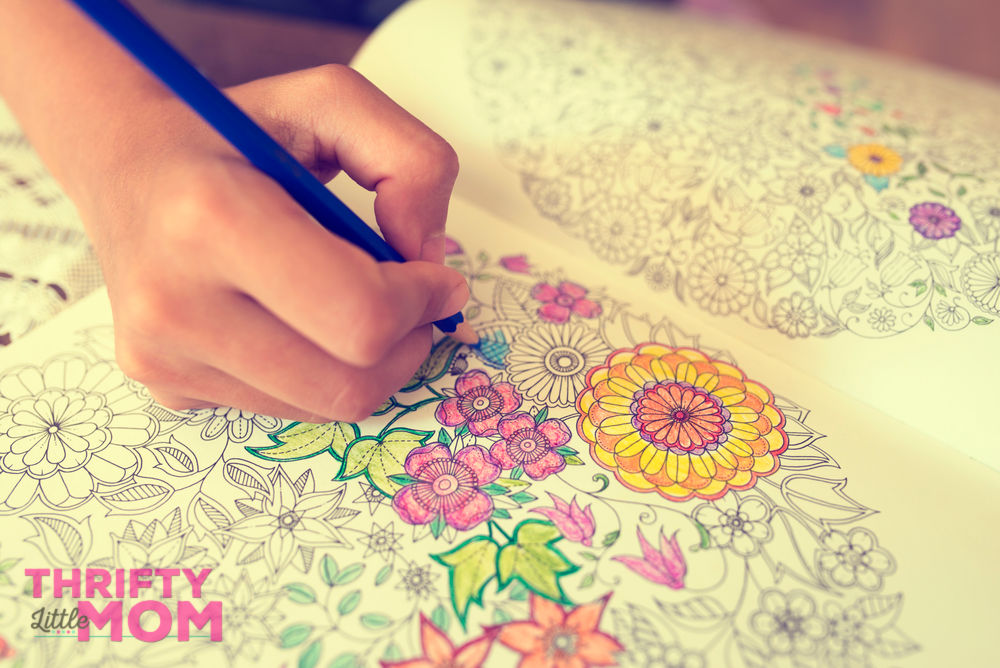 For Home Alone Fans
3. White Elephant Gifts Cool Gadgets Worth Fighting For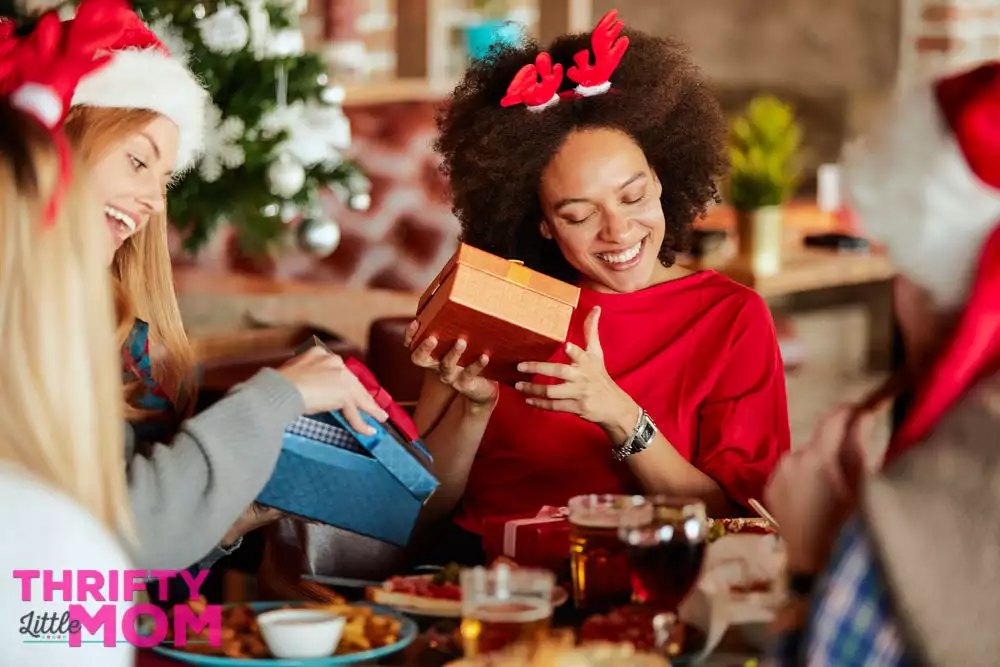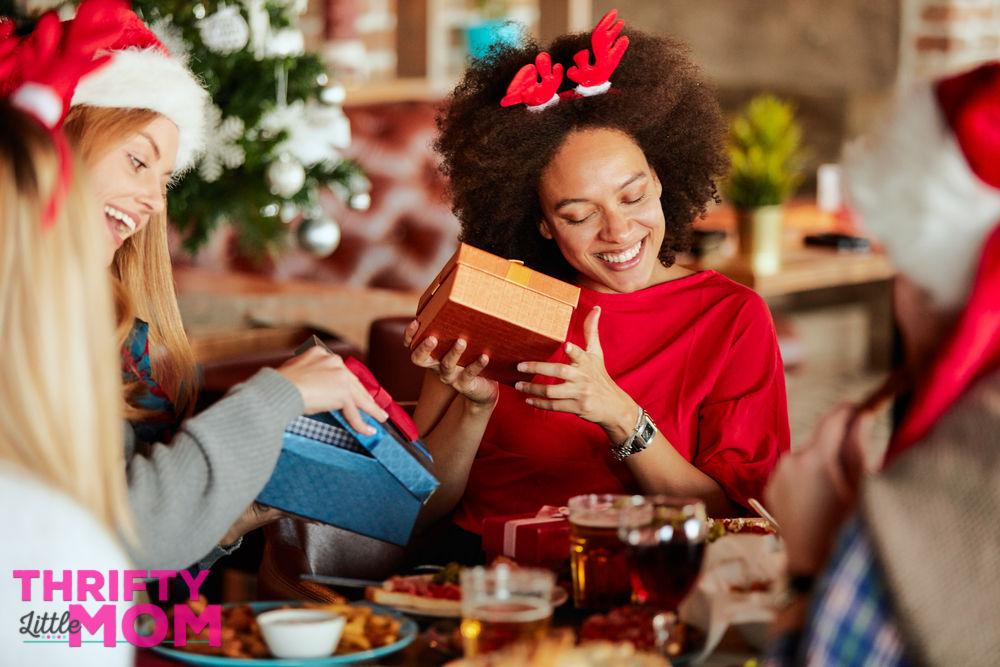 If you have a group of parents at the party, they will fight for these types of gifts as they make perfect supplemental gifts for their kids. Secretly all the dads just want to play with them.
The remote control helicopter-
All the dudes will fight for this one. I promise you!
The Coolest Fly Swatter Ever Invented
The Bug-A-Salt guns are amazingly accurate. I was super skeptical when I first saw them but a friend got one and I couldn't believe how well they work to kill flys. You load the top with regular table salt and the gun shoots the salt ou like a shotgun killing the fly instantly.
Portable Bluetooth Speakers for Poolside, Boats and Excercise
These little items are super useful! You charge them up and take them with you to charge your mobile phone or tablet when an electrical outlet or car charger isn't available.
Cool Phone Accessories-
Solar phone charger for when you are deep in the woods and need to make call.
This 3 in 1 Cell Phone Camera Lens kit is one of the most popular gifts that I suggest from this post. People really love this gift idea for some reason. Maybe it's because it's useful and fun!
Now you can fully embrace your inner Chuck Norris, Baer Grills or MacGyver with a tactical kit.

These gifts all involve creative takes on alcohol kind of gifts —- useable but just weird enough to start conversations at your party!
Parody Products iDrink Cell Phone Flask, 4.5oz
– Cell flask is the way to go….
XIKEZAN Upgraded Unisex Knit Bluetooth Beanie Hat Headphones V4.2 Unique Christmas Tech Gifts for Men/Dad/Women/Mom/Teen Boys/Girls Stocking Stuffer w/Built-in Stereo Speakers (Black )
-For the people who don't want their head to get cold while they listen to music or talk on the phone. lol

This hot dog toaster is another one of my most popular gag gift suggestions and unlike the gag boxes this is a real thing in real life!
Nostalgia HDT600RETRORED Retro Series Pop-Up Hot Dog Toaster
– because this is a real thing…. lol

Better yet, how about Bob Ross?
Uncanny Brands Bob Ross Waffle Maker – Bob's Iconic Face on Your Waffles – Waffle Iron
4. White Elephant Gifts Fun Mugs, Glasses & Booze Worth Fighting For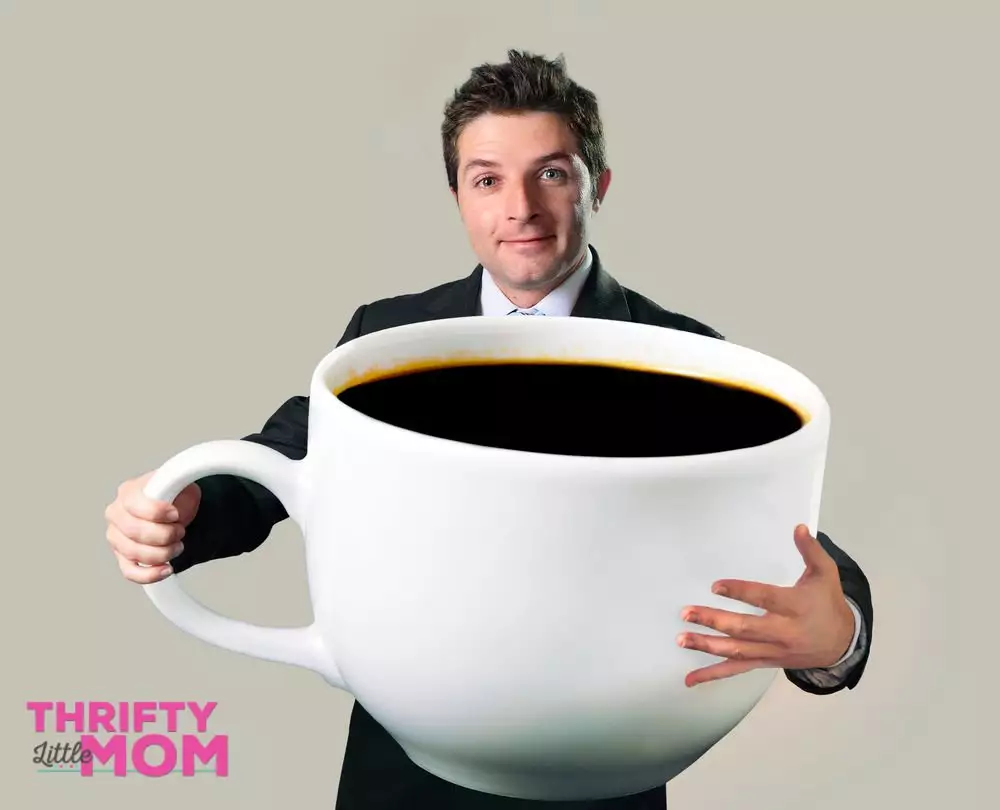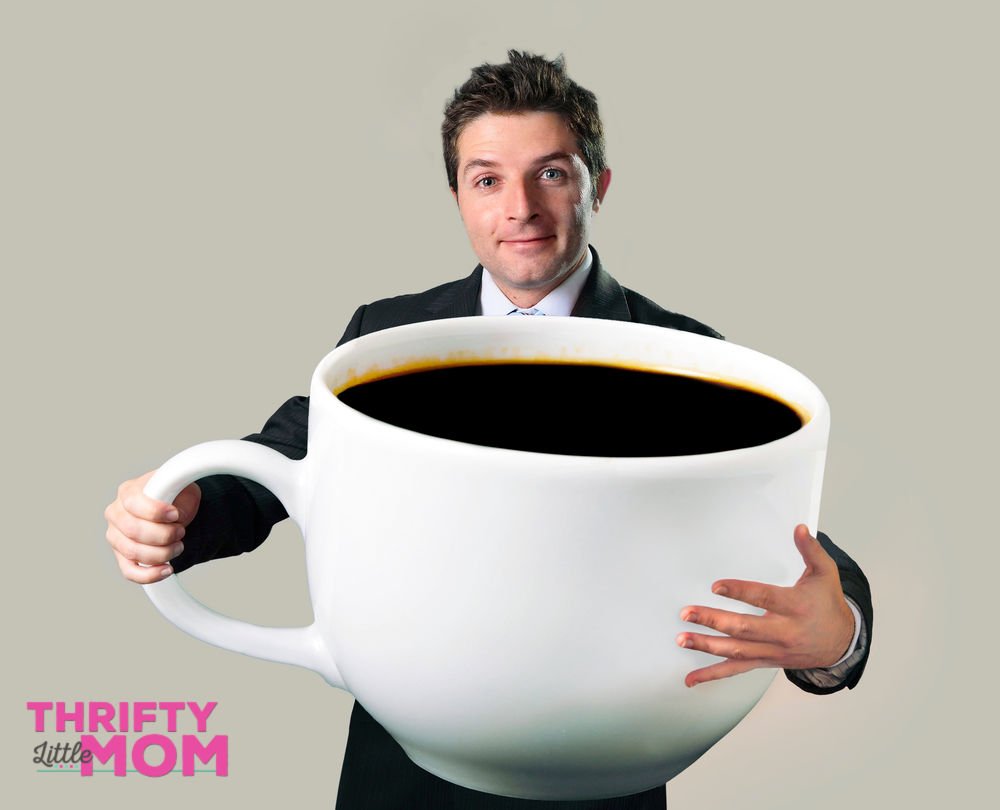 Everyone has so many mugs that they are bound to be a drag but if they are funny and someone relates to them, they will be worth fighting over. In fact, throw in a bottle of wine, a bottle of liquor, a bag of Starbucks coffee, Starbucks Gift Card or beer and you just kicked its attractiveness up a notch!!!
Host Wine Freeze Cooling Cups, Multicolor (Set of 4)
BigMouth Inc. One Cup of Coffee Gigantic Mug, Funny Huge Ceramic Gag Gift for Coffee Lovers, Holds up to 64 oz.
Oh my word this mug is not only hilarious, it's gigantic and might just drink out of it everyday lol.
Eitly Might Be Wine Mug, 11 oz
– these also come in other alcohol varieties. lol


Seriously, these Camera lens mugs look super real. In fact I once had a friend pick mine up and put it somewhere safe because she thought it was my real camera lens!!! LOL
Coffee Mug – Camera Lens Travel Thermos – Stainless Steel Insulated Cup with Easy Clean Lid – 13.5oz – Black – Go with Premium Stainless Steel Spoon Bonus_uHome
Hamilton Beach 25477 Breakfast Electric Sandwich Maker, Black
6. Giant Candy Worth Fighting For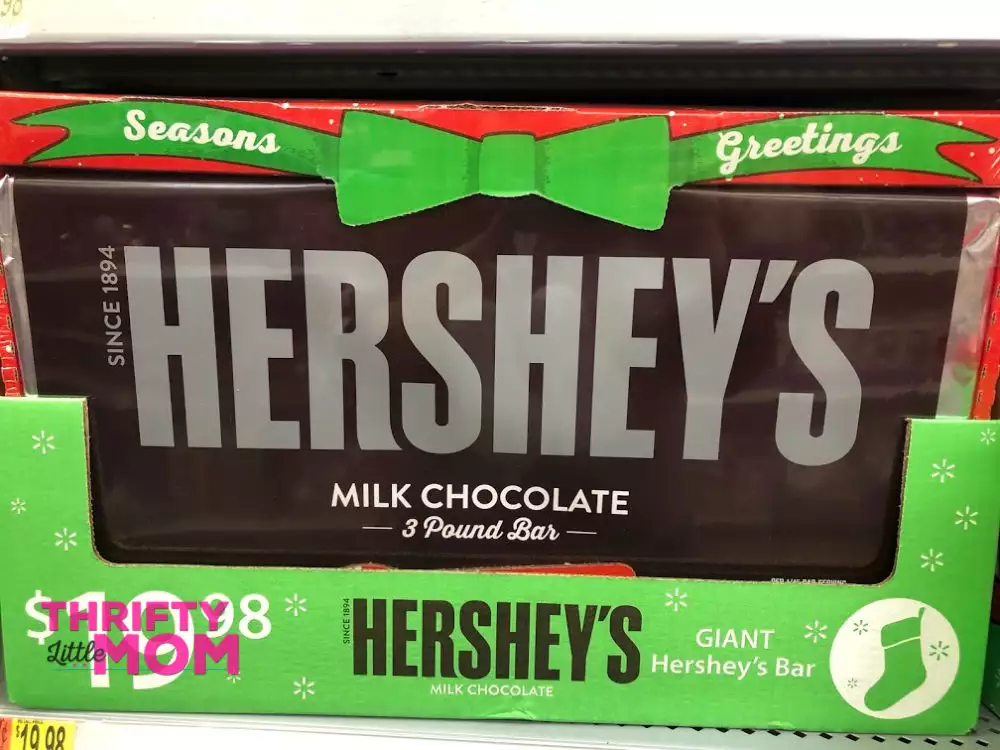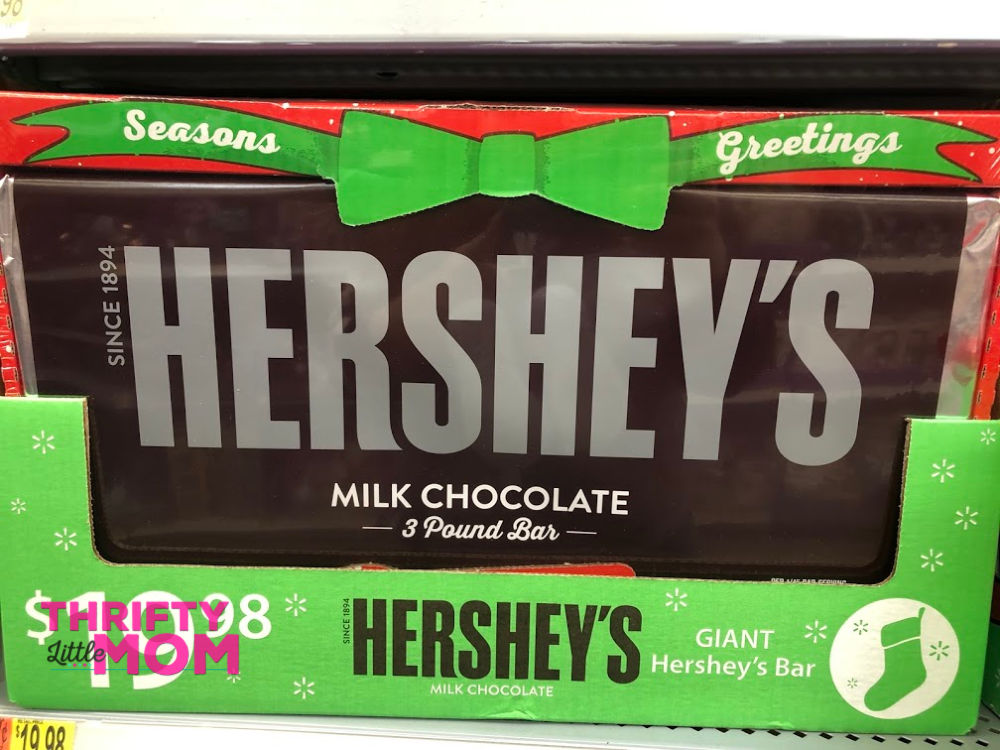 These ridiculously giant candies can be both funny and worth fighting someone over. If I could find a giant Twix bar it would be on like Donkey Kong for me and whoever tried to take it.
SNICKERS Slice n' Share Giant Chocolate Candy Bar 1-Pound Bar
CHARM GIANT BLOW POP shaped container holds 8 Multi Flavored Hard Candy Lollipops (Single)
Reeses Peanut Butter Cup Holiday 1 Pound Pack, Pack of 2
7. Clothing & Accessories Worth Fighting For
Turn into a Ninja Flip T Shirt Cool Fighter Disguise Funny Shirts – The front side of the shirt says, "Ask me about my ninja disguise" and then you flip it over your head and you are a ninja!!! Freakin' awesome.
Dad Bag Fake Belly Waist Pack Unisex Fanny Pack Waist Stash with Adjustable Belt
– Because who doesn't want to strap this one just to see how many people stare. lol
8. Lottery Scratch Off Tickets with Candy, Coffee or Gift Cards Worth Fighting For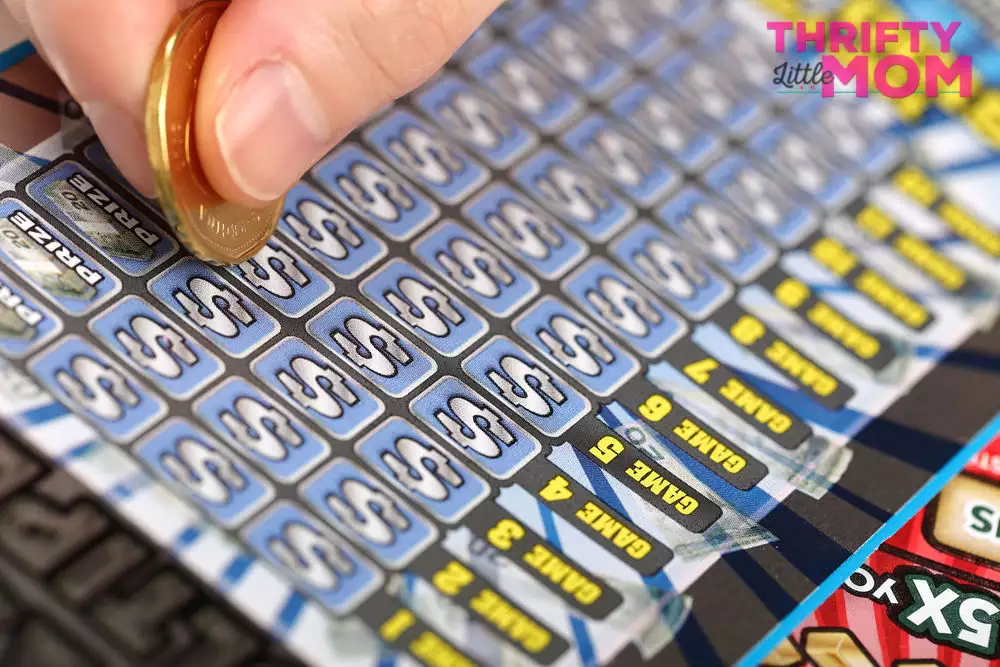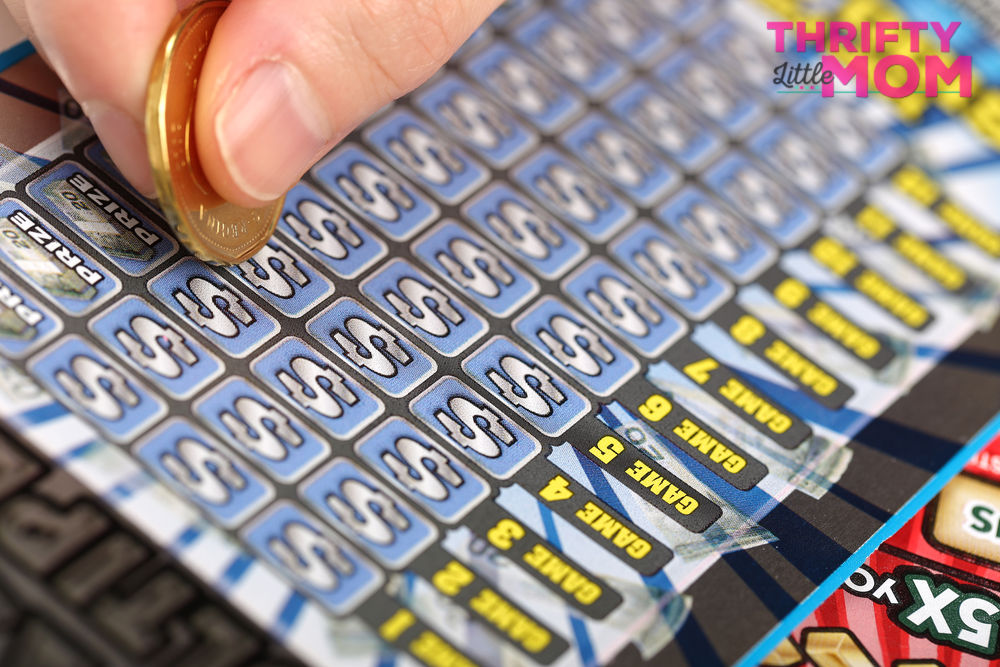 I think people fight for these because they hope and wish they win big! If you get lottery scratch off tickets, be sure that you pick up something to go with it so if/when the person wins nothing, they don't feel totally cheated with their white elephants gifts exchange.
9. Gourmet Treat Gift Sets Worth Fighting For
There is something about nuts, olive oils and expensive candy that can make people at gift swaps go a little crazy. Maybe it's because they know those are totally usable. Maybe it's because they would never buy a $18 bottle Olive Oil themselves. Whatever the draw, people tend to really like these types of items at swaps.
10. Target the gift toward someone's obsession!
If you know some of the people attending the party and you know what kind of stuff they are already obsessed with like – Sarcastic cat mugs, growlers, football cards or whatever it may be, intentionally find something you know they would fight tooth and nail for and watch their dark side come out.
I really hope this post has given you some creative inspiration for your upcoming holiday gift swap game. If you end up trying out a gift like what I've thrown out in this post I hope you find that it's a White Elephant gift worth fighting for. Most importantly, have fun and make great memories with good friends.


Need More Gift Type Ideas?
14 Hilarious Yankee Swap Gift Ideas – Now, some people gave me a hard time about these gifts not being re-gifts or gag in nature so I created a second list for people looking for funny gifts instead of usable gifts.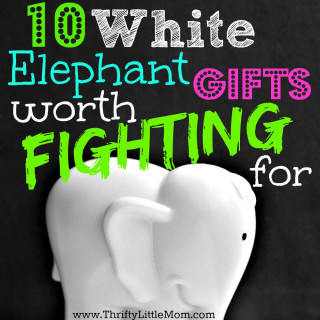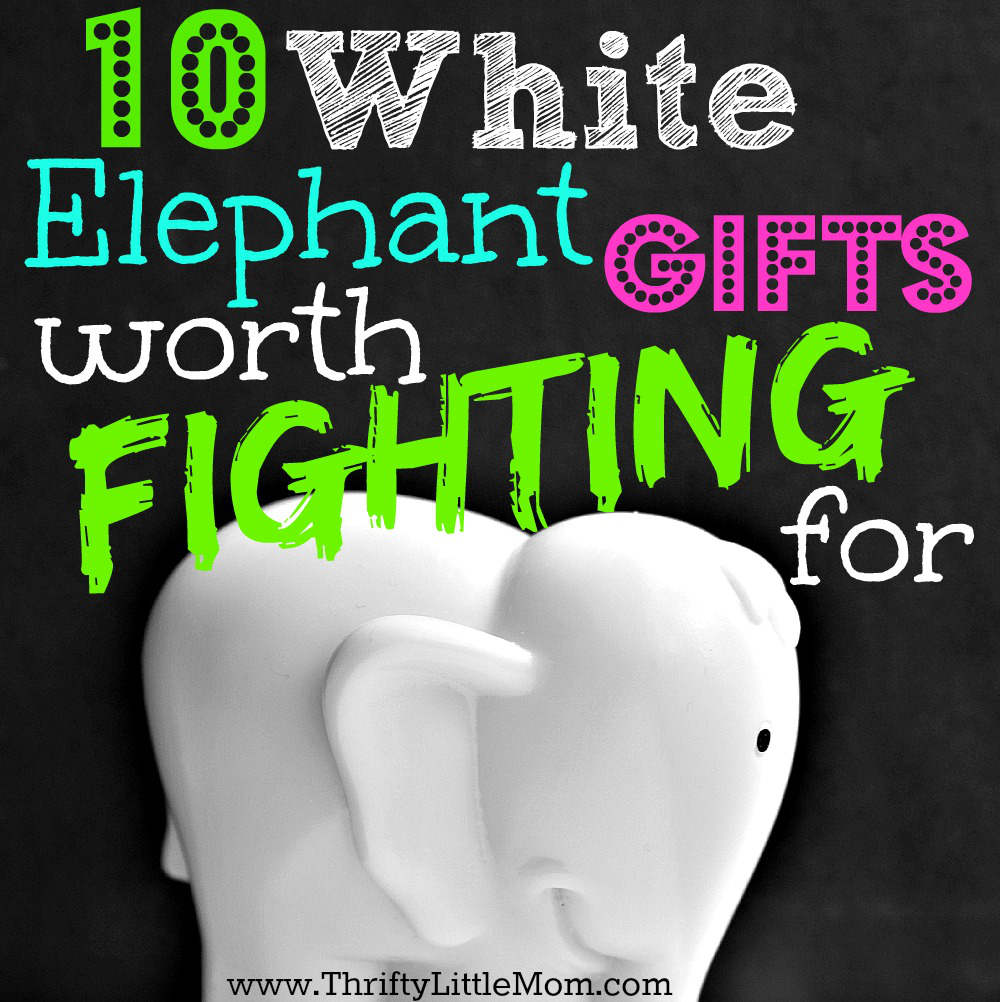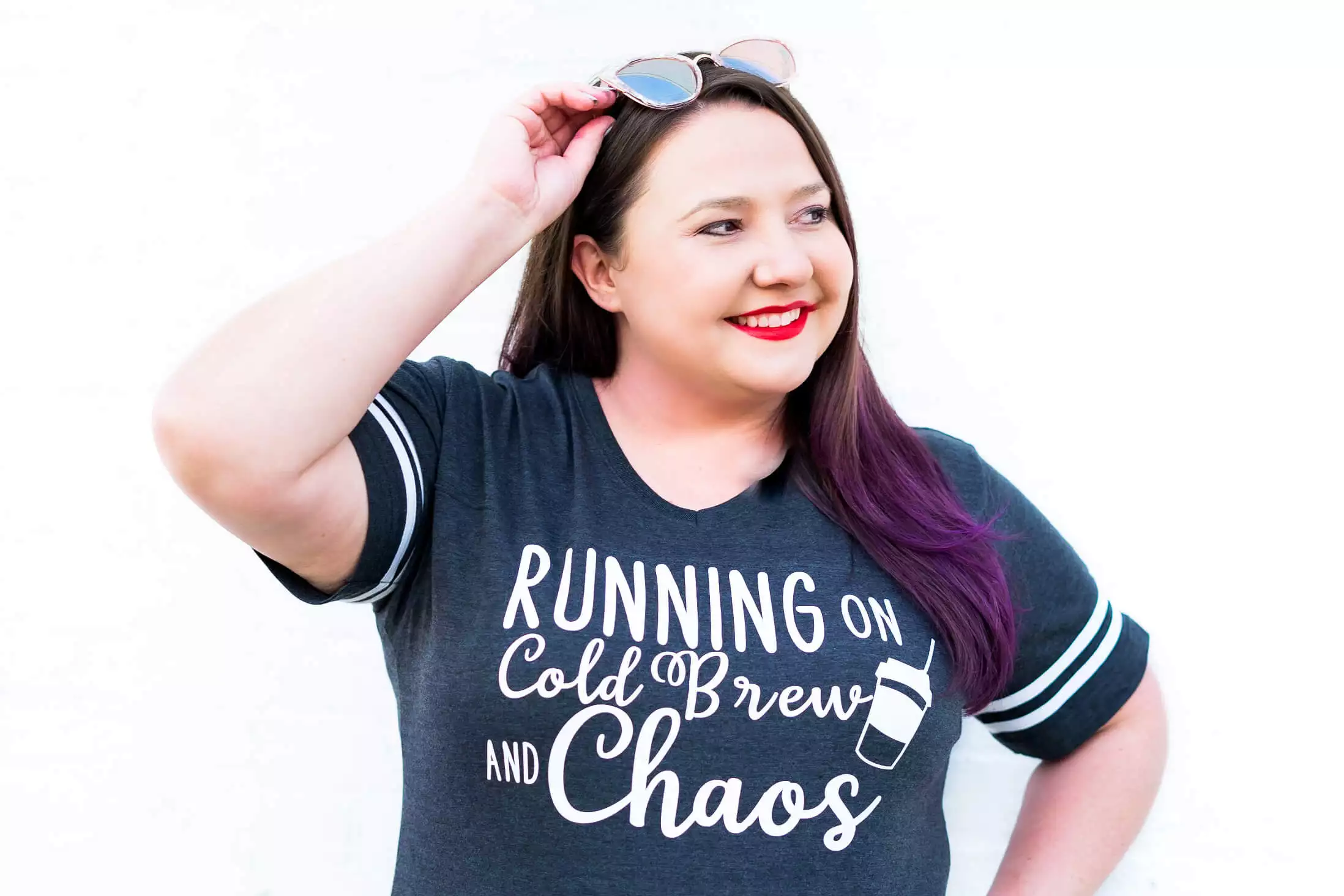 Kim Anderson is the organized chaos loving author behind the Thrifty Little Mom Blog.  She helps other people who thrive in organized chaos to stress less, remember more and feel in control of their time, money, and home. Kim is the author of: Live, Save, Spend, Repeat: The Life You Want with the Money You Have. She's been featured on Time.com, Money.com, Good Housekeeping, Women's Day, and more!
Summary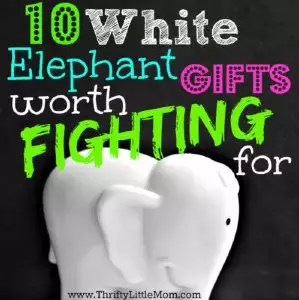 Article Name
White Elephant Gifts Worth Fighting For
Description
Looking for that perfect white elephant gift for your next party? This article shows you the most popular option in a multitude of price ranges.
Author