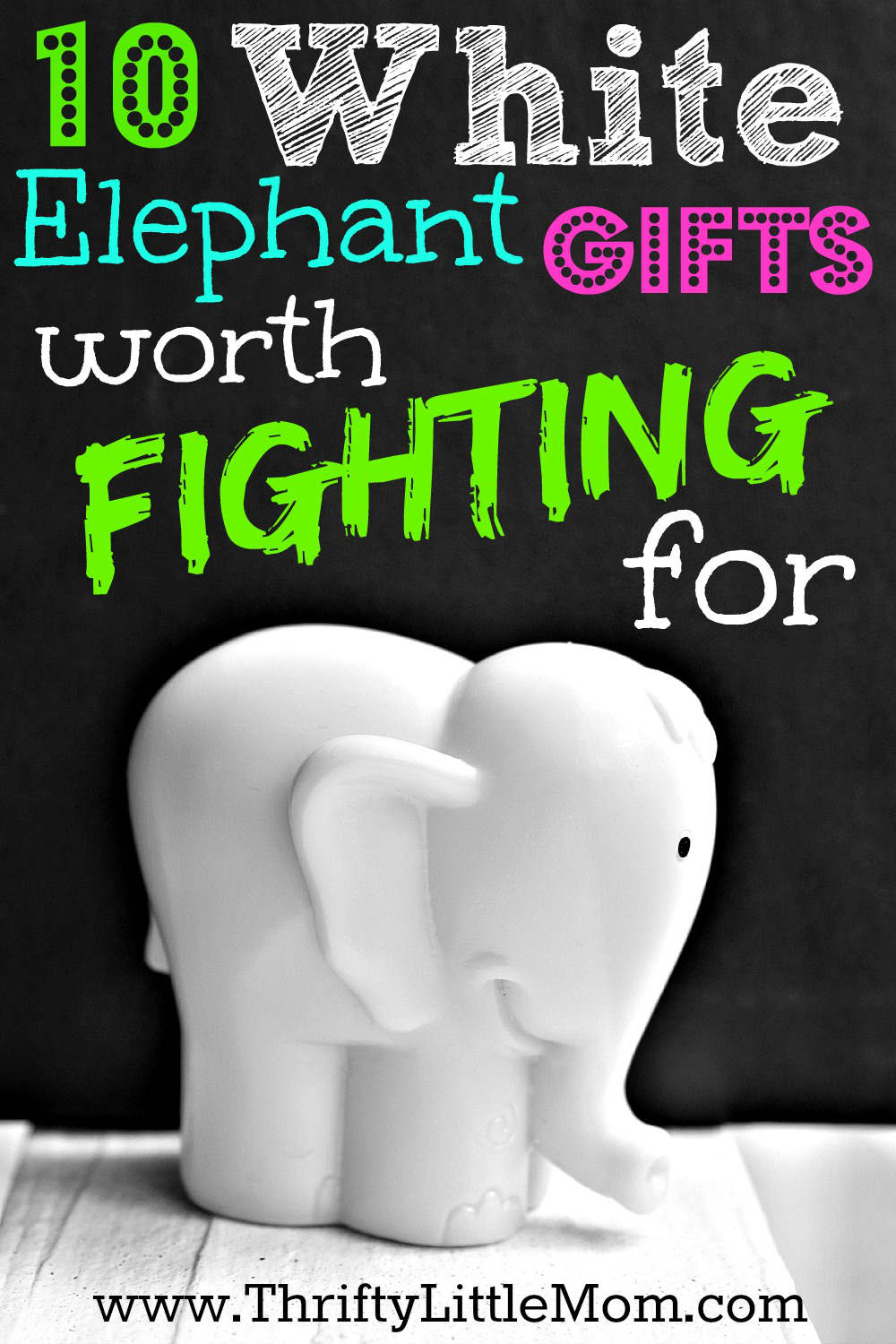 So you're staring at your ugly sweater Christmas party invite.  You keep re-reading the part about bringing a $15 gift for the white elephant gift exchange game.  Your mind races with various ideas but you settle down in the comfort of knowing that with everything else you have going on during the holidays, there is a drug store not far from the party.  You'll just stop in and grab a plaid wearable blanket with sleeves, a gift bag and some tissue paper.
When the big day comes, everyone draws their numbers. The gift swap game begins and  you wait anxiously to see who will pick your gift.  Finally someone opens your contribution, gives the surprise face followed by the courtesy laugh that communicates, "Great… I got the gag gift this year."   What they know is that they are stuck with this gift and nobody's going to steal it.  The game is officially over for them.
You try and recover by making a joke like, "Hey, now you can go fishing and stay warm and cozy" ensuring that no one suspects you brought it.  Especially when you are sitting with a gift card in your hand to your favorite coffee shop.
Instead of making this gift a last minute scramble, try bringing a white elephant gift worth fighting for.  In my opinion, the best gift swaps typically involve way more stealing than gift opening.  You want your gift to make the party more fun and highly competitive.  It's entertaining to see people's true competitive sides come out during a Yankee Swap or White Elephant exchange.
After much experience in these gift swaps, I've come up with a list of what I consider the top ten white elephant gifts worth fighting over.  Your friends are probably different from mine, but if you see something you might fight over, consider it a good bet for the party.  Here are some creative white elephant gift ideas.
Please note that the gifts you see below are from Amazon.com but are meant for inspiration.  I put the price that the item was when I created the post which are subject to go up or down at Amazon's discretion. 
1. Prank Boxes
These are super funny empty boxes for any gift swap party.  I even bought one for my nephew one year.  The outside cover displays some ridiculous or stupid kind of "As Seen On TV" parody product.  But you can put a cool gift inside like movie tickets or gift cards on the inside.  They have MANY different kinds of boxes to choose from so be sure to check out all the ones they have on Amazon under $8.
Prank Pack iDrive
My personal favorite is the Wake Prank Pack Wake & Bake Griddle
.  At a party a few years ago, I kept staring at this trying to figure out why anyone would leave eggs out on the griddle clock raw the night before. lol  Then it was revealed that it contained movie tickets inside and the fight was on!

2. Hilarious Adult Coloring Books
The Farting Animals Coloring Book
 – My sister is going to die when she opens this!  I can't even wait!  For those friends who appreciate fart humor.
Mom Life: A Snarky Adult Coloring Book (Humorous Coloring Books For Grown- Ups)
– Less than $12 on Amazon for your mom friends.


3. Sherpa Blankets
I have literally seen grown women throw down over one of these soft wonders.
Napa Super Soft Micro Mink Fleece Sherpa Bed Throw TV Blanket 50″ x 60″ Reversible Grey
4. Remote Control Helicopters and Cars
If you have a group of parents at the party, they will fight for these types of gifts as they make perfect supplemental gifts for their kids.  Secretly all the dads just want to play with them.  For those with around a $20 budget.
Syma S107/S107G R/C Helicopter with Gyro- Red

5. Power Banks for Mobile Devices
This little items are super useful!  You charge them up and take them with you to charge your mobile phone or tablet when an electrical outlet or car charger isn't available.
–Amazon  Anker Astro E1 5200mAh Candy bar-Sized Ultra Compact Portable Charger (External Battery Power Bank) with High-Speed Charging PowerIQ Technology (Black)
6. Camera Lenses for Your Cell Phone
If you've got a few people who love taking pictures with their cell phones this is a crazy out the box gift idea.- On Amazon for those $15ish budgets.
Camkix Universal 3 in 1 Cell Phone Camera Lens Kit – Fish Eye Lens / 2 in 1 Macro Lens & Wide Angle Lens / Universal Clip (Black)

7. Emergency Underpants.
Practical and thoughtful, you just never know when you'll need a pair of emergency underpants.  Best to keep these in the car for those times when you just don't make it!

Accoutrements Emergency Underpants

8. Hilarious Socks-
Because what's life without a good, sturdy pair of super socks.  Where your calves have capes!
Sandal Socks – Silly Socks Look Like You're Wearing Sandals and Sox
– Oh my word.  I laughed out loud when I saw these.  Everybody's got that friend that insists on wearing socks with sandals.  Well these make the look built right in.

Wonder Woman Cape Knee High Socks 1 x 1in
Junior's Superman Cape Knee High Socks – One Size (Blue)
9. Fun Mugs- 
Everyone has so many mugs that they are bound to be a drag but if they are funny and someone relates to them, they will be worth fighting over.  In fact, throw in a bag of Starbucks coffee or Starbucks Gift Card and you just kicked it's attractiveness up a notch!!!
Eitly Might Be Wine Mug, 11 oz
 – these also come in other alcohol varieties. lol


Seriously, these Camera lens mugs look super real.  In fact I once had a friend pick mine up and put it somewhere safe because she thought it was my real camera lens!!! LOL
Coffee Mug – Camera Lens Travel Thermos – Stainless Steel Insulated Cup with Easy Clean Lid – 13.5oz – Black – Go with Premium Stainless Steel Spoon Bonus_uHome
10. Giant Candy Bars–
SNICKERS Slice n' Share Giant Chocolate Candy Bar 1-Pound Bar
CHARM GIANT BLOW POP shaped container holds 8 Multi Flavored Hard Candy Lollipops (Single)
Reeses Peanut Butter Cup Holiday 1 Pound Pack, Pack of 2
11. Adult Dress Up-
Who doesn't love a good unicorn mask?  The best right?
Miyaya Horse/Unicorn Mask Collection
Mr. Moustachio's Top 10 Manliest Mustaches of All Time Assortment

Turn into a Ninja Flip T Shirt Cool Fighter Disguise Funny Shirts – The front side of the shirt says, "Ask me about my ninja disguise" and then you flip it over your head and you are a ninja!!!  Freakin' awesome.
12. Lottery Scratch Off Tickets with Candy, Coffee or Gift Cards
I think people fight for these because they hope and wish they win big!  If you get lottery scratch off tickets, be sure that you pick up something to go with it so if/when the person wins nothing, they don't feel totally cheated.
13. Gourmet Treat Gift Sets
There is something about nuts, olive oils and expensive candy that can make people at gift swaps go a little crazy.  Maybe it's because they know those are totally usable.  Maybe it's because they would never buy a $18 bottle Olive Oil themselves.  Whatever the draw, people tend to really like these types of items at swaps.
14.  Target the gift toward someone's obsession!
If you know some of the people attending the party and you know what kind of stuff they are already obsessed with like – Sarcastic cat mugs, growlers, football cards or whatever it may be, intentionally find something you know they would fight tooth and nail for and watch their dark side come out.
I really hope this post has given you some creative inspiration for your upcoming holiday gift swap game.  If you end up trying out a gift like what I've thrown out in this post I hope you find that it's a White Elephant gift worth fighting for.  Most importantly, have fun and make great memories with good friends.
15. Need More Gag Type Ideas?
Now, some people gave me a hard time about these gifts not being re-gifts or gag in nature so I created a second list for people looking for funny gifts instead of usable gifts.  14 Hilarious Yankee Swap Gift Ideas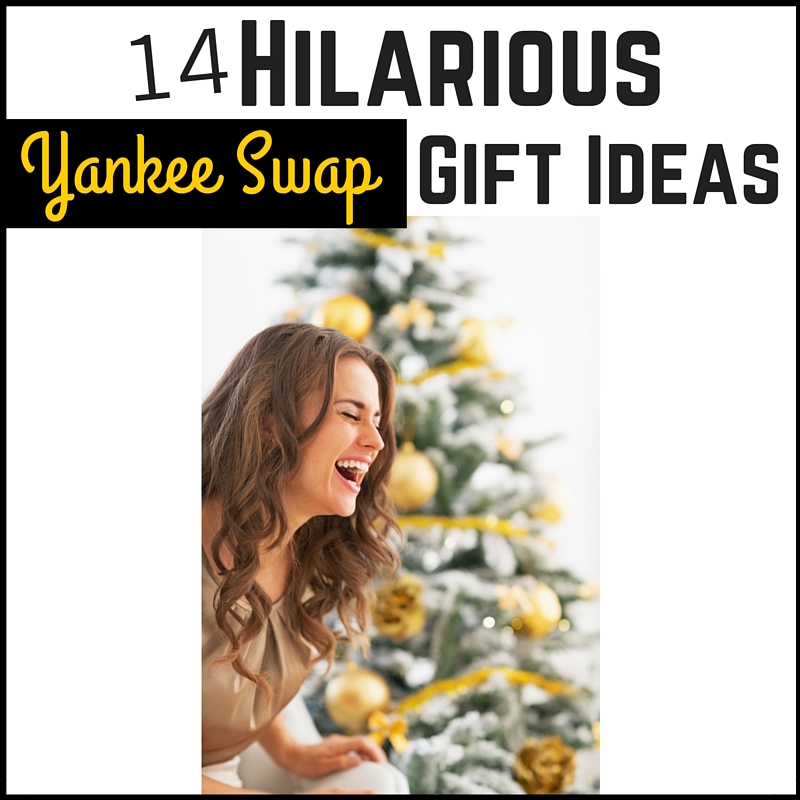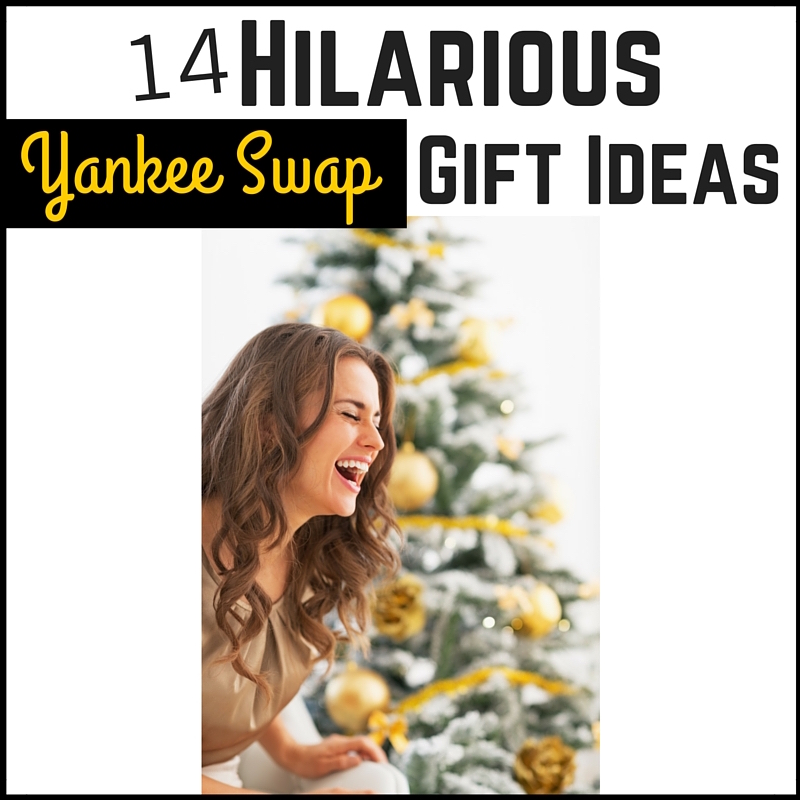 For more thrifty gift inspiration, check out these posts from Thrifty Little Mom:



Have you ever seen a throw down at a party over a really good gift?  Please share it in the comments section below.  I would love a good laugh.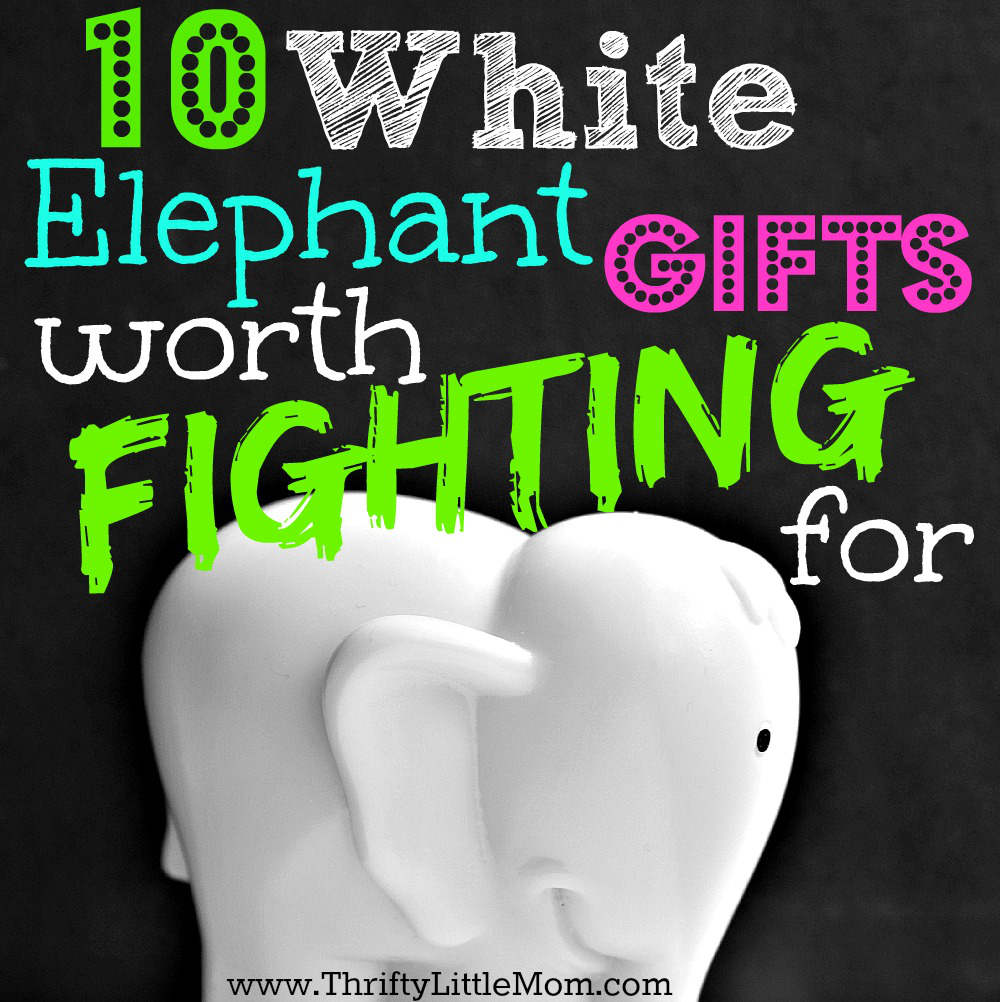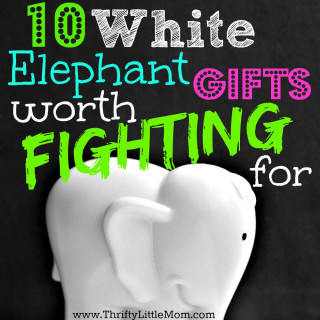 Subscribe to my emails + get an all access pass to my printable library!
You want to conquer your time, money and goals. Life makes that hard. I make it easy! Subscribe and I'll help you create your best life with the money you have to work with!
Don't forget to check out what's in the resource library! https://thriftylittlemom.com/thrifty-little-mom-resource-library/ Password: Thriftyprints