Don't you love this time of the year when a great variety of produce is so plentiful? We have all heard that buying produce in season is thrifty, but do you go a little overboard at your local Farmer's Market when buying them—realizing once you're home that they may go bad before you can eat them all?!  I've got the perfect fresh strawberry bars recipe as well as other fresh storing tips for the season!
Thrifty Little Mom has once again partnered with My Symphony Seasonings, LLC to bring you some easy storing tips and recipes to make the most of your summer crop!
Tips for keeping your fruit fresher longer:
Peruse your bounty and use the overly ripened or bruised fruit first-these berries are perfect to use for cooking or baking.
Any strawberries that you will eat right away should be given a vinegar bath (1 cup white distilled vinegar to 4 cups of water) to kill bacteria, salmonella, mold spores and remove pesticides.
Dry any washed produce thoroughly by air drying on a clean dishtowel or gently wiping dry more delicate fruit.
Do not wash any fruit that you will not use right away, but rather store them in a clean and completely dried glass jar with a lid in your refrigerator.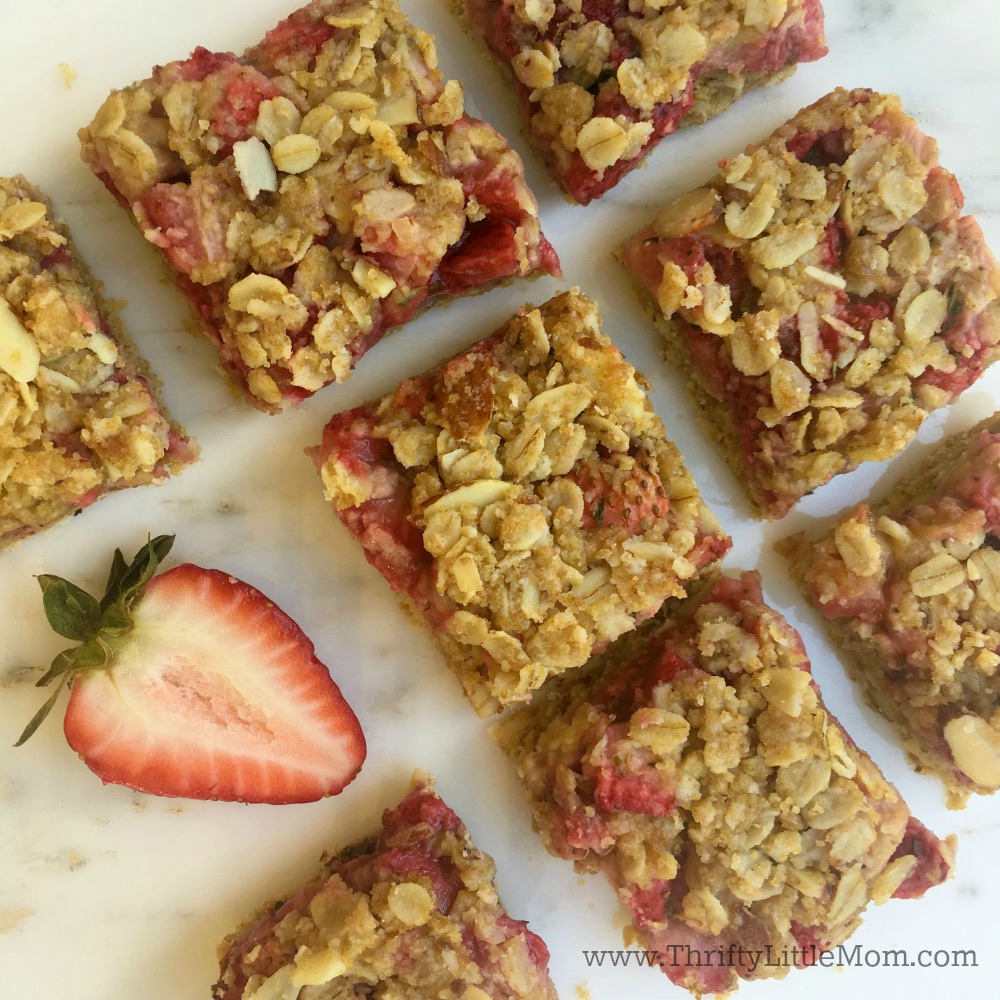 Fresh Oatmeal Strawberry Bar Recipe Ingredients:
1 Cup Old Fashioned Oats
3/4 C flour
3/4 C brown sugar
1 tsp baking powder
1/4 tsp unrefined sea salt
½-2/3 Cup coconut oil-start with ½ then add more if the crust is too crumbly and falling apart (you may not want strawberry oat crumble bars LOL)
1/2 C almond slivers
2 C strawberries
1 tsp My Symphony Seasonings' Provincial Life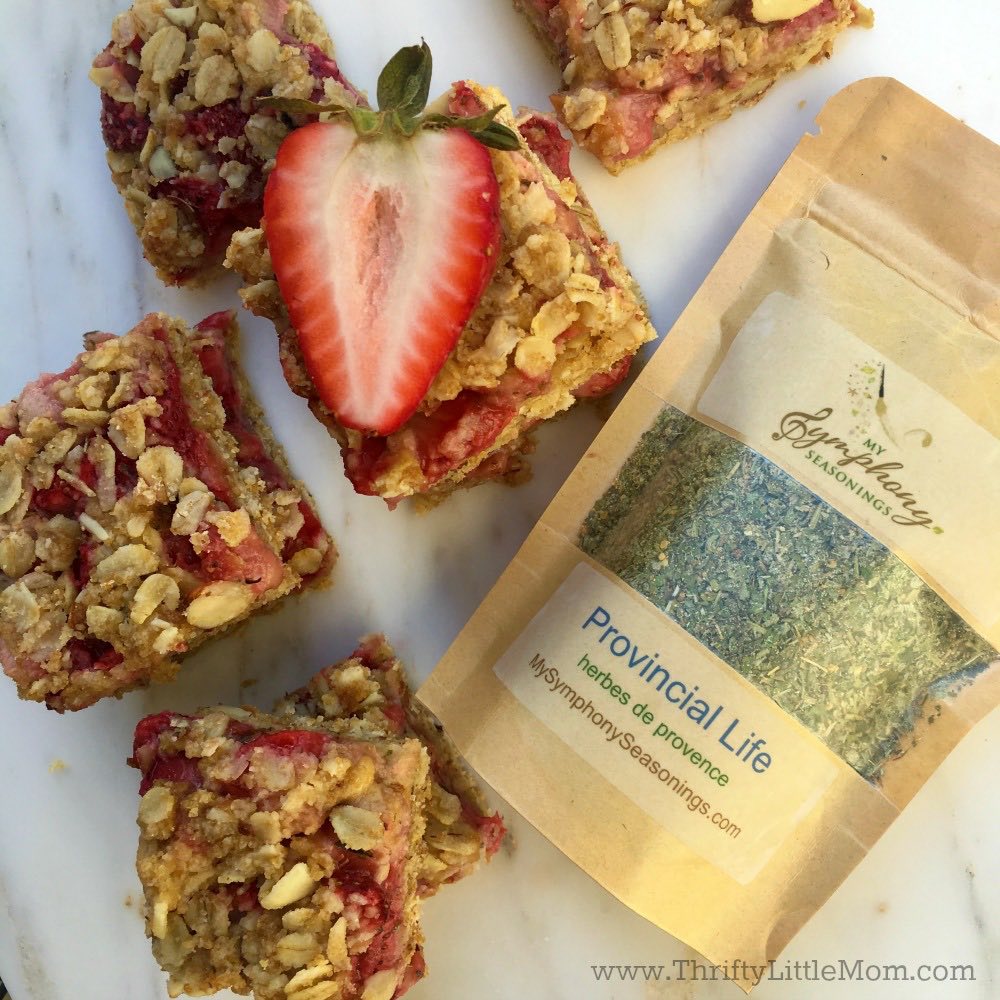 Directions for making these fresh strawberry bars:
Preheat oven to 350° and prepare a 7×7 pan with parchment. Slice strawberries, add Provincial Life & toss gently. Mix dry ingredients well, cut in coconut oil combining until a nice crust is formed. Press half of the crust onto the bottom of the pan, layer with seasoned fruit and top with remaining crust. Bake for 25 minutes, allow to cool before cutting into squares. Blessings!  Enjoy your fresh strawberry bars for breakfast, snack or even dessert!
My other Favorite Fresh Strawberry Recipes:
Fresh Strawberry Salad:
Salad Ingredients:
Favorite Salad Greens
Sliced Strawberries
Toasted Almond Slivers
1 tsp My Symphony Seasonings' Provincial Life
4 oz. goat cheese
Fresh Strawberry Salad Dressing Ingredients:
1/4 Cup Olive Oil
2 Tbsp. Cup Rice Wine Vinegar
1 Tbsp. honey
4 strawberries hulled & sliced
2 tsps. freshly squeezed lime juice and zest
1 tsp My Symphony Seasonings' Provincial Life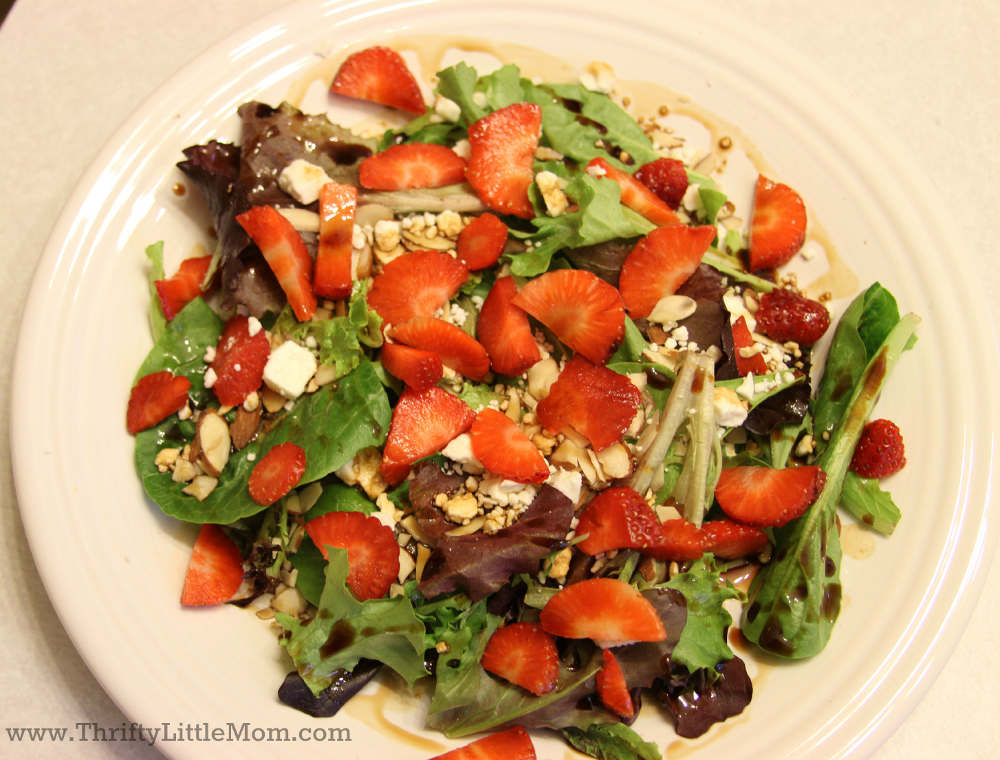 Directions:
To make the dressing, blend oil, vinegar, honey, lime juice & strawberries until smooth. Add Provincial Life, shake and refrigerate. To assemble the salad, give all produce a quick vinegar bath as suggested earlier. Place salad greens in a bowl giving a quick chop if desired then add sliced strawberries. Toast almond slivers carefully-in the toaster oven is easiest with the door slightly ajar for a short period of time and watching carefully. Allow nuts to cool and toss into salad. Mix Provincial Life with goat cheese creating seasoned crumbles then add to the salad. Drizzle dressing and enjoy. Blessings!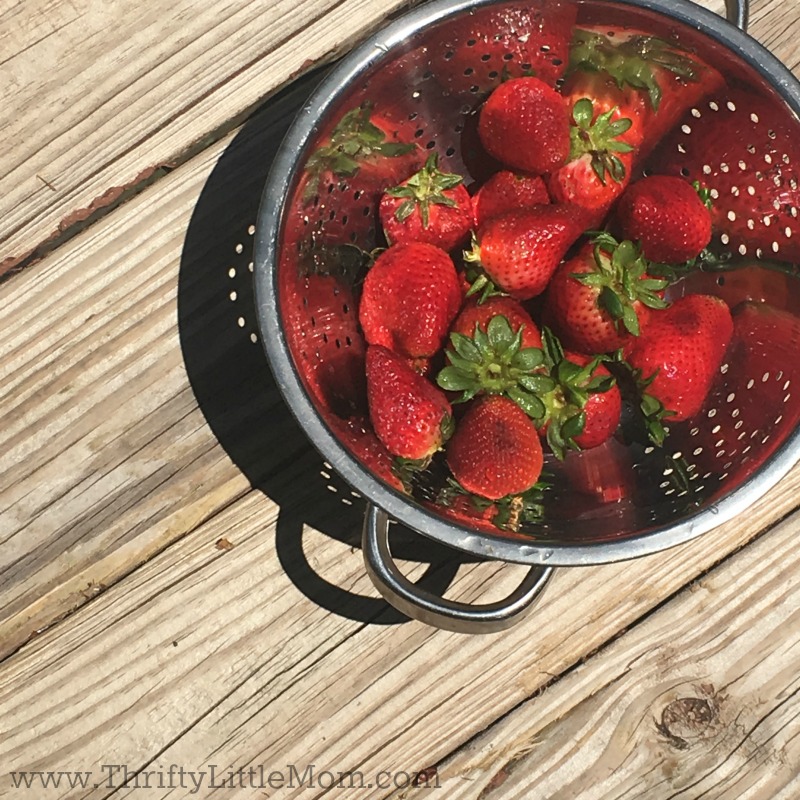 A little about My Symphony Seasonings' Provincial Life:
If you want to add sophistication to your everyday meals (you know, you want 'more than this provincial life'), then My Symphony Seasonings' Provincial Life will do just that. This mixture of more than 8 premium organic ingredients including orange peel, rosemary & lavender flowers is a wonderful addition to any dish, especially grilled meats, fish, roasted vegetables, soft cheese & more!
If you liked these fresh strawberry recipes make sure you check out these other ideas from Thrifty Little Mom:
Strawberry Cheesecake Trifle Recipe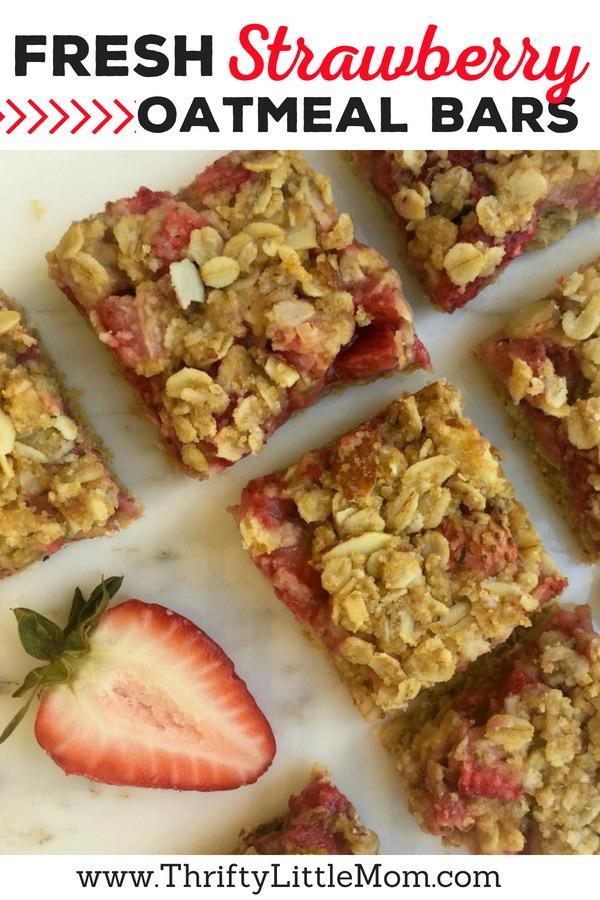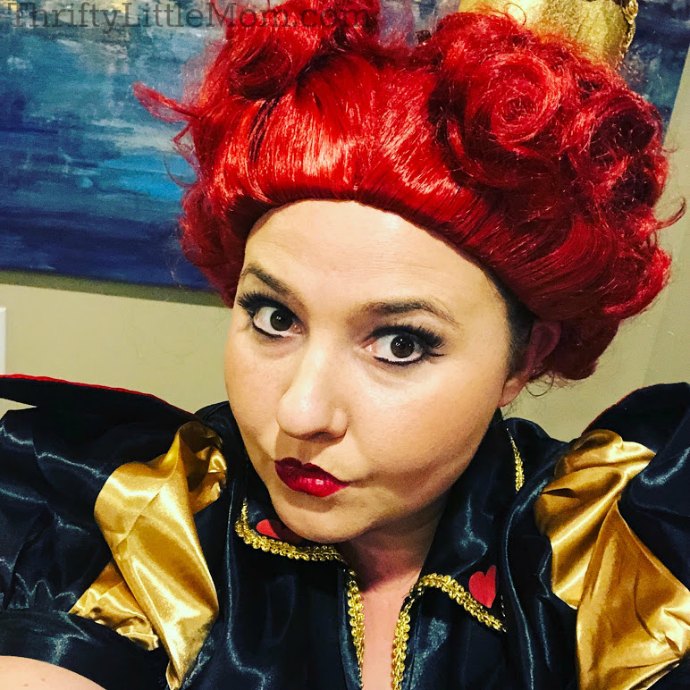 Kim's is the party planning, cupcake loving, celebration catalyst behind the Thrifty Little Mom Blog. Kim was a pro event planner for over 7 years before she became a full-time blogger. Kim is the author of: Live, Save, Spend, Repeat: The Life You Want with the Money You Have. She's been featured on Time.com, Money.com, Good Housekeeping, Women's Day and more! Kim aims to inspire you to create parties, celebrations and gatherings that everyone loves!
Summary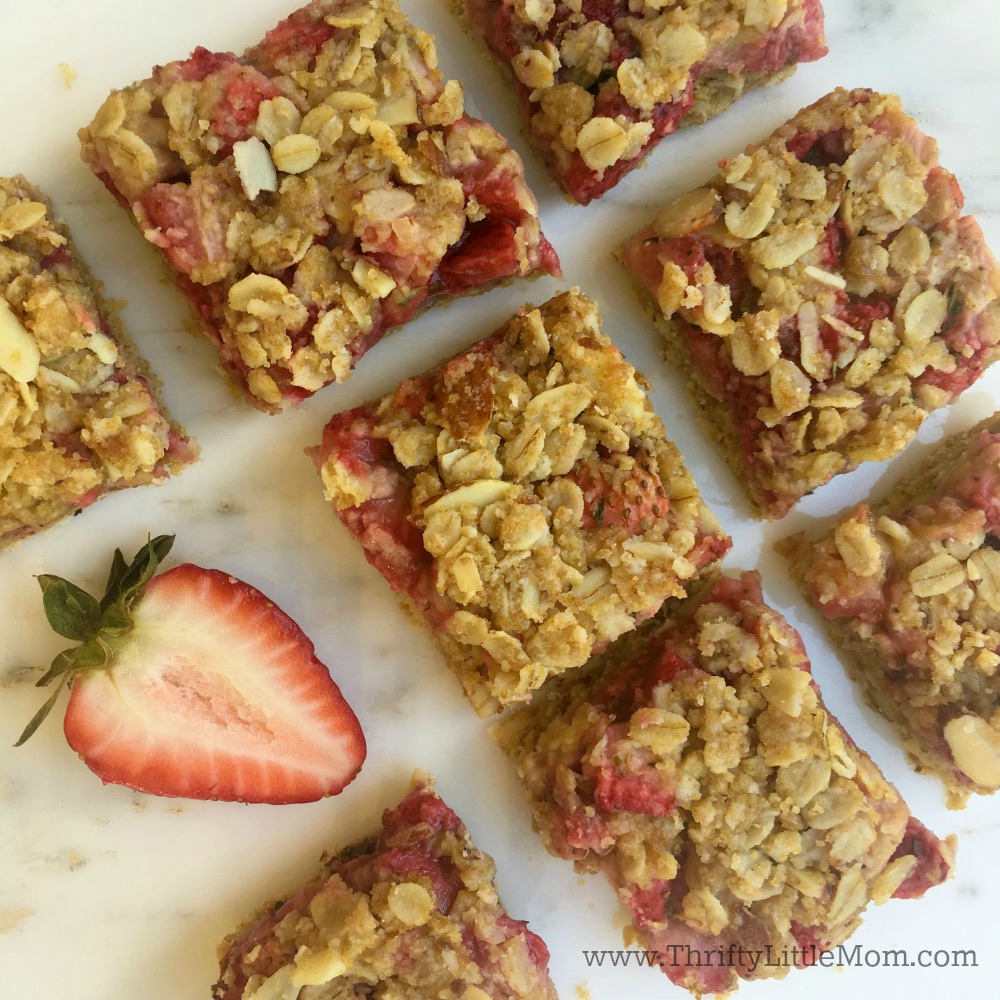 Recipe Name
Easy Oatmeal Strawberry Bar Recipe
Kim Anderson
Published On
Preparation Time
Cook Time
Total Time