6 Easy Red Cocktails for the Holidays
This post contains affiliate links. As an Amazon Associate, I earn from qualifying purchases. I also earn from qualifying purchases made with other brands and programs. See my
privacy policy.
This is a sponsored post written by me on behalf of Food Lion. All opinions are 100% mine.
It's the holiday season, and we are ready for all things, "Merry and Bright." For me, that means gorgeous specialty cocktails that are cheery and red. When I want to jazz up a holiday party, I try to find one drink that will theme the evening. Here are my favorite easy holiday cocktails.
This post was inspired by the Food Lion Fresh Ideas article, Cocktails and Mocktails on a Budget.   Food Lion is a great spot to pick up all your holiday cocktail mixers plus non-liqueur ingredients!  To speed up your party planning and save some money, check out the Weekly deals and be sure to use their convenient Online Shopping with pick up or delivery!
Easy Holiday Cocktails Made with Vodka
Red Cosmopolitan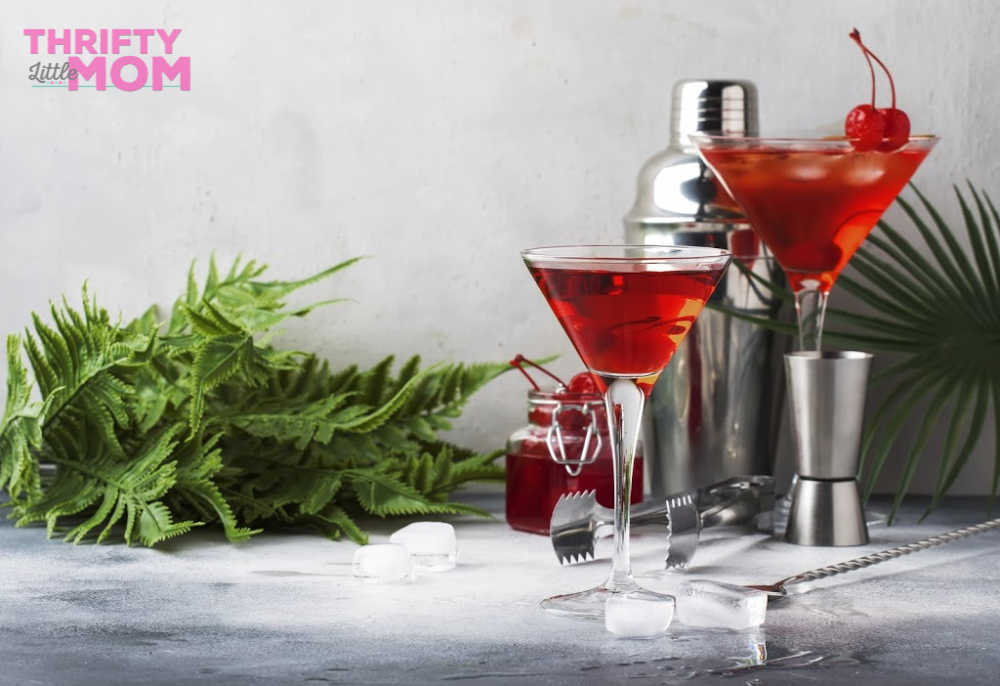 Your classic cosmopolitan is relatively simple to make, we are going to use the same traditional ingredients but with a twist to increase the rose color. Feel free to make this into a "batch" so you don't have to keep your shaker moving all night long. 
1.5 ounces premium vodka

.5 ounces Bols Red Orange liqueur

3 ounces cranberry juice

A squeeze of lime juice to taste

Mix ingredients together with ice and strain into glass

The orange liqueur will keep the flavor consistent with the classic recipe but add much deeper red color to this easy holiday cocktail.
Vodka Cranberry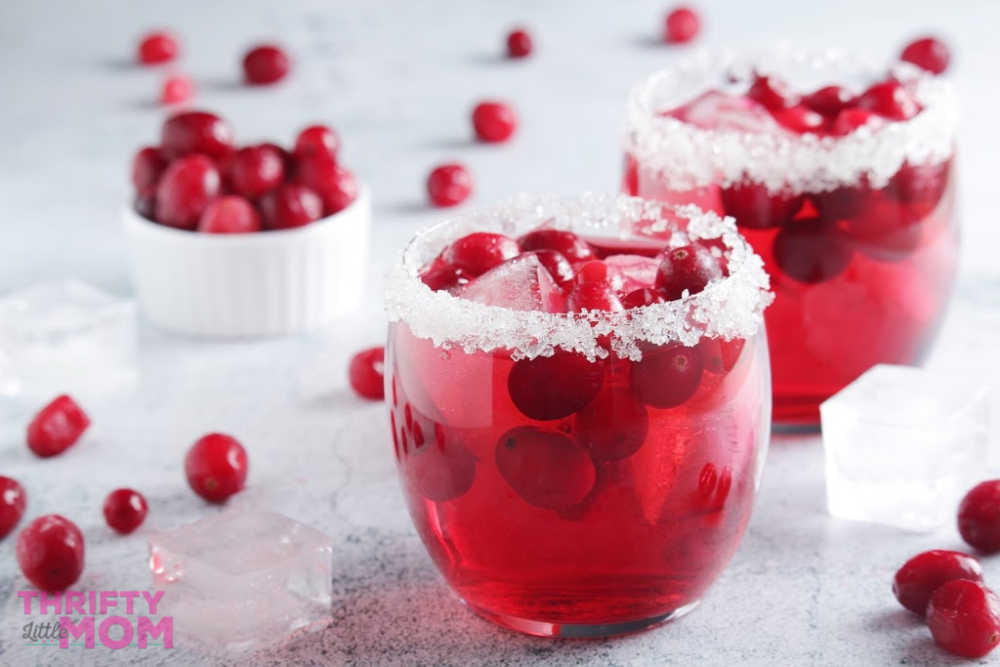 By far, the easiest of all the holiday cocktails on my list, it should not be discounted for simplicity. You can create this classic drink but add garnishes that will create a holiday flare. I love to add fresh cranberries in the glass. You can also rim the glass with sugar to create a snowy look. Guests are delighted with this drink, and I am thrilled with the ease in which I can whip one up at a party.
1.5 Ounces premium vodka

4 ounces cranberry juice

fresh cranberries

Two plates- one will have loose sugar, the other will have a puddle of lime juice, just enough to kiss the rim of your glass

Hold the glass upside down and press into lime juice, then into sugar mixture

Combine liquid ingredients and fresh cranberries over ice in the glass
Pomegranate Prosecco Cocktail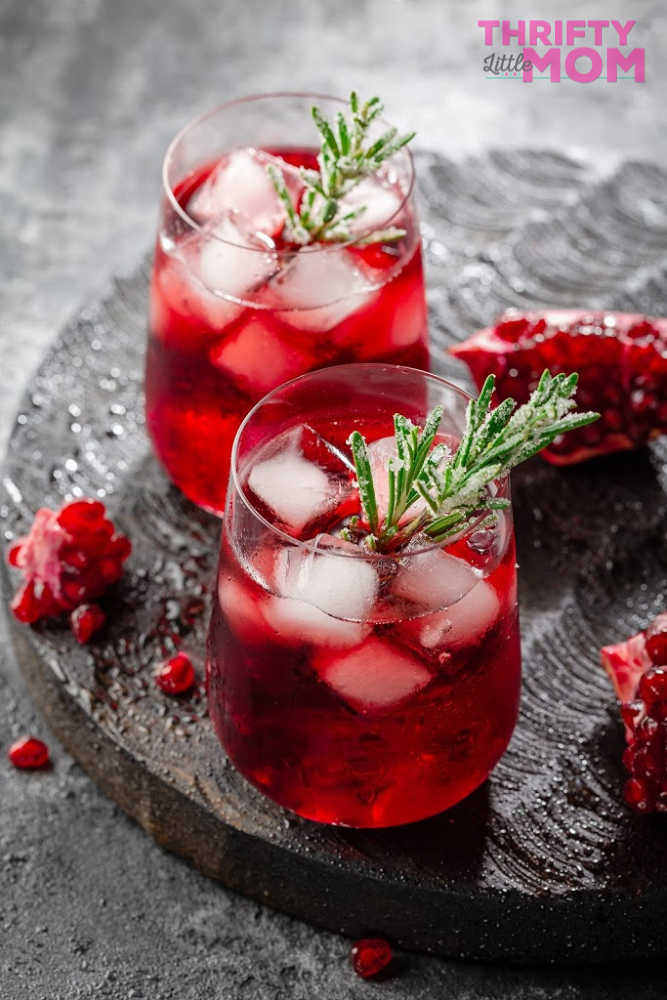 I love a spritzer style drink. Adding a little fizz to a beverage always seems to make it a little more special. The holiday celebrations are a great time to try out this fantastic recipe and add some sparkle to your holiday cocktail.
1-ounce premium vodka

4 ounces pomegranate juice

1.5 ounces prosecco or sparkling wine.

Fill glass with ice and build the mixture in a glass.
Easy Holiday Cocktails Made with Gin
By far, my favorite liquor is gin. I love the botanical notes found in high-quality gin that refresh with hints of juniper. My favorite holiday drink is one I create with gin. Crafting this drink recipe is also a great time to add fresh fruit for garnishes as well. Beautifully ripe strawberries bursting with sweet flavor are a perfect addition to your easy holiday cocktail menu.
Strawberry-Elderflower Gin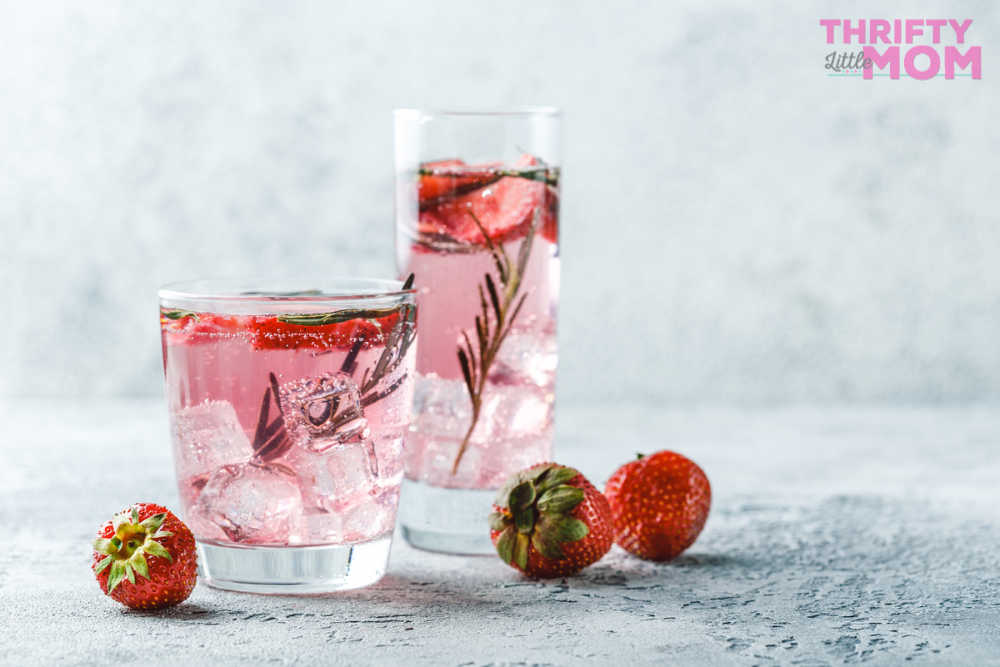 1.5 ounces of premium gin

.5 ounces of elderflower liqueur (I have always used St. Germaine) 

.25 ounces of strawberry simple syrup

3 ounces seltzer water

Fill glass with ice and build in the glass.
Strawberry simple syrup can be purchased, or you can make it yourself.
In a small saucepan, add a 1:1 ratio of sugar and water and heat until sugar is reduced.

Add freshly sliced or diced strawberries and cook until soft

Strain through a fine-mesh sieve (this will remove seeds and excess fruit pieces).

Chill until ready for use.
Easy Holiday Cocktails Made with Red Wine
Holiday Cheer Wassail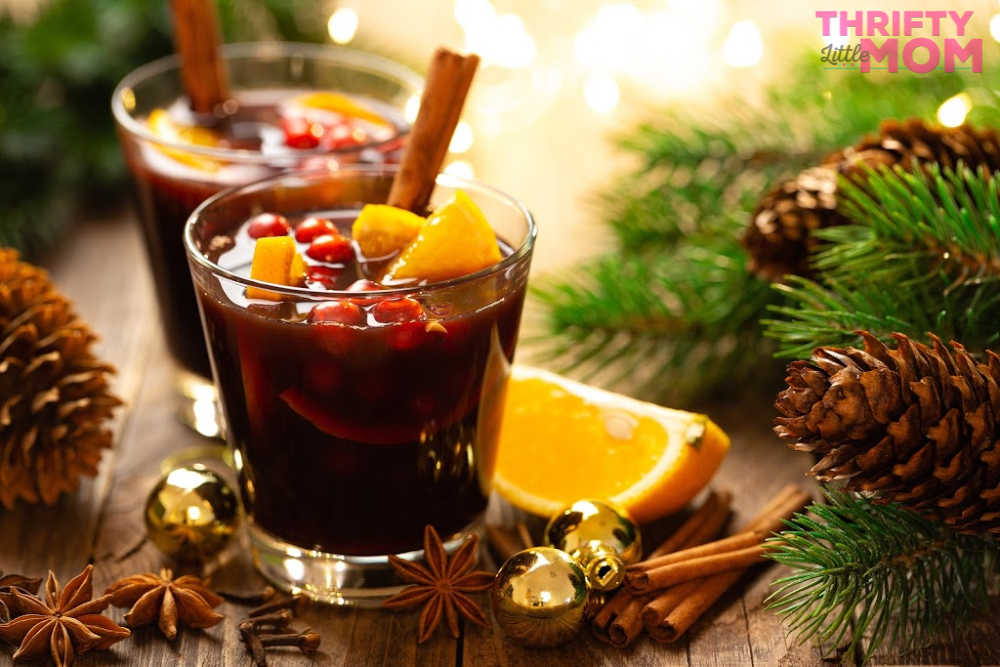 Enjoying a warm glass of red wine with the seasonings of the holidays will warm your body and soul. The bright and tantalizing flavors are delicious and perfect for the time of year. Here is my favorite recipe. You will need a slow cooker for best results, but you can also cook on low heat on the stove.
750 ml bottle of red wine. I prefer to use a blend that has the main grape as zinfandel.

3 Cinnamon sticks

2 Lemon wheel slices

Four whole cloves

1 cup of honey

2 cups of water
Add all the ingredients minus wine to start. Heat until honey is dissolved in the liquid. Then add the wine, careful to keep it below boiling. Serve this delicious and easy holiday cocktail warm. 
Sangria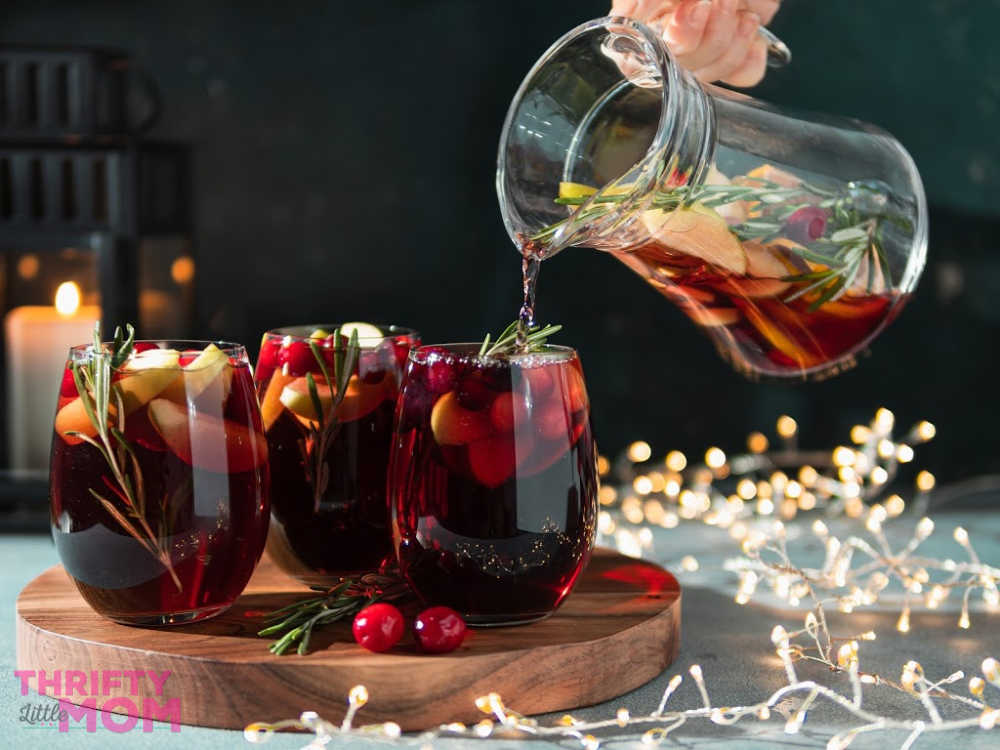 While most people wouldn't consider sangria to be very "Christmasy," I do love the fruity and citrus flavors that are abounding in this exquisite beverage.
1- 5-liter bag of merlot wine

750ml white zinfandel

2 cups triple sec

16 oz brandy

2 cups raspberry (or mixed berry) puree

1-liter lemon-lime soda

1-liter orange soda
This recipe is my favorite sangria mixture, and I am sure you will love it too! Cut up some strawberries, limes, lemons, and oranges to throw in the mix and serve over ice.
Easy Holiday Cocktail Ingredients to Make it Pop!
Maybe you already have a favorite drink that needs to look of "a holiday cocktail." Of course, my first place to go is to make it red- the classic holiday color. If you want to make your drinks a little brighter, add one of these ingredients:
Grenadine- a red syrup is commonly used to make the classic "Shirley Temple." A "Shirley Temple" is lemon-lime soda and a splash of grenadine. However, you can use this syrup with most sodas to create great kiddie "mocktails." Check out a tequila sunrise recipe for a delicious beverage that features this tasty liquid.
Tomato Juice- If you are a fan of a well seasoned Bloody-Mary mix, now is a great time to try out other cocktails that also use this great ingredient. A michelada is a Latin drink that infuses the beer of choice with the juice to create a zesty beverage.
Cranberry Juice- easy and straightforward for the holiday season, this juice is a staple for many holiday cocktails. 
Maraschino cherry juice and fruit- if you have ever eaten a banana split, then this bright red fruit is the eye-catching beacon on the top of this dessert. Adding this tasty juice and fruit to a regular vodka and soda will create a fizzy and cheery cocktail in a few seconds. 
Strawberry simple syrup- I gave you the recipe for this for my favorite gin drink, but truthfully this can be added to most cocktails for the bursting of berry flavor. We like to keep this in my fridge for use year-round. 
I hope that this easy holiday cocktail menu will enhance your next celebration. I wish you all things merry and bright!
Read More From Thrifty Little Mom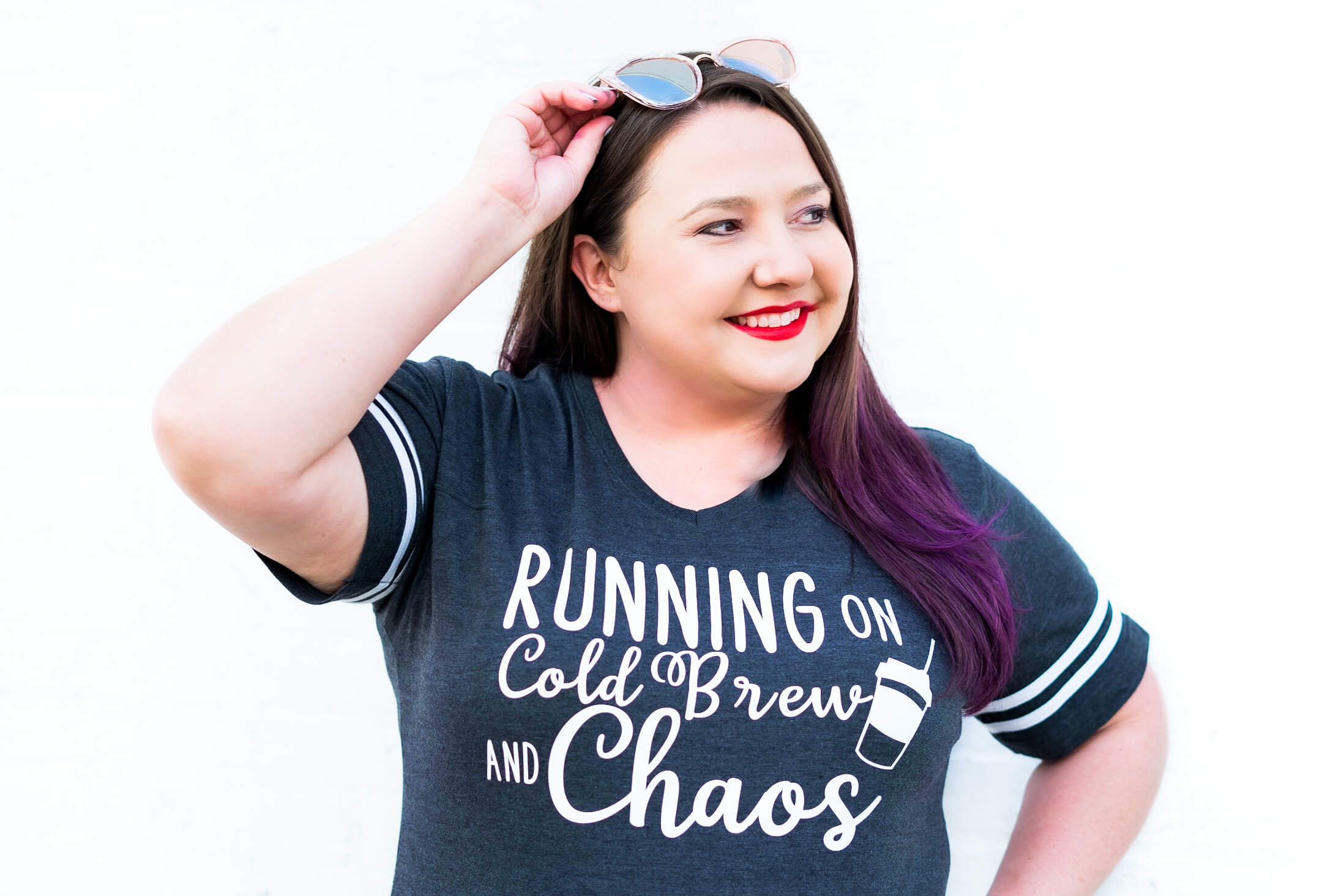 Kim Anderson is the organized chaos loving author behind the Thrifty Little Mom Blog.  She helps other people who thrive in organized chaos to stress less, remember more and feel in control of their time, money, and home. Kim is the author of: Live, Save, Spend, Repeat: The Life You Want with the Money You Have. She's been featured on Time.com, Money.com, Good Housekeeping, Women's Day, and more!
Summary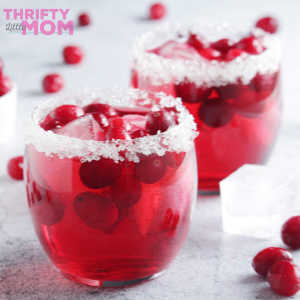 Article Name
Easy Red Cocktails for the Holidays
Description
If you are excited about your next holiday gathering, increase the seasonal cheer with one of these easy holiday cocktails.
Author