From my childhood, "How the Grinch Stole Christmas" was one of my favorite movies for the Holiday. Now that I have kids I wanted to transform my living room with a Grinch Christmas Tree that my kids would always remember!
I wanted to bring the whimsical and quirky nature of the classic holiday story into my decorations this year. If you're going to create this fun look, look for Suess Inspired options when heading to the craft store. Here's how you can make a Grinch Christmas tree too!
Grinch Christmas Tree Supplies:
I built this Seuss-inspired tree from supplies from my local Hobby Lobby store. I looked for items that had curls, pom-poms, glitter, and lots of fuzzy green. There are plenty of stores that provide great Christmas decorations. I will go to one of the 9 Thrifty Party Shop Places Most People Forget About for my embellishments.
Supplies:
Grinch ornaments- I only picked up a few of these to add to the aesthetic of the tree. Since the official "grinch" ornaments can be a little pricy, you only need a few to bring the theme together once you have accrued the other elements listed.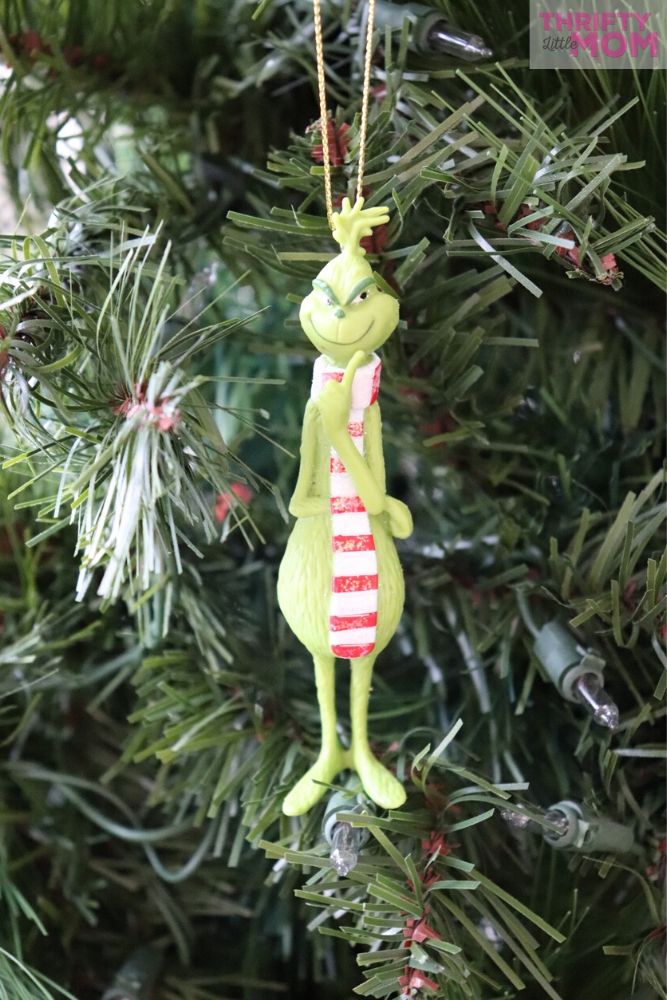 Christmas Ornaments in green, red, and white- you can choose a regular hanging ball-ornament or the newer clip-in or stick-on ornaments depending on your safety concerns.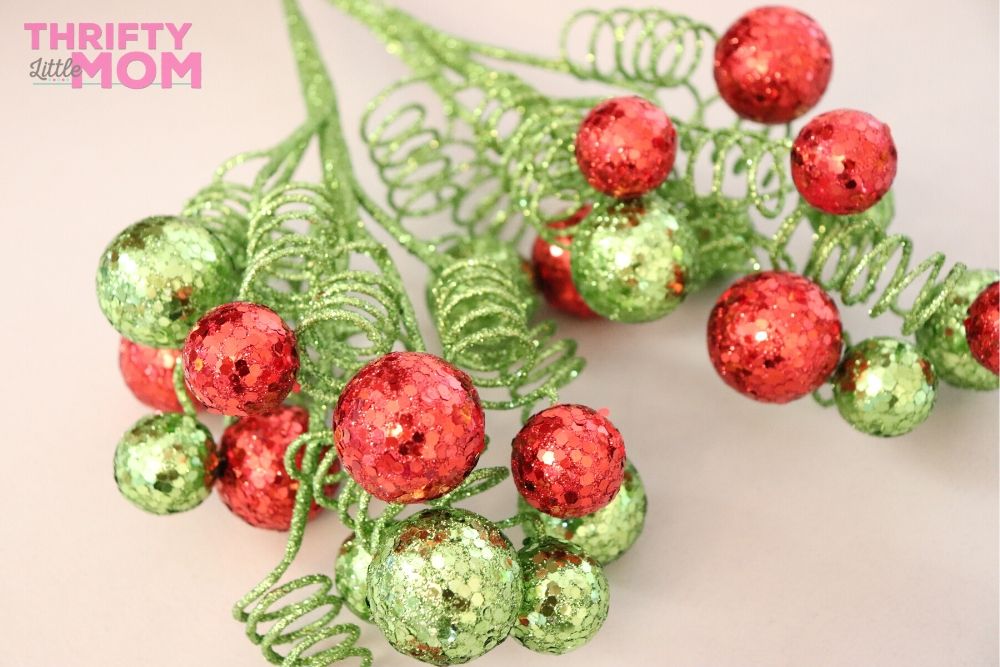 Green and red tulle- choosing additional textures, like tulle, will enhance the layers and visual interest.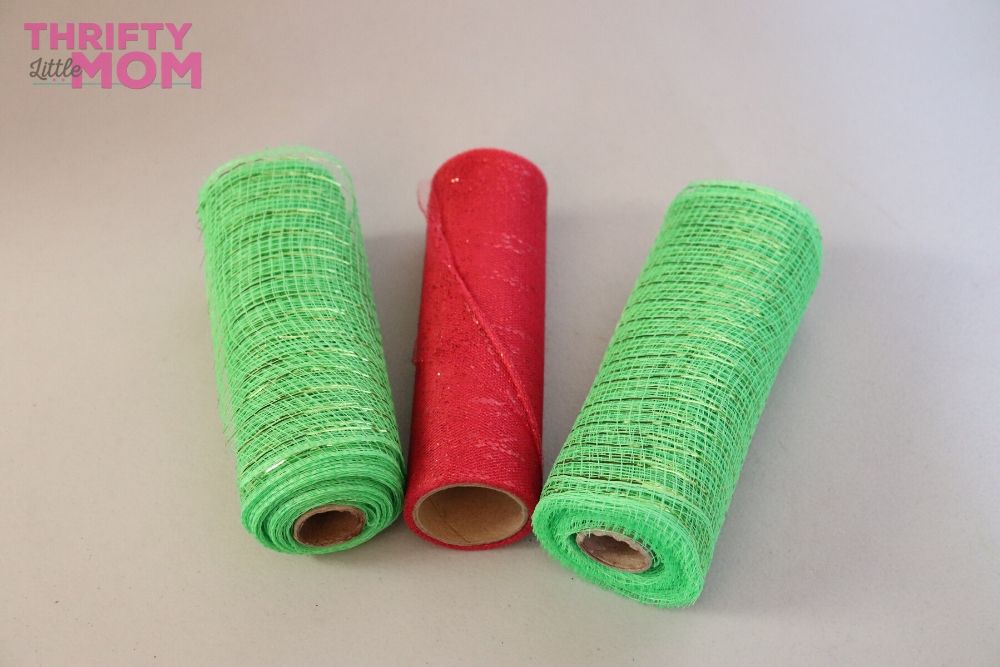 WIDE Red, green, and white ribbon- choose a ribbon that incorporates all the colors of the theme. I found this one that had my desired color scheme and pattern perfectly.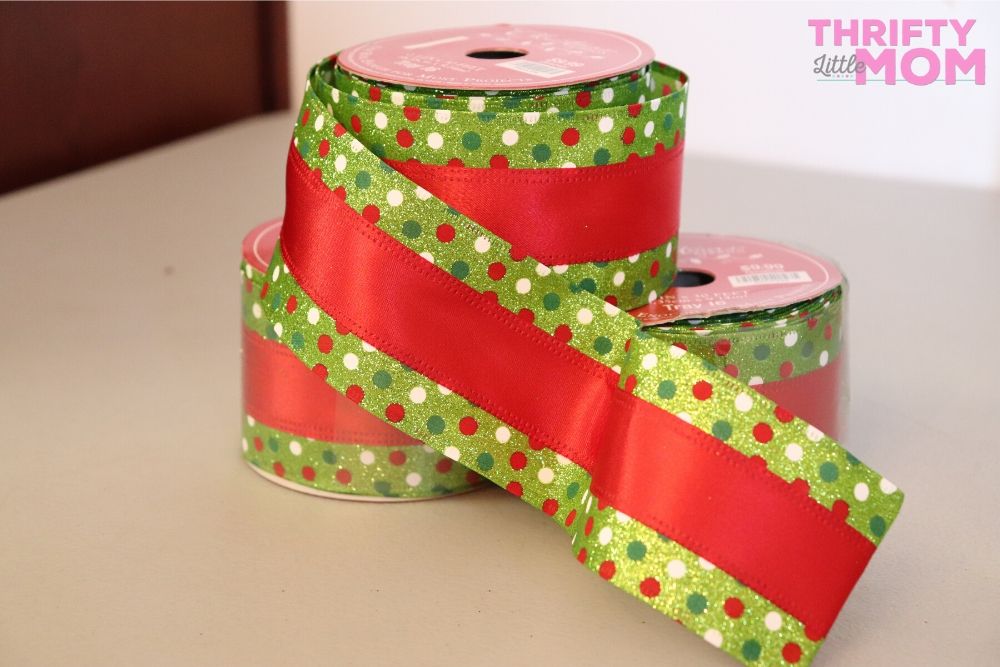 Green marabou boa- look for strips that can be tied together to create a fluid piece to wrap around the tree.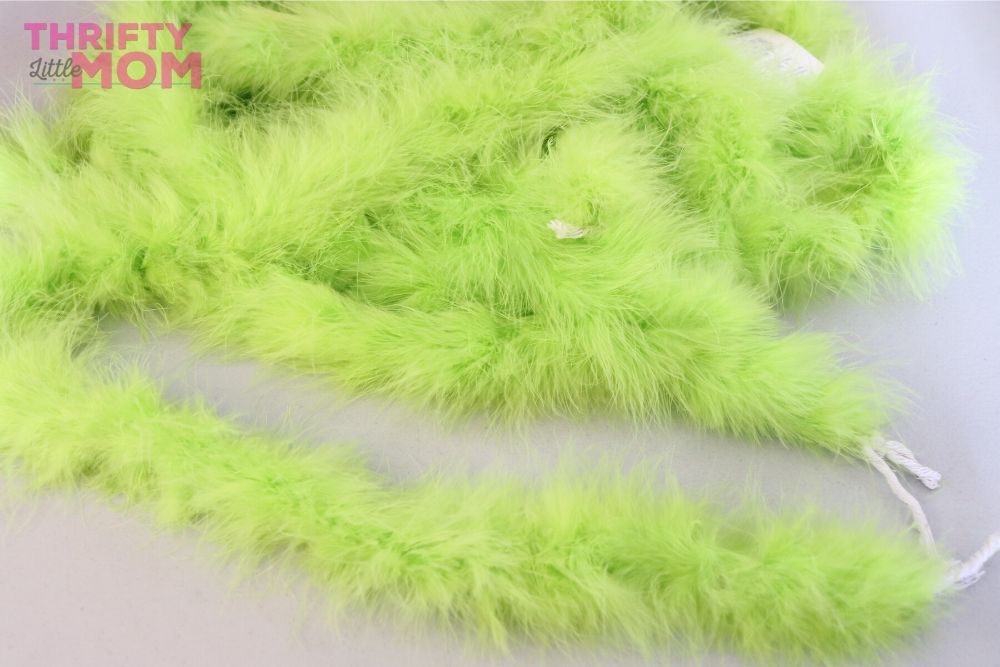 Fun tree topper- mine was created by layering multiple pieces together that fit the "grinch" theme.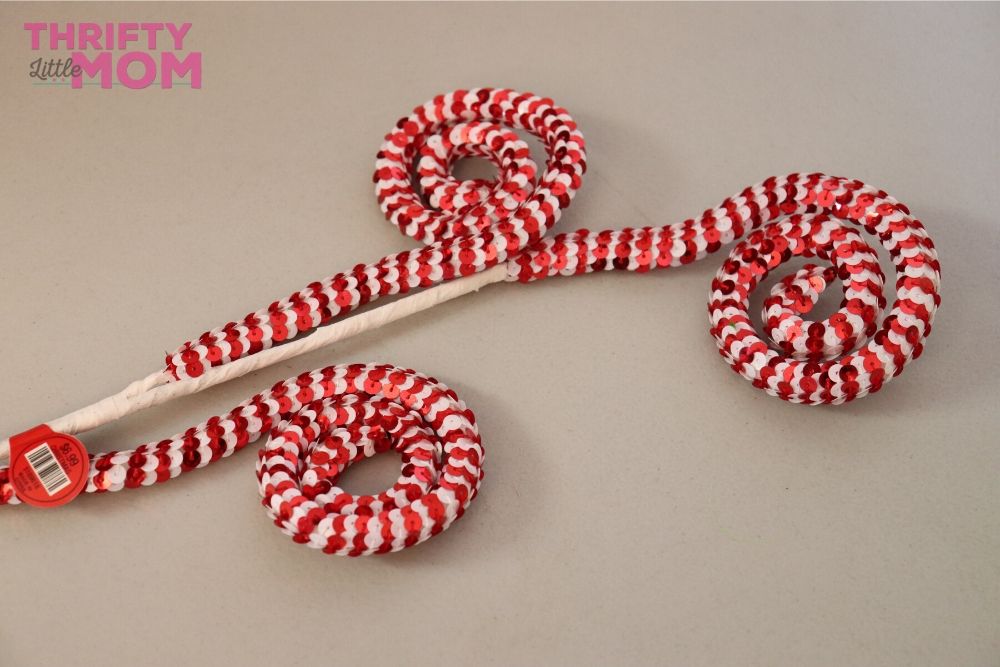 Red and white pipe cleaners- you will use these to secure items to the tree and create depth.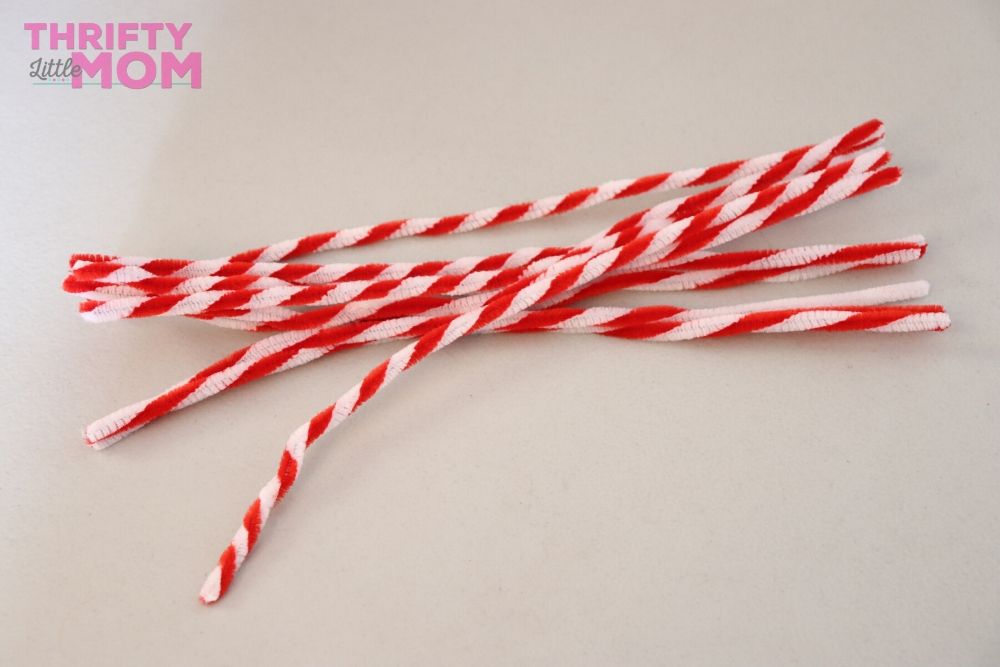 Smaller curly ribbon clusters- a cluster will give you the ability to make the Grinch Christmas tree look fuller and quirkier in this design.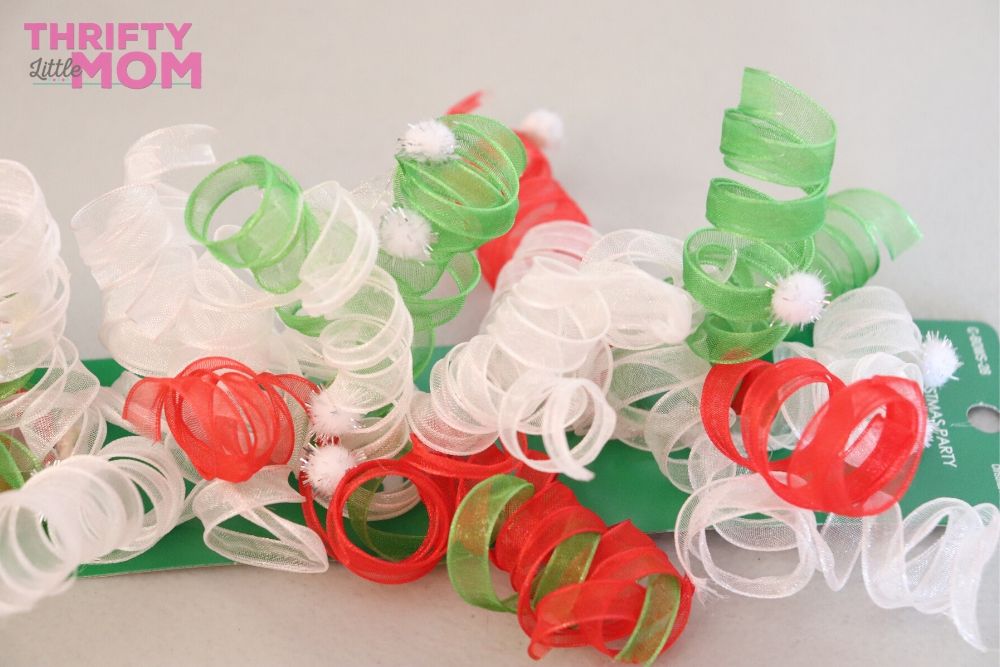 Stemmed decorations with red and white balls- because the stems will protrude from the tree, it will allow the Grinch Christmas tree to have more width.
Layer these at different intervals, and they will add an eclectic element to the overall design.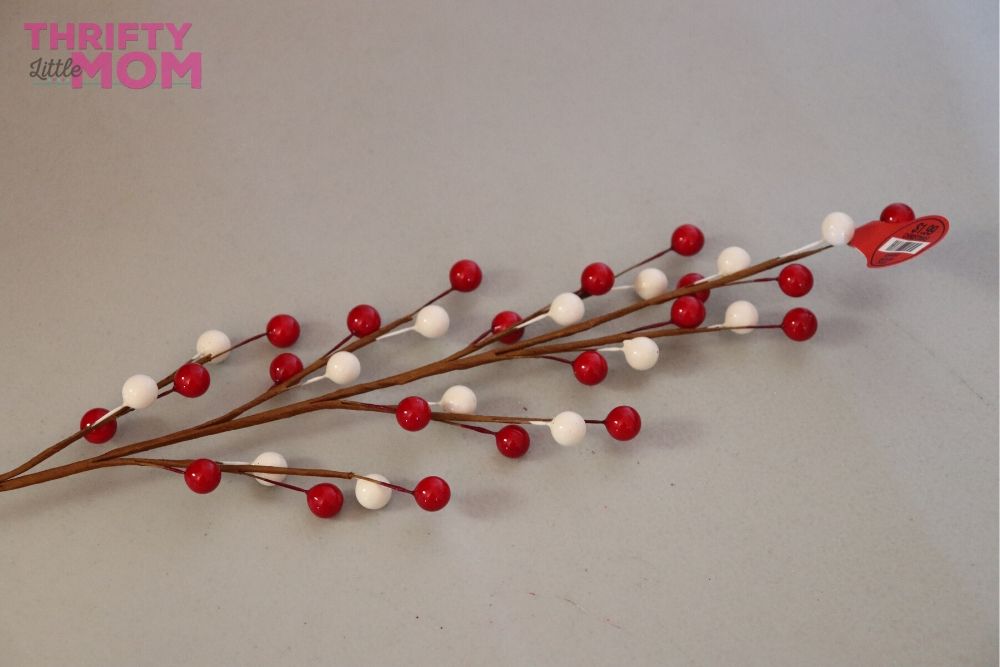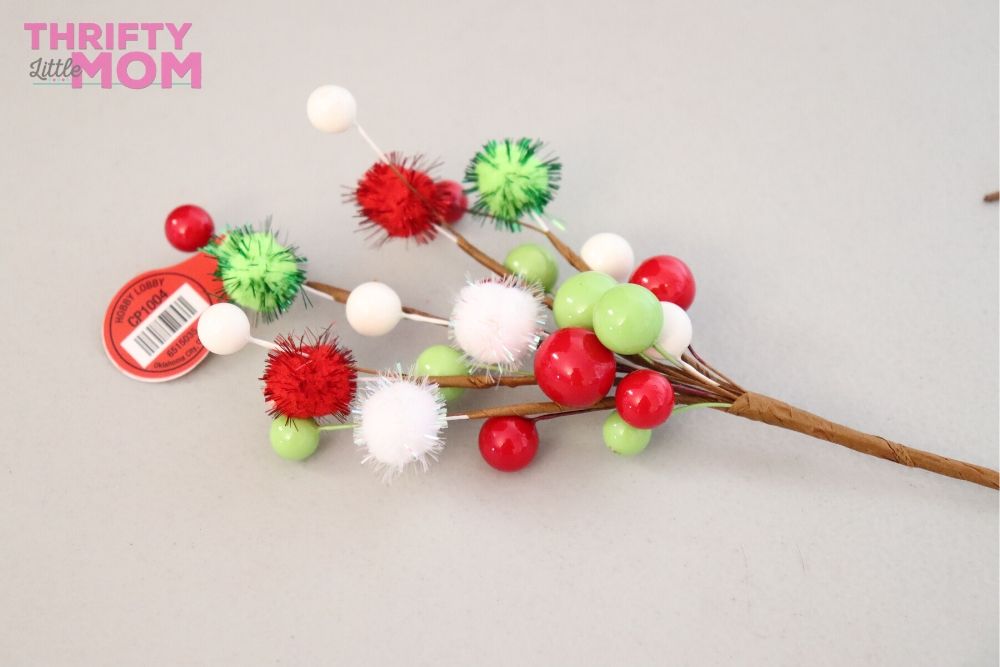 Large red and white striped bow- I purchased my bow already shaped.
If you cannot find this same style, you can craft your bow from a ribbon in the same manner.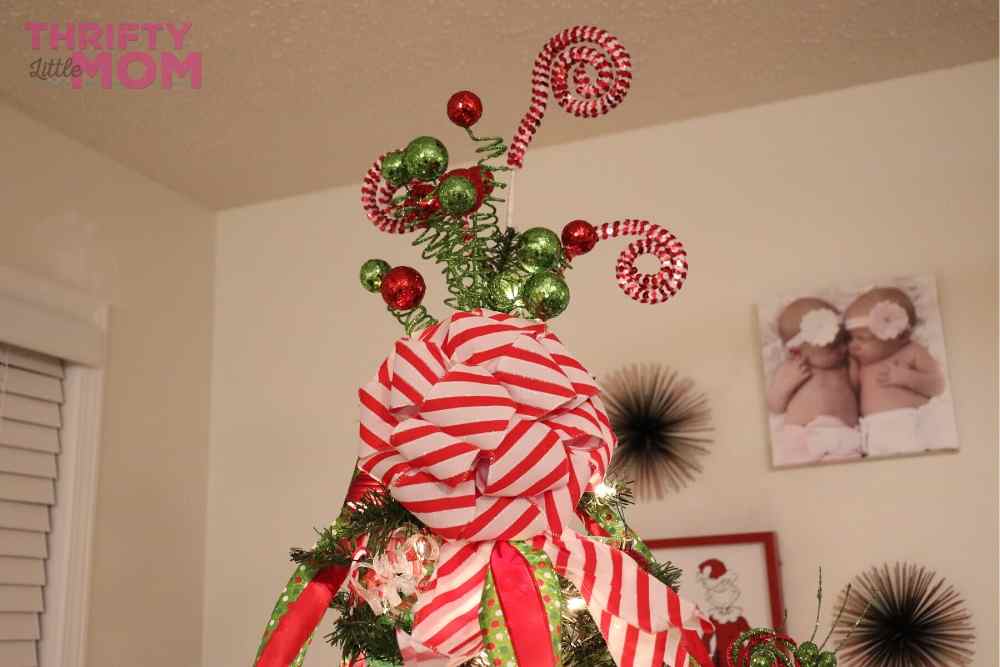 Grinch Christmas Tree How-To Instructions:
While my children are still small, I want them to continually be mesmerized and filled with a sense of wonder, especially during the holidays. When they come into the living room, I want them to see a space transformed into something magical. I want them to feel as if they live in a wonderland like something out of a storybook we read or a movie we watch.
Here is a basic step-by-step tutorial on how I created my Grinch Christmas Tree for the Holiday.
Step One: Fill and fluff tree to start.
If you have a tree that has seen a few Christmases, it may start looking a little sparse.
Instead of tossing it and buying a new tree, pick up a few strands of inexpensive garland from Dollar Tree and fill in the gaps.
I also like to wrap the post of the tree with an extra piece of garland to make it beautiful and full.
If you do not have a pre-lit tree, the light strings should be the first thing you place on the tree.
MAKE SURE YOUR LIGHTS WORK 100% BEFORE STARTING TO DECORATE THE TREE!
Step Two: Tulle for the tree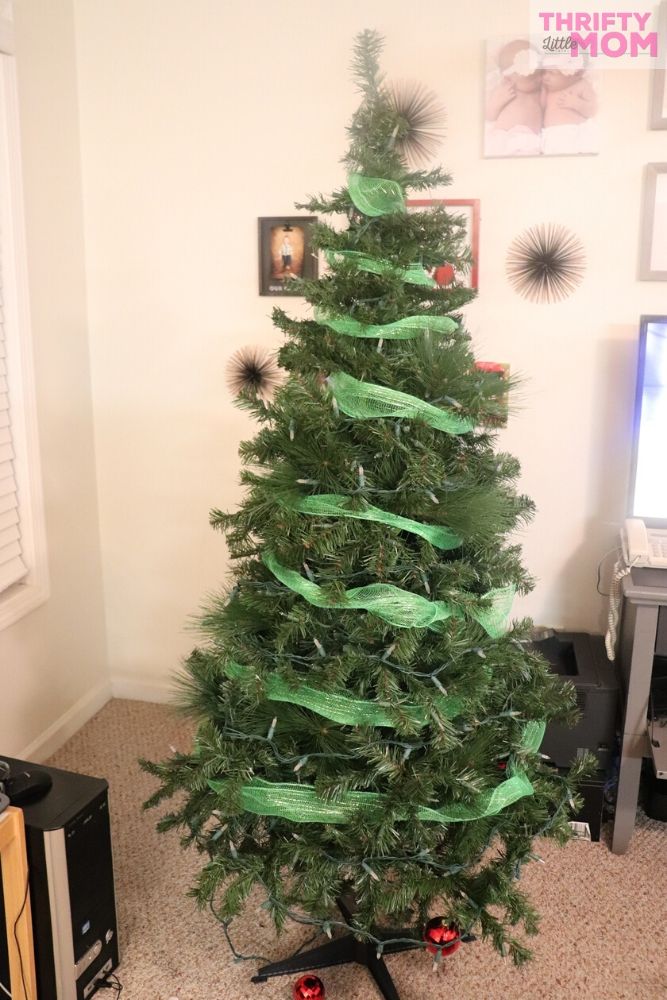 I chose two different styles of tuille to dress my tree. The lime green color is the primary shade that the "grinchy" theme will form around.
Layering these tulle ribbons will make the tree more visually stimulating.
Some rolls of tulle can be manipulated and stretched width-wise to make it full and fluffier in appearance.
Having the tulle be wider in some areas will give the "Dr. Seuss" character feeling of whimsy.
I start at the top and work my way to the bottom of the tree.
Step Three: Green Boa Wrap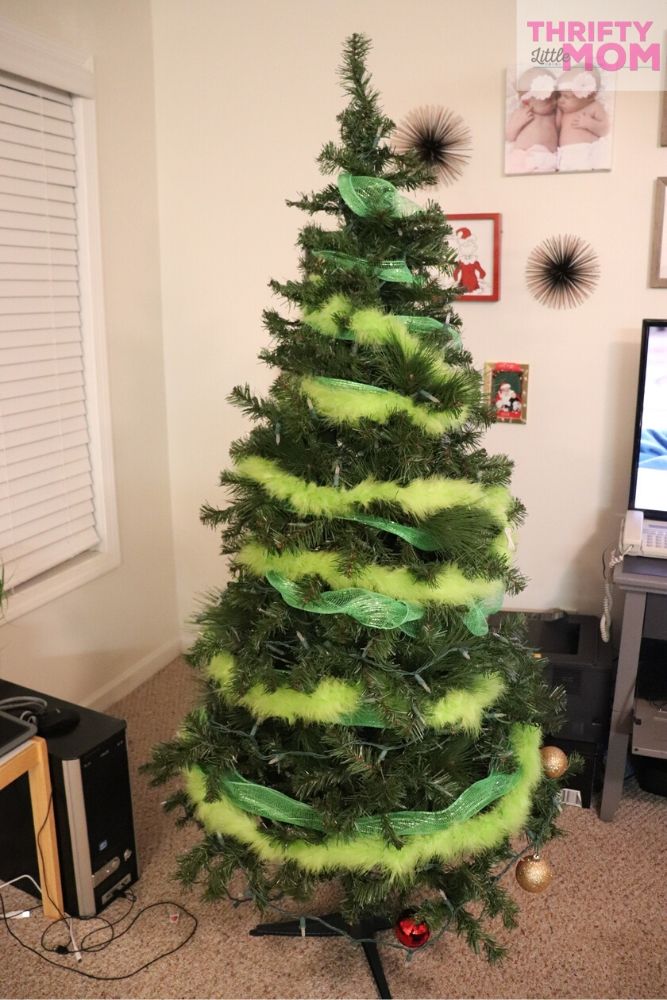 Marabou, or the fuzzy boa material that is around 1-2 inch thickness, is what I used to bring the furry feeling of the grinch into the tree.
Often, these will come in three-foot sections, which I attached to the tree using the red and white striped pipe cleaners.
The red and white striped pipe cleaners come in handy for securing items onto the grinch Christmas tree without detracting from the design.
I used the marabou in base and midsection of the tree because I know that my bow and topper will be the main feature of the tree.
Attach the marabou at the ends and wrap throughout the tree in sections of about 10-12″.
As you get closer to the top, the separation between the layers can get closer.
Step Four: Place sticks decorations and ornaments at intervals throughout the tree.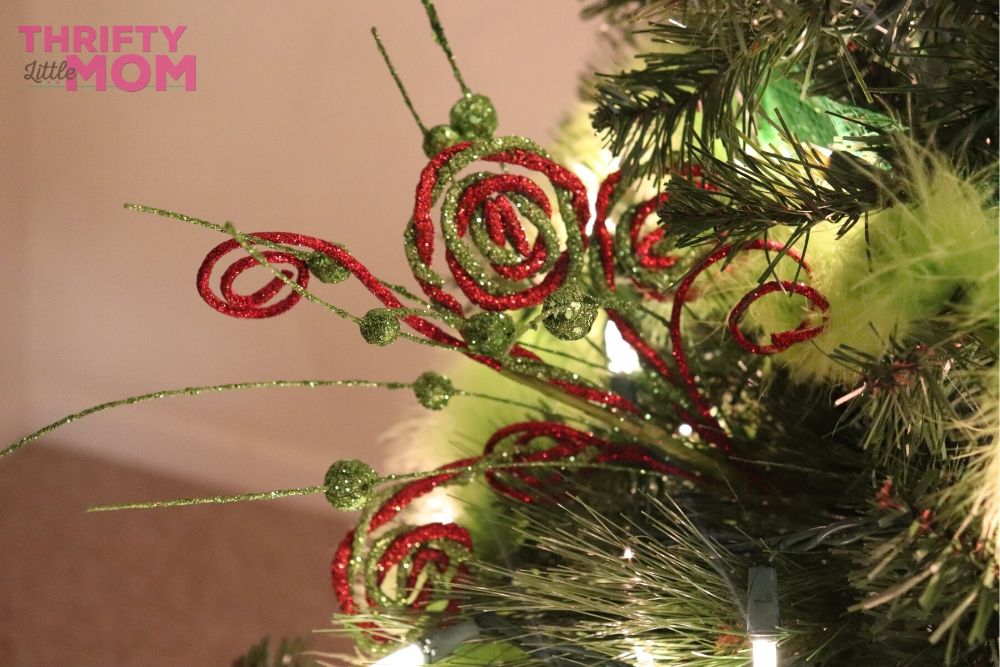 I will say that the best additives to the decor are curly items and "pop-out" pieces.
These pieces look like something straight out of the decorations in Whoville.
If the stick pieces you acquire not to have a bendable stem or clip option, utilize the pipe cleaners during this step to secure the decorations to your Grinch Christmas tree.
Attach the ball, candy-cane, and Grinch ornaments during this step.
Note: Remember to place decorative items around the tree so that the weight is even.

This distribution will prevent any tree toppling that could occur.
Step Five: Add in "filler" decorations.


Add in the cluster ribbons and other filler items to create visual interest.
My pom-pom sprigs are wire-stem, so I was able to spread them wide.
You may find that you have to rearrange these items several times during the process.
Wait to secure with pipe cleaners until you are satisfied with the overall design and layout of the decorations.
I have fallen in love with using more of this style of decoration on my tree rather than the traditional ball ornaments.
Ball ornaments always get knocked off the tree and scattered around the house.
Step Six: Add Tree-topper (in my case, create the cluster)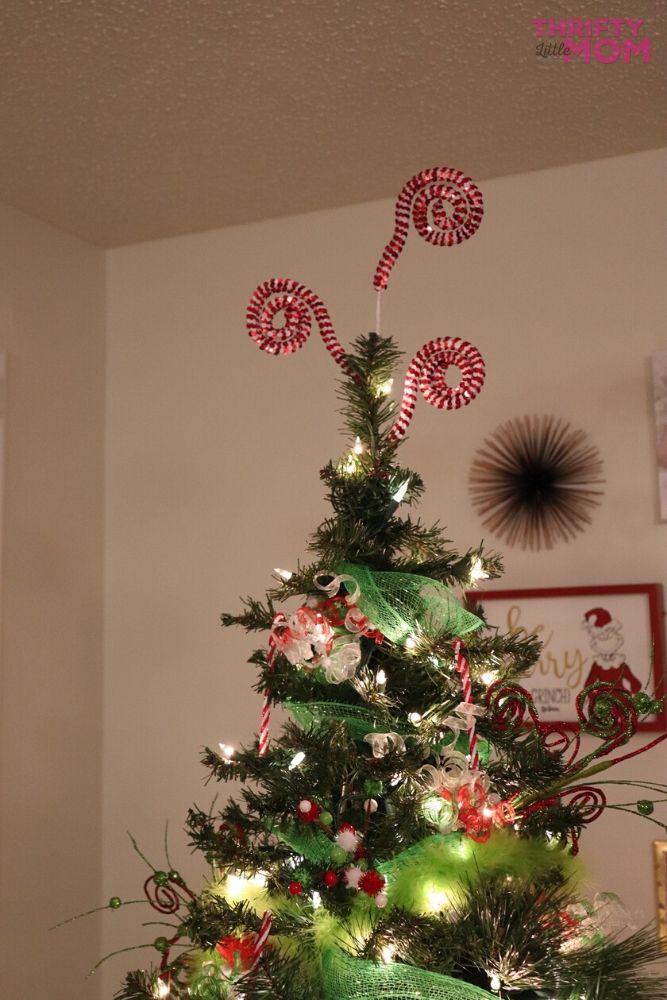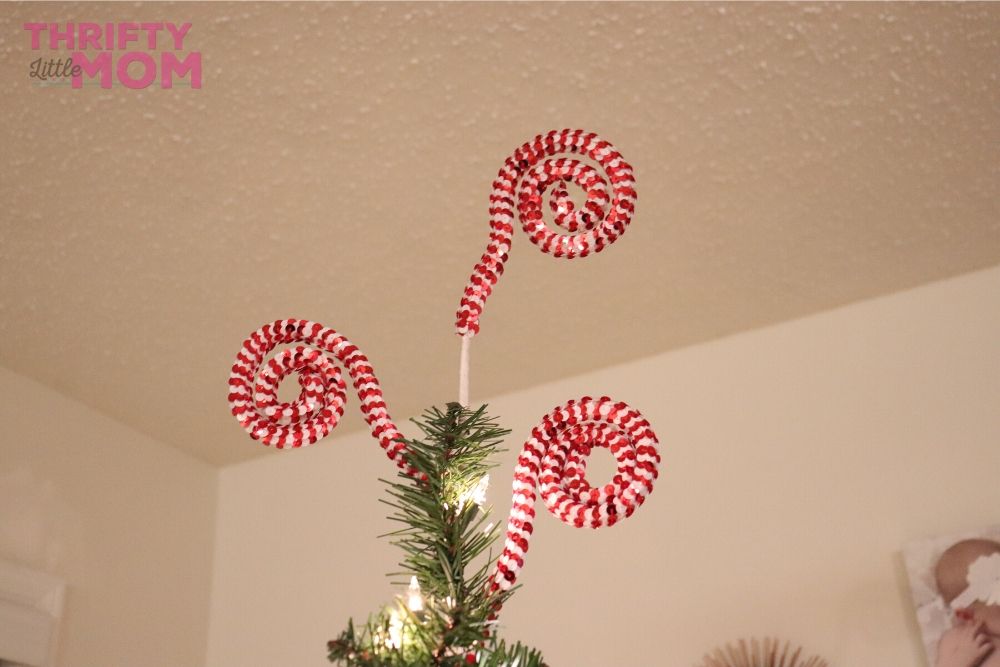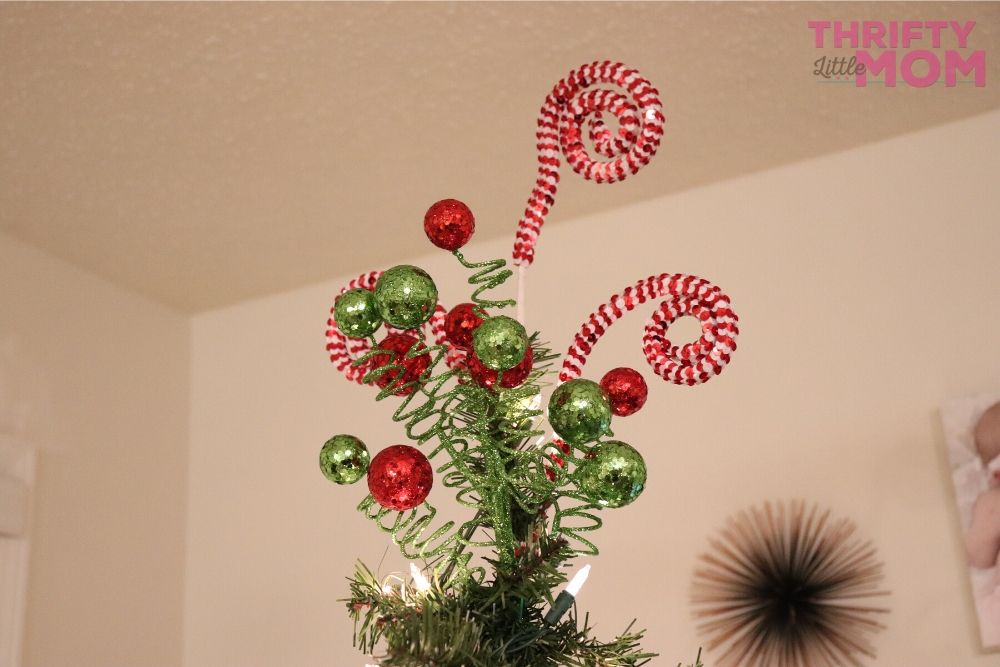 I added these stemmed items to the top of the tree secured with the pipe cleaners.
I wanted them at different height intervals because my tree is 6 feet tall, and I wanted it to appear taller.
By creating a tree-topper yourself, you can accommodate any height restrictions or desires in the space your tree will be.
If your tree-topper is an amalgamation of several decorative pieces, you can separate them later on for other holiday decorations in the future.
Once I had them where I liked them, it was time for the next step in creating my perfect Grinch Christmas tree.
Step Seven: Add the multi-colored ribbon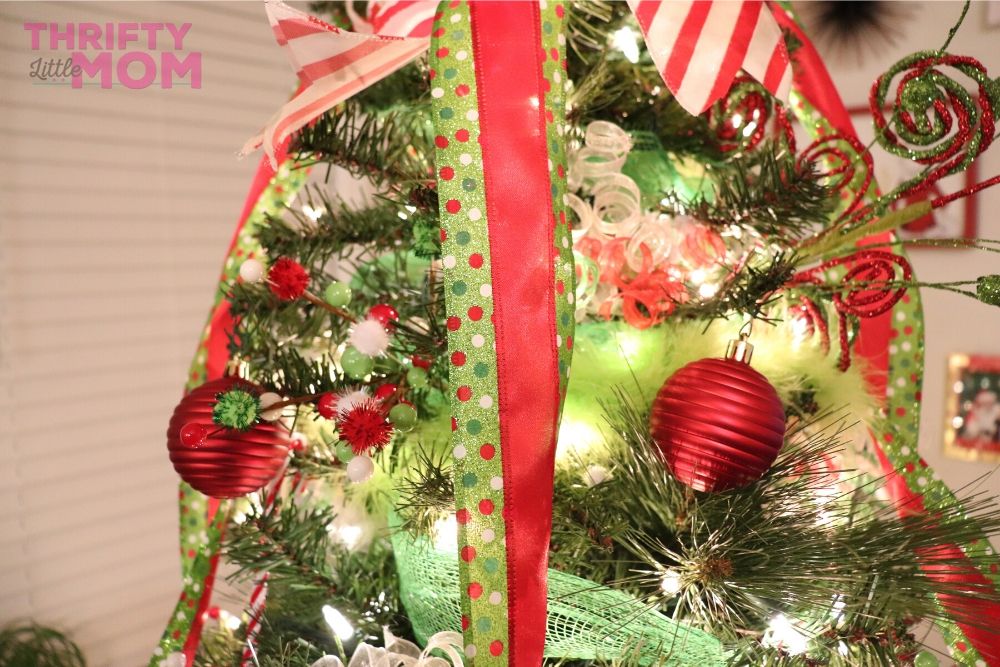 I chose to have my multi-colored ribbon fall length-wise against the Grinch Christmas tree.
Length-wise ribbon will create height and give the appearance of a taller tree
Don't worry about the ends of the ribbon at the top. The final bow will cover these.
Choosing a wired ribbon will allow you to curl the fabric on the way down if that is the aesthetic you prefer.
You can apply clear nail polish to the ends of the ribbon if you are concerned with them fraying.
Step Eight: Add large, striped-ribbon bow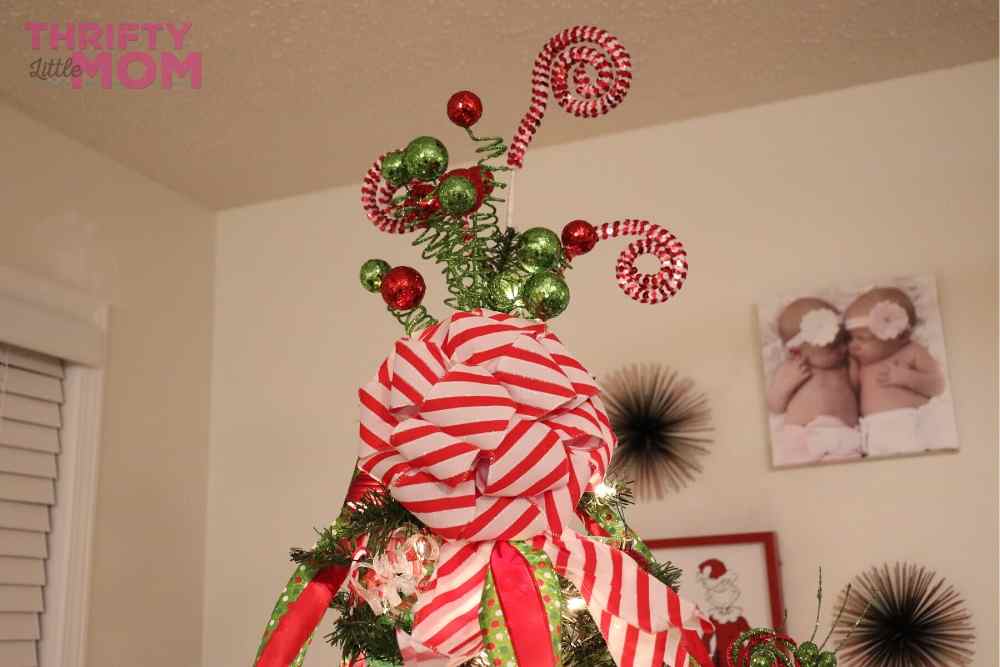 This bow makes quite a statement on the tree.
The bow also will "cover a multitude of sins" when appropriately positioned.
I was able to cover the areas where the stemmed tree-topper came together.
The long ribbon ends were neatly tucked behind the bow also.
I chose to match the striped curls of the topper with this bow to create a great focal point that was almost hypnotic.
This style gives the "Dr. Seuss" style vibe immediately upon observation.
Step Nine: Smile at your perfect Grinch Christmas Tree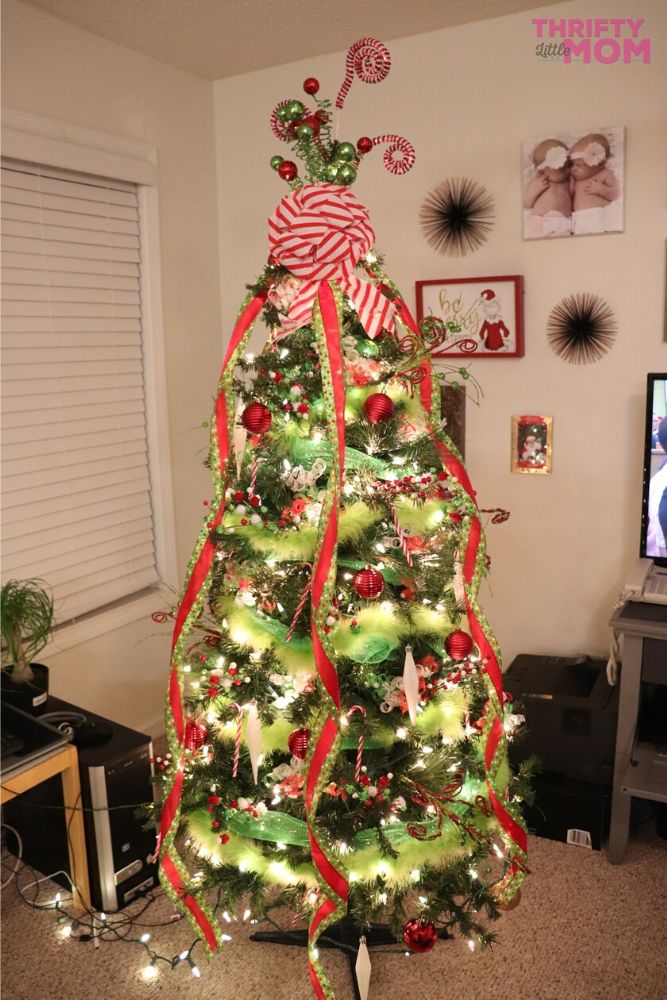 I've had many Christmas trees throughout the years. Every year I want to wow my kids and create something special for them. The bright lime-greens and stripy red and white decorations are captivating to look at. When we walk into our living room, we can help but feel our hearts well-up with Christmas cheer.
The finishing Grinch Christmas Tree touch
I was debating on purchasing a Christmas tree skirt this year. In the past, I have utilized many different decorative items to fill this final touch. When choosing a tree skirt, there are several ways to decide the best option for you.
A basic sheet

create a tree skirt or covering by draping a layer of a coordinating color or solid black or white around the base.
Once you place the presents around the base, you may not even notice it's presence.

Wrapping paper and poster board

Using a large piece of poster board ($.69 at Dollar Tree), draw a circle.
Cut a circle in the center of the larger circle and a line halfway from the edge to create an opening.
Use spray adhesive or glue and lay wrapping paper over the poster board.
Trim to fit the poster board circle.
Place around the tree base and secure it with tape.

Poly-Fill

Poly-fill is the fluffy white stuffing used in pillows and dolls.
This filling will create the look of snow below the tree.
You can attach this to a poster board base like in the tree skirt instructions above.

Wide-mouth Bucket

There are lots of decorative buckets available that have a seasonal design to them.
Find one that the inside base is the same diameter as the stand of your tree.
The exterior will give you a clean design-line for a tailored base.
I was able to find some cute ones that would complete the look for this Grinch Christmas tree.
JAWANNA How The Grinch Stole Christmas 36″ Christmas Tree Skirt Great Gift Decorations, Fits All Trees
I hope that your holiday full of wonder and joy. May all the merriment of the Christmas season keep you and your family happy and warm. Merry Christmas!

5 Fun Family Christmas Tree Decorating Traditions
15 Minute Poinsettia Decor Wreath
Access my FREE Party Printables Vault!
Subscribe to my weekly intentional living email magazine and I'll give you access to my life printables vault! Cleaning, planning, organizing and more!
Don't forget to check out what's in the resource library! https://thriftylittlemom.com/thrifty-little-mom-resource-library/ Password: Thriftyprints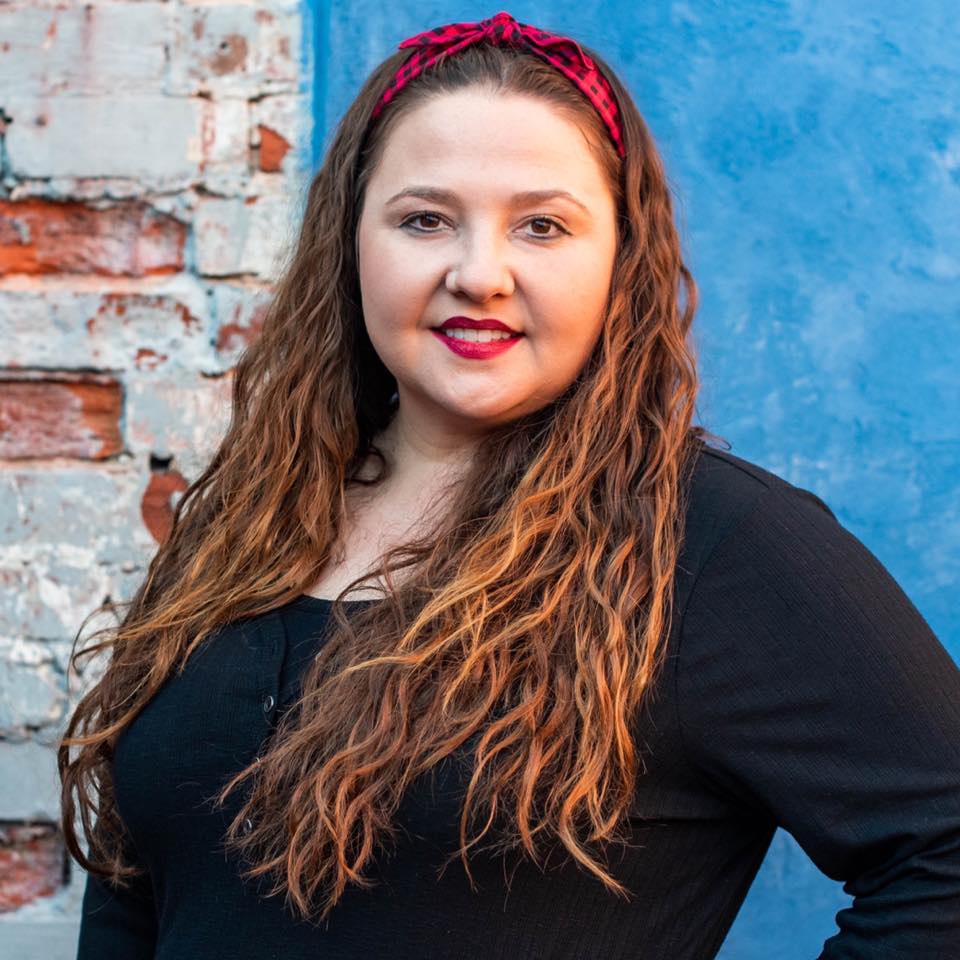 Kim's is the party planning, cupcake loving, celebration catalyst behind the Thrifty Little Mom Blog. Kim was a pro event planner for over 7 years before she became a full-time blogger. Kim is the author of: Live, Save, Spend, Repeat: The Life You Want with the Money You Have. She's been featured on Time.com, Money.com, Good Housekeeping, Women's Day and more! Kim aims to inspire you to create parties, celebrations and gatherings that everyone loves!
Summary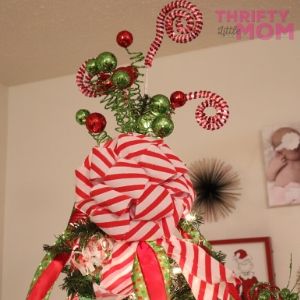 Article Name
How to Create the Perfect Grinch Christmas Tree
Description
This year, I wanted to add fun and whimsy to my holiday decorations. Here's how I made the perfect Grinch Christmas tree.
Author
Kim Anderson
Publisher Name
Thrifty Little Mom