Planning a Soccer Birthday Party from Start to Finish
Soccer (or fútbol/football as everywhere but the U.S.A. calls it) is becoming ever more popular in the States. With children flocking to learn this quick-paced game, it is no wonder that you may need to throw a soccer birthday party. When the kids want a killer party, I can show you how to get the ball rolling! Be sure you grab your free printable Soccer Party Planner at the end of the post!
Soccer Party Planner
Anytime you are planning a party, it can be easy to get overwhelmed with all the things related to planning a party. So I created a simple to use (over and over again) printable kids party planner to help you keep all your lists, ideas, research, prices, and planning in one central place! You can click here to read about what's inside and get a sweet deal!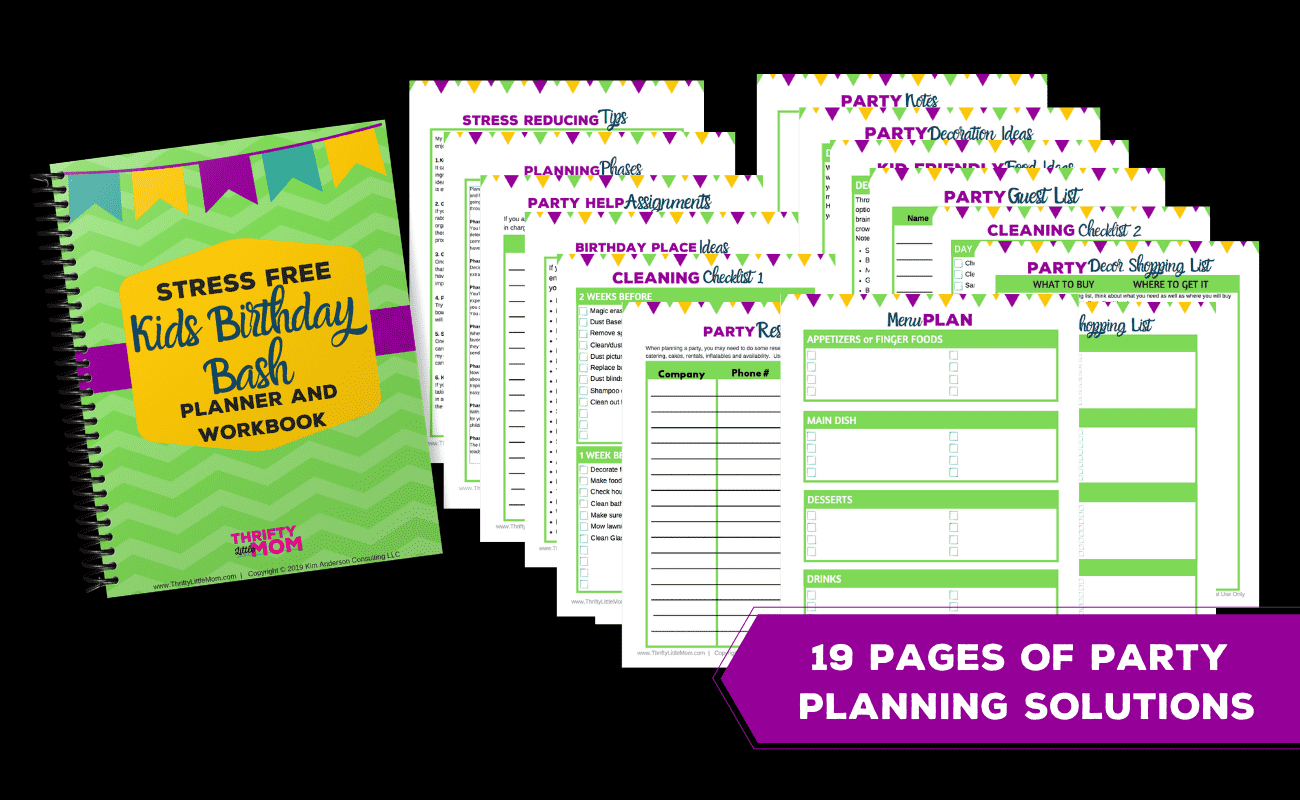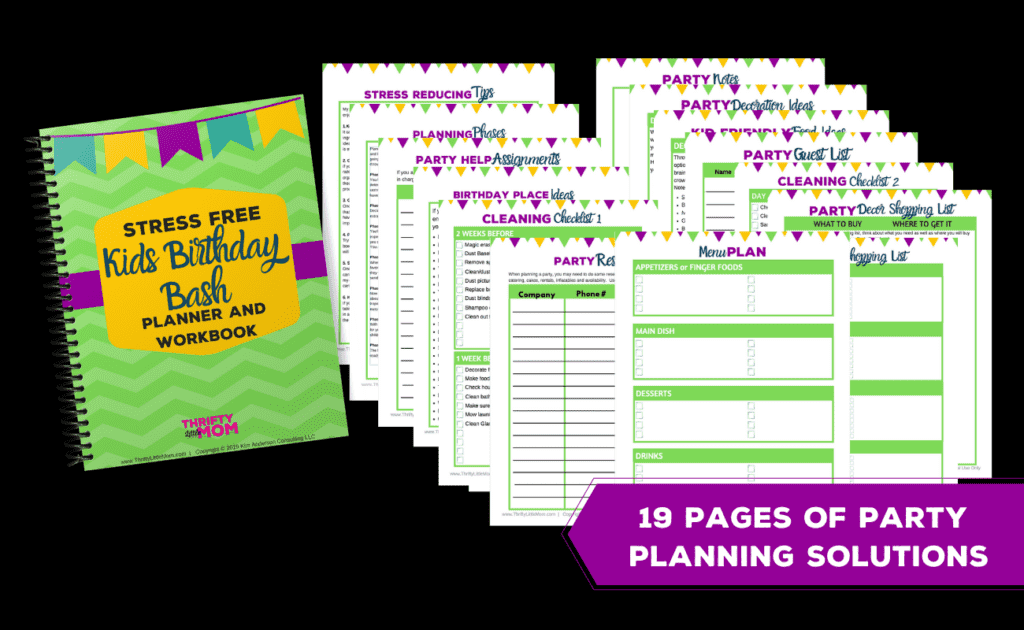 Invitations
Soccer birthday party invitations are essential for immediately setting the stage for the theme. You will want to grab a few packs of these stylish invitations. Why? Because paper invitations are the best way for people to remember the event.
You are more than welcome to create an event page online, or even send an e-vite, but a paper invitation remains the number one item to be stuck with a magnet to the fridge. And you guys, we all look at the fridge at least three times a day.
Soccer Party Invitations (20 Count) with Envelopes
Decorations for a Soccer Birthday Party
Want to score the ultimate goal? Soccer birthday party decorations should be voluminous and bright, pick some fun shades of neon green, the kids will love it!
Soccer Birthday Balloons
For me, balloons are the signifier of any event that a party is happening! They embody "celebration." The other thing that I love about balloons is their ability to bring height into a room.
We want to attempt to bring decorations from floor to ceiling, and balloons are the thriftiest way to add length. Bundling balloons is an effective way to create mass and provide coverage in areas that may be awkwardly shaped or difficult to reach. Attach some green streamers, and you have an inflatable soccer pitch!
Soccer Ball 18″ Mylar Balloon 3pk by Anagram

BTSD-home Green Foil Fringe Curtain, Metallic Photo Booth Backdrop Tinsel Door Curtains for Wedding Birthday Bridal Shower Baby Shower Bachelorette Christmas Party Decorations(4 Pack, 12ft x 8ft)
Bunting and Such
I usually throw intimate parties at my house. I don't have a huge house, but I at least have a nice kitchen area that is open to my living room. This openness makes that space feel larger.
Since the fireplace mantle is smack-dab in the middle of the wall, this is my favorite place to decorate. I will always place bunting along the mantle as I feel that is most impactful here. I use my easy no-sew bunting template because of this design choice.
Wherever you choose to decorate, bunting is a great eye-level decoration that makes for a perfect celebratory piece.
Set of 26 Soccer Birthday Party Banner Sports Banner Soccer Party Decoration Soccer Ball Birthday Banner Soccer Soccer Birthday Decorations Soccer Cake Decoration
Paper Decorations
I enjoy the hanging lanterns so very much. They seem to float in the air, almost upon the happiness and enjoyment being produced in celebration. Most of these items are round, so it only seems fitting that you could utilize lanterns shaped like soccer balls.
I would suggest placing them above the food table. The lanterns in this area will avoid the inevitable bumping of heads from your taller attendees.
NICROLANDEE Soccer Party Decorations Package Goal Party Banner Hanging Paper Lantern Tissue Flowers Pom Poms Honeycomb Ball for World Cup Soccer Sports Themed Birthday Party Decor Kit
Soccer Birthday Table Decorations
If you are working on a budget, then the table decorations are where you should spend the bulk of your decoration funds. The table will make the most significant impact on the soccer-themed birthday party.
The main things that you want to add to your table decorations are the following:
Tablecloths (you can layer several or keep one that holds the theme)
Paper products- plates, cups, and napkins
Decorative food picks- these are great for placing on cupcakes or finger foods like pigs in a blanket
Add balloon bundles here too!
Confetti or candies sprinkled around the table looks great
Ambesonne Teen Room Tablecloth, Soccer Field Grass Motif Stadium Game Match Winner Champion Sports Area, Dining Room Kitchen Rectangular Table Cover, 52″ X 70″, Fern Green

Creative Converting Sports Fanatic Soccer Party Supplies Set for 16: Plates, Napkins, and Cups

Chocolate Soccer Balls – 5 LB Resealable Stand Up Bulk Candy Bag (approx. 400 pieces) – Individually Wrapped Mini Chocolate Balls – American Soccer Themed Novelty Candy
Food and Drink Ideas for a Soccer Birthday Party
[convertkit form=2024873]
I don't know what it is about Mexican food and soccer here in the states. I love sitting with friends and enjoying delicious Tex-Mex food while watching a game. It just fits so well.
I love creating my famous Ain't got no time enchiladas, a staple here at the Anderson household, but that may not be the best snack for the kiddos. Sigh, one day. While some kids (including one of my own) have pickier palates, I want to give them an easy and delicious snack.
Quick Quesadillas
Making quesadillas is so incredibly easy. You can load them up with whatever your favorite food items are. Since this is for the kiddos, I will be making plain cheese and chicken. These can also be made with just cheese for the ultimate picky eaters.
Ingredients:
16 ounces shredded chicken (you can shred yourself or buy this already done)
16 mini tortillas (3.5″ tortillas)
24 ounces shredded Mexican blend cheese
One pack of fajita chicken seasoning
Directions:
Sautee chicken with fajita seasoning (you may only want to use 1/2 the seasoning pack)
Preheat oven to Broil once the chicken is fully cooked.
On large, cookie-style, sheet pan layout 6 shells to start
Place 1-2 tablespoons of chicken into the tortillas
Place 1/2 ounce of cheese into the tortilla
Fold tortillas in half and secure with a toothpick if needed
Place tortillas into the oven for 90 seconds
Turn tortilla tray 180 degrees in the oven for an additional 90 seconds
Pull platter of quesadillas out of the oven
flip the tortillas to the other side
Repeat the broiling process
Once cooled, watch the kiddos flock!
Bubbles on the Green Soccer Birthday Party Mocktail
I love this delicious drink. It is always a hit at a party. This drink is effortless to make with very few ingredients, but it will be a show stopper. I enjoy easy Jell-o recipes. Let me show you how to make this festive drink.
Ingredients:
Lemon-lime soda
Lemon-lime green gelatin (or choose the flavor or color your group will love)
Directions:
Following the instructions on the gelatin pack, make the mixture and let it set.
Once set, place a 1/4 cup scoop of the gelatin into the bottom of the glass
Add ice cubes to weigh the gelatin down
Slowly pour lemon-lime soda into the glass
Garnish with a fun straw!
Big Dot of Happiness Goaaal – Soccer Paper Straw Decor – Baby Shower or Birthday Party Striped Decorative Straws – Set of 24
Grassy Desserts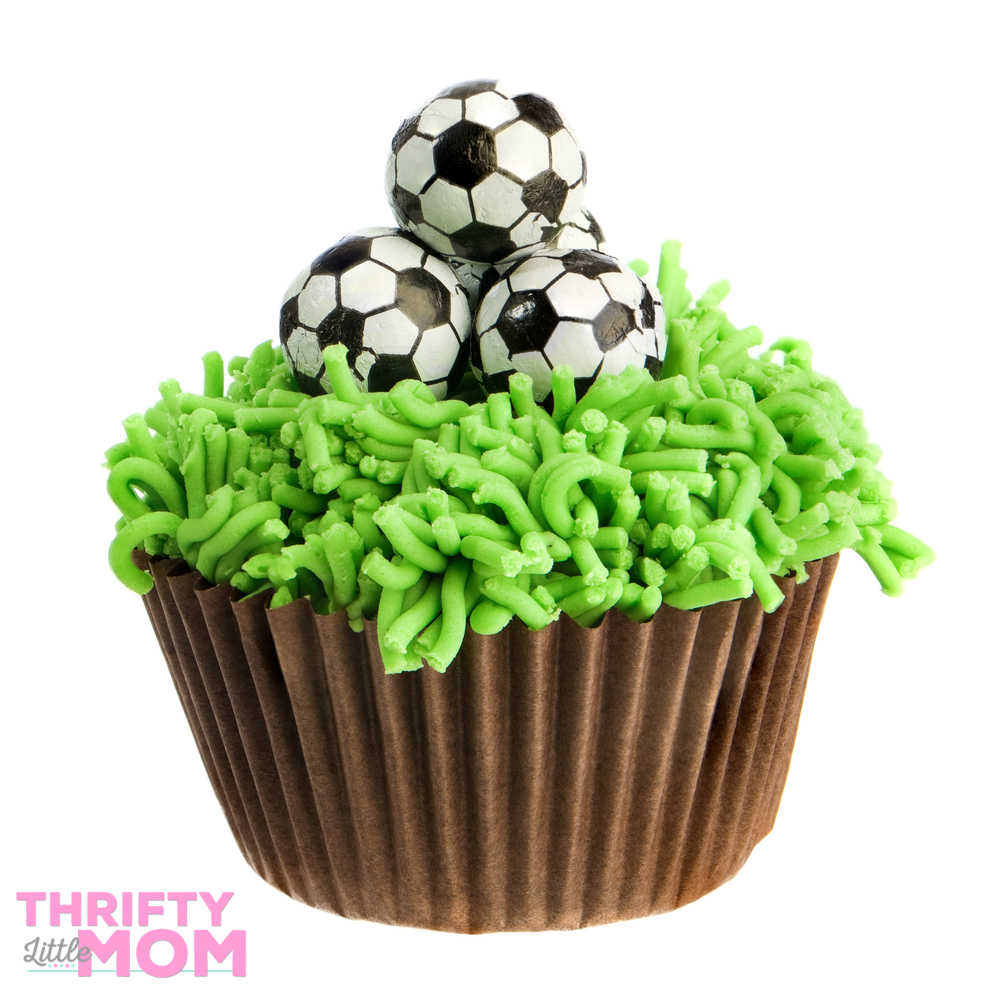 A few years ago I took some cake decorating classes from a local community college and my most favorite technic was the "grass" icing technic because it was epically forgiving. As in, it was hard to mess up. (See the tips in the image below).
Most people can make this icing for cupcakes or cakes and you can also ask your local bakery to do to this design too.
Her's a quick how-to video:
Not that crafty? No worries! If you decide to buy a store-bought cake or cupcakes, you can pick up some thematic toppers that no one will 'bat an eye at!'
Big Dot of Happiness Goaaal – Soccer – Cupcake Decoration – Baby Shower or Birthday Party Cupcake Wrappers and Treat Picks Kit – Set of 24
Soccer Birthday Party Games
The chances are that if you are throwing a soccer themed birthday party, you've got some kids that love to play soccer. And while you could just throw out a ball and some pop-up soccer goals. You could also harness the energy that they have into some classic relay games but include dribbling a soccer ball. Ideas for classic party games re-done with soccer dribbling:
Idea: You can purchase smaller sized soccer balls for added fun!
GoSports Size Soccer Ball 6 Pack Classic Soccerball 6 Pack – Size – with Premium Pump and Carrying Bag, Black/White, 3
Classic Relay Soccer Game Ideas
Spoon and egg race- participants must balance a raw egg in a spoon and run to the finish line. They must ALSO dribble a soccer ball down the route.
Three-legged race- teams of two are tied together at the leg (right leg of one to left leg of the other) and must race to finish line. Now they must work together to move the soccer ball down the path.
Crab Walk- participants walk across the ground on all fours with their stomachs up. They will try and dribble the soccer ball to the goal without losing control of the ball.
Over/under Relay- in two lines, the kids will pass the soccer ball over their heads and then under their legs to the next person in front. Once it reaches the end, everyone will turn and repeat. The team that does it the fastest wins.
Since there are plenty of exciting relay races for kids, you can customize to fit this party's theme easily.
Soccer Party Favors
Send the kiddos home with some fun items that incorporate the theme. Grab some awesome goodie bags and load it up with some fun return gifts. Here's how I make mine.
Bags
Start with a great bag. You can go with something thematic or reusable, depending on your group. Since this is a sports-themed party, I like the drawstring bags. Kids can use this to put snacks for the game, their shin guards when off the field, or for whatever they may need them!
Konsait 12PCS Football Party Bags Drawstring Bags Football Backpack, Kids Birthday Party Supplies, Gift Treat Pouch, Football Party Favors Goodie Bags for Children Girls Boys Toddlers
Useful Items
Trust me, we're going to be putting candy and all sorts of fun items into the bags, but I do like to include one piece that isn't just a throw-away. For a soccer birthday party theme, I was thinking something that all the kiddos will need and use. Sunglasses are the prized possession of this party favor pack.
10 Packs Wholesale Adults and Kids Neon Colors 80's Retro Style Square Party Favors Sunglasses (Green Kids)
The Fun Stuff
We all know that kids want stickers, tattoos, candy, and various other plastic party treats. Luckily, those are easily found for a soccer birthday party favor bag. Keep them Oh-ing and Ah-ing over these fun pieces. They will thoroughly enjoy this pack!
Konsait Football Party Favors 31pcs Football Key Rings, Football Whistles, Bouncy Footballs, Football Tattoos for Kids Birthday Gift Football Party Sports Game Supplies Boys Party Bags Fillers
I hope that the soccer birthday party ideas in this post will give you the inspiration you need to create the perfect event. Maybe you'll even score a hat-trick!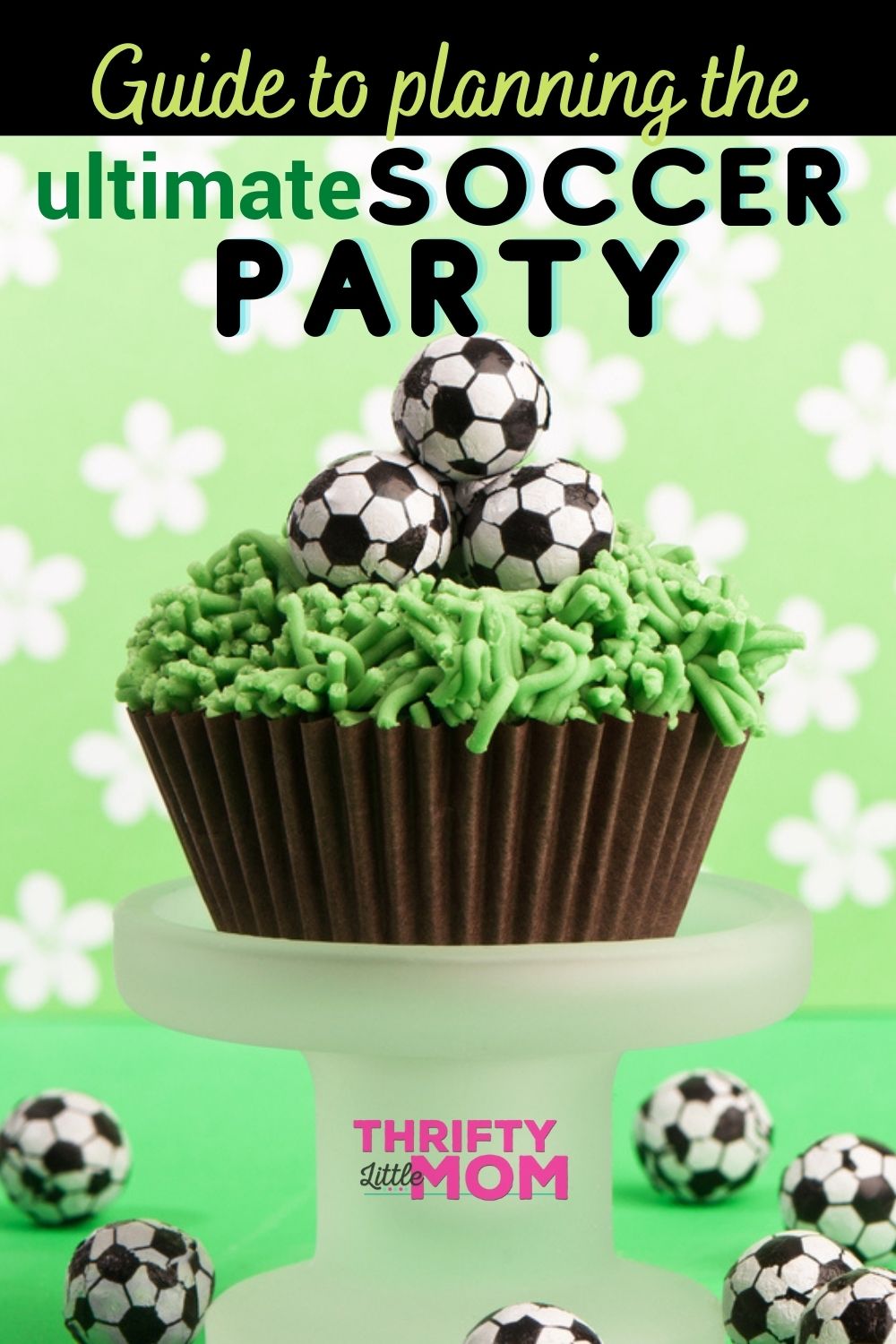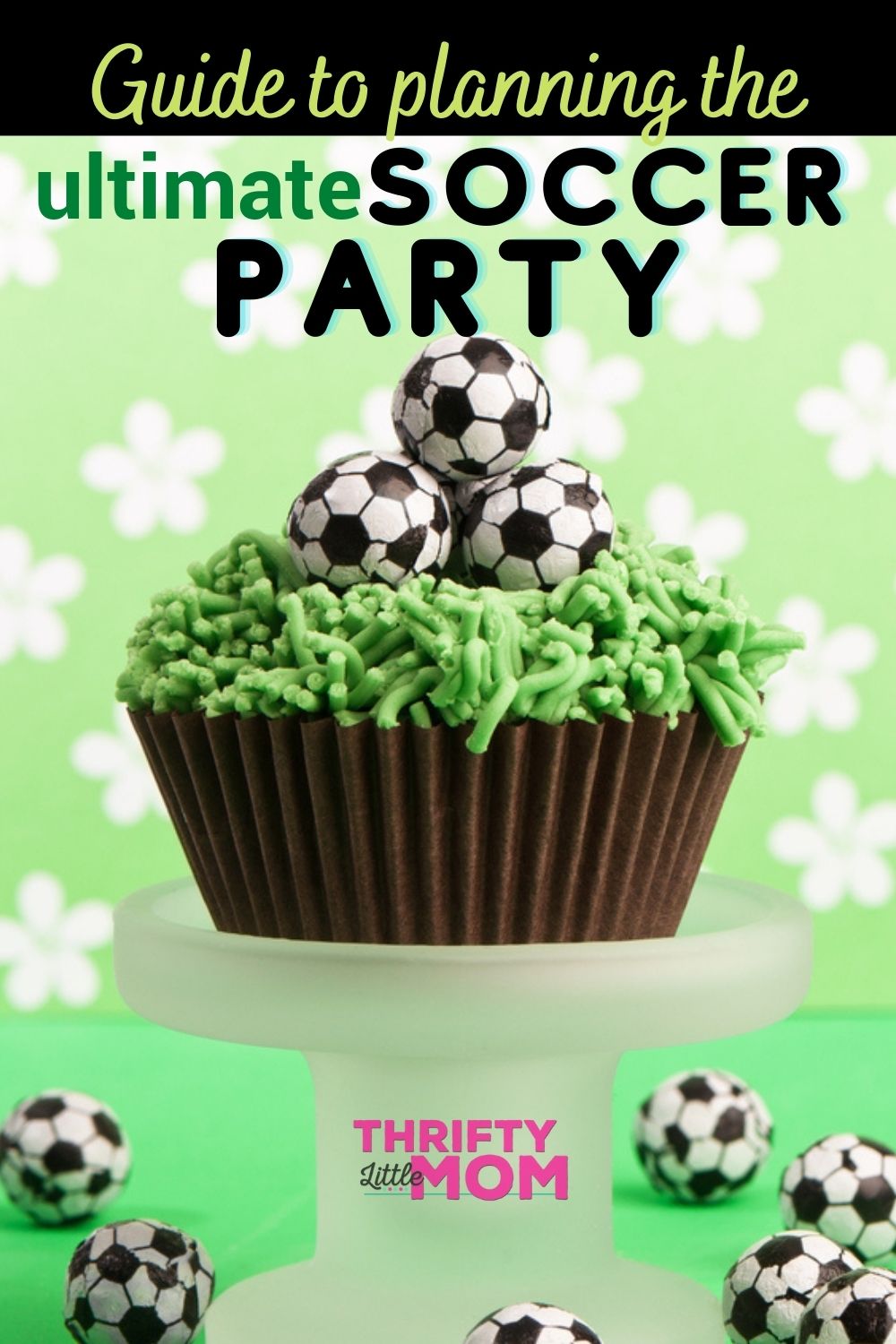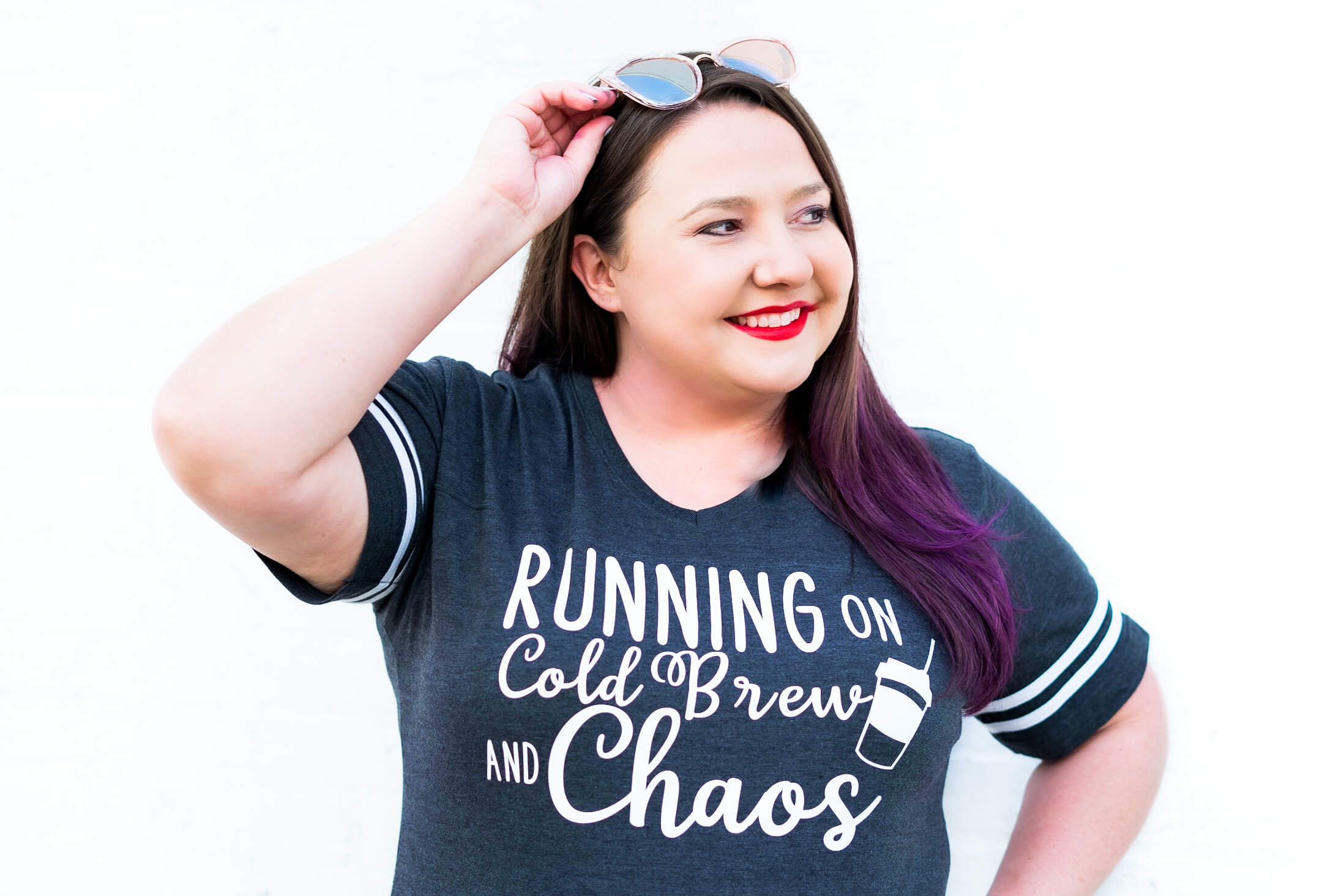 Kim Anderson is the organized chaos loving author behind the Thrifty Little Mom Blog.  She helps other people who thrive in organized chaos to stress less, remember more and feel in control of their time, money, and home. Kim is the author of: Live, Save, Spend, Repeat: The Life You Want with the Money You Have. She's been featured on Time.com, Money.com, Good Housekeeping, Women's Day, and more!