Lingerie Party Ideas: Virtual or In-Person
This post contains affiliate links. As an Amazon Associate, I earn from qualifying purchases. I also earn from qualifying purchases made with other brands and programs. See my
privacy policy.
I'm just going to say it, "I LOVE LINGERIE!" Who's with me? Nothing else can bring the feminine powerhouse that my soul is built on to the surface quite like a matching ensemble of lacey, five-percent lycra spandex, with tushy and cleavage ruffles, accented with french garters and Cuban heel thigh-highs.  Let me help you bring that fun, flirty, and empowered feeling to your friends with these lingerie party ideas.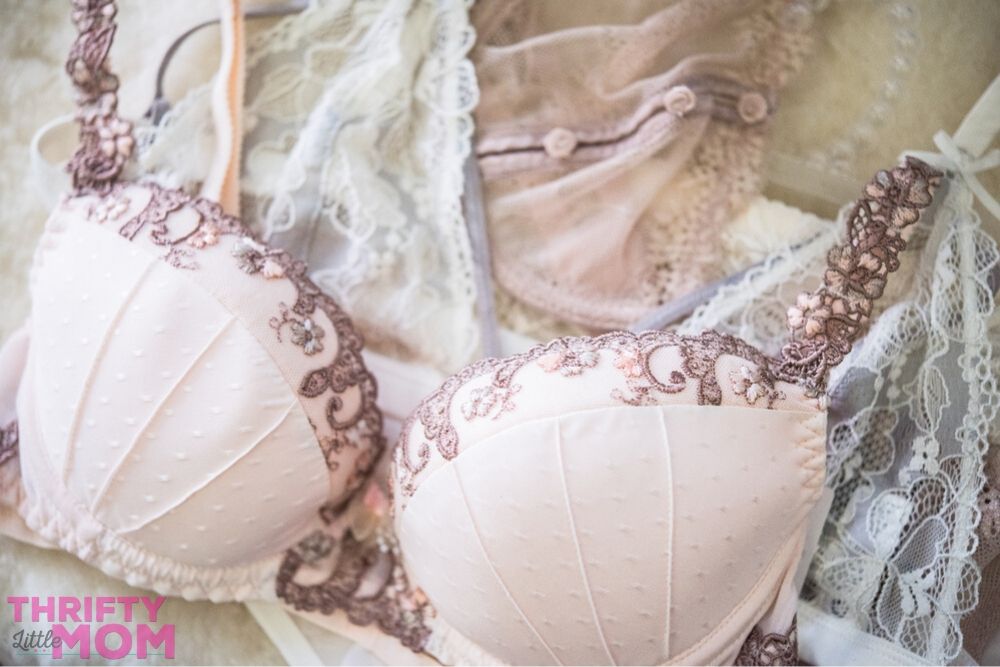 Virtual or In-Person Lingerie Party?
Since 2020, many people aren't able to meet in person to have parties like these.  If you can't meet in person, remember that you can always host these parties virtually and do your best as the host or hostess to create an "experience" for each person who might attend.
Communicate where everyone meets using an online video app like Zoom, Facebook or Google Hangout.  
The key for successful virtual parties to PLAN AHEAD so that you have enough time to mail/ship/deliver the party favors to your guests and so that they have enough time to ship their gift to the bride-to-be.  
Lingerie Party Invitations 
Invite the tribe. Get everyone excited about the event with fabulous invitations that radiate sexy and fun. There are so many beautiful and stylish invitations to choose from that will fit your group perfectly. Look for lacy and embellished cards that have a delicate and sensual nature. If your group is a little more flirty, then maybe one with a cute pun. Don't forget to include the sizes for purchasing- bra size, underwear size, and overall small, medium, and large.
Virtual Lingerie Party Invite Notes:
If you plan to have a virtual lingerie party, include all this information plus where to ship the gifts and what time, date, and link to join the party on. 
Lingerie Party Decorations
There are many ways to make sure that you decorate your party to the nines for your ladies. You want to make sure you cover the basics when it comes to the decor. Pick a color scheme that represents your honoree the best. I am a big fan of soft pinks and golds for my ideal colors. 
Virtual Lingerie Party Decoration Notes:
If you plan to do a virtual party, all you really need to do is create a nice space for the guest of honor that will be shown on camera when guests attend digitally.  
Meaning if you go virtual and want to decorate, you only have to decorate a space or wall that would show up behind or around the bride-to-be.  
Balloons and Streamers
It is imperative that you create your design with height and layers. Balloons can be done sweetly and in a way that will increase the theme. Look for fun and flirty styles that fit your party perfectly. Here are some of my favorites.
PartyWoo Pink Gold and Burgundy Balloons, 70 pcs Burgundy Balloons, Baby Pink Balloons, Gold Confetti Balloons for Burgundy Bridal Shower, Burgundy and Gold Party Decorations, Burgundy Wedding Decors
Rose Gold Circle Dot Garland Streamer Kit for Twinkle Star Party Decoration Glitter Reflective Paper Hanging Bunting Banner Backdrop Background for Wedding/Baby Shower/Christmas/Birthday/Prom/Wedding
 
Party in Paris Hanging Chandelier – 2 Pack
Lingerie Party Table Decorations
 When you are decorating your table, think about different elements that add to that seductive vibe of the evening. For my lingerie party ideas I am thinking:
Rose gold sequin tablecloth
Black lace table runner 
Pearl and rhinestone beads layered around
Candelabras 
Ostrich feather plumes
Soft feathery boas
Satin ribbon details.
Ruffles
ShinyBeauty !! 60×102-Inch Blush Sequin Tablecloth

14 x 120 Inches Black Lace Table Runner Embroidered Runner New Year Supplies Lace Vintage Table Runner Centerpiece Black Theme Party for Boho Wedding Supplies Bridal Baby Shower Decorations

L-Queen 1 Yard Pearl Rhinestone Chain Trim Handmade Wave Style Bridal Trim Rhinestone and Pearl DIY Wedding Applique for Sewing Bouquet Cake Decorations Party Dress Ideas for Her (Pearl-1)
 
Tidelence 5-Candle Metal Candelabra Candlestick 10.6 inch Tall Candle Holder Wedding Event Candelabra Candle Stand (Black)
Plates, Cups, and Napkins
Though these are just the "little things," I feel like you can set the tone splendidly with a few cute accents in this area. Picking a beautiful set of plates and cups will continue the glamorous feeling that you are working to create. When I plan a themed party, the table and the settings are where I will spend the bulk of my decorations budget because they make the most significant impact on the event. 
DISPOSABLE SIDE PLATES | 24 pc | made of Heavyweight Paper Materials | Stripe – Rose Gold | 7.5″
 
Black and Rose Gold Party Supplies Set | Services 24 with Rose Gold Cutlery Includes Plastic Knives, Spoons, Forks, Rose Gold Paper Plates, Napkins, Cups, Straws | Birthday, Baby Shower, Graduation
Food for Your Fancies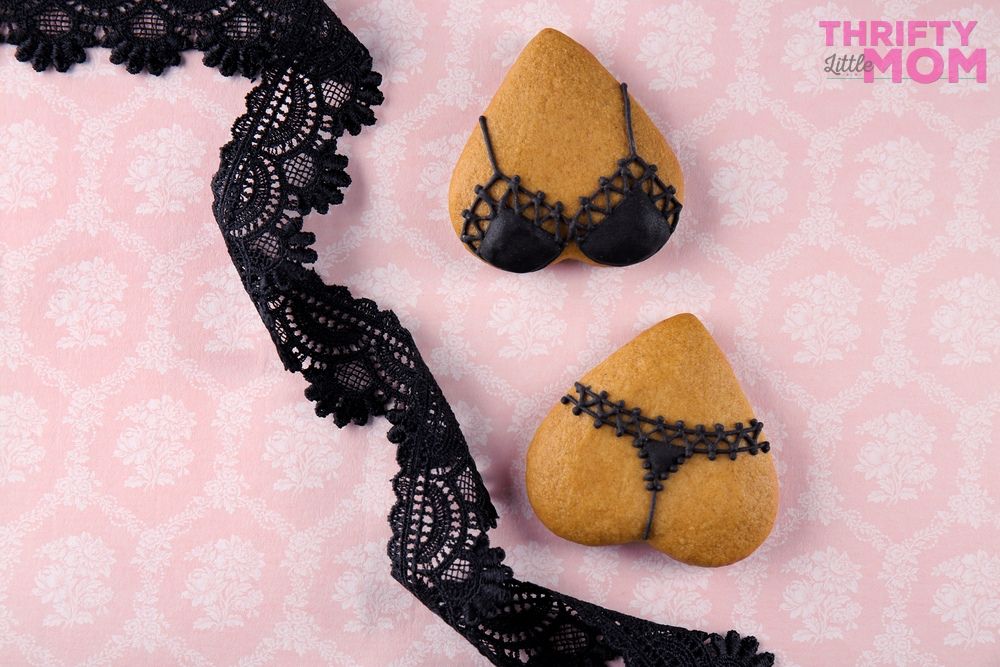 I like for these parties to remain a classy and tasteful event. I personally avoid the *cough* male interference *cough* in these types of parties. No shade if you prefer the funny straws, cakes, and tiaras that bachelorette parties can be accustomed to utilizing. I just like my lingerie parties to be more sultry and seductive in their nature. Here are some fun ideas for lingerie party finger foods.
Virtual Lingerie Party Decoration Notes:
Obviously having a virtual version of the party is going to limit the whole food situation, but you could consider buying or ordering a few small party snacks, cookies, or even cake pops and having them delivered to guests the week of the party.
Whether you hire a company to do it or you ship them yourself, it's one way to pull off a fun party when you can't be together in person. 
Tea Party Fun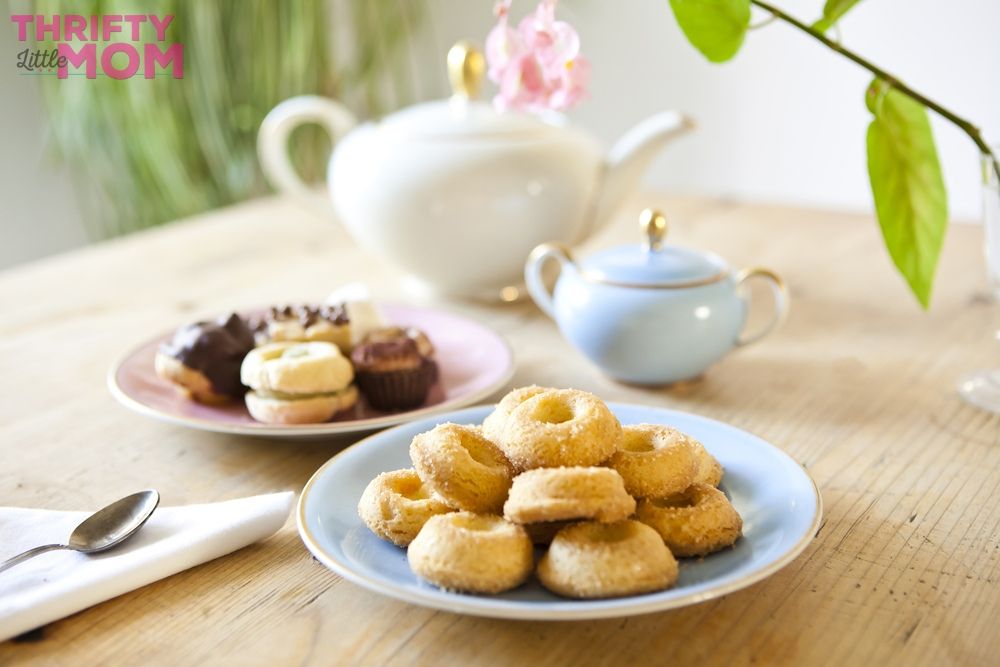 Lingerie parties are famous for being a bit more elegant than your regular bachelorette party. You can continue this style by incorporating small, delicate pastries that will WOW your guests. I like utilizing the 26 simple and elegant tea party ideas that make your gathering a full experience. We, as women, love tiny things. I don't know what it is in our brains that short-circuits with joy when we see something in a smaller version. Miniature quiche will basically put us in traction from the backflips that are performed. 
Crepe Party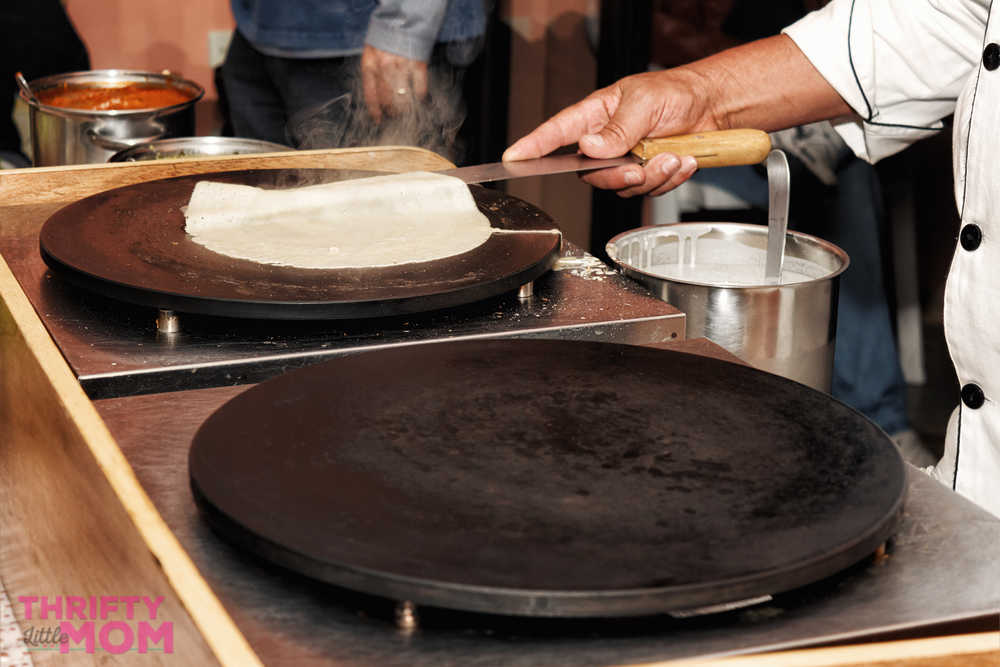 Did you know that you can have a crepe party? Since a lingerie party has a lovely Parisian feel to it, this would be a great time to bring in this delightful experience. The crepes are prepared by a professional and stuffed with ingredients of your choosing- savory meats and roasted vegetables. What is even better? They can also do dessert crepes using fresh fruits and subtle, sweet toppings. It is an all in one meal option that your guests may not have seen before at a party. 
Lace Tuille
If you are considering foods that have the lingerie feel, look into lace tuille. These culinary art vessels are a wonderful accent to any style of food. They will allow the soft, demure side of the party to make an appearance. Crafting these garnishes can make for a fun day in the kitchen. The results are worth the casting process if you are looking to dress up your dishes.
Sultry Sweets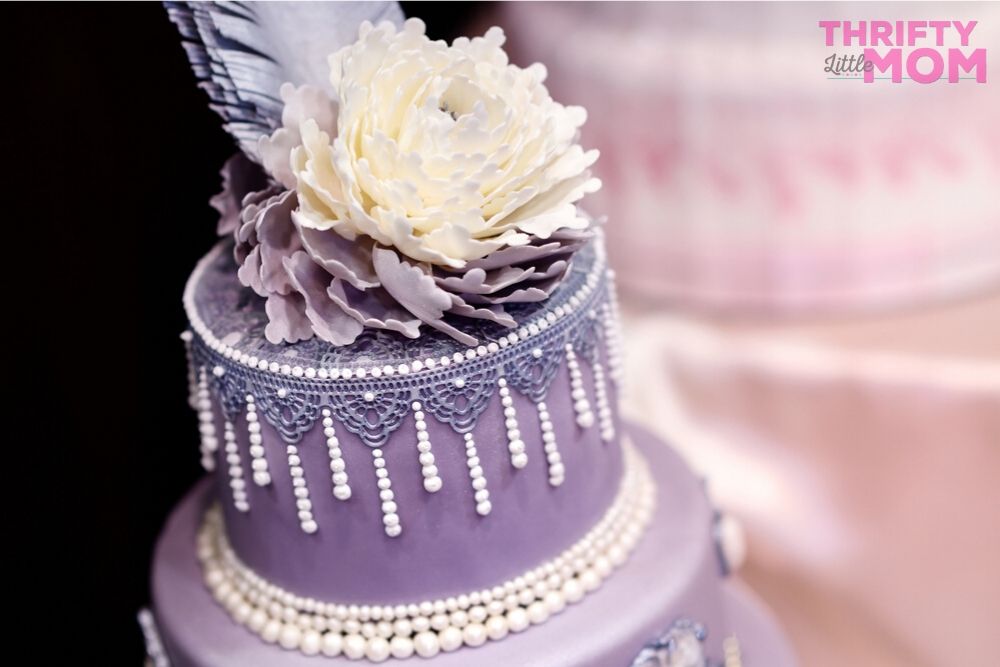 For your primary dessert offering, look for elegant cakes and cupcakes that fit the color scheme of your party. Since we live in the future, we now have edible pearls, glitter, and metallics that enhance these excellent dessert options. Consider purchasing a store-bought option and decorating it yourself for a thrifty choice. You can easily embellish desserts with a few of these edible details.
Funshowcase Large Pre-Made Ready to Use Edible Cake Lace Rose Scallop Ivory White 14-inch 10-piece Set

O'Creme White Edible Sugar Pearls Cake Decorating Supplies for Bakers: Cookie, Cupcake & Icing Toppings, Beads Sprinkles For Baking, Certified, Candy Sugar Ball Accents (2mm, 8 Oz)
Cupcake Couture 
You can find lovely wraps for cupcakes too! This tiny detail is a simple addition that can up the elegance of the event. I am not above buying regular store-bought cupcakes and throwing my own flair onto them. Thrifty Mom approved!
KPOSIYA Cupcake Wrappers 60 Filigree Artistic Bake Cake Paper Cups Little Vine Lace Laser Cut Liner Baking Cup Muffin Case Trays for Wedding Party Birthday Decoration (Black)
Lingerie Party Drinks for the Dames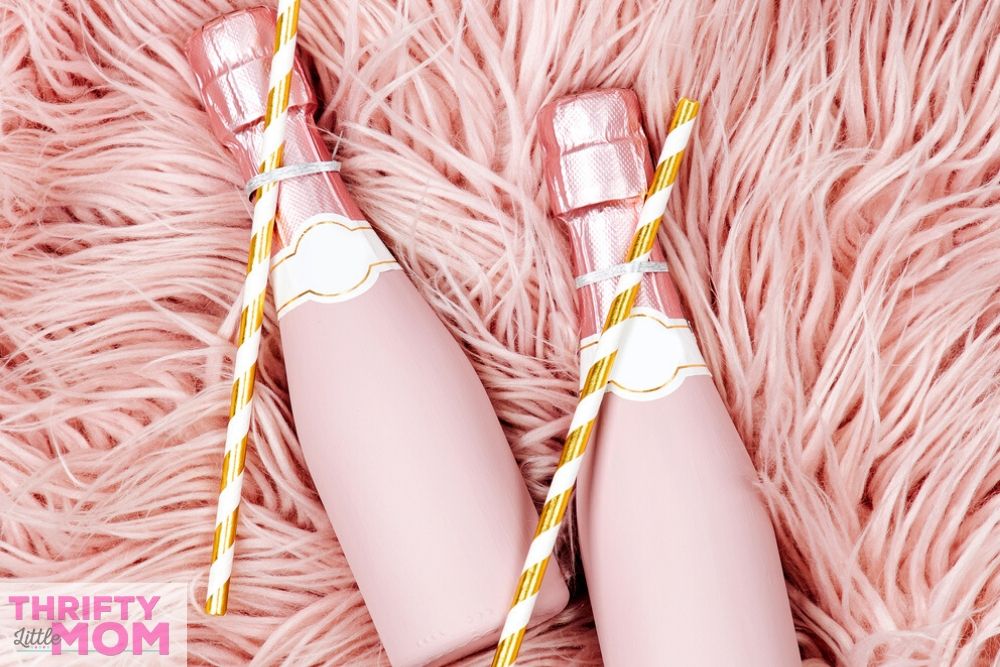 Without a doubt, this celebration calls for the bubbly! I love bringing sparkling beverages into any event, but especially one that is so flirty and sexy. Something about the effervescent nature of this drink lends itself to celebration and glamour. 
Best Ways to Dress up Your Drinks
Add these little elements to your sparkling beverages to enhance the visual and tasteful nature:
Fresh Berries– Raspberries, sliced strawberries, blueberries, blackberries are beautiful as they dance in the bubbles of your glass
Chambord– this is a raspberry liqueur that presents a soft pink hue to your drink when drizzled in the glass
"Glitter" Sugar Rim– edible glitter is made from specially processed sugar that takes on a sparkling appearance that will dazzle the eye
Zest Curls– when drinking a drier sparkling like a "brut" or "extra-brut," an orange or lime zest curl is complimentary and delicate.  
There are great ideas for decorating cocktails in addition to your sparkling beverages
Pink Drinks 
If you decide that you would like to offer other drinks that are not alcoholic, there are plenty of pretty pink mocktails that will look classy and elegant for your lingerie party. 
Sparkling Pink Lemonade
Grapefruit Spritzer
Passion Tea 
Little Extras
I am a big fan of finding something to make my party a bit different than what most people are used to experiencing. Whether you incorporate these during the party or as favors at the close, they will make for a delightful gift for your friends in attendance. 
Lacy Masks
For this lingerie party, my idea would be incorporating these great lacy masks. Since they have such a sultry feel, I think that it would add a fun and flirty dynamic to the event. 
SIQUK 30 Pieces Black Lace Masquerade Mask Women Venetian Masks Lace Mask
Seductive Gloves
These gloves are both elegant and sexy. Most ladies do not own a pair of gloves like this so it will be a fun piece to add to their collection. Best of all, one size fits most, so everybody wins.
Women Lace Glove Short Lace Glove Floral Courtesy Lace Glove for Wedding Tea 1950's Party Costume Favors (Black 3)
Say Thanks!
As always, make sure to say thank you to your guests in the form of a handwritten 'thank you' card. Your momma raised you better than forgetting to do that! Make sure you pick a card that brings back the elegance and fun of the evening. 
Hallmark 50 Assorted Thank You Cards, Black and White Ivory Scroll (Boxed Set of Cards with Envelopes for Weddings, Showers, Business, All Occasion)
I hope that these ideas inspire your next lingerie party! Have fun and stay sexy!
Check out more ideas from Thrifty Little Mom
Pin This For Later!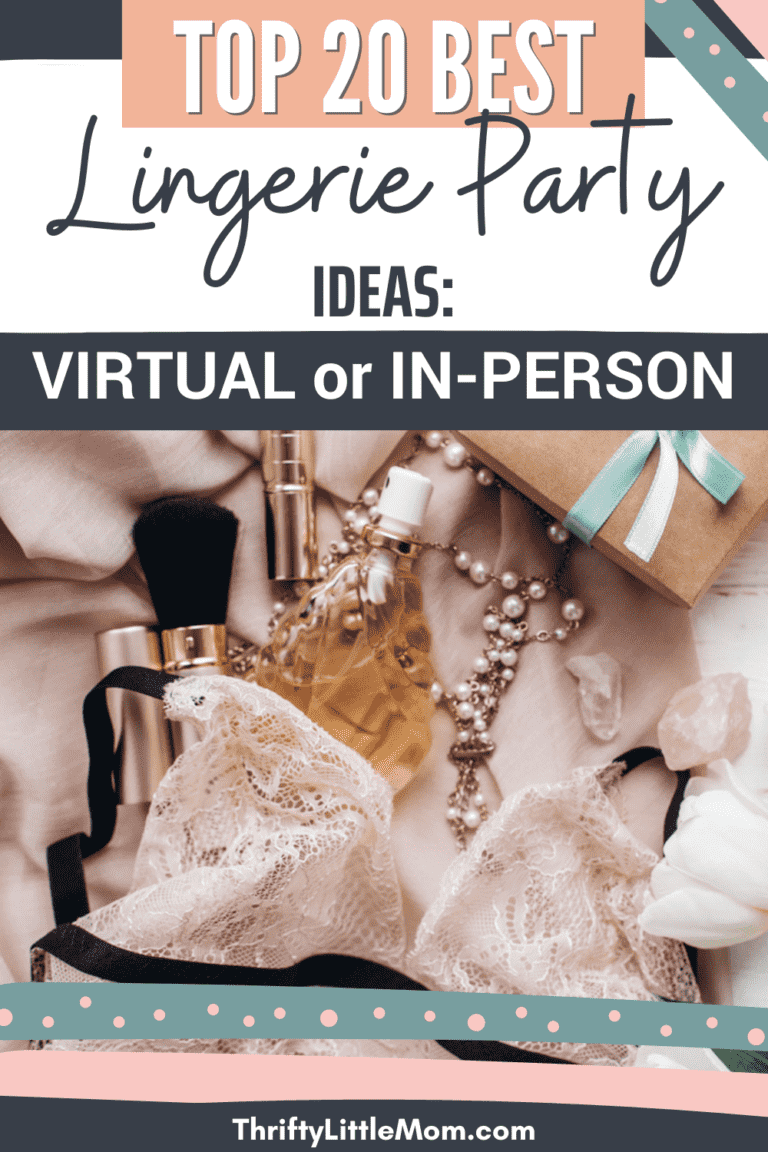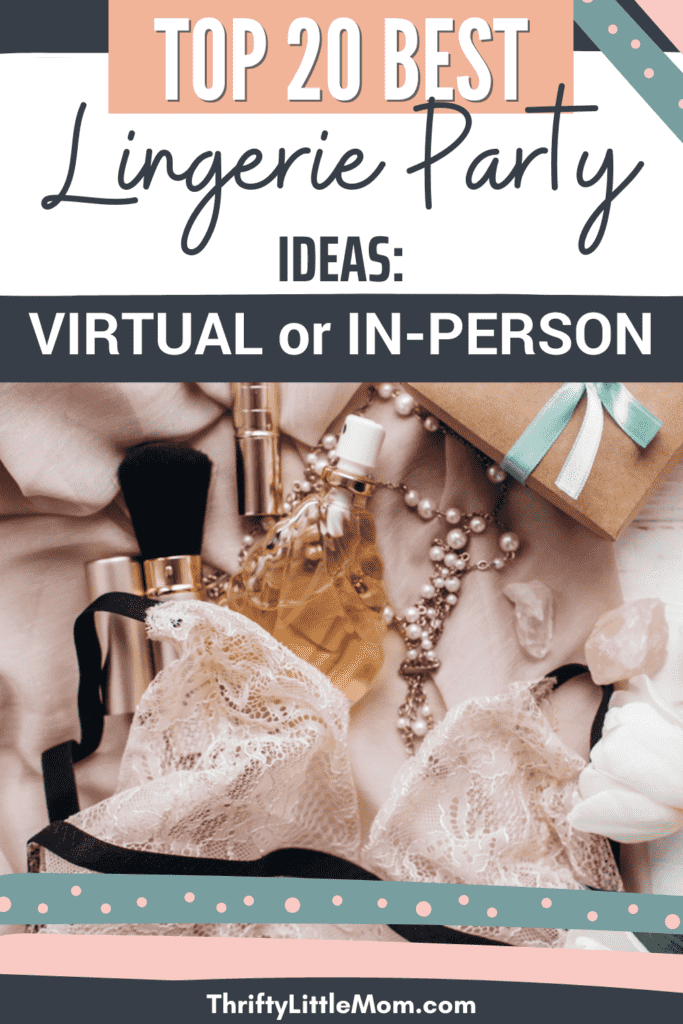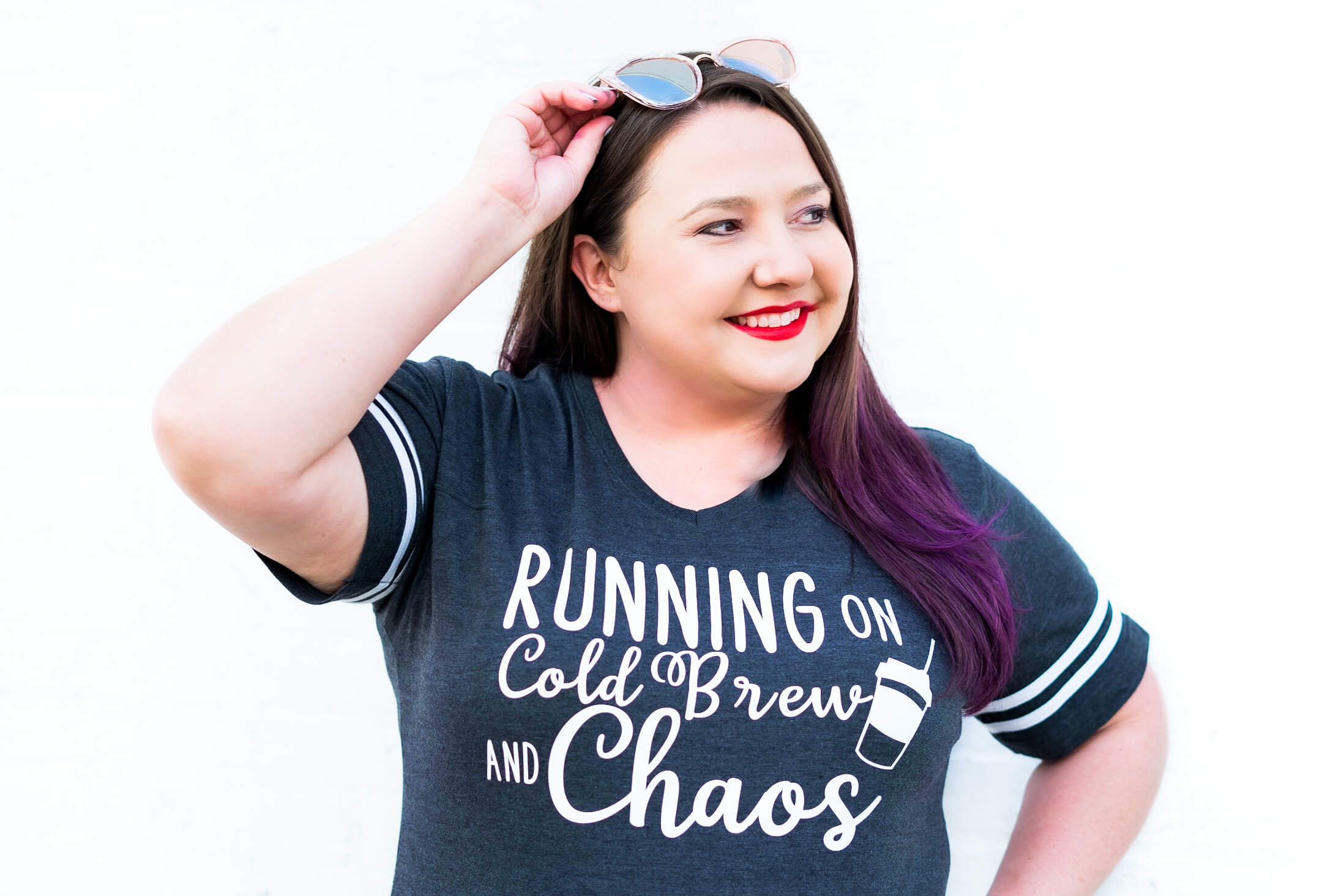 Kim Anderson is the organized chaos loving author behind the Thrifty Little Mom Blog.  She helps other people who thrive in organized chaos to stress less, remember more and feel in control of their time, money, and home. Kim is the author of: Live, Save, Spend, Repeat: The Life You Want with the Money You Have. She's been featured on Time.com, Money.com, Good Housekeeping, Women's Day, and more!
Summary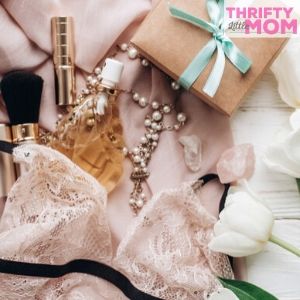 Article Name
20 Lingerie Party Ideas: In-Person or Virtual
Description
When it comes to bachelorette parties or fun birthday themes, celebrating with your ladies calls for some fun lingerie party ideas!
Author