15 Start to Finish Luau Party Ideas
This post contains affiliate links. As an Amazon Associate, I earn from qualifying purchases. I also earn from qualifying purchases made with other brands and programs. See my
privacy policy.
When I am ready for a vacation, the only thing I want is tropical weather and the sights and sounds of the ocean. I can't always get there, though. So, when I find myself in desperation, it is time for me to bring the tropics home. I have some excellent luau party ideas that will make it seem like a holiday at home.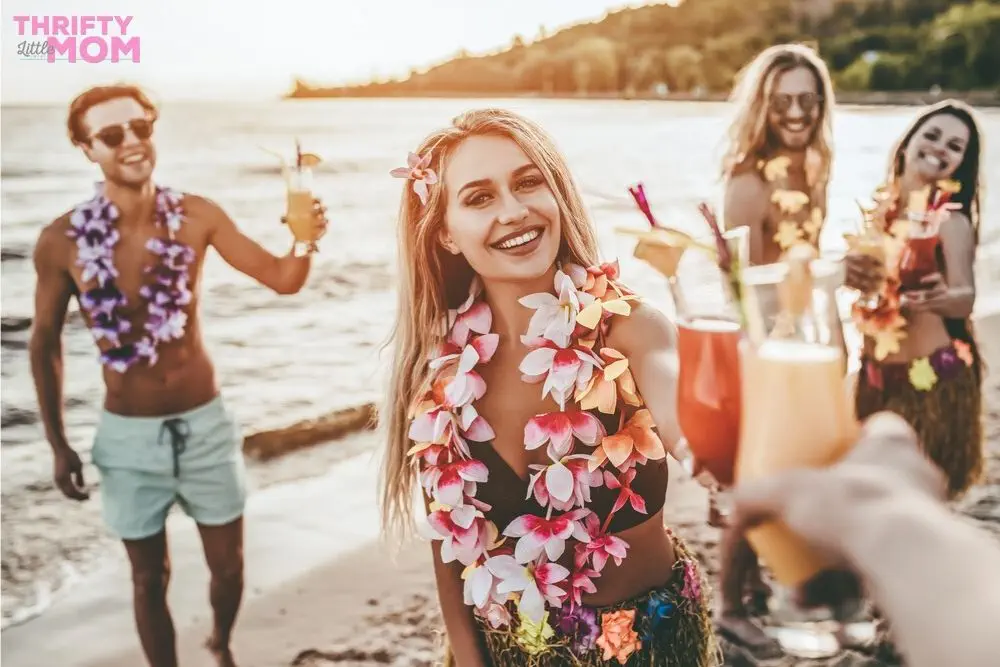 Luau Party Invitations
I love getting friends together for a party. My favorite way to invite guests is with an old fashion paper invitation. They are cute and fun, and people take notice when it comes to mail. They open the mailbox, see a small rectangle; your friend thinks, "thank god, it's not another bill!" Once inside, they rip it open to discover that they have something exciting to do soon!
Immediately they grab a magnet off the door, the expired coupons falling to the floor. Now, my luau party invitation is front and center on the prized real estate of their fridge. Let's party!
CC HOME Tropical Flowers Pineapple Aloha Hawaiian Luau Party Invitations with Envelopes (20 Count), Summer Tropical Hawaiian Luau Fill in Invites for Tiki Hawaiian Luau Summer Swim Pool Party, Baby Shower, Birthday Party Decorations Supplies
Luau Party Decorations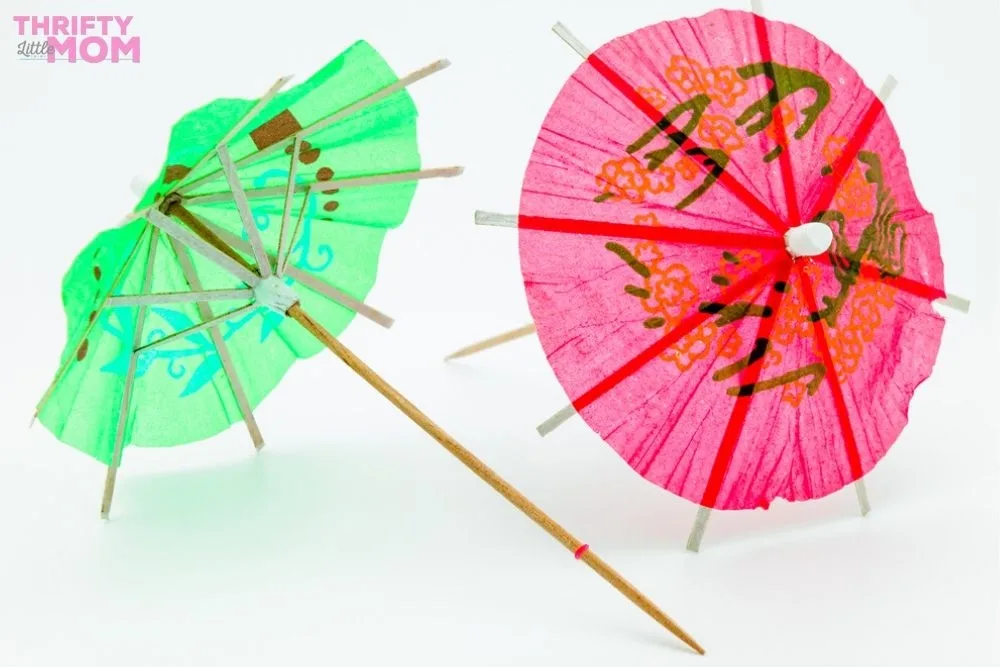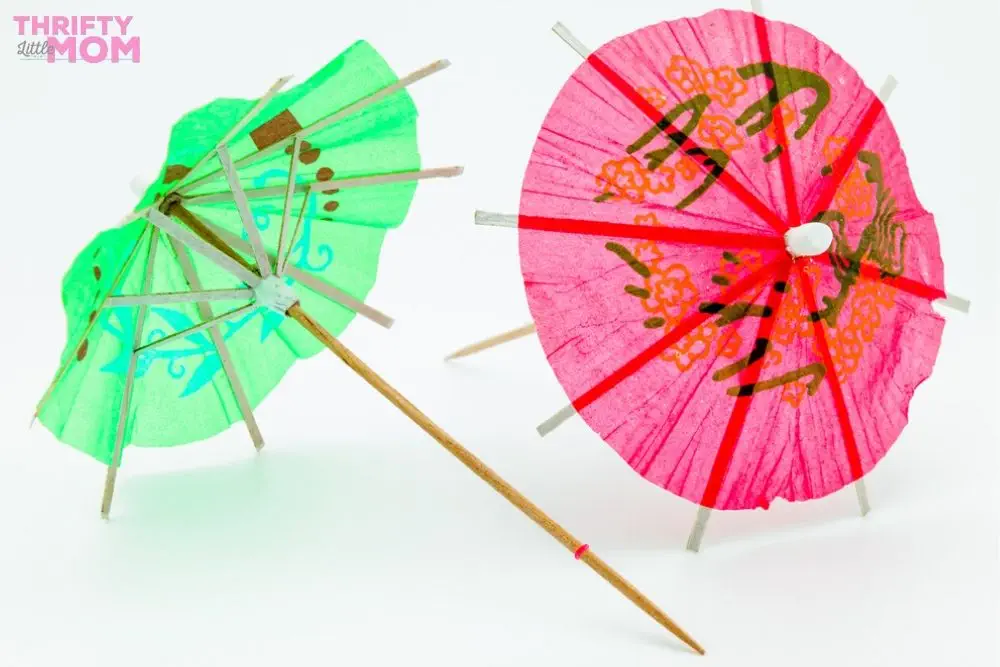 The reason why I am so into this luau-themed party is that I cannot get enough of the tropical plants, bright colors, and fun music. The combination of zesty foods and sunshine is intoxicating on its own. I want to do everything I can to bring that island feel into my gathering. Plus, I must have those tiny umbrellas in my life!
Start from the top
When I decorate for a party, I like to create height. Floor to ceiling, there should be something festive to see. The easiest way to create height is with balloons, streamers, and banners. These decorations are lightweight and make it a breeze to bring that party-vibe into the room. 
FUTUREPLUSX Paper Garland Decorations, 2PCS Hibiscus Garland Tissue Flower Banner Tropical Paper Flowers Luau Party Decorations
 
Set of 2 Tiki Mask Jumbo 30″ Foil Party Balloons
Place these items throughout the doorways, drape from the ceiling, or cluster in corners where space is awkward. From floor to ceiling, this fun decor will make quite the statement!
Bunting
I will often use bunting as a mid-level decoration option. Whether it is on my fireplace mantle or behind a food table on the wall, they take up ample space and draw the eye to the theme. For most events, I make thematic bunting using my easy no-sew bunting template. But sometimes, the bunting is too cute to resist, and I MUST HAVE IT!
Aloha Craft Company, Aloha Luau Banner – Large Hawaiian Pineapple Gold Glitter Bunting Banner For Tropical Beach Party Supplies
Homemade Decorations for Luau Party
These flowers can be created easily from items found at the store. Bundle them together to make a bright floral statement at your gathering!
Table Decorations
When I look for the table decorations, there are a few key things I like to utilize:
Table skirt or wrap– these allow you to put refillable items (i.e., chips, cookies, and paper products) near the table without being seen. You can hide the boxes that things came in as well as a cooler if need be. The skirt keeps everything looking tidy during the event.
Tablecloth– protection for your table is always the right call. However, I also like the fact these covers can incorporate the theme more. 
Festive service wares- plates, napkins, utensils, cups, straws; if it helps you eat, I want it to be themed. The decorations like this are the first item in my decoration budget. I love that everyone will have a piece of the party in their hand at some point.
Dessert and appetizer decorations– these can be the little skewers that have tiny images on them, or it can be a cupcake tower. Whatever you decide on, there should be a few decorations that help add the theme to the food. 
HEHALI Hawaiian Luau Party Supplies Set, 1 Pack Yellow Hawaiian Grass Table Skirt, with 12pcs 8 Inches Tropical Palm Monstera Leaves and 30pcs Hibiscus Flowers (5pcs Adhesive Hook & Loop Tapes)

Formemory 69Pcs Hawaiian Theme Party Supplies, Includes Plates Cups Strawsand Napkins for Birthday and Summer Parties

24Pcs Green Glittery Pineapple Leaves Cupcake Toppers Donut Decor- Hawaii Luau Tropical Summer Theme Party Decorations
Luau Party Food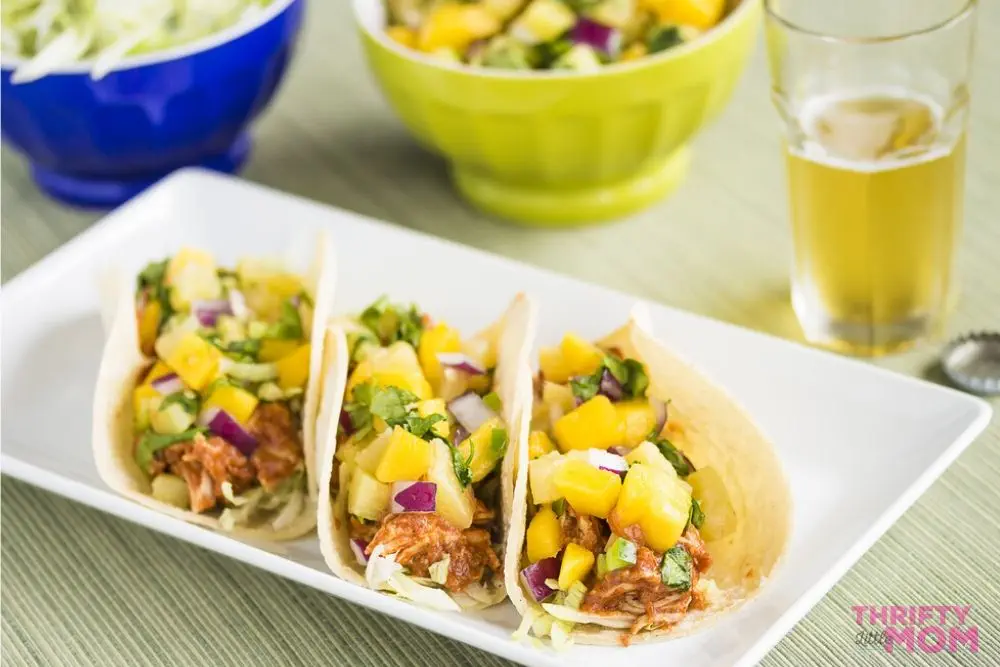 The food could be the best party of the whole party. I think I may solely want an excuse to indulge in my favorite foods from the islands. I love traditional Hawaiian food. When I think of Polynesian foods, my mind goes to fresh flavors and richly roasted delicacies. 
Roasted Pork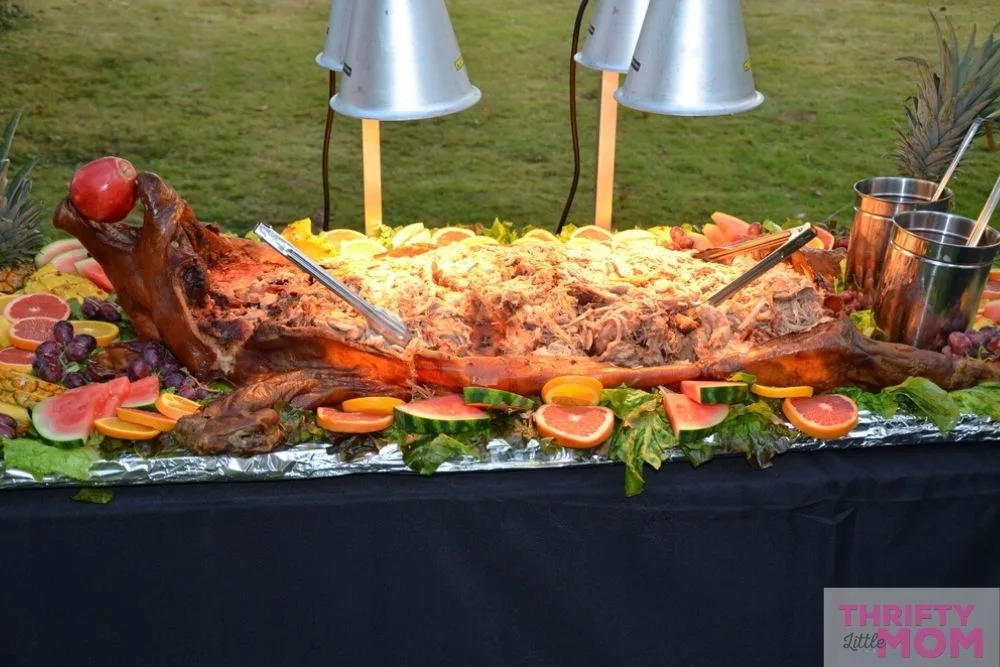 If you have gotten to experience the smoky, tender meat of a roasted pig, you know what I am talking about. This style is better than a regular southern barbecue. I could get some hate mail about that statement, but truthfully, there is something about a fully roasted pig that changes everything. 
Notes about roasting a pig:
You can get a pig ready to roast from a butcher shop
Notify the butcher shop 1-2 weeks before you decide you want it
Charcoal grilling is the standard for roasting a pig
You can usually rent a charcoal grill specifically for this purpose
It takes a minimum of 5 hours to cook but the slow you can roast it the better- 8 hours is best
The head can be removed before pick-up, but that is part of the aesthetic, and I do not recommend
Traditional Flavors and Foods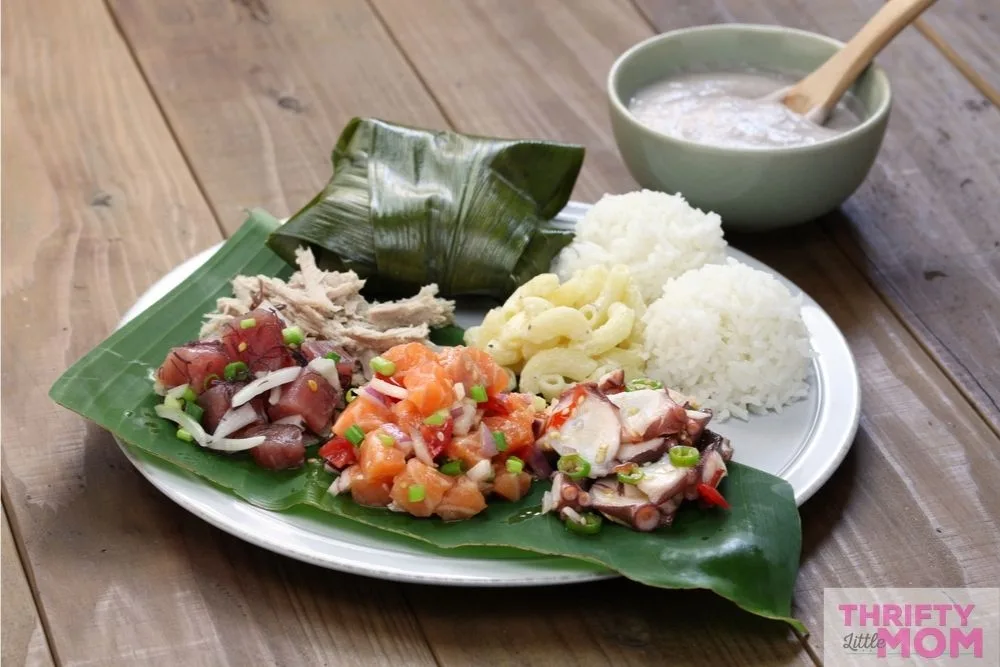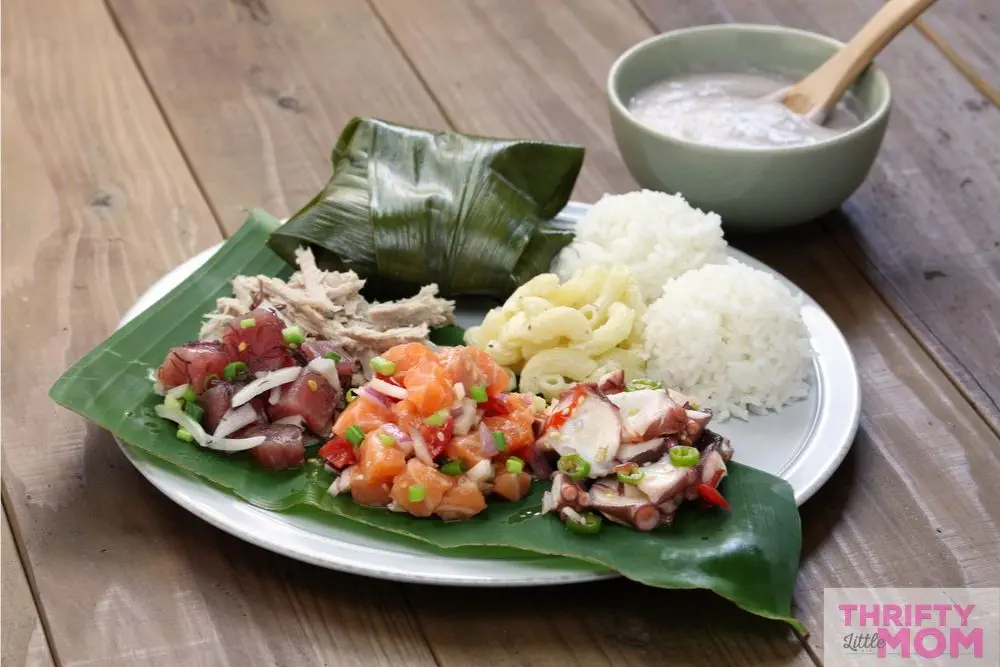 While nothing is quite like the food on the island, there a few things you can do continentally to bring the nuance to life. Here are a few luau party foods that will bring the tropics to you.
Fresh Fruits
Pineapple- probably the most popular fruit that the Polynesian islands are known for producing. Fresh pineapple eaten by itself or as a garnish to complement the other dishes will be zesty and delicious
Coconuts- nothing says warm beaches and sunny days like fresh coconut. While you can use this in various foods, I like to blend it into a sauce to use on different dishes at the party. It's perfect on cilantro-lime rice!
Mango- diced mangos are perfect on a fruit platter, but for this party, I'd go with mango sorbet for a delightful dessert option.
Guava- also a beautiful addition to a fruit plate, but try it as a juiced beverage for this gathering!
Papaya- fresh and sweet with vibrant coloring- try it as a spicy salad at your event.
Seafood 
The islands are proud of their precious fishing areas and great seafood. Some of the best seafood in the world is found right off their coasts. There are several styles of seafood that are very popular in the tropics.
You can order seafood from Hawaii, but if you are looking for options in your local grocery store, these are the dishes you can make easily. 
Lomilomi Salmon
Seared Ahi- Tuna
Grilled Octopus
Tropical Drinks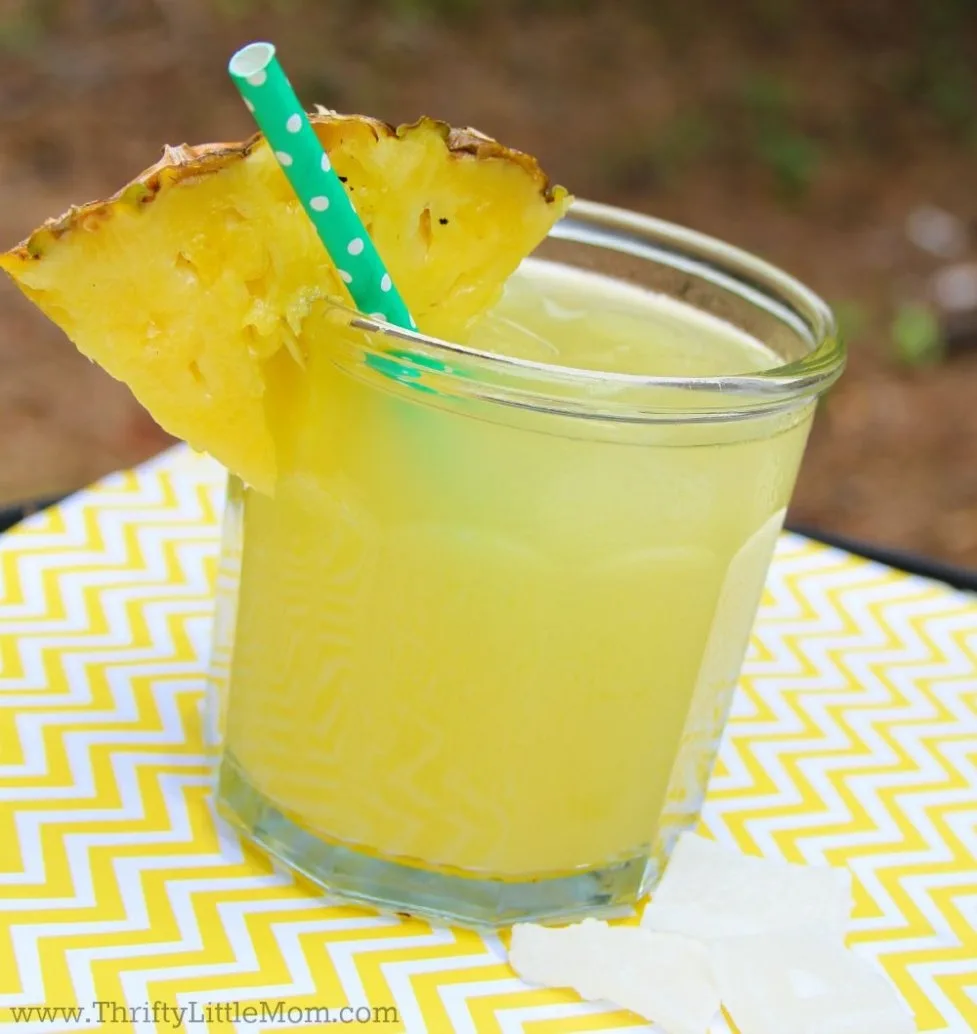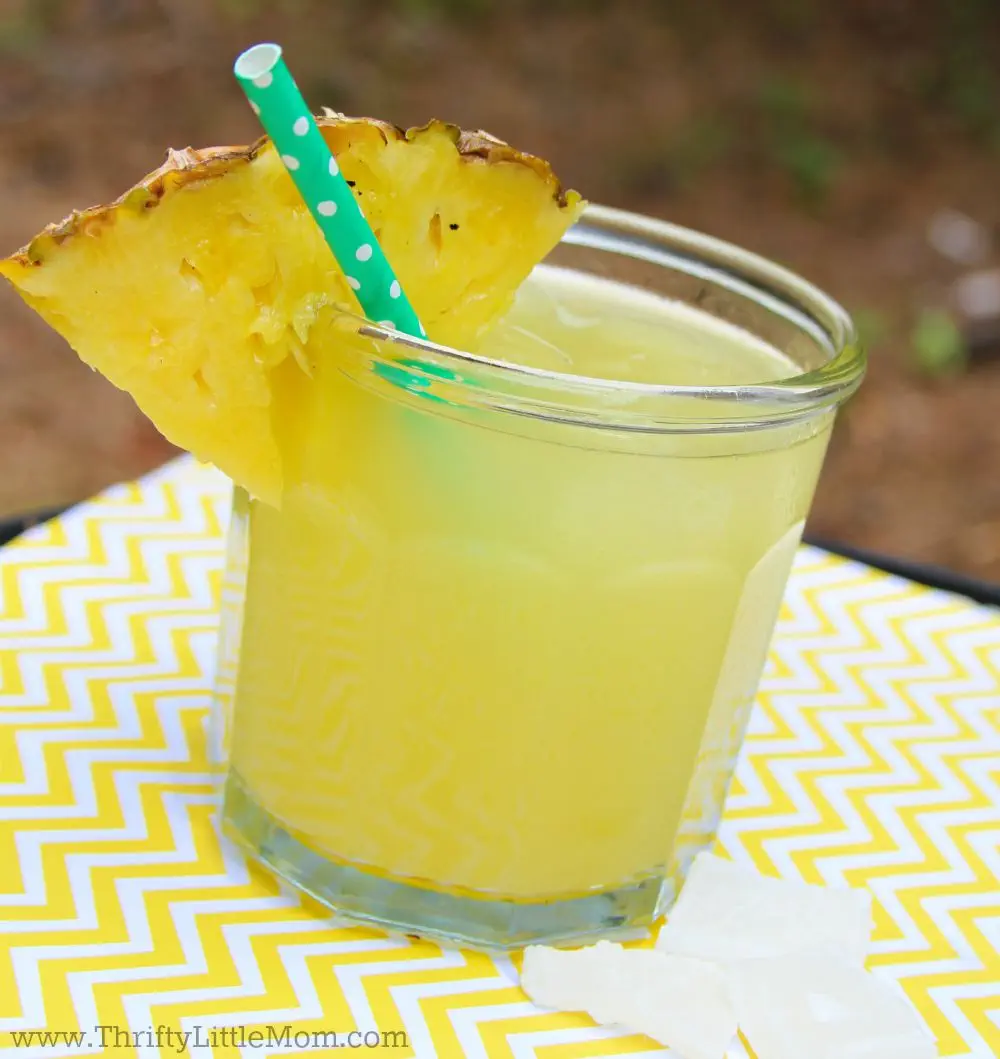 I want to bring fresh and zesty drinks for my luau party. There are lots of flavors that you can use in your drink concoctions that are found throughout the islands. Here are some of my favorites!
Sparkling Pineapple Coconut Water
This Low-Calorie Sparkling Pina Colada Recipe is a hit at every party. People love the bright taste and the tantalizing carbonation. This recipe can be great for a luau party for kids or adults. 
Ingredients:
1 quart of pineapple juice
Coconut sparkling water
Directions:
Freeze pineapple juice in the ice cube tray
Once frozen, place a few cubes into a glass
Add coconut water
It is so easy to make a beverage that guests will love. Try this one out at your next event!
Guava Lima Libre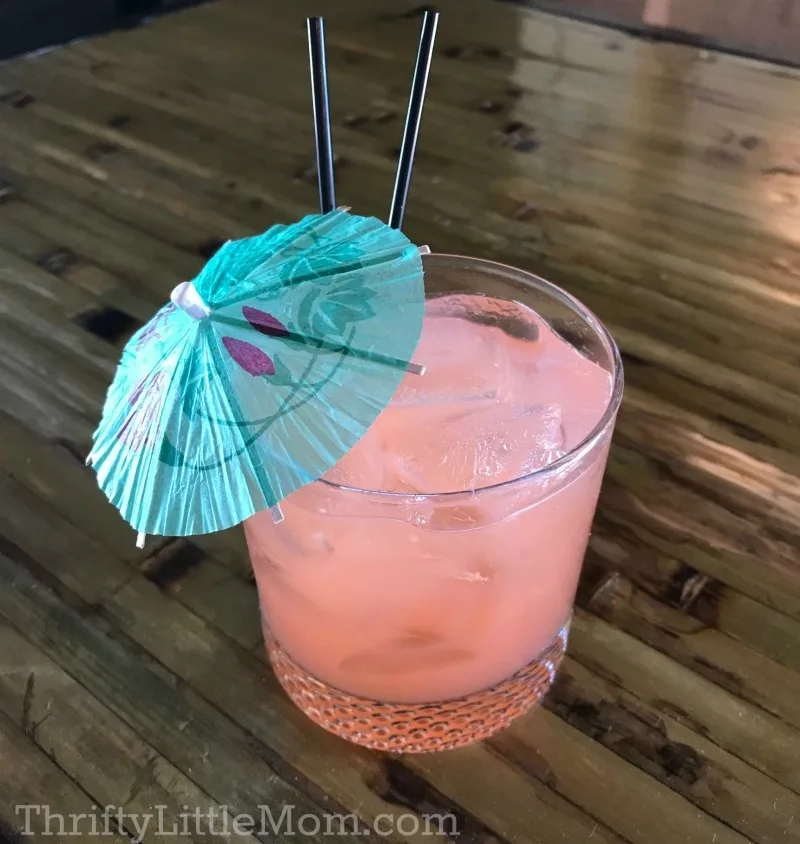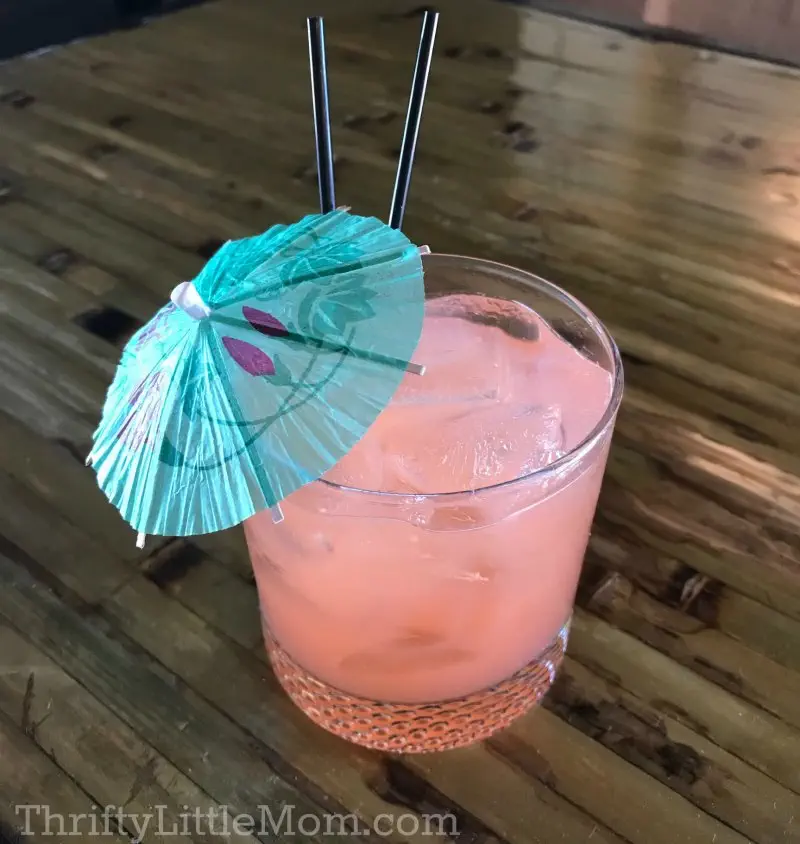 As I said before, I like guava juice for this luau party. There are plenty of people who haven't gotten to try this delicate flavor. My Guava Lima Libre drink is for the adults at the event.
Ingredients:
1 1/2 ounces of white rum
1/2 ounce sweet lime juice
4 ounces guava juice
Splash of soda water or seltzer (optional)
Directions:
In a short glass add ice cubes
Add ingredients in order of the list
Place an adorable umbrella into the drink and enjoy it!
144 Drink Umbrellas and 100 Bamboo Picks, 8 Bamboo Straws – 252 pcs Organic Set for Drinks and Appetizers. Cocktail Umbrellas Paper Parasol, Knotted Picks 6 inch, Reusable Straws 8 inch, 1 bag,1 brush
Luau Party Music

Live music at an event is always an excellent way to up the production value. Ask the local college music department for available students that may want to perform traditional songs on a ukulele or acoustic guitar.
Most students will jump at any opportunity to play and get paid. Plus, there will be plenty of food for them to enjoy also!
Say Thanks!
I try to make sure my guests know that I appreciated them attending my events. Even a little party favor will be a kind gesture.
Find something that you love and send your friends home with a small souvenir from the celebration.
30 PCS Bottle Openers Luau Party Favors Decorations, Gold Pineapple, Gift Box Party Supplies
Enjoy celebrating with friends in a relaxing island setting. I hope these luau party ideas inspire your next gathering! Aloha!


Party Table and Chair Rentals Ultimate Guide
7 Things to Consider Before You Book Party Tent Rentals
Must Have Cocktail Ingredients for Every Home Bar
Moana Birthday Party Ideas & Planning Made Easy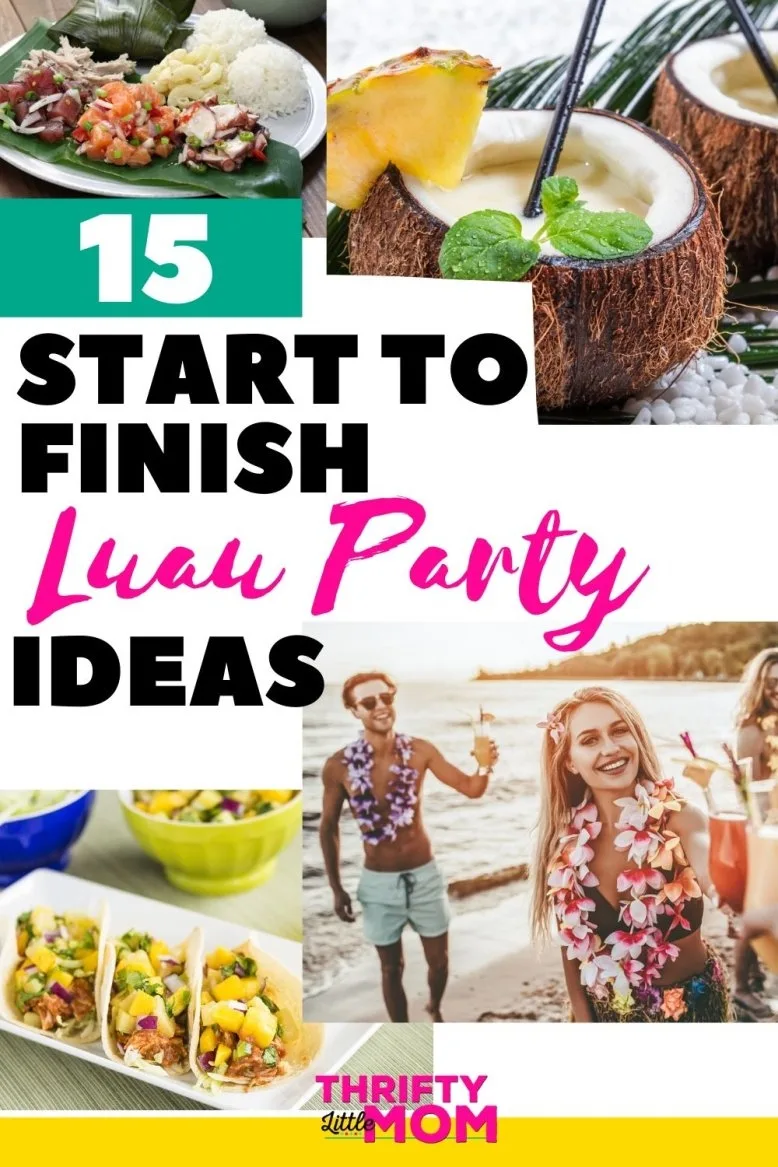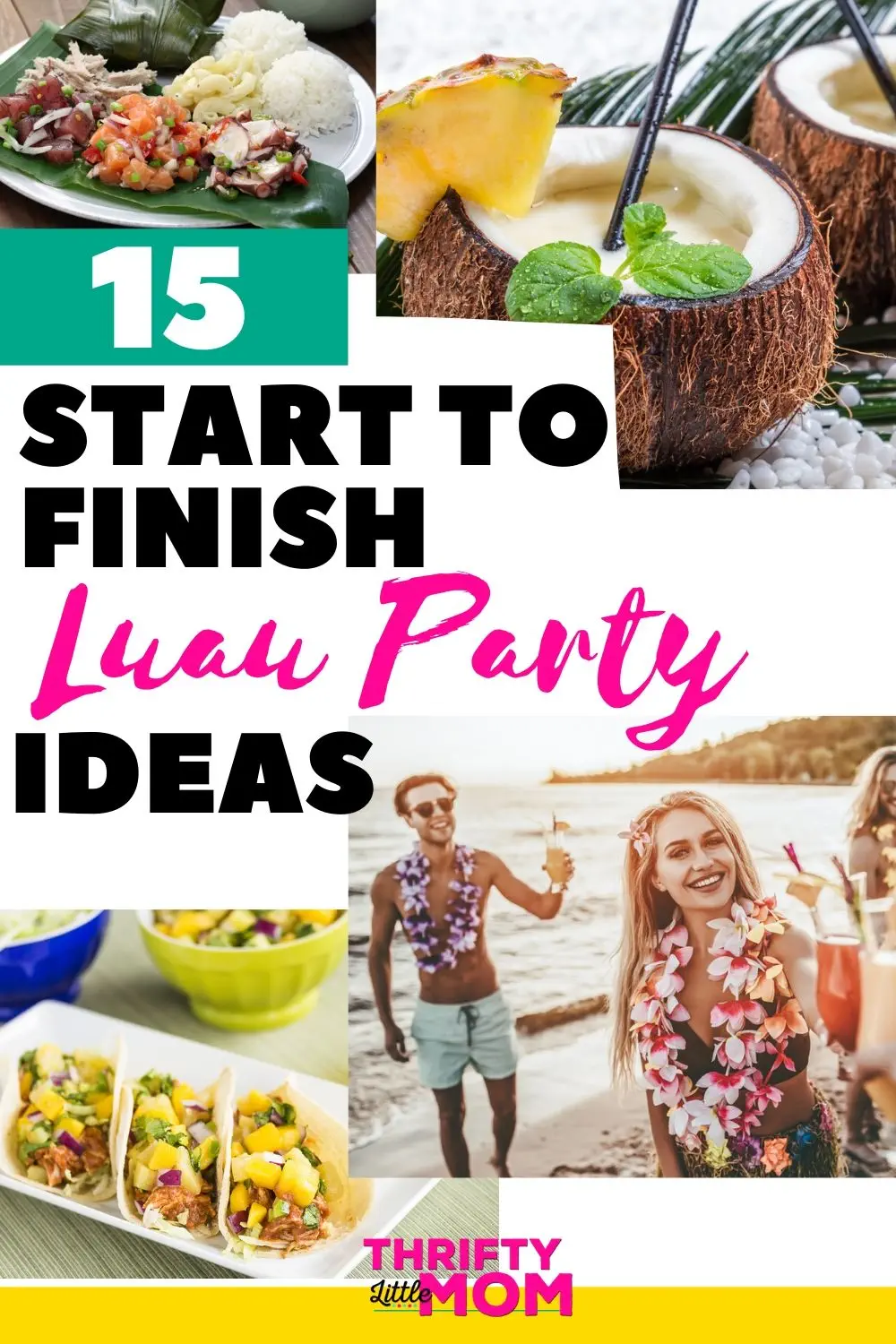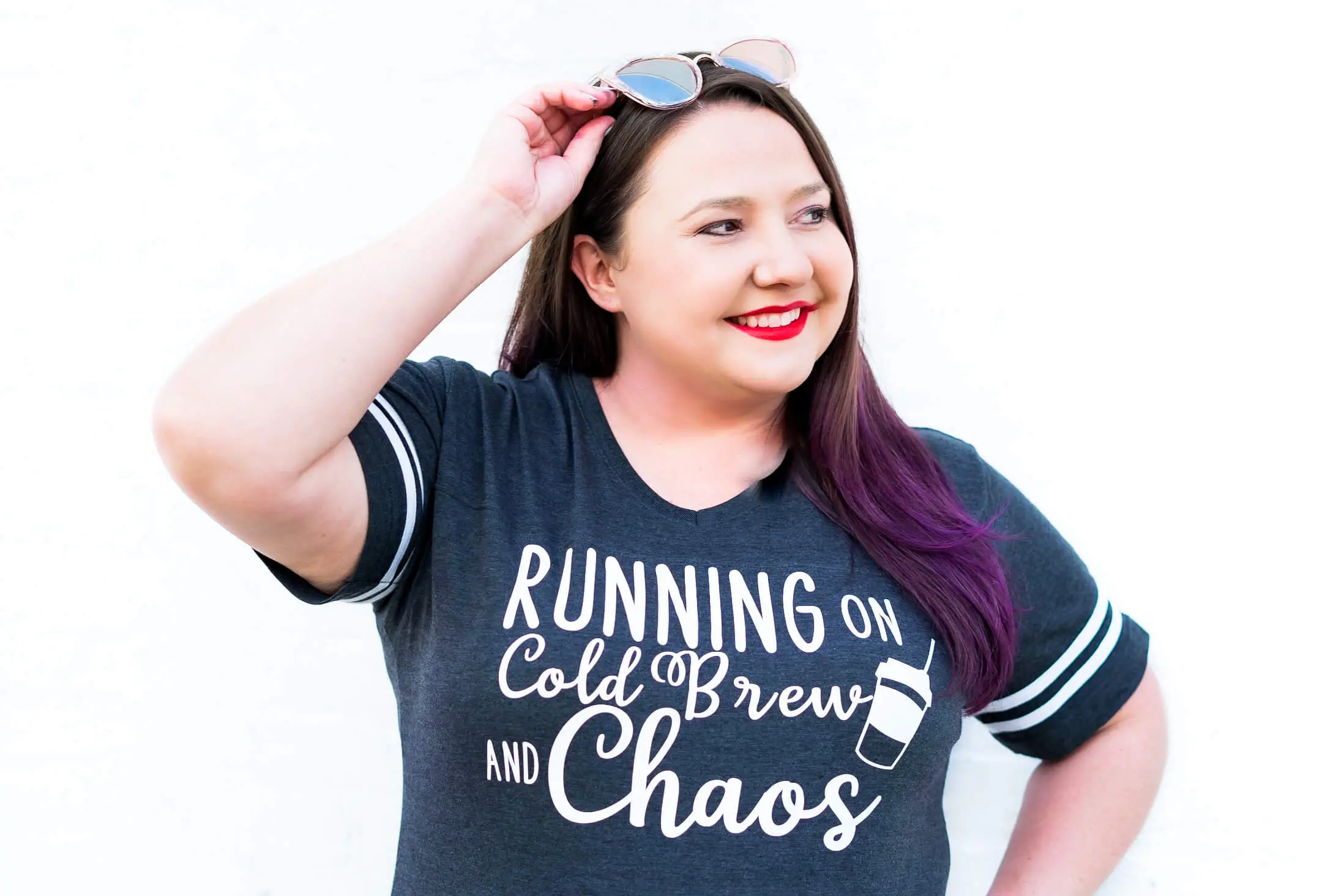 Kim Anderson is the organized chaos loving author behind the Thrifty Little Mom Blog.  She helps other people who thrive in organized chaos to stress less, remember more and feel in control of their time, money, and home. Kim is the author of: Live, Save, Spend, Repeat: The Life You Want with the Money You Have. She's been featured on Time.com, Money.com, Good Housekeeping, Women's Day, and more!
Summary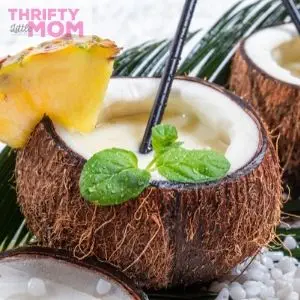 Article Name
15 Start to Finish Luau Party Ideas
Description
Any time of the year is an excellent time to visit the tropics. If you can't leave, bring the celebration to your neighborhood. Enjoy these luau party ideas!
Author
Publisher Name
Publisher Logo