11 Unicorn Party Ideas on a Budget
Regarding my twins, I have twice the fun planning a great party. We did a mermaid-themed party last year, so this year, I wanted it to be just as magical. So when it came to this year, I knew of only one magical creature that could compete with the iridescent glory of a mermaid. In this post, I show you my 10 unicorn party ideas on a budget.
Invitations for the Unicorn Party Ideas on a Budget
There are several ways that you can invite guests to attend your event. If you prefer the convenience of technology, you can use the Facebook "events" feature or send an E-Vite that will allow you to count the number of RSVPs. Certainly, that is the most budget-friendly invite option because you don't have to buy the invites or the stamps.
But sometimes, we love receiving a piece of mail that isn't a bill or a weekly ad. Sending a paper invite can make the experience magical from the start.
Magical Unicorn Birthday Invitations, Outego Glitter Unicorn Invitations with Envelopes for Kids Birthday (24 Pack)
Unicorn Party Decorations on a Budget
I wanted my twins to feel as if they were in a rainbow. That means that I need bright colors, shiny and glittery decorations, and LOTS AND LOTS of iridescent sparkle. When choosing the areas to decorate, I usually decide on the "biggest bang for my buck" areas. Those areas typically include:
Mailbox
Front entryway
Living room fireplace mantle
Food Tables
Here are the unique items I found for these locations.
1. Unicorn Theme Decoration for Your Mailbox
Creating an eye-popping mailbox display is smart because it alerts people to the event location and welcomes people to the theme immediately. I chose to use one giant unicorn balloon and smaller round unicorn balloons that fit the color scheme. Use tulle and other decorating ribbons to flank the mailbox. I found some fun, bright pinwheels to catch the eye as well.
2. Unicorn Party Ideas on a Budget for Front Porch or Entryway
When I saw this blow-up unicorn, I HAD TO HAVE IT. Knowing that it would make a great entryway focal point for the twin's unicorn party, I decided to add a few cutesy elements like a chalkboard, tulle, and paper flowers to bring the whole look together. I love the bright colors, and they couldn't have looked better with their outfits. Mom Win!
3. Budget-Friendly Unicorn Theme Decorations for the Fireplace Mantle
As I have an open living room to the kitchen area, the fireplace mantle creates the most significant decorating space with an impact. I decided to layer balloons, boas, and cute signage to make a statement. I was lucky enough to pick up most of these items on a pretty great deal. Keep an eye out for things that you can utilize for other events you may host (like the signboard with movable type). These are some pretty simple unicorn party ideas on a budget for the mantle.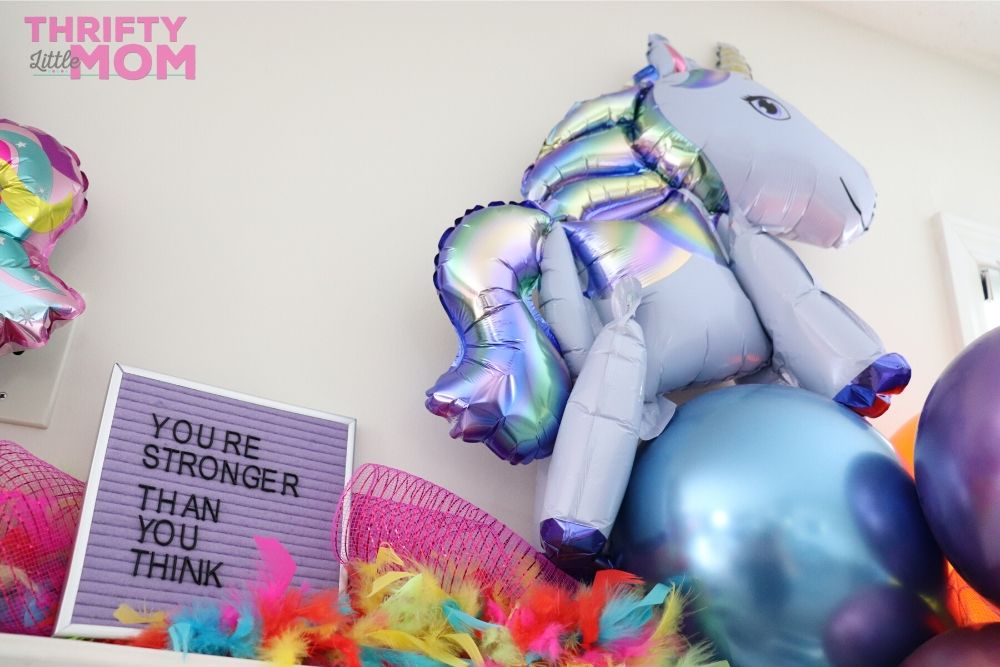 ⬇️ I've made it easy to get these unicorn theme decorations right from Amazon using the links below! ⬇️
If you have ever wanted to take a stab at making a balloon arch, they can be a little time-consuming, but overall, they are fairly easy, and they make a BIG statement in any space for not a lot of money.
4. Unicorn Party Ideas on a Budget for Food Tables
There are two main tables that I want to use for these unicorn party ideas. I like to decorate my food service table and the seated table. Picking out the cute table cloths and paper products was such a blast.
I chose stripes and polka dots for some things and classic "happy birthday" unicorn-themed items for others. I like to mix and match the layers to create a whimsical aesthetic.
Anytime you can go with a solid option on your tableware, you'll save money because you can get all those items at places like Dollar Tree and Walmart! As for more festive, patterned options, I wait for Hobby Lobby to have a 40% off sale in the weekly sales ad.
5. Food Service Table Unicorn-Themed Decoration
The food service table is the table that has all of the trays of finger foods, snacks, and in this case, the dessert. Since I have my table against a wall, I was able to effectively use a table cloth and table wrap, which made the design look beautiful. Layering the cake and the cupcakes in a cascade make for a fanciful dessert display.
There are several decorative items to make this seating table for the unicorn party. I wanted a billowy feel, so I ribboned blue and pink tulle along with the table runner on top of another iridescent table cloth.
Layering a charger and a cute lustrous jar to add height to the middle added some pizzazz. Thematic plates and napkins are fun, especially when you top it with a unicorn party hat.
⬇️ I've made it easy to get these party supplies right from Amazon using the links below! ⬇️
Unicorn-Themed Party Food and Drinks
I like for there to be an equal mix of adult foods and kid foods. I make sure that the kiddos are set up with easy foods like chicken nuggets (catering from Chik-Fil-A is the best way to have fresh, delicious nuggets without the hassle) or pizza. For adults, I like meat and cheese spread. Everyone loves fresh fruit, so make sure to offer an excellent berry selection or rainbow fruit tray. But, if you are looking for cute other rainbow items to provide for the kids, then here are a few of my favorites.
Unicorn Rainbow Pretzels
Rainbow Goldfish
Superman (rainbow) icecream
Sherbert
Add edible glitter to anything!
6. Delightful Unicorn-Themed Drinks
Magical Punch
Craft a delicious punch that the kiddos will go absolutely nuts for! The vibrant pink color will make them squeal with delight. You can toss some edible glitter and stars into the mix to create a magical mixture.
Ingredients
2 Liters pink lemonade
1 Liter lemon-lime soda
2 cups pineapple juice
12 oz ginger ale
Rainbow sherbert scoops as desired
Directions
Using either a punch bowl or pitcher with a spoon, combine non-sparkling ingredients
Slowly add in the sodas
Top with sherbert
Enchanted Rose Drink
I created this fun Halloween drink for kids and was so pleased with it that I decided to use it for any princess party or in this case, unicorn party ideas in the future. It's effortless to make, and the children love the magical nature of the drink.
Ingredients
Fruit Roll up in your favorite flavor (I used strawberry)
Lemon-lime soda or clear sparkling of your choice
Edible glitter stars
Directions
Fold and twist fruit roll up into a rose shape
Press into bottom of the cup
Sprinkle in stars
Add soda on top
7. DIY Unicorn-Themed Birthday Cake
I decided to go with a simple yet adorable DIY unicorn birthday cake for this party. When I looked online, I could find a decorating kit that would accentuate the theme perfectly. Then, I picked up a few cupcake toppers too, and, voilà, perfect unicorn dessert presentation.
⬇️ Shop these unicorn cake decorations right from Amazon using the links below! ⬇️
8. Unicorn Party Fun and Goodie Bags
I love bringing in a bouncy castle for the kids' birthdays. It provides so much entertainment for them, and they burn off a lot of energy. If you are thinking of getting one for your next party, there are 8 Things to Do Before You Rent an inflatable.
9. Unicorn Party Games
Since unicorn party ideas are becoming so popular, there are plenty of fun birthday games that will keep the kids laughing and enjoying their day. I love the classic games that I played at my birthday parties now fit this new trendy theme.
Pin the Horn on the Unicorn
Unicorn Piñata
Unicorn Ring Toss
Decorate Your Unicorn
Adopt a Unicorn
Adopt a Unicorn
When I saw these easy-blow-up mylar unicorns, I knew that they'd be perfect for the party. I thought about how many I wanted to get, and that's when it hit me. Everyone needs a unicorn in their life.
I quickly tallied the number of RSVPs I had, plus the extras I wanted for decorations.
I knew I would have plenty of everyone in attendance.
We placed the unicorns around for decoration.
The unicorns were adopted at the end of the party to their new loving home.
Unicorn Party Idea On A Budget BONUS: These serve as the party favors!!!
⬇️ Get these party supplies using the convenient Amazon links below. ⬇️
6 Pack 3D Unicorn Balloons Walking Animal Balloons Aluminum Foil Balloons for Birthday Party Decorations Supplies Wedding Baby Shower Decoration, 6 Style
10. Unicorn Birthday Party Theme Outfits
I want my little girls to feel magical on their birthday. Grabbing some inexpensive tutus and matching unicorn attire was an easy way to make them feel special on their day. These tutus double as dress-up clothes for them after the event, too.
Unicorn Shirt
Polka dot Leggings
Rainbow Tutu
Rainbow necklace
Unicorn headband
⬇️ Get the unicorn party outfit using the convenient Amazon links below. ⬇️
Simplicity Girls Tutu Rainbow Layered Tulle Tutu Skirt Dress up Costumes Unicorn Headband Hair Bow
11. Unicorn Party Favor Bags and Goodies
Coming up with these gift bags was just as much a treat for me as it was for those receiving it. I was scouring my 9 Thrifty Party Shop Places Most People Forget About
and couldn't help myself with some of these cute items.
A few of my favorite things
When I craft a goodie bag, I want to make sure that the return gifts for kids are fun, and they use them. I try not to pack them full of candy and junk (we all know that a goodie bag has to have a little of this, though), but there are some great treats from which to choose.
Pick your carrier:
Cute gift bags– I was able to find some adorable unicorn bags that fit the theme, and the kiddos loved.
⬇️ Get the unicorn party favors using the convenient Amazon links below. ⬇️
Paper Gift Bag – 24-Pack Rainbow Unicorn Party Favor Bags, Paper Treat Bags for Kids Birthday, Light Blue with Gold Foil Accent, 5.5 x 8.6 x 3 Inches

Quokkaloco Unicorn Birthday Party Favors Bags-Supplies Decorations Decor-"Luxe" Unicorn Theme for Girls or Boy-Favor Treat Gift Toys Candy Lollipops Popcorn Goodie Bags with Handles (Set of 10)(White)
Add the "WOW" factor:
Thematic Wearable- I knew that everyone at the party would be in love with the twins' headbands. I decided to find a cost-effective costume piece so the others could join in on the fun.

18 Pack Unicorn Headbands Party Favors Supplies Cat Ear Headbands Girls Plastic Horn Hairbands for Cosplay Party Birthday Party Halloween Christmas(18 Pack)
Unicorn Tattoos and Stickers- every kid's favorite party favor is a sticker or tattoo. They love adding color and fun to their hands and faces.
XWJ Unicorn Stickers Waterproof Unicorn Temporary Tattoos for Kids, 12 Sheets Unicorn Party Tattoos Girls Party Favors Birthday Gifts
Pick your themed snacks:
Unicorn Fruit Snacks- A tasty snack that has the whimsical and fun nature of the party.
Dazzle Berry Fruity Snacks, 8 OZ(Pack of 8)
Unicorn Popcorn Snacks- these great unicorn popcorn snacks combine sweet, savory, and tangy.
Popcornopolis Popcorn 10 Cone Snack Pack Including Natural Berry and Lemon Fruit Flavored Unicorn Popcorn, Unicorn
Sour Unicorn Candy- everybody loves a little mouth-puckering treat. These unicorn tears are a great treat to add to your unicorn party ideas.
Unicorn Tears Candy Party Favors for Kids – 24 Unicorn Party Supplies – Sour Treats for Birthday Goodie Bags – STOCKING STUFFER
Unicorn Party Rock Crystal Candy Sticks- These unicorn horns make for a colorful treat. Rock candy isn't something you get to have regularly (at least not in my experience), and the texture is super fun.
Unicorn Party Rock Crystal Candy Sticks | Unicorn Horns | 36 Count Assorted – Blueberry, Grape, Pink Cotton Candy, Original | Boone's Mill
Unicorn Marshmallow Horns- Soft twists of marshmallow fluff are sweet and swirly for your rainbow goodie bag delight
Rainbow Unicorn Horn Marshmallow Twists Candy, 6.3 Ounce Tub
Unicorn Dreams
If you are planning out unicorn party ideas on a budget, I hope that this helped you visualize your event. I love throwing parties for my friends and family, and I had a blast with this. May your unicorn party be whimsical, magical, and utterly unforgettable.