How to Host an Amazing Thanksgiving Party
This post contains affiliate links. As an Amazon Associate, I earn from qualifying purchases. I also earn from qualifying purchases made with other brands and programs. See my
privacy policy.
Ready to create your own amazing Thanksgiving party with family or friends?
Over the years, we move, our families grow and the traditions that we grew up with start to change. When I was little we would always get together with my aunts, uncles and cousins to celebrate the holiday.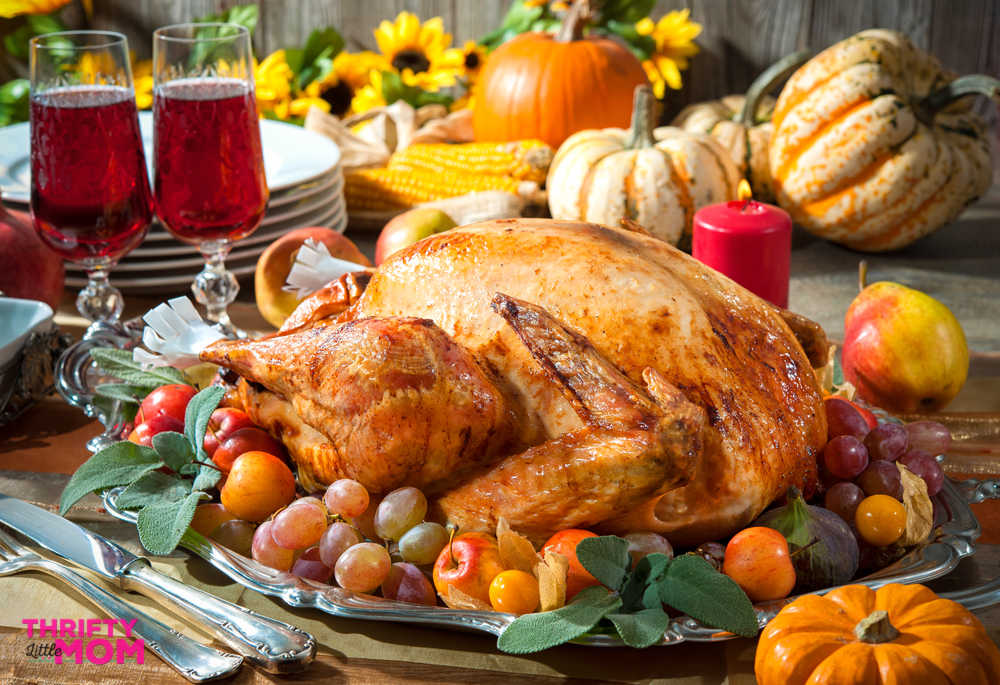 Now that I have my own little family, the faces and the people are different and so are the ways we choose to celebrate. We've gone from being the kids to having the kids. Don't get hung up on "the way it used to be" and create your own Thanksgiving party traditions.
Thanksgiving party styles:
There are plenty of party styles to choose from depending on who you find yourself with this Thanksgiving. Your traditions can change from year to year so here are a few options to consider.
1. Friends-giving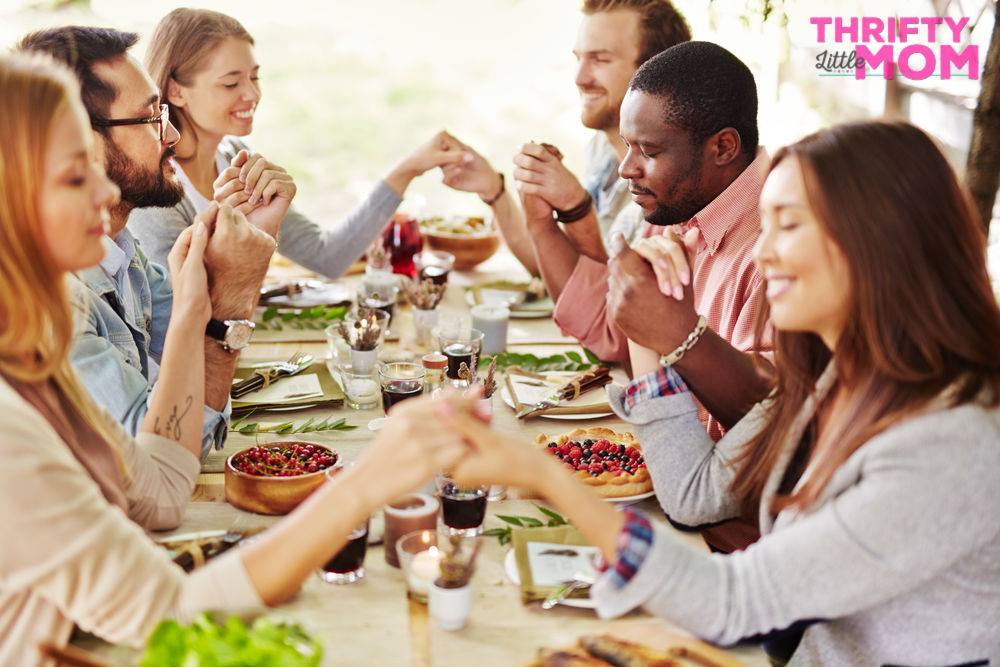 Friends-giving was originated as the Thanksgiving when you cannot be with your family for whatever the circumstances may be. You may have friends experiencing the same family situation. This dinner allows us to be thankful for people that are a part of our everyday lives.
Make a list of friends that you would like to invite

Decide on a menu- it can be a traditional thanksgiving

You could ask everyone to bring a dish that reminds them of home

Twist- Pick a menu that has a representation of different countries to celebrate America being a melting pot cultures
Gobble Till You Wobble Thanksgiving Party Invitations, 20 5″x7″ Fill in Cards with Twenty White Envelopes by AmandaCreation
2. Progressive Thanksgiving Party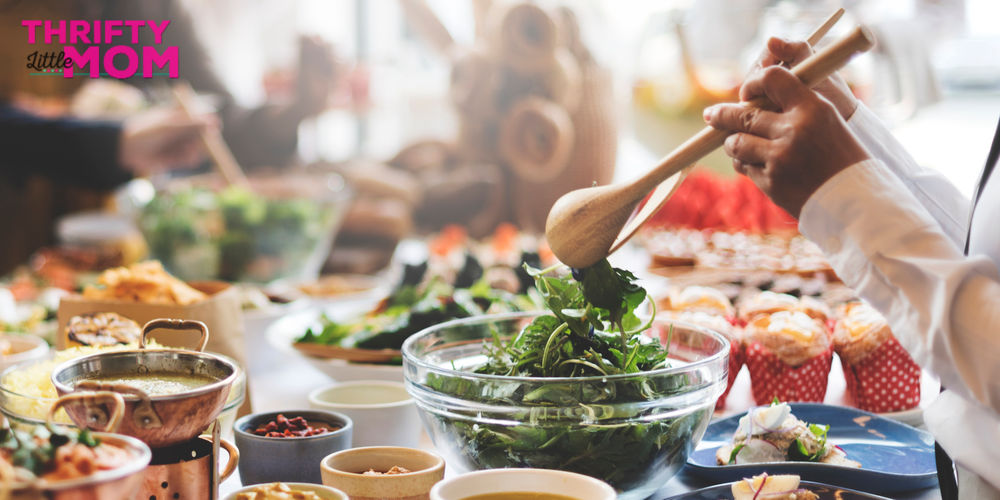 A progressive dinner is one in which several courses of food take place over multiple locations. This style of dinner makes it less stressful on one host. "Many hands make light work" is a great adage for this Thanksgiving party. Throw a progressive dinner for your next holiday celebration.
Pick how many courses you'd like-

Appetizer and aperitif course

Soup and Salad

Main course

Dessert Course

Digestif (after dinner drinks)

Make sure the foods chosen compliment each other along the way

Pick the locations

Keep it simple with disposable plates or preset the table with your favorite dinnerware

Utilize slow cookers- you can create every classic Thanksgiving dish in these helpful devices
Disney DPX-7 Pixar Slow Cooker, 7 quart, Black
3. Tailgate Thanksgiving Party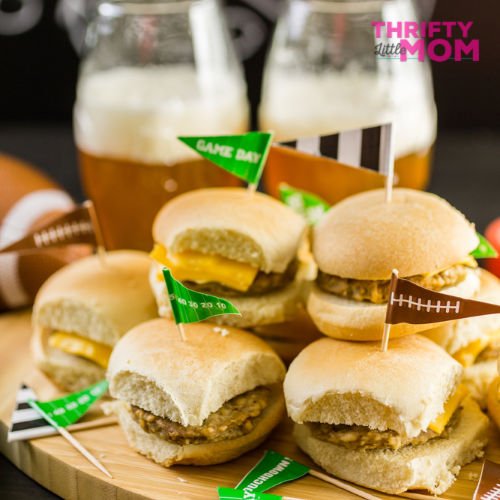 Thanksgiving is a great day for football. If you are into the sports season, there are three professional NFL games and three college games. Thanksgiving is a perfect time to host your at-home tailgating party and start a new tradition.
Utilize tents to create the space

Decide on grill items that a thanksgiving related for a fun theme

Place coolers and tables for easy access.

Set up trash cans and recycling containers.

Create a viewing area for the game or games.

Use a projector for a great outdoor experience.

Be weather appropriate with heaters or shade.
QKK Portable LCD Projector 2800 Brightness [100″ Projector Screen Included] Full HD 1080P Supported, Compatible with Smartphone, TV Stick, Games, HDMI, AV, Indoor & Outdoor Projector for Home Theater
4. Potluck Thanksgiving Party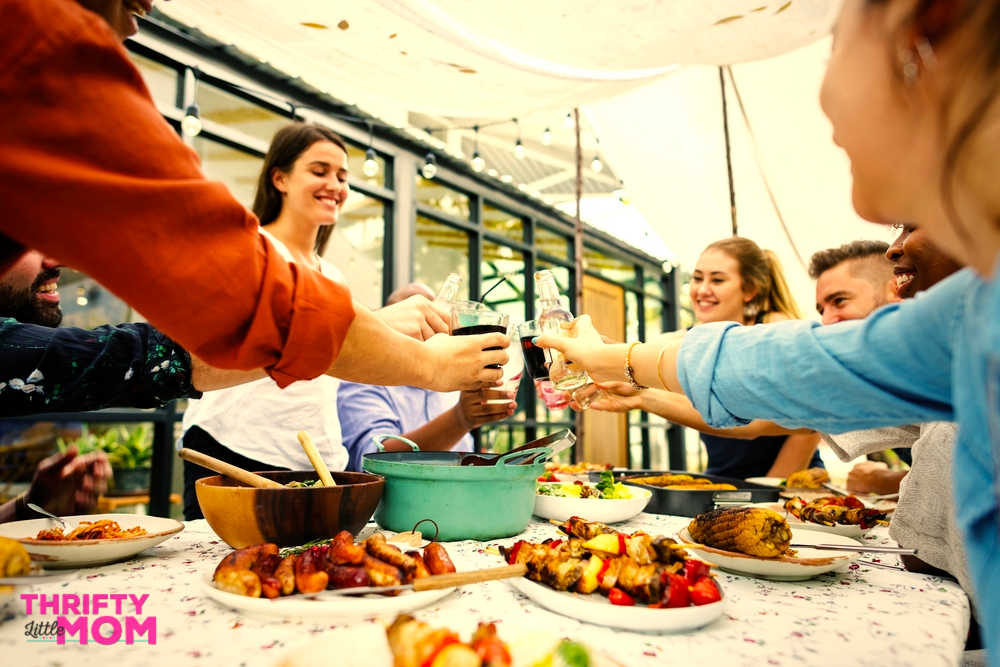 A potluck is the best way to have all the dishes for a traditional Thanksgiving party. The cost can be more affordable per person since everyone is contributing an item. It makes for more variety. There are a few items that you will need to utilize for the best potluck thanksgiving party.
Extension cords and power strips
Warming plates for hot foods
Cooler trays for refrigerated items
Shaffer trays
Disposable serving spoons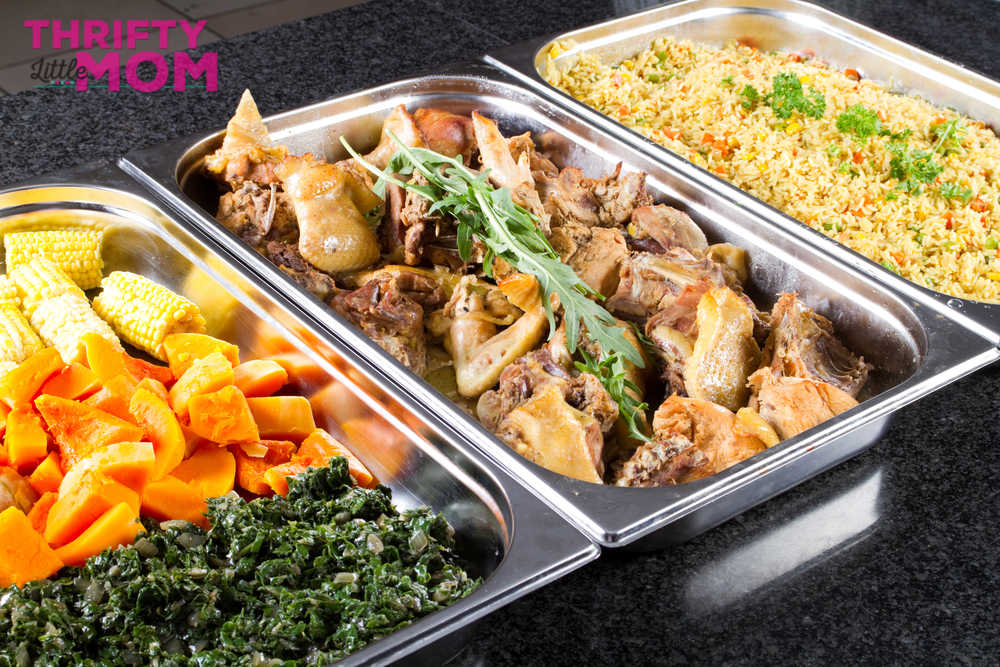 It is perfectly acceptable not to cook food on Thanksgiving. Maybe you don't feel comfortable in the kitchen (Turkey isn't easy). You may prefer to relax with family and friends instead of stressing about the perfect dishes. I have a few tips and tricks if you are going to have your holiday meal catered.
If ordering from a grocery store, read the fine print.

Some offer both cooked and uncooked turkey options.

Even the cooked bird will usually be refrigerated so you will need to be able to reheat it along with the other items

Most restaurants will not be open on Thanksgiving, but you can order in advance

Remember the same reheating space is necessary as with a grocery store catering order

Do not wait until a week before to order your catering.

The places put in their LAST holiday orders to receive the products two weeks before the holiday arrives.

We also live in the era of online ordering emeals
6. Money Pool Funded Party
Money pooling is a great way to allow for fairness of spending. Here's how I do it if buying groceries:
Go to an online shopping service like InstaCart

Pick the location of the grocery store and select items that will be needed

After adding everything to cart split the total by the number of people over the age of 12

Children do not eat that much, so I usually don't include them until they are eating full plates

Before purchasing the items, you should use one of these

easy ways to collect money from a group

Zelle
Venmo
ChipIn
PayitSquare
WePay
Thanksgiving Party Locations: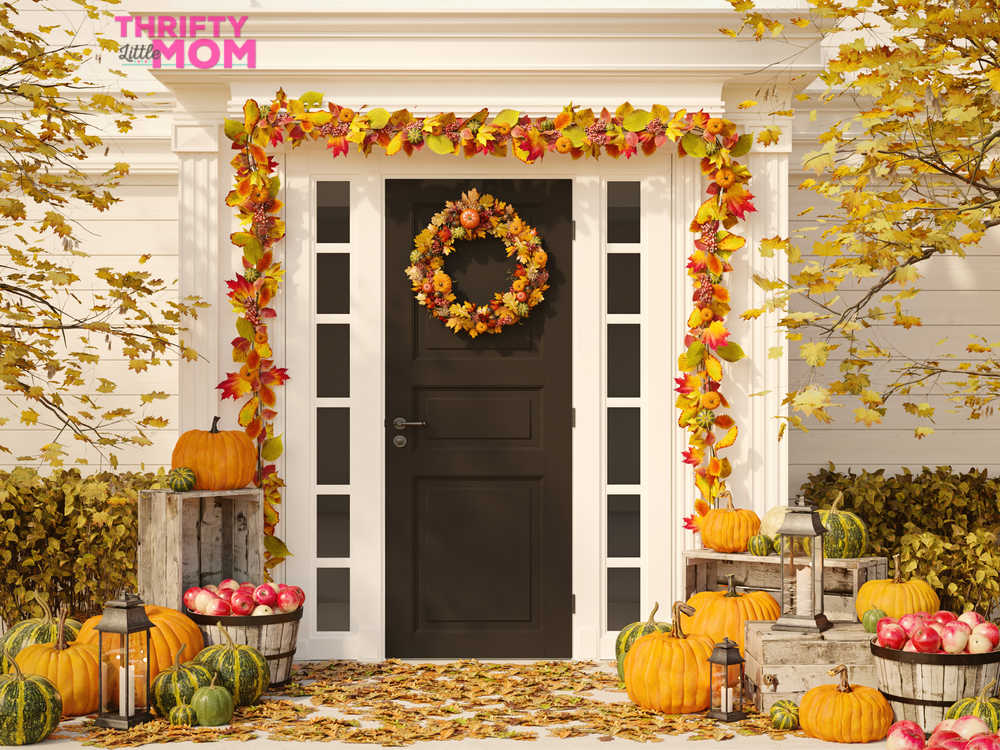 House–
Sometimes it comes down to simple logistics and pros and cons.
What is the shortest distance for everyone to travel to be together

Who already has seating to accommodate

Are there specifics you are looking for in your traditions

Biggest TV

Large Patio

Football throwing yard

Closest to the parade route

Near-by shopping center
Air BnB–
Renting a separate home for your Thanksgiving party will allow you to pick and choose amenities that you desire. Like the above list, you can tailor your needs to a house's offerings and only pay for the time that you need it!
Thanksgiving Party Dinnerware: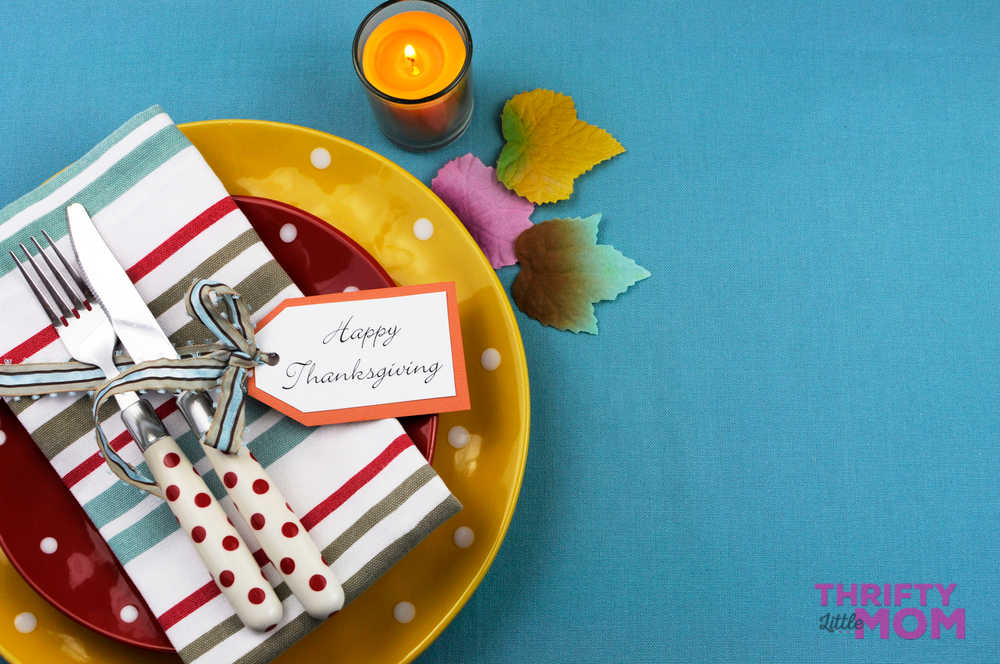 Chinet Disposable Ware-
By far, this is my favorite brand for disposable plating for parties. They are durable and can hold up to a Thanksgiving party's worth of food. With all the sauces and gravy, you need something that will hold up to the onslaught. Their "Classic White" plates are biodegradable when composted, and they are made from 100% recycled material. I can support the plate that supports my Thanksgiving food!
Heirloom China-
Did you inherit a lovely set of dishes that you rarely use? If there is any time to break out the most beautiful china, this would be it! Letting your guests know the importance of these pieces gives them a place of honor on your table. You should celebrate these pieces of art and antiquity. This is what I like to use at Thanksgiving for my family events to feel fancy and sentimental.
To-go boxes-
One of the best ideas I saw at a Thanksgiving party was having legitimate "to-go" boxes for people. I was so impressed. There are so many leftovers. When you are able to take home not only what you brought, but a little bit of everything (a "seconds" plate), it makes for an enjoyable next meal.
Chinet Platters, Extra Large, 100Count

[50 Count] 9 X 6 inch Clamshell Disposable Eco Containers Togo Food Microwavable Container Boxes – Restaurant Carryout Lunch Meal Takeout Storage Food Service (9×6″, Single Compartment)
Thanksgiving Party Traditions: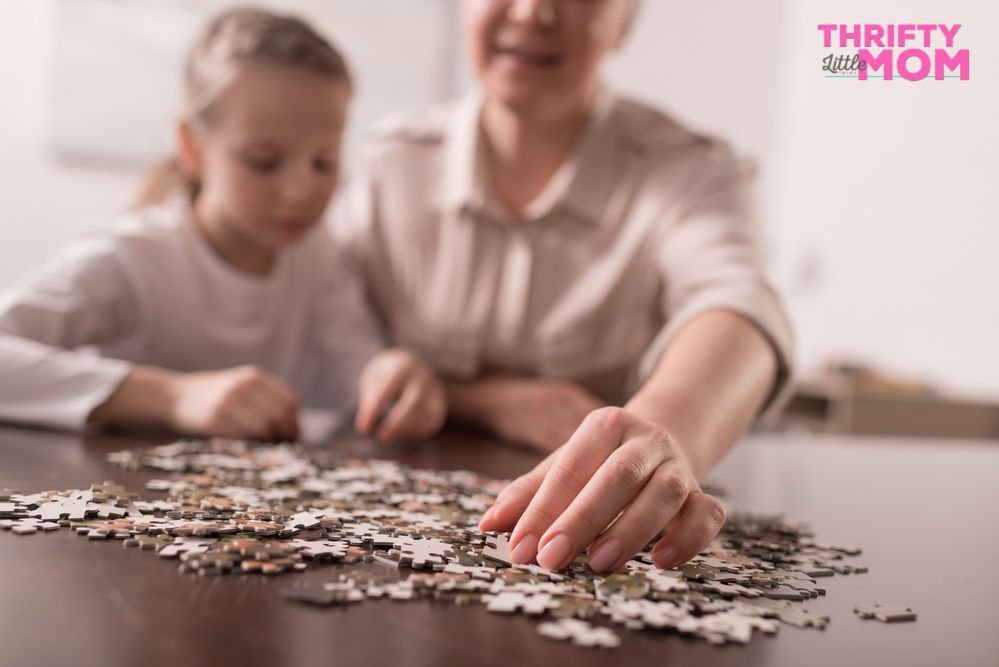 Create your own Thanksgiving tradition! My family has grown and changed over the years so we are constantly adding something new to the mix!
Movie Theatre–
The theatre is always open during the holidays and new releases are scheduled for that weekend every year! Find which movies you'd like to see this November!
Shopping–
"Black Friday" is not as savage as it used to be. My family uses it as an excuse to walk around, get some exercise, and pick up a few deals along the way. Check out my Black Friday Battle Plan!
Board Games–
games aren't just "Monopoly" or "Candy Land" these days. Find a new board game that your family can learn together and create a tradition without leaving the living room. Check out my post on Strategic Board Games for Families!
Puzzles–
once we have cleared the table, we will break out a massive 1000 piece puzzle and sit around to chat. I love this time because we are not distracted by a phone or TV and we enjoy a genuine conversation. It doesn't hurt that my family loves a challenge so finishing the puzzle becomes obsessive.
Bits and Pieces – 1000 Piece Jigsaw Puzzle for Adults – Home Grown – 1000 pc Fall on The Farm Jigsaw by Artist John Sloane
Parade–
Most mid-sized cities and larger will have some form of Thanksgiving day parade. Parades are a fun opportunity to get everyone out of the house (especially if you need "alone time" to cook and prepare) and enjoy a fun community activity. If you don't feel like heading out of the house, the Macy's Thanksgiving Day Parade is a great secondary option. We always have it playing on Thanksgiving while everyone is getting up and ready for the day.
Family Football Game–
Tossing around the football in the backyard has become my husband and his family's newest tradition. After we've eaten, the siblings and cousins go into the back yard and throw the ball to each other. This small act makes my heart warm. Everyone is laughing and enjoying the activity, and it keeps us moving. Its very "Thanksgiving Movie" in my opinion but I love it.
Corn hole and other yard games–
We have a corn hole set that gets lots of use in our friend group. It's easy to sip and drink and leisurely toss bean bags to and fro. There are other games of similar skill sets like ladder ball and bocci if you are looking for an alternative. The mid-fall weather is perfect for an afternoon game like this.
Himal Portable Assemble PVC Framed Corn Hole Outdoor Game Set with 8 Bean Bags and Carrying Case (3 x 2-feet)
Bonfire–
With having a large backyard, we are lucky to have a small area for a fire pit. As the evening winds down, you can sit around and enjoy the company of your family. Conversations will spark, and the warmth of the fire will comfort you. Consider a delicious cider to round out the autumn twilight.
Harry Potter Marathon–
For some reason, the fall and winter months beg for a regular Harry Potter marathon. We love getting together and watching these. Usually, we will have them playing throughout the day as "background" entertainment. I do love this series, and it brings us all together for some mischief and fun.
Harry Potter: The Complete 8-Film Collection
Decorate-
Put those extra set of hands to work this Thanksgiving! When you have spare time in the day, why not have everyone help with the Christmas tree? Children love opening the ornament boxes and placing them on the tree. I remember one year we put too many ornaments on the one side of the tree and it fell over. While it was surprising, it ended up being a family memory we laugh about every year.
Pumpkins from everyone
–
Encourage your guests and friends to bring a pumpkin. Every shape and size are welcome. Once everyone has arrived with their pumpkin, have a group photo. Make sure that everyone decorates their pumpkin in their own way and then group them all the pumpkins for a focal piece. It is heartwarming to see everyone represented together in the form of a pumpkin patch.
I hope these fall traditions will inspire you to start one that reflects your family and friends! Happy Thanksgiving!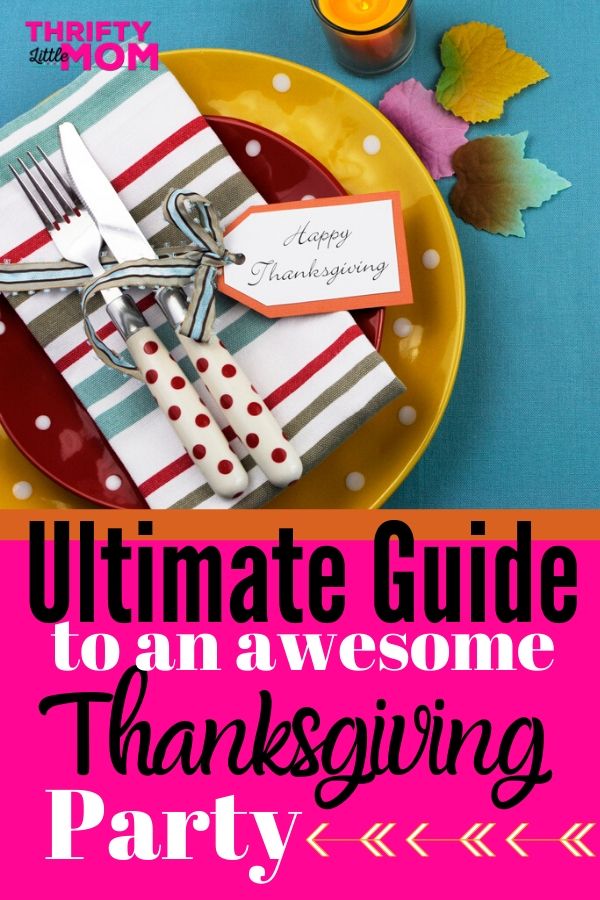 If you enjoyed this article, check out these other Thrifty Little Mom articles:
Access my FREE Party Printables Vault!
Subscribe to my weekly intentional living email magazine and I'll give you access to my life printables vault! Cleaning, planning, organizing and more!
Don't forget to check out what's in the resource library! https://thriftylittlemom.com/thrifty-little-mom-resource-library/ Password: Thriftyprints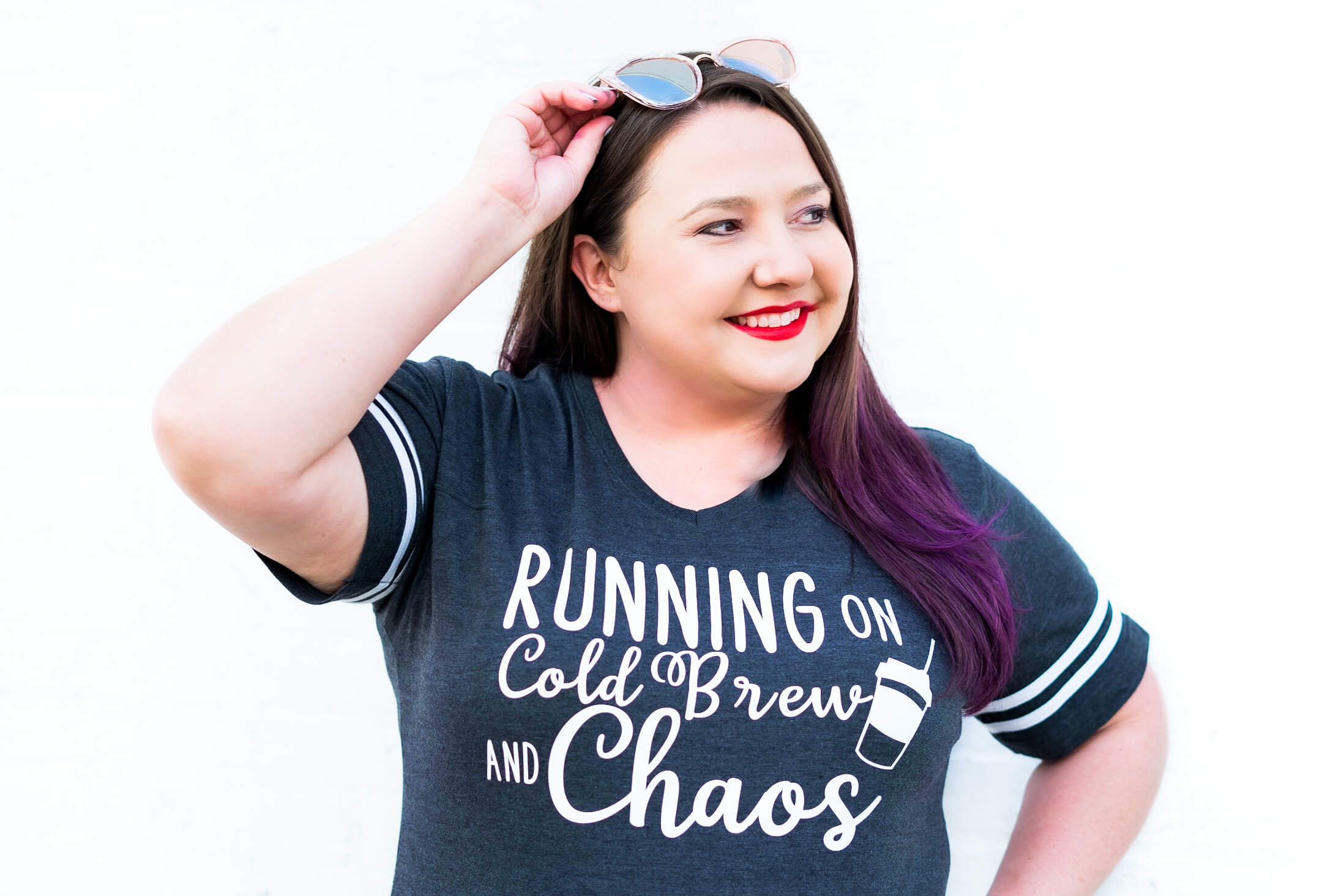 Kim Anderson is the organized chaos loving author behind the Thrifty Little Mom Blog.  She helps other people who thrive in organized chaos to stress less, remember more and feel in control of their time, money, and home. Kim is the author of: Live, Save, Spend, Repeat: The Life You Want with the Money You Have. She's been featured on Time.com, Money.com, Good Housekeeping, Women's Day, and more!
Summary
Article Name
How To Host a Fabulous Thanksgiving Party
Description
Looking for ideas for your Thanksgiving party? You can customize your holiday to fit the style and traditions that express the person you are.
Author