Easy & Fun 5th Birthday Party Ideas
If there is one thing that I have good, first-hand experience with, it's five-year-old boys. Talk about a ball of energy. I have twin girls, and I think that my son had more energy than the two of them combined. Boys want to jump off of any surface they can climb on, and that makes it a dual challenge. Grab your human spider monkey and celebrate their raucous nature with one of these 5th birthday party ideas.
Indoor Party Ideas
I am a winter baby, and so is my son. I have been on the lookout for the best winter birthday party ideas since I was old enough to say what I wanted for mine. Being that so many fun winter activities take place inside, I know where the right places are.
Local Aquatic Center
If you haven't had a chance to check out your local aquatic center, this may be the best time to take a peek.
It is the perfect year-round option for the kiddos.
They can splash and play to their heart's content.
You can have the peace of mind knowing that there are plenty of eyes out keeping your birthday baby safe.
Being that the city or county usually runs the centers, the prices make this one of the 5th birthday party ideas on a budget
YMCA
The YMCA that we are a part of has various activities to create a personalized 5th birthday party. Talk with an events coordinator to see what they can offer for you and your special day. Most YMCAs have plenty of fun things to choose from that you may never run out of great ideas!
Indoor sports areas like basketball are available
Water activities are an excellent choice
Most YMCAs will have auxiliary rooms that you can host food and decorations for the birthday
Indoor Bounce House Places
I'll repeat myself. CHILDREN LOVE BOUNCING. Now, to be fair, you will see my husband and I enjoy these types of places, so I guess this is great for the whole family.
These provide varying levels of expertise because of all the options from which to choose
Being that these places are quintessential for birthday parties, you can customize to fit a 5th birthday party theme
Does he love legos? Does she want a unicorn birthday party? Then make it so!
The staff will be happy to help you with any decoration needs or facility questions
Indoor Trampoline Centers
The trampoline centers are becoming more and more popular these days, and I am here for it! When we get a chance to pop over and start soaring, we have a hard time leaving at the end.
Jump centers provide great exercise
Great for burning up energy- this makes sure your evening is calm, they're zonked by the first mile home
The obstacles and challenges available will help with motor skills and balance
The most popular nationwide chain of indoor trampolines is Sky Zone.
Yogurt, Cupcakes, or "Treats" Stores
Hopefully, wherever you are, you have at least one of these options down the street. If not I apologize for the envy, I may bring to you when I tell you about my local shop.
We had my twin's birthday at a treats shop that specialized in gourmet popcorn flavors and handcrafted ice cream. The salty and sweet combination was a hit, and everyone enjoyed spending time together in this location.
With specialty shops, they are very inclined to make sure the customer gets exactly what they want
Discuss having a tasting party where the guests can try a little bit of everything
The owners may even allow you to bring in decorations for a 5th birthday party theme
Craft Stores
My local craft store has rooms available to teach different arts. They post classes on their website so I can see what is happening monthly. You can see the calendar and decide if there is something age-appropriate to attend. But you can also rent these rooms for your private event.
Throw an easy and fun kids painting party that will be the talk of the year
Their studios have your table and chair needs
Choose a fun kid's building craft for which everyone can participate
Crafting will keep the kid's learning and growing but in a party environment
Dance Studio
I feel like my kids are always trying to learn the newest dance move that they saw. When I see them bopping around to music, I know that they would love the experience of a dance party. Dance studios have great instructors that can tailor a party to fit the needs of the children.
Kids can learn hip-hop choreography from an instructor
The studio will have plenty of music that is kid-friendly in which to freestyle dance
Dancing is excellent exercise and will provide entertainment also
Make it a fun costume party if you want to increase the excitement
Gymnastics Party
Perfect for all genders and ages, a gymnastics party will fit most tastes. The instructors will show how to do balance beam tricks that will be age-appropriate. Children will get to utilize trampolines and springboard floors.
Gymnastics parties are different from your trampoline park parties because they will try to help with technique
Having an instructor will aid in safety also
The learning of proper technique will help improve stability and motor skills
Outdoor Party Ideas
If the weather is in your favor, having an outdoor party will provide a sanity buffer for the loud voices that will be laughing and squealing with delight. Some of these places can be very thrifty options on your list of 5th birthday party ideas. And I love thrifty!
Public Park Recreation Shelter
It's not just the recreational shelter. You can take this opportunity to throw a thrifty barbecue and play lots of games. There are plenty of easy birthday party games that will keep the kids laughing and playing. Once you have picked a 5th birthday party theme, you can celebrate in style.
Check the local park website for rental information
If you are planning on having extra activities, you may need to get additional insurance at your park
This insurance can take up to 14 days to process so do not wait until the last minute
Neighborhood Pool
Even if you are not part of a neighborhood that has a pool, there are HOA (homeowners associations) that still allow rental use of their facilities. You can throw a fantastic birthday with 16 Unique & Classic Pool Party Themes.
Have you guests bring the craziest floatation devices
Incorporate 15 Classic & New Pool Party Games
Make sure that someone in attendance is knowledgeable on CPR skills or hire a lifeguard for pools that do not provide the service
Rent a Bounce House
The prices for renting bouncy houses these days are not outrageous. They can be the best bang for your buck when hosting a party at your home or park. There are several things you should know before renting an inflatable.
Make sure you have the correct space for the inflatable
Most rental locations require that they be on grass, concrete, or asphalt
Choose the bouncy house that is age-appropriate
Water bounce houses are great for summertime parties
Obstacle course inflatables will be challenging but exhilarating for the kids
5th Birthday Party Themes
Every kid is different, but every kid loves a theme. Choose a great idea that will make the day seem absolutely magical for your special pal.
5 year olds really like what they like so ask your little man or little princess about what kind of party theme they think they would like as a theme. This could include their favorite TV shows, movies or cartoon characters.
Examples:
Favorite Marvel Character
Favorite Nick Jr. Character or Show
Favorite PBS Kids Show
Favorite Disney Jr. Show
Favorite Disney Movie
Favorite Pixar Movie
Beyond these fun trademarked themes, you can also go a little bit neutral based on what they might be into like the themes that I have listed below!
Mermaid Party
Magical mermaids are entirely entrancing. Their iridescent representation will make for the most beautiful decorations that you can imagine. Incorporate a mermaid themed party for the perfect birthday soiree!
Unicorn Party
I love that unicorn decoration is available so quickly these days. I created the best unicorn birthday party for my twins, and it was quite a success. We even made a DIY unicorn cake that stole the show!
Pirate Themed Party
Pirates are a wonderfully fun theme to add to a birthday. Any age and any gender will find this styled event to be a pure treasure. Scavenger hunts and eye patches will make for a memorable day.
Rainbow Party
I love a rainbow party because it takes the pressure off having to spend loads of money on branded products. Don't get me wrong; I can throw a Ninja Turtles party with the best of them. But, the ease and cost of a rainbow party will make a statement without breaking the bank.
Construction Party
Trucks and hardhats are the excitement that this provides. Create a giant sandpit that all the little workers can congregate around. Construction themed parties are precisely what a 5th birthday party should be like.
Dinosaur Themed Party
Smashing and crashing and roaring, if ever that doesn't sound like a five-year-old, you know. Children love the excitement that dinosaurs encapsulate. Throw the perfect dinosaur themed party this year!
Indoor Movie Party
Host a fantastic indoor movie party for your unique buddy. They will have so much fun hanging with their friends, munching on their favorite snacks, draped in a full magical room display. You will enjoy the cost-effective nature of this party.
I hope that these ideas help spark your creativity. Five-year-olds are so full of imagination that one of these things will be magical and memorable. Have fun!
Take the Stress Out of Party Planning and Party Prep with the Thrifty Little Mom Printable Stress-Free Kid's Birthday Bash Planner & Workbook.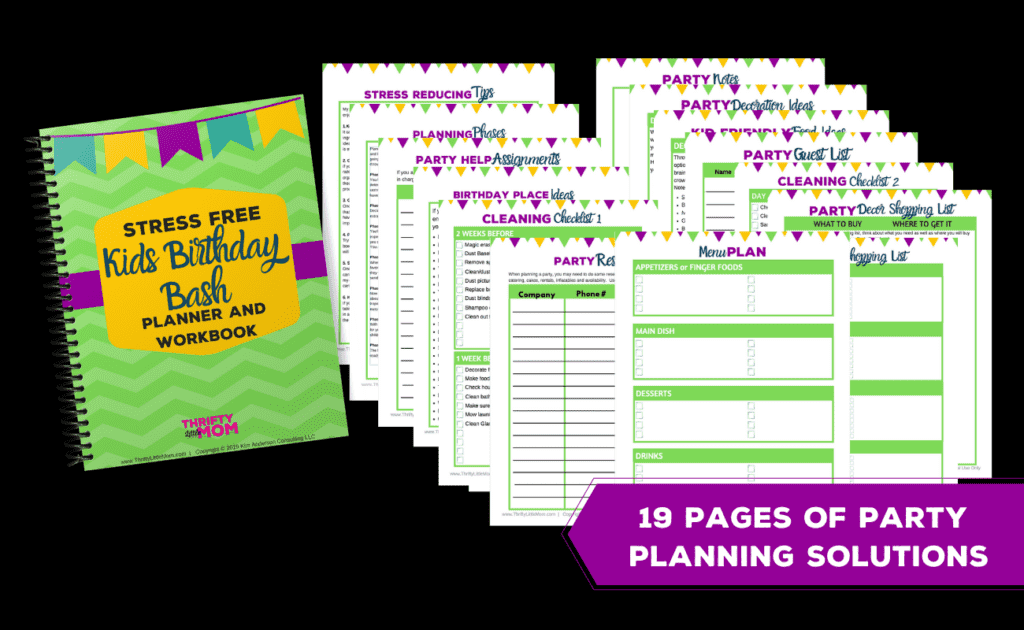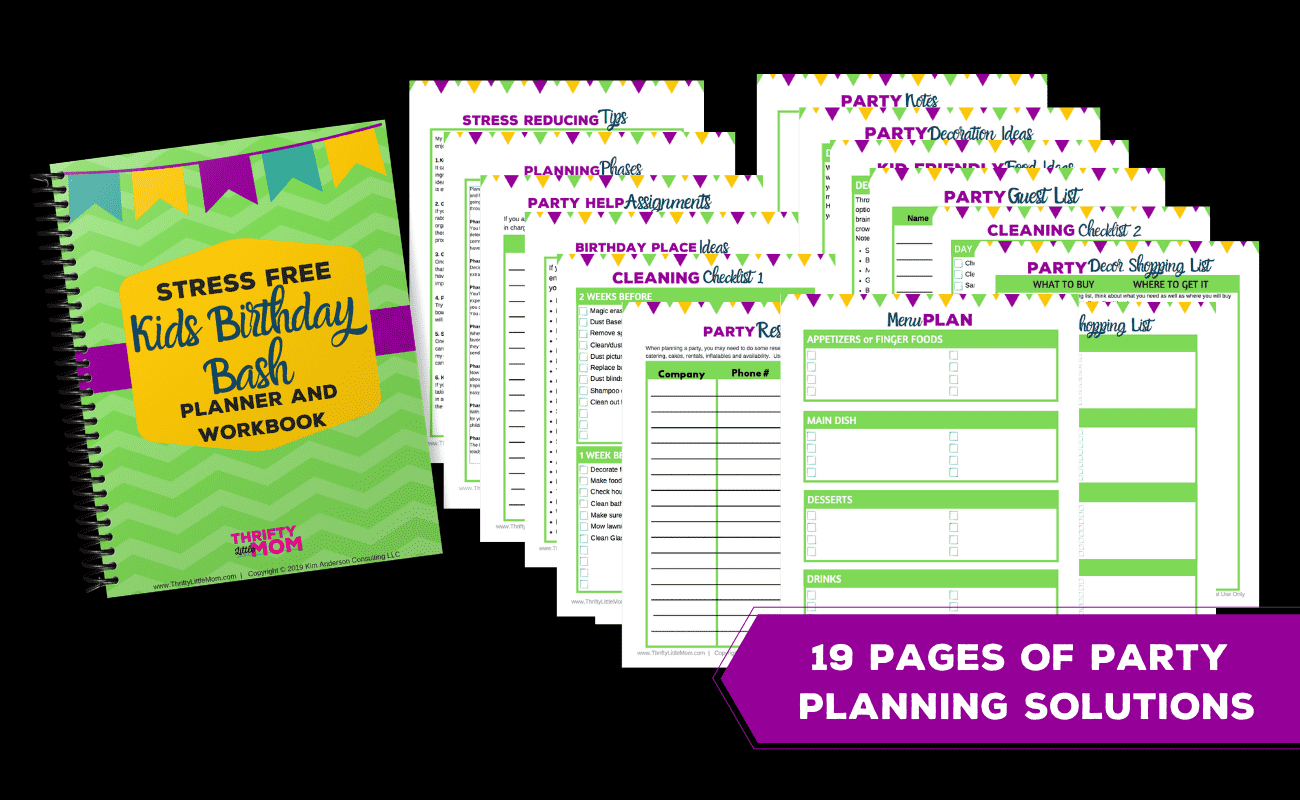 21 Slumber Party Ideas For Boys or Girls
9 Thrifty Party Shop Places Most People Forget About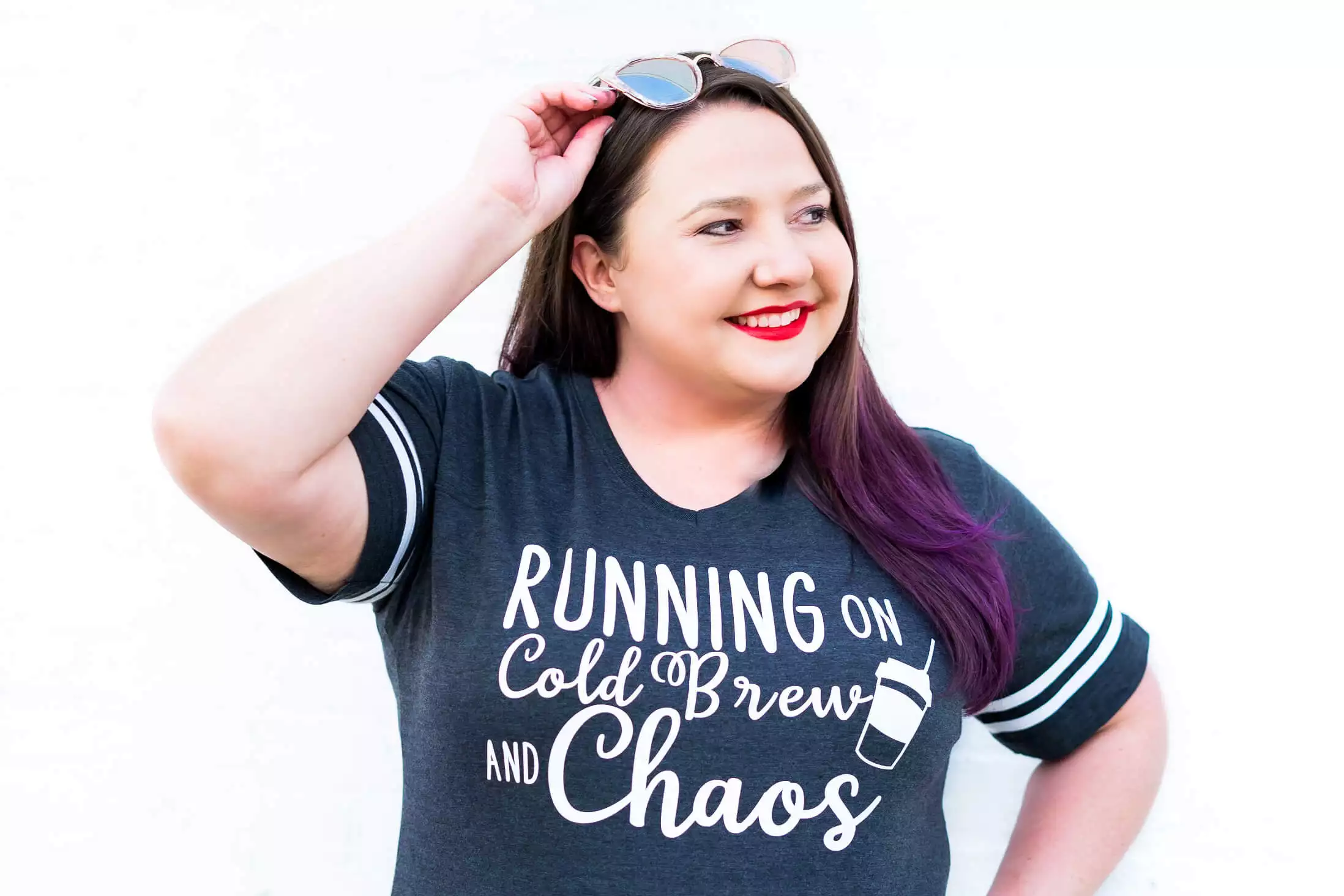 Kim Anderson is the organized chaos loving author behind the Thrifty Little Mom Blog.  She helps other people who thrive in organized chaos to stress less, remember more and feel in control of their time, money, and home. Kim is the author of: Live, Save, Spend, Repeat: The Life You Want with the Money You Have. She's been featured on Time.com, Money.com, Good Housekeeping, Women's Day, and more!