18 Unique High School Graduation Party Themes
This post contains affiliate links. As an Amazon Associate, I earn from qualifying purchases. I also earn from qualifying purchases made with other brands and programs. See my
privacy policy.
With graduation celebrations happening in every season of life, it is good to be ready for one of the biggest. A high school graduation party can be the first ceremonial event to usher your student into a new life journey. Making this a grand event doesn't have to be hard. Let me help you narrow down the possibilities with these excellent theme party ideas.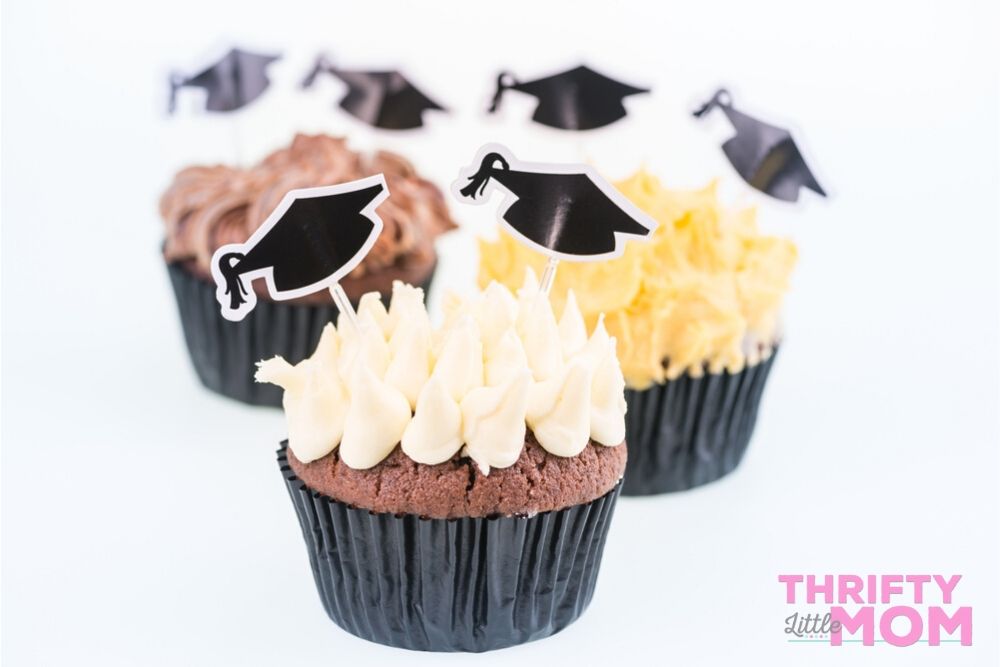 Career Based Theme
If your honoree has made their mind up on their specific career, celebrate that decision.
There are plenty of themed items for doctors, nurses, firefighter, policeman, and various others.
I love the cupcake toppers that are indicative of a future career.
Find the right career choice for your high school graduation party.
Glitter Nurse Cupcake Toppers- Nursing Graduation Cupcake Toppers Medical Rn Themed Party Decorations Party Supplies (Set of 25)
Future School Colors
Did your graduate already get accepted to the school of their dreams? Then celebrate that achievement with bold university colors.
When it comes to any party that has a specific color scheme, I like to visit my 9 Thrifty Party Shop Places Most People Forget About
The stores on this list make it very easy to pick up party basics in the colors you want.
Think about the different ways that you can layer colored decorations to push that school pride.
Current School Colors
Celebrating the current school is a great option as well. Most schools incorporate gold or silver that give you a chance to glitz it up.
I love a garland or bunting that has tassels because they feel like graduation caps.
Find these garlands in all styles and shapes for your personal desire.
Find a set that has your school colors and place them in focal point areas.
Ivory Gold Hunter Green Tassel Garland, Hunter Green Garland, Hunter Green Gold Tassel Garland, Hunter Green Garland, Succulent Green Decorations, Hunter Green Wedding Decor
Sport Involvement Theme
Are you excited that your athlete is moving forward in their sporting career? Then show off their achievement with a high school graduation party that celebrates their commitment to the sport.
Find memorabilia that adds to the aesthetic of their sport
If they play baseball, decorate the areas with personalized miniature baseball bats.
Do you have a football player? Then add some tablecloths that are field related.
No matter the sport, you can easily find decorations to suit.
Baseball Cupcake Toppers Picks for Baseball Theme Birthday Baby Shower Cake Decorations
Classic Black and Gold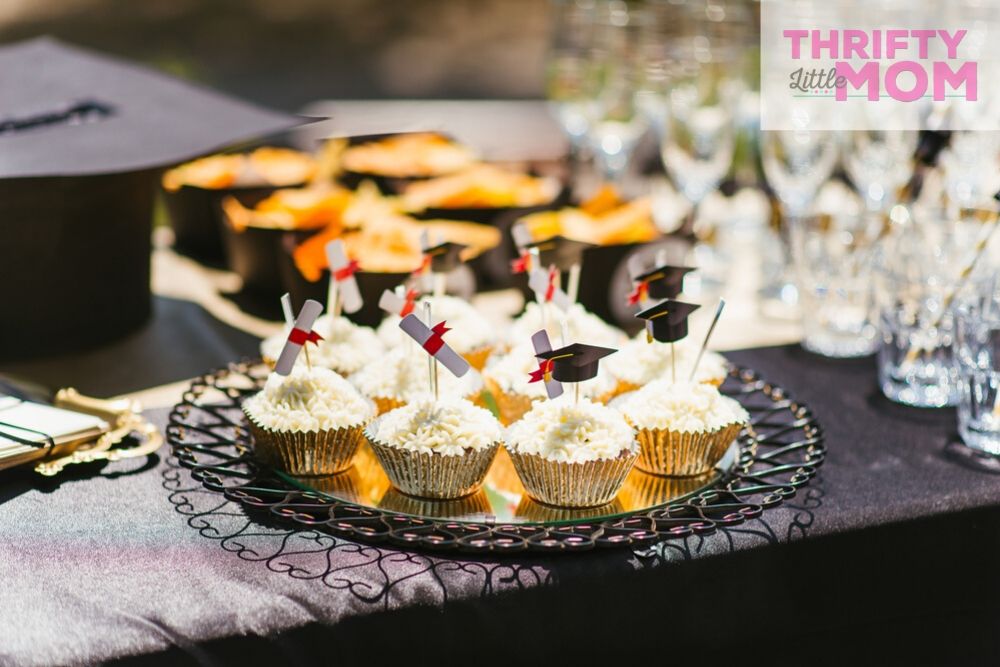 Your graduate may prefer a theme that is classic and elegant. You can make this happen with a decadent black and gold event.
Black and gold decorations are effortless to attain. And, you can use these decorations again for other events that may come up.
I love the glitzy and glamorous style that a black and gold party provides.
You may want to throw a Hollywood theme party with this color scheme.
By making your celebration a black-tie style event, you will guarantee this memory lasts a lifetime.
Circle Dots Paper Garland 3 Pack of 10-Foot Garlands (30 Feet Total) + 20 Tissue Paper Tassels, as Black and Gold Party Decorations (Polka Dots and Tassels – White, Gold, Black)
Fandom Themed Party
Harry Potter Party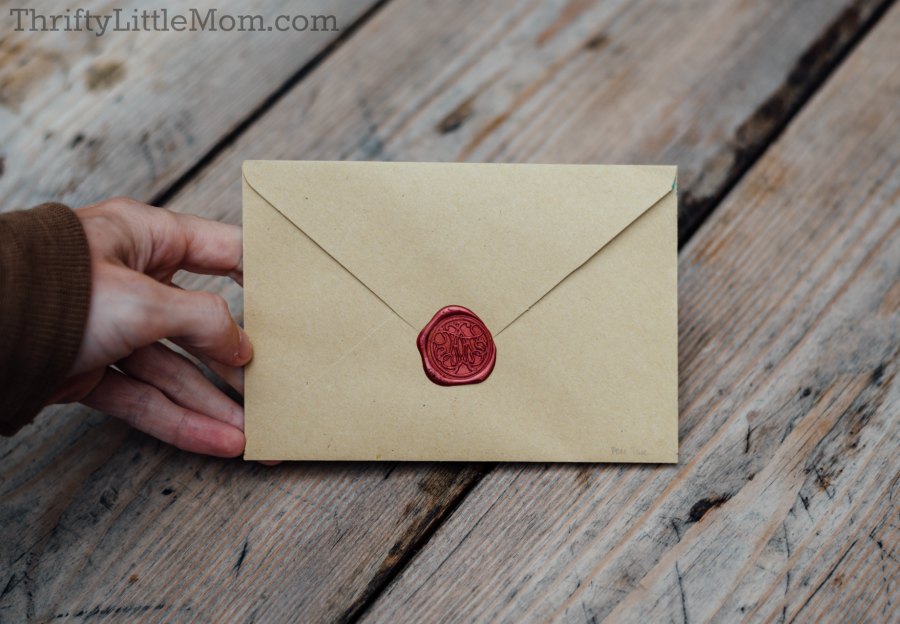 If your high school graduate loves a series or show that has seemed to define them, you can look into a fandom party. I am a huge Harry Potter lover, and I enjoy throwing the ultimate Harry Potter themed party. I think it is a beautiful theme for this style of celebration too! Maybe we'd all love to go to Hogwarts instead of traditional college.
Gather items that represent your graduate's favorite house
Incorporate acceptance letters with waxed stamps
Add in your favorite magical elements
Wizard Cupcake Toppers (Set of 24) Wizard School Birthday Party Decorations Supplies Party Decor
Doctor Who Theme
One of the longest-running shows in syndication, Dr. Who has captivated people around the world. If your graduate is a fan of the Doctor, then this might be a fun choice for your high school graduation party. Choose from a fantastic selection of decorations to show your support.
Doctor Who Party Bundle for 16 with Table Cloth, Paper Plates & Cups and More
Comic Book Series
Between Marvel, DC, and your outliers like Dark Horse, there are plenty of ways to celebrate your graduate's love of all things comic book related. Throw a high school graduation party for guys and girls that has all the elements of their favorite heroes and villains.
Rekcopu Superhero Party Supplies 40 Pack Superhero Balloons 12 Inches Latex Balloons Superhero Party Favors for Kids Birthday Party Decorations
Tim Burton Themes
Off the beaten path, maybe a little more your graduate's style. I know that I love the stylings of the different Tim Burton movies. With a bit of inspiration, you can throw a party that is based on one of his famous films. The whimsy and ethereal nature of his cinematography make it a captivating decoration choice.
Alice in Wonderland
Willy Wonka and the Chocolate Factory
Nightmare before Christmas
Beetlejuice
24 Vintage Alice in Wonderland Cupcake Toppers Picks + Wrappers by Red Fox Tail
Armed Services
We salute you graduates that are deciding to join one of the prestigious branches of the military. It is a noble and honorable choice to serve your country. This move is a very prolific decision and should be celebrated with a fantastic high school graduation party. Whichever branch they are in, there is a decoration theme to suit.
This party is a great time to make bunting with my easy no-sew bunting template!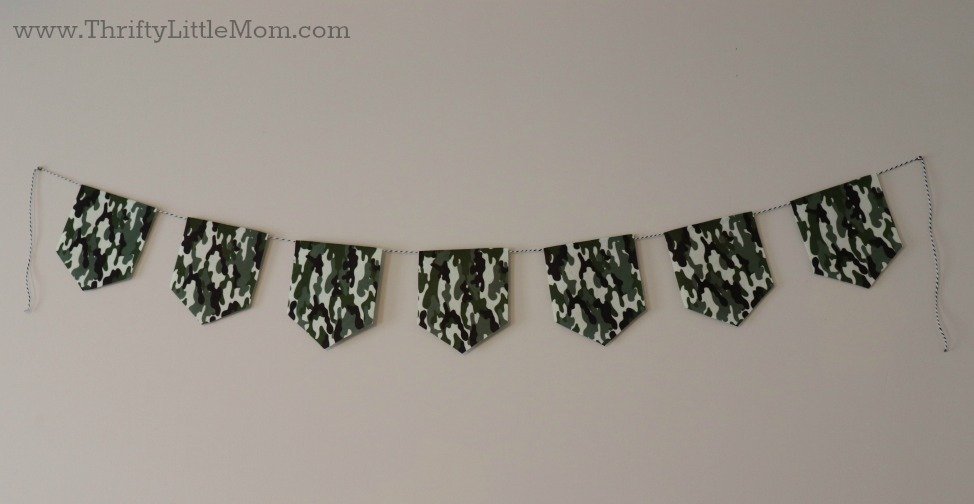 Havercamp US Army Party Bundle | Dinner & Dessert Plates, Luncheon & Beverage Napkins, Balloon | Great for Homecoming Party, Military Inspired Event, American Hero Themed Occasion

Dr. Seuss Theme
I love Dr. Seuss, from my Grinch inspired Christmas tree, to the books I get for my kids, I always have a special place in my heart for this classic author. One of the popular books is "Oh! The Places You'll Go!" and I find it a perfect high school graduation party idea.
Bring this loveable look into your party with delightful decorations that will capture everyone's heart.
BirthdayExpress Dr. Seuss Oh The Places You'll Go Graduation Party Supplies Banner
High School Graduation Party Venues

Depending on the size of your group for the celebration, you may need to find a location that has the right amount of space. There are extravagant and frugal options across the board that will fit with your needs. Here are some of my favorite high school graduation party venues.
Picnic Shelter at a Park
These shelters are very affordable to rent. Being that most graduations take place in the summer, the weather can be outstanding and enjoyable. Throwing a bar-b-cue is a thrifty way to celebrate the day and feed a mass of people. These will get picked up quickly, so book with your park in advance.
Rustic Farm/Barn
Rural areas across the nation are renovating barns to make lovely hosting locations. The building is for huge crowds that are there to celebrate. A graduation party is no different than the style of parties these locations facilitate regularly.
Rented Tent
You maybe like me and have a smaller living and kitchen area, but a large yard. By renting a tent, you give you and your guests a large area to hang out. The shelter offers the benefits of being protected from the elements. Tent rentals can be bundled with tables and chair rentals as well! There are 7 Things to Consider Before You Book Party Tent Rentals, but I do like this option.
Church or Community Center Annex
Annex buildings are set up most of the time with a kitchenette for events. These fabulous spaces will have tables and chairs available. I enjoy using these spaces when I want to have entertainment or activities in addition to eating and gathering. The rental prices are reasonably affordable, and they are easy to book.
Hotel Conference Rooms
Do you have family members that will be traveling from out of town? I have just enough space to let one couple stay at my house; otherwise, we need rooms. By planning, you can book rooms for guests and bundle a conference space to throw the high school graduation party.
There are plenty of fun perks, like a pool in some cases. What excitement that will add to the celebration!
How to Decide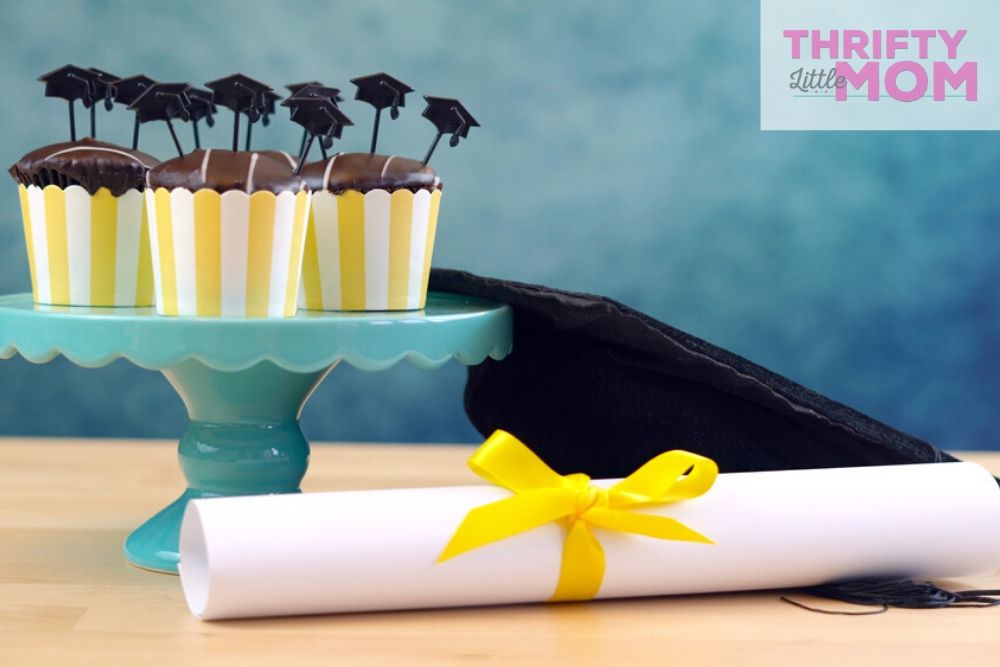 Here are the things that I consider when I am deciding if I throw a party at my house, or look for an outside venue to host.
What is my budget?
How many guests in total?
What is the weather during this season?
Will I have catered food, finger foods, or light refreshments?
Based on the food, will I need seating at tables, cocktail standing areas, or basic furniture?
If you are renting tables and chairs, have I reviewed the Party Table and Chair Rentals Ultimate Guide
Throwing a great high school graduation party can be straightforward with a little planning. If you need a tool, I love using my Thrifty Party Planning Tips & Tricks + Free Printable Planner. It helps me see on paper what steps I need to take to make this the best party yet!

30 Best Graduation Themes and Decorations
6 Tips For Throwing a Thrifty Graduation Party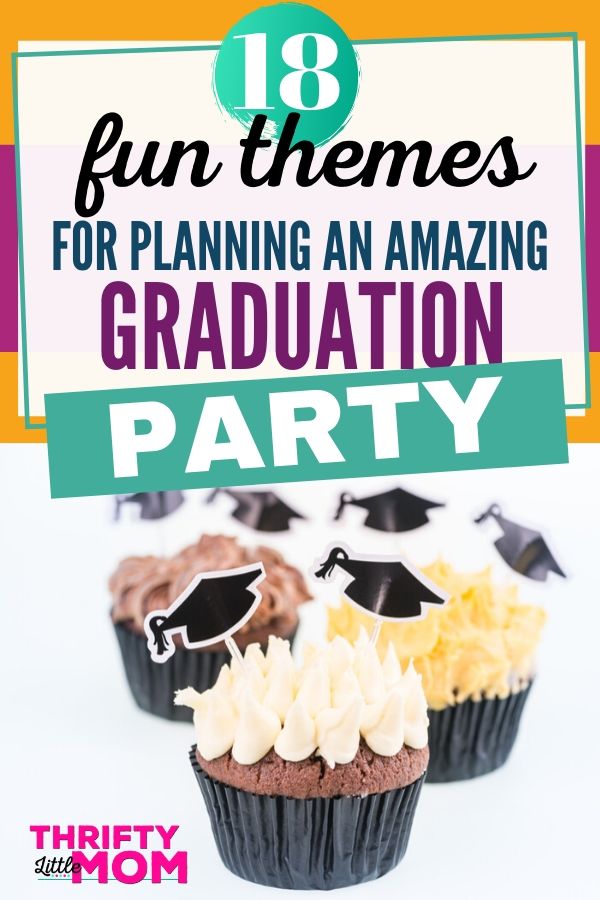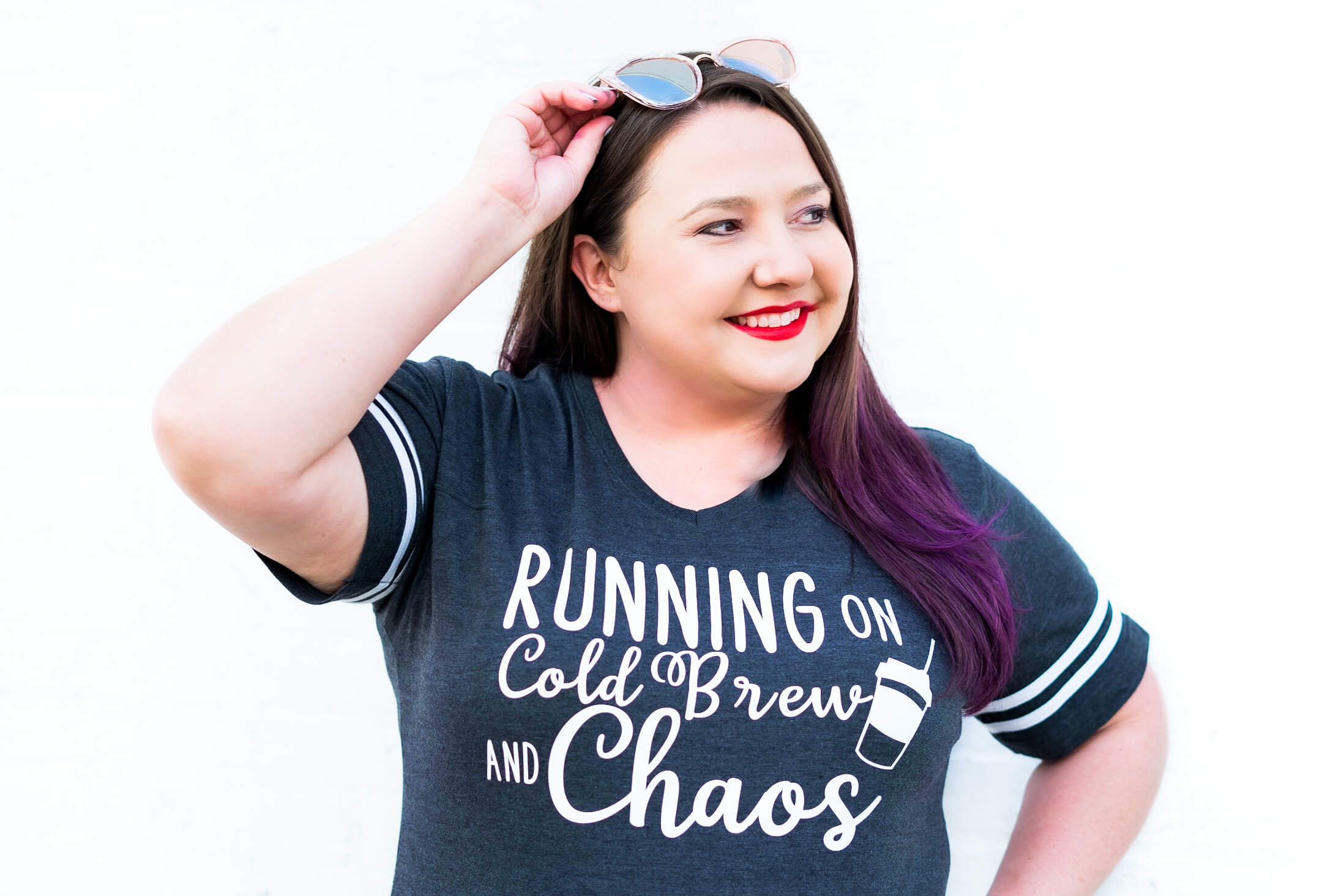 Kim Anderson is the organized chaos loving author behind the Thrifty Little Mom Blog.  She helps other people who thrive in organized chaos to stress less, remember more and feel in control of their time, money, and home. Kim is the author of: Live, Save, Spend, Repeat: The Life You Want with the Money You Have. She's been featured on Time.com, Money.com, Good Housekeeping, Women's Day, and more!
Summary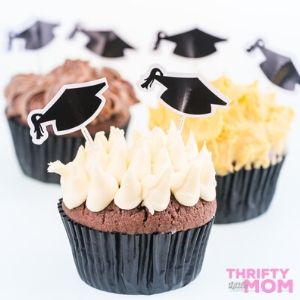 Article Name
18 Unique High School Graduation Party Themes
Description
Every high schooler has a different interest and personality. Throw the perfect high school graduation party with one of these great theme ideas.
Author